Cincinnati was raised on beer. And the sheer number of breweries that currently dot the Cincinnati landscape just goes to prove it!
We knew there were a lot of breweries in Cincinnati so we set out to create The Ultimate Cincinnati Breweries List.
We're beer lovers and we frequent the Cincinnati area taprooms on the regular but even we were surprised to find more than 50 breweries to put on the list. If you're a craft beer lover, I think it's safe to say a Cincinnati Breweries list will come in handy!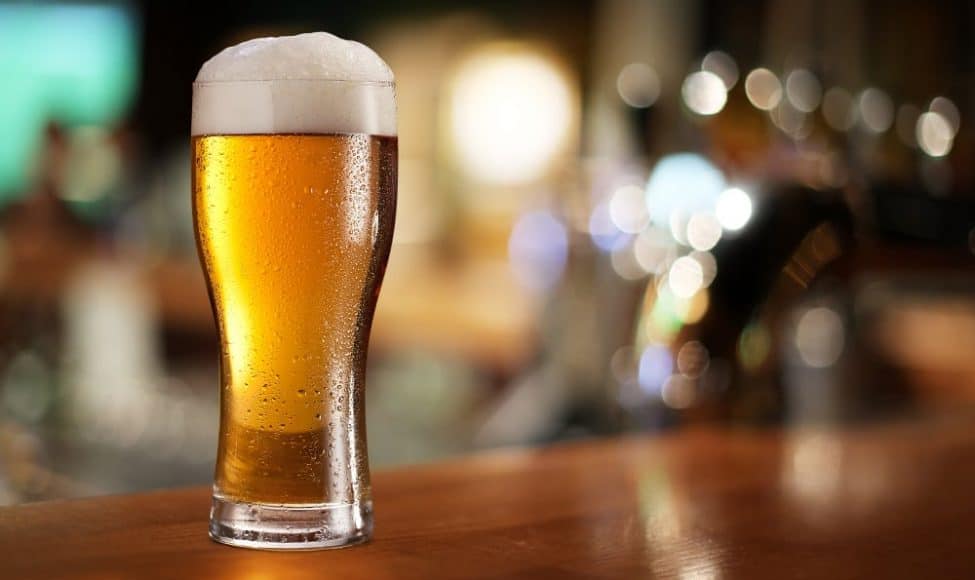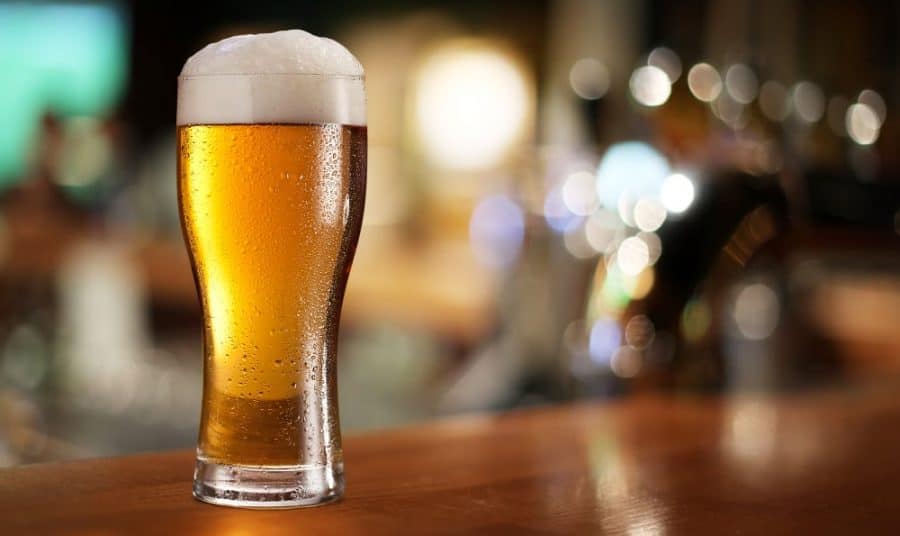 From hoppy to sour and everything in between, these 50+ spots are all brewing in the Cincinnati area. Some are north of Cincinnati proper and some are south. Be sure to take a look at the locations on our map below.
Need more info? Look for our "write-up" on all the craft and micro breweries as we visit them (look under each brewery for the details).
Greater Cincinnati Breweries:
JUMP TO A SECTION: A-E | F-J | K-O | P-T | U-Z | Breweries Near Me
Are we missing your favorite? Know of a Cincinnati brewery that's coming on the scene?
Let us know here.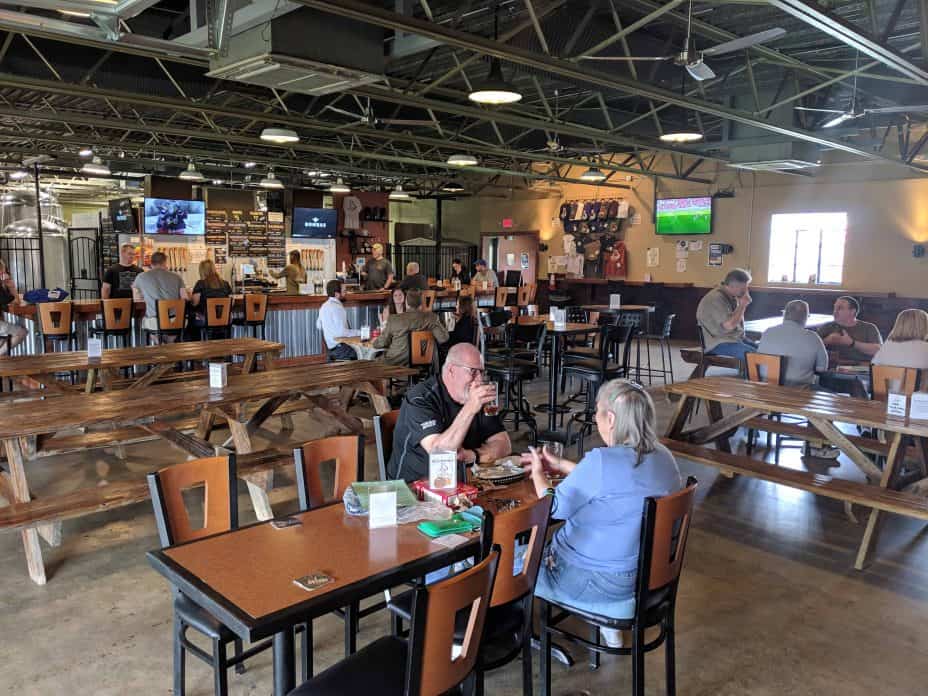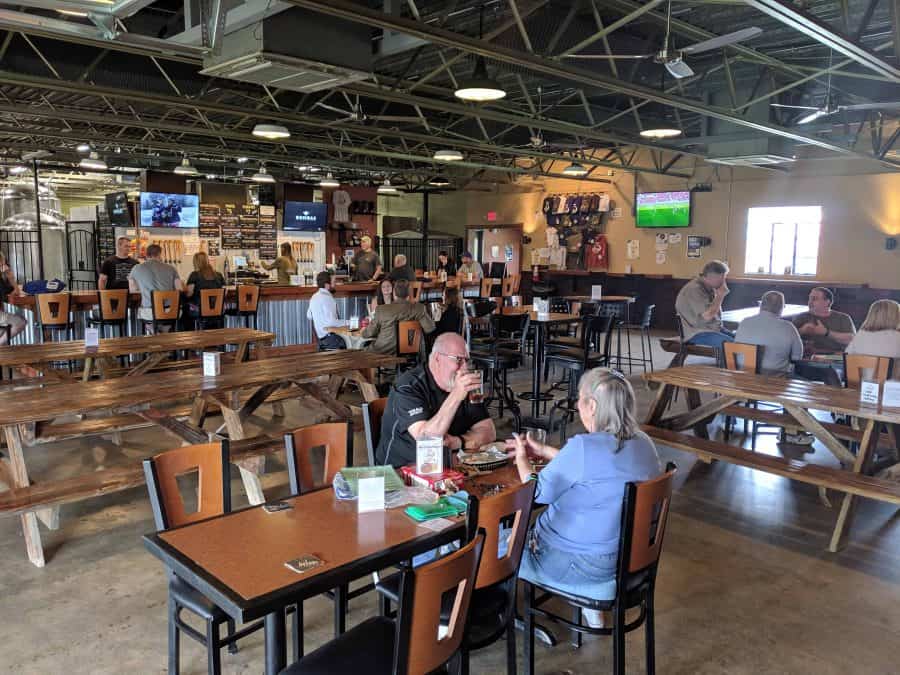 13 Below Brewery
13 Below Brewery has lots of tables and ample seating. Located on west side of town, it has a great neighborhood feel. Enjoy the drive as you snake along the Ohio River on your way there. The beer menu is broad and will appeal to most everyone's taste and this place is BIG so bring your friends!
Popular Beers: Confused 13 (Brown Ale), West Coast IPA, Lock and Dam #37 (Scottish Ale)
Location: 7391 Forbes Road, Sayler Park, Ohio 45233
---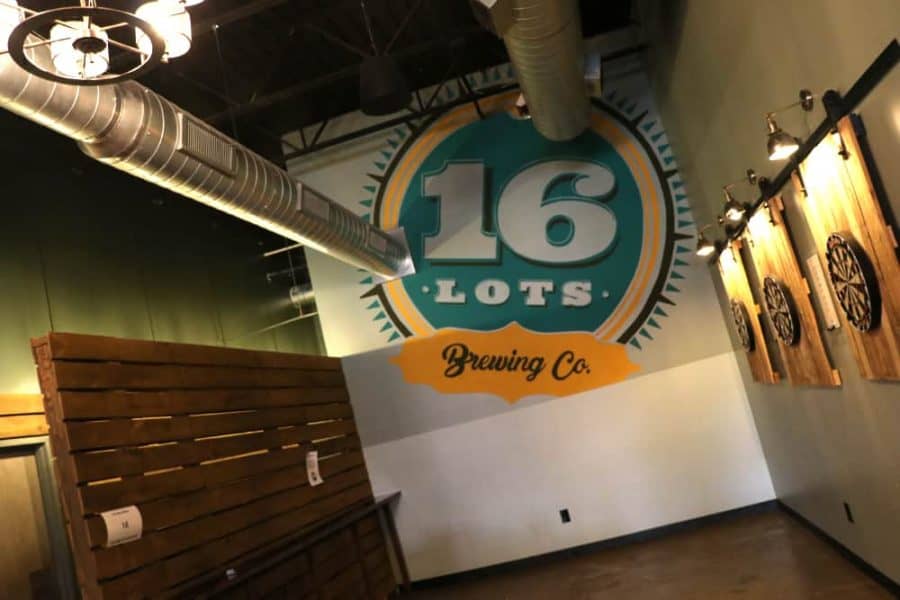 16 Lots Brewing Company
Enjoy the first craft brewery in Mason. 16 Lots has large selection of core and seasonal beers and guest ciders. The taproom is large with an in-house pizza kitchen. They have a long L-shaped bar with lots of seating. And tables galore! Bonus: wine available.
Popular Beers: The Major (German Pilsner), Pike Street (IPA), Treaty (Wheat)
Location: 753 Reading Rd, Mason, Ohio 45040
16 Lots Brewing Company | Website
---
Alexandria Brewing Company
Alexandria Brewing Company is a successful Kickstarter campaign. Andy, the head brewer, grew his first hops on their farm in Alexandria. They have a large tap selection with something for everyone including ABC's own non-alcoholic ginger beer.
Location: 7926 Alexandria Pike, Alexandria, KY 41001
---
Bad Tom Smith Brewing
Bad Tom Smith Brewing tap room and brewery is supported with craft beers brewed in their Cincinnati brewery along with collaboration brews produced on-site in their Stout 2-barrel brewing systems. The tap room seats over a 100 with their bar seating 20 and the lounge includes comfortable group seating, a dart board and a variety of games.
Location: 5900 Madison Rd, Cincinnati, Ohio 45227
---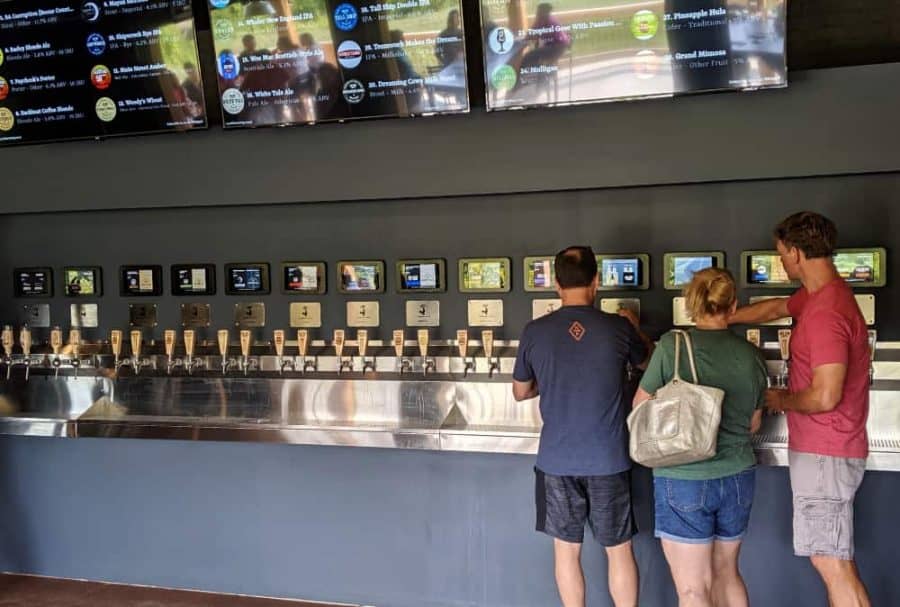 Big Ash Brewing Company
Big Ash Brewing Co. brings its unique concept to the Anderson area. You can pour your own glass of beer – any size pour you'd like! They have 28 pour your own taps (22 craft beers, 4 wines, and 2 ciders) and you pay by the ounce. They have a great covered front porch area and food as well.
Location: 5230 Beechmont Ave, Cincinnati, Ohio 45230
Popular Beers: Tall Ship (IPA), Backbeat Coffee Blonde, Passion Fruit Gose
Big Ash Brewing Company | Website
---
Bircus Brewing Company
Bircus Brewing Company, as the name implies, is a melding of craft brewing + circus. Performers will juggle clubs, breathe fire, hula hoop, walk on kegs and amaze on the trapeze and aerial silks at the Ludlow Theatre. The performances are as exciting as the beers! Over 7000 sq ft of space provides an experience for everyone. NOTE: Be sure to check their website or call ahead for performance schedules.
Location: 322 Elm St, Ludlow, KY 41016
---
Braxton Barrel House
The Braxton Barrel House is dedicated to the craft of barrel-aged beer. A taproom, brewery and barrel-aging center.
Location: 5 Orphanage Road, Fort Mitchell KY, 41017
---
Braxton Brewing – Cincinnati
Braxton Brewing – Cincinnati is taking over the space from the former 3 Points Urban Brewery in the Pendleton area of downtown.
Location: 331 E 13th St, Cincinnati, Ohio 45202
---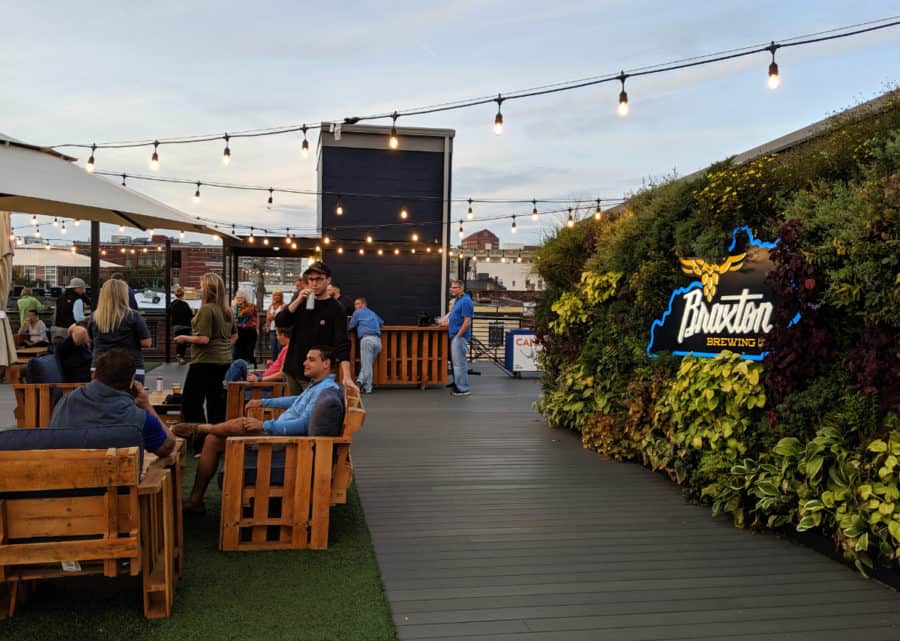 Braxton Brewing – Covington
Braxton Brewing Co. is a local favorite and is on the list of popular breweries to visit in Cincinnati. The beer selections are flavorful and there are plenty of them. The Braxton taproom is spacious and casual and they have a great rooftop bar (as seen above). In the winter the rooftop transforms into an igloobar.
Location: 27 W 7th St, Covington, KY 41011
---
BrewDog Cincinnati
They're on a mission at BrewDog – to make other people as passionate about great craft beer as they are. They're all about brewing world class craft beer; extraordinary beers that blow people's minds and kick start a revolution.
Location: 316 Reading Road, Cincinnati, Ohio 45202

Website
---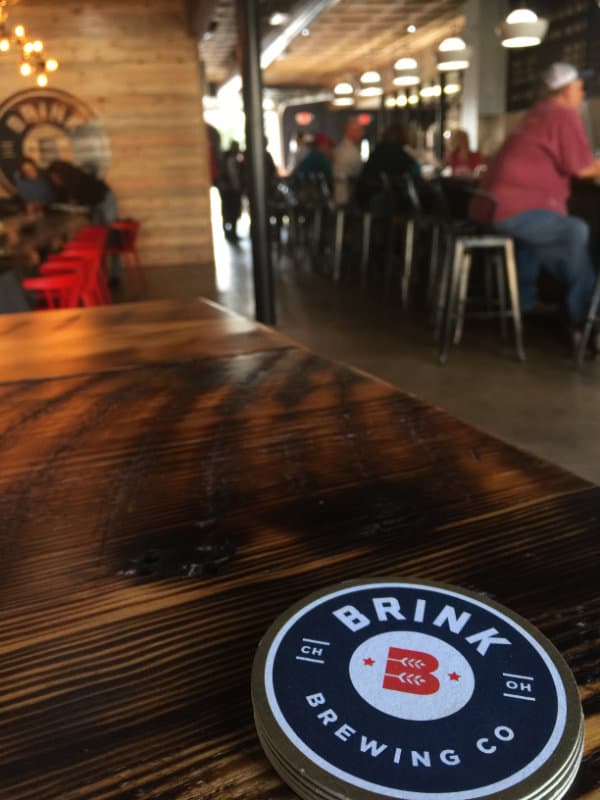 Brink Brewing Co.
At Brink Brewing it is about more than just beer, it is about community. Their website boasts, "Good beer is about the people, the stories and the experience". They do craft beer well – Brink Brewing has won medals at the Great American Brewery Festival. When the weather is warm, there's a porch out back.
2020 Info (last updated: 12-27-2020): The taproom is open as is the porch.
Popular Beers: Libbynade (fruit beer), Business Meeting (oatmeal stout)
---
Cartridge Brewing
Cartridge brewing is nestled along the Little Miami River Scenic Bike Trail in the old Peters Cartridge factory. They serve up classic German lagers and American pilsners, but with a modern twist which include sours, stouts, coffee beers and ciders. The Cartridge kitchen has a full menu for both lunch and dinner.
Location: 1411 Grandin Rd, Maineville, OH 45039
---
Cellar Dweller (Winery)
Celler Dweller is the craft brewing arm of Valley Vineyards. Yes, this is a vineyard and they make wines but they also craft beers. You can get it all here – food, wine and beer.
Location: 2276 East US 22 & 3, Morrow, Ohio 45152
---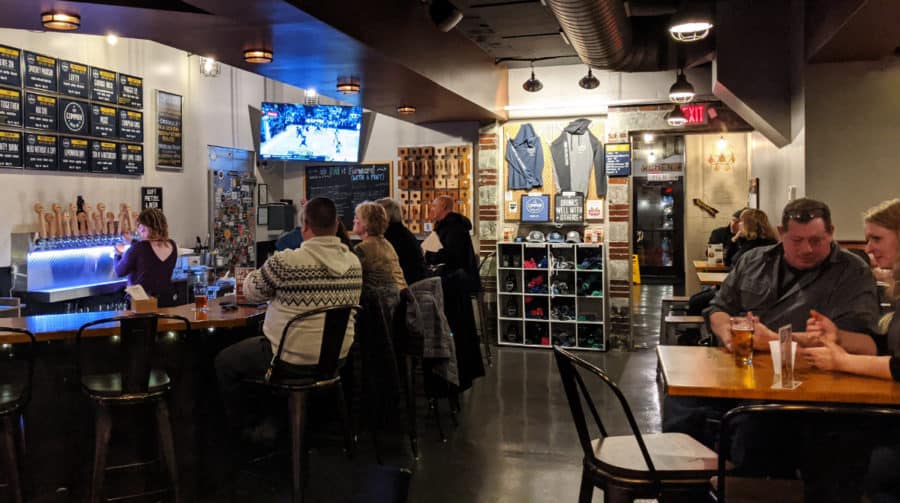 Common Beer Company
The Common Beer Company is a neighborhood based nano-brewery creating beer in a space that welcomes the gathering of friends and family. Common doesn't mean boring and it certainly doesn't stand for plain at this brewery. They have a bar, tables with seating, and an outdoor patio around back (seasonal and dog-friendly).
Location: 126 E. Main Street, Mason, Ohio 45040
---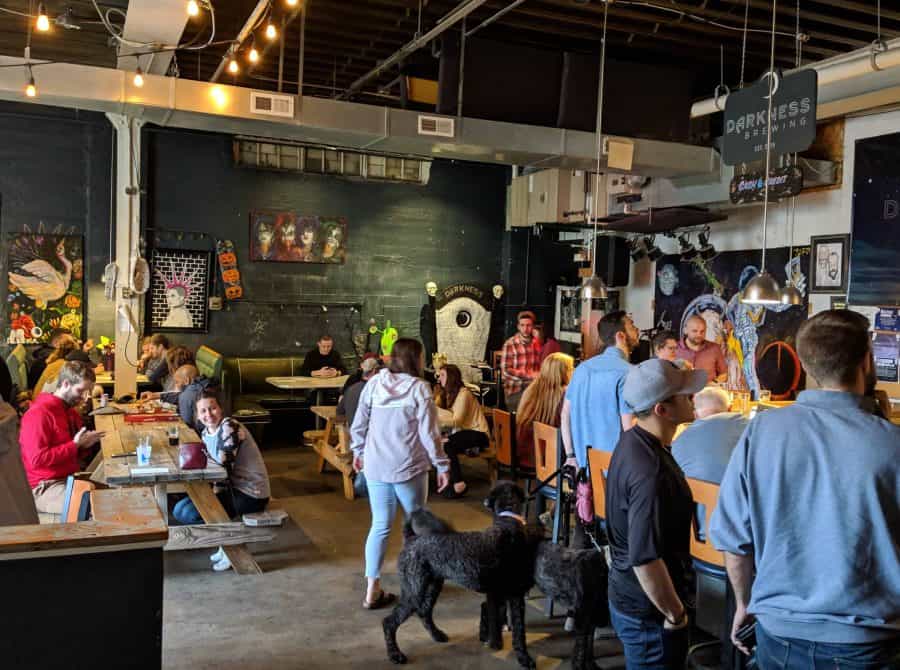 Darkness Brewing
Darkness Brewing is a nano-brewery located in Bellevue, Ky. They focus on dark and unusual styled beers but they also have some great choices for those who like something lighter (like my choice of Bellevue Common). A successful crowdfunding campaign allowed these home brewers to open a brewery and taproom to hone their craft…and for you to enjoy.
Location: 224 Fairfield Ave, Bellevue, KY 41073
---
Dead Low Brewing
Dead Low is a craft brewery located along the Ohio River in California, the easternmost neighborhood of Cincinnati. Dead Low has a large-capacity taproom and a proper restaurant, rentable private event space, a performance stage, and a large outdoor beer garden.
Location: 5959 Kellogg Avenue, Cincinnati, Ohio 45230
---
DogBerry Brewing
DogBerry Brewing is nestled in an industrial park… so it may not be on your radar. But put this one on your list as they have a large casual taproom that offers something for everyone. The beers are often crafted from local ingredients, giving them a true local flavor.
Location: 9964 Crescent Park Dr., West Chester, Ohio 45069
---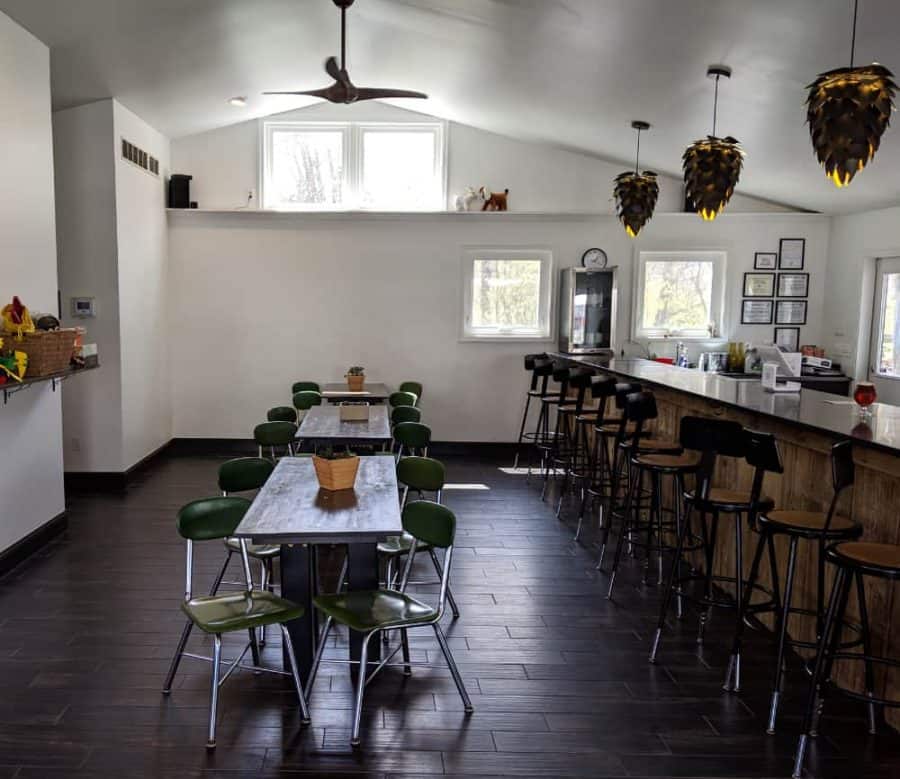 Fibonacci Brewing Company
Fibonacci Brewing is a micro brewery producing what they call "hybrid" beers appealing to all beer enthusiasts. They just added an expanded outdoor beer garden and even have an AirBNB rental! They do offer some wines for the non-beer drinker.
Location: 1445 Compton Rd, Mount Healthy, Ohio 45231
Fibonacci Brewing Company | Website
---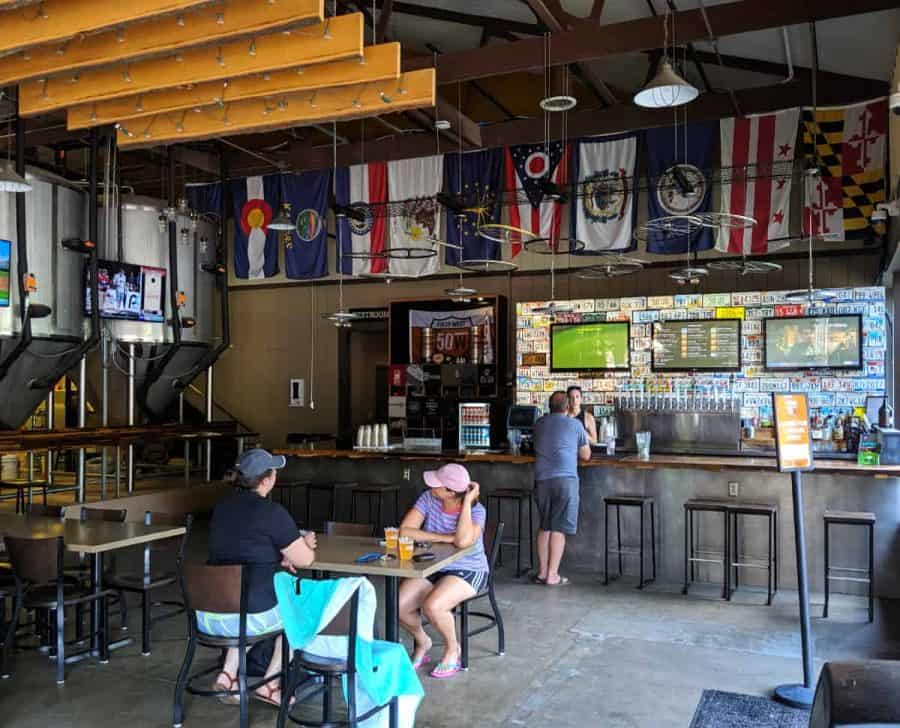 Fifty West Brewing Company
50 West Brewing is a destination. One side of the street is the microbrewery with a full restaurant. On the other side, the large 50 West Production Works crafts great brews along with offering sand volleyball, a canoe/kayak portage, and an outdoor grille where you can get a burger and a few other selections. Bike rentals are available as well, making it a favorite stop for bike enthusiasts.
Location: 7668 Wooster Pike, Cincinnati, Ohio 45227
Fifty West Brewing Company | Website
---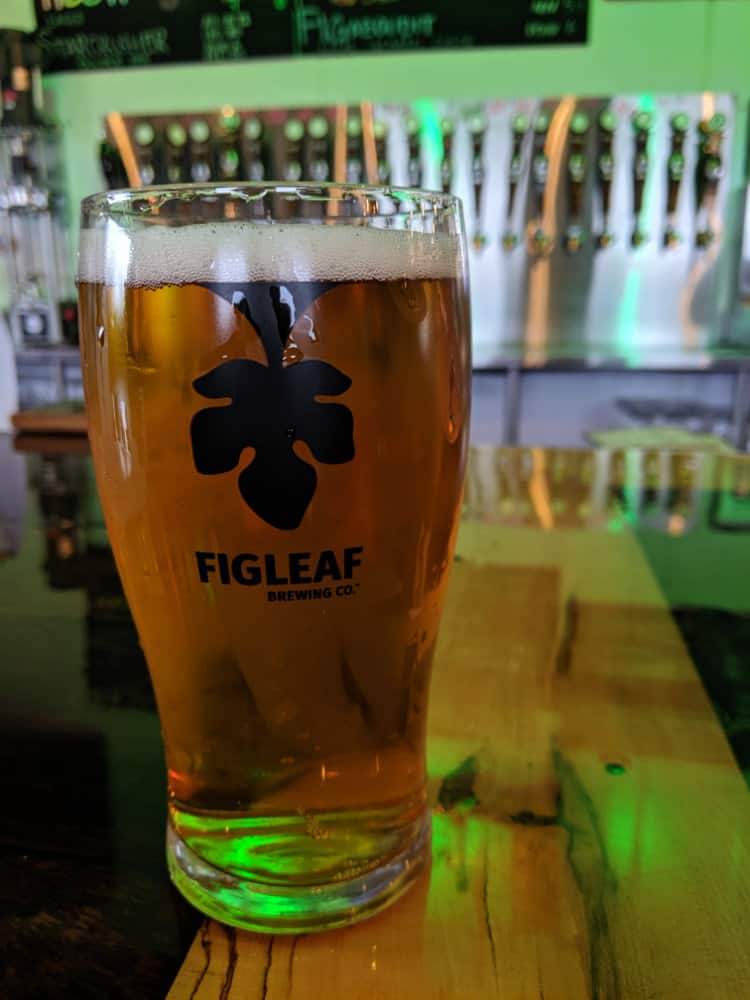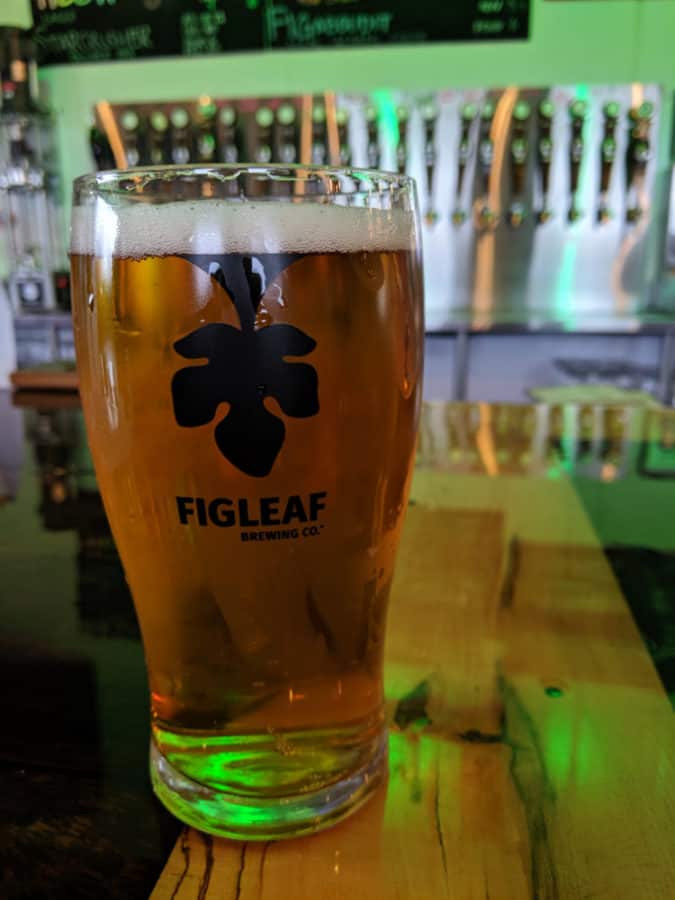 FigLeaf Brewing Co.
FigLeaf Brewing is in a stand alone building located in a industrial park, providing lots of space for patrons. They craft many styles of beer so it is easy to find one to fit your tastes. Soda and coffee are on hand for those who are not drinking.
Update for Sept., 2019: FigLeaf was recently acquired by the fine folks at March First Brewing. We can't wait to see what the future holds!
Location: 3387 Cincinnati-Dayton Rd., Middletown, Ohio 45044
---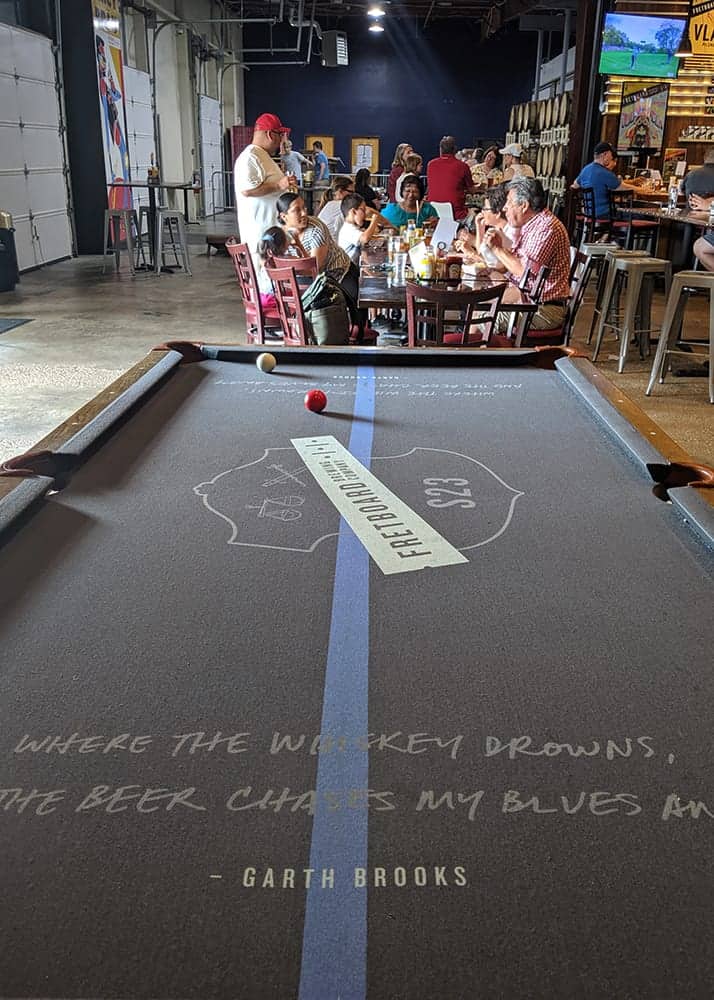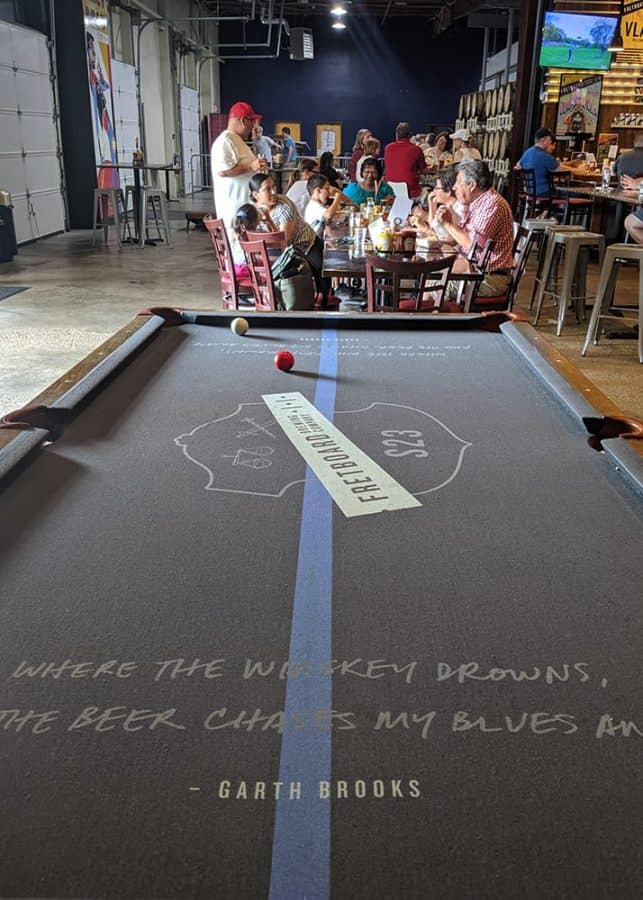 Fretboard Brewing Company
Fretboard Brewing is all about music! From composing craft beer, rock-n-rolling with friends, or listening to great live music every weekend, this place is a music lover's spot. The taproom is large and open with a stage on one end, a large bar, lots of tables, some cornhole sets, and lots more. They do have food onsite.
Location: 5800 Creek Road, Blue Ash, Ohio 45242
---
Grainworks Brewing Company
Grainworks Brewing is a favorite stop for those north of Cincinnati. They offer many different types and varieties of beer. They have a large indoor and outdoor space along with some live music.
Location: 7790 Service Center Dr Suite B, West Chester, Ohio 45069
---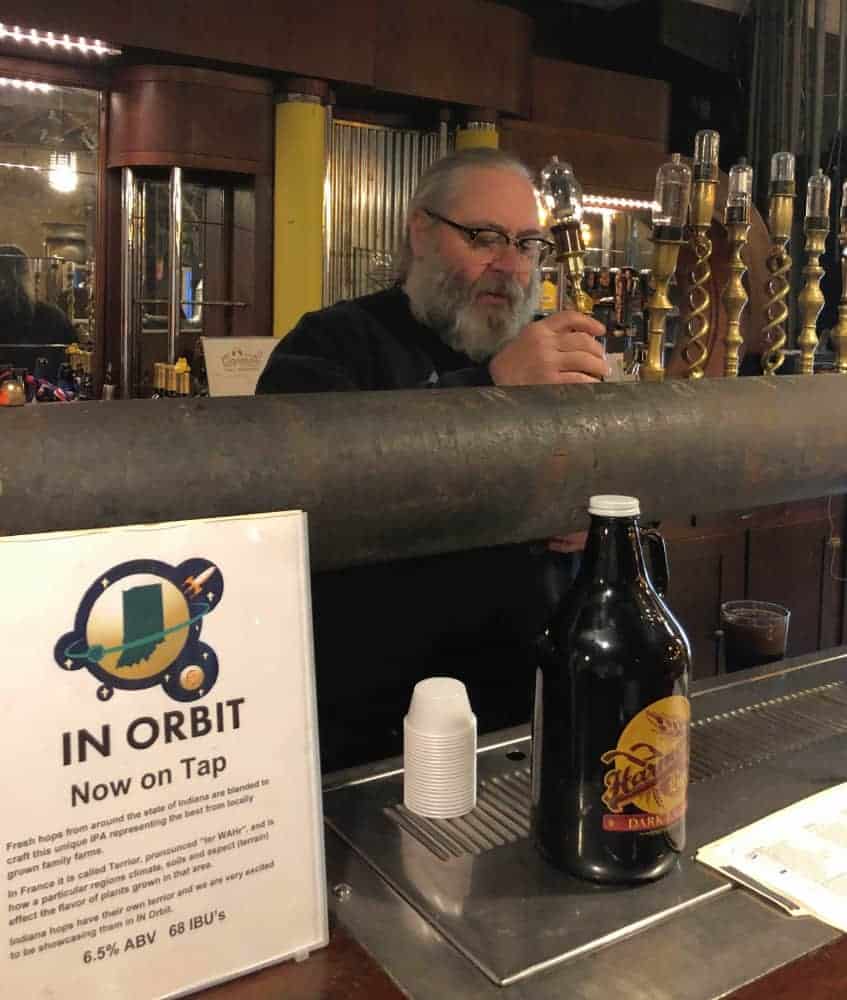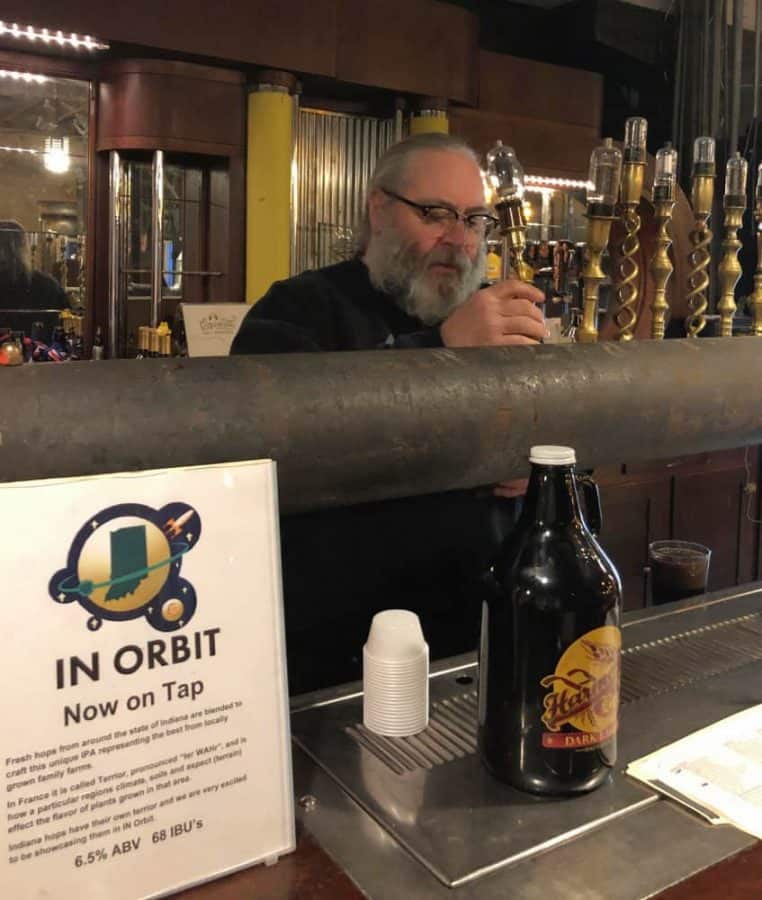 Great Crescent Brewery
Great Crescent Brewery is located on the Ohio River in Aurora, Indiana and just a short drive west of Cincinnati. Located in an old distillery, they specialize in traditional brewing methods…no filtering or chemical clarifies. Don't miss your chance to have a meal here – all food is made in house and is DELICIOUS!
Location: 315 Importing St, Aurora, Indiana 47001
Great Crescent Brewery | Website
---
Happy 2 Brewing Company
Happy 2 Brewing is a nano brewery located inside Mio's pizza in Anderson.
The vision of H2BC is focused on beer education, charitable involvement, and community gathering.
Location: 8298 Clough Pike, Cincinnati, Ohio 45244
---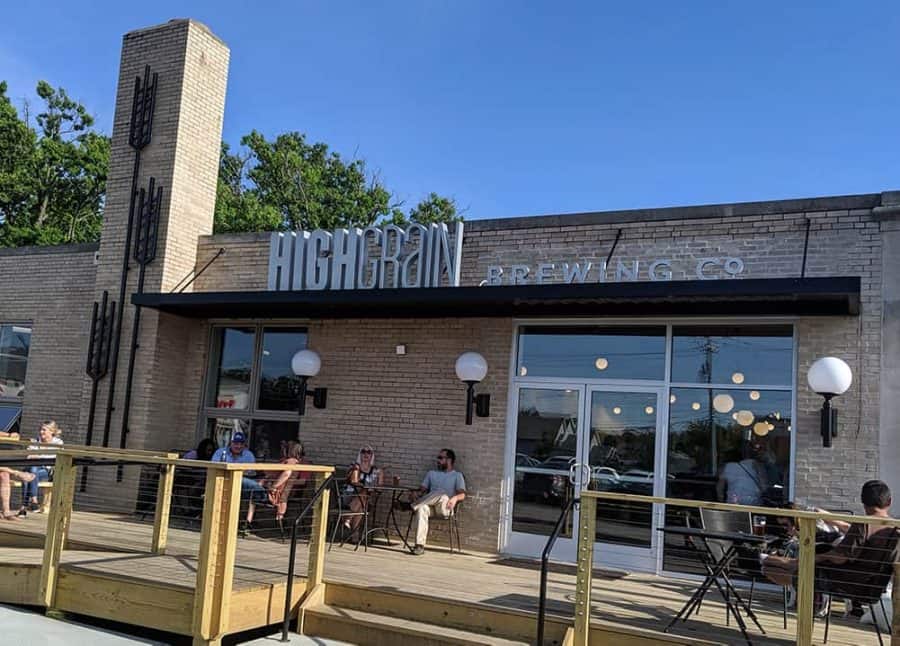 HighGrain Brewing Company
HighGrain Brewing Company strives for high quality and sustainability. From the quality of their beer, tastefulness of their full menu, or decrease in carbon footprint from geo-thermal and wind energy…this brewery is made to last.
Location: 6860 Plainfield Road Cincinnati,Ohio 45236
HighGrain Brewing Co. | Website
---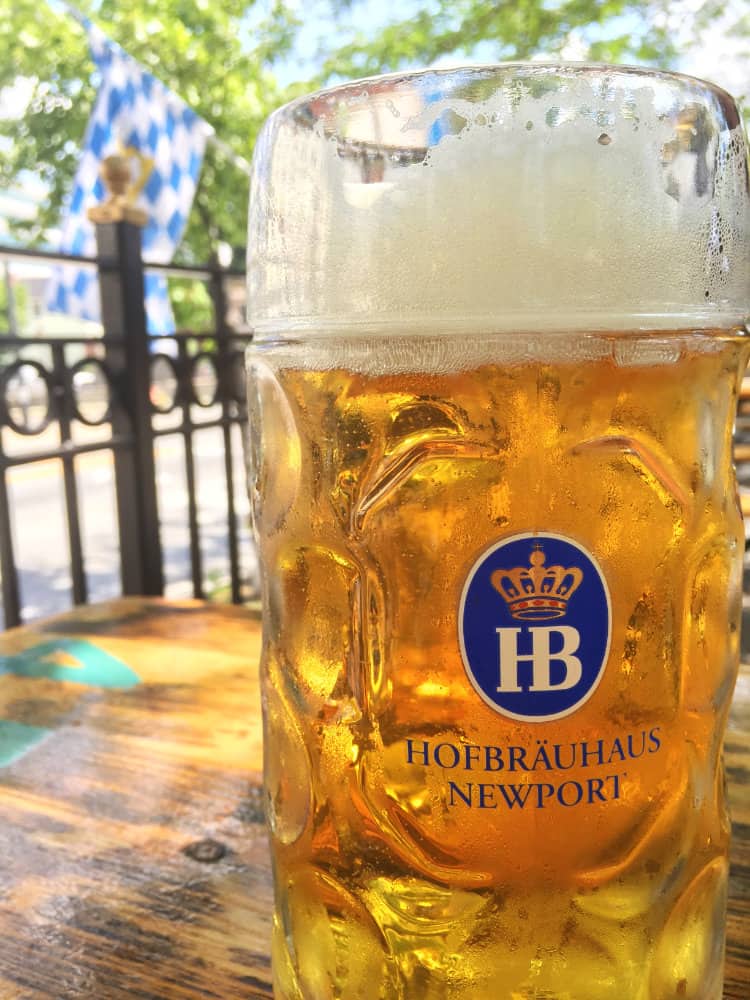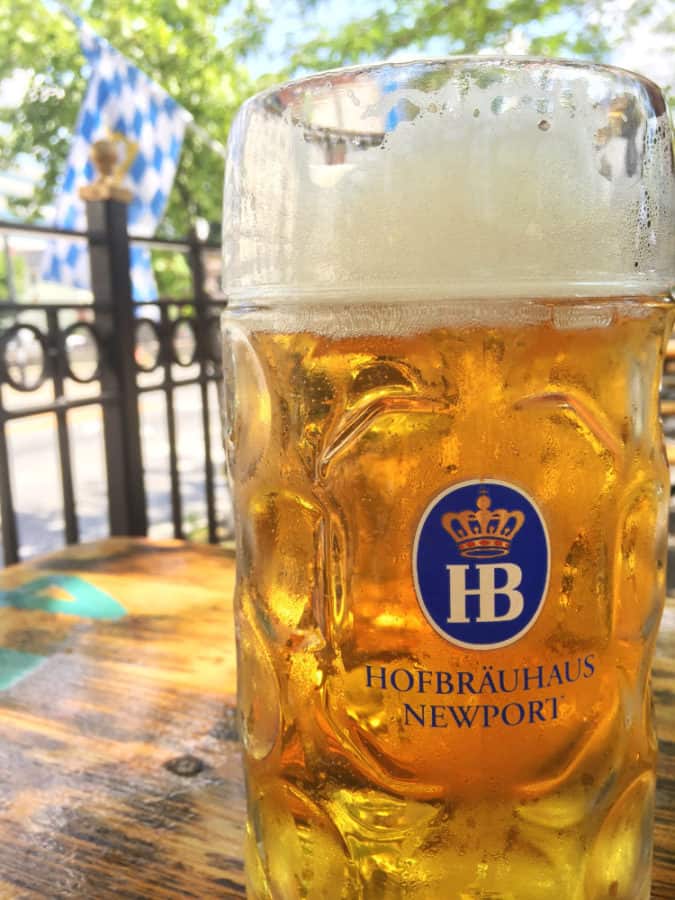 Hofbrauhaus Newport
Just across the river in Newport, KY you'll find Hofbrauhaus, the first one located in the US. Fun for all ages, Hofbrauhaus has traditional German beers, a full food menu, large outdoor seating, and live German music.
Location: 200 E 3rd St, Newport, KY 41071
---
Humble Monk Brewing Company
Humble Monk Brewing Co., now open in Northside, is a homegrown brewery that specializes in high quality craft beer with a Belgian influence.
Location: 1641 Blue Rock Rd, Cincinnati, Ohio 45223
---
Listermann Brewing Company
What started out as a love for home brewing turned into a passion. Listermann Brewing is not only an iconic brewery in Cincinnati, its owner first began the business designing parts for home brewers. The beers are edgy, flavorful, and have won several awards at the Great American Brewery Festival.
Location: 1621 Dana Ave, Cincinnati, Ohio 45207
---
Little Miami Brewing Company
This family run craft brewery sits on the edge of the Little Miami River. Little Miami Brewing offers a great selection of beers for all tastes. And it is in close proximity to a bike trail and canoe/kayak portage.
Location: 208 Mill St, Milford, Ohio 45150
---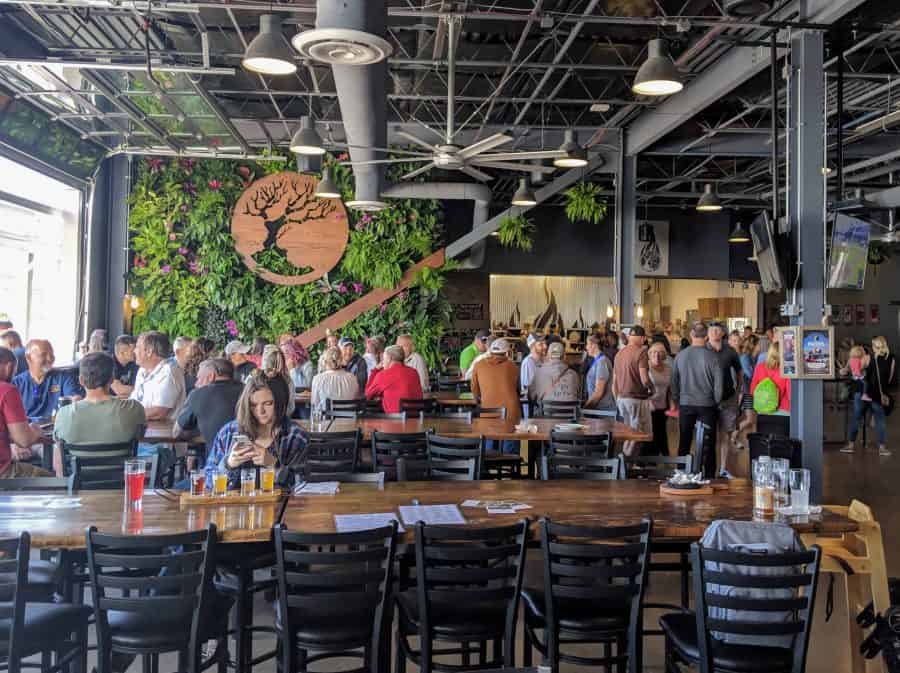 MadTree Brewing
MadTree Brewing is a must stop brewery in Cincinnati. The large expansive taproom and outdoor area allow for mingling with friends or meeting new ones. Their beer selection is impressive. And don't miss Catch a Fire Pizza located in the taproom. They have a large parking lot behind the building.
Location: 3301 Madison Rd, Oakley, Ohio 45209
---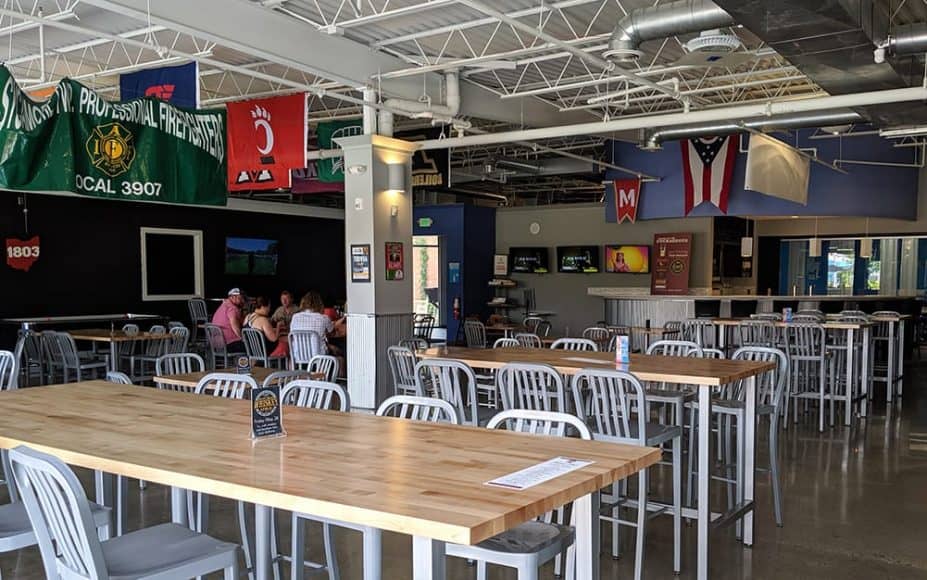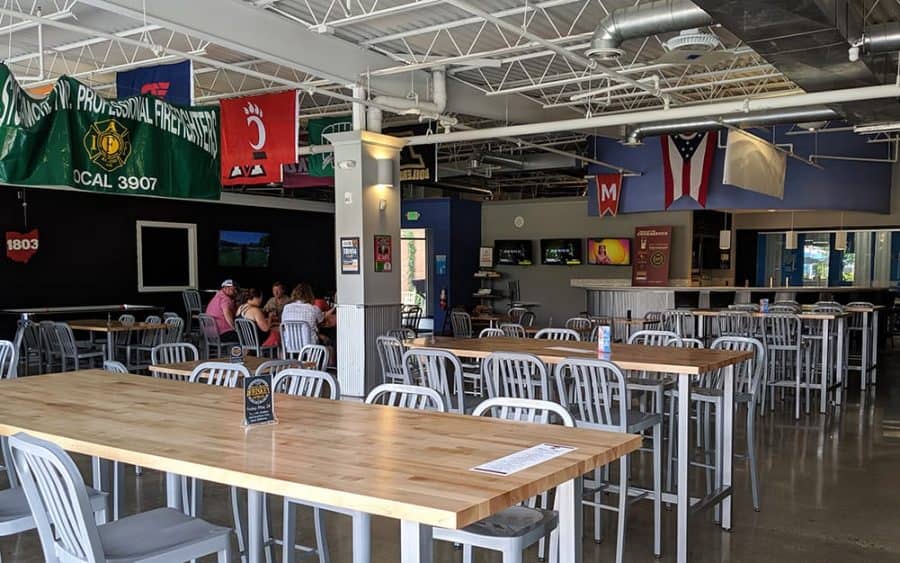 March First Brewing
March First Brewing is unique in that it is both a brewery and a distillery and they are know for their ciders. The taproom addition is expansive with large projection TV's to watch live sports. An outdoor seating area runs along the front of the building and they have lots of umbrella tables for your outdoor enjoyment. Food is available.
Location: 7885 East Kemper Road, Sharonville, Ohio 45249
---
Mash Cult Brewing
From what we can tell, this nano brewery it located inside Party Town. They specialize in different takes of old and new style beers.
Location: 6823 Burlington Pike, Florence, KY 41042
---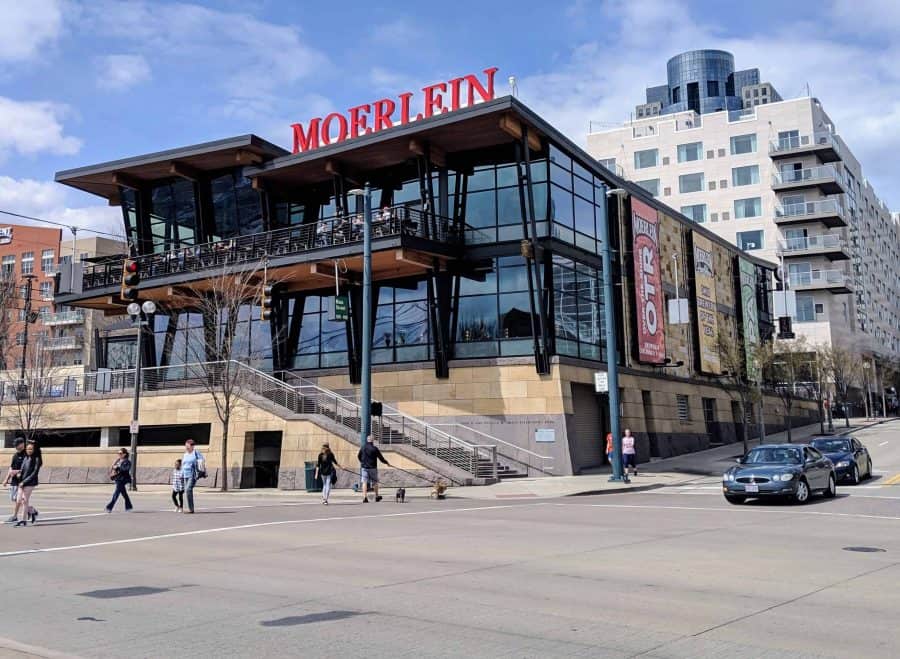 Moerlein Lager House
Moerlein Lager House is located downtown, adjacent to Smale Riverfront Park. It sits between the Reds and Bengals stadium along the banks of the Ohio River. This micro-brewery produces a full line of Christian Moerlein brews. The Lager House restaurant offers a large menu of main entrees, outdoor seating, and an expansive side porch area.
Location: 115 Joe Nuxhall Way, Cincinnati, OH 45202
---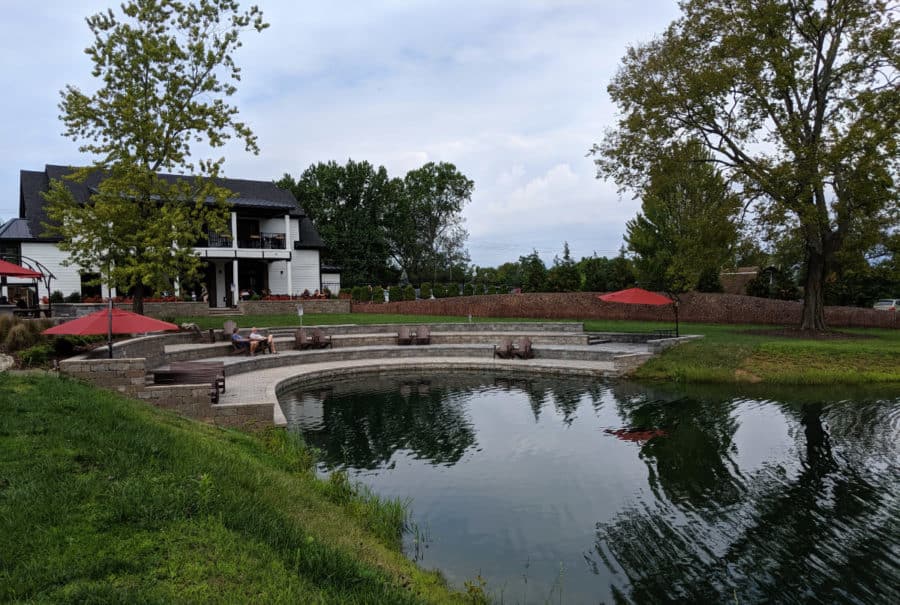 Mt. Carmel Brewing Company
Mt. Carmel Brewing started in an old farmhouse on the east side of town. The beautiful grounds and taproom have recently been remodeled and expanded. The drink list is just as grand with beer, wine, spirits and beer cocktails. We suggest trying one of the rocking chairs on the back porch or taking a stroll around the pond.
Location: 4362 Mt Carmel Tobasco Rd, Mt. Carmel, Ohio 45244
---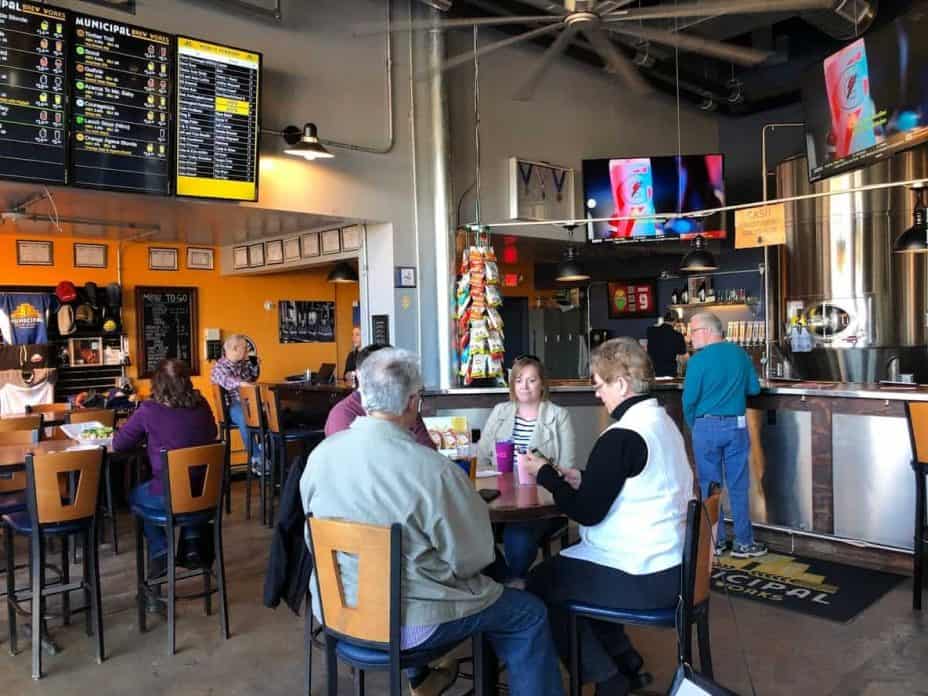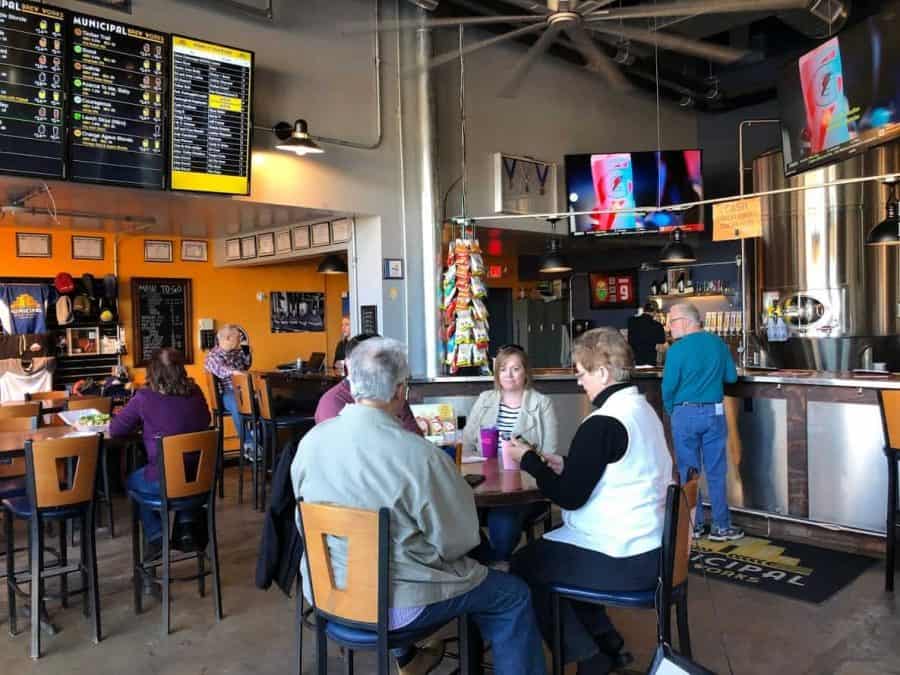 Municipal Brew Works
Municipal Brew Works re-purposed the old City of Hamilton municipal building into an expansive kid-friendly taproom with a large outdoor seating area. The 20 taps offer a brew for everyone in your crew. And if you want to go to venture outside, be sure to ask about the to-go DORA cup.
Location: 20 High Street, Hamilton, Ohio 45011
Municipal Brew Works | Website
---
Narrow Path Brewing Co.
Located on the Loveland bike trail, Narrow Path Brewing has ample space inside and out to enjoy a craft beer. The draft list boasts many different varieties along with some experimental brews. A great local hangout.
Location: 106 Karl Brown Way, Loveland, OH 45140
---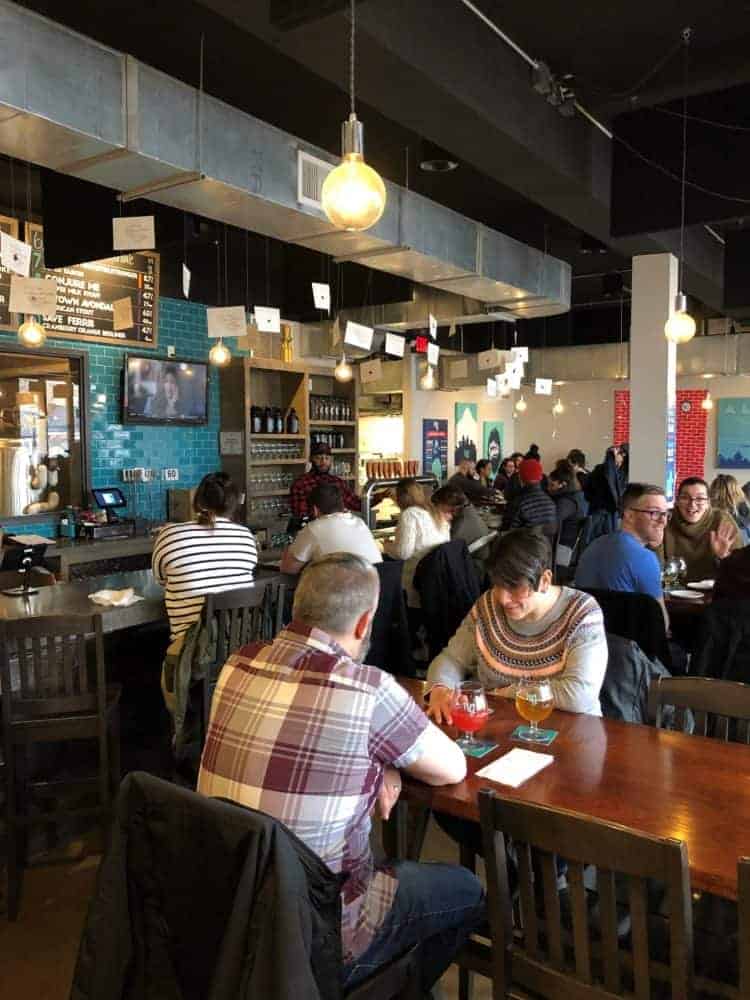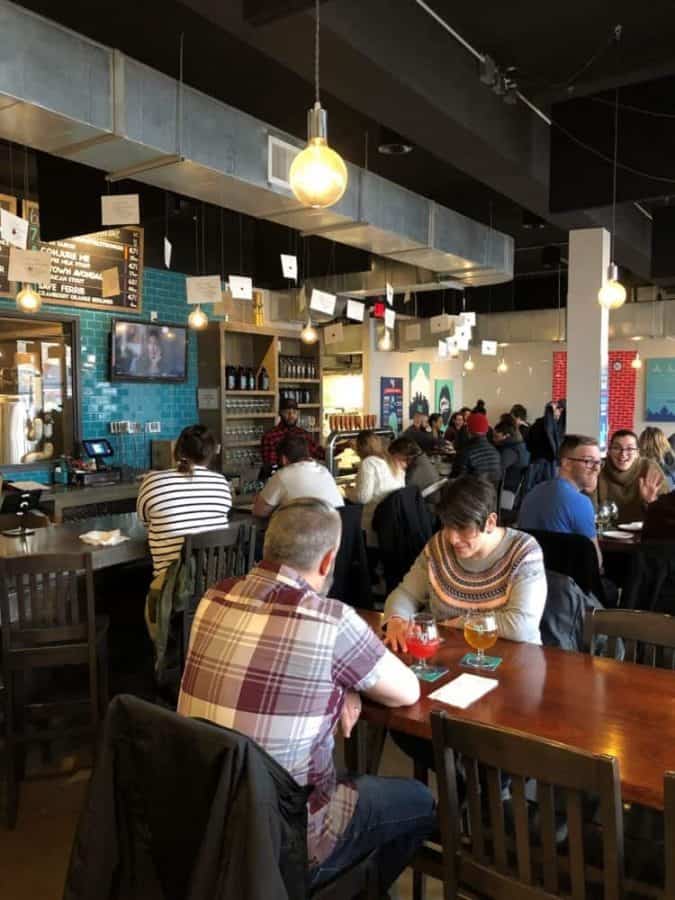 Nine Giant Brewing
Located in the heart of Pleasant Ridge, Nine Giant Brewing serves up beer that's brewed onsite plus wine, and cider. This taproom has a kitchen and a large menu… and they're now open for lunch!
Location: 6095 Montgomery Rd, Cincinnati, Ohio 45213
---
Northern Row Brewery and Distillery
Located in the historic Over-the-Rhine Brewery District, Northern Row Brewery and Distillery is in a historic pre-prohibition building constructed in 1895. Northern Row is a craft brewery and distillery located in the original Christian Moerlein Lager house in the heart of OTR in Cincinnati, OH.
Location: 111 West McMicken Avenue, Cincinnati, Ohio 45202
---
Paradise Brewing
Offering craft beer plus the supplies you might need as a home brewer, Paradise Brewing is located in Anderson.
Location: 7766 Beechmont Avenue, Anderson, OH 45255
---
Rebel Mettle Brewery
Rebel Mettle Brewery is located along 4th street in downtown Cincinnati, a walkable and spirited district. Eight different taps hold many varieties such as IPA, lager, pilsner, stout, and a sour and a rotating seltzer. Food offerings small bites, pizza and wings.
Location: 412 Central Ave, Cincinnati, OH 45202
---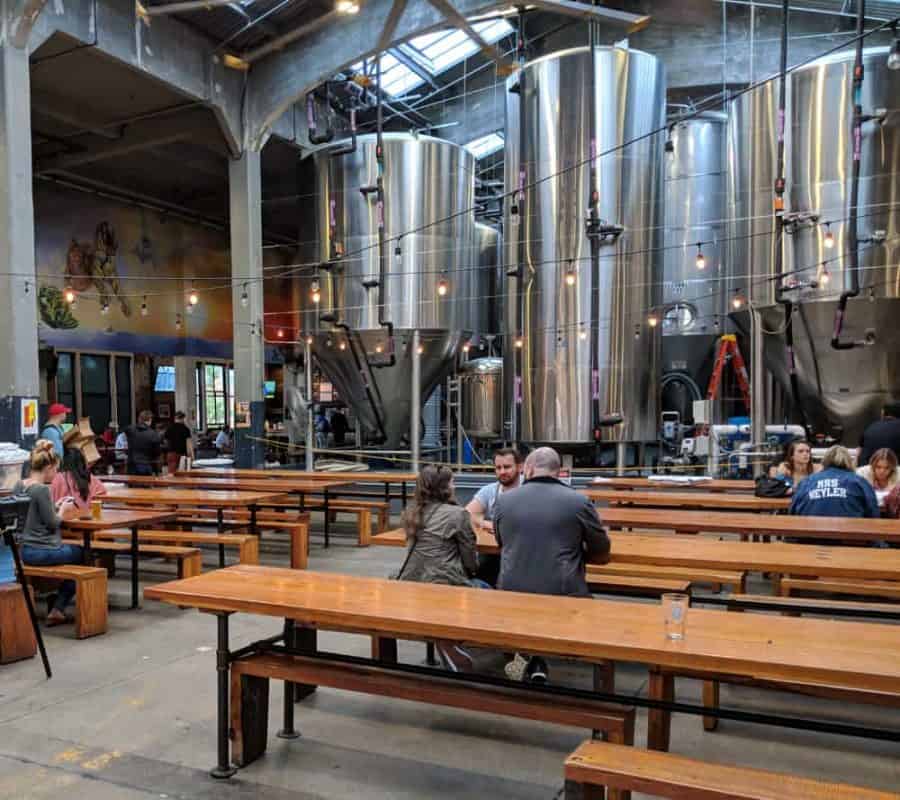 Rhinegeist Brewery
Known for their beer AND cider, Rhinegeist Brewery is located in Over the Rhine. Enjoy a beer in the taproom or on the rooftop (adults only and in season). The taproom is one of the largest in the city. And they're located right on the streetcar route with a station right out front.
Location: 1910 Elm St, Cincinnati, OH 45202
---
Rivertown Brewery
Located in Monroe, Rivertown Brewery has a taproom with 30 taps, cocktails, wine and soda. They have a great BBQ-centric menu and even offer a kids' menu as well as lunch.
Location: 6550 Hamilton Lebanon Rd, Middletown, OH 45044
---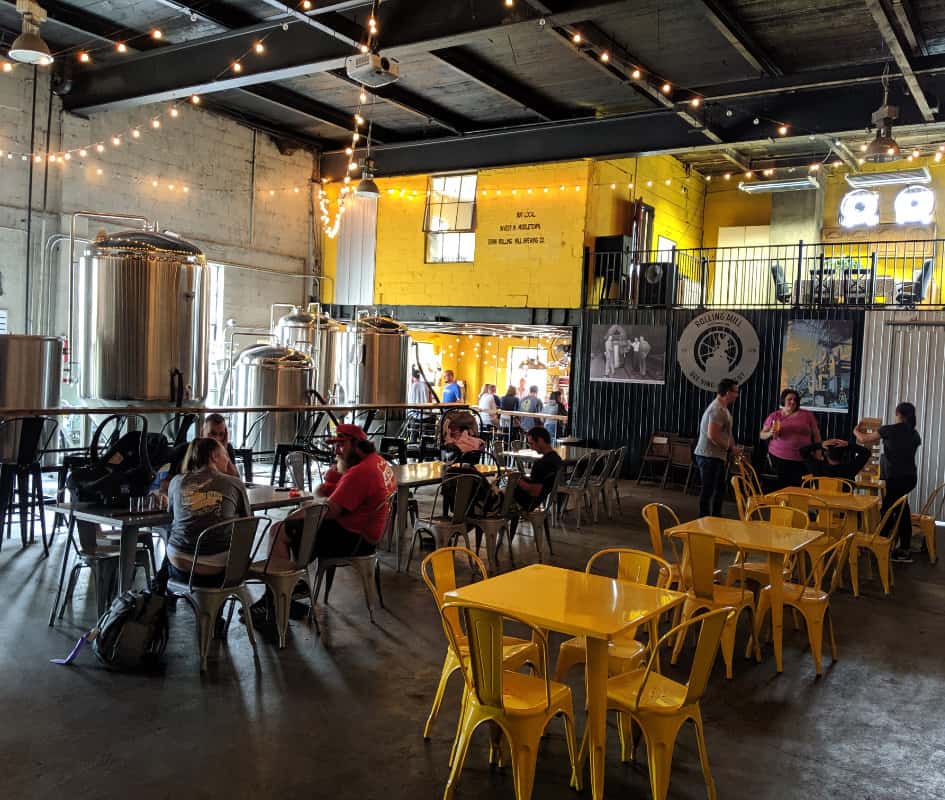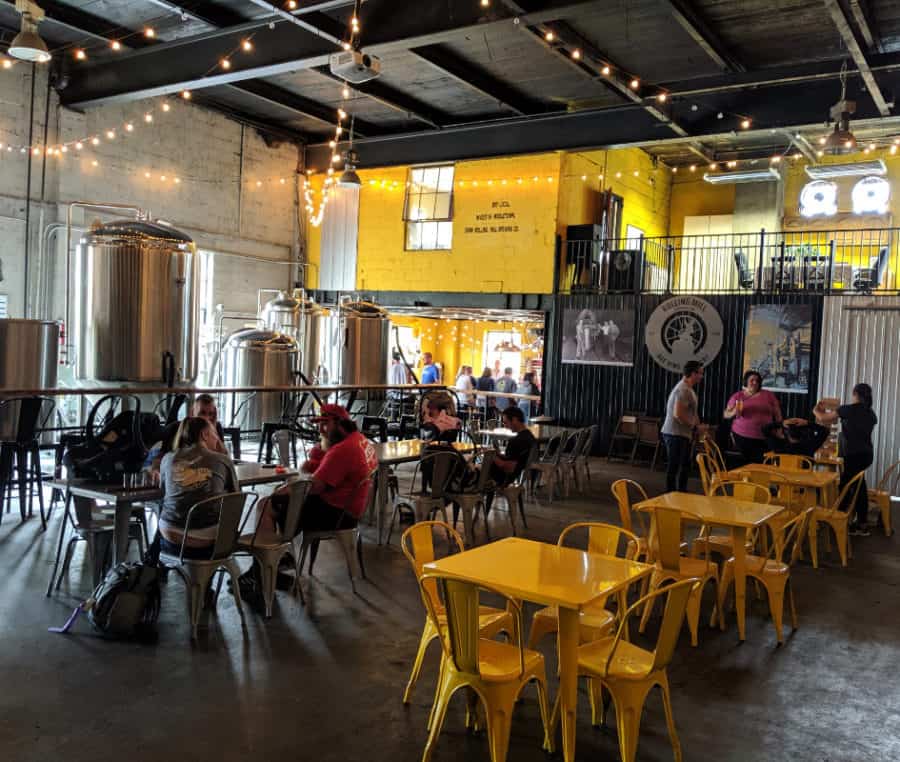 Rolling Mill Brewing Company
Rolling Mill Brewing Company specializes in gluten-free craft beer. They offers a variety of beers all year plus seasonals.
Location: 916 1st Ave, Middletown, Ohio 45044
---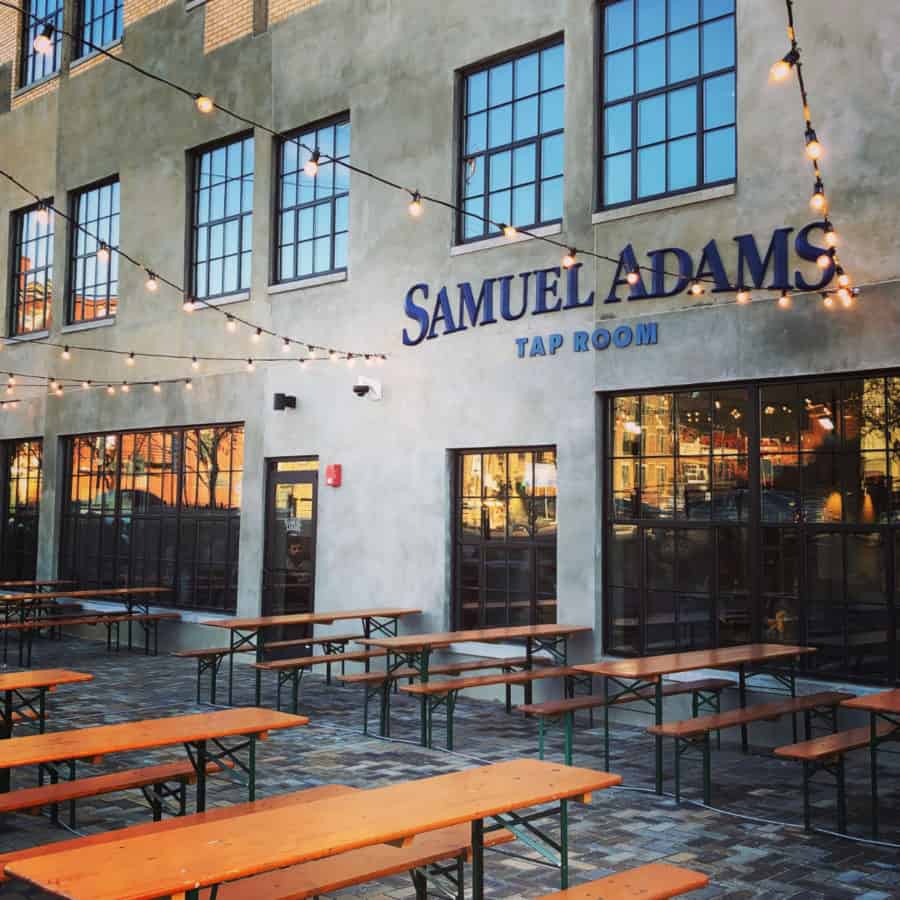 Samuel Adams Cincinnati Taproom
Samuel Adams has been brewing beer in Cincinnati for 21 years and you can now you can visit the Same Adams Cincinnati Taproom. They pour some traditional Sam Adams selections as well as some taproom exclusive beers. The taproom offers bar seating, table seating, and if you're lucky you can snag a seat in the lounge area in the back. They do have a large outdoor area as well.
Location: 1632 Central Parkway, Cincinnati, Ohio 45214
---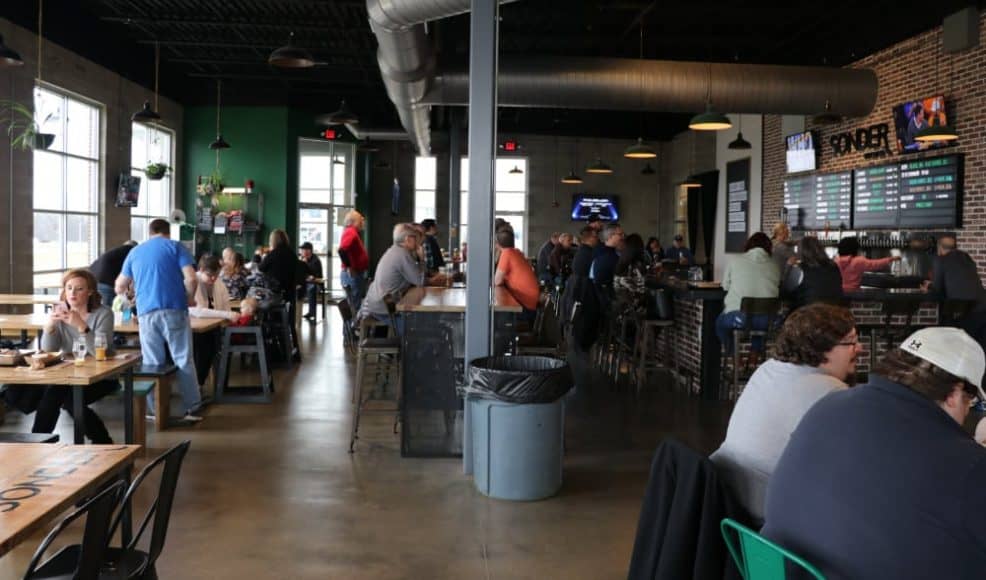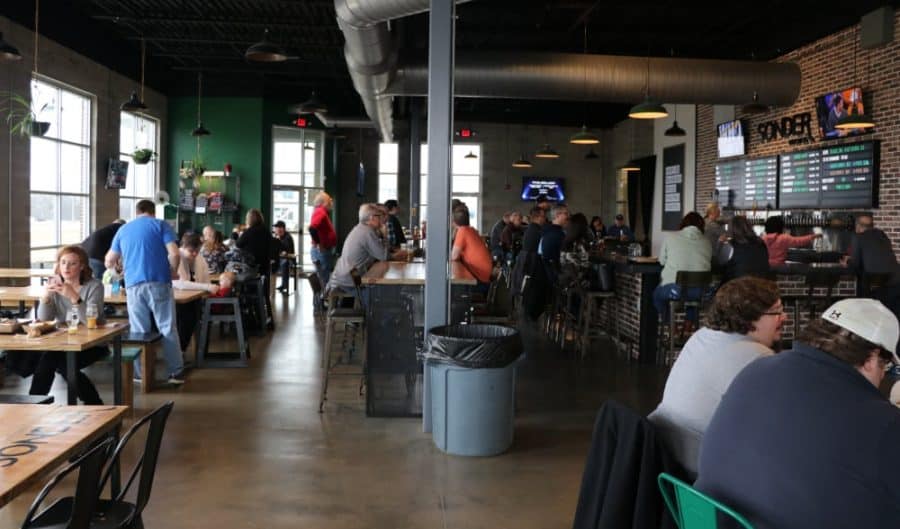 Sonder Brewing
Located in Mason, Sonder Brewing is a 30-barrel brew house with a 2,000 square foot taproom. BrewRiver Kitchen (located in the taproom) serves food daily. They have a covered side patio and some outdoor space as well.
Location: 8584 Duke Blvd, Mason, Ohio 45040
---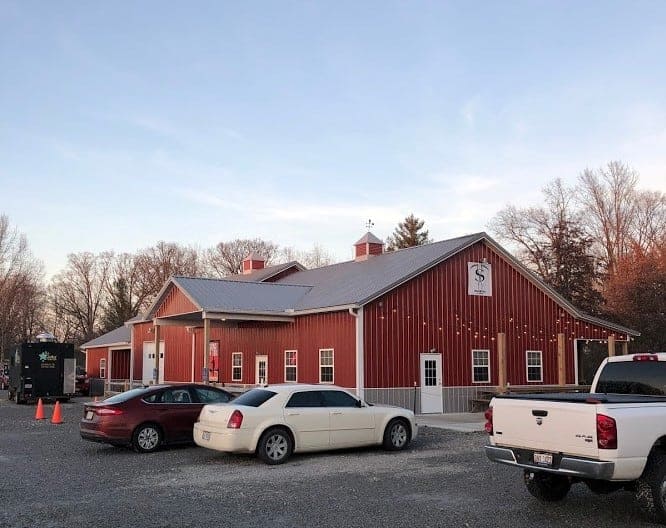 Sons Of Toil Brewing
Using ingredients sourced locally (when possible), Sons of Toil takes pride in the hand crafted beers they brew on site. Enjoy live bands in their taproom or sit for a while in the large outdoor areas.
Location: 14090 Klein Rd, Mt Orab, Ohio 45154
---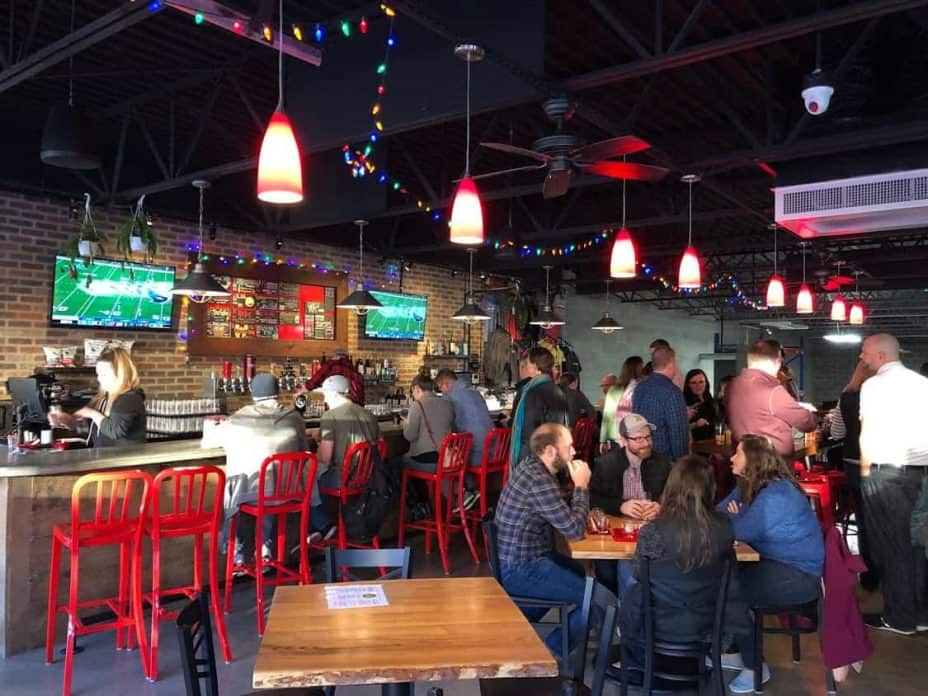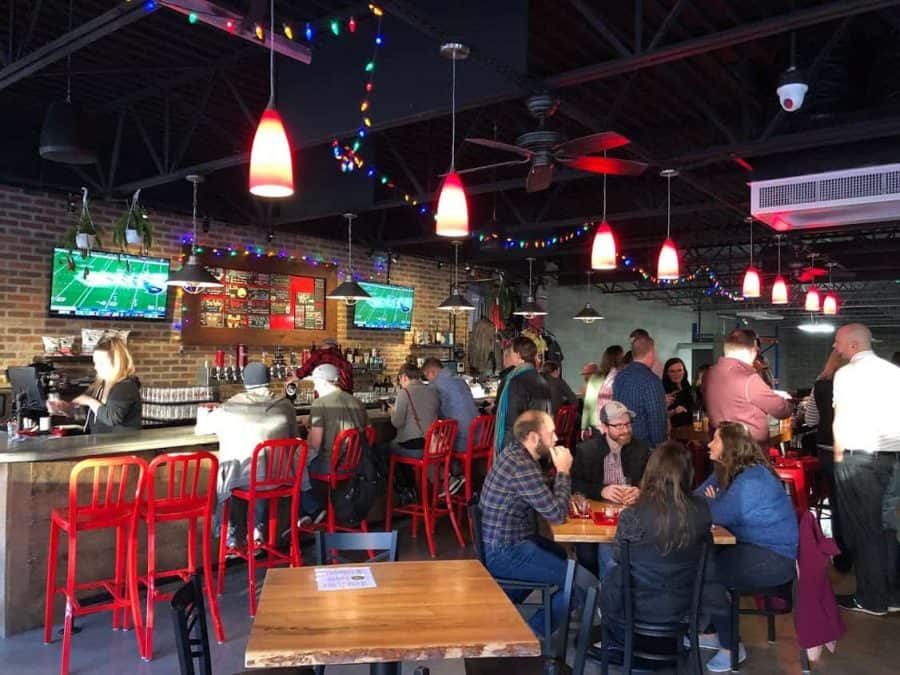 Streetside Brewery
Built on the former site of the East End Cafe, Streetside Brewery's taproom serves up their own craft beer as well as some guest taps and wine. They have a food truck and some parking around back.
Location: 4003 Eastern Ave, Cincinnati, Ohio 45226
---
Swine City Brewing
Located in Fairfield, Swine City Brewing keeps cold beer in the walk-in for you. Drink it at the bar or take it to-go. Pints available in bar, also.
Location: 4614 Industry Dr, Fairfield, Ohio 45014
---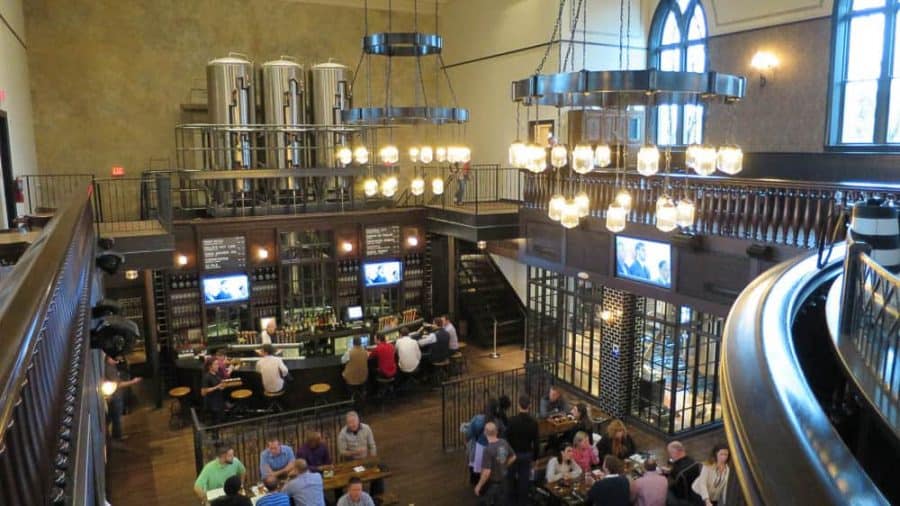 Taft's Ale House
Location: 1429 Race St., Cincinnati, Ohio 45202
---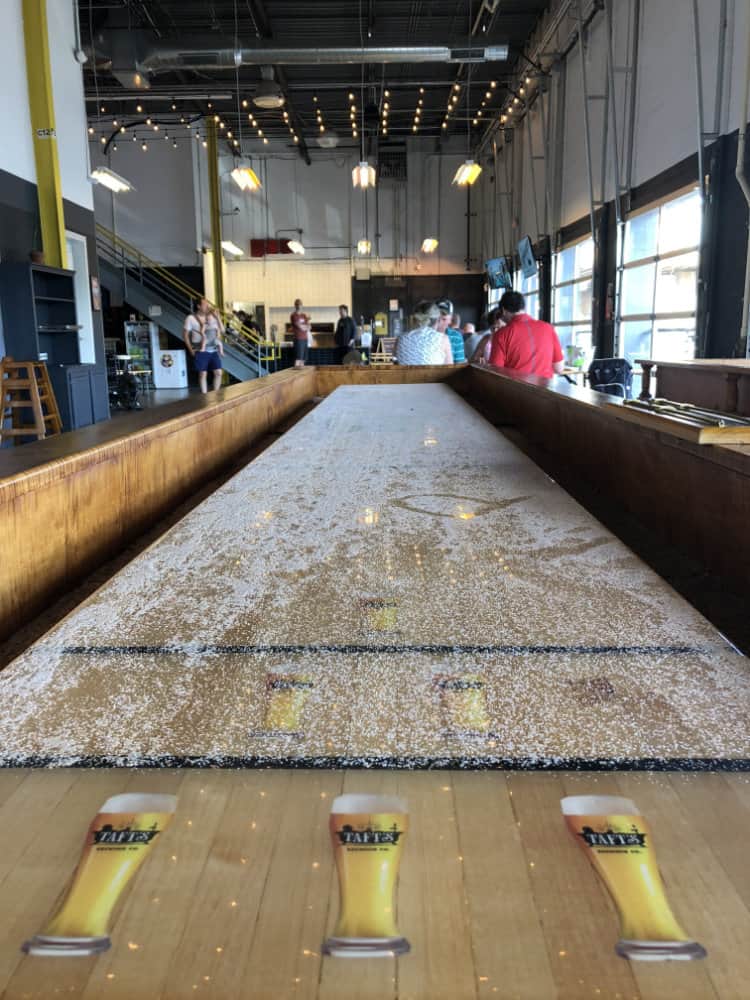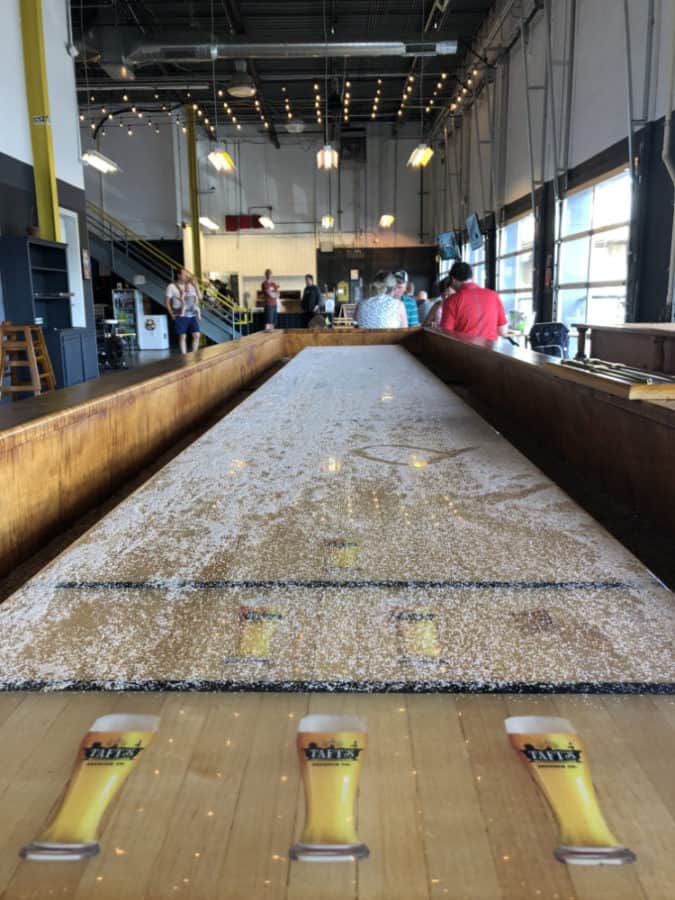 Taft's Brewpourium
An off-shoot of Taft's Ale House, this separate location also brews beer. This is a more casual taproom (as compared to Taft's Ale House in OTR) with a large bar and lots of seating. It's a great place to go if you have little ones with you – lots of room to run.
Location: 4831 Spring Grove Ave, Suite 1, Cincinnati, Ohio 45232
---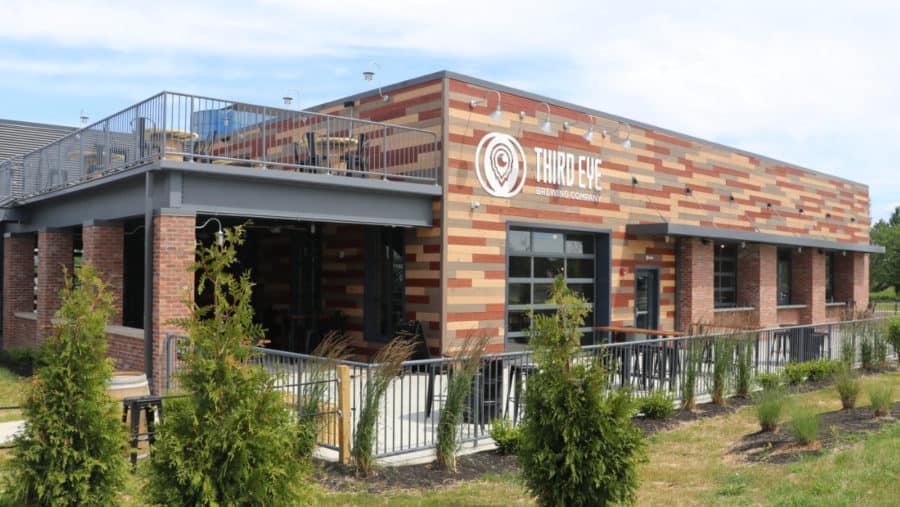 Third Eye Brewing Company
Third Eye Brewing Company is Sharonville's first brewery. They have a large open taproom and lots of outdoor space including a covered patio that can be used all year long.
Location: 11276 Chester Road, Sharonville, Ohio 45246
Third Eye Brewing Company | Website
---
Urban Artifact
Known for their sours, Urban Artifact's taproom is built in the lower level of St. Patrick's Church in Northside. The brewery is in the old gym. Enjoy a cold one in the brewery or in the courtyard.
Location: 1660 Blue Rock St, Cincinnati, Ohio 45223
---
Warped Wing Brewpub and Smokery
New to the Cincinnati brewery scene, Warped Wing calls Dayton, Ohio home. Their Mason location has their beers on tap plus guest taps on occasion. They offer an impressive menu with daily specials, wine and cocktails too!
Location: 5650 Tylersville Road, Mason, OH
---
West Side Brewing
Cincinnati's first west side brewery, West Side Brewery actually started with a KickStarter campaign. They have a family-friendly taproom where they serve craft beer, wine, cider, and soft drinks.
Location: 3044 Harrison Ave, Westwood, Ohio 45211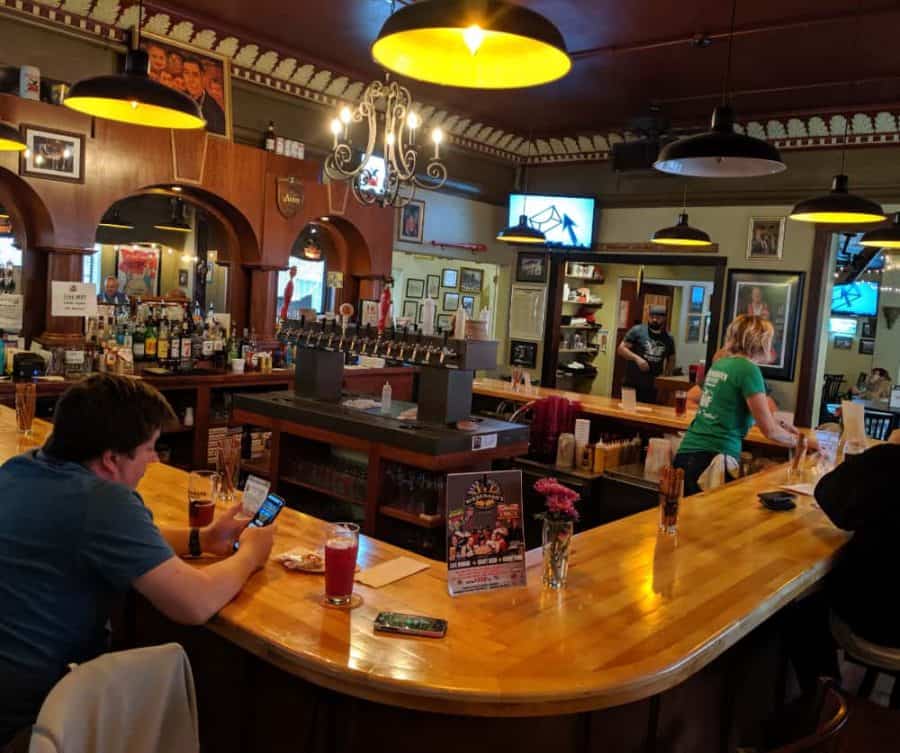 Wiedemann Brewery
"After decades of changing ownership and jumping from one out-of-town brewery to another, we've brought back the authentic Bohemian recipe — light-bodied, flavorful and refreshing – and returned Wiedemann's to local ownership and management. " The new Wiedemann Brewery is located in St. Bernard. They have a great wrap around bar and a full service restaurant.
Location: 481 Vine St, Saint Bernard, Ohio 45217
---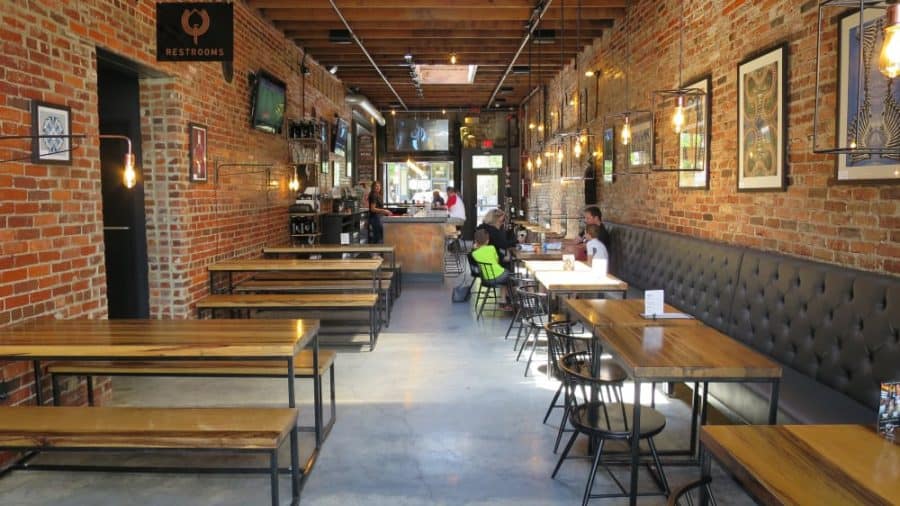 The Woodburn Brewery
Woodburn Brewery is a quaint, walkable brewery in Walnut Hills. They specialize in great craft beers, good food from their Woodburn Grill and spirts from Cincinnati Distilling.
They now have a full kitchen! Selections include great sharables, sandwiches, apps, and more.
Location: 2800 Woodburn Ave, Walnut Hills, Ohio 45206
---
Wooden Cask Brewing Company
Take a short trip across the river to enjoy a beer at Wooden Cask in Newport, Ky. 18 craft beers are always on tap plus their featured small-batch brews.
Location: 629 York St, Newport, KY 41071
---