Pickleball is one of the fastest growing sports in America and it's easy to understand why. Part badminton. Part tennis. Part pingpong. Pickelball brings the fun!
It's easy for beginners to learn, requires little equipment (just a ball and a paddle), is fun to play with friends, and all ages can enjoy it.
Courts are springing up all across the midwest and Cincinnati is no exception. We are lucky to have many choices when it comes to Cincinnati pickleball play with lots of indoor and outdoor courts and facilities.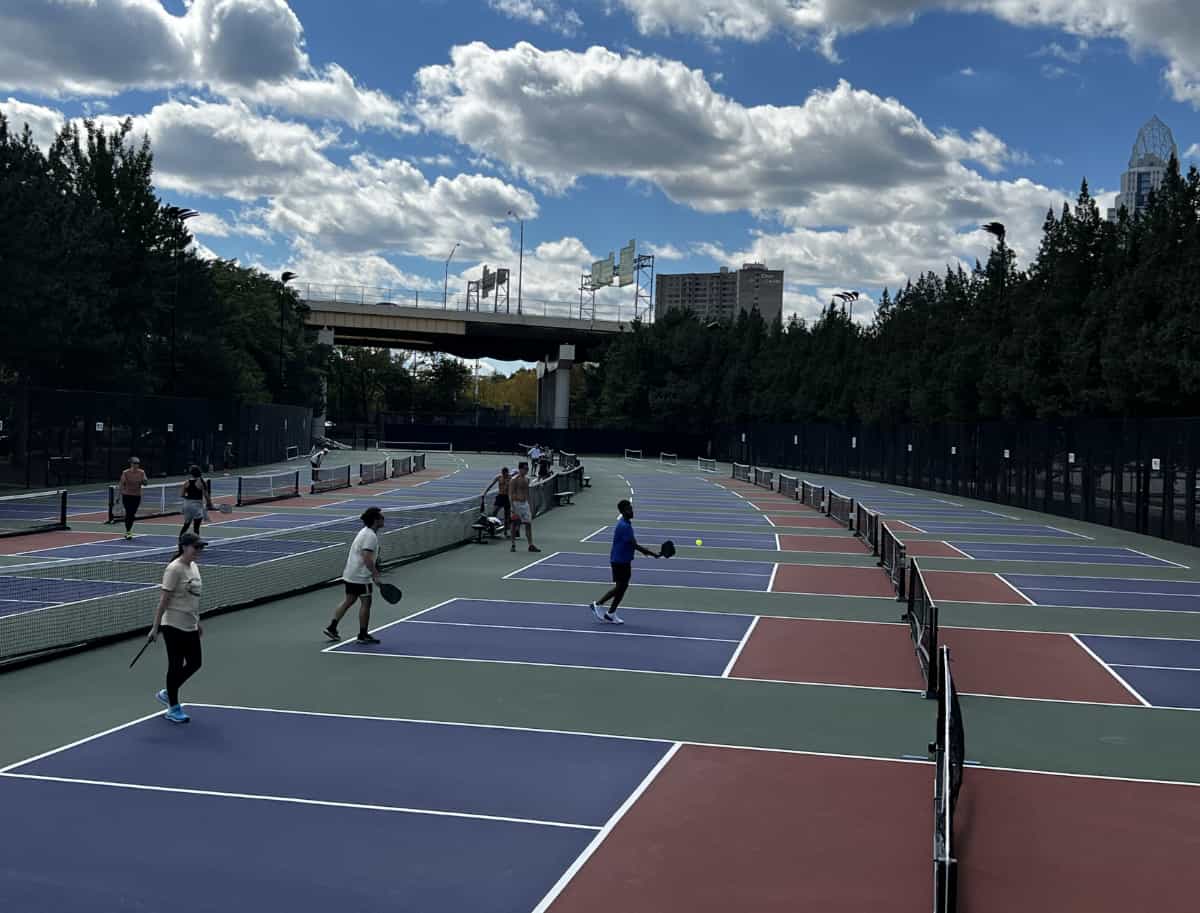 We live (and play) here in Cincinnati and thought we'd hunt down a few new-to-us local spots. So I did what I do and decided to create a long list to share.
Get the scoop as we "serve" up a list of Cincinnati Pickleball adventures below!
Where To Play Pickleball in the Cincinnati Area
We're going to list these in alphabetical order EXCEPT for the one we feel is a must play for those of you who are just discovering or already enjoying this sport – Sawyer Point.
And it seems we're not the only ones who are enamored with the Sawyer Point facilities. The 2023 APP Vlasic Classic™ tournament is set to take place at our beautiful riverfront park in May of 2023. The 2023 APP Vlasic Classic™ will feature several of the best pro players in the world, competing alongside hundreds of amateurs, senior and super senior pros. The tournament will be televised on CBS Sports Network and livestreamed on APPTV.
Pickleball at Sawyer Point (outdoor)
The Cincinnati Parks Foundation, with the help of many community donors, led the way in turning this downtown Cincinnati spot into an outstanding pickleball facility (new in 2022).
You'll find 18 dedicated pickleball courts at Sawyer Point.
The courts are divided by skill level with seven courts for Levels 1.0 to 3.0 and another seven courts for Levels 3.5 and above. Four additional courts are available (for all levels) in the "whiteboard courts" area. Three tennis courts are available too with tennis players given priority for those spots.
Features include lighting for evening play, play for individuals and groups, seating for spectators (up to 250!), and a ball machine (must be a member to use). They often host clinics and classes for those who want to learn to play and for those looking to improve their game.
The recreational courts at Sawyer Point are free to use and open to the public daily, 8am to 10pm (March through December).
Group play sessions are Monday – Friday: 8am-noon and 5-10pm, Saturday and Sunday: 8am – noon.
Courts can not be reserved (except for Cincinnati Parks approved events).
Location: 815 Pete Rose Way, Cincinnati 45202
Website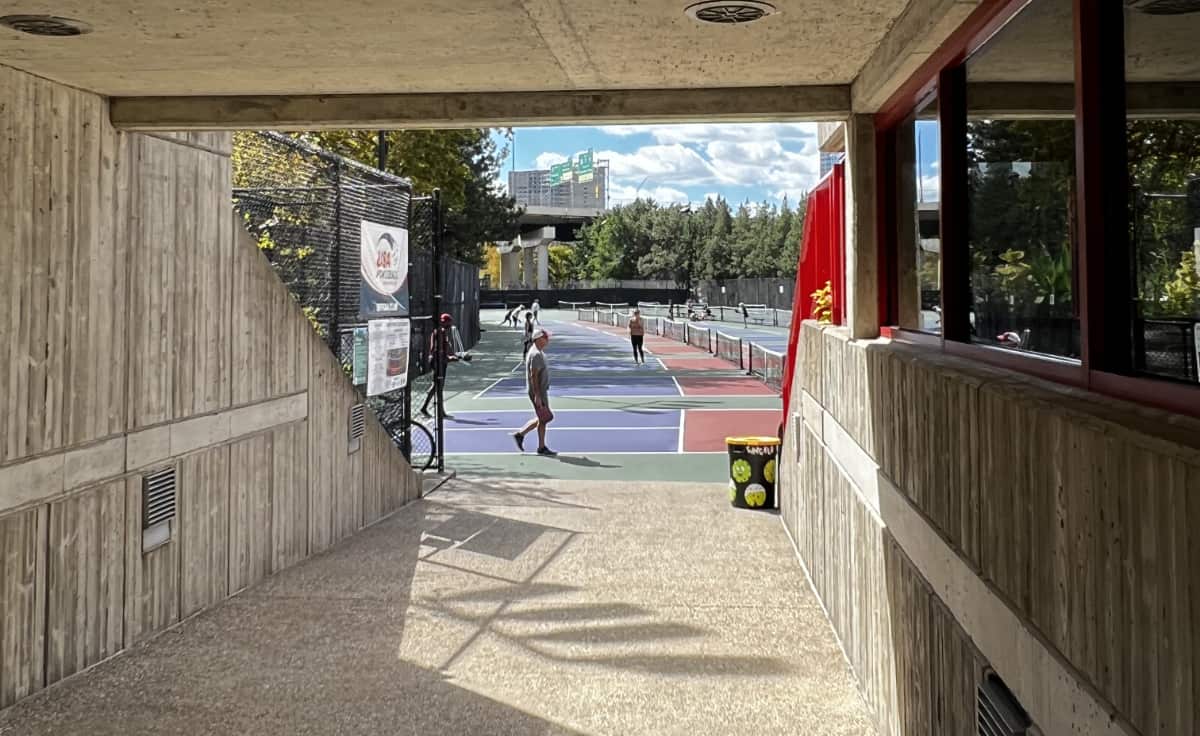 By Community:
Anderson Twp. (outdoor)
Clear Creek Park has six courts that are available for drop-in play on a first-come, first-served basis.
Deerfield Twp. (outdoor)
Fleckenstein Park has lines added to one of the tennis courts
Fairfield, Ohio (outdoor)
Harbin Park offers eight dedicated courts. This park's facilities have a built in shade spot between the courts for some relief from the heat of summertime play.
Location: 1300 Hunter Rd., Fairfield, Ohio 45014
Waterworks Park's tennis courts are striped for both sports. Location: 5133 Groh Lane, Fairfield 45014
Gilbert Farms Park has six courts. Location: 6181 Ross Rd., Fairfield 45014
Green Township (outdoor)
Bicentennial Park has courts. Location: 2885 Diehl Rd., Cincinnati 45211
Kuliga Park has four courts. Location: 6717 Bridgetown Rd., Cincinnati 45248
Hamilton, Ohio (outdoor)
Officer Bob Gentry Park has six dedicated courts. Find them at 105 Williams Ave., Hamilton 45015
Miami Twp. / Milford (outdoor)
You'll find two pickleball courts at Community Park, 5951 Buckwheat Rd., Milford 45150
Middletown, Ohio (outdoor)
Lefferson Park in Middletown offers 18 dedicated courts for outdoor play. These courts started as a couple's personal crusade back in 2005! The courts are results of the efforts of the Middletown Pickleball Association.
Park Location: 2159 Breiel Blvd. Middletown, 45044
Montgomery, Ohio (outdoor)
Dulle Park, located at 10530 Deerfield Rd., has four shared courts.
Cincinnati Recreation Commission Courts (indoor and outdoor)
The Cincinnati Recreation Commission has 27 pickleball courts and welcomes residents to play at their 10 indoor courts, 11 outdoor shared courts, and 6 dedicated outdoor courts.
Shared Outdoor Court Locations include: East Hyde Park Commons Playground, Winton Place Commons Playground, Mt. Echo, Lunken Airport, Pleasant Ridge Playground, College Hill Playground, Oskamp Playground (Westwood), and Withrow High School.
Dedicated Outdoor Court Locations include: Lang Playground
Indoor courts include Rec Centers in these communities: Bond Hill, Bush (Walnut Hills), Clifton, College Hill, Hartwell, Lincoln (West End), Mt. Washington, Pleasant Ridge, Price Hill, and Sayler Park.
New Pickleball Courts Coming in 2023:

Aces Pickleball + Kitchen will be opening in the spring of 2023 at Factory 52 in Norwood. This state-of-the-art pickleball complex will feature 11 pro-level, cushion-based courts for players of all skill levels (5 outdoor courts and 6 indoor). They will also offer lessons (additional fee).
Webcams!
Want to watch others play from the comfort of home? These parks have webcams (seasonal):
Sawyer Point
Lefferson Park (Middletown)
Cincinnati Area Pickleball Tournments:
Middletown Pickleball Association hosts an annual tournament on the first Friday and Saturday in August.

Fifty West often hosts tournaments. Dates vary and registration is required. See their site for details.
Find a League:
Summer leagues at Sawyer Point are organized by the Cincinnati Pickleball Club.

Fifty West has league play.

Let us know if we missed your league – email us the details here.