If you're looking for some free summer fun, take a look at this list of Free Summer Movies in Cincinnati for 2019. There are lots of movies in the park to choose from and our locally owned and operated Kenwood, Mariemont, and Esquire Theatres offer some kid free kid flicks too.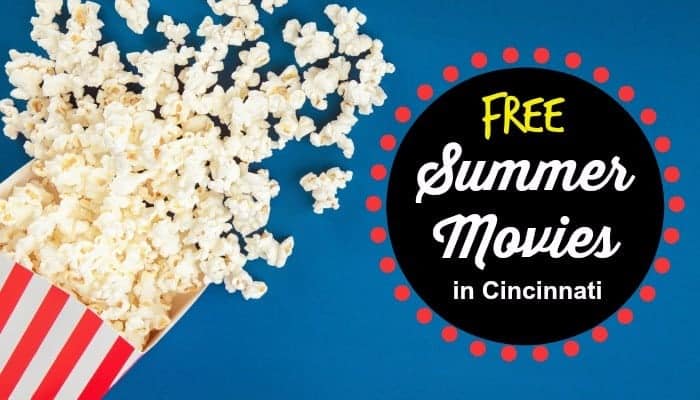 Washington Park is hosting Summer Cinema – a series of Wednesday night movies in the park. Titles include: Mummy, The Secret Life of Pets, Mulan, The Devil Wears Prada, Spider-man: Into the Spider-Verse, Top Gun, The Little Rascals, Ratatouille, The Fast and Furious, ET, Dead Poets Society, 10 Things I Hate About You.
Liberty Center offers Movies in the Park on Tuesdays starting at dusk (June 5 – August 28, 2018). Their selections include Ghostbusters, Spider-Man: Into the Spider-verse, Matilda, Space Jam, The Goonies, Jumanji (original), Lego Movie 2, Babe, How to Train Your Dragon 3, The Little Rascals, Jurassic Park, E.T., and Back to the Future.
The Kenwood, Esquire, and Mariemont Theatres offer free kids' movies on Monday and Wednesday mornings starting on June 3, 2019. Each week features one movie (repeated on Monday and Wednesday). Features include Smallfoot, Iron Giant, Teen Titans Go, Follow That Bird, Where the Wild Things Are, Loony Tunes Back in Action, Paddington 2, and Storks.
Deerfield Township offers "Movies in the Park" on select Fridays during the summer. Movies include Herby Fully Loaded, Bumblebee, Disney's Christopher Robin, and Mary Poppins Returns.
Colerain Township is offering free movies as part of their Movies in the Park Series. Selections include: Mary Poppins Returns, Ralph Breaks the Internet, Small Foot, The LEGO Movie 2, How to Train Your Dragon: the Hidden World, and Dumbo (tentative, based on release).
Anderson Township Park District hosts "Movies in the Park" at Beech Acres on May 31 (Ralph Breaks the Internet) and August 23 (How to Train Your Dragon: the Hidden World), starts at dusk.
Spring Grove Cemetery and Arboretum offers some free outdoor movies – It's a Date Night Movie Night on June 14 (Mamma Mia! Here We Go Again). Registration required and they are limiting the attendance numbers.
Summer classic movies will be featured as part of "Cinema in the City" at Seasongood Pavilion; live music too! Movies include Mamma Mia on June 6, Men in Black on July 19, and Auntie Mame on August 16.
Fairfield is hosting Movies in the Park. The Fairfield Fire Department hosts a different movie on select Fridays in Village Green Park. In addition to the movies listed , the Fire Department offers pre-show fun and giveaways including chairs, blankets and water bottles. Movies include Ralph Breaks the Internet, Small Foot, Norm of the North (Keys to the Kingdom), Incredibles 2, Wonder Park, and Hotel Transylvania 3.
---
Many of the movies are weather dependent. All events were accurate at the time of this posting but things do happen and events do occasionally get canceled or postponed. You should always double check with the event source before you head out the door. Links for each event are provided so that you can be sure the date is still accurate before you head out.