Cincinnati's newest brewery, Third Eye Brewing Company, will open their doors to the public starting Wednesday, June 17, 2020. We got a sneak peek at Sharonville's first brewery today – come inside with us!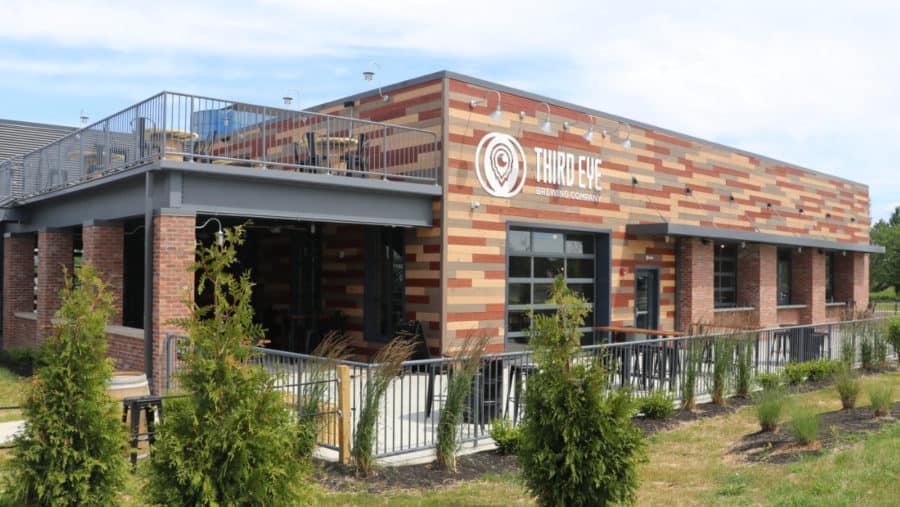 Third Eye Brewing Co. is located on Chester Road, right across the street from the Sharonville Convention Center.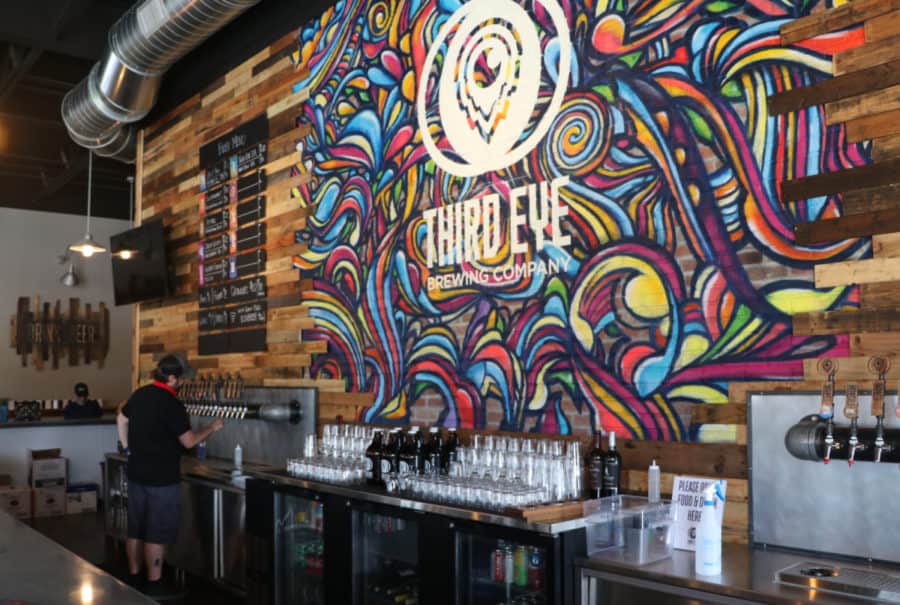 Third Eye has five beer brewing owners. Four of the owners call Cincinnati home while the fifth lives just a few hours north of us in Columbus. So it's safe to say you're supporting the local guys when you grab a pint here!
We caught up with one of the local owners, Tom Collins, who gave us a tour and told us all about the business and brews.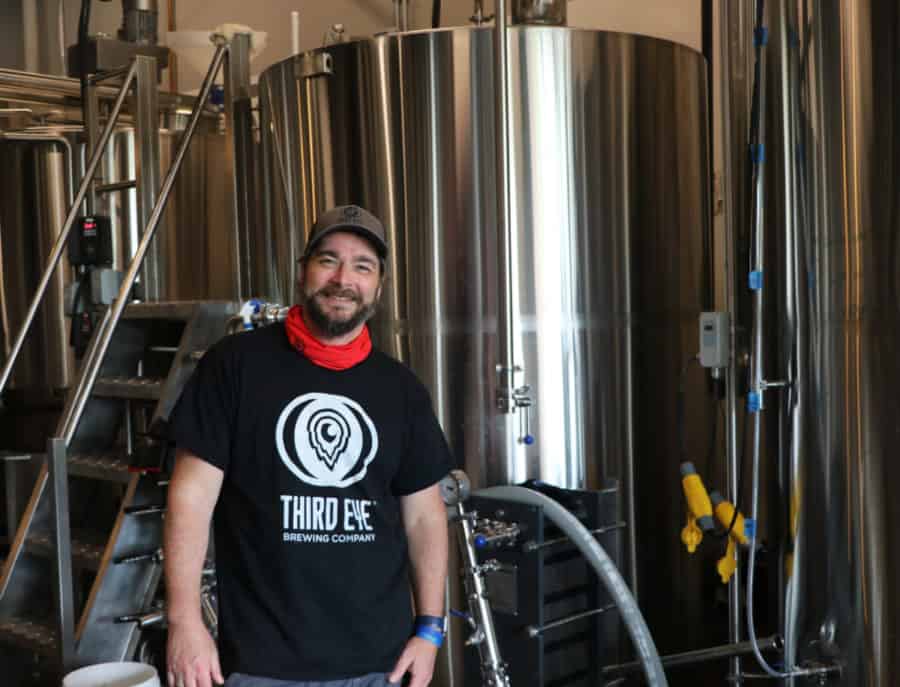 The first thing we asked about was the story behind the name. Tom explained the name and logo to us – the third eye is typically known as the mind's eye and it looks for new possibilities. He hopes to "open your mind's eye, one pint at a time."
The taproom was designed with that in mind – welcoming for groups of friends, meeting up to enjoy one another's company with a pint in hand.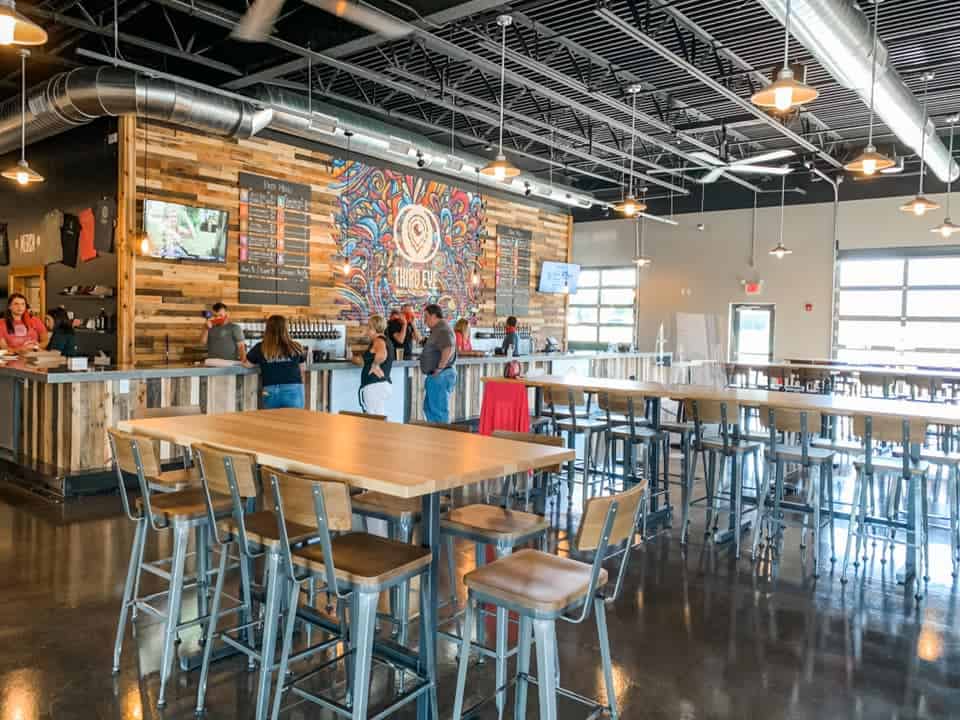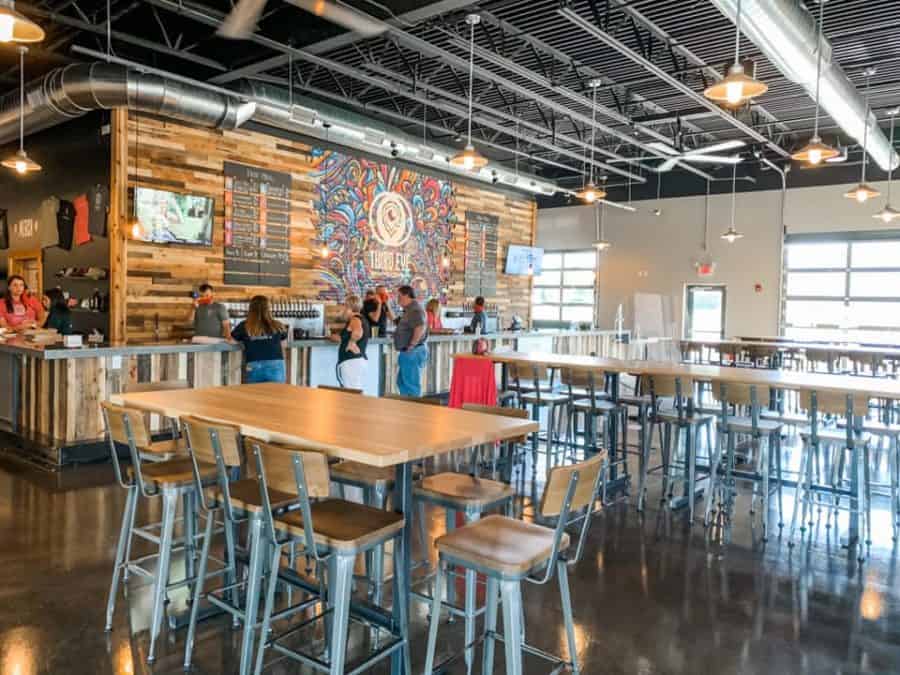 The taproom has a variety of seating options – taller tables with chairs, picnic style tables in the adjoining room/area, and a short counter along one wall.
They have lots of "garage door" style windows that can be opened to connect the inside to the outside patio areas.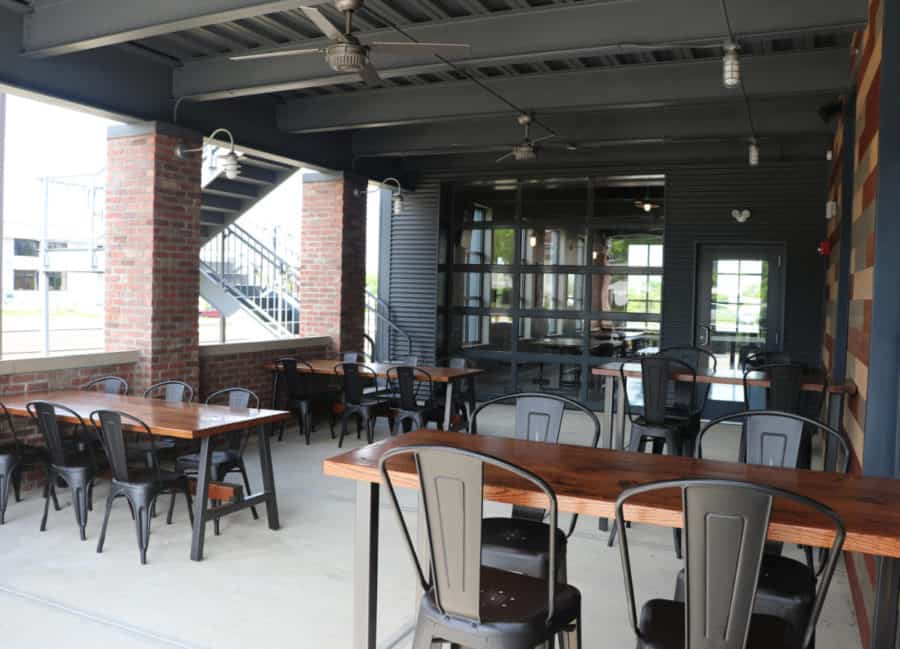 Here's my favorite part = an "upper deck"/ rooftop area with lots of seating.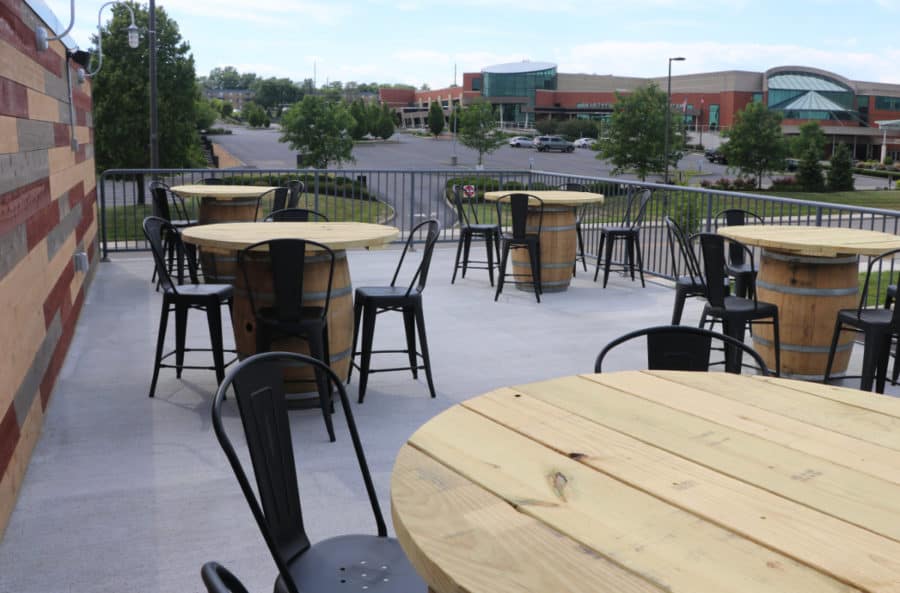 They also have a great front patio with seating and bars with taps that sit behind the garage door style windows.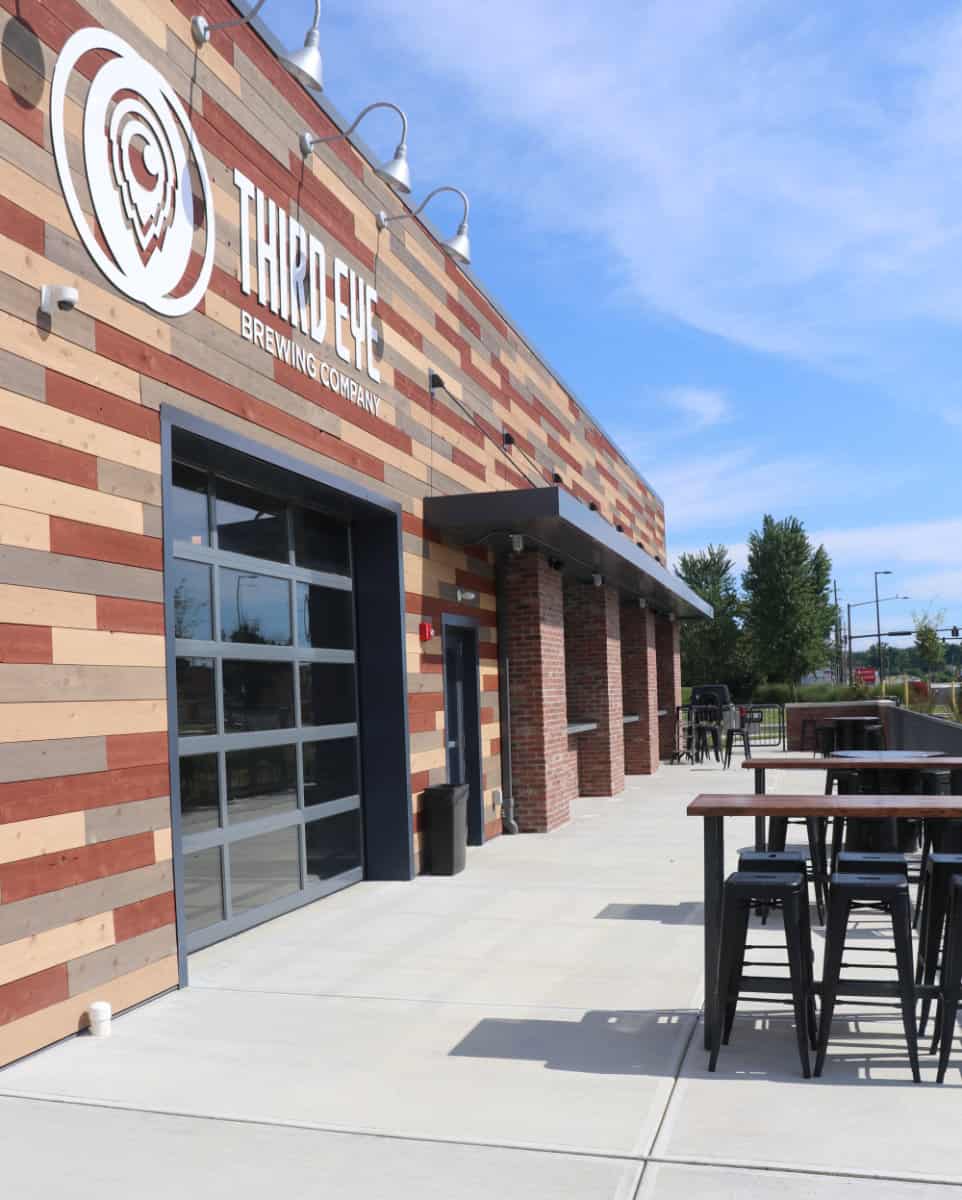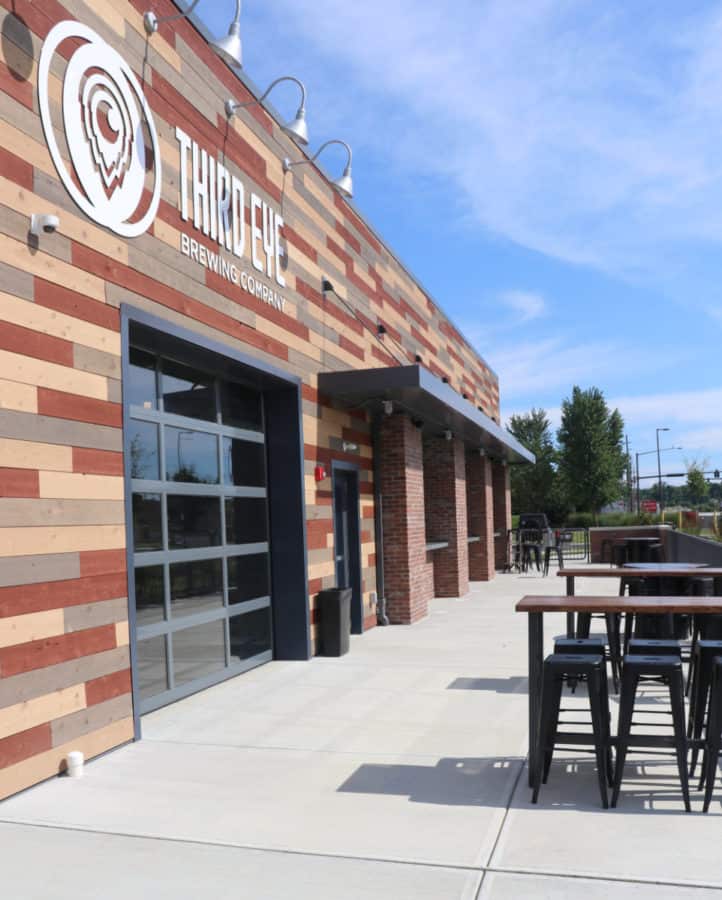 The taproom is large and spacious with lots of wood with some psychedelic action thrown in….
Just take a look at the amazing artwork behind the bar. That was done freehand by a local graffiti artist, David Johnathan Creative. It's pretty spectacular! And when you're ordering, be sure to admire the embedded art in the concrete bar too.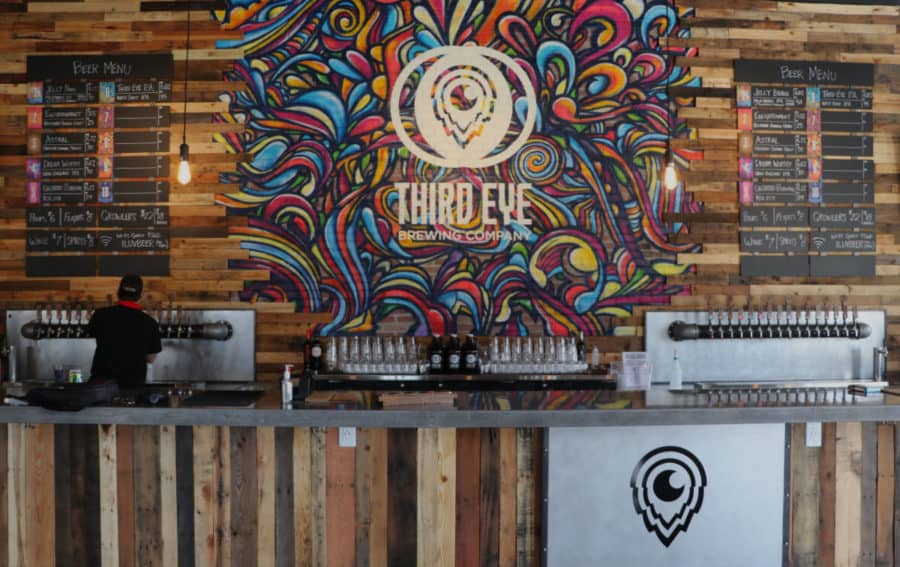 You might also like our Ultimate Cincinnati Breweries List – includes every brewery in Cincinnati with loads of details!
But what about the beer? We had a few flights and tried everything they currently have on tap. And we enjoyed every single one.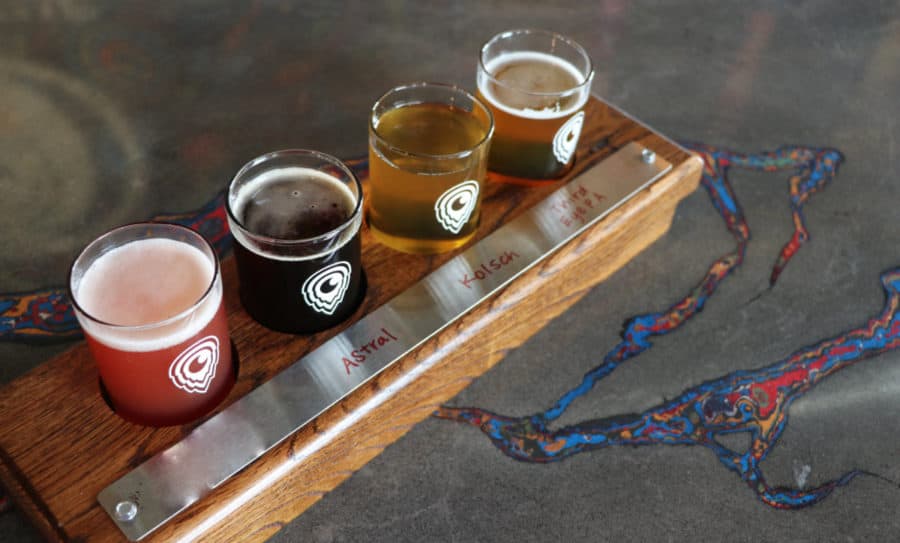 They currently have six beers on tap, soon to be expanded to 10 (and even more with time). They have a total of 48 taps around the taproom so there's plenty of room for growth.
Third Eye Brewing has a 15 barrel system. Brewers Kelly Montgomery and Chloe Schaefer have four 15 barrel fermenters to work with plus one 30 barrel fermenter.
They have great plans for their brewing future including expanding their offerings, distribution to bars and restaurants, canning their favorites, and doing collaborations.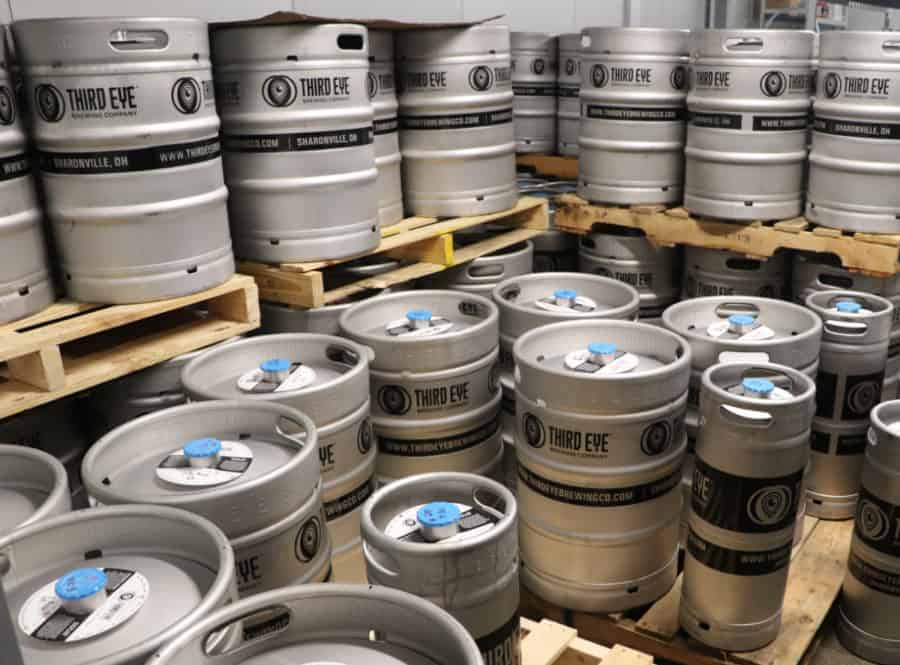 Inquiring Cincinnati Craft Beer Lovers Want to Know…
When can I go? They're currently open 5 days a week, closed Monday and Tuesday. They do intend to eventually expand their hours and hope to be open for weekday lunches soon.
Do they fill growlers? Yes, they do.
Do they serve any other alcohol? Yes, they have 3 red and 3 white wines and liquor.
Where do I park? There is plenty of parking. Their lot is right behind the brewery. They have a shared lot with surrounding businesses that's right behind their lot.
Do they have food? They have a chef on staff and they have a FABULOUS menu.
How big is the taproom? Can we hold an event or a party there? The taproom is large. They hope to allow parties and events when COVID restrictions ease up. At this time, they encourage you to give them a call to see if they can work something out for a party.
Do they offer brewery tours? They will offer tours after COVID restrictions ease up.
Is there any outdoor seating? There is a LOT of outdoor seating. See pics above.
Is the taproom kid friendly? Yes, there's plenty of room to roam and they have a few highchairs.
Is Third Eye Brewing pet friendly? Pets are not currently permitted due to COVID restrictions. When things get back to normal, they will have outdoor seating for you and your pet.
Third Eye Brewing Company can be found at 11276 Chester Road, Sharonville, Ohio 45246