It's week 19 on our quest to visit and write about a Cincinnati brewery each week in 2019. I'm hoping that we'll be able to cover just about every one by year's end!

Want to really explore more Cincinnati brewery info? Find our Ultimate Cincinnati Breweries List here.
Breweries in Cincinnati Series Week #19: Visit to HighGrain Brewing Co.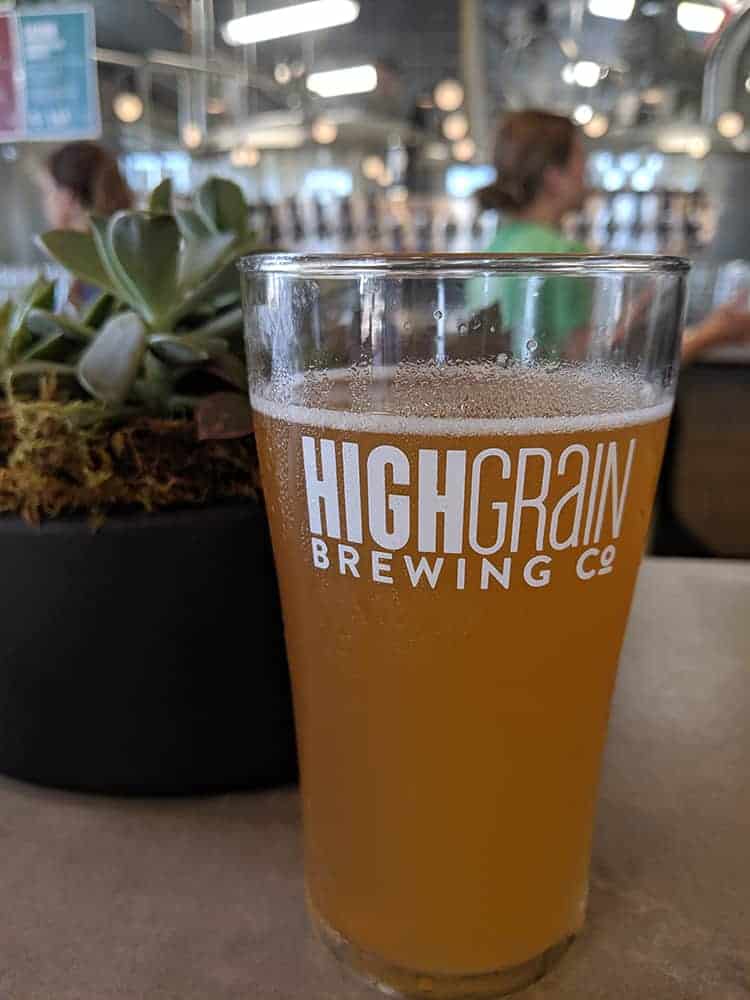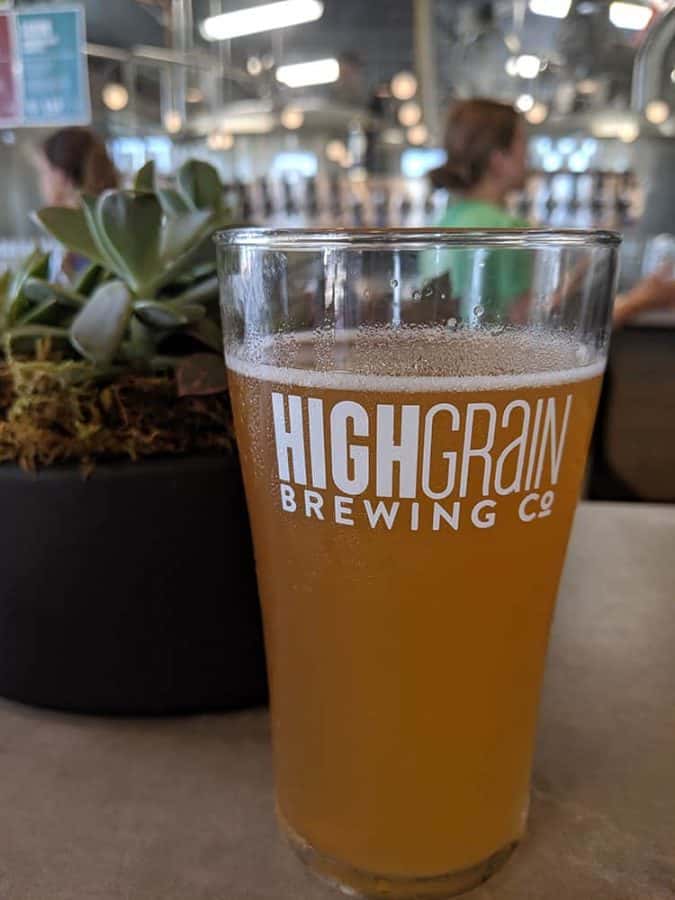 HighGrain Brewing Co. has the current designation of Cincinnati's newest brewery (at least it does at the time of this writing!). Located in the old Silverton Municpal Building, the space has been transformed into a working micro-brew. But beware if you get out of line … the old jail cells are still located downstairs!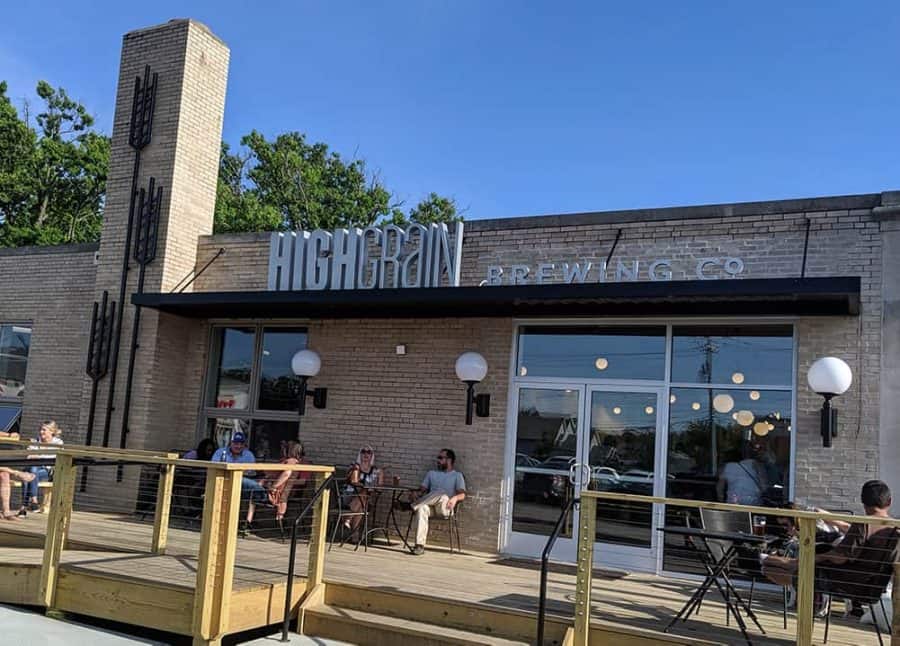 As you enter you'll find yourself in the taproom. There's a long concrete bar overlooking the brewing facilities and the bar has some seating. You can also choose to sit at one of their beautiful high-top wood tables.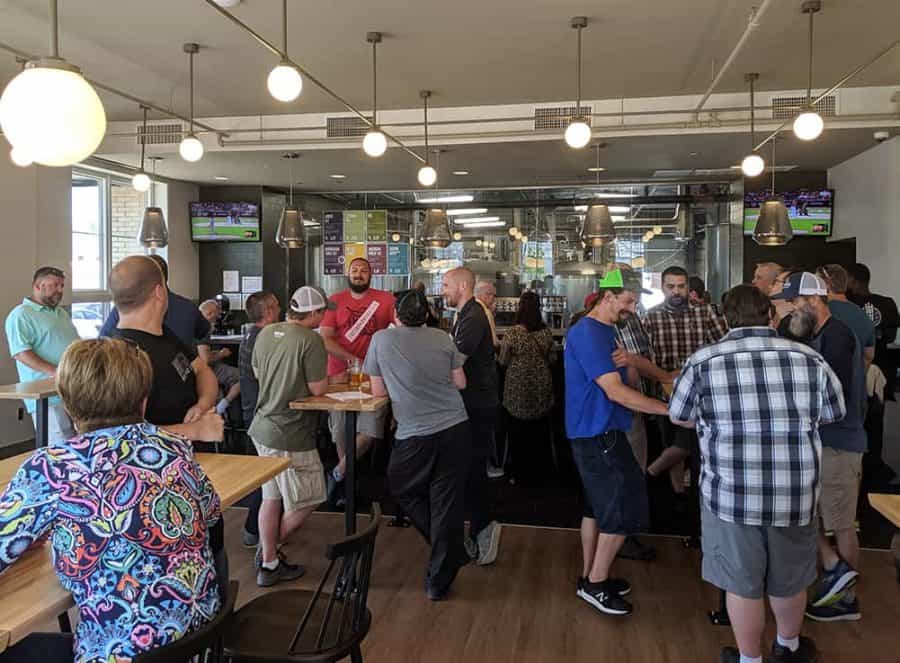 One thing that sets HighGrain apart is that it's half taproom, half restaurant. You can order from their full menu anywhere (taproom or dining room). But if you'd prefer to sit at a table in the dining room, you can do that here!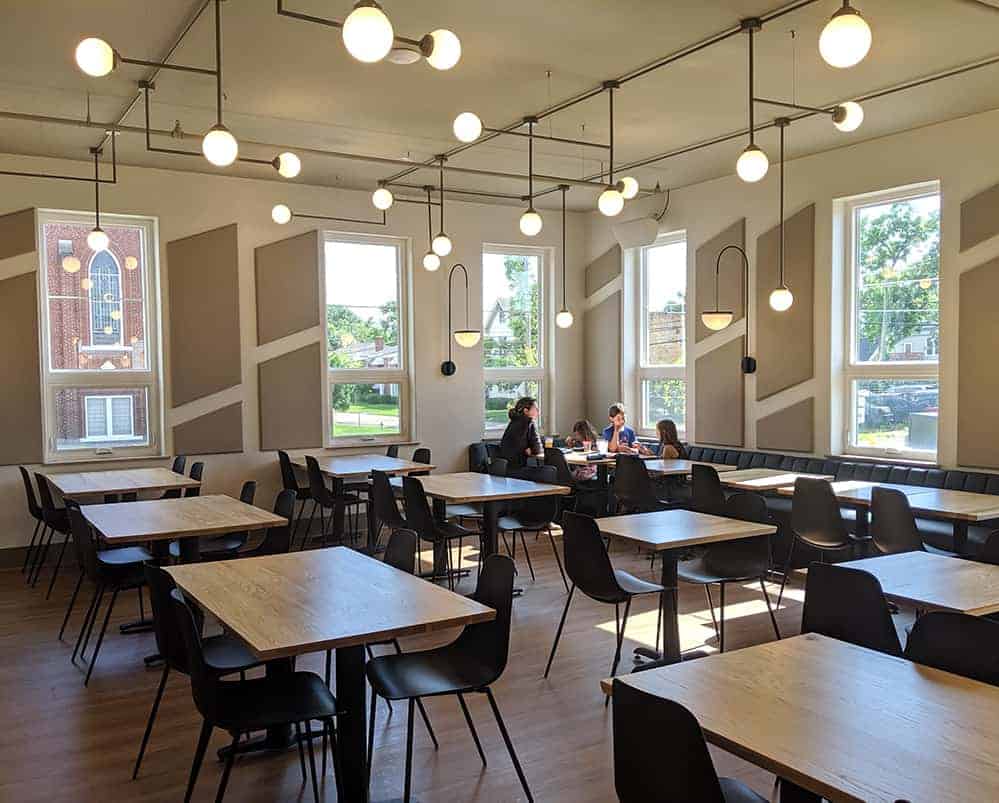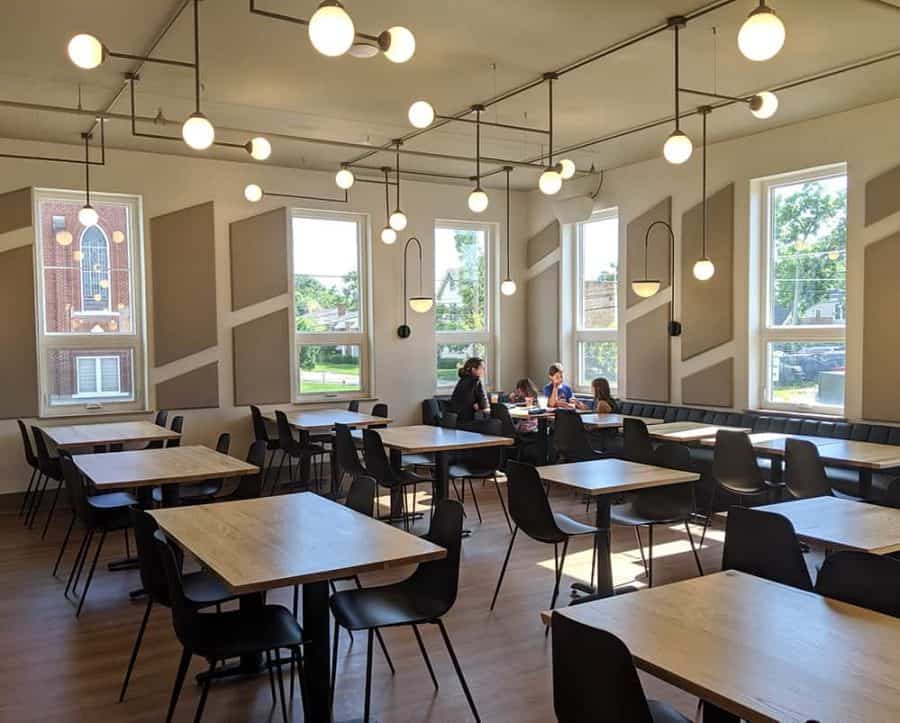 We had a few beers AND had dinner there too. I absolutely LOVED my selection – their Jerked Chicken Sandwich (fried jerked chicken, bacon fig jam, pepper chow chow, hot honey, on spent grain biscuit ). The hubby had the Hop Cakes (chickpea, heart of palm, vegan remoulade, arugula, caramelized pineapple ) and they were pretty yummy too.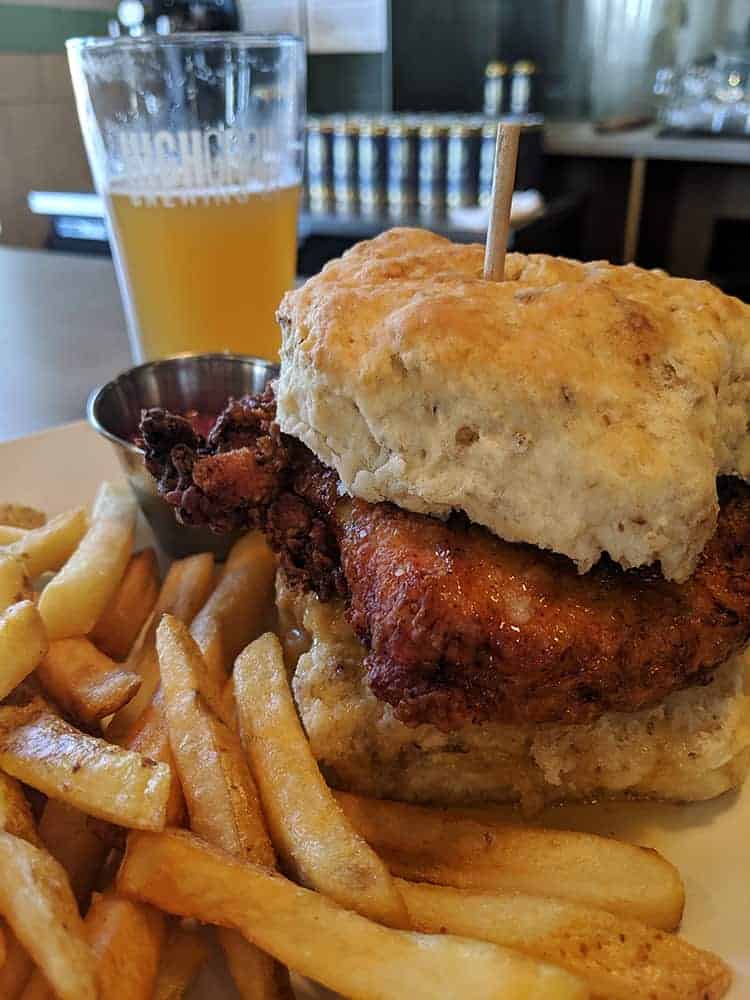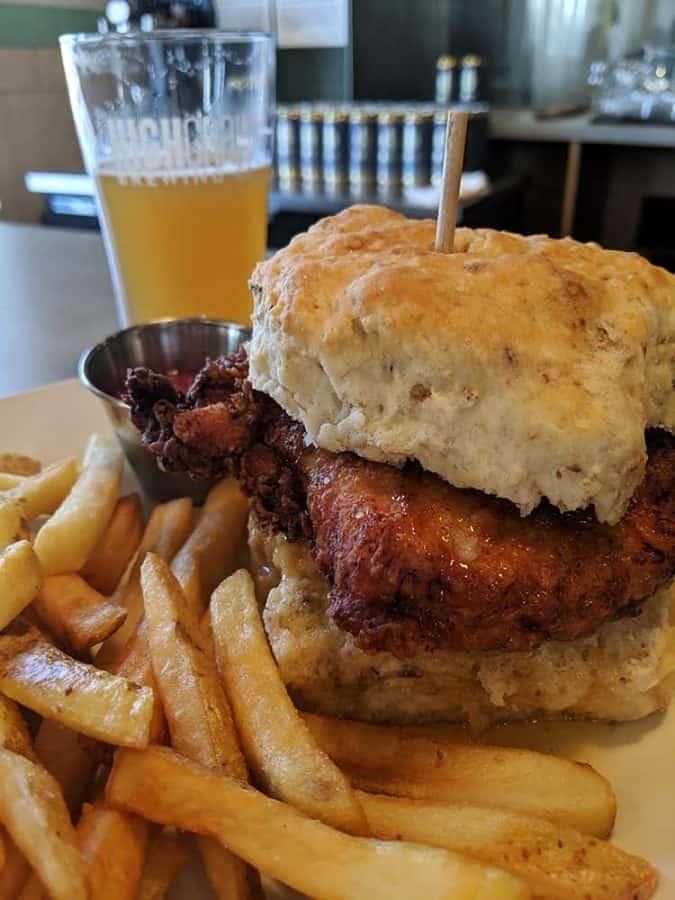 We loved our visit and I know we'll return many times in the future!
Inquiring Cincinnati Craft Beer Lovers Want to Know…
When can I go? They're open every day, 7 days a week.
Do they fill growlers? They sell crowlers. HighGrain does not sell growlers and howlers but will fill them if you bring your own.
Do they serve any other alcohol? They sell wine by the glass (two wines on tap) and spirits are also available.
Where do I park? They have paved parking in front. There are other parking lots nearby but be sure to review the map on HighGrain's website to be sure you're ok as there's lots of parking lots but you can't park in them all (scroll down on the homepage to see it).
Do they have food? Yes, they have a full menu. It's mostly locally sourced and of High(Grain) quality.
How big is the taproom? Can we hold an event or a party there? The taproom has several long seated tables, some standing tables, and seats at the bar. The taproom adjoins the restaurant. To reserve spaces for events, fill out the form on HighGrain website.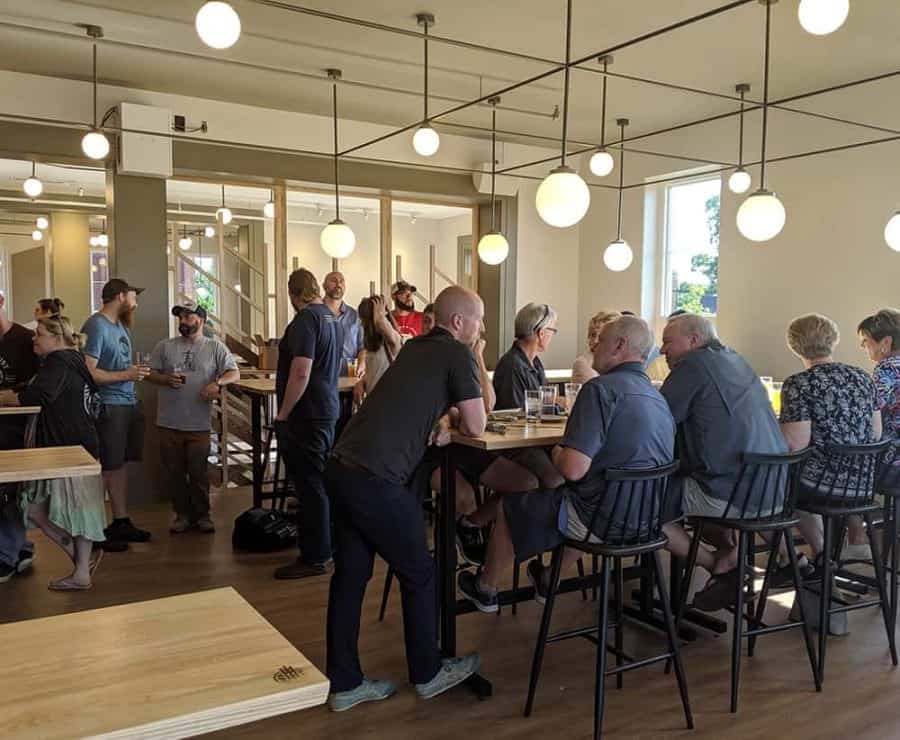 Do they offer brewery tours? They offer tours for groups if you call ahead to make arrangements.
Is there any outdoor seating? Yes, they have an outdoor patio.
Is the taproom kid friendly? The space is pretty tight but they do have some board games to play.
Are they pet friendly? Pets are welcome outside due to the food service inside.
HighGrain Brewing Co. can be found at:
6860 Plainfield Rd., Cincinnati, OH 45236