Enjoy this list of 2023 Touch a Truck Events in the greater Cincinnati area.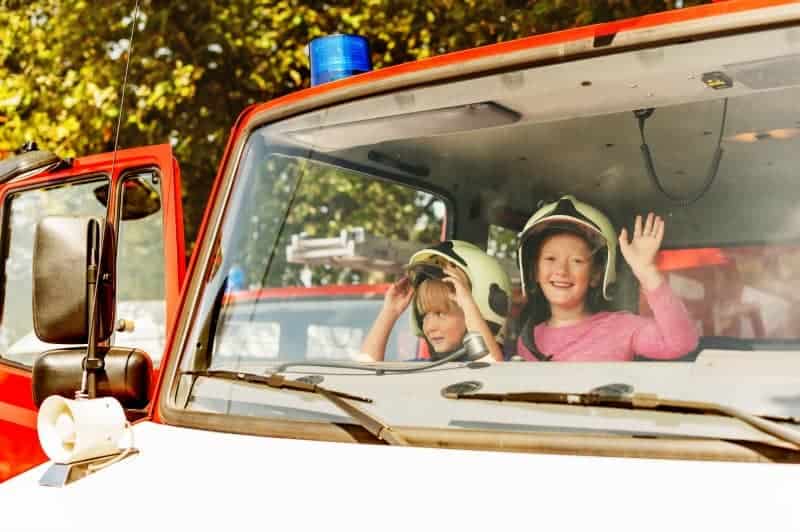 April 30, 2023: Spot-A-Truck returns from 10am to noon at Liberty Center. View your favorite dump trucks, snow plows, emergency vehicles, school bus and more. The event will take place in the parking lot next to the Taylor Garage.
May 17, 2023: Anderson Township's Riverside Park will be home to Trucks and Tractors, 4-7pm. Kids, young and old, will be able to climb and discover the different types of equipment we use in our parks! Friends of the park will also be onsite, including a fire engine, ambulance, and a police vehicle. We ask families to adhere to their reserved time to accommodate other participating families. Pets are not permitted. Register in advance; space will be limited.
May 24, 2023: Blue Ash hosts this Touch a Truck event at Summit Park. 4-7pm. Equipment will be on display for children and adults to get a close-up look at the vehicles used around the City. Get up close to and climb inside several public works vehicles: snow plows, street sweepers, wheel loaders, and more!
June 1, 2023: Head to Montgomery Square Plaza for the Big Rig Gig, 9am-9pm (double check that time as the date draws near).
June 12, 2023: Sharonville hosts their amazing Touch a Truck event. This year's event is at Gower Park, 10997 Thornview Drive.,10am-2pm. Open to the public and FREE! Check out emergency service, construction and transportation vehicles. Food trucks will be on hand for refreshments and food. Don't miss the helicopter take off and landing! Parking is available at the Sharonville Community Center.
June 23, 2023: Springfield Township's annual Touch A Truck brings over 50 service, construction and luxury vehicles to one place on Friday, June 23rd. Kids can climb aboard, honk the horns and meet the workers!!! Families can look forward to seeing the Springfield Township Police, Fire and Public Works as well as other businesses such as Cincinnati Metro, Metropolitan Sewer District Of Greater Cincinnati, Duke Energy, Jimmy's Limousine Service, Hamilton County Emergency Management and Homeland Security Agency, Waycross Community Media, Greater Cincinnati Water Works, Great Parks of Hamilton County, UC Health – Air Care and Mobile Care, Animal Friends Humane Society with pets for adoption, UPS, Cincinnati Children's Hospital Medical Center and MANY MORE!!! Some food trucks will be on site to sell lunch concessions. 11am-1pm at 9158 Winton Road, 45231
June 30, 2023: The City of Fairfield hosts a Touch a Truck event from 9am to noon at Village Green Park. Equipment will be on display for children and adults to get a close-up look at the vehicles used around the City. Individuals of all ages can touch, honk and climb on the many vehicles that you see around the City. You might see a fire truck, an ambulance, construction trucks, snowplows, dump trucks, police cruisers, farm equipment, the Bookmobile and many more vehicles of all shapes and sizes. They'll have "Sensory Sensitive Hour" from 9-10am, a horns-free hour for children and families who want to experience the event without any loud distractions.
July 24: The City of Ft. Mitchell, Ky will host a Touch a Truck in the City Building Parking Lot (2355 Dixie Highway), 5-7pm. See vehicles from the Fort Mitchell Fire Department, Fort Mitchell Police Department, Fort Mitchell Public Works Department, and more!
August 19, 2023: Bridgewater Falls Shopping Center will have a Touch a Truck in the back parking lot of the shopping center from 10am to 1pm. This event will include all sorts of trucks (fire, police, etc.), inflatables, trackless train rides, KONA ice, and more.
September 9, 2023: Head to Deerfield Township and see vehicles from the Parks Department and Road Department – tractor, mower, snowplow, and more! Vehicles are subject to availability.
September 10, 2023: The Oscar Mayer Frankmobile and other cool vehicles will be at the Erlanger Library's Touch a Truck, 2-4pm.
September 23, 2023: Green Township's annual Touch a Truck returns for 2023 from 11am to 2pm at the Green Twp. Adminstration Building, 6303 Harrison Ave. This free annual event is a favorite for young and old alike. 
October 1, 2023: Ft. Thomas, Ky will host a Touch a Truck as part of their Flea in the Fort Event. Head to Mess Hall from 10am to 3pm.
October 7, 2023: The City of Edgewood (Ky) hosts a Touch a Truck at Freedom Park, noon-2pm. They'll have trucks, a petting zoo, balloon animals, and more. This is a free event.
---
All events are subject to change. Events are also weather dependent. Links have been provided so you can check before you head out the door.