June in Cincinnati – so many events are ramping up for the summer! It's going to be a great time to get outside and enjoy some summertime events, from concerts to festivals to recreational activities.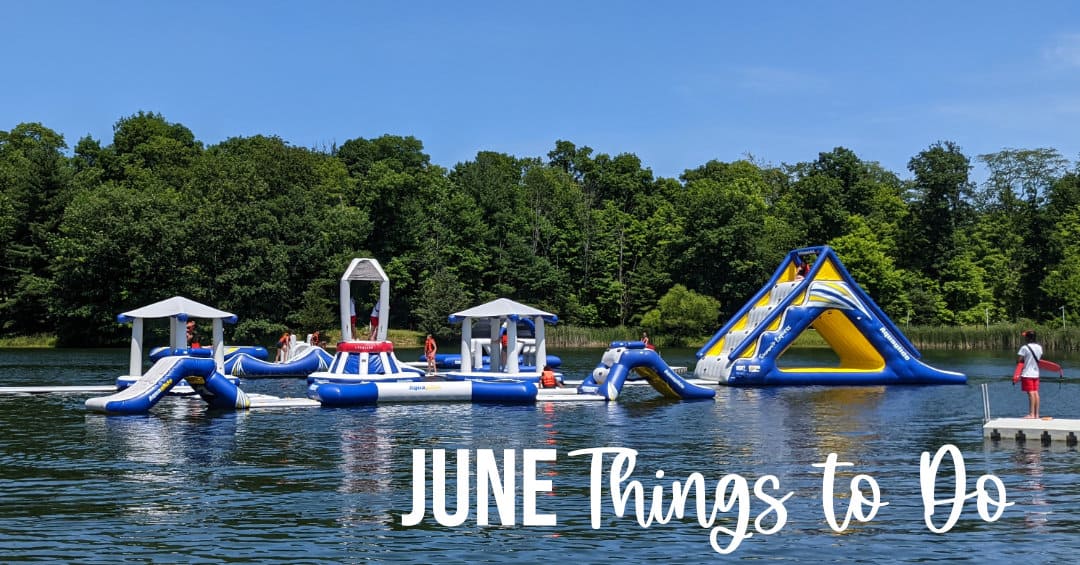 Enjoy this month long list of Things to Do in Cincinnati for the month of June:
June 1: Head to Smale Riverfront Park for Family Fun Days. 10am-1pm. Enjoy animals, music, puppet shows, and face painting.
June 1-3: It's time for Frontier Days in Milford. This Thursday through Saturday event includes a parade, festival, family fun, live music, Maker's Market, and more.
June 1-4: Founders Weekend is happening in West Chester. The event kicks off with The Takeover featuring live music from "The Remains", 6-9pm. They'll have the Union Centre Food Truck Rally with "Blessid Union of Souls" and a Drone Show. Olde West Chester Founders Festival will be on Saturday with a chili cookoff, live music, and an ice cream social. It wraps up with VOA Days on Sunday.
June 2-4: Summerfair will blanket the grounds of Coney Island. This juried art show will have more than 300 fine artists and craftspeople from around the country. There's entertainment and food as well. Hours are Friday 12-7pm, Saturday 10am-7pm, and Sunday 10am-5pm. Tickets can be purchased online or at the gate (cash only at the gate). Children 12 and under are free. Parking included in your ticket price. Rain or shine!
June 2-4: CincItalia! The Cincinnati Italian Festival will be at Harvest Home Park. Enjoy great Italian fare, wine, Italian music, and more. Friday night is adults only and features The Rusty Griswolds. Saturday and Sunday are family fun days with all sorts of old fashioned fun including rides, games, Italian trivia, and more. Friday hours are 6-12pm; Saturday hours are 3-11pm; Sunday hours are 1-9pm.
June 2: Head to Summit Park on Friday for Screen and Sky: Opera Returns to Summit, 7:30-10:30pm. Enjoy a lighthearted evening of music, video, and 100 happy drones! They'll have live performances by the Cincinnati Opera's Share the Love Truck Tour at 7:30pm, a free film screening of Cincinnati Opera's Fierce will be featured on the park's big movie screen starting at sunset (approx. 9pm), and a drone show will follow.
June 3: Celebrate all things German with German American Day at Findlay Market, 10am-4pm.
June 3: Westside Market (showcasing over 100 local vendors, food trucks and offers family fun activities) will be at Westwood Town Hall, 10am-3pm.
June 3: Art on Vine will be on the Court Street Plaza, 12-6pm.
June 4: It's the first of many in the Sawyer Point Summer Concert Series. Enjoy live music from 4 to 10pm. Headliner is Town Mountain (8-10pm). Additional acts include Vernon McIntyre Appalachian Bluegrass (4-5:30pm), Jake Speed and the Freddies (6-7:30pm), and Henhouse Prowlers (8:30-10pm).
June 7: Pack up the bikes and take the kids to Summit Park for their Bike Rodeo, 3:30pm-7pm. .
June 8: Spring Grove Cemetery and Arboretum's Summer Concert Series returns for 2023. The Chuck Taylors will play in the Rose Garden Gazebo (near the main entrance), 7-9pm.
June 8-11: Celebrate Italian heritage at Newport Italianfest. They'll have food and drink, live music, and history. The festival happens at Riverboat Row between the Taylor-Southgate Bridge and the Purple People Bridge (just below Newport on the Levee).
June 9: Montgomery residents can head to the Montgomery Community Pool for a Luau Party. Wear your tropical attire and enjoy the party! Live music by the Sunburners Steel Drum Band, games, a fire juggler, movie at duck, and more. 6-10pm.
June 9-11: Charm at the Farm will be happening in Lebanon (4953 Bunnell Hill Rd Lebanon, OH 45036 to be exact). The best local artisans and shops come together only three fabulous weekends a year exclusively at Charm at the Farm. This innovative market provides rustic gifts, furniture, and home decor all in one vibrant place.
June 10: The O.F.F. Market will be at Summit Park, 10am-4pm. The O.F.F. Market is a monthly marketplace that brings together small businesses, artisans, brewers, bakers, farmers and the like to provide a unique shopping experience that supports strong community connections and strives to grow a hearty local economy.
June 10: The Hamilton Flea, Hamilton's first curated, urban artisan market, will be at Marcum Park from 10am to 4pm.
June 10: White Water Shaker Village, Ohio's remaining Shaker village, is hosting a Flea Market on the grounds from 10am to 2pm.
June 10: Cincy Beerfest is at TQL Stadium. Tickets required.
June 10: Strap on your skates and enjoy the outdoor Sawyer Point Roller Skating Rink, 7-10pm. Features Pride Stride with Crissy Brollin and DJ Hershe B.
June 11: Fan-favorite Opera in the Park will be at Washington Park starting at 7:30. Pack your chairs and enjoy this free outdoor concert in OTR featuring a selection of unforgettable opera and musical theater favorites performed by stars of the 2023 season, the Cincinnati Opera Chorus, and the Cincinnati Symphony Orchestra.
June 11: There will be some kites flying at the VOA Museum. Pigs Aloft Kite Association fly their extraordinary kites each month on the front lawn of the VOA Museum, 8070 Tylersville Road. This group typically meets the second Sunday of each month, weather permitting. Noon-4pm / weather permitting.
June 11: The Cincinnati Concours D' Elegance, a nationally recognized car show that highlights some of the most spectacular automobiles and motorcycles of all time, will be at Ault Park from 10am to 5pm. Free shuttle service provided. Tickets required.
June 14-18: The Frisch's Mobile Roller Rink will be back at the Court Street Plaza from June 14-18. Learn all about this outdoor rink here.
June 17: The City Flea will be at Washington Park, 10am-4pm.
June 17: Strap on your skates and enjoy the outdoor Sawyer Point Roller Skating Rink, 9am-1pm. Features WakeNSkate with DJs Sneaks & Jigg.
June 16-18: Schutzenfest returns for 2023! Head to Kolping for authentic German food, beer, wine, entertainment, and MUCH more.
June 16: "Amped Up" is happening at Sawyer Point and Yeatman's Cove, 6-9pm. Enjoy live music from My Girl Friday starting at 6pm. They'll have casual and competitive pickleball on the courts too!
June 17-18: Findlay Market is proud to host Juneteenth at the Market on June 17th-18th. This 2-day event will celebrate and showcase our talented Black-owned businesses and our incredible community partners. They'll host a free ticketed panel discussion to discuss the history and importance of the holiday. Tickets required for the Sunday event – see site for details.
June 17: Head to Heritage Village Museum (at Sharon Woods) for Escape the Village, an escape room style challenge. Choose from one of two escape room adventures: "Morgan's Raiders of the Lost Art" or "Leaving the Station." Each session can accommodate four to eight people. Reservations required.
June 17: The 3rd Annual Hamilton Juneteenth Celebration is happening at Marcum Park (116 Dayton Street in Hamilton) starting at 12pm.
June 17: Pyramid Hill Sculpture Park is hosting their Fishing Derby.
Don't miss our Father's Day List of Things to Do!
June 18: The Burlington Antique Show is at the Boone County Fairgrounds from 6am to 3pm. Shop from 200 antiques dealers at this antiques and vintage collectibles show.
June 18: Enjoy a free concert from the Cincinnati Symphony Orchestra at Ezzard Charles Park, 4-7pm
June 23-25: A Cincinnati Classic returns – Panegyri! Enjoy all things Greek food and culture at the 48th Annual PANEGYRI Greek Festival. Hours are Friday 5-11pm, Saturday 3-11pm, and Sunday 1-8pm. Admission is $3 with children 12 and under free. A portion of admission is donated to the FreeStore FoodBank and The Good Shepherd Food Pantry. Free parking and there's a shuttle bus service to and from St. Xavier High School.
June 23-25: The Cincinnati Art Museum is offering free admission to their newest exhibit this weekend: Picasso Landscapes: Out of Bounds. Though there's no admission charged for the exhibit during this opening event. Visitors need to register in advance for a timed ticket.
June 25: It's time for Dog Day of Summer at Spring Grove Cemetery and Arboretum! For 364 days of the year the cemetery does not permit dog owners to share the beauty of Spring Grove with their pets.  However, on this ONE day only, responsible pet owners are invited to spend the entire day at the cemetery with their four-legged buddies.  Explore over 45 miles of paved roads throughout the 400+ developed acres of the park
June 30: Art After Dark is at The Cincinnati Art Museum, 5-9pm.
The Butterfly Show is at the Krohn Conservatory. Butterflies of the Meadow will be here through June 18, 2023.