June in Cincinnati – so many events are ramping up for the summer! It's going to be a great time to get outside and enjoy some summertime events, from concerts to festivals to recreational activities.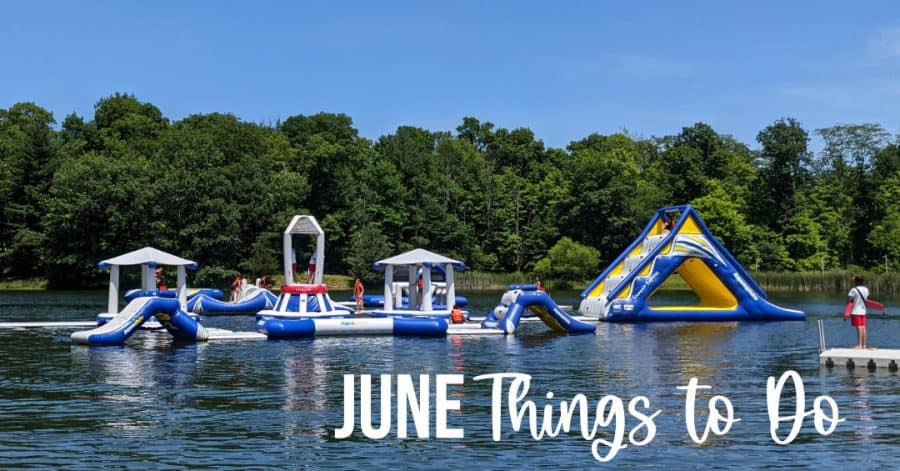 Enjoy this month long list of Things to Do in Cincinnati for the month of June:
June 1: Pack up the bikes and take the kids to Summit Park for their Bike Rodeo, 3:30pm-7pm. More details to come.
June 2-4: It's time for Frontier Days in Milford. For their 60th anniversary, they're planning on going back to their roots: exploring the memories and great times throughout the years. The parade will be coming down Lila on Thursday, June 2 starting at 6:30pm. They'll have family fun, live music, festival food, and more all weekend.
June 2: Head to Smale Riverfront Park for Family Fun Days. 10am-1pm. Enjoy free ice cream from UDF, face painting stations, balloon artists, animal encounters, and puppet shows.
June 3-5: Summerfair will blanket the grounds of Coney Island. This is the 55th year for this juried art show. Over 300 fine artists and craftspeople from around the country will be on hand and there's entertainment and food as well. Hours are Friday 12-7pm, Saturday 10am-7pm, and Sunday 10am-5pm. Tickets can be purchased online or at the gate (cash only at the gate). Children 12 and under are free. Parking included in your ticket price. Rain or shine!
June 3: Enjoy "Jungle Cruise" as part of Great Parks' "Float in Movies" series (Winton Woods). Grab a delicious snack and enjoy a film from the comfort of a boat during Float-In Movies. Guests will enjoy watching movies on the water in a Great Parks' rowboat at select park locations. Up to four individuals total are permitted per boat. At least one adult 18 years or older must be in each boat. Lifejackets will be available for guest use. $40 per boat. Advance registration required.
June 4: Celebrate all things German with German American Day at Findlay Market, 10:30am-4pm.
June 4: It's the first of many in the Sawyer Point Summer Concert Series. Enjoy live music from 2 to 10pm. Headliner is Town Mountain (8-10pm). Additional acts include Vernon McIntyre Appalachian Bluegrass (2-3:30pm), Jake Speed and the Freddies (4-5:30pm), and Buffalo Wabs & The Price Hill Hustle (6-7:30pm).
June 4: Westside Market (showcasing over 100 local vendors, food trucks and offers family fun activities) will be at Westwood Town Hall, 10am-3pm.
June 4: HighGrain Brewing Co. is celebrating their 3rd Anniversary in a big way! Head to the brewery for the fun, 11am-10pm. They'll have special beer releases, live music, t-shirt tie dying, yard games, face painting, and more.
June 4: Head to downtown Montgomery for a Luau – DORA Street Party. Wear your tropical attire and enjoy the party! Live music by the Sunburners Island Party Band. 6-10pm.
June 5: It's the first year for Cincinnati Trail Fest, happeing at Mt. Airy Forest, 12-8pm. Celebrate nature with activities, speakers with topics about everything outdoors, kids area and activities, vendors, music, food and beer, and more.
June 5: Art on Vine will be at Fountain Square, 12-6pm.
June 5: Check out the first Court Street Car Show of the season from 11am to 3pm. Enjoy a unique and eclectic gathering of car enthusiasts showing off their rides, cold drinks, and music from DJ JU – all on Court Street (downtown).
June 8: Spring Grove Cemetery and Arboretum's Summer Concert Series returns for 2022. Big Trouble Blues Band will play in the Rose Garden Gazebo (near the main entrance), 7-9pm.
June 9-12: Celebrate Italian heritage at Newport Italianfest. They'll have food and drink, live music, and history. The festival happens at Riverboat Row between the Taylor-Southgate Bridge and the Purple People Bridge (just below Newport on the Levee).
June 10-12: Charm at the Farm will be happening in Lebanon (4953 Bunnell Hill Rd Lebanon, OH 45036 to be exact). The best local artisans and shops come together only three fabulous weekends a year exclusively at Charm at the Farm. This innovative market provides rustic gifts, furniture, and home decor all in one vibrant place. Friday and Saturday tickets must be purchased online. Sunday tickets can be purchased online or at the gate.
June 10: Cincinnati Nature Center is offering a Free Friday Night with free admission from 5-9pm.
June 11: The O.F.F. Market will be at Summit Park, 10am-4pm. The O.F.F. Market is a monthly marketplace that brings together small businesses, artisans, brewers, bakers, farmers and the like to provide a unique shopping experience that supports strong community connections and strives to grow a hearty local economy.
June 11: The Hamilton Flea, Hamilton's first curated, urban artisan market, will be at Marcum Park from 10am to 4pm.
June 11: The City Flea will be at Washington Park, 10am-4pm.
June 11: If you're lucky enough to get tickets before they sell out, The Cincinnati Observatory hosts a Late Night, Date Night once a month. June's event runs from 10:30pm to midnight. You'll get to use telescopes to view astronomical objects that are not visible until late at night (weather permitting). Get a sneak preview of the next season's planets and stars a month or two ahead of everyone else. The program runs rain or shine. Tickets required.
June 12: Opera for All starts at 3pm with a family-friendly open house at Music Hall. Explore the home of the Cincinnati Opera and enjoy activities for the entire family – costume displays, photo exhibits, stagecraft demonstrations, live performances, and more.
June 12: Fan-favorite Opera in the Park will be at Washington Park starting at 7:30. Pack your chairs and enjoy this free outdoor concert in OTR featuring a selection of unforgettable opera and musical theater favorites performed by stars of the 2022 season, the Cincinnati Opera Chorus, and the Cincinnati Symphony Orchestra.
June 12: There will be some kites flying at the VOA Museum. Pigs Aloft Kite Association fly their extraordinary kites each month on the front lawn of the VOA Museum, 8070 Tylersville Road. This group typically meets the second Sunday of each month, weather permitting. Noon-4pm / weather permitting.
June 12: The Cincinnati Concours D' Elegance, a nationally recognized car show that highlights some of the most spectacular automobiles and motorcycles of all time, will be at Ault Park from 10am to 5pm. Free shuttle service provided. Tickets required.
June 17: The Cincinnati Food Truck Association is hosting Food Fest at Summit Park in Blue Ash. Savor a full day of foodie festivities with over 30 CFTA food trucks from 11am until 10pm. Enjoy local craft beer, music & dancing, retail vendor market, fun & face-painting for kids, some of Cincinnati's BEST food and much more!
June 17-19: Schutzenfest returns for 2022! Head to Kolping for authentic German food, beer, wine, entertainment, and MUCH more. Admission is $5 per person with kids 15 and under free. Dads get in free on Sunday. Hours are Friday 6pm-midnight, Saturday 4pm-midnight, Sunday 1-9pm.
June 17-19: Findlay Market is proud to host Juneteenth on June 17th-19th. This 3-day event will celebrate and showcase our talented Black-owned businesses and our incredible community partners. They'll host a free ticketed panel discussion to discuss the history and importance of the holiday, a Friday celebration, and a Tasting Event. Tickets required for some events – see site for details.
June 18: The Rumpke Community is holding an Open House from 11am to 3pm. This family-friendly event will include landfill tours, Touch a Trucks, games, food trucks, and more. This is a free event. Parking is at their new Corporate Headquarters located at 3990 Generation Drive, 45251.
June 18: It's a Fairy Tale Festival at Highfield Discovery Garden! Enjoy an afternoon frolicking in Highfield Discovery Garden as your favorite fairy tales come to life! Create your own magical crafts, strike a bargain at the fairy trading post, enjoy a Madcap Puppets show and more. Happening from noon to 5pm. Admission charged.
June 18: Vinoklet Winery is hosting their 3rd Annual Bluegrass Music and Craft Festival. Bridng a lawn chair and blanket, spread out, and enjoy live music starting at noon. The craft show runs 11am-7pm. They'll have food booths or your can dine in the restaurant (reservations required). Admission is $5 per person.
June 18: Head to Heritage Village Museum (at Sharon Woods) for Escape the Village, an escape room style challenge. Choose from one of two escape room adventures: "Morgan's Raiders of the Lost Art" or "Leaving the Station." Each session can accommodate four to eight people. Reservations required.
June 18: It's a Juneteenth Weekend celebration and Family Fun Days at Martin Luther King Jr. Park, 2-6pm. Enjoy inflatables, yard games, face painters, balloon artists, live music, food trucks, live music, and more!
June 18: The 2nd Annual Hamilton Juneteenth Celebration is happening at Marcum Park (116 Dayton Street in Hamilton), 4-9pm.
June 18: Pyramid Hill Sculpture Park is hosting their Fishing Derby. Kids Derby starts at 9:30am, Adult Derby starts at 1pm, and Fishing Derby Happy Hour is 4-5pm. The event is free with the cost of admission.
June 18: It's the annual Family Fun Day Event at the Civic Garden Center, 11am-3pm. Enjoy tours, music, food, outdoor games, and activities.
Don't miss our Father's Day List of Things to Do!
June 19: The Burlington Antique Show is at the Boone County Fairgrounds from 6am to 3pm. Shop from 200 antiques dealers at this antiques and vintage collectibles show.
June 19: The Cincinnati Symphony Orchestra will have a free concert on the lawn at Maple Ridge Lodge / Mt. Airy Forest, 7-9pm.
June 22-26: The Airpower History Tour is coming to Cincinnati. Don't miss your opportunity to fly in the iconic B-29 Superfortress "FIFI" and the B-24 Liberator "Diamond LIL" when they visit Lunken Airport. Tour all the planes on the ground or book a flight in one or all of these historic aircraft.
June 24-26: A Cincinnati Classic returns – Panegyri! Enjoy all things Greek food and culture at the 47th Annual PANEGYRI Greek Festival. Hours are Friday 5-11pm, Saturday 3-11pm, and Sunday 1-8pm. Admission is $2 with children 12 and under free. A portion of admission is donated to the FreeStore FoodBank and The Good Shepherd Food Pantry. Free parking and there's a shuttle bus service to and from St. Xavier High School.
June 24-26: The Laser Light Fest will be at Coney Island. The show is DJ'd live and choreographed with cutting-edge effects, high-powered lasers, and large screen Laser Projection. Parking is similar to a drive-in movie. Bring your chairs and set up to watch the show. VIP section offered. The Laser Show starts at 9pm each night (with the gates opening at 6pm) and Legends of Rock Laser Show starts at 10:30pm on Friday and Saturday. Tickets required.
June 24: Art After Dark is at The Cincinnati Art Museum, 5-9pm. This month's theme is "Born This Way". Celebrate all things #Pride with Drag Queen Phaedra, music by DJ Mowgli, food for purchase, cash bars, and docent-led tours throughout the evening.
June 24: Cincinnati Parks and 7 Hills Neighborhood Houses are hosting Family Fun Days at Laurel Park, 5-7:30pm.
June 24: It's a Canoe and Movie Night at Rapid Run. The Rapid Run Advisory Council and Cincinnati Parks invites you to bring the family out to the beautiful lake at Rapid Run Park for an evening of music, movies, and canoes!
June 24: Cincinnati Nature Center is offering a Free Friday Night with free admission from 5-9pm.
June 25: Rhinegeist is celebrating their ninth anniversary with "Nines are Wild", a rootin', tootin', new-boot-goofin' birthday bash! Nines are Wild will take place in the taproom on Saturday, June 25th from high noon to 1am. As June is also Pride Month in Cincinnati, a Pride-themed dance party, featuring a live DJ, will be simultaneously happening on the rooftop from 9pm until close.
June 25: Head to Bechtold Park for the Street Food XPO, one of the largest gatherings of food trucks and street food in Ohio. Featuring 40 local and regional food trucks, concession trailer, carts, and more – they'll serve up everything from street tacos to vegan dishes, lobster rolls to steak tips. The event runs 11am-10pm.
June 25: The Village of Silverton hosts Taste of Silverton, happening at Meier's Wine Cellars from 2pm to 9pm. Great free music. Great Silverton food. Meier's wines. Neighbors and friends. Supporting local businesses. And fun in the sun. Bring a lawn chair or a blanket and support our fine local businesses. Make sure to hit the ATM first, as some vendors will be cash only.
June 26: Taft Museum of Art is throwing a Bicentennial Community Celebration from 11am-4pm. Celebrate the Taft historic house's 200th birthday by exploring the newly opened galleries and enjoying a variety of performances, art-making opportunities, tours, and more. This is a free event and no reservations required. Due to popularity, wait times may vary. Includes admission to Jane Austen: Fashion & Sensibility, Jane Austen in London: A Wall-Sized Map, and the museum's permanent collection galleries located in the Taft historic house.
June 26: It's time for Dog Day of Summer at Spring Grove Cemetery and Arboretum! For 364 days of the year the cemetery does not permit dog owners to share the beauty of Spring Grove with their pets.  However, on this ONE day only, responsible pet owners are invited to spend the entire day at the cemetery with their four-legged buddies.  Explore over 45 miles of paved roads throughout the 400+ developed acres of the park
June 27: The Westwood Civic Association and SPUN Bicycles are hosting at Westwood Slow Ride, a bike ride around Westwood. Meet at Westwood Twon Hall at 6:30pm for a bike ride (about 3 miles). This ride is welcoming and accessible to all skill levels, and children. They will be riding on the road, but safety will be a priority.
June 30: Head to Newport on the Levee for Movie Night. The featured movie is "Space Jam: A New Legacy". Find it in "The Gallery", 6-8pm.
Broadway in Cincinnati's "To Kill a Mockingbird" runs through June 12. This is a MUST SEE in my opinion. It's my favorite Broadway show thus far!
The Butterfly Show is at the Krohn Conservatory. Butterflies of the Nile will be here through June 19, 2022. Be sure to check their site for special related events. Timed tickets required (purchase online) with limited numbers available at the door.