They may be best known for the bike trail but there's a lot more to see and do in the charming city of Loveland, Ohio! Enjoy great restaurants, bars and craft breweries, an amazing selection of outdoor activities, farms, ice cream shops, shopping, and much more!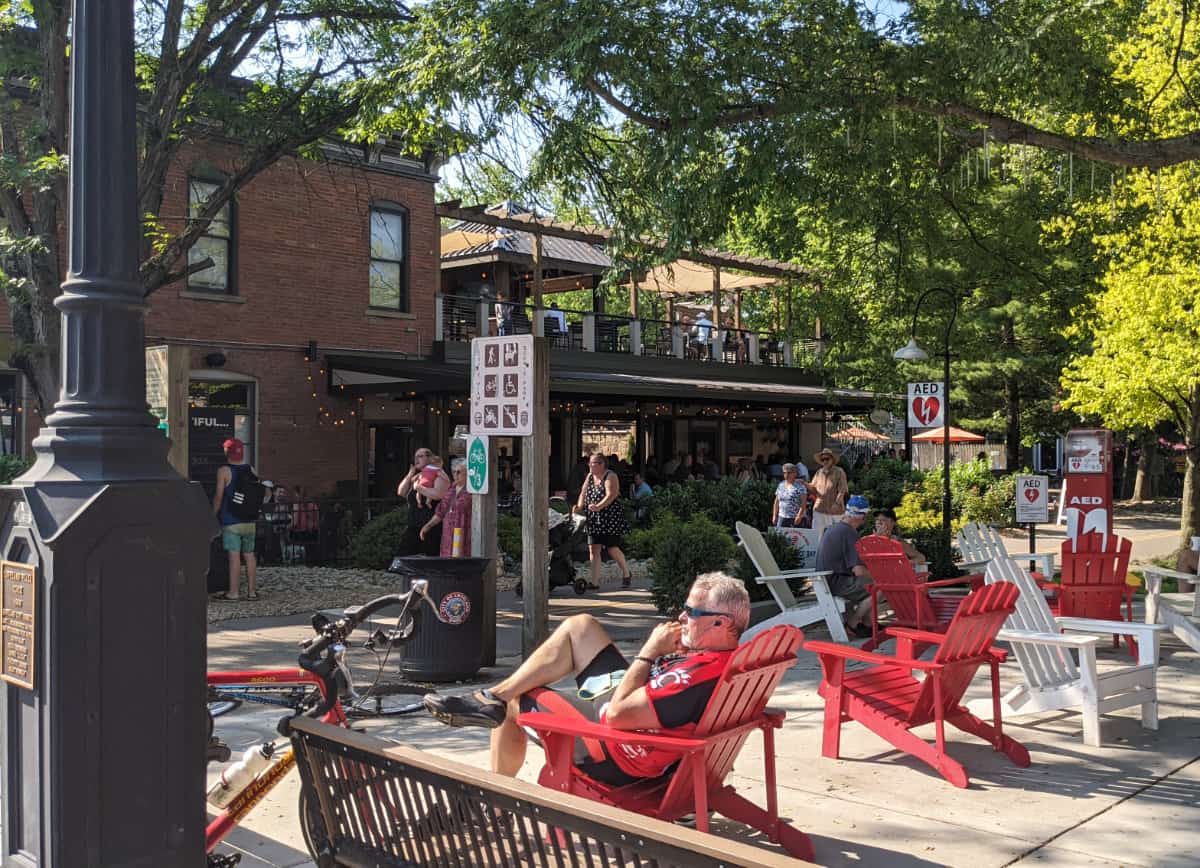 Where is Loveland, Ohio?
Located less than 20 miles from downtown Cincinnati, the city of Loveland is found just a mile or two from the 275 loop. Located on the banks of the Little Miami River, the Loveland spans across three Ohio counties – Hamilton, Clermont, and Warren.
Loveland's Origins
Like so many Ohio towns, Loveland started and grew around the transportation provided by both the railroad and the Little Miami River.
The town was first settled in 1795 by Colonel Thomas Paxton. It would take more than 50 years before Paxton's son-in-law, William Ramsey, would buy the 189 acres of land that would eventually become Loveland.
Named after James Loveland who operated a store and post office near the railroad tracks downtown, the settlement of Loveland was primarily on the Clermont County side of the Little Miami River. The river divided the town and it was tough to cross the river without traveling. It wasn't until they built a wooden bridge over the Little Miami (1870's) that the town expanded into "west Loveland".
Over the years, this city has thrived and become known for its outdoor recreation, its bike trail, a vibrant downtown, beautiful parks, and more.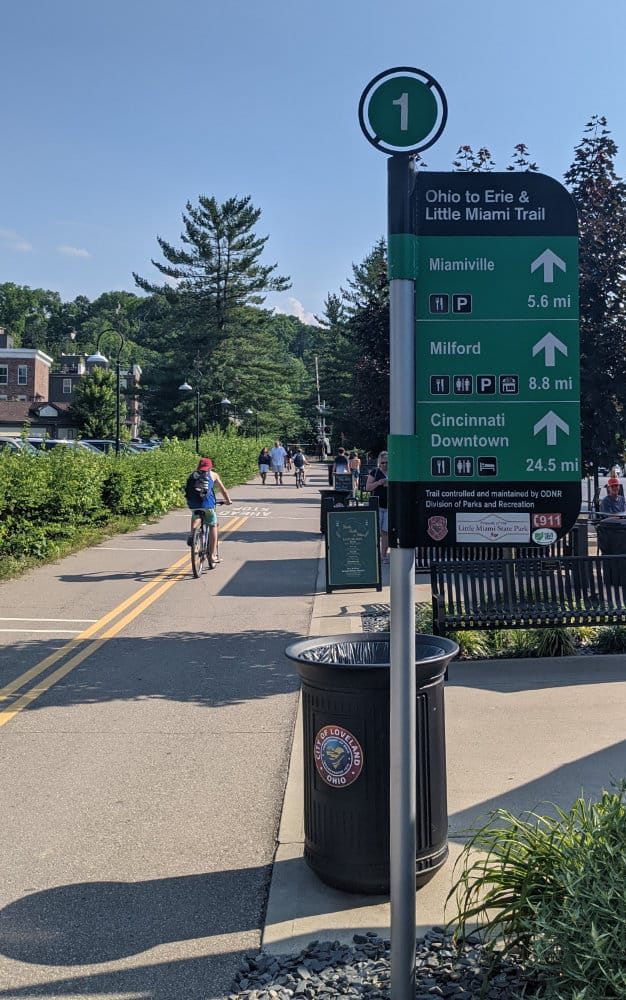 One of Loveland's most notable services is The Loveland Chamber's "Valentine Program" which has been around since 1972. Want to have your Valentine cards postmarked in the city of love? They have a special "Valentine Lady" who will put a romantic handstamp on your cards and then transport them to the Loveland post office where they're hand canceled with a special Loveland postmark. Not only does she do this for your Valentines, she'll also do wedding invitations!
Restaurants and Bars in Loveland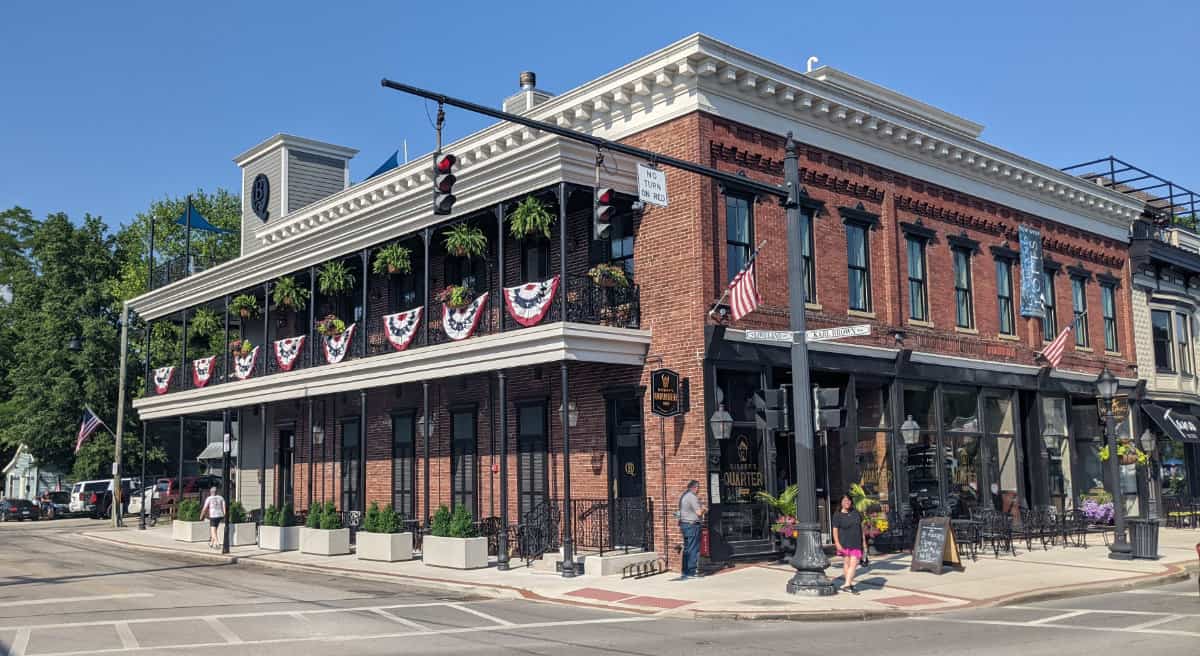 Bishop's Quarter: You'll feel like you've left Ohio behind for The French Quarter at this downtown bar. The first floor is a cocktail bar with an outdoor patio. The second level has a fireplace and couches with a side patio. And the third level is their rooftop bar. You can order from their menu which offers small bites and southern comfort foods.
Location: 212 W. Loveland Ave. / website
Paxton's Grill: Considering the history presented here, it's no surprise to find something in Loveland named Paxton. Located in "Old Loveland", this hidden gem has both indoor and outdoor seating. The menu includes everything from soups and salads to sandwiches, wraps and burgers.
126 W. Loveland Ave. / website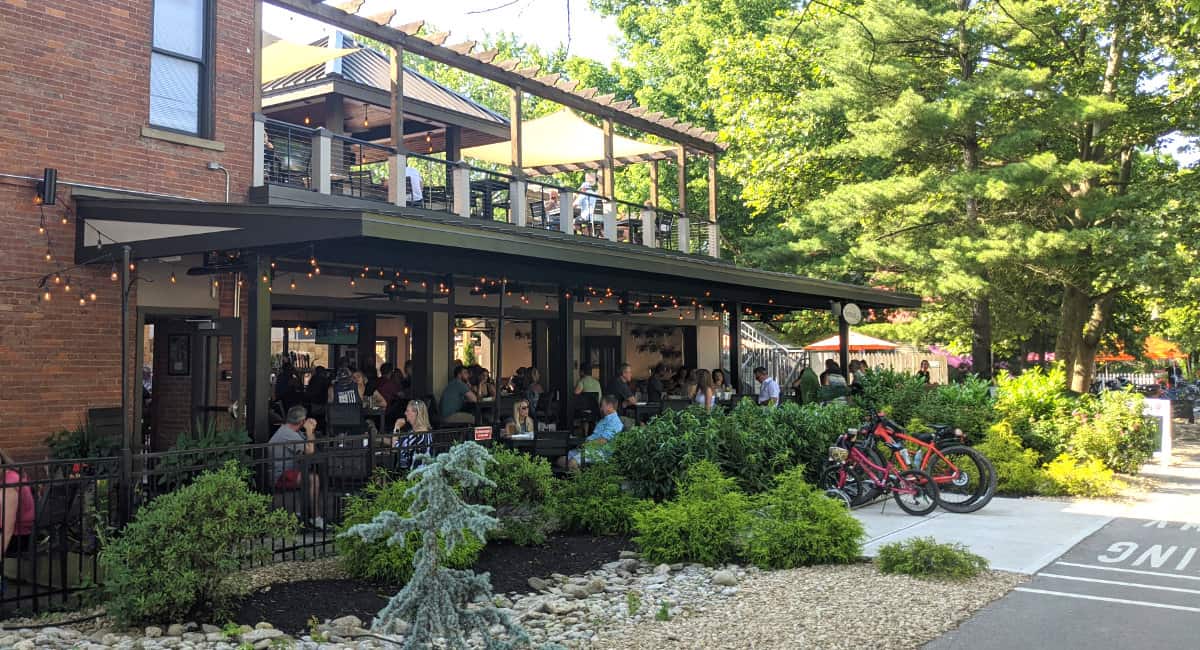 Ramsey's Trailhead: Popular with folks as they come off the bike trail, Ramsey's has both patio and inside dining. They serve a full menu plus dessert (check out their Holey Cow – a warm glazed donut with vanilla ice cream and your choice of toppings).
Location: 200 W. Loveland Ave. / website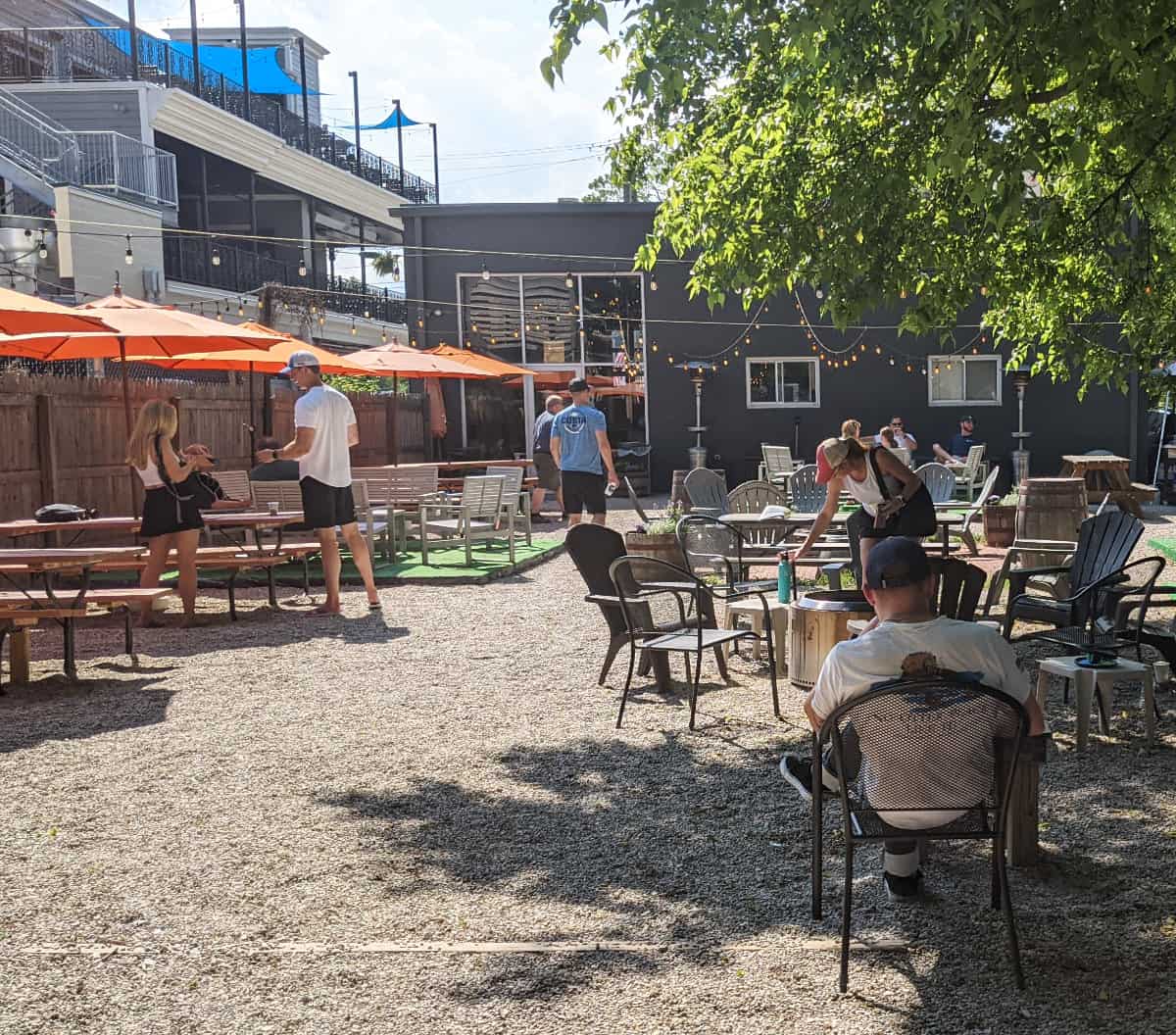 Narrow Path Brewing: This craft brewery is located close to the bike trail and offers a rotating selection of cold brews. They have both indoor and outdoor seating.
Location: 106 Karl Brown Way / website
Tano Bistro: Tano Williams and his wife, Gina, operate this lovely three floor eatery found in the middle of downtown. They serve everything from "handhelds" to salads to entrees. You can even order from Tano Bistro and have it delivered to your table at nearby Narrow Path Brewing!
Location: 240 W. Loveland Ave. / website
Satisfy Your Sweet Tooth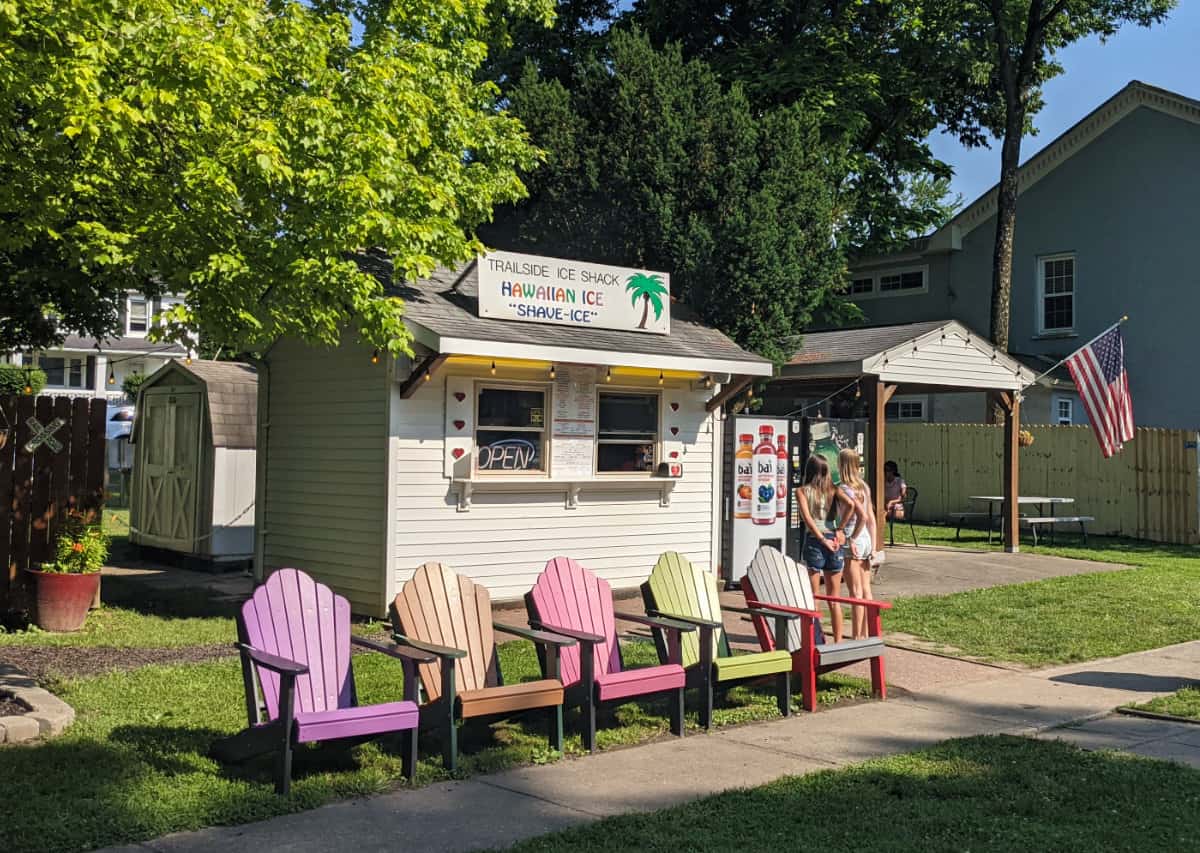 Loveland Dairy Whip: Stopping for a creamy whip is a tradition here in Cincinnati and the Loveland Dairy Whip is an essential stop! This family owned spot for a cold treat is open March through the end of September.
Location: 611 W. Loveland Ave / website
Graeter's Ice Cream: This Cincinnati ice cream icon has a shop within walking distance of the Loveland Bike Trail.
Location: 110 S. 2nd Street / website
Cocoa Bites: Whether you're looking for a sweet treat or a light lunch, be sure to check out Cocoa Bites. They have cupcakes flavors of the day, cinnamon rolls, scones, cakes, and more (variety changes daily).
Location: 305 W. Loveland Ave. / Instagram
Loveland Sweet Shoppe: You can feel like a kid in a candy shop at this quaint and inviting ice cream and candy stop. It's is a sweet shop of old serving up homemade confections. They also serve coffee!
Location: 124 W. Loveland Ave. / website
Things to Do in Loveland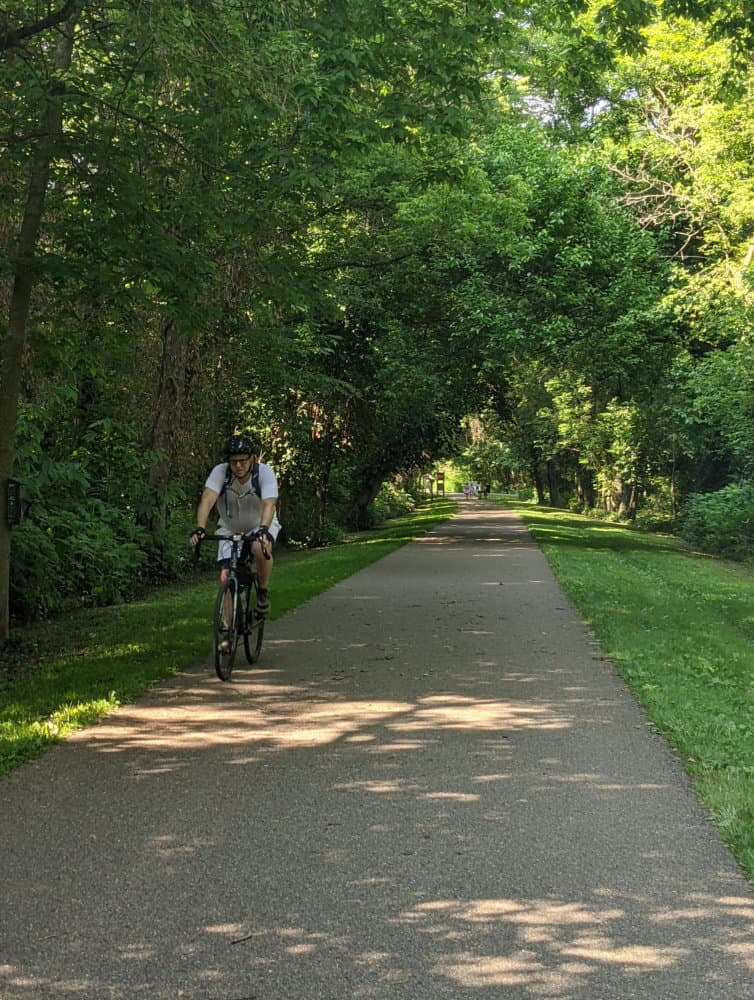 Loveland Bike Trail: This "Rails to Trails" 70+ mile long paved path is technically the Little Miami Scenic Bike Trail … but most of us know it as the Loveland Bike Trail. It's one of the main attractions in Loveland, popular with cyclists, runners, and walkers. Most of the trail runs along what used to be The Little Miami Railroad and goes all the way from Milford to Springfield, Ohio. You can ride your own bike or rent one near the trail.
Loveland location: 180 W. Loveland Ave. / website
Loveland Castle: This unique place, also known as Chateau Laroche, is definitely worth a visit. The castle was built by hand by one man with rocks pulled from the Little Miami River (with more molded on site). It truly is a monument to one man's strength and determination!
Location: 12025 Shore Dr. / website
Blooms and Berries: One of my favorite Loveland stops! This farm has loads of activities for the kids, a beer garden, a farm market, and much more. They offer U-Pick opportunities throughout the year. They also have lots of seasonal festivals throughout the warm months. Find out more in our full Blooms and Berries article here.
Marmalade Lily: A true hidden gem! This pick-your-own flower farm is a wonderful way to spend a few hours outdoors. They are open limited hours so plan accordingly. Find out more in our full Marmalade Lily article here.
Parks in Loveland, Ohio
Home of the Brave: One of our favorite parks around, Home of the Brave has a water feature, playgrounds, trails, and more. Read all about this great park here.
East Loveland Nature Preserve: Another hidden gem, this nature preserve is a great place to escape for a hike. Find a trail map here.
Lake Isabella: One of the Great Parks of Hamilton County, this is a fun park to visit. They have a large fishing lake, camping spots, and host numerous events throught the warmer months. Read all about Lake Isabella here.
Where to Park in downtown Loveland