Who says you have to head south to enjoy a beach vacation? You might be surprised to learn there are lots of great beaches in Ohio!
When you think of Ohio beaches your mind probably goes right to the Great Lakes… and you wouldn't be wrong. Lake Erie, the only Great Lake to border Ohio, stretches from the Toledo area to the eastern border of Ohio, offering 312 miles of shoreline to Ohioans.
But the beaches don't stop there! Ohio is covered with scenic bodies of water and sandy beaches all across the state! And they're all within a 5-6 hour drive from Cincinnati, making these beaches ideal for a long weekend.
So make your plans to have some fun in the sun at Ohio's beaches! Whether you're looking for a weekend or week-long escape, you're sure to find some great adventures in our long list of Ohio beach getaways.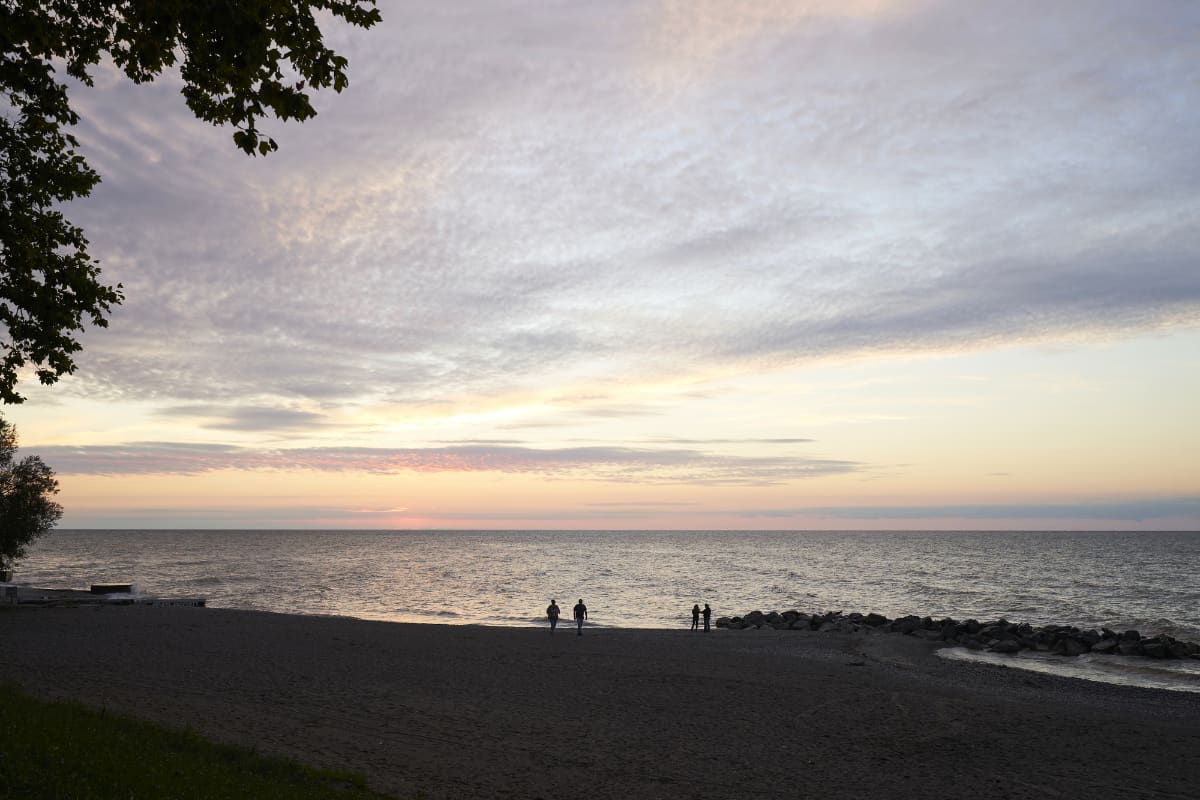 Most of the Ohio beaches listed below are part of larger parks and offer activities and fun that goes well beyond the beach. Many offer a wide variety of fun outdoor and water activities like kayaking, canoeing, paddleboarding, beach volleyball, picnic spots, trails, and much more.
---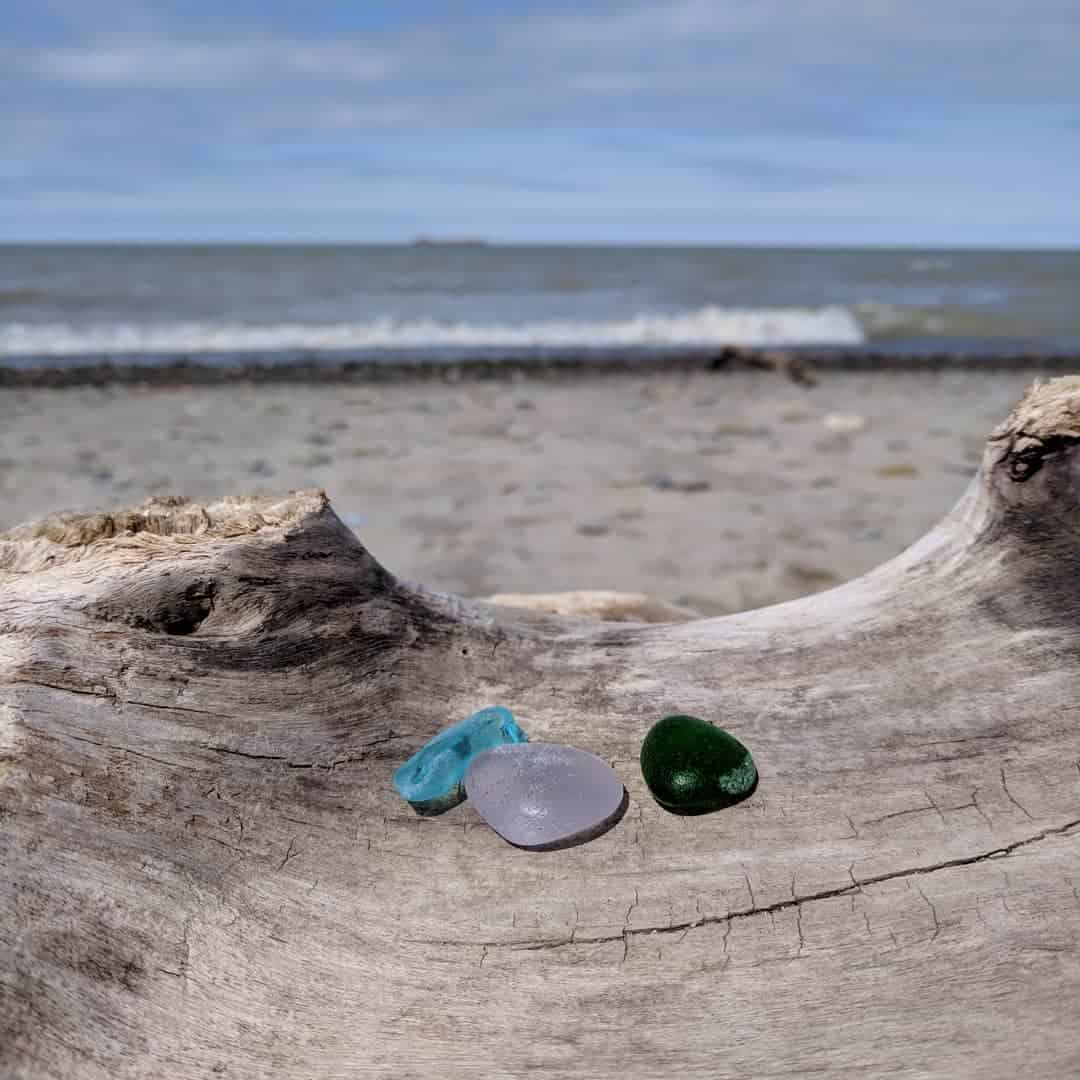 Conneaut Township Park (Lake Erie)
Head to the the tip of northeast Ohio and experience the beach at Conneaut Township Park. The half mile of beach has ample parking with boardwalks that lead to the sandy shores of Lake Erie.
According to many beach-goers, Conneaut beach is a great spot to hunt for beach glass.
Save some time to explore the 60 acre park with natural bluffs that provide spectacular sunset views, bocce ball and basketball courts, horseshows, pickleball, a playground and more. The park has a concession stand and a grill if you work up an appetite.
Make a weekend of it when you visit Ashtabula County's 19 covered bridges.
You might also want to check out nearby Walnut Beach (info below). And if you're a WWII history buff, be sure to check out the annual D-Day Conneaut event.
---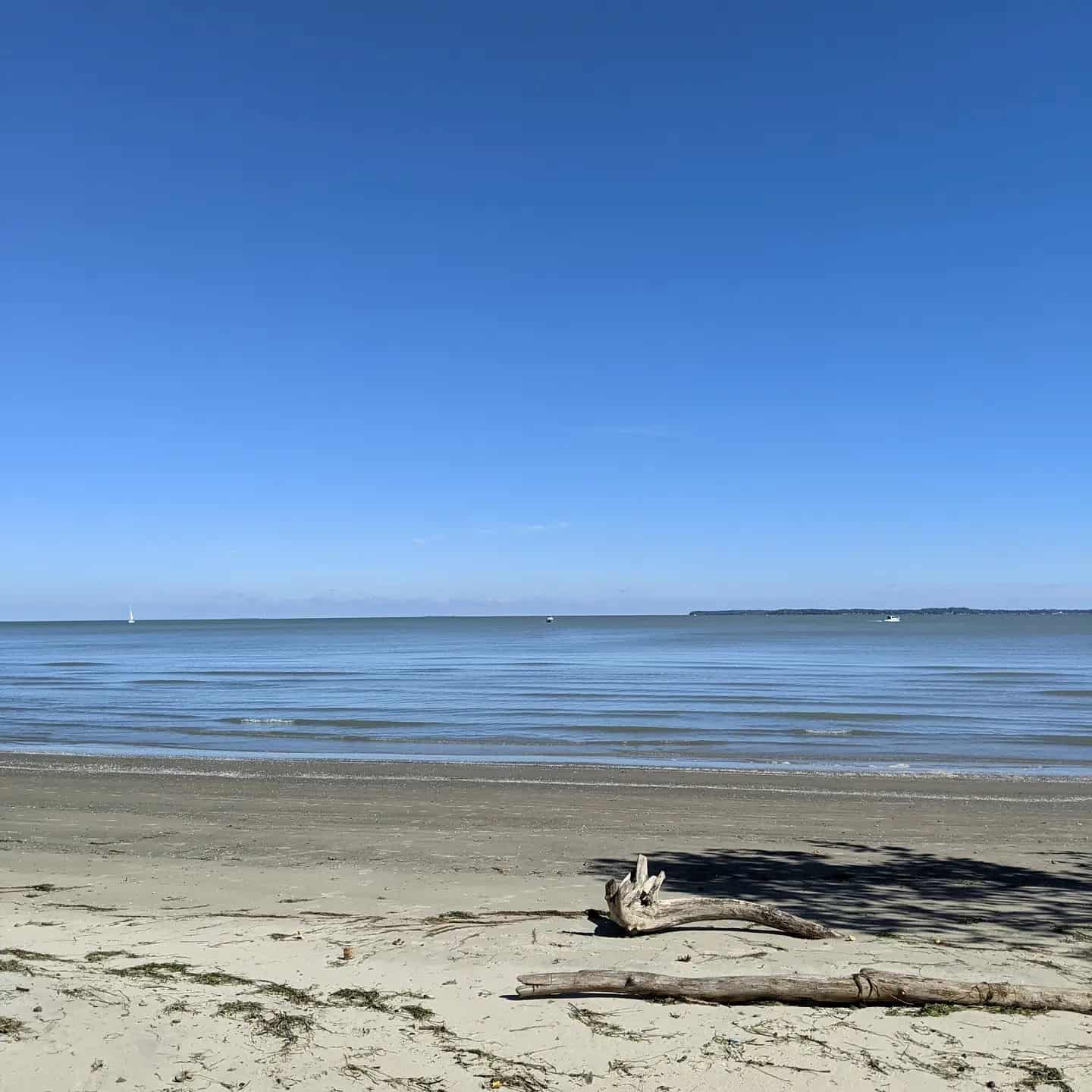 East Harbor State Park (Lake Erie)
Dip your toes in the sand and water on the beach at East Harbor State Park, located east of Toledo, Ohio. East Harbor is located on a peninsula that juts out into Lake Erie and is close to both Sandusky and Put-in-Bay. You'll find a 1500-foot beach at this park with swimming allowed in designated areas.
The park has changing rooms, outdoor showers, bathrooms, and vending machines. They even have a dog friendly beach!
Enjoy more fun in the sun at the park's volleyball and basketball courts, stop by the Nature Center, rent a bike at the camp store, and more.
Address: 1169 N Buck Rd., Lakeside Marblehead, Ohio 43440
---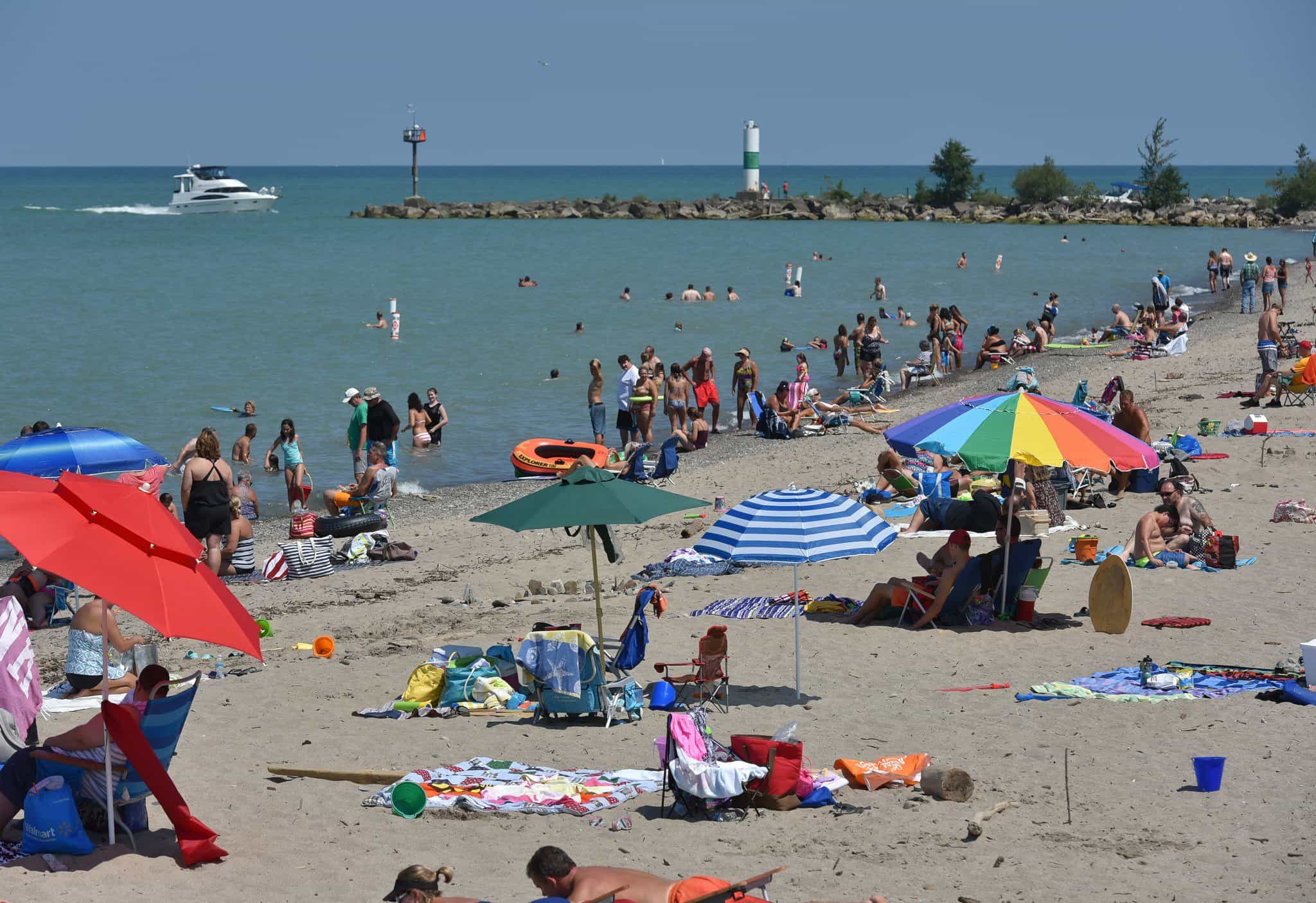 Geneva-on-the-Lake (Lake Erie)
Soak up some rays at Breakwater Beach, the 600-foot sandy beach located on the shores of Lake Erie at Geneva State Park.
When you're done with the beach, check out the park's six miles of mixed-use trails or take in the lake views from the 2-mile paved trial. The park also has an archery range (bring your own equipment), boating access to Lake Erie's central basin, and lots of fishing opportunities.
Address: Breakwater Beach, Geneva State Park, 4499 Padanarum Rd, Geneva, OH 44041
---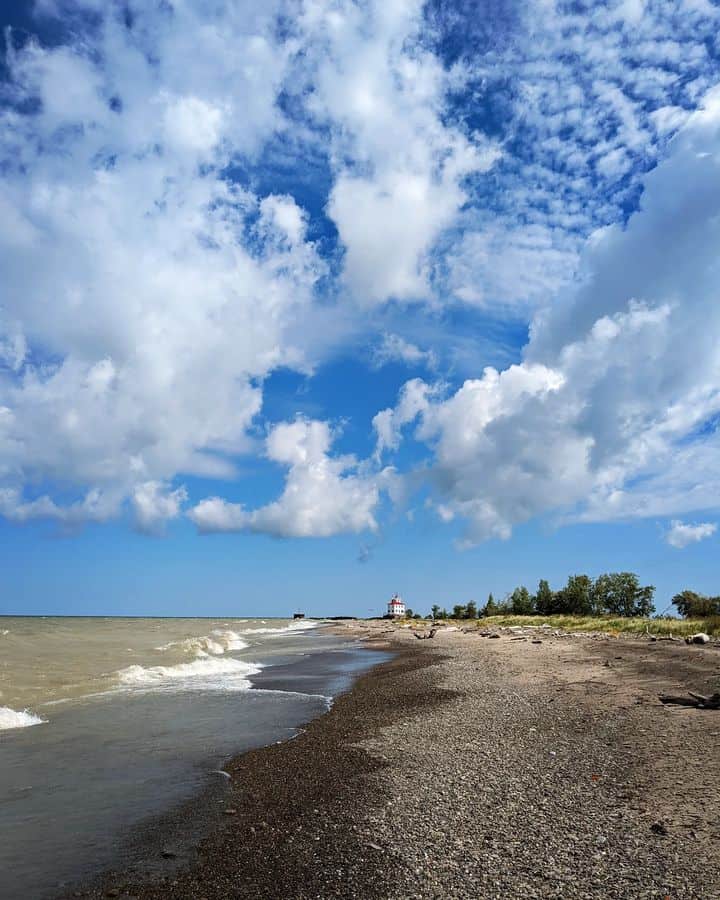 Headlands Beach State Park (Lake Erie)
Close to Cleveland, Headlands Beach State Park is well known for its 35-acre Lake Erie beach.
In addition to the beach, you'll find a concession stand (seasonal, parking lot 12) and picnic tables with grills at the park. A mile long paved track will allow you to work off that snack. Into fishing? Head to the east end of the park where you'll find a federal breakwall that offers great fishing opportunities. 
This park is well known for its wildlife as it often offers the opportunity to see nesting bald eagles, red fox, and monarch butterflies during their migration.
---
Huntington Beach (Lake Erie)
Head to Huntington Reservation and soak in the beauty of Lake Erie from Huntington Beach.
Pack a lunch and enjoy your meal from one of the picnic tables located above the beach where you'll be treated to beautiful lake views. And then walk it all off on their 3 miles of nature trails (don't miss the Lake Shore Electric Railway Trestles).

Be aware that you'll have to walk down stairs to get to the lake.
Address: 28648 Lake Road, Bay Village, Ohio 44140
---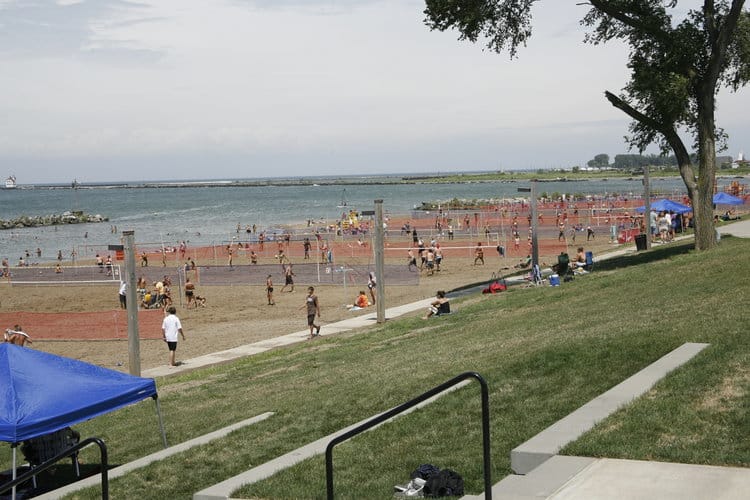 Lakeview Park (Lake Erie)
Lakeview Park, part of the Lorain County Metro Parks, is located along the shores of Lake Erie. The beach and surrounding park offers views of the Lorain Lighthouse, a historic rose garden, a summertime cafe, and lots of outdoor activities. This is one Ohio beach you need to put on your bucketlist.

Go for the beach at Lakeview Park and make some plans to stick around for more Ohio fun including beach volleyball courts with nets (nets are up during the summer only), lawn bowling, spots to put in your kayak / canoe / paddleboard, a playground, and picnic shelters.
Address: 1800 West Erie Ave., Lorain, Ohio 44052
---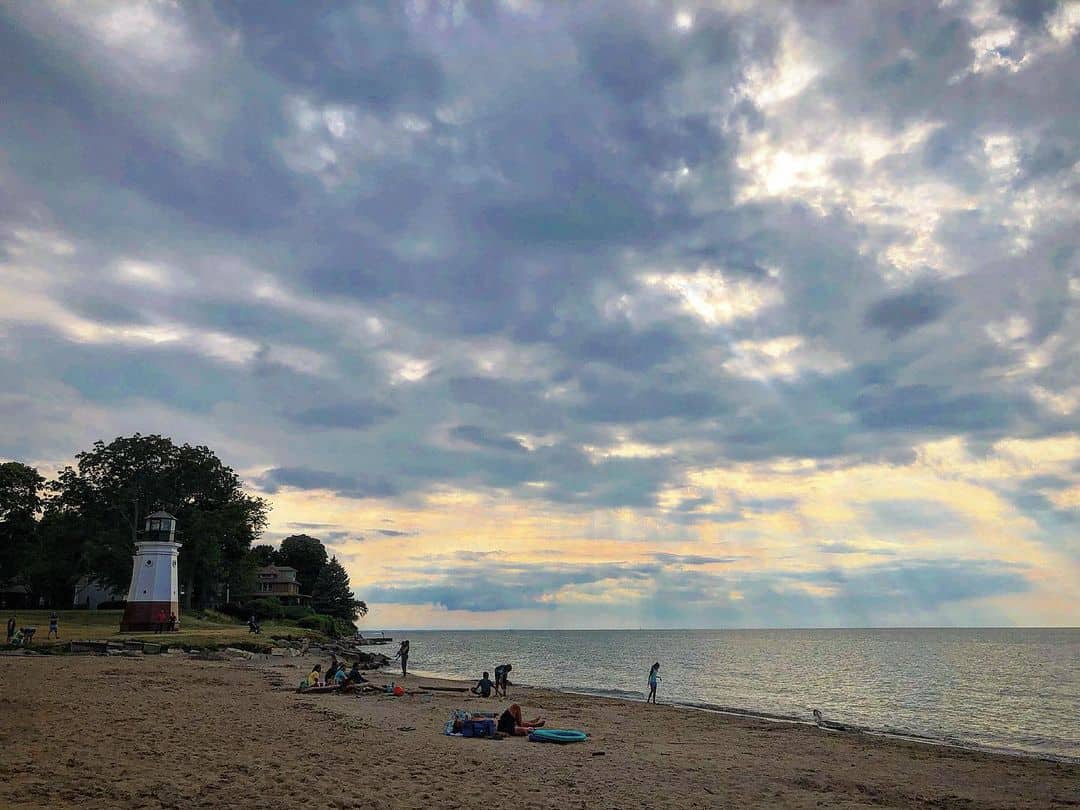 Main Street Beach (Lake Erie)
Main Street Beach is located at the end of Main Street in Vermilion (northeast Ohio, just east of Sandusky). This beach stretches 300′ along Lake Erie and is a favorite spot for beach goers as well as lake glass hunting, fishing, and kayaking. Know there are no restroom but there is a porta-potty near the historic Vermilion Lighthouse.
The beach is just a short walk into downtown Vermilion where you can browse through the shops.
---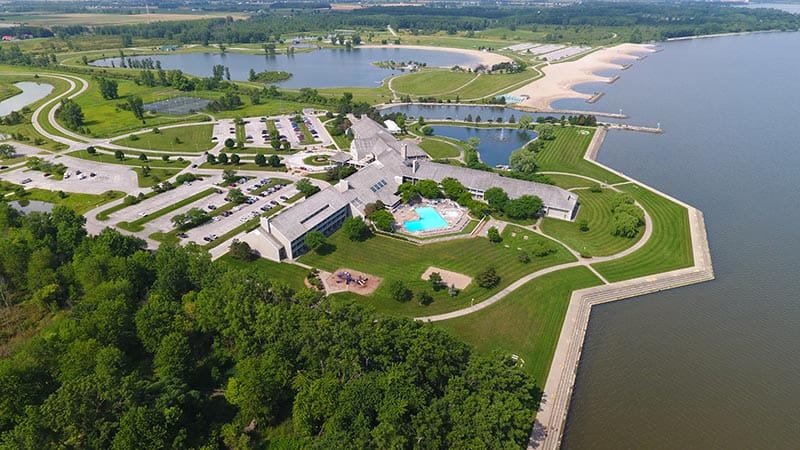 Maumee Bay State Park (Lake Erie)
Maumee Bay State Park offers two beaches: one long, sandy beach on the Lake Erie shore (as seen towards the top right of photo) and another along the park's lake. In addition to the beaches, the park offers lots of recreational opportunities including pickleball courts, a 5 mile paved walking and biking path, multiple walking trails, boat and bike rentals, a Nature Center, and more.
Hungry? They have picnic areas with tables and grills near the beach.
Want to make a weekend of it? This park has a lodge, cabins, and a large campground.
Address: 1400 State Park Rd., Oregon, OH 43616
Want to check out some unique camping destinations for the weekend? Check out our article: Glamping in Ohio – 15 Fantastic Spots with Domes, Yurts, RVs, and Luxury Tents
---
Nickel Plate Beach (Lake Erie)
Nickel Plate Beach is another northern Ohio beach and is the largest public swimming beach in Erie County. Named after the Nickel Plate Railroad Company that was located on the property, this Huron, Ohio beach allows you to enjoy the view of the Huron Lighthouse along with the beautiful lake from the sandy shores of Lake Erie.
Enjoy the a meal at one of the park's picnic shelters. Run off some energy at the playground or with a few games of beach volleyball. They even have a permanent outdoor ping-pong table (must bring your own paddles and balls) and permanent corn hole boxes (bring your own bags).
There is a parking fee for this park (cash only as of 2-2023).
Address: 1 Nickel Plate Dr., Huron, Ohio 44839
---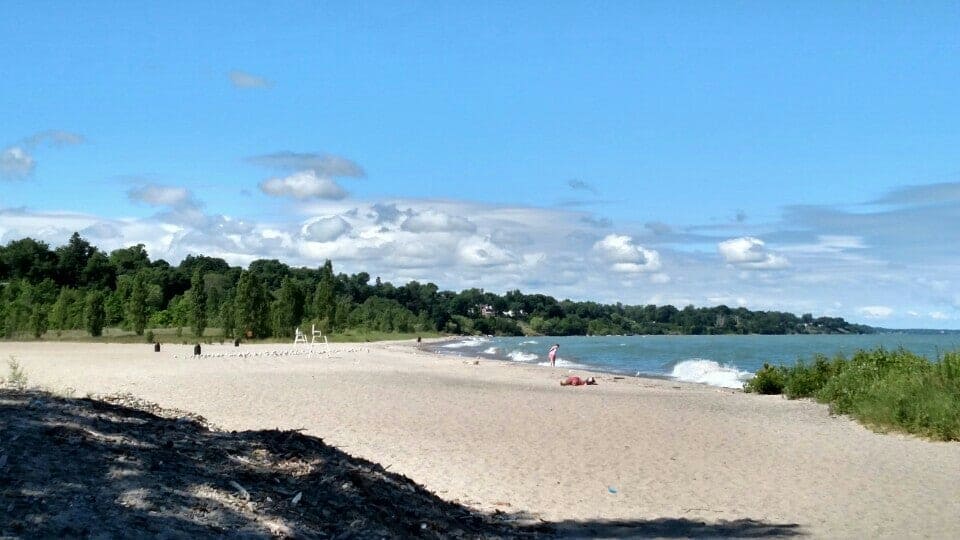 Walnut Beach (Lake Erie)
Venture up to Walnut Beach to enjoy the Lake Erie shoreline beaches. This beach has a concessions stand (seasonal), a boardwalk, picnic tables, a playground, and more. Walnut Beach lovers recommend searching for sea glass at this spot. Note: there are a lot of rocks on this beach so water shoes might come in handy.
Address: W 1st Street, Ashtabula, Ohio 44004
---
Alum Creek (Central Ohio)
Head to the Columbus, Ohio area to visit Alum Creek, Ohio's largest inland beach. Spanning 3,000 feet of sandy shoreline, this beach offers a changing area, a small playground, and a seasonal concession stand.
The surrounding Alum Creek State Park includes a campground, boating and kayaking on the 3000+ acres of water, miles of hiking trails, and lots of fishing spots.
Address: 3305 S. Old State Rd., Delaware, Ohio 43015
---
Buck Creek State Park (Central Ohio)
Enjoy the 2400′ of the large beach at Buck Creek State Park near Springfield, Ohio (between Dayton and Columbus).

Tip: Bring some water shoes to this beach. There are lots of little rocks at this beach and lake.
Into birding? The northern area of the park is a said to be great for observing waterfowl.
---
Burr Oak State Park (Central Ohio)
Burr Oak State Park offers a beach close to the Columbus, Ohio area. The park has about 500′ of public beach on the north side of the lake.
The beach has sand volleyball courst and a picnic tables and grills are close by. Restrooms and outdoor showers are also available.
---
Fox Island State Park (Central Ohio)
Yes, Ohio has an island beach in the middle of the state! Fox Island State Park in Washington Township, Ohio (NE of Dayton) and is one of many small islands that dot the shores of Indian Lake.
Hang out on the beach, swim in the lake, nosh on something good to eat at the picnic tables, and play some sand volleyball at this one.
---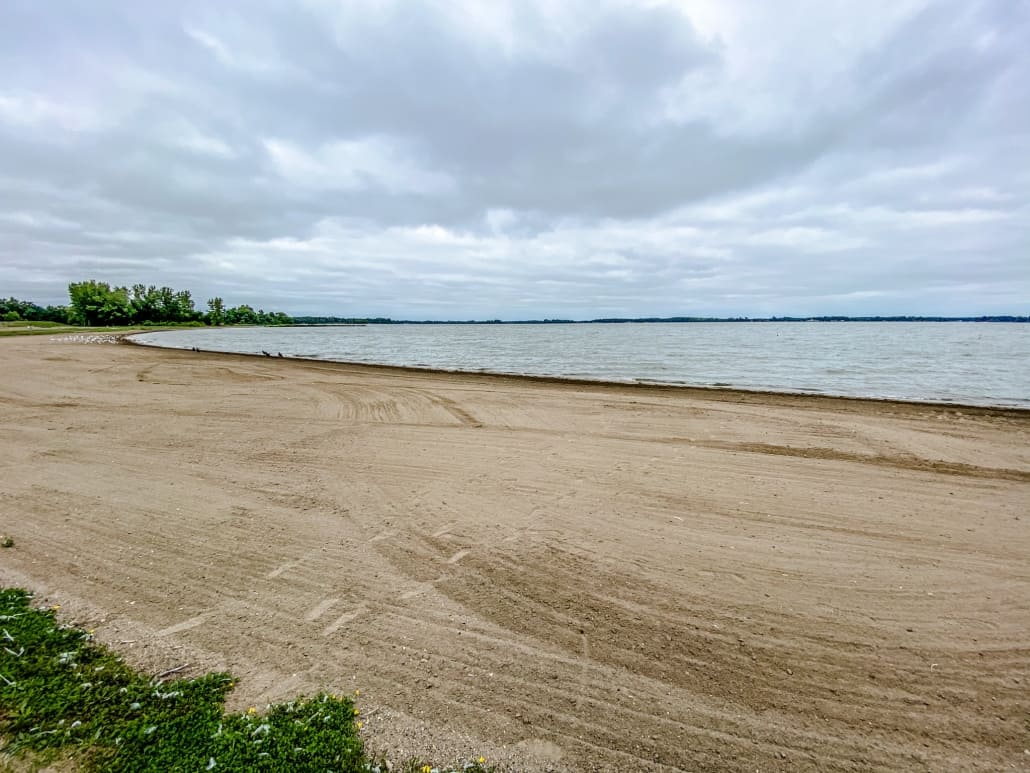 Old Field Beach at Indian Lake State Park (Central Ohio)
Indian Lake State Park has a public beaches where you can soak up the sun including Old Field Beach and Fox Island (see info above). You'll find a long shoreline at Old Field Beach and plenty of parking. They have some shelters as well as picnic tables for your dining enjoyment.
In addition to the beach, Indian Lake has trails for hiking, a playground, a dog park, disc golf, fishing, boating, and more.
---
Salt Fork State Park (Central Ohio)
Salt Fork State Park is the largest of the Ohio State Parks. Salt Fork has a 2500′ beach, one of the largest inland beaches in Ohio. The beach includes bathhouses with showers, lockers, and toilets and you'll also find a snack bar.
You'll find a number of picnic areas with picnic tables and grills around the lake.
Looking for a place to stay the night? Salt Fork Lodge has a 400 foot swimming beach, overlooks the lake, and has indoor and outdoor swimming pools. The park also has 37 cottages.
Address: 14755 Cadiz Rd., Lore City, Ohio 43755
---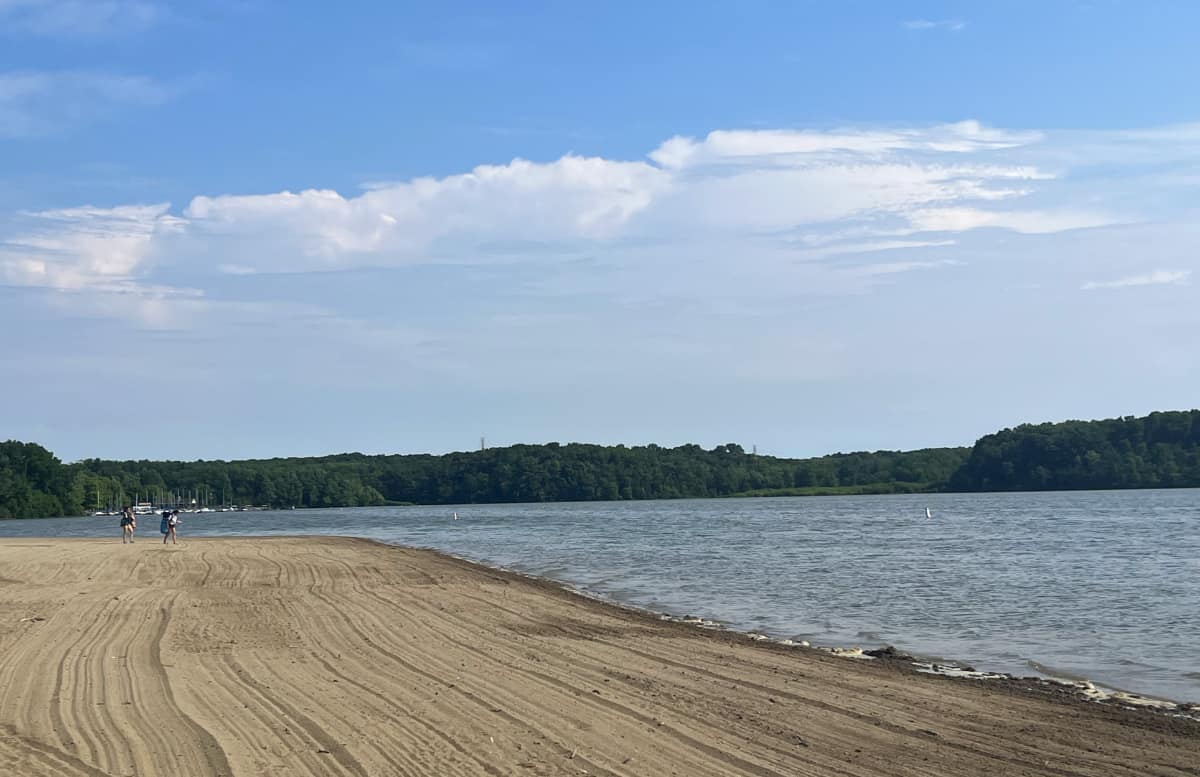 Hueston Woods State Park (Southwest Ohio)
Put your toes in the sand on the beach at Hueston Woods State Park. This 1500′ beach in Ohio is free and open to the public. It has a shower house, restrooms, loads of parking, a playground, a concession stand, an archery range (bring your own equipment), bridle trails, disc golf, and more.
The surrounding park has a wonderful Nature Center (with Raptor Rehabilitation / birds you can visit), hiking trails, boat access, naturalist programs, fishing, a covered bridge, a nice campground, a dog park, and more.
Address: 6301 Park Office Rd., College Corner, Ohio 45003