It's hard for kids to get their energy out on cold or rainy days. As soon as the rain starts falling, my couches become jungle gyms and furniture turns into obstacle courses. Some days it isn't a big deal, but some days we need a place to direct that boundless energy somewhere outside of the house.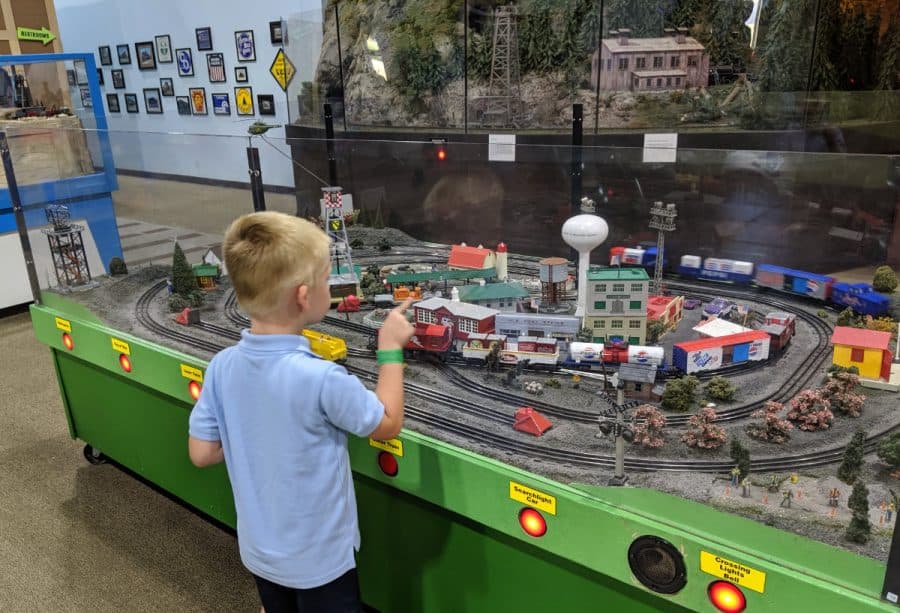 These indoor play places provide plenty of indoor fun for kids in Cincinnati. From trampolines to play sets and imaginative play, your kids are sure to return home with a little less energy than when you set out. Easy bedtime for the win!
---
For those days when you simply NEED a list of Indoor Playgrounds in Cincinnati, be sure to check out this list:
Dig 'N Play
This massive indoor playland is 10,000 square feet of fun for kids and relaxation for their grown ups. The visually-open play space has dramatic play, inflatables, and a 3 story play structure. Adults can enjoy coffee from Seven Hills Coffee Roasters, wine, mimosas, and 50 West & 16 Lots beer. The play area is designed for kids 7 and under but older kids are welcome.
Located at 9405 Cincinnati Columbus Road (Rt 42), West Chester, Ohio 45069
Website
---
Duke Energy Children's Museum
The Cincinnati Children's Museum is packed with fun indoor activities for kids. Experiment with complex machines at the Energy Zone, play in the kid-sized neighborhood, and make art at KidSPACE. Kids can unleash their inner explorer in the life-sized forest play area and Nature's Trading Post. Little Sprouts Farm is a pretend garden and farmyard specially designed for kids ages 4 and under.
Located at 1301 Western Avenue, Cincinnati, Ohio 45203
Website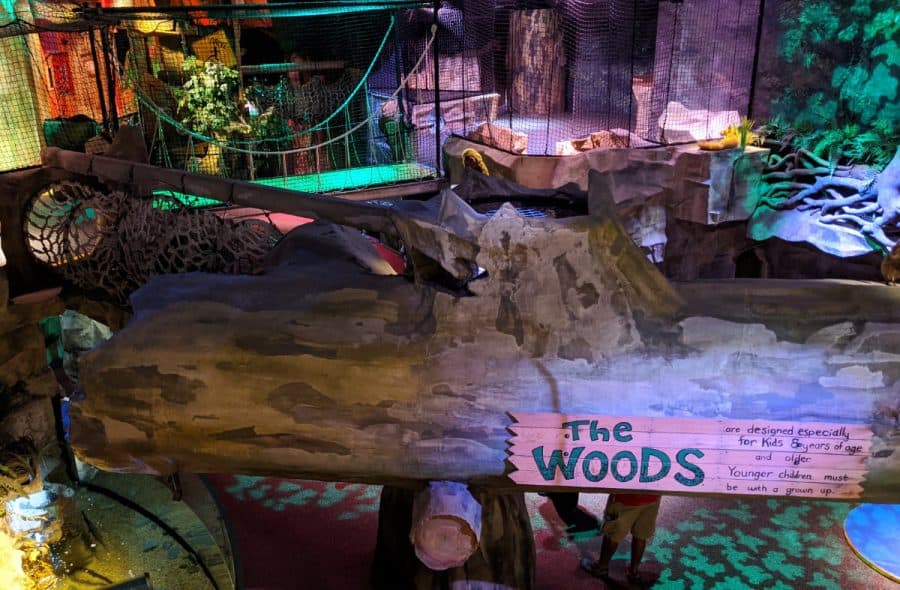 ---
The Dungeon at King Arthur's Court
Kids have always been encouraged to play with the toys at King Arthur's Court, but the Dungeon takes it to the next level! This free indoor playground and play area provides plenty of indoor fun for kids with a small jungle gym, hanging swings, rock wall, an indoor zip line, and even an indoor archery course!
Located at 3040 Madison Road, Cincinnati, Ohio 45209
Website
---
EnterTRAINment Junction
Imagination Junction is a 5,000 square foot railroad-themed play area designed just for kids. Kids can crawl through tunnels, shovel coal, climb the giant play structure, and more. There's even a whole section devoted to Thomas the Train!
Located at 7379 Squire Court, West Chester, Ohio 45069
Website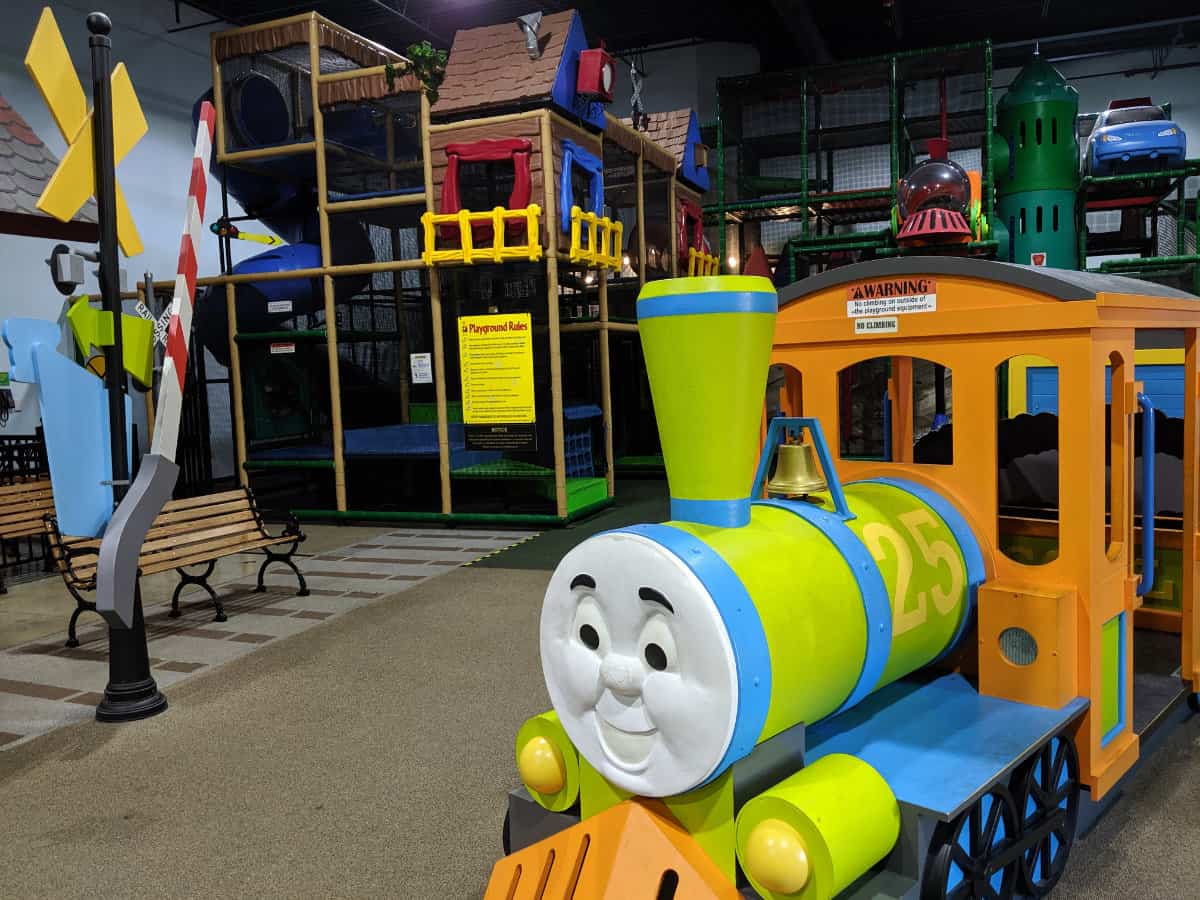 ---
Graeter's Lil' Pints Playroom
We didn't think Graeter's ice cream could get any better, but then they built the Lil' Pints Playroom. This kids indoor playground features ice-cream-themed slides, a banana-split-inspired teeter-totter, plenty of room to play and a fun, ice-cream-truck photo opp.
Located at 8533 Beechmont Avenue, Cincinnati 45255 AND 8167 Montgomery Rd, Cincinnati 45236
Website
---
Jump & Jacks
Jump & Jacks is the largest indoor playground in the Cincinnati area! Jack's Playground is a giant jungle gym designed for kids 3 to 11 years old. The Toddler Zone will keep little ones busy for hours as they run, crawl, and explore a play area designed for kids 2 and under.
Located at 7102 Office Park Drive, West Chester, Ohio 45069
Website | Facebook page
---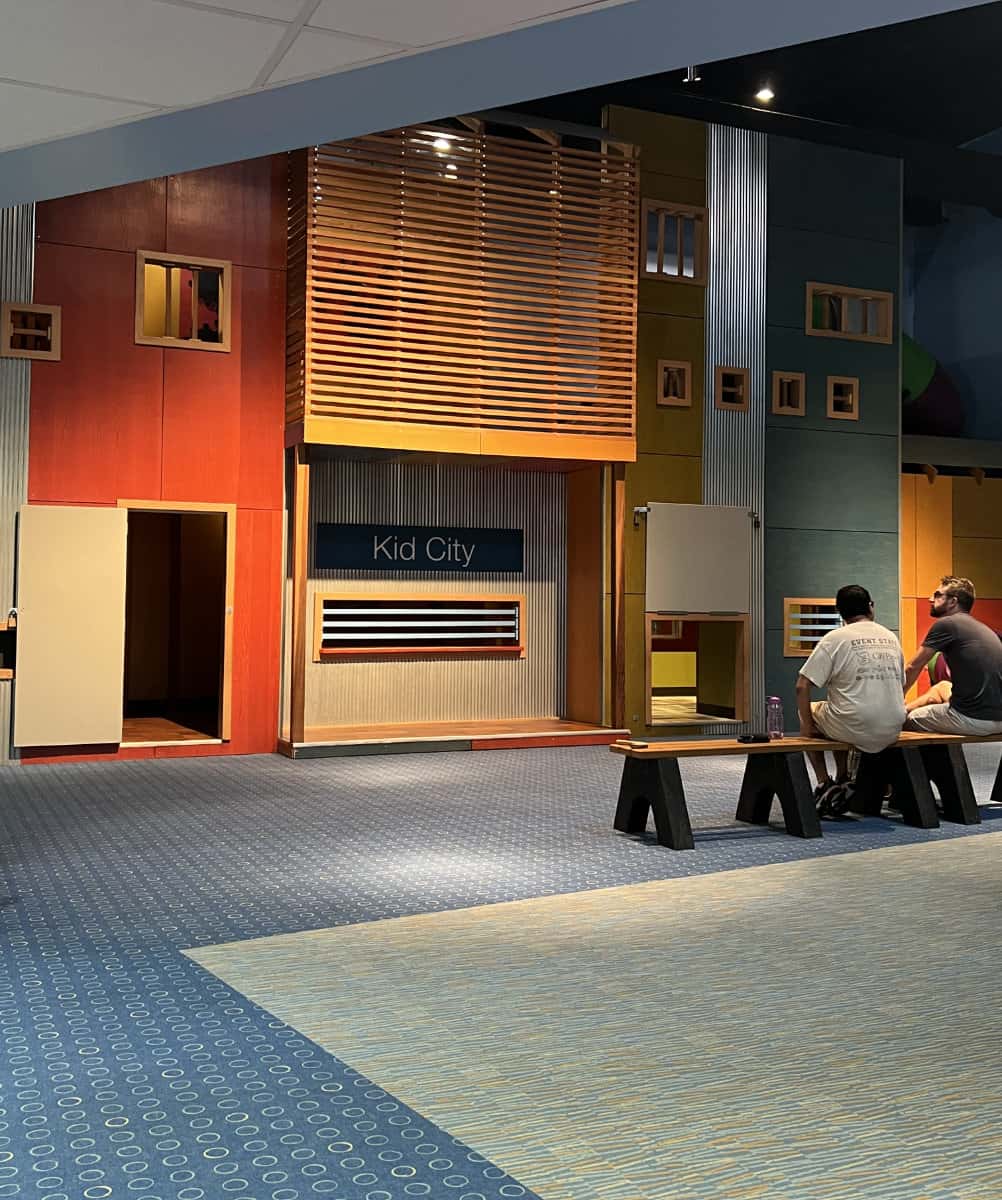 Kid City at Crossroads Church (Oakley)
Crossroads' Oakley campus has a giant indoor play area that is available whenever the building is open, including weekdays (excluding special events). The two-story play area features small play rooms, a climbing area up to the play set's second story, and a big slide they can take to start over at the bottom. Free coffee available at the coffee station located nearby in the atrium.
Located at 3500 Madison Road, Cincinnati, Ohio 45209
Website
---
Liberty Center / Cincinnati Children's Discovery Center
Many think of shopping when they think of Liberty Center, but tons of families go to there just for the Cincinnati Children's Discovery Center. This giant indoor play area is located on the second floor of the indoor mall by Dick's Sporting Goods. Kids can build with giant foam blocks, climb a giant flying pig jungle gym, show off their inner engineer in the ball course builder, and play some life-sized interactive electronic games.
Located at 7650 Hamilton Middletown Road, Liberty Township, Ohio 45044
Website
---
LilyPad Play
This indoor play area is geared towards the littler ones. Designed for kids ages 6 and under, LilyPad Play is a visually-open play space where young kids can explore, play, and interact with age-appropriate toys and activities.
Located at 2008 Madison Road, Cincinnati, Ohio 45208
Website
---
Mini Golf
All ages can join in the fun at mini golf. There are quite a few spots to play putt putt around Cincinnati for some indoor fun for kids. Check out our round-up of mini golf places over here to find your next indoor rainy day adventure.
---
The Play Library
Have your kids ever said they were bored, despite the fact that your house is full of toys? The Play Library solves this problem. For $15 a month you can borrow up to 3 items at a time from the Play Library and take them home with you! When you're finished, you can bring them back and exchange them for some new-to-you toys and activities. You can also stay and play at the Play Library with a one-time pass or a $12 monthly Playtime membership (playtime is also included in the monthly Play & Borrow membership).
Open Saturday, 10am-3pm. They're open by appointment on Sunday-Friday.
Located at 1306 Main Street, Cincinnati, Ohio 45202
Website
---
The Public Library of Cincinnati and Hamilton County
Quite a few Cincinnati libraries have small play areas in their children's sections. The Madeira branch is one of our favorites; they have a giant puppet show area, train tables, coloring pages, and a play kitchen. The Blue Ash library has a train table, doll house, and lots of puzzles. These are just two examples – there are many more Cincinnati and Hamilton County libraries where your kids can read and play.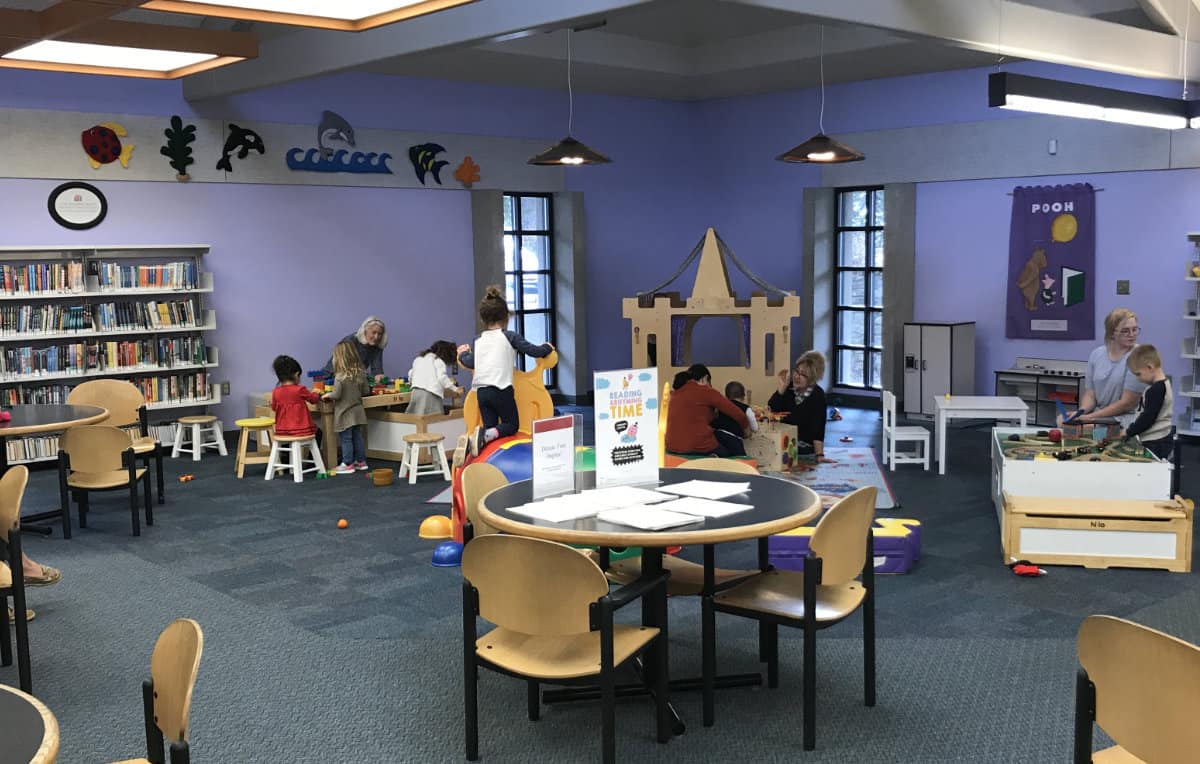 ---
Rockin' Jump
Getting the kids to bed can't get any easier than on a day spent at Rockin' Jump! Kids can burn some of their boundless energy at the Jump Arena, Dodgeball Arena, and Slam Dunk Zone. They can even show off their inner American Ninja Warrior at the Ninja Course!
Located at 8350 Colerain Avenue, Cincinnati, Ohio 45239
Website
---
Recreations Outlet
Recreations Outlet sells play ground equipment, jungle gyms, sporting equipment, trampolines, and more… and the best way to pick one out, is by testing it out! Recreations Outlet has a massive indoor showroom where kids can play on trampolines, swingsets, basketball hoops, and more. But don't worry, you don't have to plan on buying anything to enjoy the fun indoor activities. They have Pay-To-Play Passes and annual memberships are available.
Located at 885 St. Rt. 28, Milford, Ohio 45150
Website
---
Run Jump-n-Play
Kids can be kids at this 30,000 indoor play area. Play on slides, swings, trampolines, and shoot some hoops in their basketball area. Jump around at the giant inflatable bounce houses, slides, and obstacle courses . The toddler zone is an indoor playground for toddlers with a soft and safe area where they can run, jump, and play on equipment built just for their size.
Located at 5897 Pfeiffer Road, Ste. B, Cincinnati, Ohio 45242
Website
---
Wonderland Playground
Designed for kids 1-10, this indoor playland will keep the kids active and entertained. The space includes a soft play area for the younger set, a 3 level play structure (over 3600 square feet!) for bigger kids, a Ninja Course, and more.
As of May, 2022, they are booking in advance for two hour playtime windows.
Located at 8255 Beechmont Ave., Cincinnati, Ohio 45230
Website
---
Creativity Center at the Contemporary Arts Center
The Creativity Center is a FREE, family-friendly section of the Contemporary Arts Center. Kids and adults of all ages can interact with art and create their own. The other 5 floors of the museum are also free but may contain mature content for the little ones. If it's your first time at the Contemporary Arts Center, visit the front desk in the lobby and they can direct you to the Creativity Center.

Hours are Wed – Fri: 10am-7pm, Sat – Sun: 10am-4pm (closed Mon and Tues)
Located at 44 E. 6th Street, Cincinnati, Ohio 45202
Website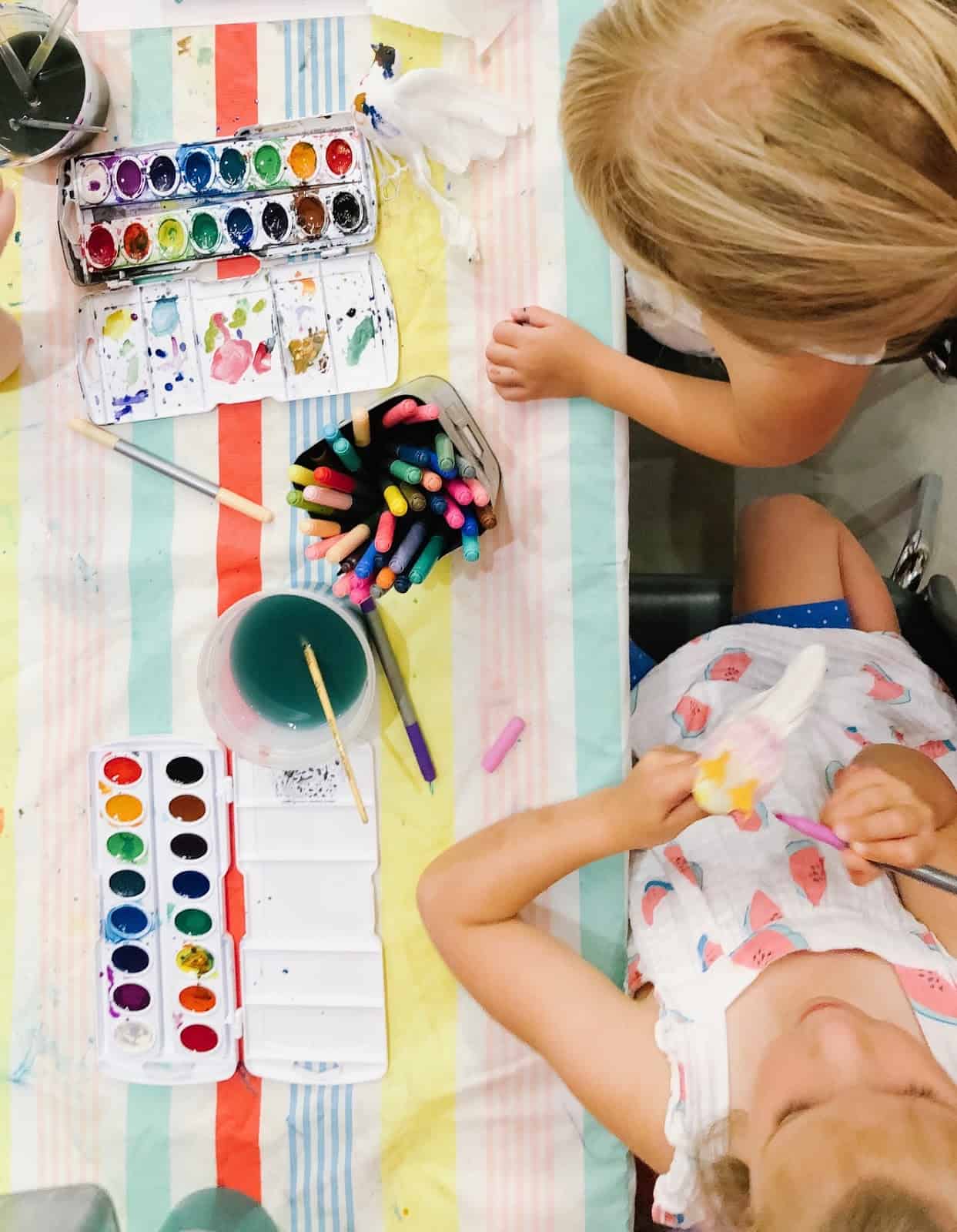 The Following Indoor Playgrounds are Temporarily Closed:
Adventure Station at Sharon Woods
Located in Sharon Woods, the Adventure Station is a kids indoor playground for kids 2-12. You'll find two stories of fun with lots of climbing, ladders, and pretend play options. They have one corner that's designated for kids 2-5.
Located at 11450 Lebanon Road, Sharonville, Ohio 45241
Website
2023 Update: remains closed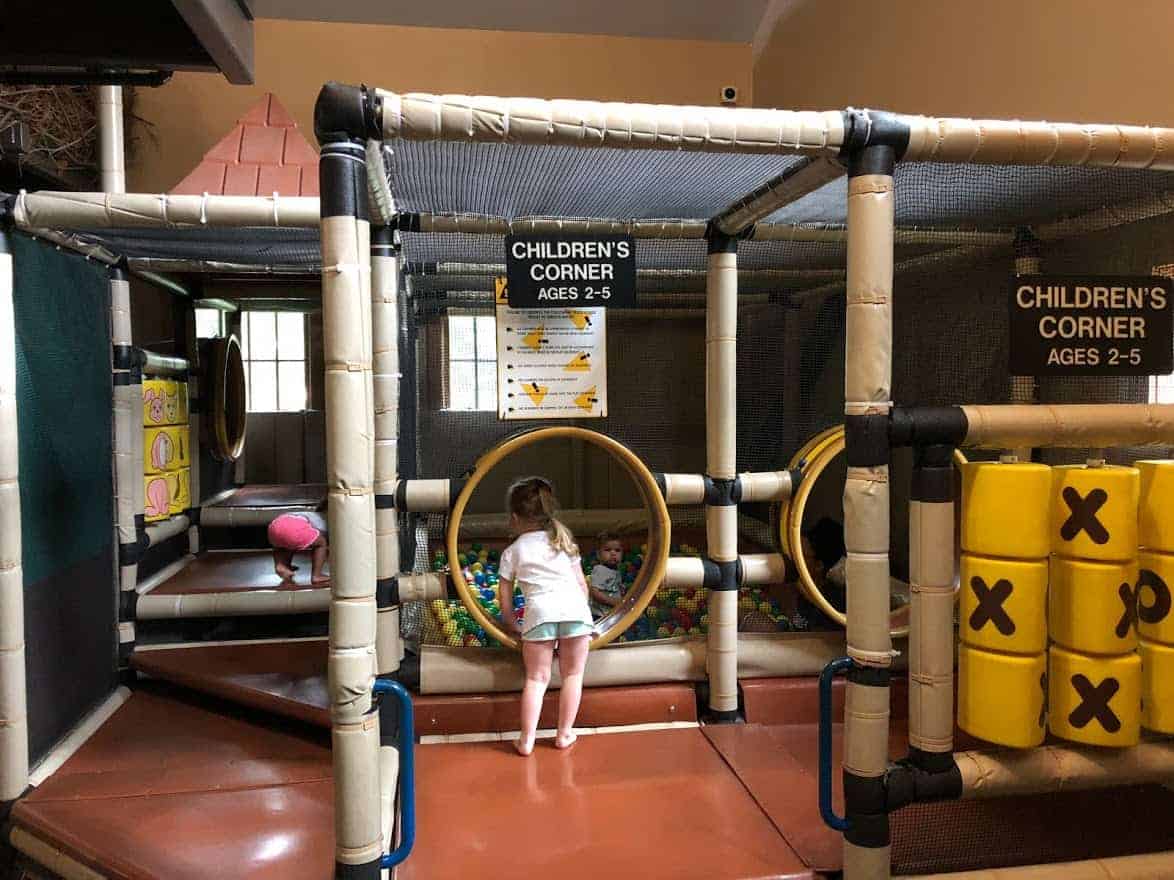 ---
Parky's Farm Play Barn
Your kids can still have fun on the farm on cold and rainy days. Parky's Farm has a large indoor "playbarn". This former dairy barn has been converted into an indoor, farm-themed, accessible playground for children ages 2-12.
Located at 10073 Daly Road, Cincinnati, Ohio 45231
Website
2023 Update: remains closed
---
Totter's Otterville
2022 Update: Their website says they are permanently closed 🙁