July in Cincinnnati is going to be HOT… in more ways than one :). I hope you have some free time because we've got a great list of things to do this month!
Summer events not to be missed: the Celtic Festival, Cincinnati Burger Week, Goettafest, artisan markets, and much more!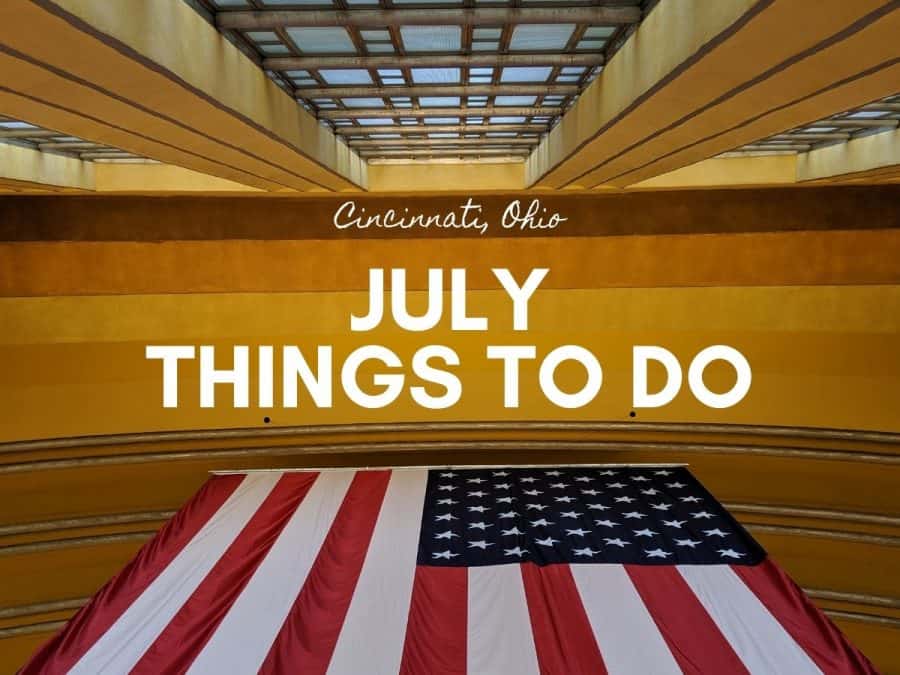 Enjoy this month long list of Things to Do in Cincinnati for the month of July:
July 1-4: The Court Street Pop-Up Outdoor Roller Rink is back for the holiday weekend!
July 2: The Science of Color featuring Prismatica opens at the Krohn Conservatory. Giant pivoting prisms will transform Krohn into an interactive kaleidoscope, transmitting every color. As visitors wander and manipulate the prisms, they will enjoy an infinite interplay of lights and colorful reflections. Runs through October, 2022.
July 2: The Westside Market, a curated event made up of some of Cincinnati's finest local businesses, mobile boutiques, artist, vintage sellers and food trucks will be at Westwood Town Hall Rec Center, 10am-3pm.
July 3: It's time for Fibonacci Brewing Co's once a month Farmers Market, 12-3pm.
Looking for 4th of July fireworks and celebrations?
Check out our long list here!
July 7: Smale Park hosts Family Fun Days featuring free ice cream from UDF, face painting stations, balloon artists, animal encounters, live music, and a Wump Mucket Puppet Show, 10am-1pm.
July 7: It's Red, White, and Brew at the Purple People Bridge, 5-9pm. This is a patriotic celebration of the Purple People Bridge's 150th Anniversary! Drink in the views and enjoy an ice-cold beer from local breweries in Kentucky and Ohio.
July 8-10: The Guinness Cincinnati Celtic Festival will be held on E. Freedom Way at The Banks. Celebrate Celtic Heritage with family fun, great food, Celtic music and more. Hours are Friday, July 8: 5-11pm; Saturday, July 9: 12-11pm; Sunday 12-7pm.
July 8: Head to Spring Grove Cemetery and Arboretum's Rose Garden for a Date Night Movie Night. Take chairs or a blankets to see the original "Jurassic Park" starting at 9pm. Registration required but the event is free.
July 8: Blue, Brews, and BBQ will be on the front lawn of Springfield Township's Art Center (9158 Winton Rd.), 7-10pm. ArtsConnect partners with the Cincy Blues Society to bring you a night of award-winning entertainment, signature craft brews and mouth-watering barbecue. Ralph and the Rhythm Hounds, winner of the 2021 Cincy Blues Challenge and the 2019 Dayton Blues Challenge will be headlining the night.
July 9: The O.F.F. Market makes will be at Summit Park, 10am-4pm. The O.F.F. Market is a monthly marketplace that brings together small businesses, artisans, brewers, bakers, farmers and the like to provide a unique shopping experience that supports strong community connections and strives to grow a hearty local economy.
July 10: Admire some sweet rides at the Court Street Car Show, 11am-3pm. Court Street Plaza and Frisch's will be hosting this monthly car exhibition featuring a unique and eclectic gathering of car enthusiasts. The event will also feature live music.
July 10: Oakley Kitchen will host their Summer Market, 10am-4pm (indoors, second floor of Oakley Kitchen). Local vendors within our community will be selling their locally-created products.
July 9: The Hamilton Flea, Hamilton's first curated, urban artisan market, will be at Marcum Park from 10am to 4pm. Live music too! Both days are 9am-4pm.
July 9: Families Create! will be at the Weston Art Gallery. "Playful Puppets" is the theme and Pam Kravetz will show how she illustrates her family's colorful stories so you can design puppets for a show of your own making. Starts at 10am. Tickets required.
July 9: Celebrate life with The Water Lantern Festival at Eden Park. Watch your unique lantern drift out into the water as it joins other lanterns carrying hope, love, happiness, healing, peace, and connection. Tickets required.
July 10: Oakley Kitchen will host a Summer Market, 10am-4pm.
July 10: It's the monthly meeting of the Pigs Aloft Kite Association and you can join them as they fly their extraordinary kites at the National Voice of America Museum of Broadcasting in West Chester. This event is weather permitting.
July 10: Alexandria Brewing Company is hosting a Family Fun Fest, 12-4pm. Enjoy Kona Ice and face painting (1-3pm), crafts, vendors, photo booth, board games, and more.
July 13: Take a Full Moon Walk: Buck Moon at Rowe Woods, 9-10:30pm. Hit the Cincinnati Nature Center trails at night and enjoy the full moon and natural history readings.
It's time for local corn! Find all of our local Farmers Markets here.
July 11-17: It's Cincinnati Burger Week! Chow down on $6 burgers from restaruants all over Cincinnati. A few spots we'll be hitting up include Sammy's (yum!), Salazar, and Nation.
July 14-17: Head to the Purple People Bridge for the Newport Bacon, Bourbon, and Brew Festival. Try limited edition bourbons, a Bourbon Bar, Bourbon Trivia, and more. Hours are Thursday and Friday: 5-11pm; Saturday: 12-11pm; Sunday 12-9pm.
July 15: The Kids Outdoor Adventure Expo is back for 2022! Join Great Parks for the largest free outdoor education event for children in the Midwest. Discover the outdoors with exhibitors and interactive activities available in themed areas. Happening at Winton Woods Harbor, 9:30am-3pm.
July 15: Shakespeare in the Park makes its 2022 debut with Twelth Night at the Seasongood Pavilion in Eden Park. This free show starts at 7pm.
July 15: Grab tickets for Cincinnati Nature Center's "Music Under the Moon". Set against the idyllic backdrop of our Groesbeck Estate, each month we'll feature a different local band. Come for one date or join us for all three. Each show is sure to be high energy and have everyone on their feet! Food, wine, and beer will be available for purchase (IDs will be checked at the door). Complimentary light snacks will be provided. Featuring: The Hot Magnolias
July 16-17: Summer Food Fest 2022, hosted by Cincinnati Magazine, will be held at Coney Island. The festival offers food, music, and games for everyone to enjoy.
July 16: Vinoklet Winery hosts Summer Fair 2022. Enjoy a full day of music with two bands, crafts, food, and fun. See site for full details.
July 16: Clifton Cultural Arts Center is offering a Family Workshop: Plant-Dyed Bandana, 10am-noon. Learn about hapazome, a Japanese technique of smashing flowers and leaves into fabric to create colorful designs and patterns. Then, make your own beautiful bandana by smashing flowers with hammers. All materials will be provided, though families are welcome to bring flowers from their home gardens. Advance registration required by July 11.
July 16: Enjoy music from the Cincinnati Symphony Orchestra at Laurel Park Family Fun Days (500 Ezzard Charles Dr.), time TBD.
July 16: Owls Nest Park Family Fun Days is happening. Enjoy live music and more from 4-8pm. Park is located at 1984 Madison Rd.
July 16: Head to Heritage Village Museum (at Sharon Woods) for Escape the Village, an escape room style challenge. Choose from one of two escape room adventures: "Morgan's Raiders of the Lost Art" or "Leaving the Station." Each session can accommodate four to eight people. Reservations required.
July 16: The City Flea will be at Washington Park, 11am-4pm
July 16: Cincy Blues Fest will cover The Schmidlapp Event Lawn (Smale Park near Moerlein Lager Haus) from 3-11pm. Enjoy loads of live music at this outdoor music festival.
July 16: Voice of America MetroPark holds its own crazy Cardboard Boat Regatta, 11am-3pm. At this fun and exciting event, teams build boats made of cardboard and race in them around the lake. Build a boat or watch from the comforts of the shore. Enjoy vendors, food & drinks, music & entertainment, demonstrations and more.
CANCELED
July 16: The City of Montgomery is celebrating Bastille Day, 4-11pm. Enjoy a night of food and entertainment in downtown Montgomery.
July 17: National Ice Cream Day is Sunday, July 17. To celebrate, a number of Cincinnati area ice cream shops are having #NationalIceCreamDay specials (good on July 17, 2022) and activities:
Aglamesis: First Scoop Contests (starts at 1:30pm and 5:30pm), the Boanza Eating Challenge (must sign up in advance), free stickers, a raffle for free ice cream for a year, Flavor Suggestion Boards. https://bit.ly/3yIGNt1
Graeter's has lots to celebrate on Sunday – it's their 152nd birthday celebration and National Ice Cream Day. Download their app to get their coupon for a $1.52 ice cream cone this month. https://bit.ly/3RDSDx4
Dairy Queen is offering $1 off any dipped cone on July 17 when you download their app (at participating locations). https://bit.ly/3uR7Scu
The Cone (in West Chester) is offering $1 off ice cream cones and cups from 12-9:30pm Sunday. https://bit.ly/3ci0Uqz
Sprinkles (in Goshen) will have Cincinnati Face Painters on the patio from 2pm-4pm doing complementary airbrush face paint and balloon animals. They will also have a bogo offer on their signature purple/blue twist cone all day! https://bit.ly/3aJzVDN
July 17: The Burlington Antique Show is at the Boone County (KY) Fairgrounds, 6am-3pm. Admission charged, parking is free. Rain or shine.
July 20: Put your skills to the test with Trivia Night at the Cincinnati Nature Center! Competing teams will go head-to-head for both bragging rights and prizes in this general knowledge showdown. This event will be held at the Groesbeck Estate at Rowe Woods. Pizza by the slice, beer, and wine will be available for purchase. Guests are welcome to bring snacks, but no outside beverages except water, please. To ensure things are fair for everyone, teams will be asked to split into groups of six or fewer. Members $5; nonmembers $15 (includes daily admission).
July 20: Lloyd Library presents "The Secret Life of Fungi", 7-8pm. Fungi are weird, fungi are cool, and fungi are beautiful. But how much do we really know about them? Britt Bunyard's lecture will present fascinating stories and beautiful photos of amazing fungi featured in his latest book. Discover the crazy, wonderful life that goes on all around us, mostly hidden in plain sight. For general audiences, no knowledge of mycology required. Free but registration is required.
July 21: It's time for another Ault Park Summer Music Festival, 6-10pm. Join in for fantastic live music from the band Marsha Brady. Admission is FREE. Local favorite food, craft beer/wine/hard seltzer and water will be available for purchase. Kids' entertainment will be provided by Cincinnati Circus and Beech Acres from 6-8pm.
July 22: Pyramid Hill is hosting Family Fun on the Hill with "Let's Go Fly a Kite on the Hill". The event begins with kite flying in the outdoors gallery followed by watching Mary Poppins. The evening starts at 7:30pm with the movie starting at dusk. The event is included with the cost of admission to the park.
July 23: Grab the kids and their bikes for a Bike and Safety Rally at VOA Park in West Chester. Families are invited to ride their own bikes and learn about the importance of bicycle safety with local police officers. Bring a bicycle and a helmet for free helmet fittings and bike safety inspections. This event also includes refreshments, giveaways, a visit from Air Care and so much more!
July 23: Findlay Market is hosting a 170th Birthday Bash, 8am-9pm. Enjoy live music, a cake cutting ceremony, sparklers, a Night Market, and more.
July 23: The Hamilton Antique and Classic Car Parade will showcase nearly 300 classic cars. The parade starts at 101 High Street in Hamilton at 1pm. Find the details here.
July 24: Rollin' on the River Charity Car Show is happening at Fernbank Park, 9am-5pm. Get the details here: Gear Up for These Classic Car Shows Near Cincinnati
July 24: The Cincinnati Observatory hosts 4th Sunday History Tours. Tickets are required. This special program offers those seeking to learn more about the Observatory's history a more detailed, in-depth guided tour at Noon or 1:30pm. Tours last about 45-60 minutes with plenty of time for questions and some behind-the-scenes fun! Perfect for local history, astronomy and science buffs ages 12 and up.
July 28 – 31: It's time for Glier's Goettafest! Enjoy all things goetta plus live music and family fun.Thursday and Friday hours: 5-11pm. Saturday hours: noon-11pm. Sunday hours: noon-9pm. Happening at Newport's Festival Park at the Levee.
July 28: Head to Newport on the Levee for Movie Night on the Levee. July's feature is Luca. Enjoy face painting and a balloon artist too! 6-8pm at The Gallery.
July 29: Art After Dark | Meet Me at the Speakeasy is at The Cincinnati Art Museum. Party like it's the roaring twenties! Enjoy live jazz music from AfroChine, cash bars, food for purchase, docent-led tours, free admission to special exhibition Joseph Urban: Unlocking an Art Deco Bedroom, and a performance inspired by Ma Rainey featuring Candice Handy from Cincinnati Shakespeare Company. Flapper and bootlegger costumes encouraged. Weapons and/or full facial coverings are not permitted. Free admission. RSVP not required.
July 29: Canoe and Movie Night at Rapid Run. The Rapid Run Advisory Council and Cincinnati Parks invites you to bring the family out to the beautiful lake at Rapid Run Park for an evening of music, movies, and canoes!
July 30-August 7: National Museum of the U.S. Air Force (Dayton, OH) is hosting a Space Celebration. The week will be full of space themed events and activities. See a Lunar Rover Vehicle, special aircraft look-ins, model rocket launches, Space-Themed trivia, Star Wars costumed characters and SO much more!
July 30: Dangerwheel returns! Head to Pendleton to watch some "need for speed" folks do some adult downhill Bigwheel racing. The starting line is at 378 E. 12th Street and people will line up all along the route to watch. The first races start at 2pm and races will run all afternoon (bring a folding chair if you want). Races will run continuously until a champion is crowned. They anticipate races running until sunset.
July 30: AfriFest Cincy: Taste of Africa will be held at Burnet Woods (3298 Clifton Ave.), 12-8pm. AfriFest is a family friendly free event showcasing cultures, food, entertainment, kids/adult games, and other fun activities.
July 30: The Covington Night Market is an artisan market that celebrates the creativity that lives in the region! Enjoy entertainment, drinks, local artisans and vendors. Happening 4-9pm on Pike Street.