If you're looking for some July fun in Cincinnati, we've got you covered! Enjoy this month-long list of things to do.
Summer events not to be missed: the Celtic Festival, Cincinnati Burger Week, Goettafest, artisan markets, and much more!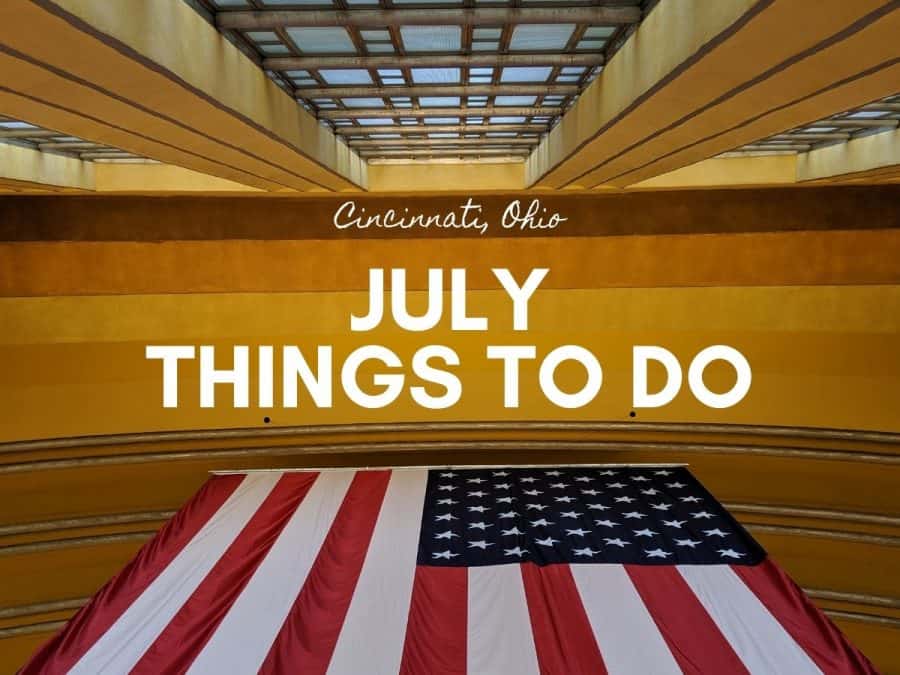 Enjoy this month long list of Things to Do in Cincinnati for the month of July:
July 1: The Westside Market, a curated event made up of some of Cincinnati's finest local businesses, mobile boutiques, artist, vintage sellers and food trucks will be at Westwood Town Hall Rec Center, 10am-3pm.
July 1: Sawyer Point will be rockin' during the July edition of Sawyer Point Summer Concert Series. This month's line-up includes Erin Coburn, The Classic Rock Experience, Thunderstruck, all followed by a fireworks show.
July 1-2: Taps, Tastes, and Tunes is happening at the VOA Museum in West Chester. This outdoor festival includes live entertainment, food trucks, cold beverages, and fireworks on Sunday at 10pm. Hours are Friday, June 30: 5-11pm; Saturday, July 1: 12-11pm; and Sunday, July 2: 12-10pm.
July 2: It's time for Fibonacci Brewing Co's once a month Farmers Market, 12-3pm.
Looking for 4th of July fireworks and celebrations?
Check out our long list here!
July 7: Blue, Brews, and BBQ will be on the front lawn of Springfield Township's Art Center (9158 Winton Rd.), 7-10pm. ArtsConnect partners with the Cincy Blues Society to bring you a night of award-winning entertainment, signature craft brews and mouth-watering barbecue. Ralph and the Rhythm Hounds, winner of the 2021 Cincy Blues Challenge and the 2019 Dayton Blues Challenge will be headlining the night.
July 8: The Hamilton Flea, Hamilton's first curated, urban artisan market, will be at Marcum Park from 10am to 4pm. Live music too! 9am-4pm
July 8: The O.F.F. Market makes will be at Summit Park, 10am-4pm. The O.F.F. Market is a monthly marketplace that brings together small businesses, artisans, brewers, bakers, farmers and the like to provide a unique shopping experience that supports strong community connections and strives to grow a hearty local economy.
July 8: Strap on your skates and enjoy the outdoor Sawyer Point Roller Skating Rink, 7-10pm. Features Skate Live with DJ Natalie Jones from Q102.
July 14-16: The Guinness Cincinnati Celtic Festival will be held on E. Freedom Way at The Banks. Celebrate Celtic Heritage with family fun, great food, Celtic music and more. Hours are Friday, July 14: 5-11pm; Saturday, July 15: 12-11pm; Sunday, JUly 16 12-7pm.
July 8: Families Create! will be at the Weston Art Gallery. "Grounds for Play" is the theme and Anissa Lewis will share childhood memories of her neighborhood and examine how it looks now, then inspires you to map the community of your dreams. Starts at 10am. Tickets required.
July 8: Celebrate life with The Water Lantern Festival at Eden Park. Watch your unique lantern drift out into the water as it joins other lanterns carrying hope, love, happiness, healing, peace, and connection. Tickets required.
July 9: It's the monthly meeting of the Pigs Aloft Kite Association and you can join them as they fly their extraordinary kites at the National Voice of America Museum of Broadcasting in West Chester. This event is weather permitting.
It's time for local corn! Find all of our local Farmers Markets here.
July 9: Pyramid Hill is hosting Family Fun on the Hill. The event is included with the cost of admission to the park.
July 10-16: It's Cincinnati Burger Week! Chow down on $7 burgers from restaraunts all over Cincinnati. A few spots we'll be hitting up include Sammy's (yum!), Salazar, and Nation.
July 14: Head to Spring Grove Cemetery and Arboretum's Rose Garden for a Date Night Movie Night. Take chairs or a blankets to see the original "The Goonies" starting at 9pm. Registration required but the event is free.
July 14: The Kids Outdoor Adventure Expo is back for 2023! Join Great Parks for the largest free outdoor education event for children in the Midwest. Discover the outdoors with exhibitors and interactive activities available in themed areas. Happening at Winton Woods Harbor, 9:30am-3pm.
July 14: Shakespeare in the Park makes its 2023 debut with The Comedy of Errors at the Flagship Park in Erlanger, Ky. This free show starts at 7pm. Shows continues throughout the city until Sept. 3.
July 15: Strap on your skates and enjoy the outdoor Sawyer Point Roller Skating Rink, 9am-1pm. Features No EFFXRT Neon Pajama Jam featuring DJs Sneaks & Jigg.
July 15: Vinoklet Winery hosts Summer Fair 2023. Enjoy a full day of music with two bands, crafts, food, and fun. See site for full details.
July 15: Head to Heritage Village Museum (at Sharon Woods) for Escape the Village, an escape room style challenge. Choose from one of two escape room adventures: "Morgan's Raiders of the Lost Art" or "Leaving the Station." Each session can accommodate four to eight people. Reservations required.
July 15: Cincy Blues Fest will be at Village Green Park in Fairfield from 2:30-10:30pm. Enjoy loads of live music at this outdoor music festival. Enjoy a variety of great food, beer, and drinks. The park is in a DORA area. Please no tents, umbrellas or pets. You're welcome to bring your own chairs or blankets. Admission and parking are both free.
July 15: The City of Montgomery is celebrating Bastille Day, 4-11pm. Enjoy a night of food and entertainment in downtown Montgomery.
July 16: National Ice Cream Day is Sunday, July 16. 2023 events and specials aren't out yet but we're watching for news from….
Aglamesis
Graeter's
Dairy Queen
The Cone (in West Chester)
Sprinkles (in Goshen)
and more
July 16: The Burlington Antique Show is at the Boone County (KY) Fairgrounds, 6am-3pm. Admission charged, parking is free. Rain or shine.
June 19-23: The Frisch's Mobile Roller Rink will be back at the Court Street Plaza from July 19-23. Learn all about this outdoor rink here.
July 20: It's time for another Ault Park Summer Music Festival, 6-10pm. Join in for fantastic live music from the band Marsha Brady. Admission is FREE. Local favorite food, craft beer/wine/hard seltzer and water will be available for purchase. Kids' entertainment will be provided by Cincinnati Circus and Beech Acres from 6-8pm.
July 21-23: Head to Newport Festival Park for the Bacon, Bourbon, and Brew Festival. Try limited edition bourbons, a Bourbon Bar, bourbon and bacon foods, and more. Hours are Friday: 5-11pm; Saturday: 12-11pm; Sunday 12-9pm.
July 22: The City Flea will be at Washington Park, 10am-4pm
July 22: Strap on your skates and enjoy the outdoor Sawyer Point Roller Skating Rink, 9am-1pm. Features 90s Skate featuring Cincy SociaLights and DJs Sneaks & Jigg.
July 23: Rollin' on the River Charity Car Show is happening at Fernbank Park, 9am-5pm. Get the details here: Gear Up for These Classic Car Shows Near Cincinnati
July 23: The Cincinnati Observatory hosts 4th Sunday History Tours. Tickets are required. This special program offers those seeking to learn more about the Observatory's history a more detailed, in-depth guided tour at Noon or 1:30pm. Tours last about 45-60 minutes with plenty of time for questions and some behind-the-scenes fun! Perfect for local history, astronomy and science buffs ages 12 and up.
July 27-30: It's time for Glier's Goettafest! Enjoy all things goetta plus live music and family fun. Thursday and Friday hours: 5-11pm. Saturday hours: noon-11pm. Sunday hours: noon-9pm. Happening at Newport's Festival Park at the Levee.
July 28: Art After Dark is at The Cincinnati Art Museum.Theme TBA. Free admission. RSVP not required.
July 28: Grab tickets for Cincinnati Nature Center's "Music Under the Moon". Set up near the iconic Krippendorf Lodge, they'll feature a different local band each month. Food, wine, and beer will be available for purchase (IDs will be checked at the door). July's event features music from Ramble on Bros, food from Indigenous Chef. Tickets required.
July 29: Dangerwheel returns! Head to Pendleton to watch some "need for speed" folks do some adult downhill Bigwheel racing. The starting line is at 378 E. 12th Street and people will line up all along the route to watch. The first races start at 2pm? (time TBA for 2023) and races will run all afternoon (bring a folding chair if you want). Races will run continuously until a champion is crowned. They anticipate races running until sunset.