We're back at it and continuing on with our quest to visit and write about a Cincinnati brewery each week in 2019.
Want to really explore more Cincinnati brewery info? Find our Ultimate Cincinnati Breweries List here.
Breweries in Cincinnati Series Week #20 – Visit to Fifty West Brewing Co.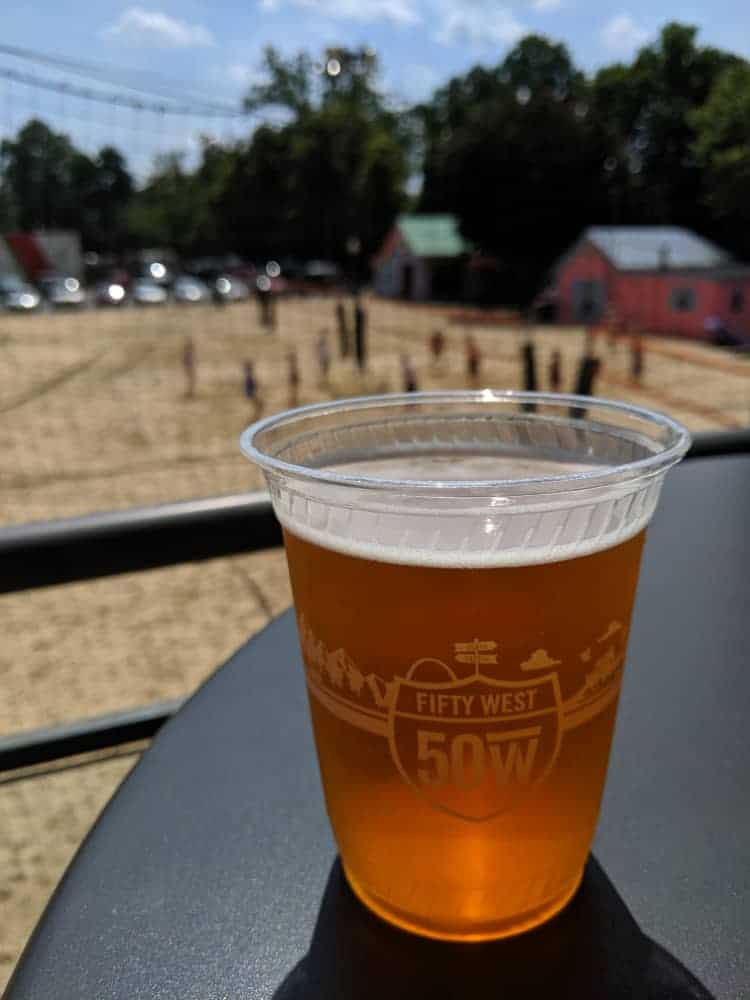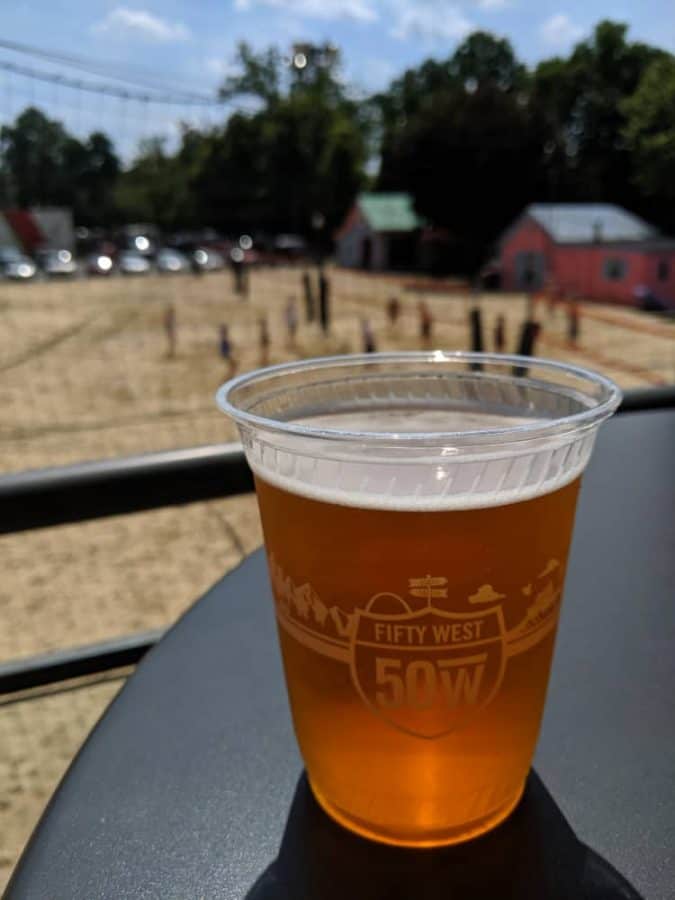 Fifty West Brewing Co. has been a favorite of mine for years. We were lucky enough to take a tour when they were just getting started and that was one of our very first brewery tours… all the way back in 2012 maybe?
Fifty West has grown A LOT since those days and their business now spans across both sides of Wooster Pike / 50W. The BrewPub is their original brewery space and there's a restaurant there too. They added the Production Works a few years ago and it's right across the street. Today's post is going to focus on the Production Works.
There's a lot to see and do on the Production Works side. Let's tackle the beer first…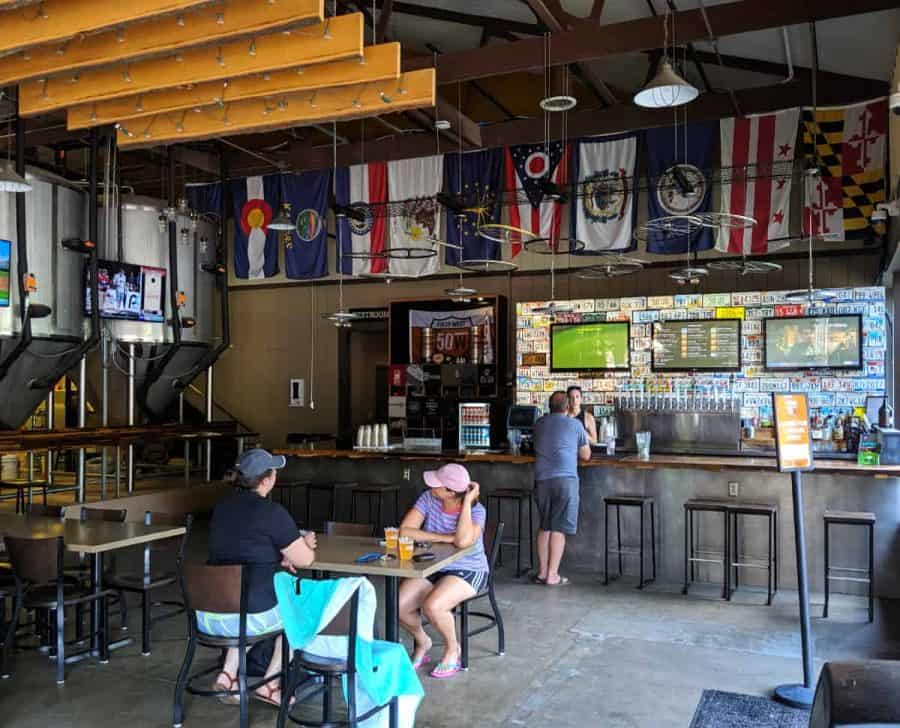 Their taproom started off with lots of open space and room to grow. And today, in addition to the original beer tanks, they've added machinery to bottle/can right inside the taproom. They're using every inch of this building! There's some space to sit inside but when it's nice, here's where you want to be….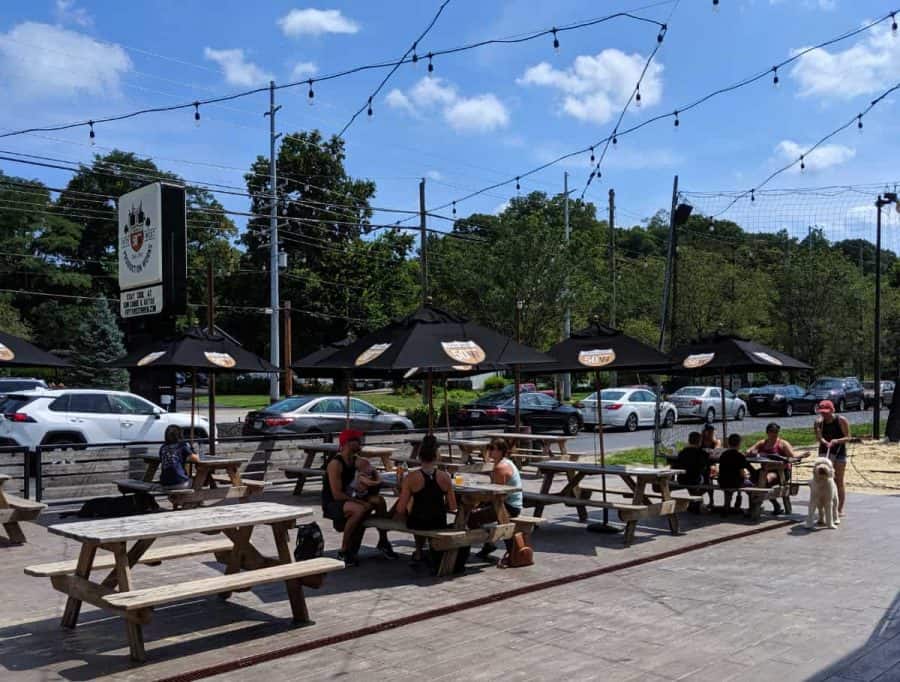 Or maybe you're here to watch a volleyball game? Because you can do that too! The view from the "upper deck" can't be beat!
And don't miss the Roadside Grill which offers burgers, chips, and the like.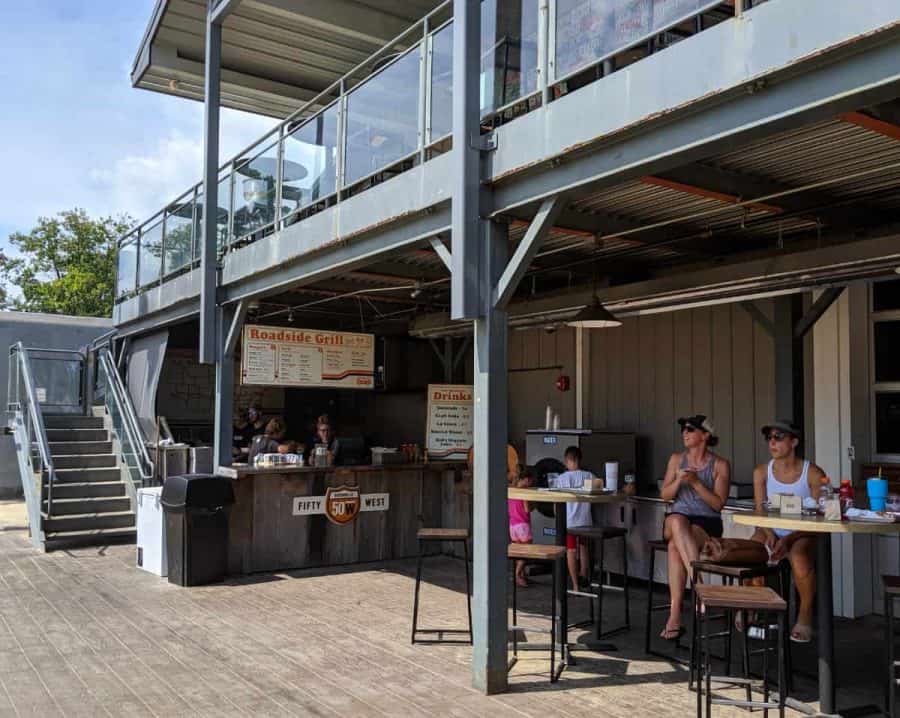 Here's where Fifty West turns up the heat when it comes to taprooms! They have 6 sand volleyball courts and they offer league play Monday-Thursday. The courts are open for free play Friday – Sunday.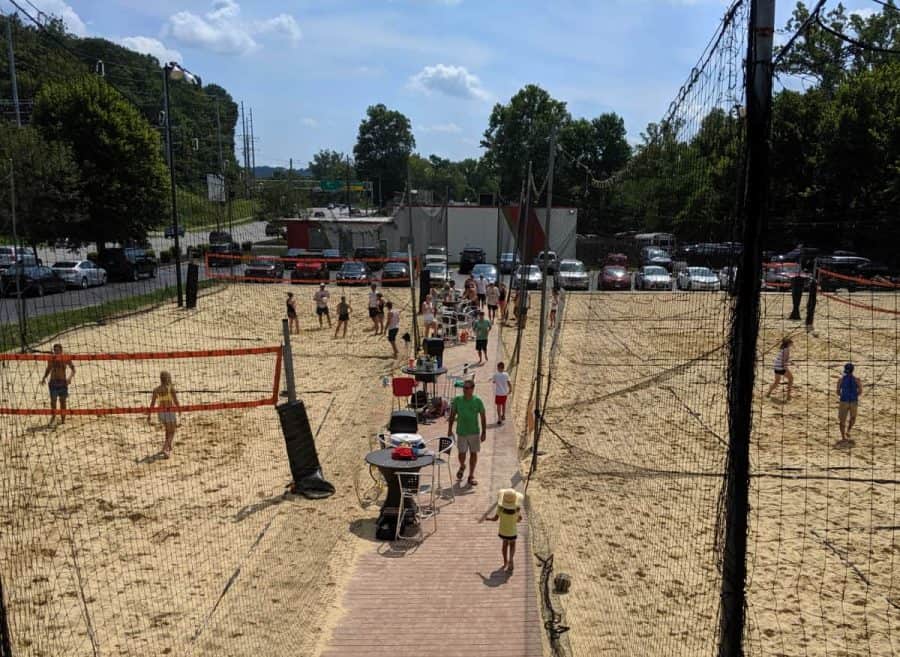 The outdoor fun doesn't stop there. Production Works sits on the banks of the Little Miami River and you can rent tubes, kayaks, and canoes. They even have shuttles that will come pick you up after you go "down river".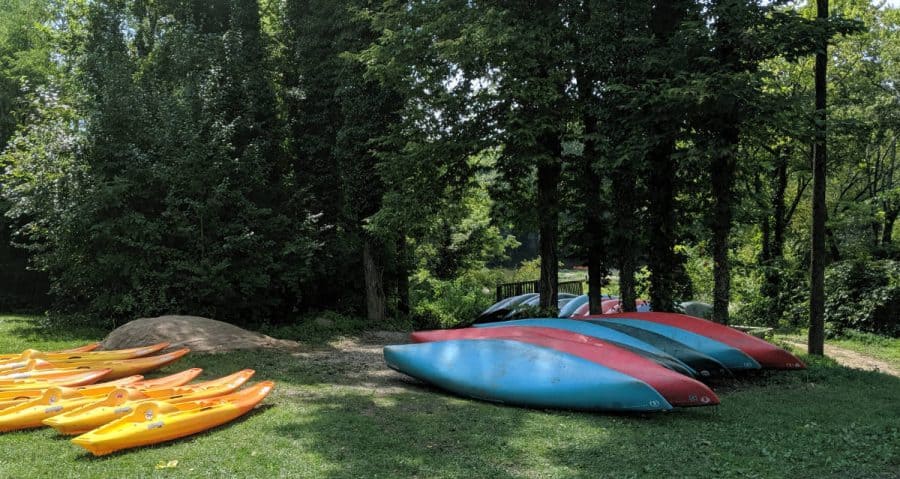 Located right off the Little Miami Scenic trail, this is a great spot for a bike ride as well. You can come with your own bike or you can rent bicycles from 50W Cycling.
I feel like we've just scratched the surface of all the fun you can have at Fifty West. Be sure to check out their site's event page(s) as they always have something fun going on!
Inquiring Cincinnati Craft Beer Lovers Want to Know…
When can I go? 50W Production Works is open every day. The recreational / outdoor fun is seasonal so be sure to check their times and dates before you go.
Do they fill growlers? Yes, they fill growlers.
Do they serve any other alcohol? Yes, they have canned wines and liquor.
Where do I park? They have a few different lots surrounding the taproom and out buildings.
Do they have food? The Production Works has a grill that cooks up burgers and such. The Fifty West BrewPub has a full menu.
How big is the taproom? Can we hold an event or a party there? The taproom has some seating but, to be very honest and imo, it's a little cramped. They do take reservations for events. Take a look at their site and decide for yourself.
Do they offer brewery tours? I don't believe they offer tours – will confirm.
Is there any outdoor seating? Yes, they have picnic tables out front and there's a second story, open-air balcony on the side of the building.
Is the taproom kid friendly? The space is a little tight and we did not see any games (in the taproom) while we were there. The outdoor space is great with kids, however. There were lots there when we visited.
Are they pet friendly? Pets are welcome outside.
Fifty West Production Works can be found at:
7605 Route 50, Cincinnati, Ohio 45227