It's no secret that we are going to be spending a lot of time outside this summer! What better way to explore the great outdoors than trying out a new trail?
Cincinnati has plenty of hikes to choose from, no matter your hiking ability: paved trails, dirt trails, < 1 mile, > 7 miles, shaded, or out in the sunshine. And while we may not be on the Appalachian Trail or the PCT, Cincinnati's trail systems have some views you won't want to miss.
We've rounded up 11 of our favorite hiking trails in Cincinnati. Get out there and enjoy!
---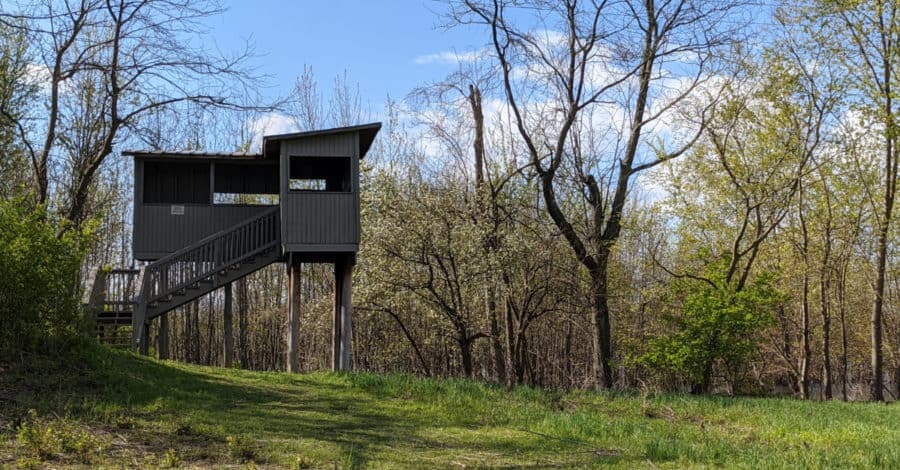 Hiking trails in Hamilton, Ohio
Spanning over 260 acres, this hidden gem in southeast Hamilton provides a breath of fresh air (and green space) in an area otherwise known for its nearby businesses and commercial development.
Visitors can choose from three hiking trails, including the Wetlands Trail with a unique floating boardwalk where hikers can explore a pond and all its wildlife. The Ohio Department of Natural Resources has designated it as a "Watchable Wildlife" viewing site and Audobon Ohio has named it an "Important Birding Area" – so birdwatchers and nature lovers won't want to forget their binoculars!
Check out our full post on Gilmore MetroPark for tips on where to park and some of our favorite things to do there.
---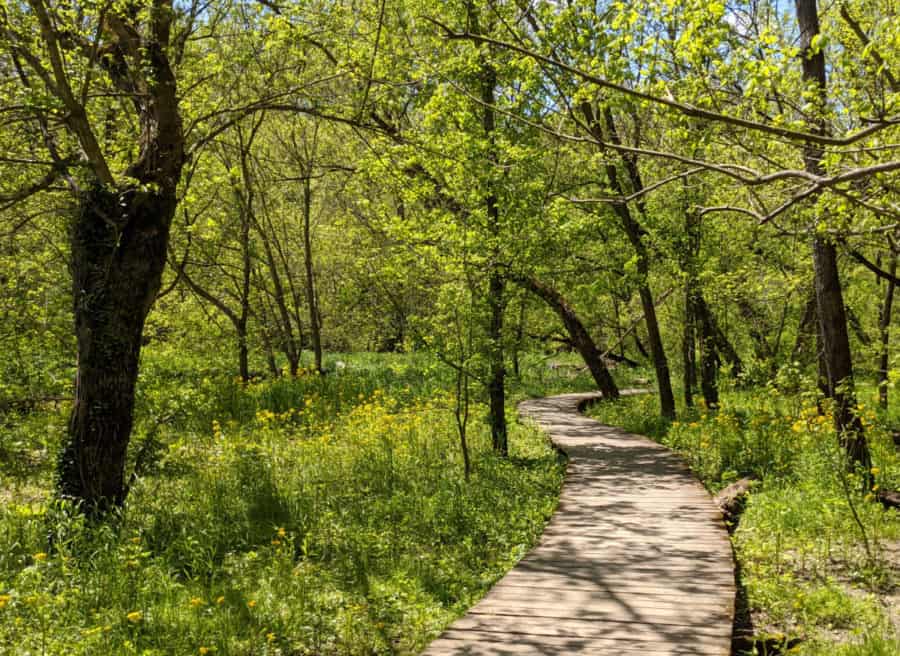 Hiking trail in Springfield Township and Greenhills, Ohio
Kingfisher Trail is one of the many trails (but our personal favorite) within Winton Woods. Find it at the end of the paved walking trail (on the east side of Winton Road) and close to the Winton Woods campground and Parky's Farm.
The trail itself is a loop, and soon after you enter the path you can choose to turn right or venture straight ahead. The path straight ahead has an offshoot to the left that takes you down by a creek where you can enjoy a hike by the water or dip your toes in. We usually pack a picnic blanket and set it down on the little sandbar area and let our little ones explore the creek habitat for a bit. (Pro Tip: remember water shoes, and possibly a change of clothes.)
If you take the path to the right, you'll venture up a short hill and loop back around through the trees and alongside a small creek (that feeds into the larger creek at the bottom of the hill). You can access the path to the larger creek toward the end of this hike, or bypass it and head for the trail's end (or take another loop!).
Read our full post on Kingfisher Trail here.
---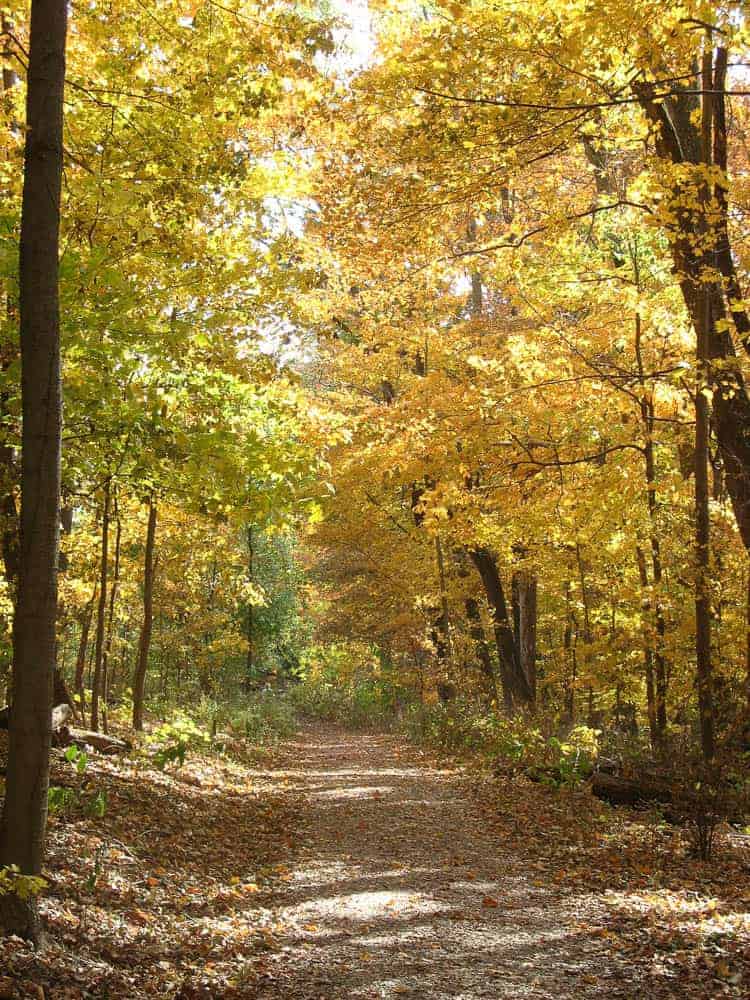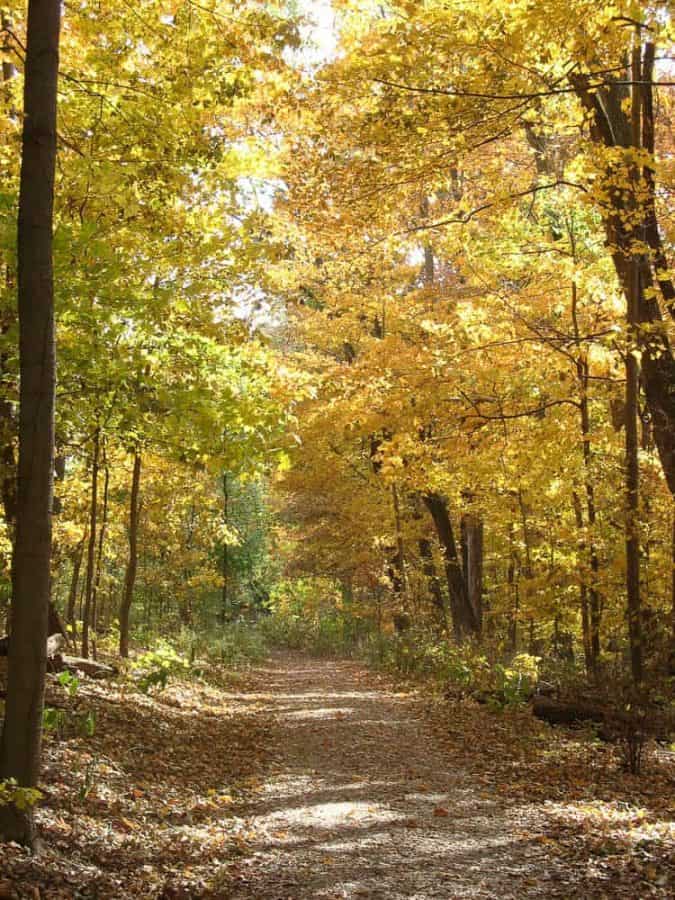 Hiking trails in Milford, Ohio
The CNC is a Cincinnati favorite. Spend all day exploring the great outdoors in Rowe Woods (Milford), which includes 1,000+ acres of land and 14 miles of hiking trails through a deciduous forest.
Long Branch Farm & Trails (Goshen) was added to the Cincinnati Nature Center in 1973, given to the CNC by former Procter & Gamble CEO and Secretary of Defense, Neil McElroy, and his wife Camilla. It used to operate as a working farm, but today it includes 767 acres of forest, ponds, and streams as well as 5 miles of hiking trails.
If you're up for a challenge, pick up a Hike for Your Health passport at the Rowe Visitor Center. Hike all the trails at Rowe Woods and Long Branch Farm & Trails, then take it back in for a special prize!
Admission is required to use the Rowe Woods trails, and a CNC membership is required to access Long Branch Farm & Trails. 1 and 2 year memberships are available. More details on membership can be found here.
Here's our full post on the Cincinnati Nature Center.
---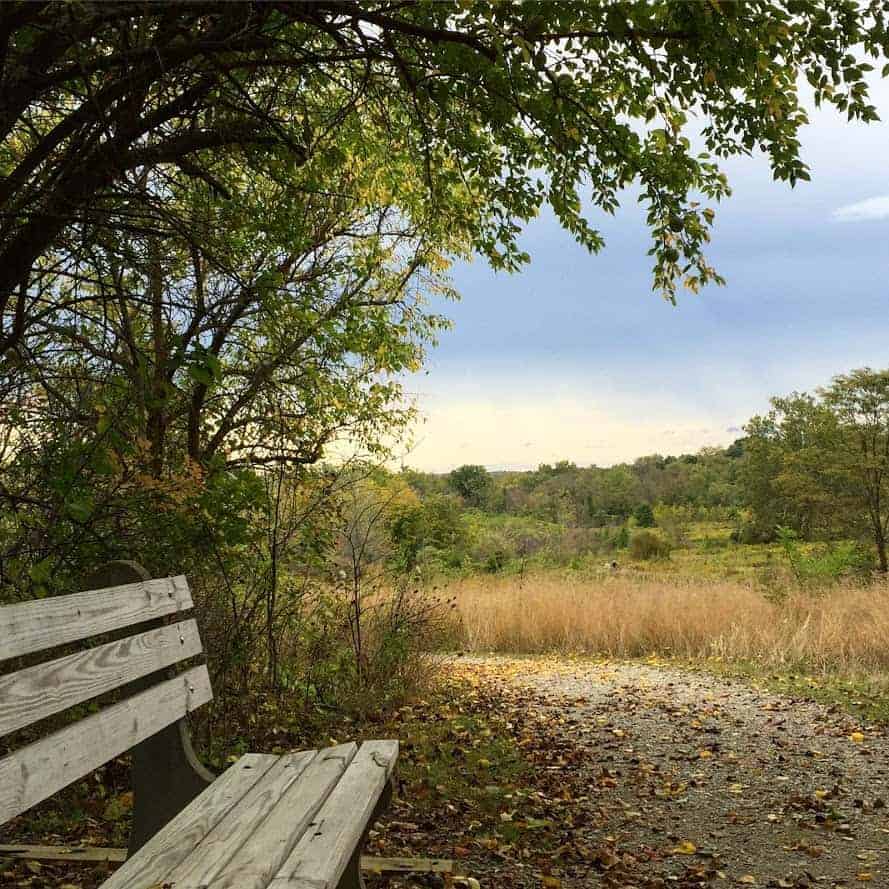 Hiking trails in Woodlawn, Ohio
Glenwood Gardens is a 335 acre park with something for hikers of all ages and hiking abilities. The trail starts with a 1-mile paved loop, perfect for strollers and long enough to feel like you're getting a good walk, but also short enough that some kids can handle walking the whole thing. The paved loop connects to the 1.6 mile Wetland Loop nature trail, which starts as a gravel trail through a more densely wooded area with an optional dirt path that culminates at an overlook with my favorite view in the park (and at Glenwood Gardens, that's saying something!).
If you're bringing kids along, be sure to carve out some time for Highfield Discovery Garden. The 12 acre garden's mythical setting makes kids feel like they're playing in a fairy tale, complete with a giant tree play structure and a massive model train setup that conductors-in-training will enjoy. Note that Highfield Discovery Garden is an additional charge of $5.25/person and free for those under 2, with season passes available if you think you'll be back often (we have a feeling you might!).
Read all about Glenwood Gardens here.
---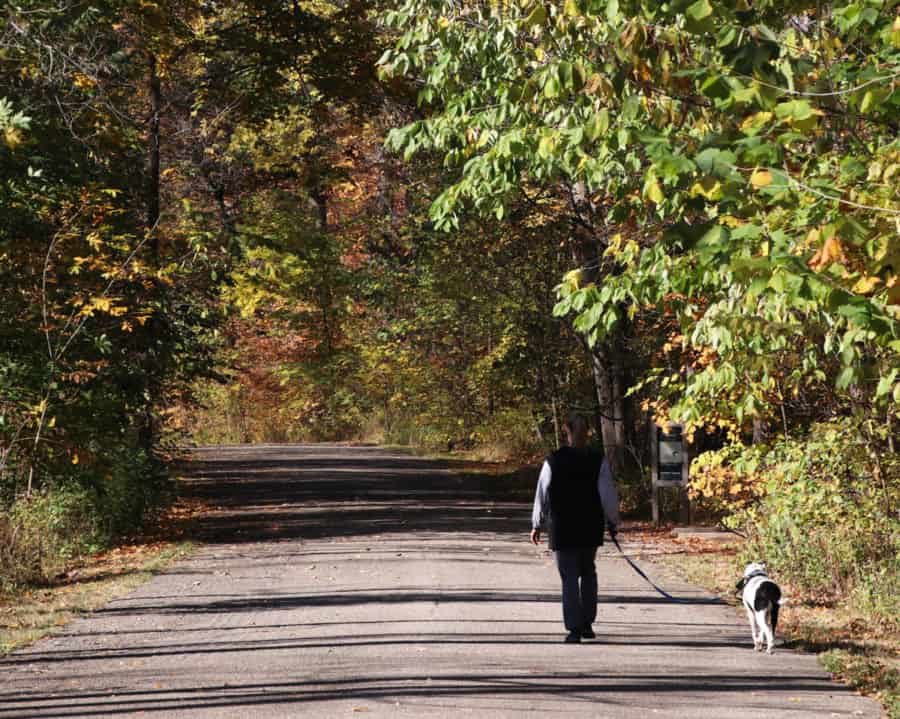 Hiking trails in Sharonville, Ohio
Sharon Woods has some of the best hiking in Cincinnati (yes, we said it!). Many know about the 2.6-mile paved trail around the lake, which in and of itself is a beautiful hike. But there's a lesser-known trail at Sharon Woods: the 0.7 mile Gorge Trail.
The Gorge Trail is accessible from the paved lake path and takes hikers through a scenic wooded trail alongside a rushing stream. This one beautiful any time of year, but you should really see it in the fall. The Gorge Trail's path is a mixture of dirt, mulch, and gravel so it's a bit tougher than the paved trail. Be sure to wear your hiking shoes!
The end of the Gorge Trail connects to a fitness trail. If you're interested in a full day of hiking, try connecting all three!
See our full post here for all our favorite tips and must-do's at Sharon Woods.
---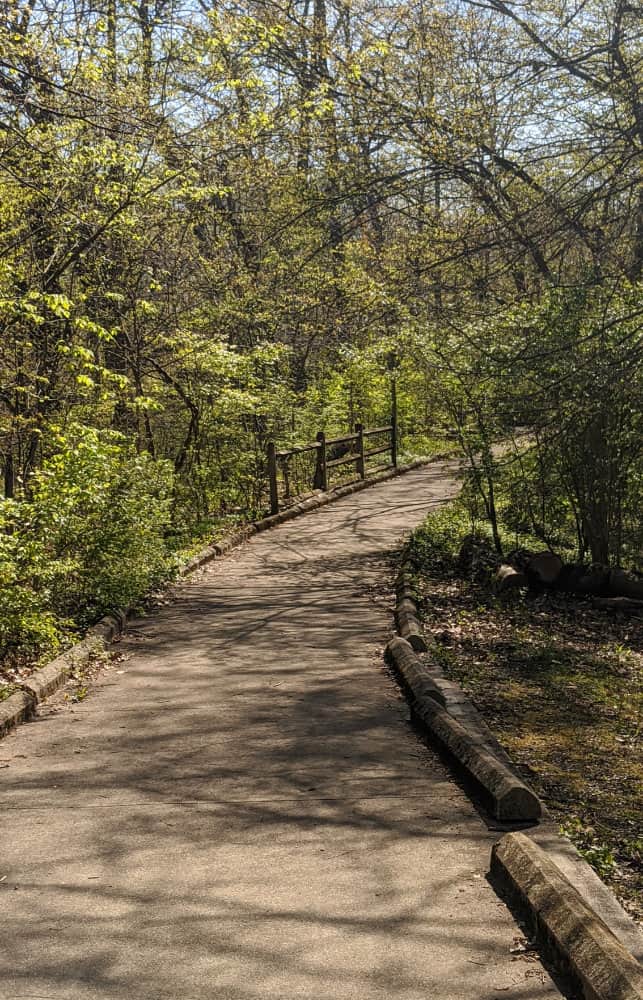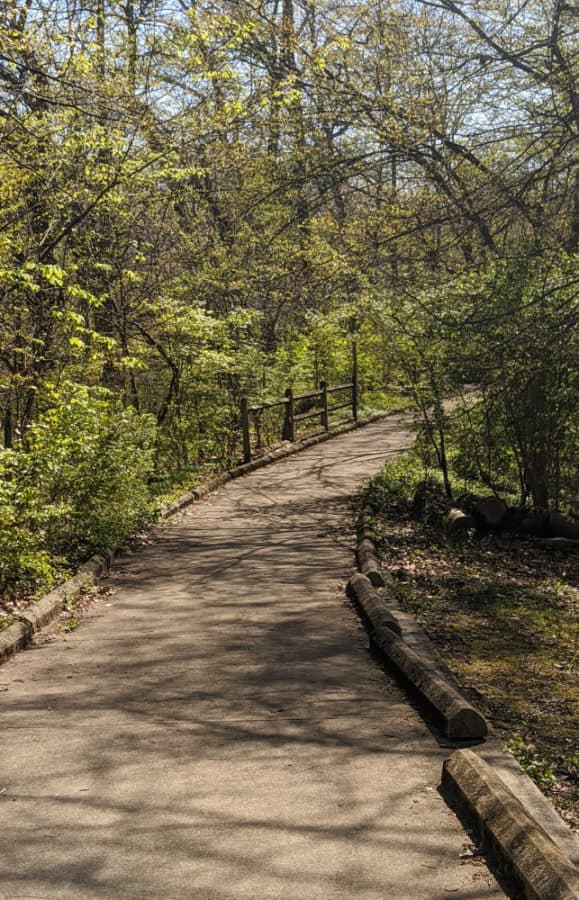 Hiking trails in Cincinnati, Ohio
If you want to feel like you've truly stepped out of the city, Caldwell Preserve is the trail system for you. 3.5 miles of trails wind through a heavily wooded forest – most are dirt, but there is a paved section at the trail's entrance near the nature center. After an initial trek downwards (via some steps), most of the trails are relatively flat.
Most of the trails are interconnected with each other. There isn't a great map system of how the trails are linked, which can be fun if you're in an adventurous mood (just be sure the path you're taking is part of the park's trail system).
Read our full post on Caldwell Preserve here to learn more about what the park has to offer.
---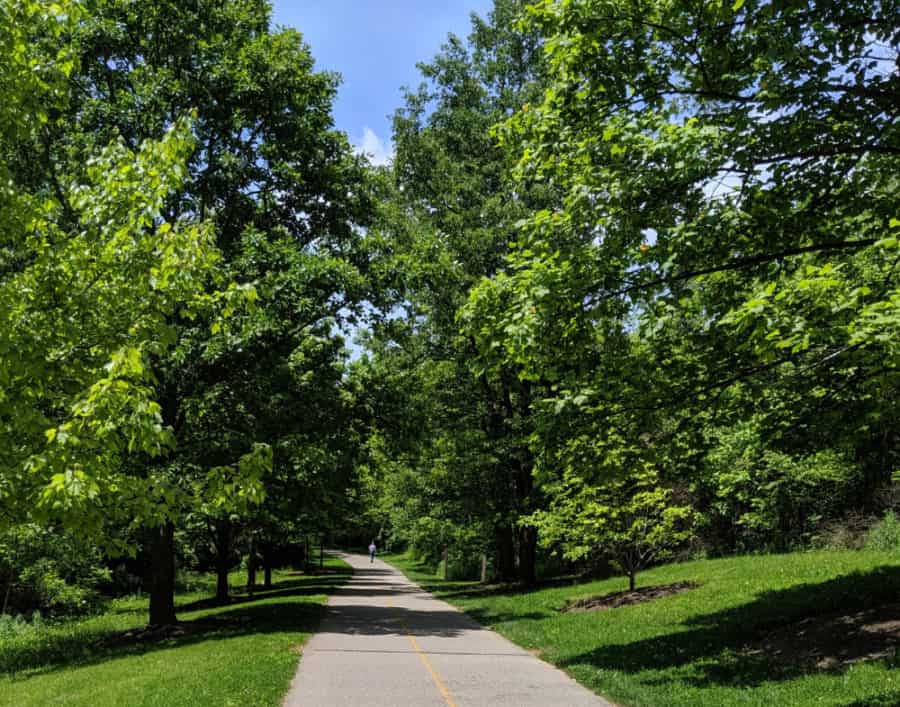 Hiking trails in Harrison, Ohio
Miami Whitewater Forest is the largest of the Great Parks of Hamilton County, clocking in at 4,438 acres. Home to one of the longest paved trails in the area, Miami Whitewater is a favorite on many Cincinnati hiking bucket lists.
The 7.8 mile paved Shaker Trace trail leads hikers through hundreds of acres of prairie and wetlands. Take the trail's 1.4 mile Inner Loop if you're in the mood for a shorter hike, or add on the Outer Loop to make it a full 7.8 miler.
The park's shorter trails include the Badlands Trail (1.7 miles), the Oakleaf Trail (0.8 miles), the Tallgrass Prairie Trail (0.6 miles) and the Timberlake Trail (1.4 miles). These ones are nature trails (compared to the paved Shaker Trace loop) and considered to be moderate difficulty.
As you can see, there are plenty of hikes waiting to be trekked at Miami Whitewater! If you want to make a whole weekend of it, bring your tent along and reserve a spot at the park's campground.
See our whole post on what the park has to offer here.
---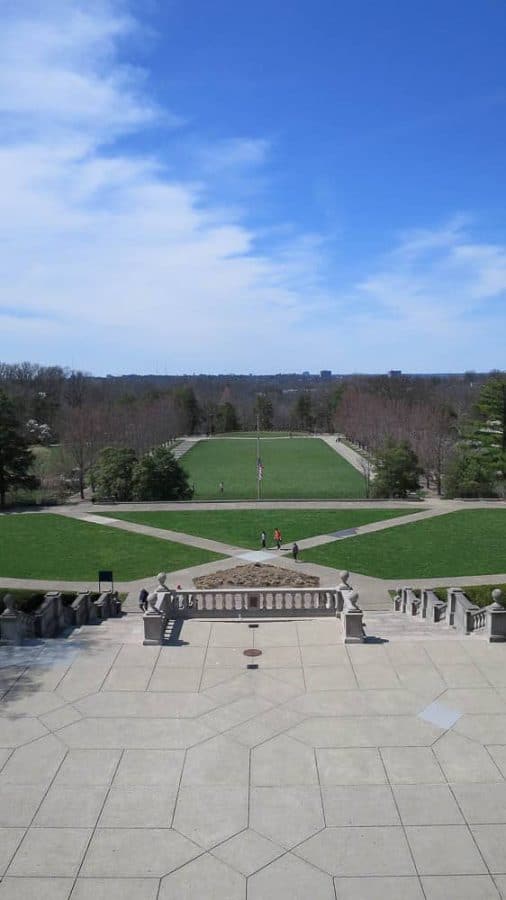 Hiking trails in Mount Lookout, Cincinnati
Many know of Ault Park for its picturesque pavilion and gardens, but lace up your hiking boots the next time you head out there and make some time to enjoy its trails. The trails at Ault Park are nice and shaded – perfect for the hot summer days! The trails aren't too long, but the paths are pretty hilly and unpaved so we'd recommend them for hikers who are looking for a bit more of a challenge.
Check out our full post for more details about Ault Park here.
---
Bender Mountain Preserve
Hiking trails in Delhi, Ohio
Channel your inner botanist and explore 390+ plant species at Bender Mountain Preserve. The Bender Mountain Preserve is a 50+ acre park located on the West Side by Mt. St. Joe's and right next to the Ohio River. Hikers can pick from 6 different trails ranging from 0.2-0.97 miles and easy-strenuous difficulty level.
See some reviews on this trail over at All Trails.
Visit the Bender Mountain Preserve website here.
---
Hiking trails in Covington, Kentucky
Although this one isn't technically in Cincinnati, it's well worth a visit across the river. The park has 8 miles of Backcountry Trails ideal for hikers and mountain bikers, or opt for an easier hike on the paved trail (be sure to stop at the Memorial Overlook!).
See our post here on Devou Park for more things to do while you're at the park.
---
Withrow Nature Preserve
Hiking trails in Anderson Township, Ohio
An East Side favorite, the Withrow Nature Preserve is sandwiched between Five Mile Road and Kellogg Avenue by the Ohio River. The Trout Lily Nature Trail is a 1.7 mile loop perfect for hikers who want to spend an hour two surrounded by nature.
Visit the Withrow Nature Preserve website here.
---