---
When it comes to parks, there's no denying that our city has some of the best parks around. I recently paid a visit to a favorite park of mine, Sharon Woods, to take in all that is fall.

I decided to stop in at the Sharon Centre to see if they could tell me the best places to enjoy the beautiful fall scenery and the folks at the desk made some suggestions that surprised me…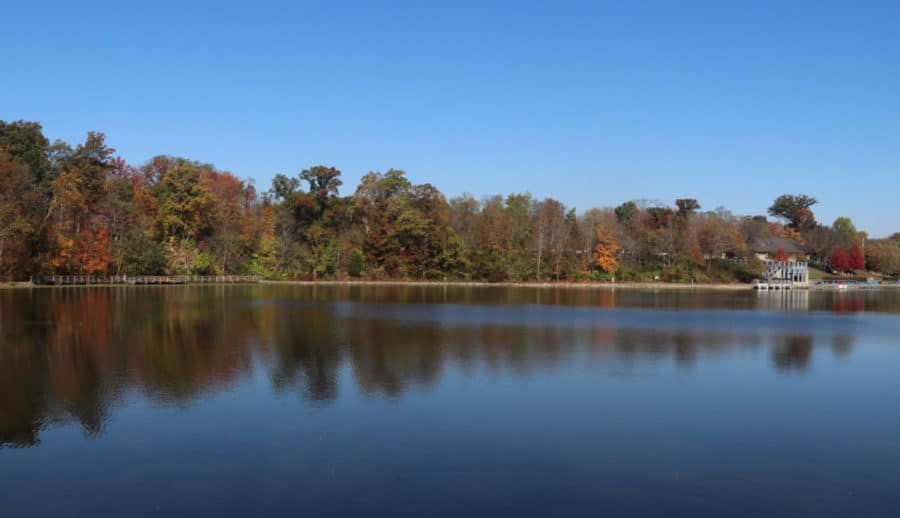 I go to Sharon Woods A LOT. And I walk at Sharon Woods A LOT. In fact, Sharon Woods was the very first thing I ever wrote about on this site (Day #1 of the first 365). And you can see my pics of Sharon Woods in the springtime here.
When the naturalist told me to go walk the Parcourse Trail and The Gorge Trail I was skeptical. You see, I walk around that lake at least once a week and I don't think there's a spot in the park that could top it.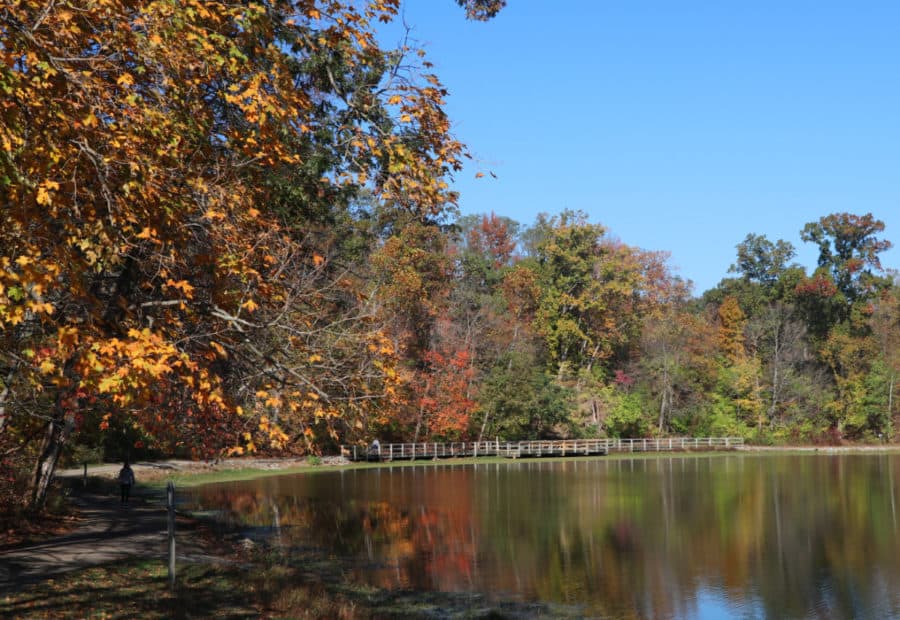 But I was wrong…
My adventure started at the waterfall / dam area. I'd been there before and it's a perennial favorite spot for me. I was close and couldn't pass it up. It did not disappoint!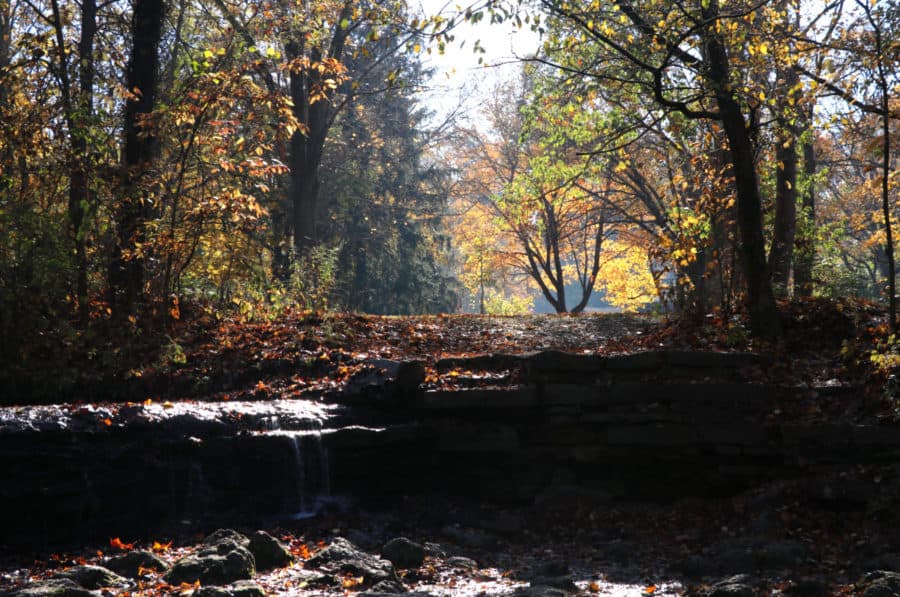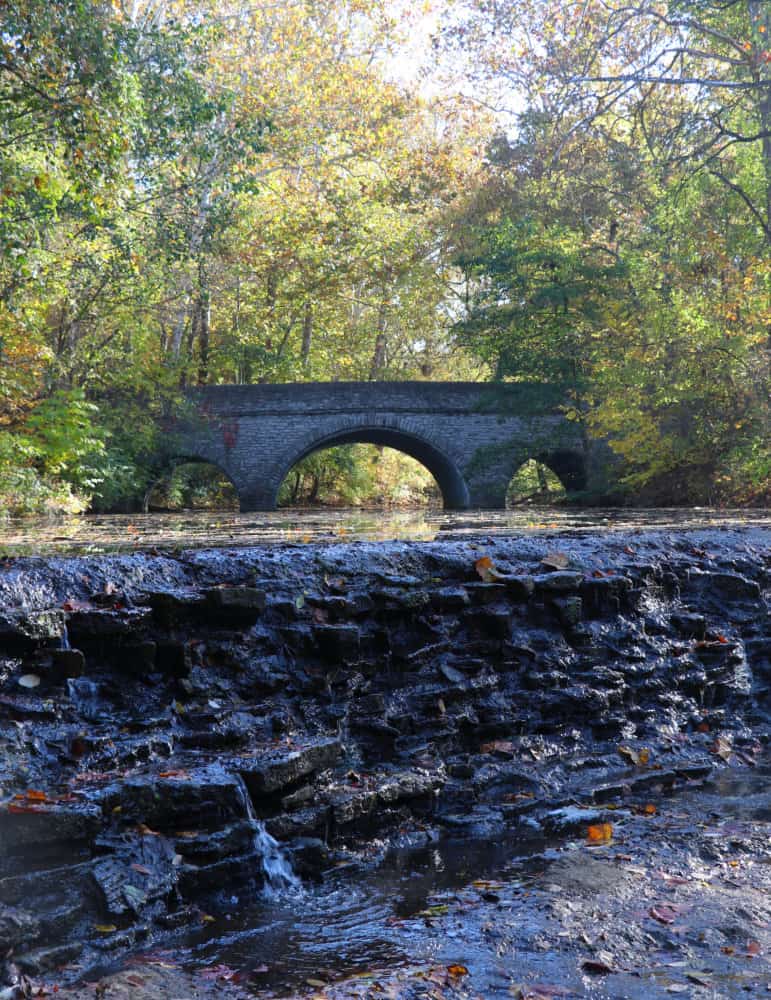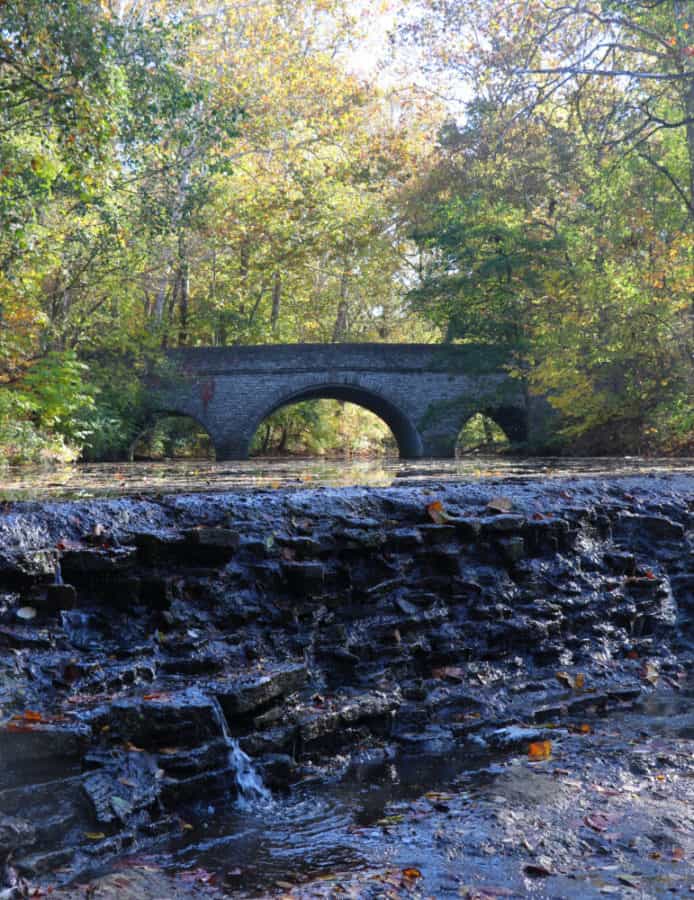 By the way, if you're wondering how to get to any of the spots pictured, I'm including a park map at the end – complete with markings for each spot I'm talking about.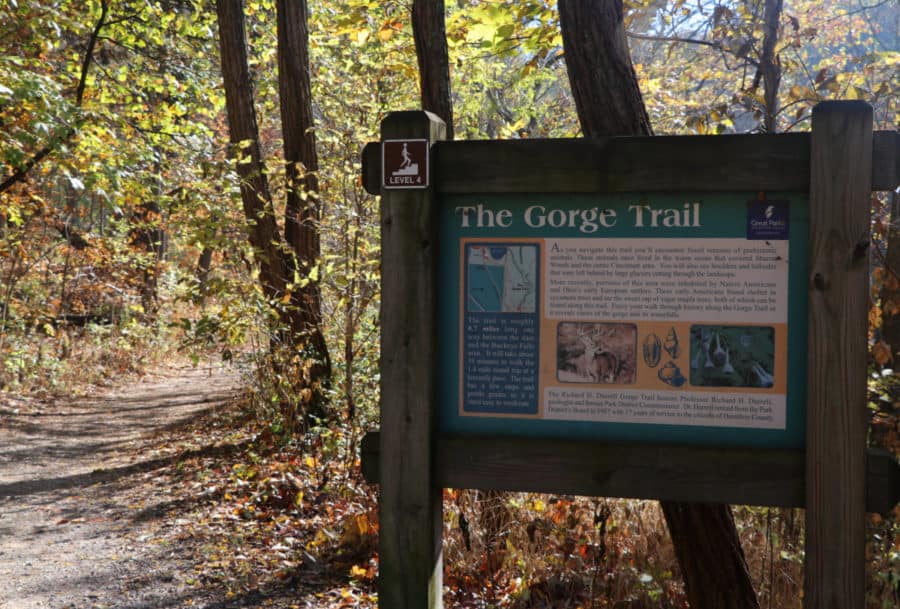 Following along with the park naturalist's suggestion, I started my fall hike at The Gorge Trail. I can't tell you why I've never taken the time to explore this trail before. Maybe it's the "Level 4" marker? Don't let that deter you though – it's not, in my opinion, a tough trail. You will have to hike uphill for a bit but it's not a tough climb.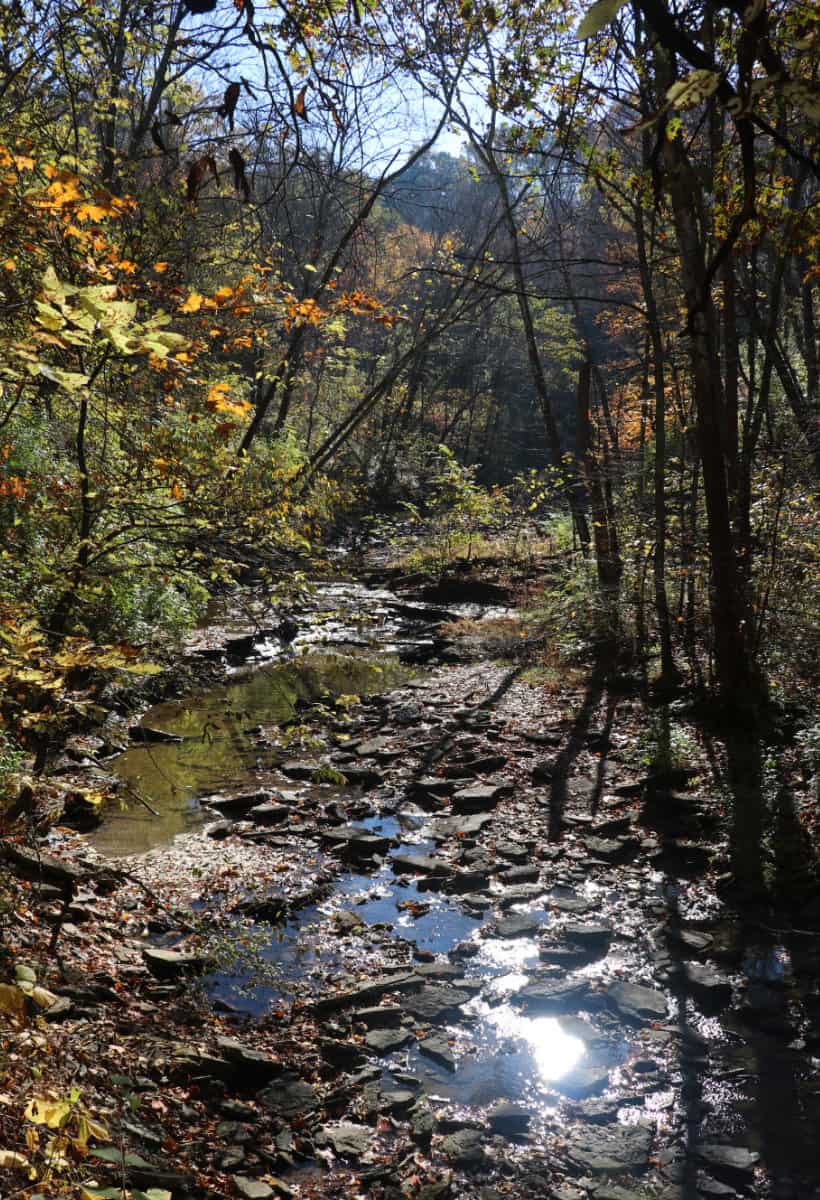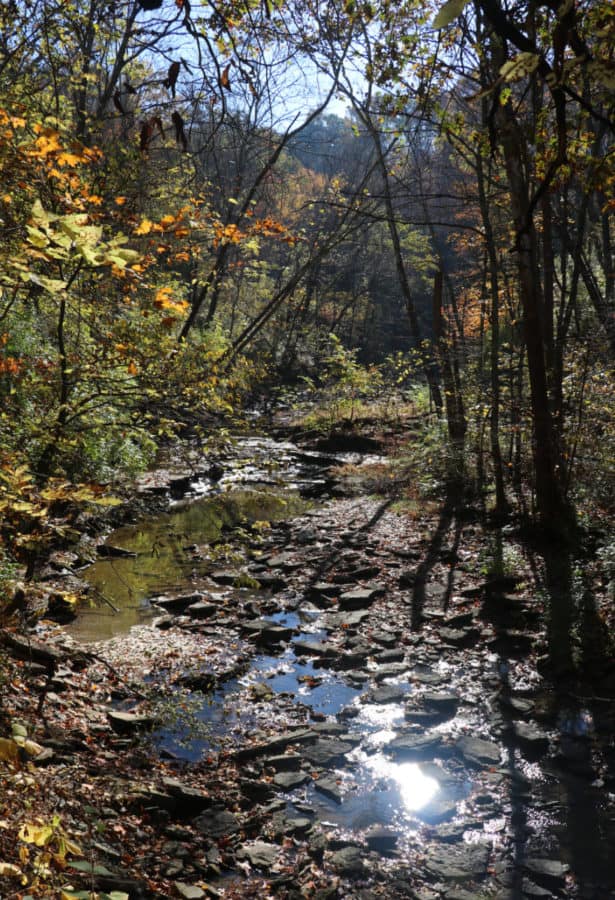 The Gorge Trail is 0.7 miles and the trail bed is a mix of natural materials, mostly gravel and mulch (not paved). The trail meanders along the stream and the colors did not disappoint. It is a lovely walk through the woods, especially in the fall.
Be aware that the Gorge Trail does NOT loop. You can, however, pick up the Parcourse Trail to return to your starting point.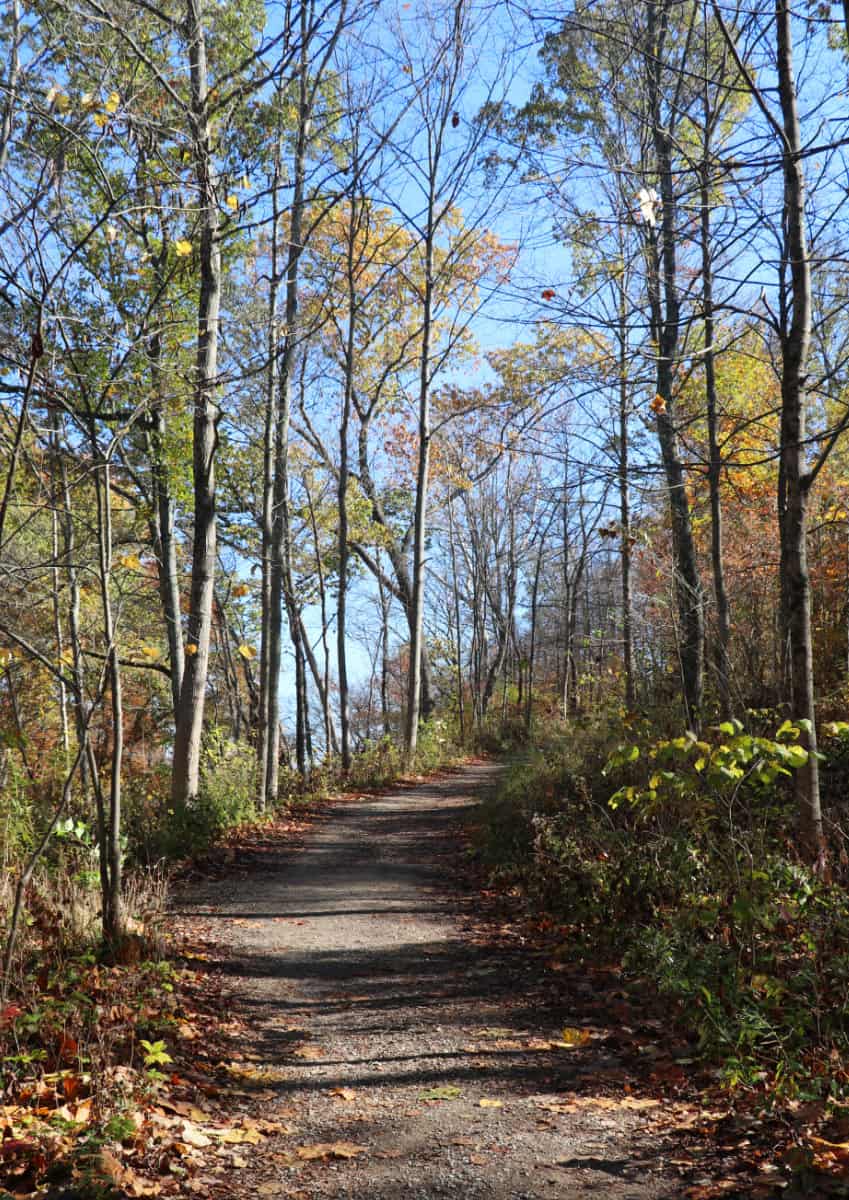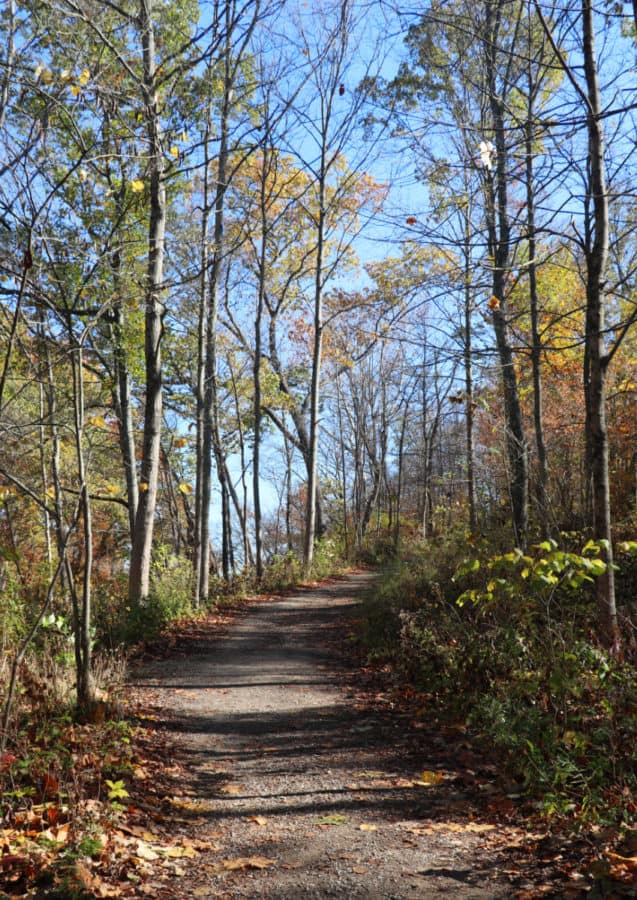 In the connection of the two trails, you pick up just a bit of my regular loop around the lake before heading back on the Parcourse Trail. You won't mind a look at this, right?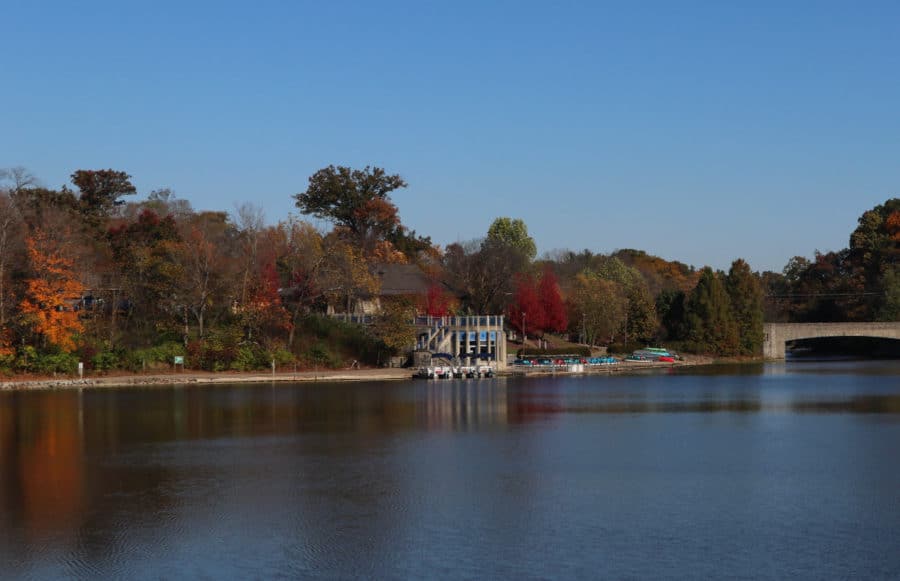 The Parcourse trail was up next. I'd never hiked that one either… but I DEFINITELY will return in the future.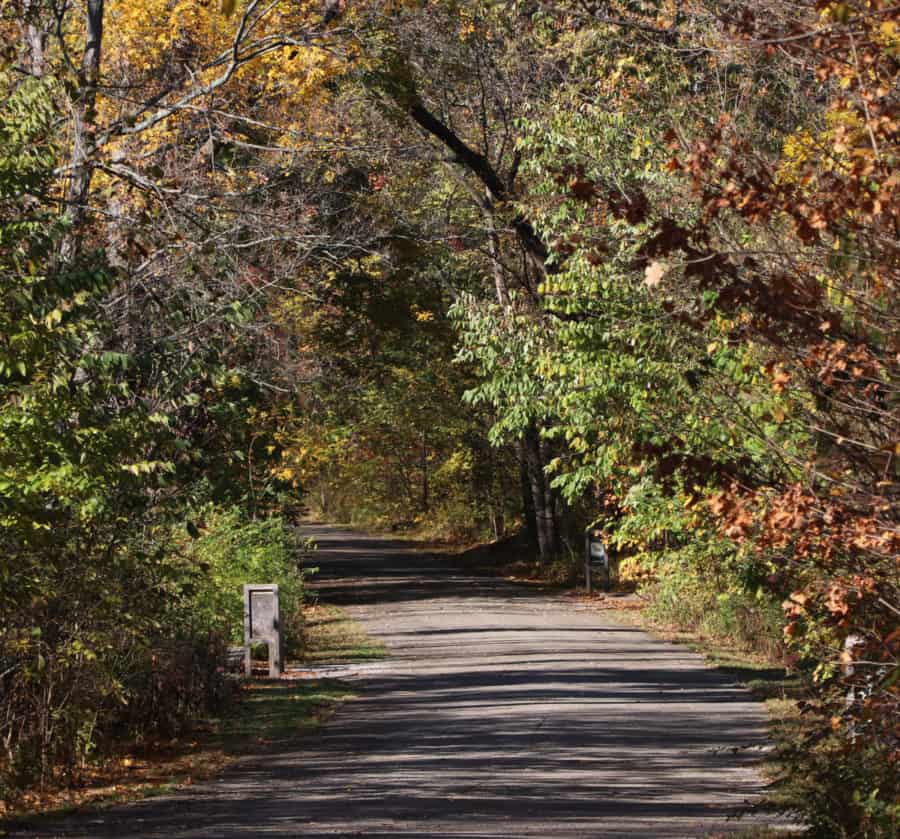 I do LOVE this trail. It's paved and extra wide.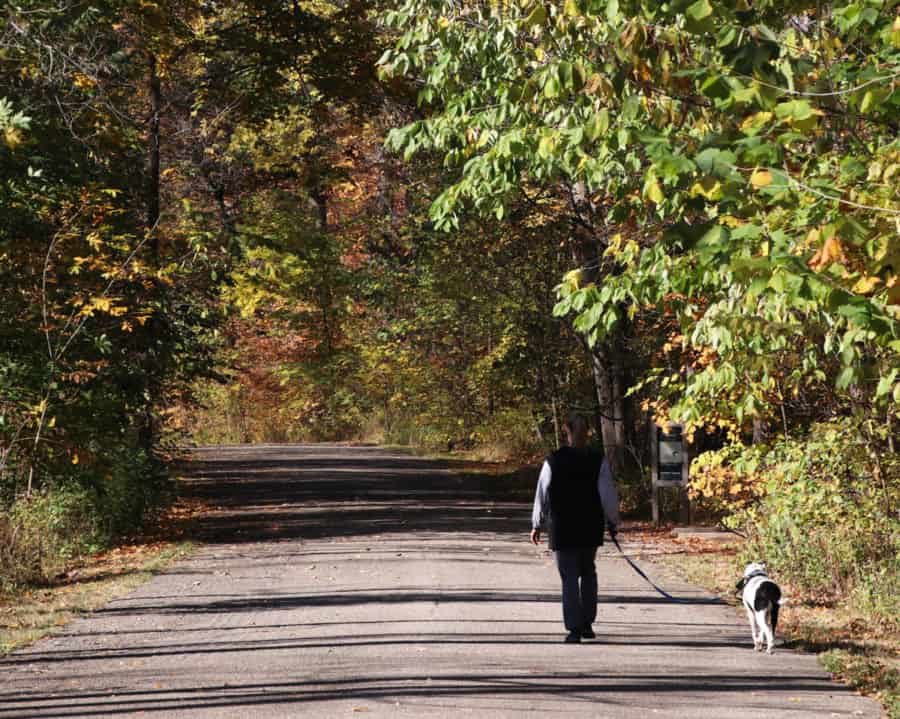 This 0.6 mile trail is lined with trees. There's a small loop through the woods (see below). And, of course, there's the Parcourse fitness aspect if you choose to work it.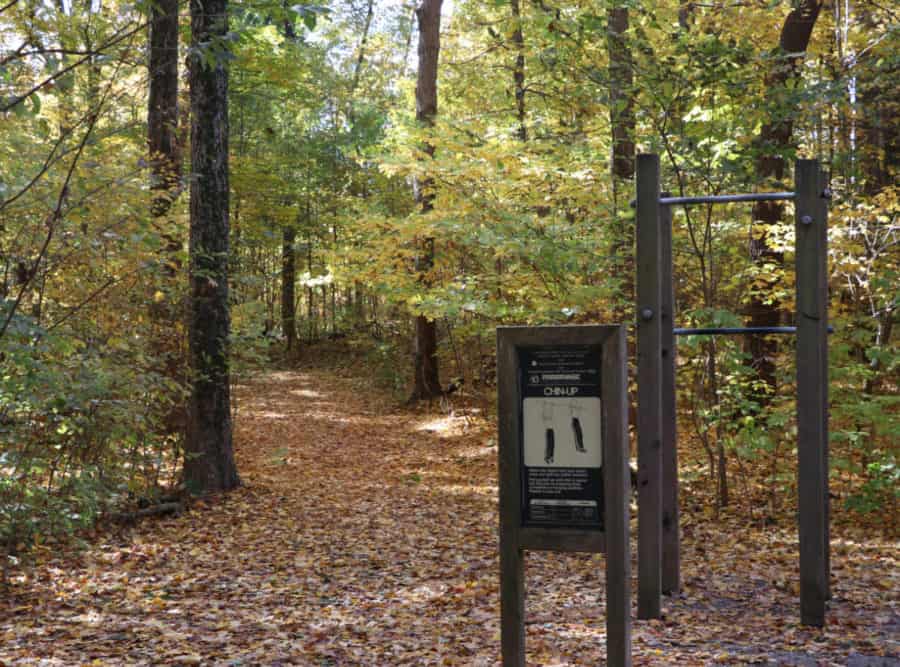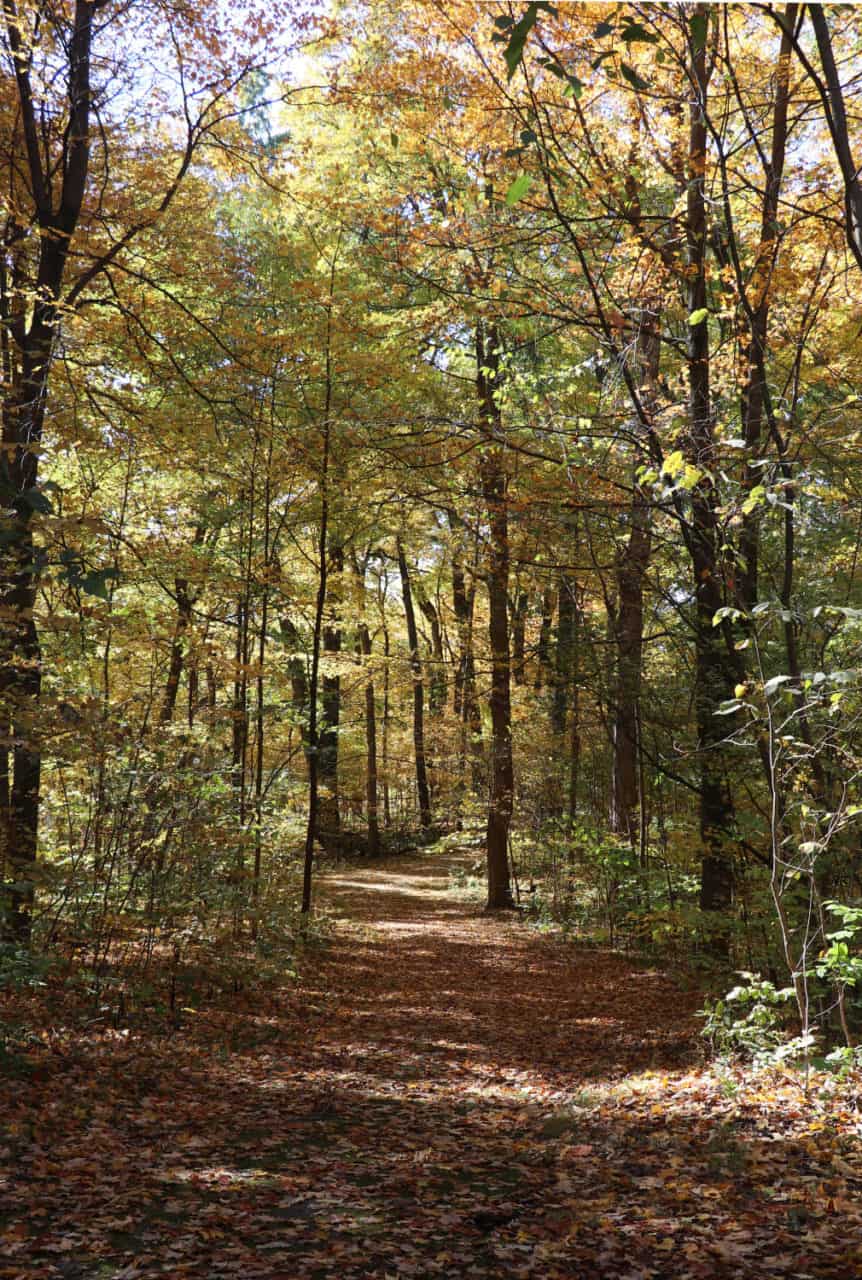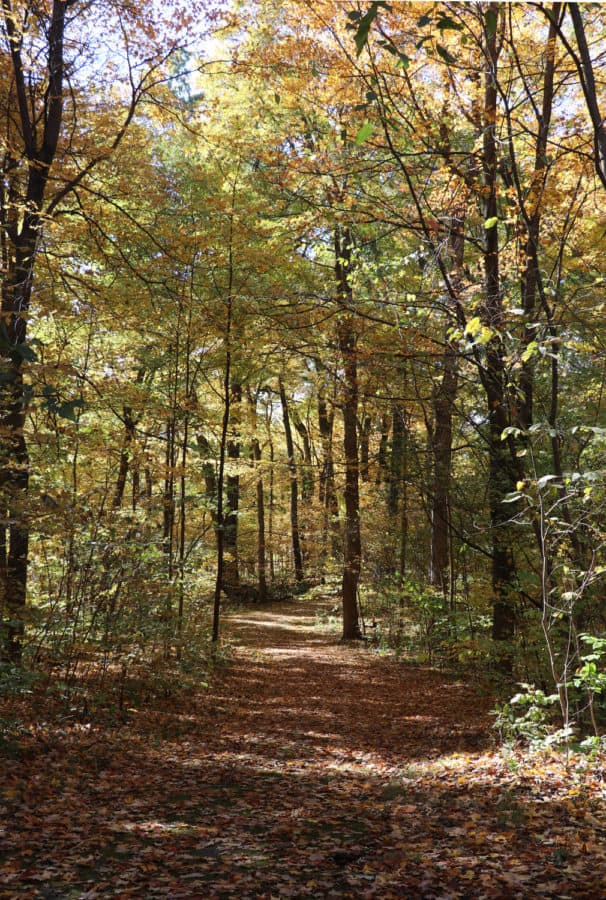 The Parcourse Trail brought me right back to my car (parked close to the waterfall area).
If you park where I parked (see map below), be sure to explore the area between the stream and the Heritage Village Museum. It' s a beautiful spot, regardless of the weather.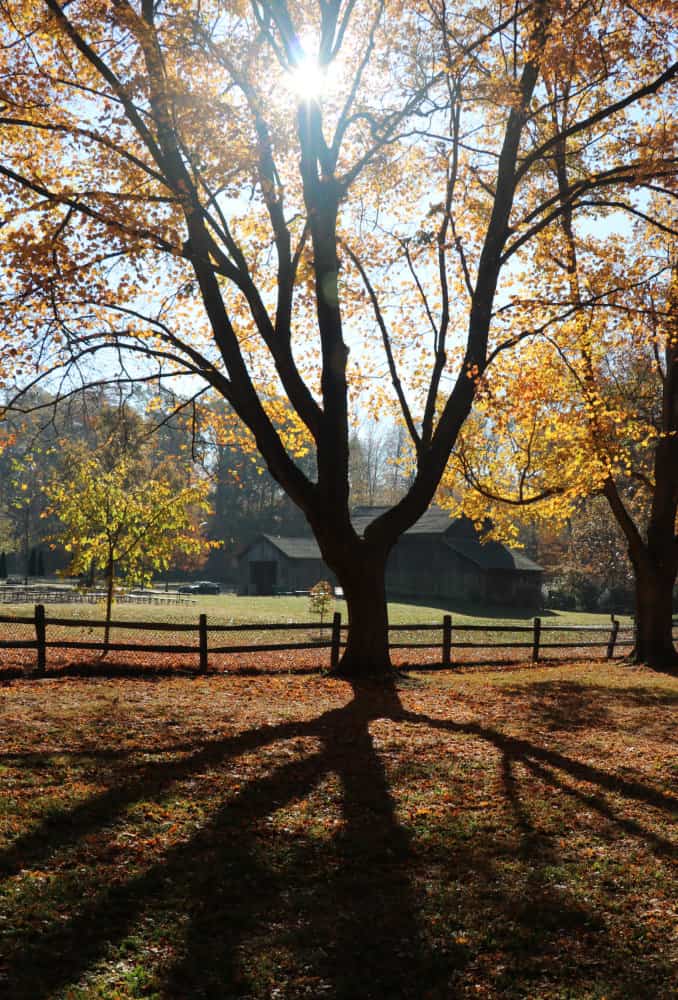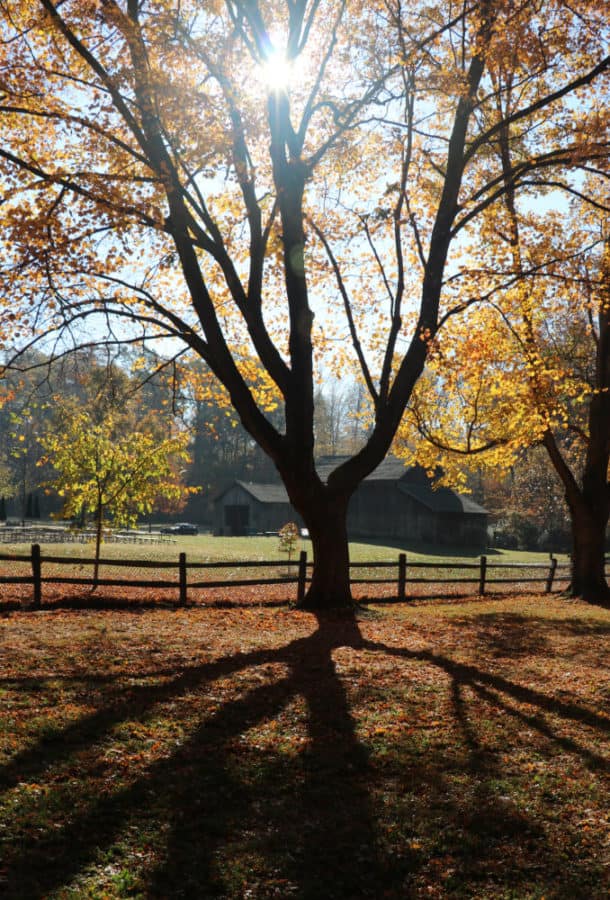 There's a playground in that space, along with lots of picnic tables and benches.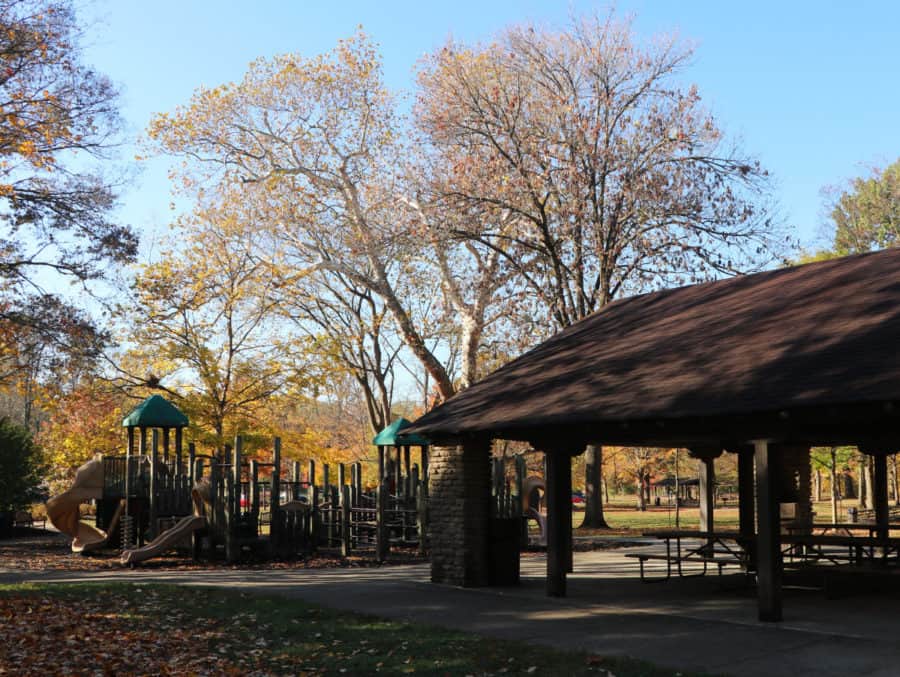 And the Sharon Centre is right there (with an indoor playground for the littles, admission charged).
Here's a map to show you where I went on my Sharon Woods fall adventure. You can also find a close-up map here.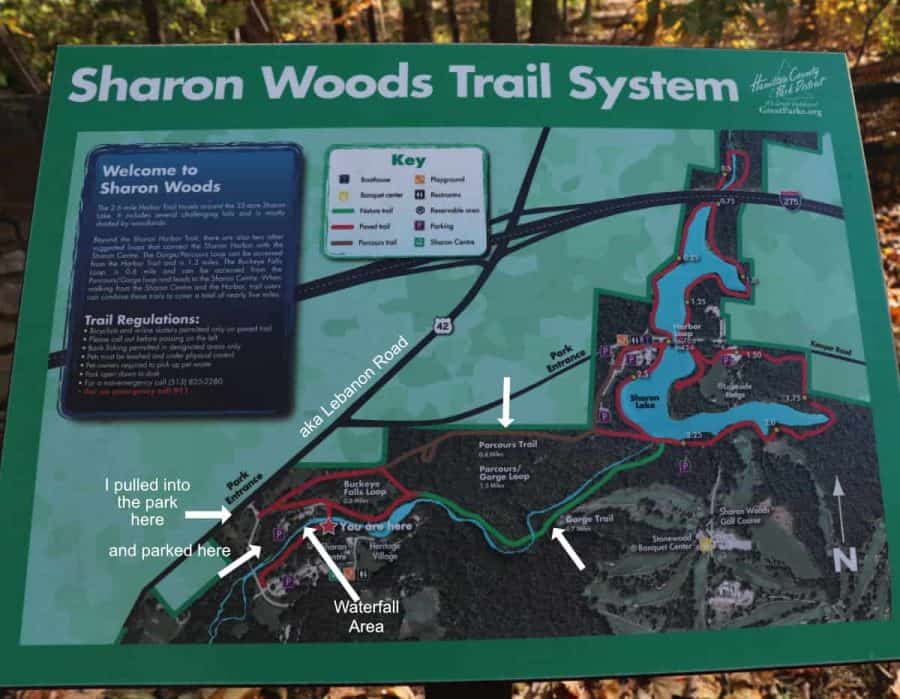 Sharon Woods is one of the Great Parks of Hamilton County and can be found at 11450 Lebanon Road, Cincinnati, Ohio 45241
You do need an Annual Motor Vehicle Permit (one per car) to enter the park.
---
This post is part of year-long partnership with Great Parks of Hamilton County. While this is a sponsored post, the information we're providing is based on our own thoughts and experiences.