Miniature golf – it's a great way to spend some time with the family as it's fun for kids of all ages. And it makes for a great date night too! Mini golf hazards tend to level the playing field – often putting the best of putters right there on par with the youngest in the group.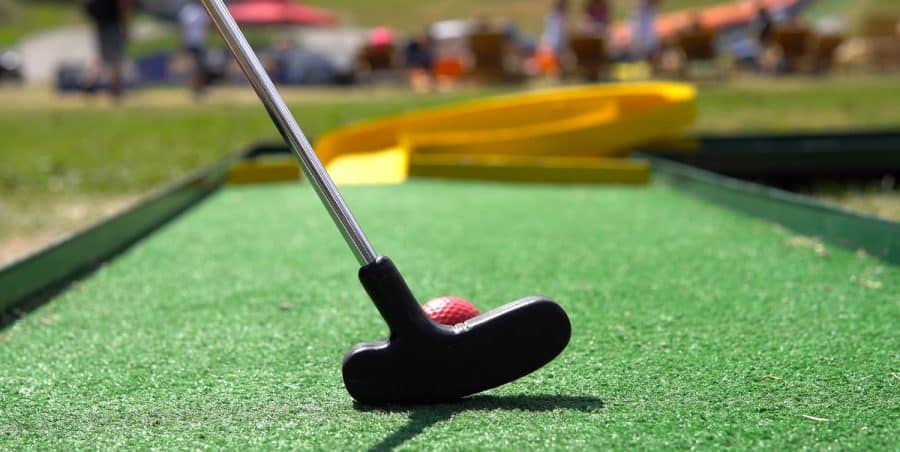 Cincinnati is lucky to have so many great spots to play putt putt. We've created a list of all the courses we could find – both indoor and outdoor, Ohio and Kentucky.
Whether you call it putt putt or mini golf, chances are there's a game in your future! Get out there to play, Cincinnati!
Putt Putt in Cincinnati
Eagle Tee Golf Center
Location: 9200 Cincinnati Dayton Road, West Chester, Ohio 45069
A great course that's fun for the family with some more difficult holes thrown in for the adults and big kids. Lots of the holes have shade to provide some relief for summer days. Head out there on Wednesdays for buy one round, play the second free (as of June, 2020).
Etter's Golf Center
Location: 9941 Reading Road, Evendale, Ohio 45241
Enjoy some mini golf on one of their two 18 hole miniature golf courses. Putt your way around castles, a lighthouse, and more.
Fairfield Fun Center
Location: 6400 Dixie Highway, Fairfield, Ohio 45014
Try your putting skills at The Mountain Mini Golf Course, featuring multiple levels and water features. In addition to mini golf, they also have batting cages (baseball and softball) and a driving range.
General Custer's
Location: 3325 Westbourne Drive, Cincinnati, Ohio 45238
Here's a great spot to enjoy some mini golf and have a treat as this place is also a creamy whip! General Custer's has two 18 hold miniature golf courses with lots of exciting obstacles. They have weekday specials, all you can play times, group rates, military members (with current I.D.) play free, and more.
Glowgolf
Location: Eastgate Mall, 4601 Eastgate Blvd., Cincinnati, Ohio 45245
Play 36 holes all in one spot, all for one price. This indoor mini golf course is a real glow-in-the-dark experience! And don't miss their Laser Maze.
Scallywag Tag
Location: 5055 Glencrossing Way, Cincinnati, Ohio 45238
Aargh! Have some fun at this 18 hole pirate themed, indoor, black light miniature golf course. In addition to mini golf, they also have arcades and laser tag (look for their combo deals).
Scene75 (temporarily closed, opening July 10, 2020)
Location: 876 OH-28, Milford, Ohio 45150
Come prepared to play when you head to Scene75. With 13 indoor attractions, you're likely to end up playing something in addition to miniature golf! They have two blacklight mini golf courses which can be combined for an 18 hole game if desired. Wear a pair of 3D glasses to experience the hand painted artwork and themes (one course is ocean themed and the other is planetary).
The WEB Extreme Entertainment
Location: 7172 Cincinnati Dayton Road, West Chester, Ohio 45069
Here's a mini golf course with a theme – Jurassic Par! Play this INDOOR blacklight course featuring nine holes of twist, turns, and obstacles of a Jurassic nature. Putt your way past the 17′ tall Apatasaurus and the 8′ Velociraptor. The WEB also offers go kart racing, laser tag, a trampoline, a climbing wall, mini bowling, and more. Be sure to check out their current specials.
You might also like: 40+ Things to Do This Summer – a Cincinnati Summer Bucket List
Putt Putt in Northern Kentucky
Glowgolf (temporarily closed, last updated 6-29-2020)
Location: Florence Mall
Putt Putt
Location: 3139 Dixie Highway, Erlanger, Kentucky 41018
Having been around for 50+ years, I think it's safe to say there have been a few games played here! They have two different courses. Be sure to take your ball to the desk if you get a hole in one!
World of Golf
Location: 7400 Woodspoint Drive, Florence, Kentucky 41042
Northern Kentucky's newest miniature golf course is an 18 hole course that features Kentucky landmarks. Watch for thoroughbreds, Louisville Sluggers, bourbon barrels, and more.