I have a great suggestion for you if you're looking for a day of Staycation Fun in Cincinnati. Pack up the kids, the gear, and a picnic lunch and spend a day (or two) at Winton Woods.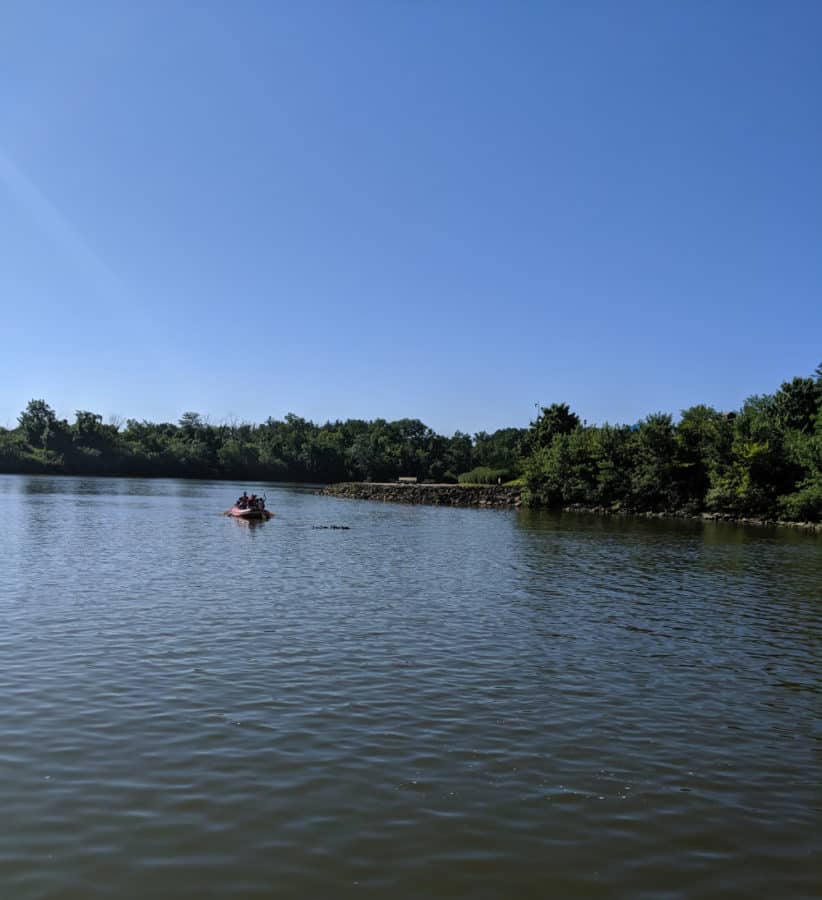 To anyone who's been a follower of this website or the Facebook page, it's probably not a surprise when I tell you that I am a HUGE fan of the Great Parks of Hamilton County. While I've been to all of the Hamilton County parks and have some favorites, it seems that Winton Woods floats to the top of the list of places to go more often than not. Knowing that, I thought it would be great to share why this place makes for a great Staycation day!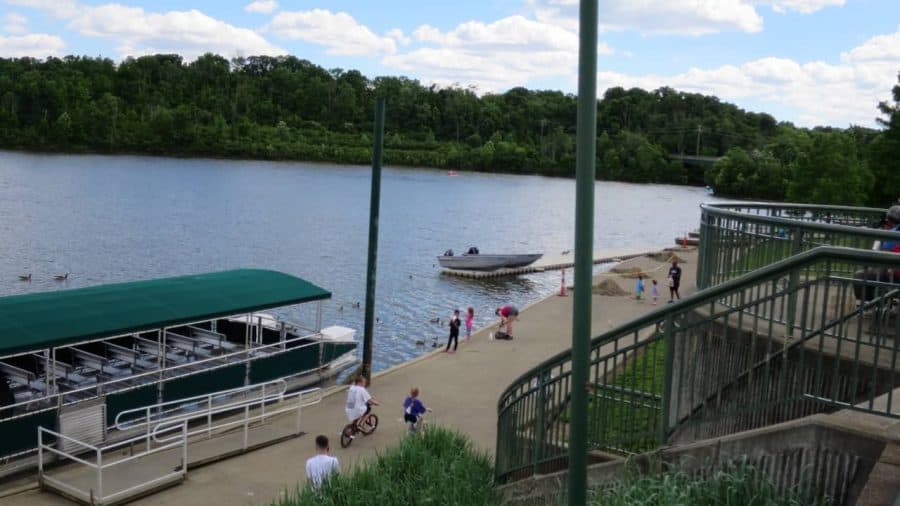 Oh, how I love Staycation – a day of living like a tourist in your own hometown. Benefits include no cost for travel, no packing of suitcases, low stress, and LOADS of local fun.
I think Winton Woods offers a perfect Staycation experience so let's get started…
Winton Woods Harbor
NOTE: The water features are not open in 2021
Honestly, you could probably spend a good part of your day at the Winton Woods Harbor. There's a lot to see and do here.
On a hot summer day there's nothing better for the kids than a wet playground. Pack the swimsuits because the kids will want to explore and play at Parky's Ark.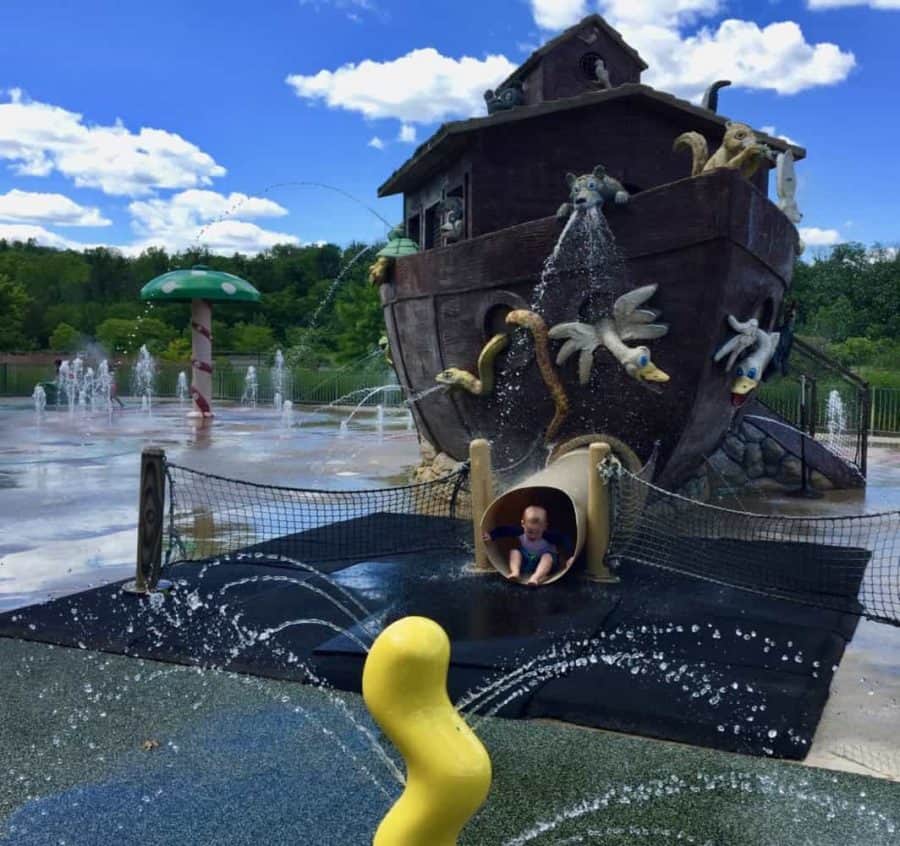 It's a rather large wet playground with lots of water features. Kids can climb up into Parky's Art and come down the enclosed slide. There are lots of water spraying animals around the playground as well as water spigots that shoot up from the ground.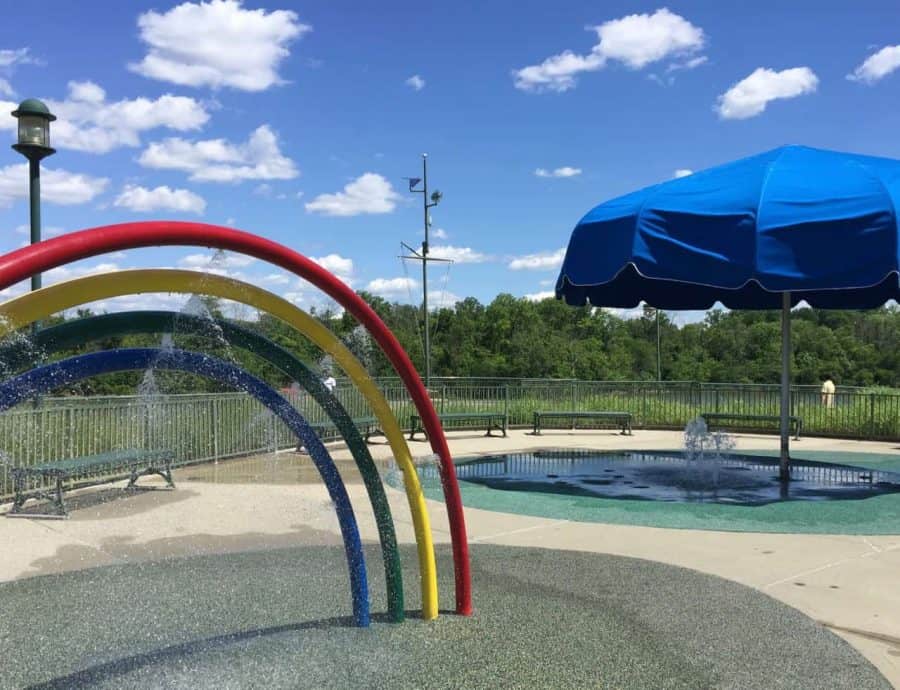 Off to one side you'll find a separate area for babies and toddlers. This area has water sprays that are softer and it's perfect for little ones.
The wet playground is fenced in (with the exception of the entrance gate). You'll find plenty of benches around the perimeter. They also have a number of picnic tables within the wet playground area and you're allowed to bring in your lunch.
There is an admission for the wet playground at Winton Woods: 2018 admission= Children age 2–12: $4/each or $10/3.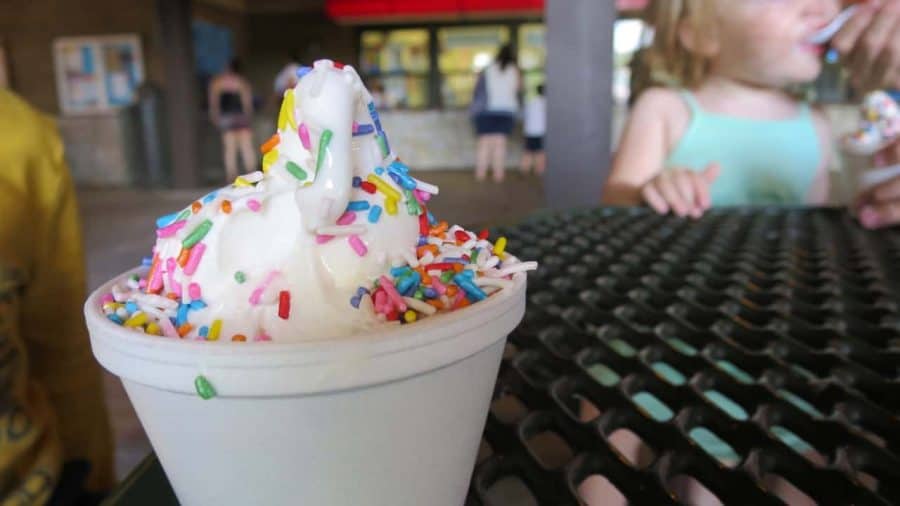 After we got our fill of the playgrounds we headed to the Snack Bar (in the adjacent covered pavilion) and had an ice cream with sprinkles. Off to a great start! You can get all kinds of food items here – from hot dogs to cheeseburgers to Icees and other frozen treats. The Snack Bar is seasonal, open early May until early September.
It looks like the snack bar will be weekends and holidays only for 2021.
There is a playground just beyond the water park as well as a stage with seating (great for kid-produced theater!).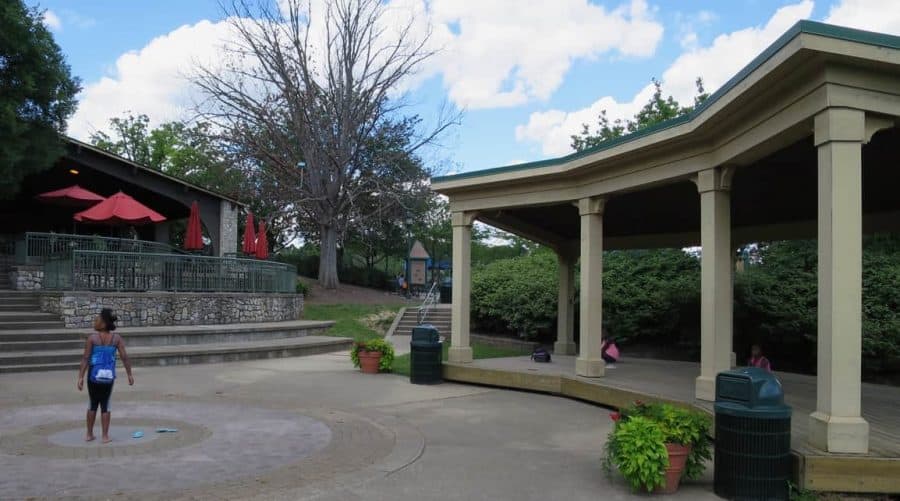 Enjoy Winton Woods Lake
Winton Woods has a 156 acre lake and they have sooo many ways for you to enjoy it.
I often walk the paved path that circles the lake (1.7 miles if you're wondering). They do permit wheels on this path so feel free to bring along the kid's bikes, strollers, or even the rollerblades.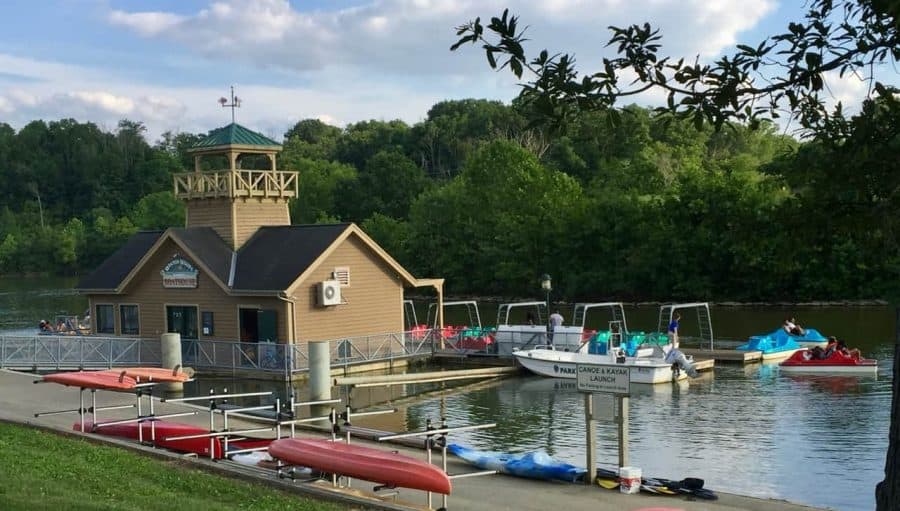 We headed over to the Winton Woods Boathouse where you can rent paddle boats, canoes, kayaks, bikes, and even paddle boards.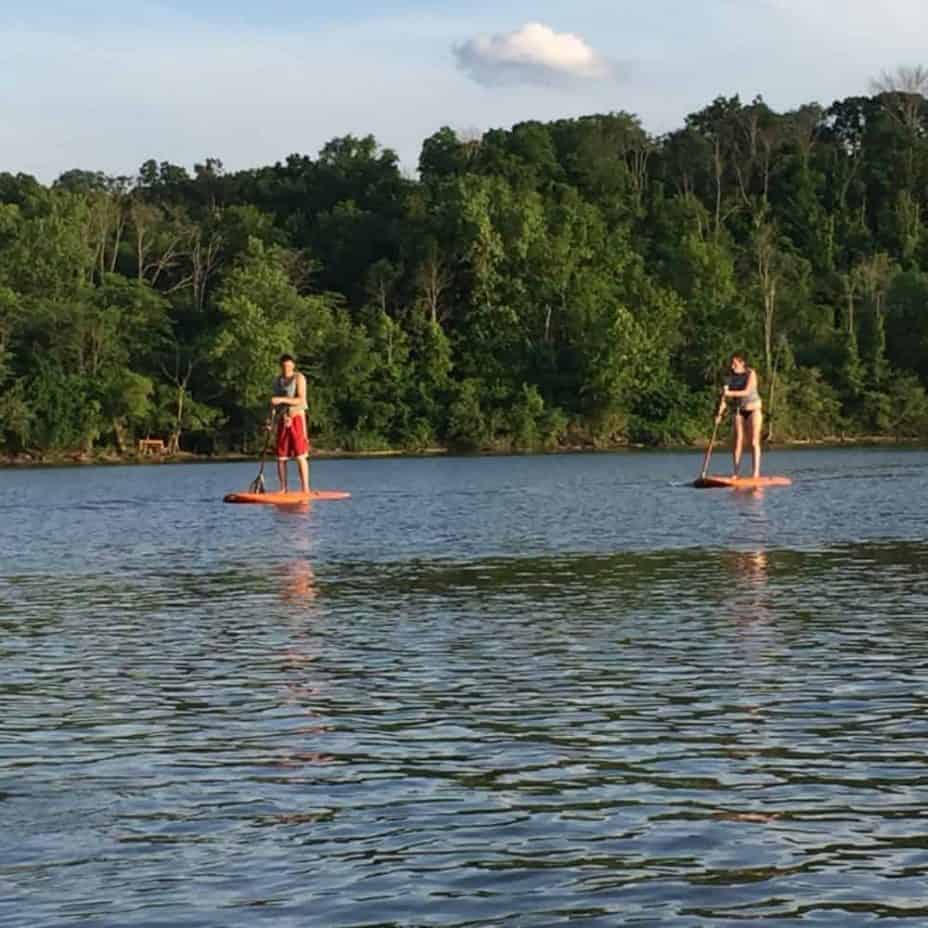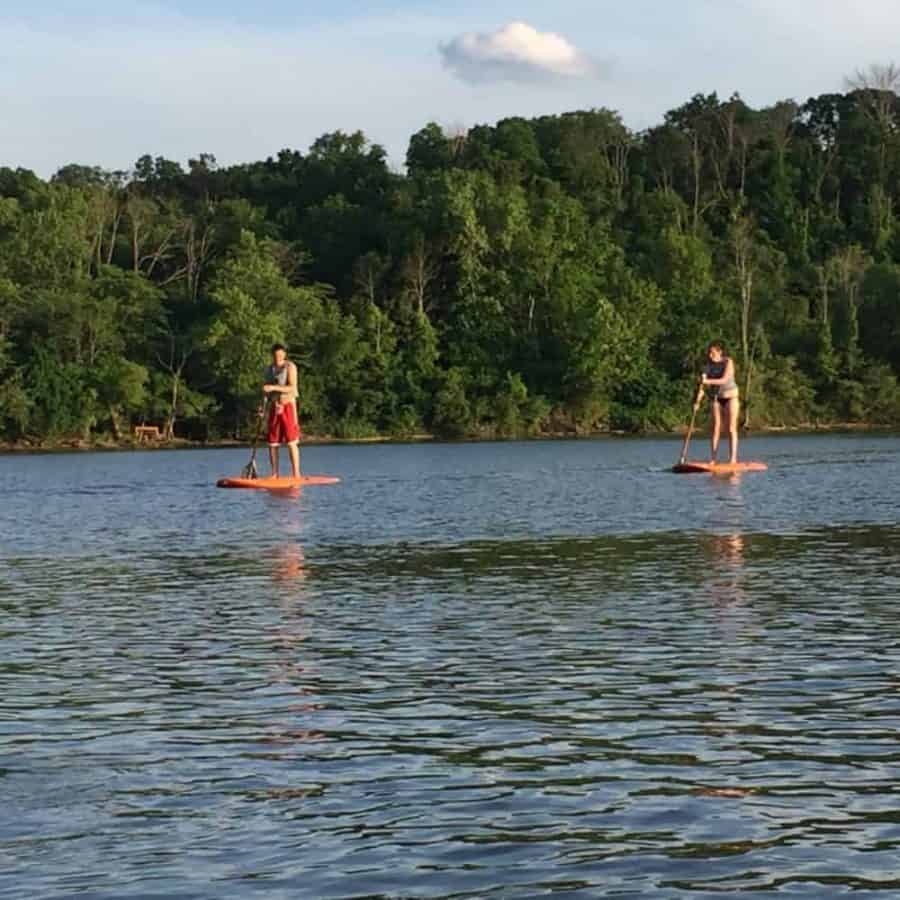 Notice you don't see pictures of ME on the paddleboard. 🙂 Kayaking is much more my style.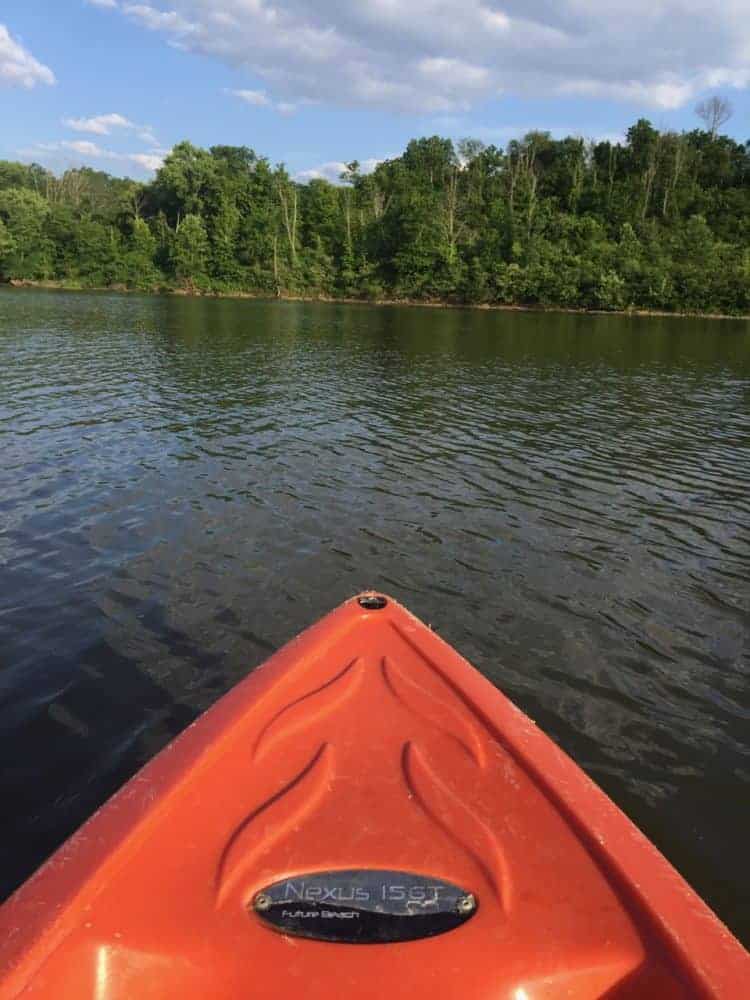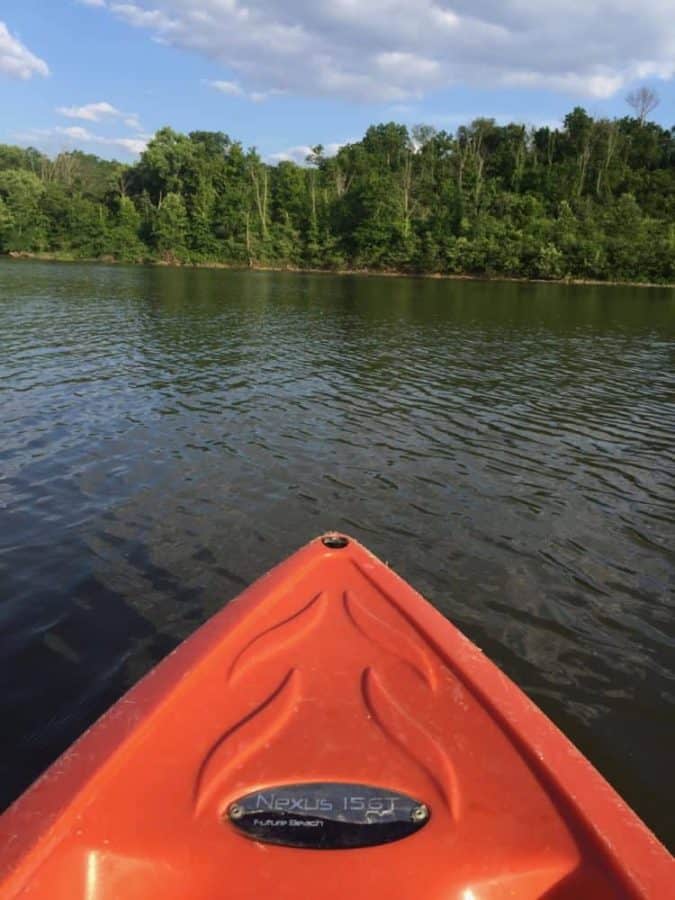 We took out a tandem kayak which was a lot of fun. This was my first time in a kayak and the boathouse staff was very good about telling us what to do and how to get in and out. It was very easy to get going and we felt like pros in no time.
We saw a number of birds on our trip around the lake including blue herons and this flock…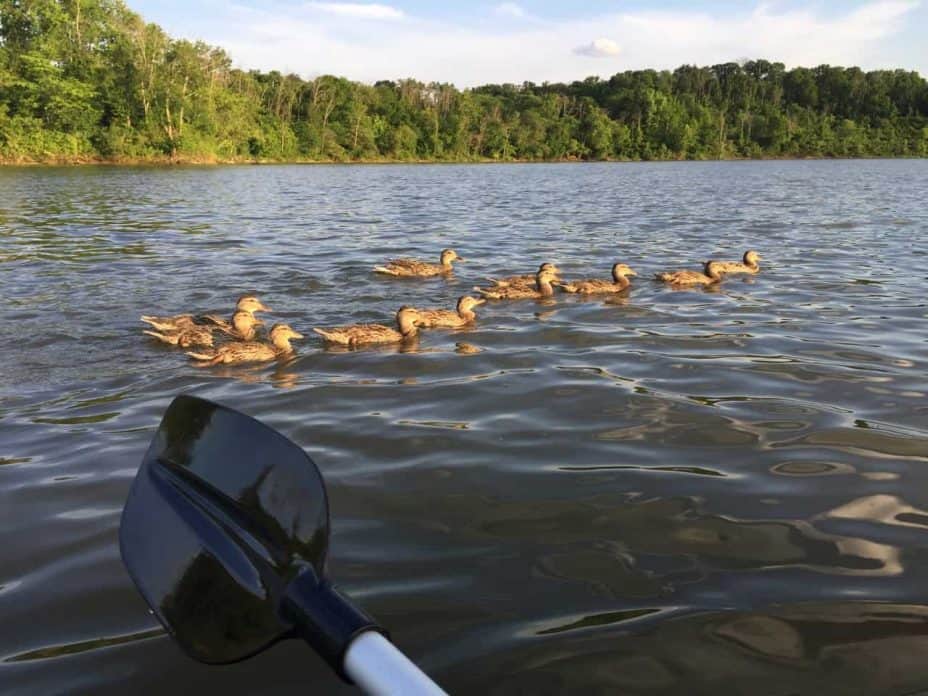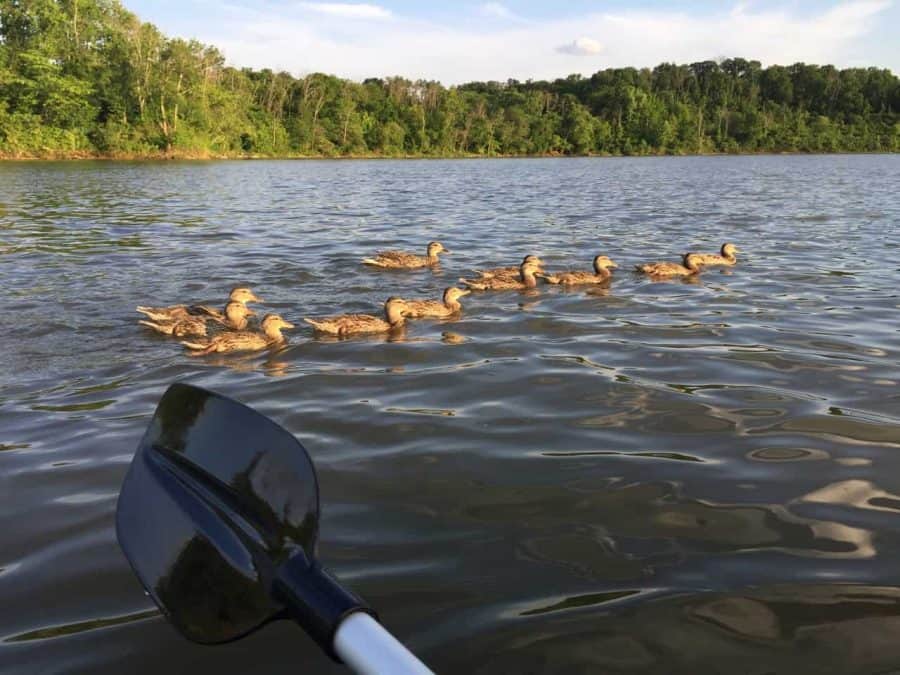 Fishing is permitted at Winton Woods so bring your poles! The 156-acre lake can be navigated from your own canoe and/or kayak or you can rent a boat at the Boat House. Bank fishing is also available. An Ohio State Fishing License is required.
Parky's Farm
NOTE: Parky's Farm (as a whole) is open but the indoor playground is closed (last updated April 21, 2021). In addition, the barn hours are limited and other activities may be closed so be sure to check their site for updates before you head out.
Hop in the car and head a very short distance to visit Parky's Farm.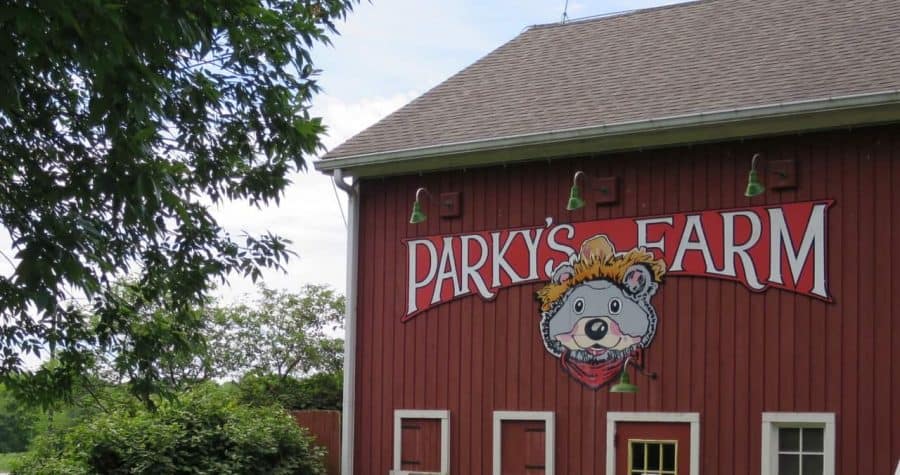 Parky's Farm is a 100+ acre educational farm located within Winton Woods. Here you'll find open fields, barns, farm animals, playgrounds, and more.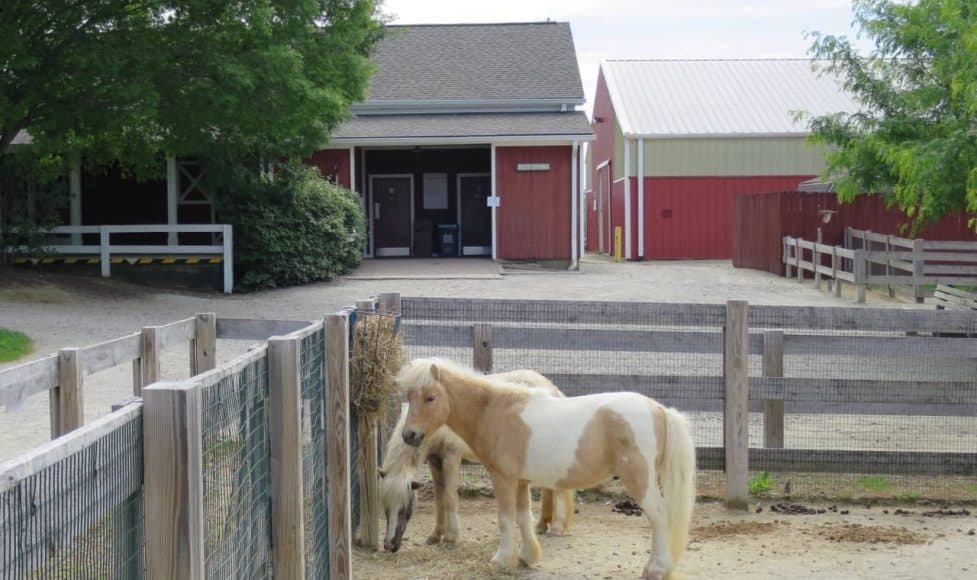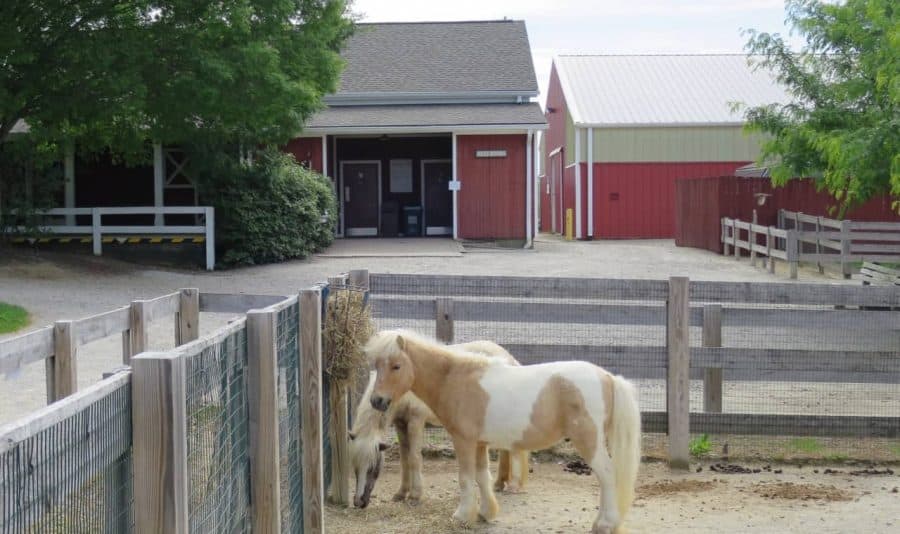 As long as there's no special event going on at Parky's Farm, the grounds are free. Enjoy your afternoon with some playground fun, enjoy the shade of the numerous picnic shelters, and let the kids run in the fields.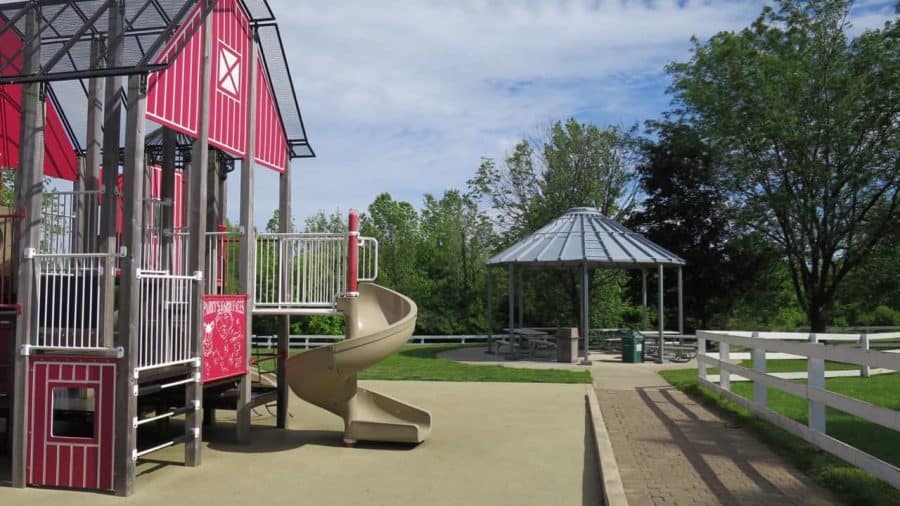 There's plenty of room to roam.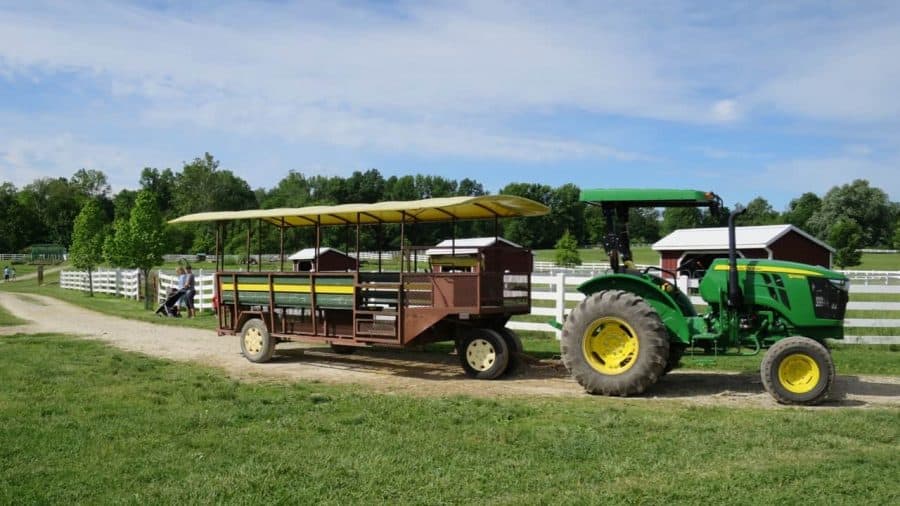 There's so much to see and do at Parky's Farm that we wrote an article all about Parky's Farm right here.
Go Golfing!
Whether you're looking to hit a few balls or play a round of 9 holes, nearby Meadow Links & Golf Academy has you covered.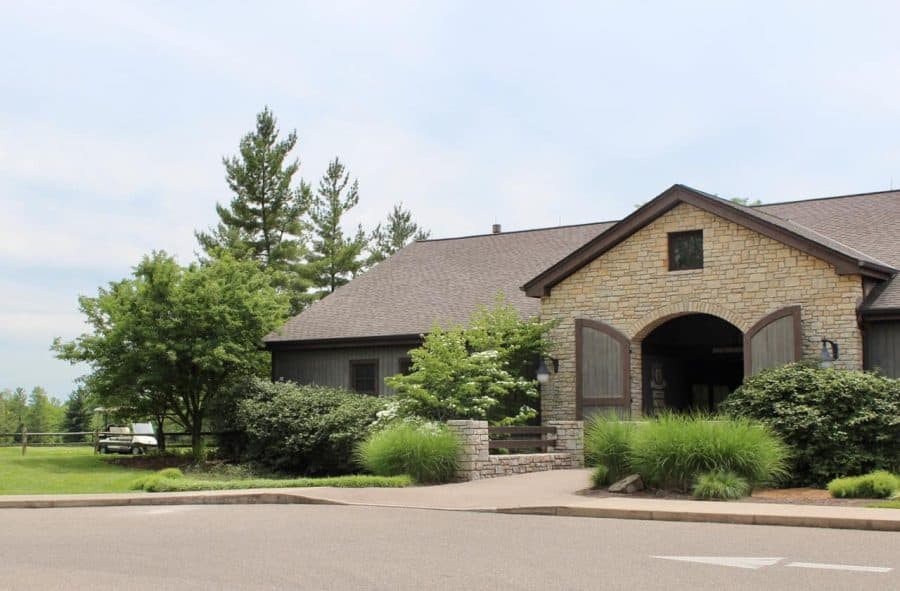 Meadow Links & Golf Academy is located in Winton Woods. The facility offers a 9-hole mid-length course, a covered and heated practice tee and a natural turf practice area.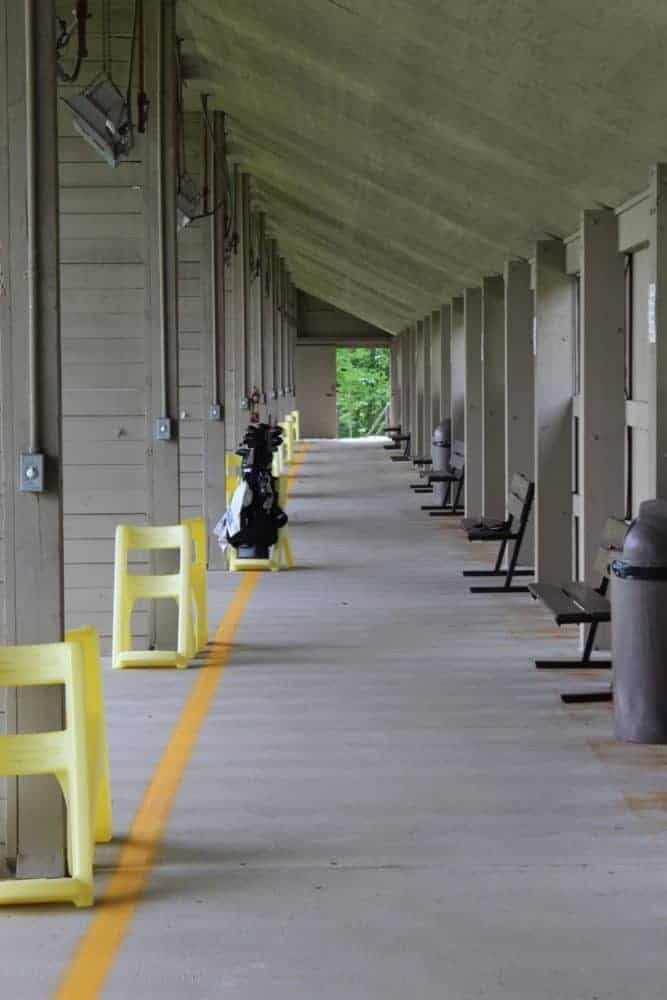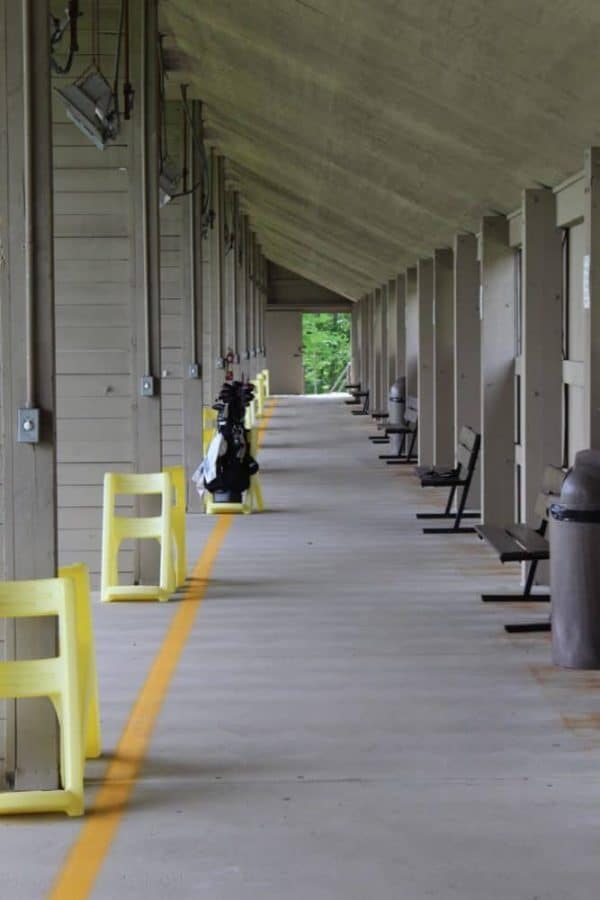 The 9-hole course is a par 31 with five par 3's and four par 4's. Three sets of tees ranging between 1,285 and 2,100 total yardages allow the course to be easily enjoyed by beginning golfers while challenging those that have more experience. It would be a great course on which to teach your young golfers. My son started his golf addiction right here!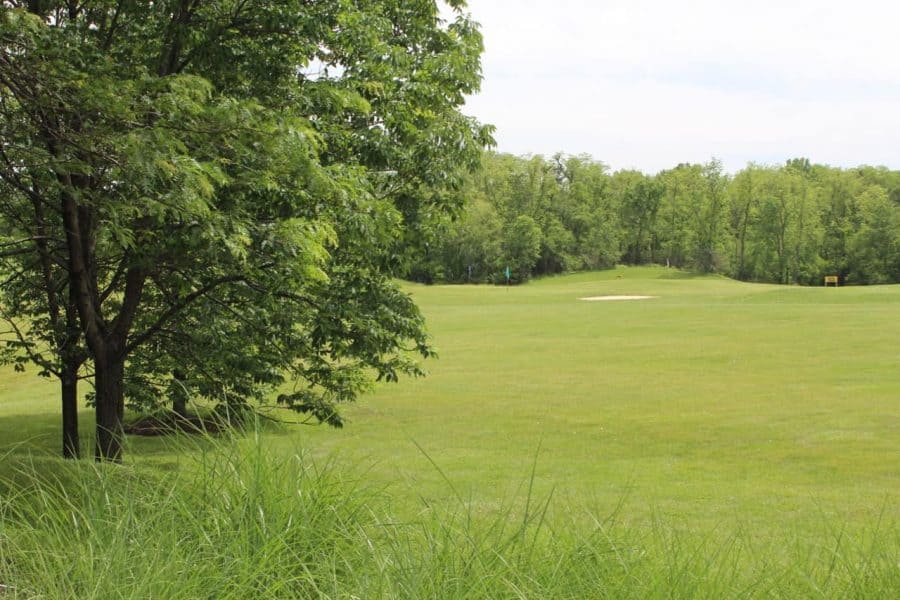 The grounds really are gorgeous. You can walk it or take it easy with a cart.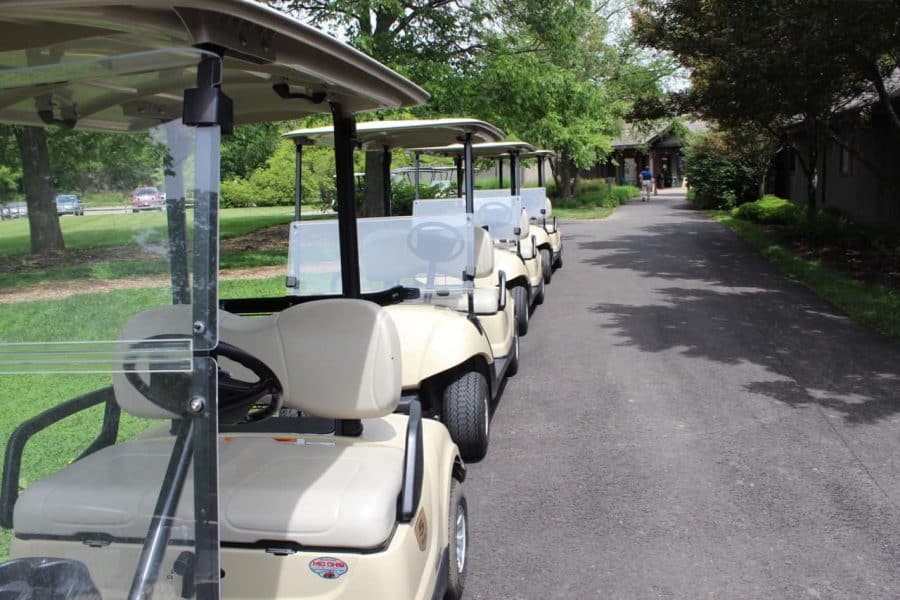 Explore the Outposts
Drive over to Harper's Point (Lakeridge Drive) and enjoy the peace and serenity of this end of the park. You'll find multiple shelters here (can be reserved) as well as a few fantastic little playgrounds. This is our little secret place to play as not many people think to come to this part of the park. We often have the playground all to ourselves.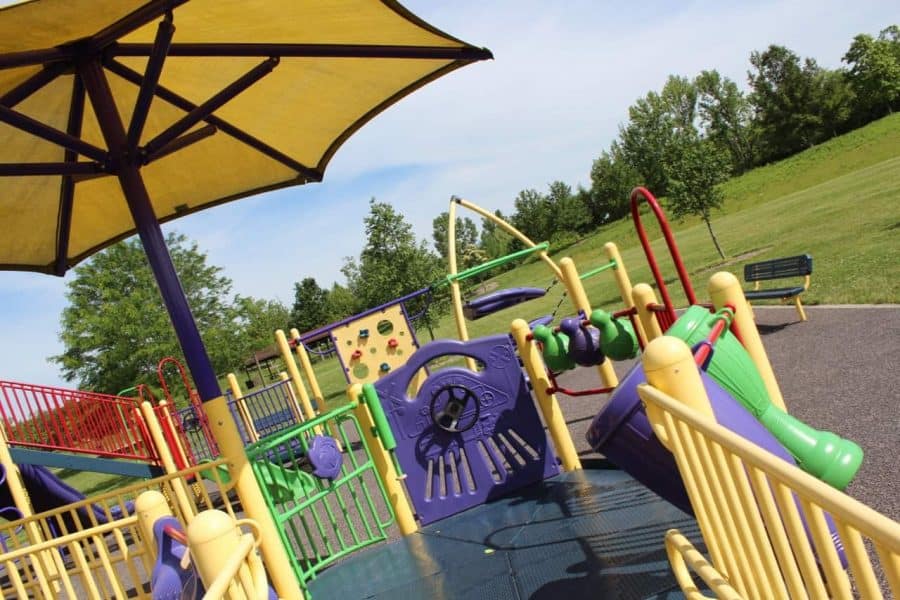 Just a little farther down Lakeridge Drive you'll find an 18 hole Disc Golf Course as well.
Spend the Night in the Campground
And when the day is nearly done, wrap up your staycation with a night at the Winton Woods Campground.
There are 113 campsites, 68 of which are for tent camping. RV spots are available too.
They offer small rustic cabins that would be great if you're just looking for a spot to sleep. I was surprised to see the rustic cabins (8 in total) have air conditioning and heat… and electric. The smaller cabins do not have bathrooms but the campground does have a community bathroom (full facility including showers).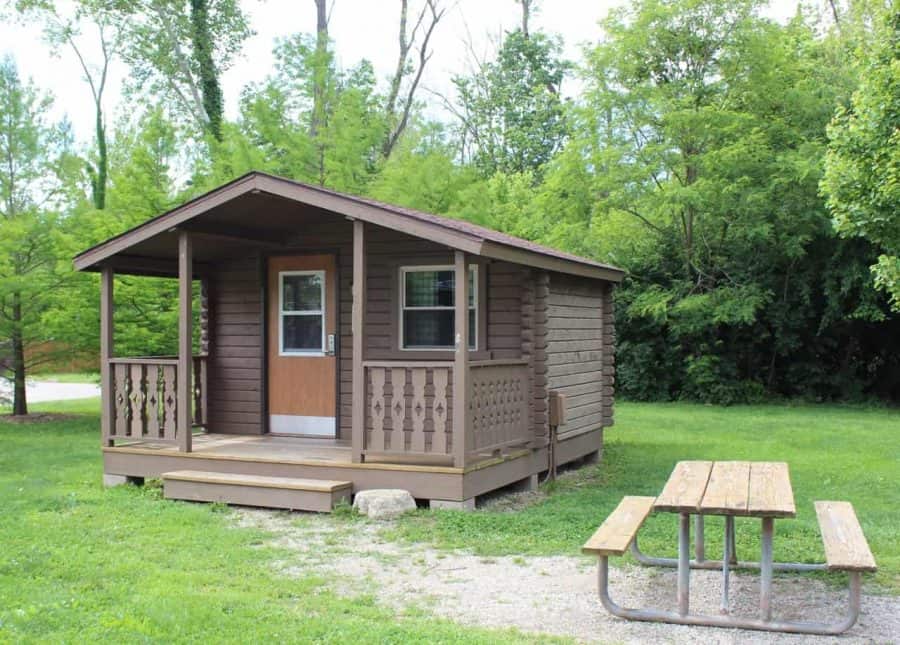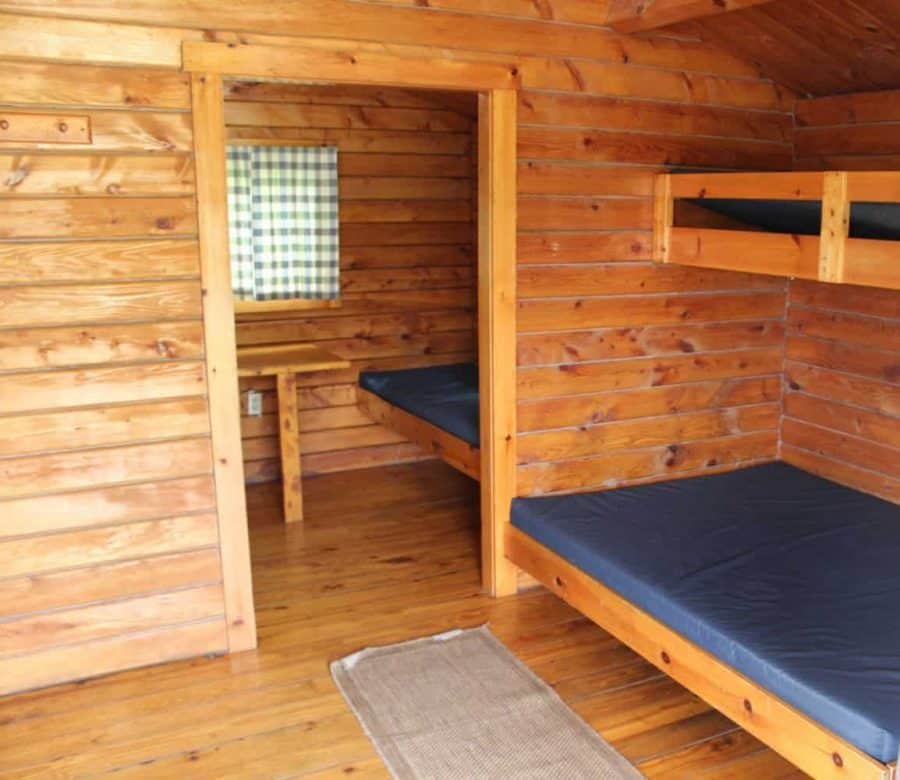 If you do want to make this an overnight excursion, be sure to call ahead to make your reservations (Phone: 513-851-2267).
And if you find that you've forgotten anything while you're there, head to the Campground Office where they have just about anything you might need to get you through the night.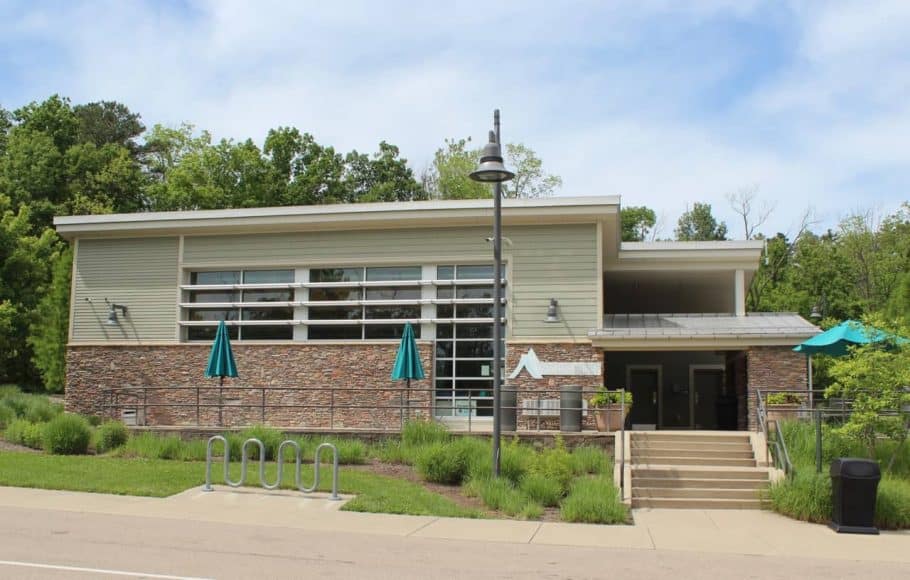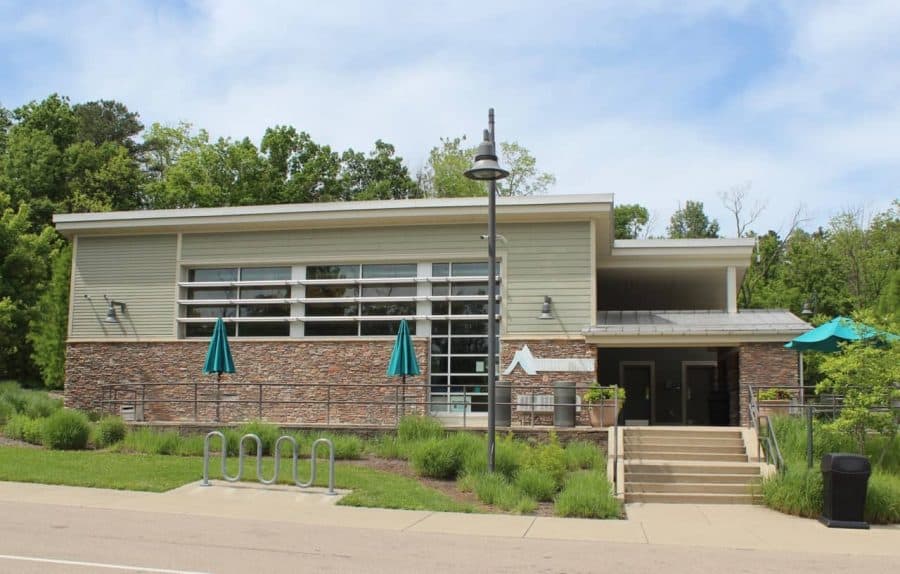 We loved our day of staycation at Winton Woods and hope that it inspires YOU to go enjoy a day of Staycation too!
Winton Woods is located at 10245 Winton Road, Cincinnati, Ohio 45231.
The Great Parks of Hamilton County do require a park pass to enter. Find information about getting a park pass here.