The Changing Leaves
There's something truly magical about walking through the forest in the fall. I love the colors of the trees, the cool air, the smells, and (oddly enough) the dead remnant of summer's wildflowers. There's no shortage of places to enjoy the fall views in Cincinnati. My favorites include Spring Grove Cemetery, Cincinnati Nature Center, Pyramid Hill Sculpture Park, and Sharon Woods.
2. Pumpkin Patches and Corn Mazes
Whether you're looking for the best pumpkin, some fresh apple cider, a hay ride, or a fun hunt through a corn maze – the tri-state area will not disappoint.  Check out our complete list of Pumpkin Patches here.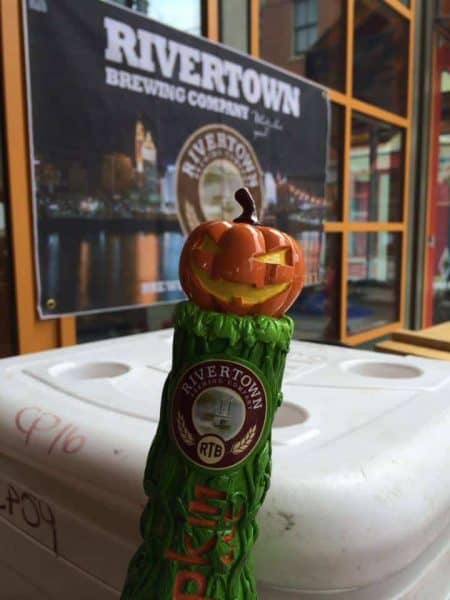 3. Locally Brewed Pumpkin and Oktoberfest Ales
By far, my favorite local autumnal brew is Rivertown's Pumpkin Ale. Seriously, you need to try it. It has a light aroma and just a hint of pumpkiny goodness. You can find it at the Rivertown's own tap room and on tap at various Cincinnati bars and restaurants. Also watch for Mt. Carmel Brewing Company's Seasonal Ale, Oktoberfest Marzen from Christian Moerlein , Oktoberfest Ale at the Haufbrauhaus, Hudepohl's Oktoberfest, and Sam Adams Oktoberfest (brewed here in Cincinnati).
4. It's Finally Sweatshirt and Jeans Weather
enough said 🙂
5. Haunted Houses and Haunted Tours
Whether you believe in ghosts or not, haunted tours of Cincinnati are a good time.  Not only will you learn about some interesting subjects, you'll hear some hauntingly good tales of Cincinnati history. Don't miss our complete list of Haunted Houses and Haunted Tours here.
6.  Steaming Cups of Pumpkin Coffee and Chai Tea
Nothing says fall to me like a good cup of steamy chai tea or pumpkin coffee. If you're looking for a locally owned spot to enjoy the October beverage of your choice, check out one of my favorites: Coffee Emporium, Coffee Please, or Reality Tuesday Cafe.  And if you're looking for a great source for tea to make at home, look no further than Churchill's Fine Teas (locally owned).
7. Tailgating and Football
Whether it's a Bengals game, a Bearcats game, or a high school game – Cincinnati knows its football and how to have some fun along with it.  You can enjoy a Bengals tailgate party along the Banks before each home game, you can find a number of Bengals tailgate parties in the parking lots surrounding Paul Brown Stadium,  and/or you can enjoy the Bengals game on the big screen at Fountain Square.
8. Enjoying a Few Last Nights Sitting Outside
So many patios, so little time! Sitting outside in the fall to enjoy a cold beverage and a hot meal is one of my favorite things. I still need to get to the 21C Hotel to enjoy their rooftop deck before it gets too cold. And while you can't take food with you, you can enjoy a cold one on the roof at Rhinegeist. Century Inn has a great outdoor deck, as does 50 West Brewery, The Hofbrauhaus, and Pirate's Cove.  Enjoy 'em while you can!
9. Halloween Candy
Be sure to make a trip in to see the fine folks at Minges Candy (locally owned) to pick up your bag of goodies to hand out (or some wax lips for your costume needs). While you're there, peruse the candy that's made right here in Cincinnati including French Chews and Papa's Cream Eggs. Minges Candy is very close to Cappel's as well – a great companion stop for Halloween.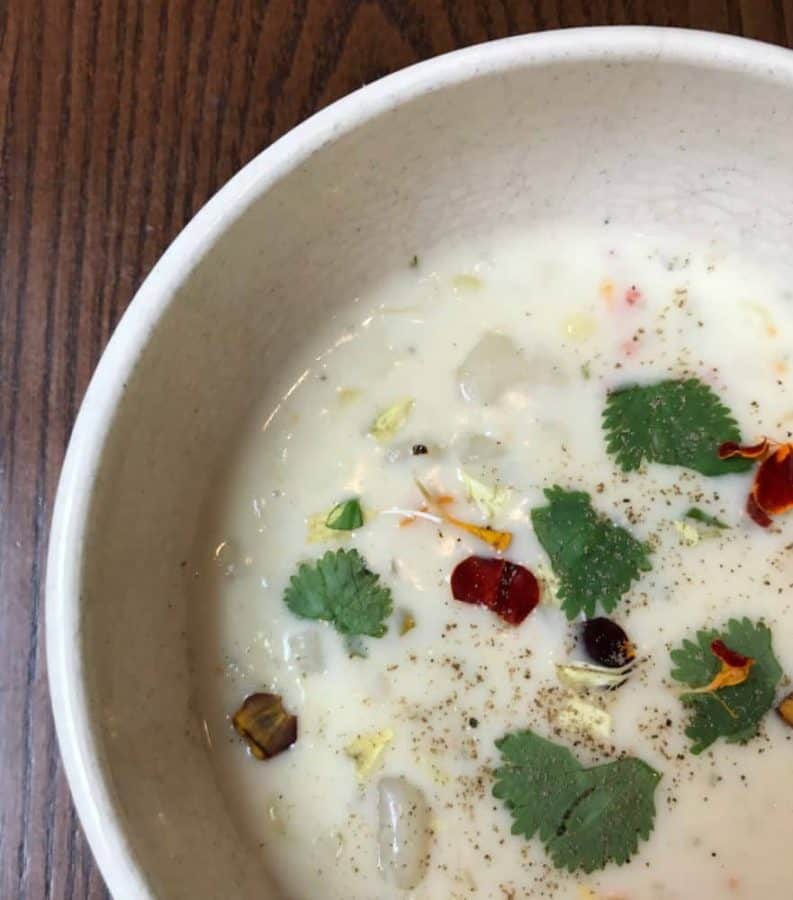 10. The Return of the Days of Soups and Stews.
One of my favorite soups in town is Nada's Butternut Squash Soup.  And while they have it on the menu in months other than October, it just doesn't seem right to eat it when it's not autumn!
And if you're lucky enough to find Salazar's Sweet Corn Chowder on the menu when you go there, be sure to have it. I can honestly say that is the best soup I've ever had (pictured above).
Did you notice that stink bugs aren't on my list? We certainly have them this October in Cincinnati… not my favorite!