Last updated: December 10, 2020 (first appeared here in Oct., 2013)
Pyramid Hill Sculpture Park may just be one of my favorite spots in which to spend the day. While it's beautiful all year long, it's especially pretty in the fall.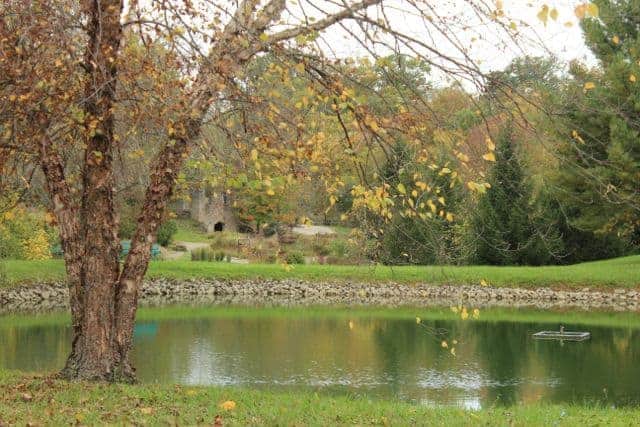 I ventured out to Pyramid Hill Sculpture Park with my friend and fellow blogger, Nedra from Advenure Mom and my friend Lori. I'd been to Pyramid Hill once before but it had been a while and I was dying to go back. The last time I went I did quite a bit of walking on the trails that wander around the grounds so this time I was ready to focus on the art for which Pyramid Hill Sculpture Park is so well known.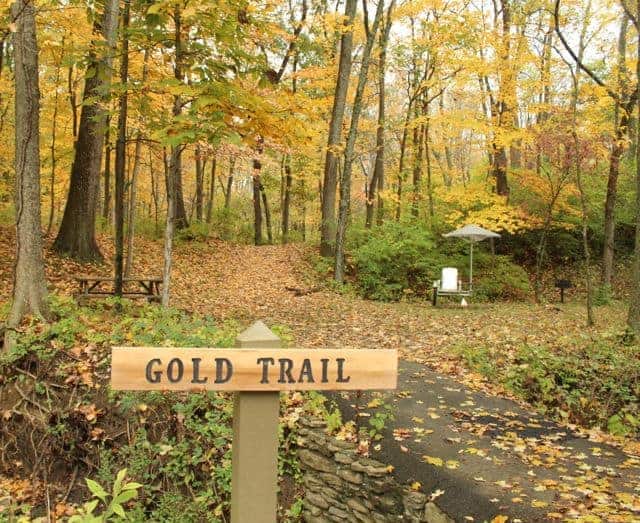 It was raining when we arrived so we ventured inside, something I didn't do the last time I was there. While the rain seemed like such a bummer when we arrived, forcing us inside could not have worked out better. Because what we found inside is not to be missed…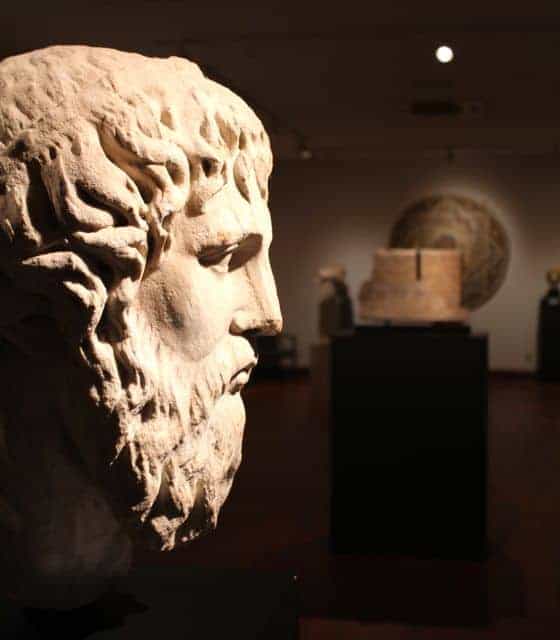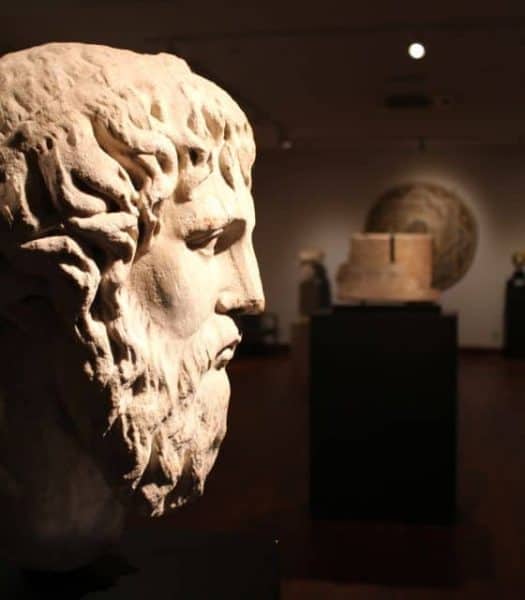 What did we find? The Ancient Sculpture Museum. It sits roughly in the middle of the park and is indoors. It was a nice place to spend some time while we waited for the rain showers to subside. In this building, you'll find a number of ancient (and I do mean ANCIENT!) pieces of sculpture, some dating back to B.C.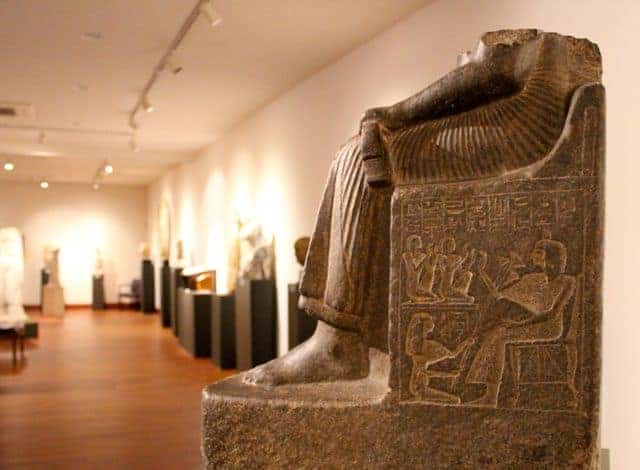 The collection of antiquities has been purchased over the years by Harry Wilks, founder and director of Pyramid Hill Sculpture Park (more on Harry below). He purchased these items at auction – from Christie's and Sotheby's in New York – for his own collection and home. Thanks to his dedication and generousity, the public can now enjoy these pieces which reside in the park's Ancient Sculpture Museum (which opened in 2009).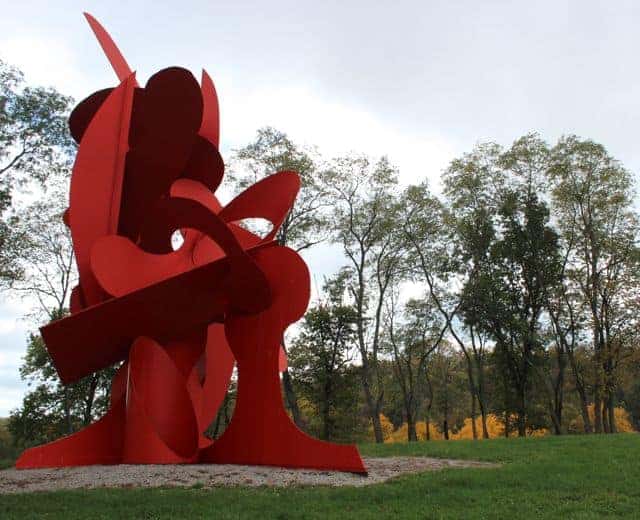 After the rain stopped, we headed out to explore. We were lucky enough to visit the park while the trees were just starting to turn. But with over 300 acres, 7 lakes, multiple gardens, and trails, there is always something to see and admire.
The park can be explored in your own car as there are blacktop roads throughout. But if you really want to get the full experience, rent one of their "Art Carts" as we did.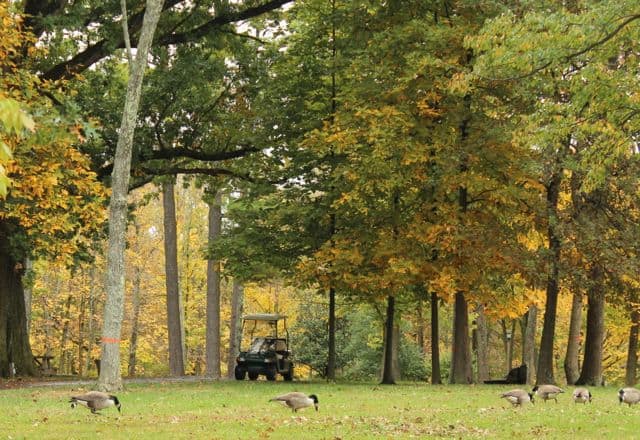 It was a lot of fun to drive and allowed us to quickly and easily hop out to explore. We didn't venture off the blacktop (there's sooo much to see) but you're allowed to take the Art Carts on the hiking trails. To be honest, I just read that on the brochure I brought home. If I'd known we could do that we would have done that too :). I was, after all, with someone called "Adventure Mom"!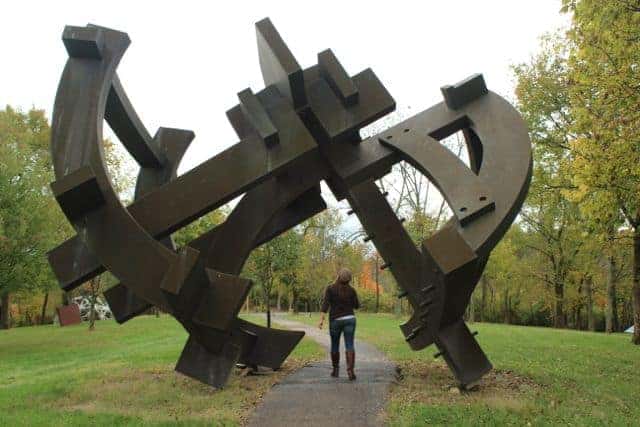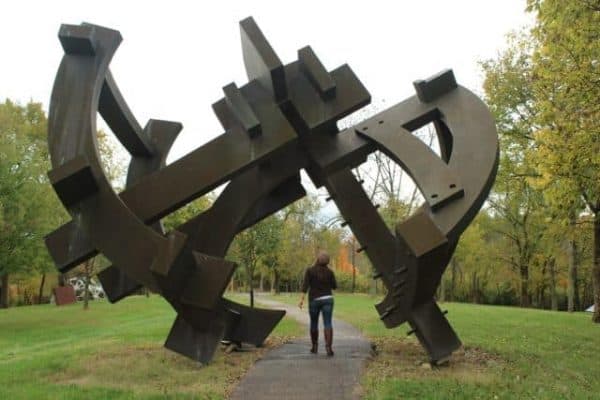 There's Nedra walking under one of the humongous sculptures. Around the park you'll find 60+ pieces of sculpture. Some are rather large, some are smaller, some are new and some are older. For the most part, the outdoor sculptures are made from aluminum, stainless steel, and stone. But we did come across a few that are wooden too…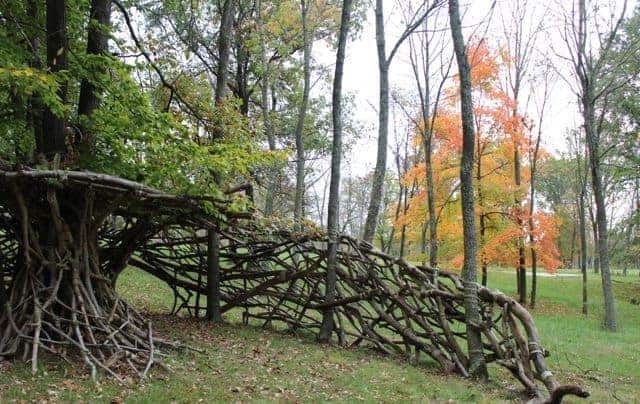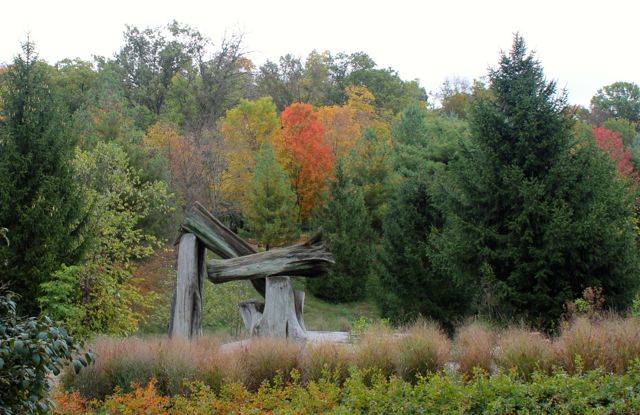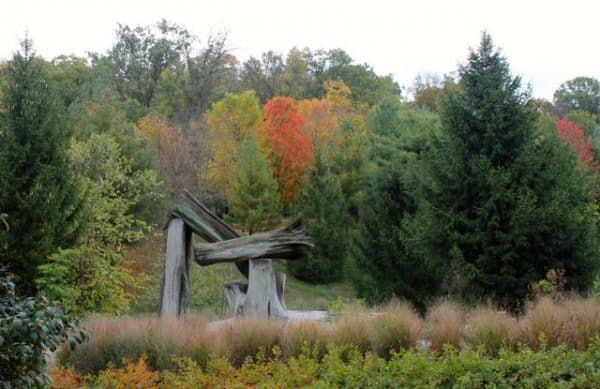 One of my favorite views includes the lakes with hills behind, often housing grazing cattle. The sculpture below is a new addition from artist Barton Rubenstein. He specializes in "Gravity Free" sculptures. This one is called "Skybound" and stands 30′ tall and weighs more than a ton!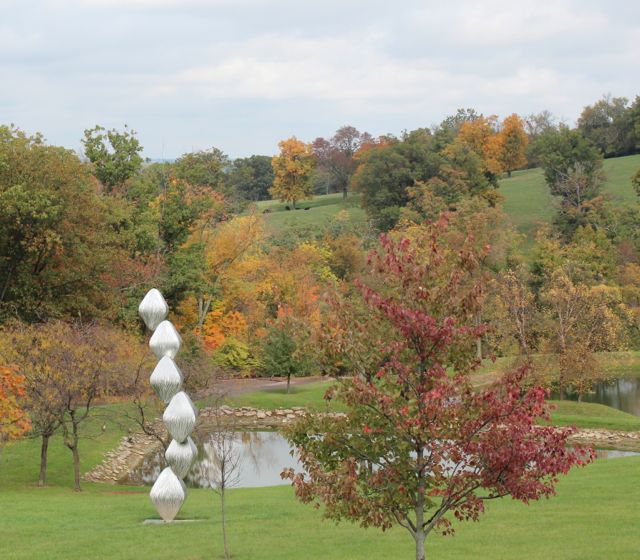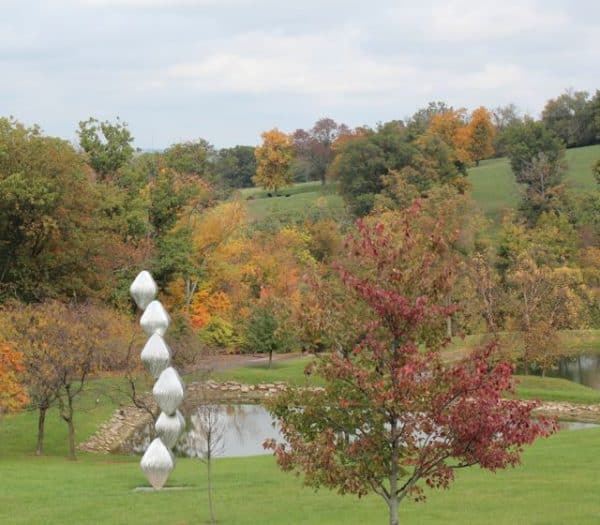 One of my favorite sculptures was this one (below) of Romeo and Juliet. On this side of the sculpture you'll find Romeo (clutching a dagger) with his hand up to the heart and on the other side, Juliet clutching a vile and reaching for Romeo at the open heart.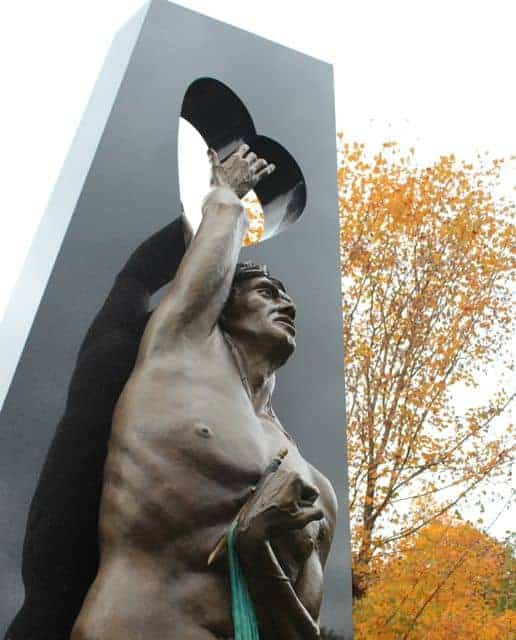 After driving our Art Cart around the grounds and taking in the amazing sculptures and trees, we were very surprised to stumble upon this….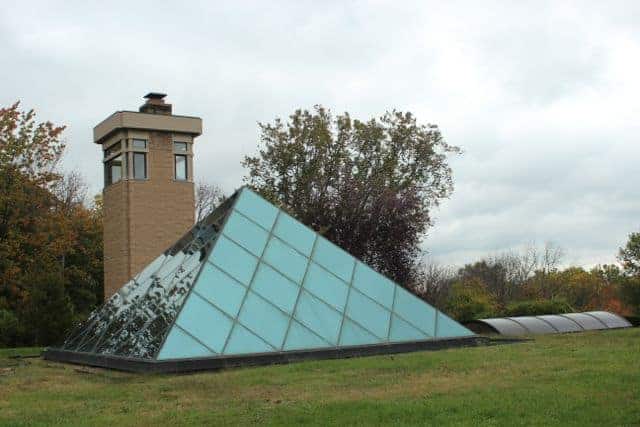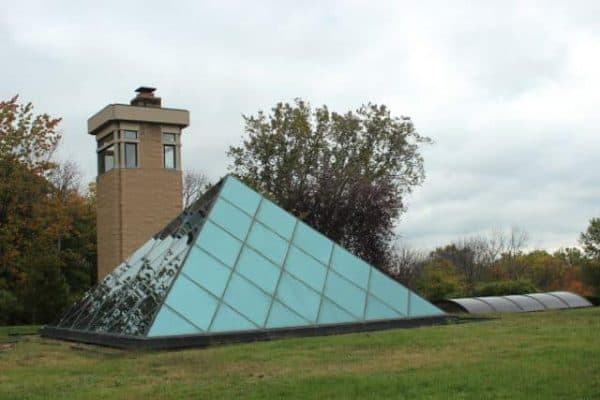 Edited later to add: Sadly, Harry Wilks passed away in 2014 at the age of 89. I'm leaving the info about meeting Harry here as our visit was so wonderful. He will be missed!
That, my friends, is the UNDERGROUND home of founder Harry Wilks. And you might say that it contributed to the park's name as well as serving as the first structure put into place on the land. Harry Wilks (pictured below) purchased his first 40 acres of land here to build a house. At that time, the land was nothing like it is today. Harry cleared this spot and realized the hill had the same slope on both sides… and the idea of building a house underground came to him. He designed the 7,000 square foot home himself. The pyramid provides light to the 2,500 square foot living room below (and later became the perfect place to compliment and display his antiquities).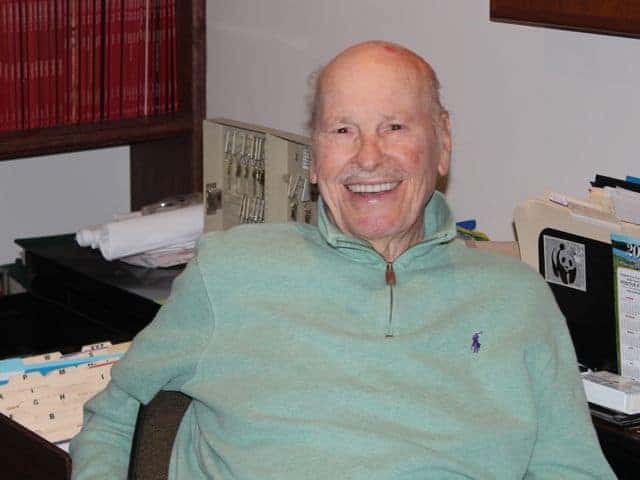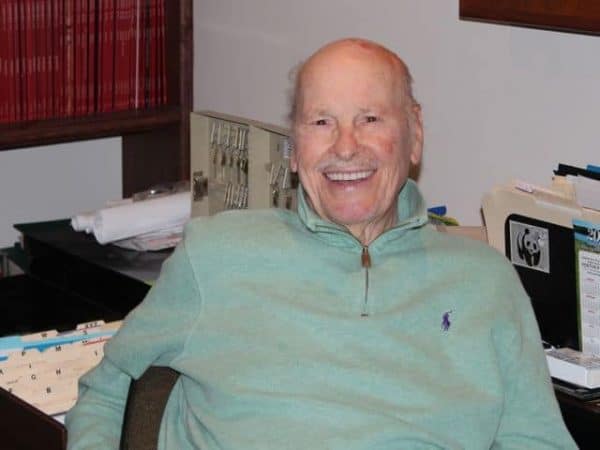 We were so thankful for the time Harry spent with us that day. This 88 year old man has more energy and drive than many 20 year olds! Above you'll see him in his office (which is adjacent to his ancient sculptures). Along the walls you'll see pictures of Harry with the Dalai Lama, Bill Clinton, Mikhail Gorbachev, and many more. A retired attorney, Harry grew up in Hamilton and attended Miami University and the University of Cincinnati. I wish we had more time to spend just chatting with him. His stories would be amazing. But, alas, Harry had meetings scheduled and we had kids getting home from school so our time together had to end.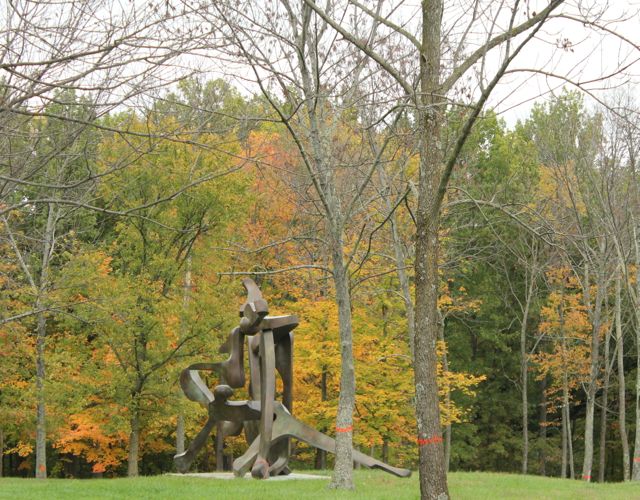 We all agreed that this place is one hidden gem that Cincinnatians NEED to discover!
Pyramid Hill Sculpture Park is located at 1763 Hamiltion-Cleves Road (Route 128)
There is an admission fee (see site for details).
Keep up with their events and activities on Facebook