Warmer weather is finally coming around, and Cincinnatians (and visitors!) are ready to come out of hibernation. While we love a good outdoor patio and beer garden, there's something about a rooftop bar that feels a little more "summer".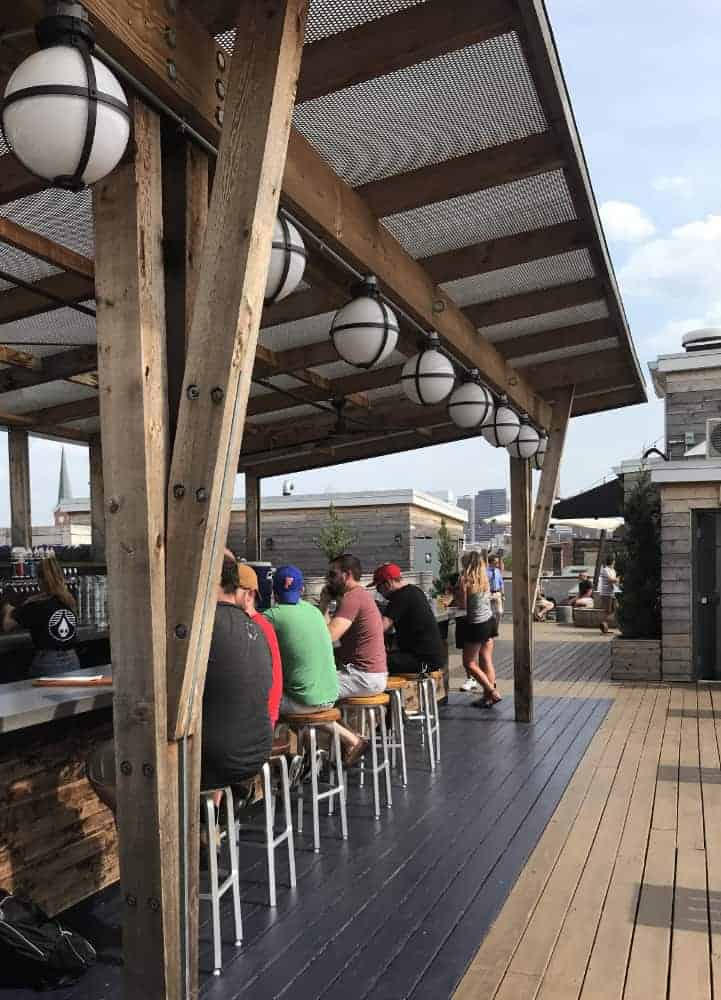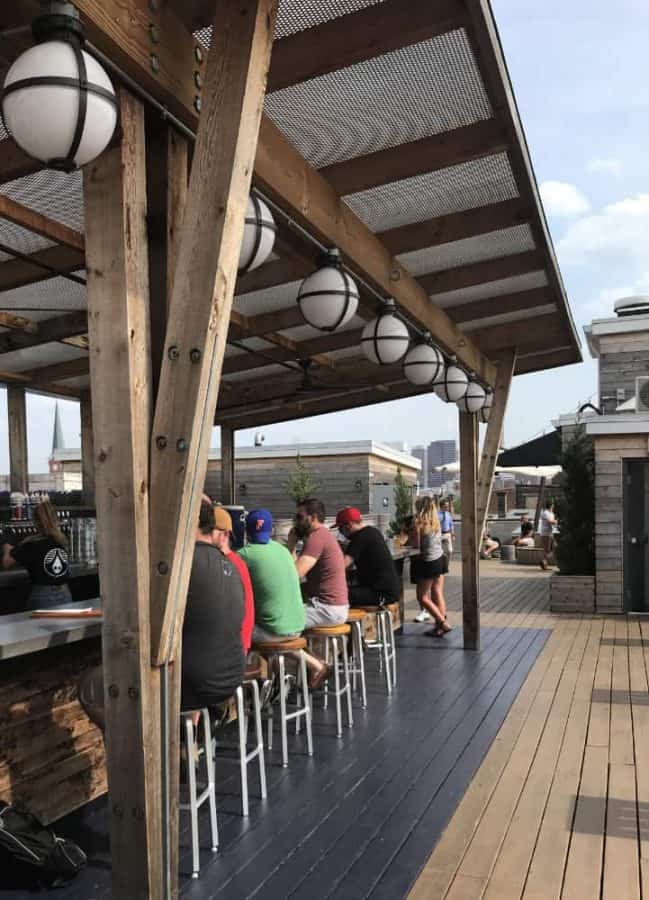 Whether you prefer upscale cocktails and dinner for date night or a laid-back, family friendly Saturday afternoon – there's a rooftop venue waiting for you in Cincinnati this summer.
For our fellow outdoor-lovin', sunshine-seekin', beer-drinkin' friends, here's our list of can't-miss rooftop bars and patios to enjoy this spring and summer in Cincinnati, Ohio and Covington, Kentucky.
---
Some locations are open seasonally, and all are weather-permitting. Be sure to call ahead before your visit to ensure it is open. Several locations are family-friendly, but (as always) you must be 21 years or older to drink.
---
Rhinegeist (rooftop is seasonal)
(513) 381-1367
1910 Elm St., Cincinnati, Ohio 45202

"Sun's out, suds out." No Cincinnati rooftop list would be complete without Rhinegeist! Serving a wide range of beer, cider, cocktails, and wine – Rhinegeist is a sunny day, laid back, go-to spot for those 21+. No outside food or drinks are allowed on the rooftop, so be sure to stop by some neighboring OTR eateries to grab a bite before heading up. On your way up to the rooftop, you can stop in their (enormous) indoor taproom to play cornhole or buy some of the popular Rhinegeist merch you've seen around town. For the hungry ones – the taproom does allow food, and tables can be reserved for large groups.

Website
---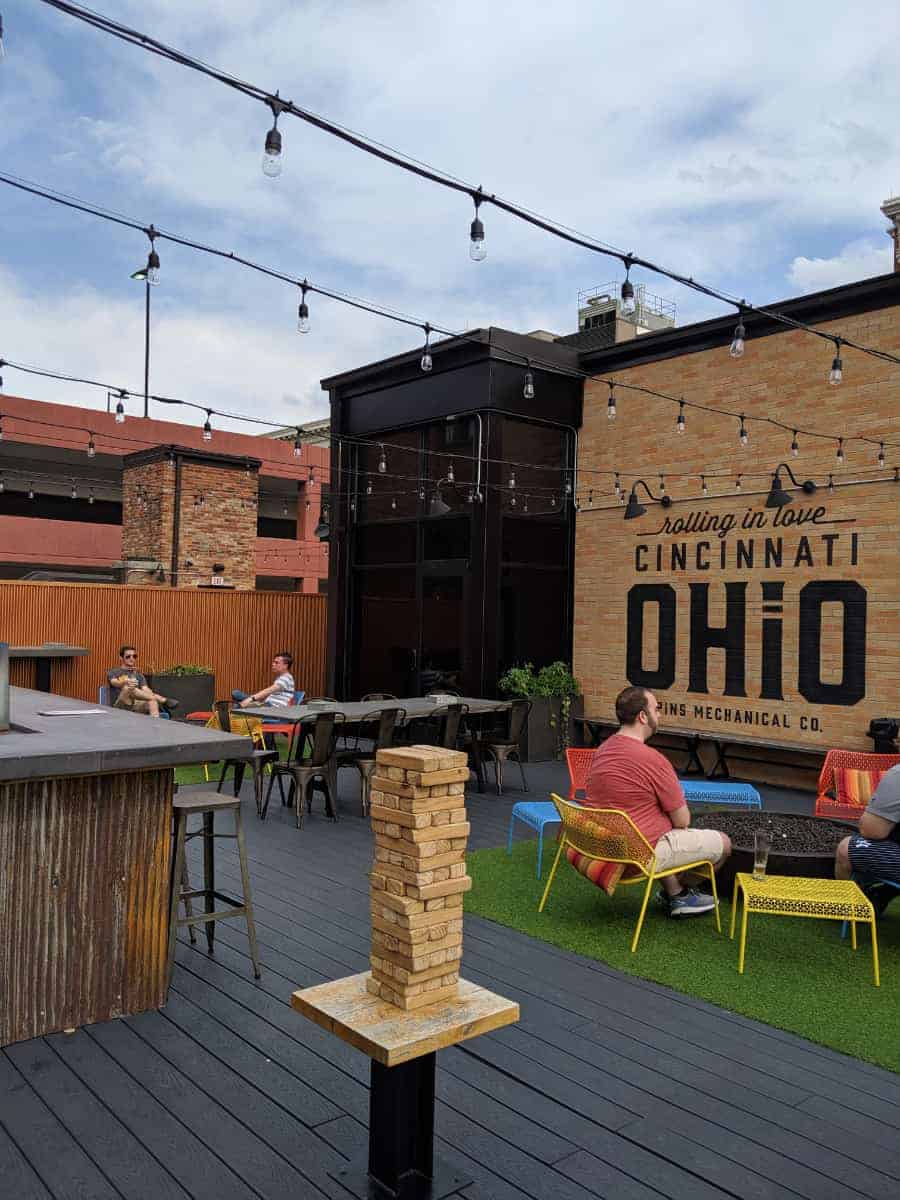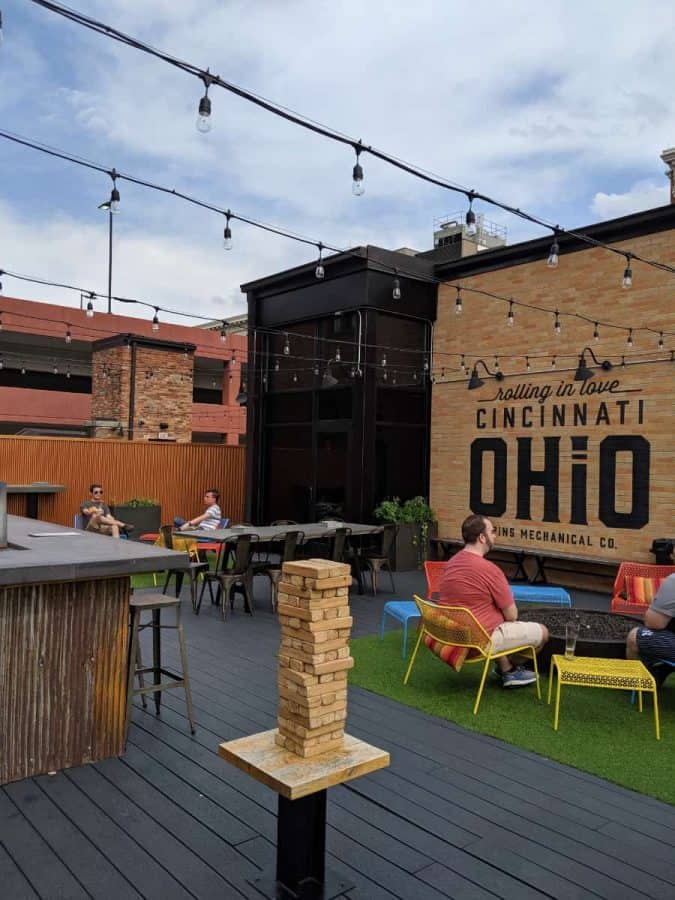 Pins Mechanical Company
(513) 964-7746
1124 Main St., Cincinnati, Ohio 45202

While Pins is usually known for their games inside, they are also making a name for themselves with their rooftop. Take in some of the best views of OTR or sit by the fire pits while sipping on some of the region's best draft beer – or cocktails, punches, and wine if that's more your thing. All ages are welcome until 8pm (when it becomes 21+). Inside, enjoy a game of foosball, pinball, ping pong, and duckpin – if you really love pins, you can even sign up for a duckpin league.

Website
---
Bishop's Quarter
(513) 214-3882
212 W Loveland Ave., Loveland, Ohio 45140

Located in the heart of Loveland just off of the Loveland Bike Trail, Bishop's Quarter is a three-story bar – each floor with its own focus. The first floor has a French Quarter feel with a classic cocktail bar, a back patio, and a selection of over 40 bourbons. The second floor is a cozy, comfortable spot (complete with a fireplace) to sip on a variety of wines. The third level – the rooftop! – offers a bar with craft beer, TVs, and an outdoor area to hang out with friends, family, or a date. The restaurant's menu is New Orleans inspired with Southern favorites. Reservations are not available, but the venue can be booked for special events.

Website
---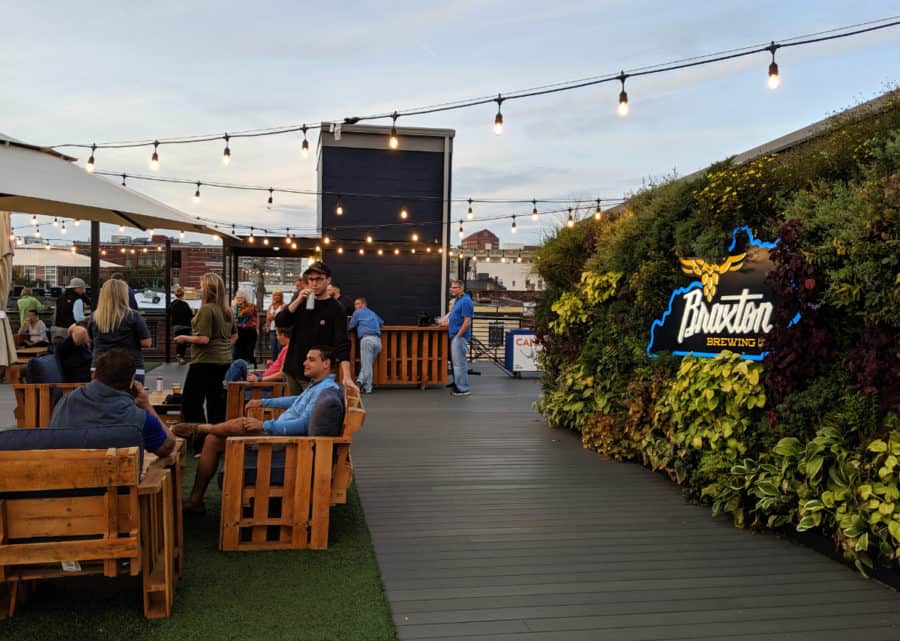 Braxton Brewing Co.
(859) 261-5600
27 W 7th St., Covington, Kentucky 41011

Braxton's headquarters and "forever home" now has a rooftop! Enjoy a Braxton beer or VIVE Hard Seltzer on the 5,000 square foot rooftop with plenty of seating, open lawn space, and one-of-a-kind views of Cincinnati and Covington. 20 beer taps, VIVE Hard Seltzers and a cocktail menu means there's something for everyone (ages 21 and older, of course). There is no food menu – so be sure to bring a snack with you, or feel free to order a pizza or other options from local Covington eateries. Open every day, and all ages are welcome before 8pm when the rooftop transitions to 21 and up.

Website
---
The Blind Pig
(513) 381-3114
24 W 3rd St., Cincinnati, Ohio 45202

River views + great beer. What more do you need? This "modern-day speakeasy" is the perfect spot to swing by (or stay awhile) on your way to a Reds game or the Banks. Stop by often to partake in Monday karaoke and Tuesday trivia, or try out their weekly drink specials and grab a bite from their app, salad, and sandwich menu.

Website
---
Top of the Park
(513) 651-1234
506 East 4th St., Cincinnati, Ohio 45202

Meet up with friends at the Top of the Park rooftop at the historic Phelps building for cocktails, tapas, and skyline views. The rooftop is also available to reserve for small private events, including wedding receptions and corporate functions.

Website
---
AC Upper Deck
(513) 744-9900
135 Joe Nuxhall Way, Cincinnati, Ohio 45202

Offering a wide range of wine, beer and cocktails, the Upper Deck also offers a robust menu including fun favorites from charcutterie to s'mores, fondue, and flatbreads. Clear "igloos" are available by walk-in and private hire. Groups can book the rooftop for happy hour, birthday parties, and other private events.

Website
---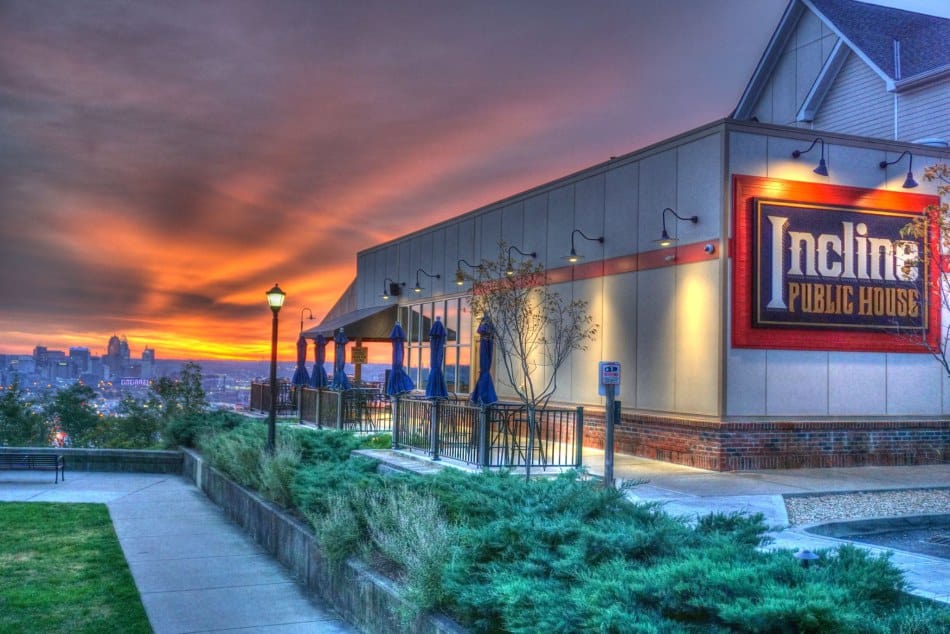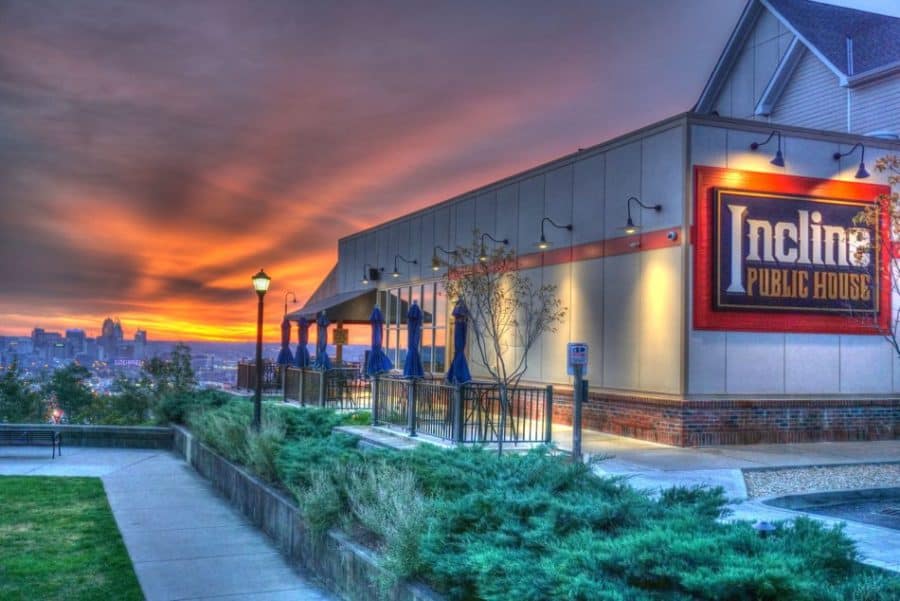 Incline Public House
(513) 251-3000
2601 W 8th St., Cincinnati, Ohio 45204

The original Incline was opened by William Price in 1874, but closed in the 1930s. Today, the Incline Public House has revived the historic spot, offering one of the best views of the Cincinnati skyline in the city. A 1,400 square foot deck sits 60 people, where you can enjoy a variety of craft beer, wine, and cocktails (and a tasty food menu which includes gourmet sandwiches, pizzas, and salads).

Website
---
Krueger's Tavern (Hoping to open Summer 2022).
(513) 834-8670
1313 Vine St., Cincinnati, Ohio 45202

70+ craft brews and house made burgers, sausage, and more. Krueger's rooftop has a cozy, intimate feel – making it the perfect date night or gathering spot to stop for dinner and a drink while in Over-The-Rhine. Reservations are available online, and private events can be booked for the top floor and rooftop for your next birthday, family gathering, work event, or reception.

Website
---
Gaslight Bar & Grill
(513) 861-3663
351 Ludlow Ave. Cincinnati, Ohio 45220

A classic fixture in the heart of Clifton, the Gaslight's building first housed the Clifton Branch Library for 60+ years. Today, its tall windows and rooftop views of Clifton offers a vibrant and eclectic gathering place for friends and family. The Gaslight is one of the more upscale rooftops in Cincinnati, with a selection of 20+ wines and both local and national beers, ciders, sours, and seltzers – as well as a variety of small plates, soups, sandwiches, and entrees. The kitchen is open from 11am – 10pm Monday through Saturday, with the full bar open late. Reservations are available online.

Website
---
The View at Shire's Garden
(513) 407-7501
309 Vine St., 10th Floor, Cincinnati, Ohio 45202

Inspired by the area's first amusement resort built in its very spot In 1842, The View at Shire's Garden aims to keep the magical feel alive while reinventing the concept into one of the city's most picturesque rooftops – which includes a 2,000 square foot patio with sweeping views of the Banks, stadiums, and riverfront. Indoor and outdoor seating include a variety of elevated menus to suit the occasion for cocktails, brunch, matinee hour, and dinner service (be sure to check the times for these menus before you visit). Parlor A (indoor) can be reserved for group dining events, suiting 40 standing or 35 seated guests.

Website
---
Via Vite
(513) 721-8483
520 Vine St., Cincinnati, Ohio 45202

Located in Fountain Square, Via Vite's rooftop is the perfect spot to grab a drink (and dinner, too!) and enjoy the bustle of Fountain Square or overlook one of its summer concerts. The food menu features Italian classics and new favorites, as well as gluten free lunch and dinner options. Reservations can be made online, and private spaces can be booked for birthdays, wedding receptions, rehearsal dinners, and other special events.

Website