Looking for the best pumpkin patch near you? We've got you covered!
One of the best parts of fall is packing up the family and heading out for a visit to a local farm to pick a pumpkin from the pumpkin patch. Whether you want to pick your own pumpkin, take a hayride, or test your skill in a corn maze, Cincinnati has a number of local spots for fall fun.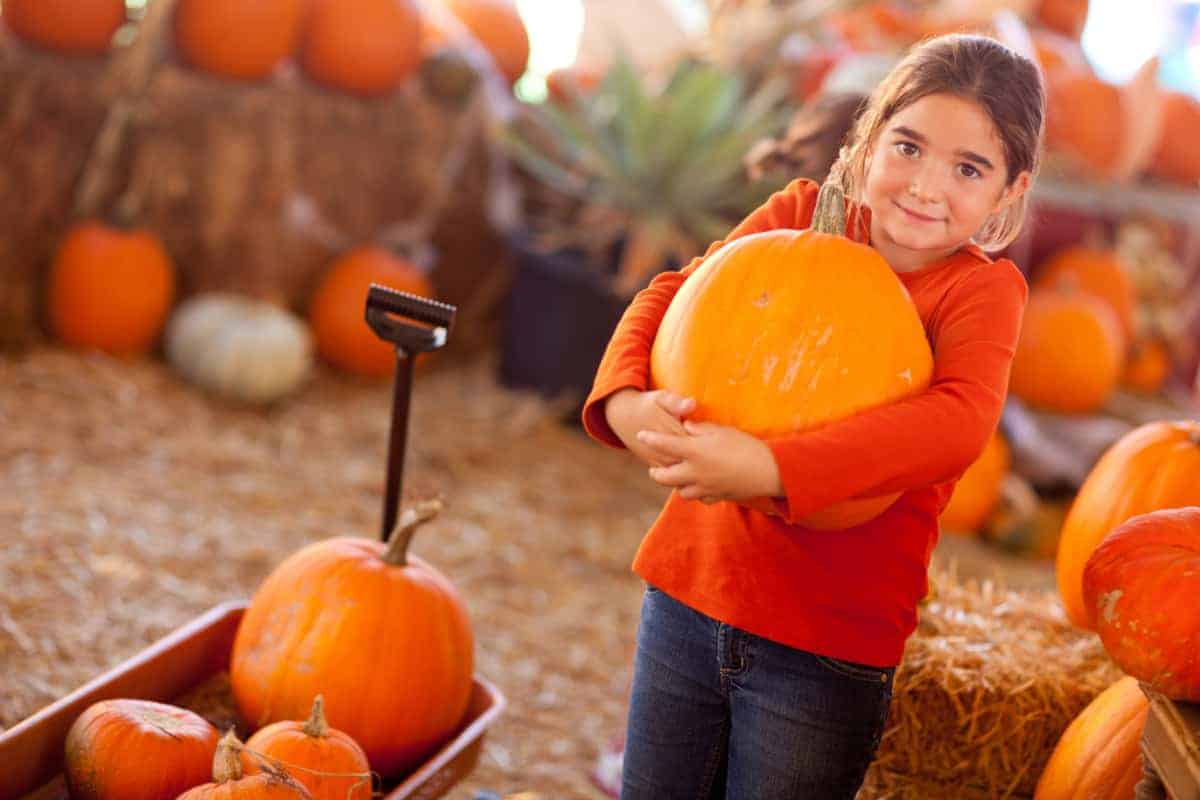 In an attempt to visit some new spots this fall, I created this handy guide for all of the Cincinnati area pumpkin patches. I hope it will help you pick YOUR favorite pumpkin patch and have some awesome fall fun!
Jump to: Pumpkin Patch Near Me | Butler County | Clermont County | Hamilton County | Warren County | Kentucky
---
Please remember the events are likely to be weather dependent. If the weather is "iffy", be sure to check with the farm's website before heading out the door (we've included the phone number for each spot).

In addition, some farms may not accept credit or debit cards so be prepared with cash!
---
Map of Local Pumpkin Patches
Find a Pumpkin Patch Near Me
This is a sponsored section.
Fall on the Farm at Blooms and Berries Farm Market
9669 S. OH-48 Loveland, OH 45140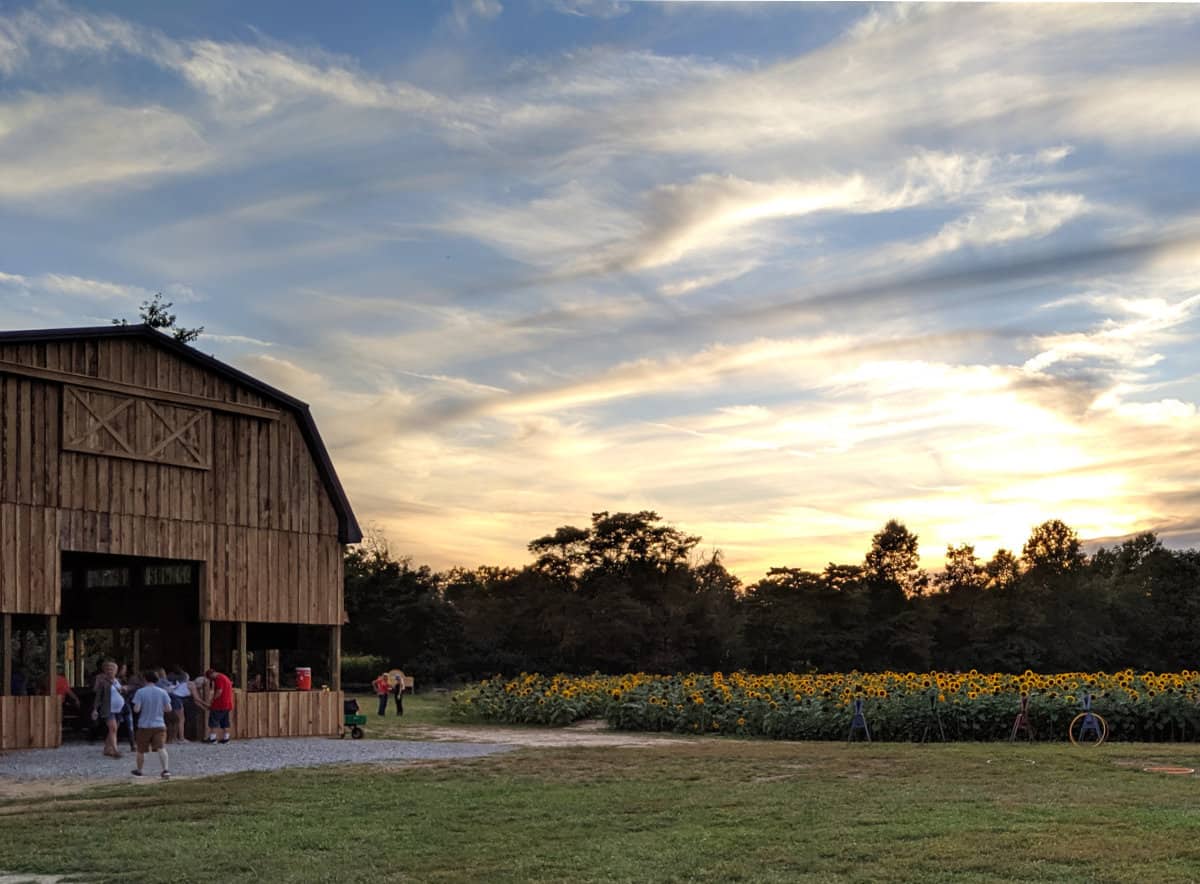 Fall on the Farm at Blooms and Berries Farm Market is one of our favorite fall outings – one we make sure to do each year. In addition to pumpkins they also have hayrides, sunflowers (in Sept.), a beer garden, a market barn, and two corn mazes – a traditional corn maze (5 acres) and one just for the littles.

Open: Sept. 16 – October 31, 2023
(513) 760-1882
Enjoy Fall on the Farm at Blooms and Berries Farm Market

Pumpkin Patches in Butler County
Fall Fun at Niederman Family Farm
5110 Lesourdsville West Chester Rd., Liberty Township, Ohio 45011
This 4th generation farm is home to dairy cows, chickens, pigs, corn, hay, and more. General admission includes a 4 acre corn maze, hayrides, a jumping pillow, climbing web, and more. You can even rent bonfire rings!

Open: Sept. 22 through Oct. 29, 2023 (Thursdays through Sundays only)
(513) 779-3228
Website
Pumpkin Patches in Clermont County
Burger Farm & Garden Center
7849 Main Street (ST. RT. 32), Newtown, OH 45244
Enjoy their fall festival events on weekends only, Sept.24 – Oct. 30, 2022. Admission includes a hay ride to the pumpkin patch, a giant jumping pillow, large playset area, giant straw castle, a challenge course, vine climb, mini zip lines, live entertainment 1-4pm, and much more. Last hayride at 5pm.

Open: Saturdays and Sundays, Sept. 30 – October 29, 2023
(513) 561-8634
Website
Shaw Farms
1737 Ohio 131, Milford, Ohio 45150
Shaw's Fall Festival includes lots of fall on the farm fun including tractor or horse drawn hay rides through the farm (starting the third weekend of Sept and running through end of October, weather permitting), a 15 acre corn maze, interactive playgrounds, farm animals, and special weekend activities.

Open: TBA for 2023
(513) 575-2022
Website
Pumpkin Patches in Hamilton County
Fall Family Fun Weekends at Brown's Family Farm Market
11620 Hamilton – Cleves Road, Hamilton, Ohio 45013
Head to Hamilton and enjoy their pumpkin patch, hayrides, a corn maze, a straw maze, farm animals, a picnic area, and several play areas. They grow and sell their own corn stalk bundles plus Indian corn, squash, assorted gourds, and mums.

Open: TBA for 2023
(513) 738-0404
Website
Fall Fun at Burwinkel Farms
4359 Hamilton Cleves Road, Ross, OH 45013
This third generation family farm provides lots of fall fun! During the whole month of October you can enjoy a variety of activities for all ages including a corn maze, skid maze, Halloween scavenger hunt, crawl-thru straw tunnel, corn pool, and weekend hayrides to their pumpkin patch and sunflower field (when in bloom).

Open: September 23 – October 31, 2023
(513) 738-1145
Website
Pumpkin Patches in Warren County
Blooms and Berries Farm Market
9669 S. St. Rt. 48, Loveland, Ohio 45140
"Fall on the Farm" includes pumpkin patches, hayrides, a pumpkin bounce pad, corn mazes (the 5 acre traditional maze in 2022 is "Strawberries! Flowers! Goats!" plus they have one just for kids), farm animals, play area, and more.

Open: September 16 through October 31, 2023.
(513) 697-9173
Website
Iron's Fruit Farm Pumpkins and Hayrides
1640 Stubbs Mill Road, Lebanon, Ohio 45036
Irons Fruit Farm offers a 12-acre corn maze, a pumpkin patch, hayrides, and more. Pumpkins and Hayrides runs through the last weekend in October.

Open: Weekends only, September 30 – October 29, 2023
(513) 932-2853
Iron's on Facebook and Website
McMonigle Farms
5490 South Dixie Highway, Franklin, Ohio 45005
Head north for Pumpkin Fest. Celebrate the season with u-pick pumpkins, hayrides, cow train rides, a one acre corn maze, large play area with corn boxes, and more. They're typically open weekends in October from 12-6pm (2023 details not available yet).

Open: TBA for 2023
(937) 672-8248
Website
Windmill Farm Market
1454 E. State Route 73, Springboro, Ohio 45066
Founded in 1982, this 37 acre farm offers an "adventure hayride" with a stop at their pumpkin patch. They also have play areas, animals, food, and more. Hayrides are offered on Fridays, Saturdays, and Sundays. The farm (with limited activities) is also open on Wednesdays and Thursdays.

Open: September 23 – October 29, 2023
(937) 885-3965
Website
Pumpkin Patches in Kentucky
Country Pumpkins Fall Festival
1835 Sherman Mt. Zion Road, Dry Ridge, Kentucky 41035
They offer loads of family friendly activities including a u-pick pumpkin patch, hayrides, chunkin' pumpkin, turbo slide, barrel train ride, corn boxes, animals, kids' corn maze, fairy tail trail, and more.
NOTE: The farm says – Google doesn't take you the best way – be sure to check out their suggestions here.

Open: September 9 – October 30, 2023 (closed on Tuesdays)
(859) 905-9656
Website
Kinman Farms
4175 Burlington Pike, Burlington, Kentucky 41005
Fall Fest at Kinman Farms offers a hayride, The Great Pumpkin Express rides, a 5 acre corn maze, a carnival tent, live bands, pony rides, laser tag, dirt mound climbing, and more. Typically opens mid Sept. and goes through the end of October.

Open: TBA for 2023
(859) 689-2682
Website
Neltner's Farm
6922 Four Mile Rd, Melbourne, Kentucky, 41059
Neltner's Fall Festival includes a pick-your-own pumpkin patch, a corn maze, petting zoo, pony rides, live music events, model train display, and more.

Open: TBA for 2023
(859) 496-7535
Website