As Halloween approaches and fall rolls around, lots of folks look forward to the changing leaves and all things pumpkin spice…..but it's also time for haunted houses to begin! Cobweb covered door jams, scary clowns, and creaky old houses, it's all there!
If you're looking for a great list of Haunted Houses in Cincinnati, we've got you covered!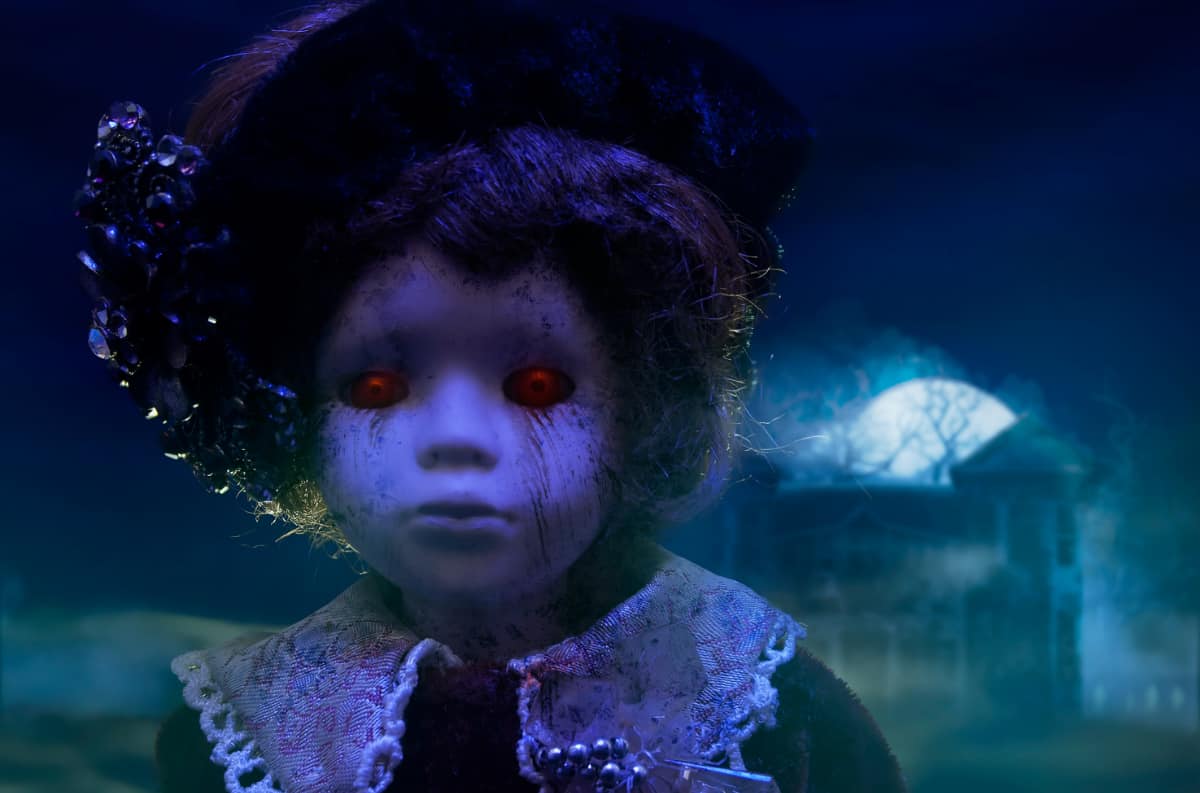 Most of these haunted attractions and haunted houses in Cincinnati are in the outlying areas. I've also included some that are a bit of a drive… but considering you're likely to go just once this year, I figured the outliers were worth a mention.
Almost all of these are for adults but I did find a few for the younger set (see the family friendly section below). Be sure to check with the venue for age recommendations.
Jump To: Haunted Houses | Ghost Tours | Family Friendly Haunts
Haunted Houses in Cincinnati
Brimstone Haunt
472 Brimstone Road, Wilmington, Ohio 45177
4 great scares for the brave! They have a Haunted Hayride, the Forgotten Forest, Psychosis, and Zombie Assault.

Each scare has been given an "Attraction Intensity" (with 1 being the low, 5 being high) and we've included it below.
The Haunted Hayride is suggested for ages 8 and up. It features a 1 mile ride through a haunted cornfield on a tractor-pulled wagon. They say this is a low-medium intensity haunt with its fair share of scares and surprises.
Attraction Intensity: 2 out of 5
The Forgotten Forest is suggested ages 13+. It's a quarter-mile outdoor, wooded walkthrough.
Attraction Intensity: 4 out of 5
Psychosis is recommended for ages 13+. It's an indoor walkthrough with many intense scares.
Attaction Intensity: 5 out of 5
Zombie Assault is a simulator and features many virtual scares and action sequences, suggested ages 10+. It features a high tech and frightening ride in their zombie attack simulator bus.
Attraction Intensity: 3 out of 5
Parking is $3 at the door (cash only per the website). Purchase tickets online for the best price ($5 cheaper online).

The haunted experiences are open on Fridays and Saturdays from Sept. 15, 2023 until October 28, 2023.

Website
---
The Dent Schoolhouse
5963 Harrison Ave., Cincinnati, OH 45248
Dent Schoolhouse is what nightmares are made of! Located in an old public school (opened in 1894), your Regular Haunt Season ticket includes the Dent Schoolhouse haunted experience as well as access to the Monster Midway.

The Dent Schoolhouse experience changes each year with new technology, new sets, new animatronics and more.
Plan Ahead: CASH ONLY! They do have an ATM on site and tickets can be purchased in advance / online. Parking is free and is located at the Children's Hospital and Christ Hospital (per the Dent Schoolhouse site's FAQ section).
Dent Schoolhouse Special Events include:

Behind the Scenes Tours: Take a private guided tour as the creators of The Dent Schoolhouse take back the curtains and allow you to see the inner workings of a haunted attraction. This tour is takes place BEFORE the haunt opens so crew members will be prepping the spaces and working as you take your tour. Get a brief look at their makeup room, costuming, and backstage areas. These tours are offered on select Saturdays and Sundays at 4:30pm.

Ghost Tours: Walk through the Dent Schoolhouse and learn about the real hauntings. Your personal guided tour will last about an hour and is in the dark (you are welcome to bring a flashlight). Each tour is limited to just 12 tickets so plan ahead. No actors – just you and the schoolhouse. Offered on Wednesdays in October.

Lights Out: Travel through the schoolhouse with the lights out!!! All you'll have is a glowstick to find your way! Offered for just two days so plan ahead!
Happening November 3 and 4, 2023 from 7:30pm-midnight.

Lights On Tour: Experience the schoolhouse with the lights on!  This is a great way to introduce a little one to Halloween or just to see all of the detail that the old schoolhouse has to offer.  There are no actors inside so you can go through at your own pace.  They'll have trick or treat stations throughout the schoolhouse. Happening on Sunday, October 22, 2023 from 4-6pm.

A Christmas Nightmare: Experience what it is like to celebrate Christmas at a haunted house! This special 1 weekend haunted event is from 6–10pm on December 8 and 9, 2023.
Open for the regular haunted house season from Sept. 15, 2023 until October 31, 2023.
---
Halloween Haunt at Kings Island
6300 Kings Island Dr., Mason, OH 45040
Voted in as 2022's "Best Theme Park Halloween Event" in the country as voted on by USA TODAY readers, fear is waiting for you at Kings Island's Halloween Haunt!

Open Friday and Saturday nights plus select Sundays, Sept. 22-Oct. 28, 2023.
Scream your way through spine-tingling Halloween attractions, including haunted mazes, bone-chilling outdoor scare zones, outrageous live shows, and evil creatures everywhere looking to make your worst nightmares come true.
You can also enjoy many of the park's most thrilling rides and attractions including Banshee, Diamondback, Mystic Timbers, Orion, and the legendary Beast.
Kings Island says: Halloween Haunt is intended for mature audiences and not recommended for children under 13.
---
Land of Illusion Haunted Scream Park
Dial up the dread at Land of Illusion Scream Park, a haunted theme park full of ghouls! This haunted spot, originally known as The Middletown Haunted Trail, includes "live" spooks, lunatics, and chainsaw-wielding madmen and guarantees you a different fright each night. They have every sweet treat you could eat, and their live entertainment, freak shows, and madmen are sure to keep you entertained when you're dying for a break… Definitely a fun addition for the haunted houses in Cincinnati list!
Land of Illusion Haunted Scream Park includes:
Phobia
Temple of Terror Haunted House
Killer Klowns 3D Haunted Maze
Dr. Psycho's Haunted Estate
Dysphoria
Middletown Haunted Trail (forest and mazes and murderers, oh my!)
General admission gets you access to the entire park. You can also purchase a "One Haunt Attraction".
The season begins September 8, 2023; Open 7pm – 1am, Fridays and Saturdays only, through October 28. Check their site for entertainment schedule.
---
Mt. Healthy Haunted Hall
7700 Seward Ave., Cincinnati, OH 45231
Celebrating its 31st year of fear and phobias, this addition to the haunted houses in Cincinnati list includes the house plus four tents, backyard areas, and one giant vortex and features more than 20 scenes including old favorites and some new ones too.
They're going "old skool" for 2023! This year the Haunted Hall features more than 20 scenes with several new scenes you won't want to miss! In addition there will be old favorites returning including the Hellavator, Dracula, and the Bate's Motel.
This haunted hall opens on September 29, 2023. Opening weekend discount of $4 with coupon (see site for coupon, link below).
Plan Ahead: CASH ONLY! They do NOT have ATM's on site. $2 discount is applied with a canned good donation. They're also having "Soupy Sundays" where you can bring two cans of soup to get $6 off your ticket (MUST BE SOUP).
Don't miss their "Lights Up" night on October 22, 6-6:45pm. The children get to go trick or treating through the (much less scary) Haunted Hall as well as getting a trip through our giant vortex tunnel! Cost is $5 per child, adults free.

Mt. Healthy Haunted Hall is open on Fridays, Saturdays, and Sundays from Sept. 29 to October 28, 2023.
---
Terror Town
1449 Greenbush Cobb Rd, Williamsburg, OH 45176
Be the folk in the lore at the Cincinnati area's newest haunted attraction – Terror Town. Based in the 1800s, Terror Town includes a haunted trail, live music, interactive horror games, and more. Don't miss their haunted decor retail section which includes all kinds of gruesome Halloween-themed things.

All Hallows Eve Terror Town is recommended for those ages 16+.
They offer loads of special events – see the calendar here.
Open Fridays – Sundays starting Sept. 1, 2023. The season ends November 4, 2023.
---
Twisted Trails Haunted Attraction
5719 W. State Route 73, Wilmington, Ohio 45177
Head to Wilmington and see what's in the woods! Even though this one is a haunted trail, I think you'll agree it's a great addition to our haunted houses in Cincinnati list. New in 2021 was their indoor haunted attraction: Muck Manor. Each ticket purchase includes admission to both Twisted Trails AND Muck Manor!
Open on Friday and Saturday nights, Sept. 29 – Oct. 28, 2023 from 7pm – 10:30pm.
---
USS Nightmare
101 Riverboat Row, Newport, Ky 41071
The USS Nightmare is a haunted house attraction built upon an actual steam-powered dredge boat located in Newport Kentucky on the Ohio River. Get your scare on with 2 decks of nightmarish fun.
Special Events include:
Lights on Matinee on October 22, 2023 from 4pm to 6pm
"Captain's Extreme Tour" on Nov. 3-4, 2023
2023 dates: Sept. 15, 16, 22, 23, 28-30 and Thursdays-Sundays in October (+ Oct 30 and 31).
Website
---
Wilmington Haunted Hollow Ride
1261 W. Dalton Rd., Wilmington, OH 45177
Go for a ride if you dare! Take a Haunted Bus Ride through a forest full of monsters, travel through an abandoned Rattlesnake Mine, and try to steer clear of Farmer Dave who is always on the lookout for new things to "sow".
General admission includes multiple attractions: The Ride, Slaughter Hotel, Eville Asylum, and Terror in the Dark.

Dates include Fridays and Saturdays, Sept. 23 – Oct. 28, 2023.
This haunted attraction is weather dependent and they instruct you to call ahead if raining (937-382-6147).
Plan Ahead: CASH ONLY! They do have an ATM on site and tickets can be purchased in advance / online.
Ghost Tours and Haunted Attractions (adults):
Haunted Tours from American Legacy Tours
Take a tour with American Legacy Tours and discover stories of murder, deceit, deaths, and lots of disturbing tales from Cincinnati's, Newport's, and Covington's past. You'll walk the grounds where human remains were recently unearthed, conjure up the paranormal activity that's been measured in an abandoned cemetery, learn the details of unsolved crimes, and much more.
Choose from:
The Queen City is Haunted Tour
Newport is Haunted Tour
The Nightmare on Elm Street
Mt. Healthy is Haunted
The Covington Haunted and Historic Tour

Haunted tours start in September (Queen City, Newport, Covington, and Elm Street) and October (Mt. Healthy).

Website

---
Limited Edition Seasonal Tours from The Brewing Heritage Trail
Join the Brewing Heritage Trail for The Darkside of Brewing Tour. Take this limited edition seasonal tour and learn about gruesome and macabre events from Cincinnati's past. Grave robbing, a serial killing saloonist, and other murderous and deadly mayhem is explored on this new tour, which also includes a visit to an abandoned city street, overtaken by nature, as well as a flashlight tour of the underground cellar complex of the historic Jackson Brewery!
The Darkside of Brewing Tours are TBA for 2023
Haunted Attractions (family friendly):
The Dent Schoolhouse "Lights On" Version
Experience what most consider the scariest haunted house is Cincinnati with the lights on. There will not be any actors inside. Kids can grab fun goodies and prizes throughout from some friendly ghouls.
Lights On is only offered on Sunday, October 22, 2023; 4-6pm
---
Haunted Village (family friendly, slight fright)
Heritage Village Museum will transform into a Haunted Village for a family-friendly, slight-fright event. The 19th century village inside Sharon Woods is the perfect setting for a spooky October evening!
Explore the Village while meeting ghosts, witches, and a fortune teller along the way. Walk through the haunted woods.  Enjoy balloon art, games, a creepy critter zoo, face painting, and more!

Halloween costumes are encouraged for kids and adults and add to the family-friendly fun.
Admission is $15 at the door or $12 if you purchase online (through Oct. 6, 2023). Museum members and children under two are free. A Great Parks of Hamilton County motor vehicle pass may be required.
Open on October 13/14, and 20/21, 27/28, 2023 from 6pm to 10pm
---
Mt. Healthy Haunted Hall "Lights Up Night" Version
7700 Seward Ave., Cincinnati, OH 45231
The "Lights Up" night is on October 22, 2023 6-6:45pm. The children get to go trick or treating through the (much less scary) Haunted Hall as well as getting a trip through our giant vortex tunnel! Cost is $5 per child, adults free.
You might also like: Haunted Houses in Indiana That Are Worth a Visit this Halloween