When fall rolls around, most folks look forward to the changing leaves and all things pumpkin spice. I am definitely in that camp; give me a hoodie and a cup of something hot and I'm good!

And then there are people who are just waiting for Haunted House Season to begin! Cobweb covered doorjams, scary clowns, and creaky old houses are their jam. If you're in this second set of fall lovers, we have just the list for you!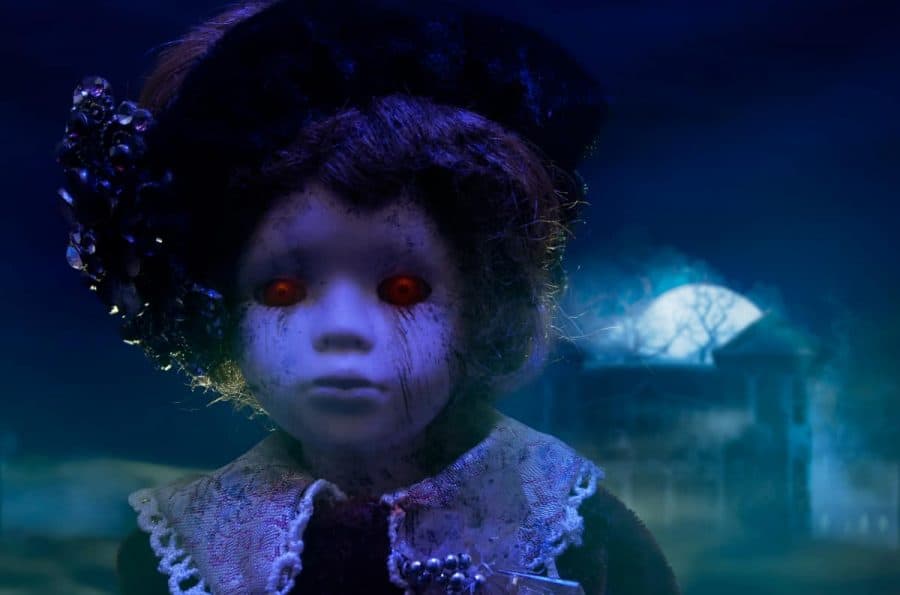 Most of these haunted houses and haunted attractions are outside of the downtown Cincinnati limits. There are a few haunted tours downtown but the majority of the events are in the outlying areas. I've also included some that are a bit of a drive… but considering you're likely to go just once this year, I figured the outliers were worth a mention.
Almost all of these are for adults but I did find a few for the younger set (see the family friendly section below). Be sure to check with the venue for age recommendations.
Jump To: Haunted Houses | Haunted Attractions and Events |Family Friendly Haunts | Haunted Attractions Near Cincinnati
Haunted Houses in Cincinnati
The Dent Schoolhouse
5963 Harrison Ave., Cincinnati, OH 45248
Dent Schoolhouse is what nightmares are made of! Located in an old public school (opened in 1894), you can choose from various experiences including: the "traditional" Dent Schoolhouse haunted experience, Lights Out (only on November 1st and 2nd), and a Christmas Nightmare (Dec. 6, 7, 13, and 14).

Your ticket gets you into the The Dent Schoolhouse and the Queen City Slaughter Yard (which is right behind the schoolhouse).
Dent says: "Detail, animatronics, new sets, and new technology are added each year to ensure that The Dent Schoolhouse stays the #1 Scariest haunt in the Cincinnati Tri-State area."
Plan Ahead: CASH ONLY! They do have an ATM on site and tickets can be purchased in advance / online.
Open for the regular season from Sept. 13, 2019 until Nov. 2, 2019
---
Halloween Haunt at Kings Island
6300 Kings Island Drive, Kings Island, OH 45034
Prepare yourself for the "Best Theme Park Halloween Event" in the country (per USA Today reader votes in 2018). Your admission includes haunted mazes, outdoor scare zones, sinister live shows, and evil creatures everywhere. And as a bonus, you can ride a some of the park's rides and attractions such as Banshee, Diamondback, Mystic Timbers, and The Beast!
Open on Friday and Saturday nights, Sept. 20 – October 26, 2019
---
Highway 50 Fright Field Haunted Adventure
11294 US Highway 50, North Bend, Ohio 45052
This haunted adventure takes place on an actual 1830s farm in E-Town. Travel through a haunted cornfield, a haunted trail, haunted woods, and a haunted field. There's a night-time corn maze (find your way in the dark) plus Operation Termination Zombie Paintball.
Open Fridays and Saturdays in October (closed on Halloween night).
---
Land of Illusion Haunted Scream Park
Dial up the dread at Land of Illusion Scream Park, a haunted theme park full of ghouls! It features six haunts including Phobia, Temple of Terror Haunted House, Killer Klowns Haunted Maze, Dr. Psycho's Haunted Hospital, Zombie Sniper Patrol (a ride where you hunt down Zombies), and Middletown Haunted Trail (forest and mazes and murderers, oh my!).
General admission gets you access to the entire park.
Plan Ahead: CASH ONLY! They do have ATM's on site and tickets can be purchased in advance / online.
Open Labor Day – Halloween
---
Mt. Healthy Haunted Hall
7700 Seward Ave., Cincinnati, OH 45231
Celebrating its 30th year of fear and phobias, this haunted house includes the house plus four tents, backyard areas, and one giant vortex and features more than 20 scenes including old favorites and some new ones too.
Open Sept. 27 and runs every Friday, Saturday, and Sunday through October 26, 2019 (closed Sunday, Oct. 27).
---
Terror Town
1449 Greenbush Cobb Rd, Williamsburg, OH 45176
Be the folk in the lore at the Cincinnati area's newest haunted attraction – Terror Town. Based in the 1800s, Terror Town includes a haunted trail, live music, interactive horror games, and more. Don't miss their haunted decor retail section which includes all kinds of gruesome Halloween-themed things.
Open Friday – Sunday starting Sept. 6. The season ends Nov. 3, 2019.
---
USS Nightmare
101 Riverboat Row, Newport, KY 41071

Board the USS Nightmare and get ready for the thrill of your life! Choose from various levels of horror: the traditional horror experience, the RIP Experience ("hands on, immersive experience is not for the faint of heart"), or The Captain's Extreme Tour ("the crew is unleashed, up close, and in your face").
Open on Sept 13/14 and Sept. 20/21 and then Wed.-Sun from Sept. 25 until Nov. 2, 2019.
Ghost Tours and Haunted Attractions (adults):
Cincinnati Ghost Tour
Take a tour through the hauntingly beautiful Clifton neighborhood with your guide, Mr. Heizer. Explore stories of hauntings, mysteries, and panormal activity. Unearth some frightening facts and examine themes from beyond the grave. Serial killers, cholera epidemics, and heartbreak have all come to Cincinnati….and they tell the tales of what remains.
---
The Haunted Brewery Tour: Can You Crack the Safe?
In 1880, brewer John Kauffman sent his brewmaster on a 2 year journey though Europe where he brought back a secret recipe that allowed his brewery to become one of the most successful in Cincinnati. That secret recipe is locked away in a safe, your goal is to survive your trip through the haunted brewery and solve the puzzles to figure out the combination. Your ghoulish tour guide will lead you through the historic Kauffman Brewery and current Christian Moerlein Brewery , including down to the very bowels of the building in cellars long ago abandoned…
At each stop along your route, there are clues and hands-on, interactive puzzles to help you crack the safe. Will your group solve the puzzles to find the combination to the brewer's safe correctly? If you do, a prize and your place in history await you.
The tours are offered on Friday and Saturday nights in October, 2019.
---
Haunted Cincinnati Tours
Take your pick from Ghost Tours (including "Buried Secrets", "Eerie Encounters", and more) or True Crime Tours (including "Death and Destruction" and "Scandals and Slayings"). You can event go on a Ghost Hunt Event, with overnights at locations like The Loveland Castle and The Poasttown School in Middletown.

Haunted Tours and Ghost Hunt Events are offered through November, 2019.

Website
---
Haunted Tours from American Legacy Tours
Choose from "The Queen City is Haunted" tour or the "Newport is Haunted" tour and discover stories of murder, deceit, deaths, and lots of disturbing tales from Cincinnati's and Newport's past. You'll walk the grounds where human remains were recently unearthed, conjure up the paranormal activity that's been measured in an abandoned cemetery, learn the details of unsolved crimes, and much more.

"Queen City is Haunted" tours are offered on Saturdays beginning August 17. "Newport is Haunted" tours are offered on Saturdays, October 5-26, 2019.

Website

---
Wilmington Haunted Hollow Ride
Go for a ride if you dare! Take a Haunted Bus Ride through a forest full of monsters, travel through an abandoned Rattlesnake Mine, and try to steer clear of Farmer Dave who is always on the lookout for new things to "sow". General admission includes multiple attractions: The Ride, Riddles of Horror, Slaughter Hotel, Death Trap, and Eville Asylum.
This haunted attraction is weather dependent and they instruct you to call ahead if raining (937-382-6147).
Plan Ahead: CASH ONLY! They do have an ATM on site and tickets can be purchased in advance / online.
Open on Fridays and Saturdays, Sept . 21 through Nov. 2, 2019
And if you're willing to take a bit of a drive for a good scare..
Haunted Experiences in Dayton, Ohio:
Haunted Houses in Indiana:
Haunted Houses in Kentucky:
The Mayhem Mansion is the haunted house and Terror in the Woods is a Zombie paintball challenge in Morning View, Kentucky. They also have an Extreme Night on Nov. 2.
Sandyland Acres offers a Haunted Hayride and Farmer's Revenge. Find them in Petersburg, Ky
Haunted Attractions (family friendly):
The Dent Schoolhouse "Lights On" Version
Experience what most consider the scariest haunted house is Cincinnati with the lights on. There will not be any actors inside. Kids can grab fun goodies and prizes throughout from some friendly ghouls.
Lights On is only offered on Sunday, October 27, 2019; 4-7pm
---
HalloTWEEN at Kings Island
For parents with children too old for The Great Pumpkin Fest and too young for Halloween Haunt, Kings Island has several attractions this fall that will appeal to the tween-age group with the all-new HalloTween.
Open Saturdays and Sundays from 12 p.m. to 6 p.m. beginning September 22 through October 27, HalloTween offers spooky-fun haunts for young scare-seekers without the fear of running into the gruesome creatures lurking in the shadows at Halloween Haunt.
---
The Haunted Brewery Tour "Lights On" Version
This is the tour listed in the "adult" section above… just not as scary and with the lights raised. You'll also get some extra time to solve the puzzle. Offered on select dates in 2019 from 1pm to 5pm. Perfect for families and kids 8 and up.
Lights On is offered on October 13 and 20, 2019
---
Haunted Village (family friendly, slight fright)
Heritage Village Museum will transform into a Haunted Village for a family-friendly, slight-fright event. The 19th century village inside Sharon Woods is the perfect setting for a spooky October evening! Trick-or-treat through the Village meeting a headless horseman, a witch, a fortune teller, and a mad scientist. Take a horse-drawn wagon ride. Walk through the haunted cemetery. Enjoy face painting, balloon art, games, and storytelling.
Open on October 11/12, 18/19, and 25/26 from 6pm to 10pm
---
Mt. Healthy Haunted Hall "Lights Up Night" Version
7700 Seward Ave., Cincinnati, OH 45231
This is the haunted house listed in the "adult" section above but with the lights on. Kids get to trick or treat through the Haunted Hall as well as take a trip through the giant vortex tunnel.
Only offered on October 20, 2019; 6pm – 6:45pm