Christmas in Cincinnati is definitely one of our favorite times of year! It's a time to see the lights, take pictures with Santa, enjoy all the holiday train displays, see the live nativities, and so much more.
Ring in this holiday season with these fun Christmas and Holiday Events happening in Cincinnati!
We'd like to take just a moment to thank our sponsor for this post: SantaLand at Sharon Woods! Don't miss this fun Christmas event when you go to Holiday in Lights!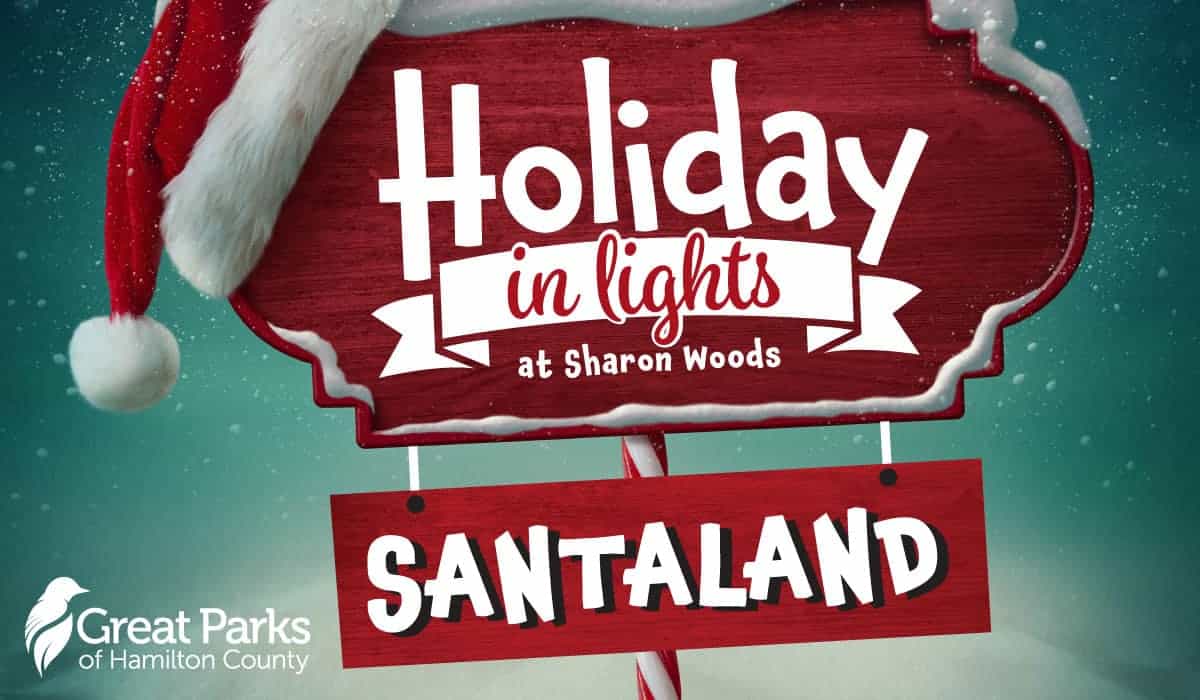 Feel the magic that the holidays bring as you step inside Santaland at Sharon Woods! Take a photo with Santa, meet Mr. Scrooge, enjoy the Dicken's Carolers and more. Click here for details.
---
More Christmas and Holiday Information:
Christmas Light Displays | Christmas Tree Farms | Breakfast with Santa | Live Nativities | Christmas Craft Shows | Things to do in December | Christmas Shows
---
Classic Cincinnati Christmas
Holiday Junction featuring the Duke Energy Holiday Trains is at Cincinnati Museum Center November 8, 2019 through January 5, 2020.
Antique Christmas at the Taft Museum of Art, November 8, 2019 through January 5, 2020 (free on Sundays).
DEAL ALERT >>>> Discount tickets here!
Fountain Square Ice Rink, opens November 2, 2019
DEAL ALERT >>>> Discount tickets here!
Festival of Lights at the Cincinnati Zoo, Nov. 16, 2019 – Jan. 4, 2020
Krohn Conservatory's Holiday Show -A Crystal Holiday, Nov. 9, 2019 -Jan. 5, 2020
Afternoon Tea at the Taft Museum of Art: Join in for a festive afternoon tea to complement your visit to the Antique Christmas and The Poetry of Nature. Enjoy a delicious assortment of savory bites and sweets—including petit fours and homemade scones—alongside a fine selection of teas. A harpist will enhance your enjoyment. Happening on Fridays and Saturdays in December. Reservations required.
Christmas at EnterTRAINment Junction, Nov. 16, 2019 – Jan. 1, 2020
DEAL ALERT >>>> Discount tickets here!

Holiday Toy Trains at Behringer-Crawford Museum, Nov. 16, 2019 – Jan. 5, 2020
Macy's Downtown Dazzle: 2019 dates TBD.
Santa's Workshop will be set up on Saturdays in Washington Park, November 30 – December 21, 2019. Santa and his merry band of Elves will be spending time in Washington Park making gifts, ornaments and other fun creations from 1pm to 3pm. Bring your family, bring your wish lists, but most all–be sure to bring your cameras!
'A Franciscan Christmas' at Christian Moerlein Event Center: You'll see a Christmas Creche display featuring nativities from around the world. Fr. Joachim's model trains, a Dickens Christmas village, a huge Santa Claus display, and lots and lots of decorated Christmas trees with comfortable chairs where you can sit and enjoy a beverage or food from the Christian Moerlein Taproom.
---
See the Lights:
Holiday Lights at Sharon Woods, Nov. 16 – Dec. 31, 2019. This charming light show is built over a mile of wooded roadway, the only drive through light show through the woods of a beautiful Hamilton County park! The holiday themed displays showcase everything from Santa Claus and his elves to every animal on the ark. There's no need to bundle up to enjoy Holiday in Lights; simply warm up the car, turn your radio dial to Warm 98, round up your friends, family, or a special date, and head to Sharon Woods. It's that easy. Make sure to visit Santaland before or after you drive through the lights for the full Holiday in Lights experience!
Holiday Lights on the Hill at Pyramid Hill Sculpture Park, Nov. 22, 2019 – Jan. 5, 2020; Hours: Mon-Thurs, 6-9pm ($20/car) and Fri, Sat, Sun 6-10pm ($25/car); Members are $15 any day.
Festival of Lights at the Cincinnati Zoo, Nov. 16, 2019 – Jan. 4, 2020
Light up the Levee Light Show at Newport on the Levee, dates TBD
Christmas Town at the Creation Museum, Nov. 29 – Dec. 30, 2019 (closed Christmas Eve and Day)
Christmas Nights of Lights is at Coney Island Nov. 8, 2019 – January 5, 2020
---
Christmas Shows and Performing Arts:
The Nutcracker from the Cincinnati Ballet, Dec. 19-29 at Music Hall
A Christmas Carol at the Playhouse in the Park, Nov. 27 – Dec. 29, 2019
Every Christmas Story Ever Told (And Then Some!), Cincinnati Shakespeare Company, Dec. 13-29, 2019
An Acoustic Christmas with Over the Rhine at Memorial Hall on Dec. 20-22
---