Christmas in Cincinnati is definitely one of our favorite times of year! It's a time to see the lights, take pictures with Santa, enjoy all the holiday train displays, see the live nativities, and so much more.
Ring in this holiday season with these fun Christmas and Holiday Events happening in Cincinnati!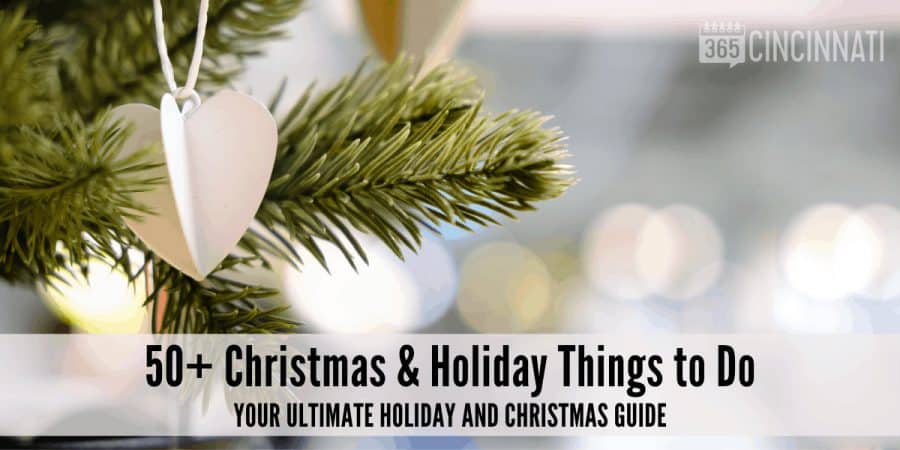 We'd like to take just a moment to thank our sponsor for this post: SantaLand at Sharon Woods! Don't miss this fun Christmas event when you go to Holiday in Lights!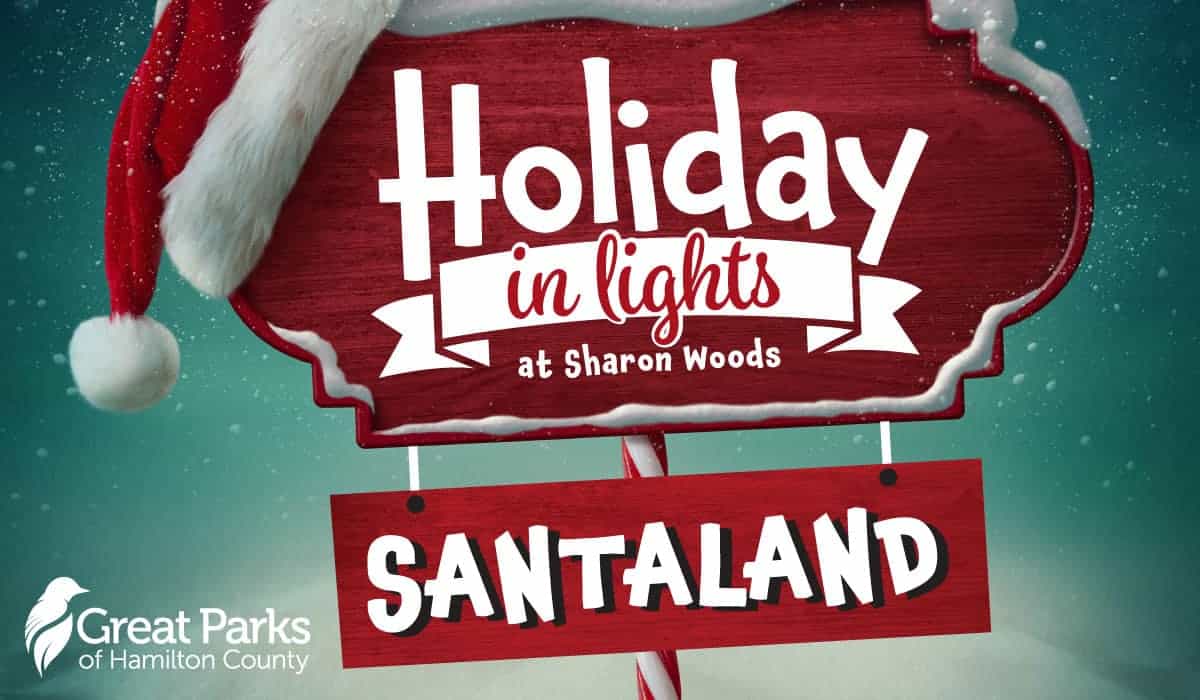 Feel the magic that the holidays bring as you step inside Santaland at Sharon Woods! Take a photo with Santa, meet Mr. Scrooge, enjoy the Dicken's Carolers and more. Click here for details.
---
Find Christmas and Holiday Information here:
Classic Cincinnati Christmas
25+ Experience Gifts to Give
Christmas Light Displays
Christmas Tree Farms
Breakfast with Santa
Live Nativities
Christmas Craft Shows
Things to do in December
Christmas Shows
Things to Do Over Winter Break
Things to Do on Christmas Eve and Christmas Day
---
Classic Cincinnati Christmas
Holiday Junction featuring the Duke Energy Holiday Trains is at Cincinnati Museum Center November 8, 2019 through January 5, 2020. See our pics and read about our visit here.
Krohn Conservatory's Holiday Show -A Zinzinnati Holiday, Nov. 9, 2019 -Jan. 5, 2020. Read all about our visit here – It's a Zinzinnati Holiday at the Krohn Conservatory
Festival of Lights at the Cincinnati Zoo, Nov. 16, 2019 – Jan. 4, 2020. Read our tips for your visit to Festival of Lights.
Fountain Square Ice Rink, opens November 2, 2019. The rink features 600 pairs of rental skates; a full-service concessions tent with hot and cold snacks, and alcoholic and non-alcoholic beverages. The rink is open to skaters of all ages and the rink operates seven days a week.
Macy's Downtown Dazzle: Saturdays starting Nov. 30, 2019 (through Dec. 21). See Santa repel off of a Cincinnati skyrise and wait with anticipation for the sky to fill with light thanks to a fabulous Rozzi fireworks display. 5:30p – Event Start, 6:30p – Santa Rappels. Come early and stay late – Saturdays at the Square include skating at the UC Health Ice Rink, presented by Fifth Third Bank from 10a-10p, shopping during the Winter Market at Fountain Square and free photos with Santa at the Carew Tower.
Christmas at EnterTRAINment Junction, Nov. 16, 2019 – Jan. 1, 2020
Santa's Workshop will be set up on Saturdays in Washington Park, November 30 – December 21, 2019. Santa and his merry band of Elves will be spending time in Washington Park making gifts, ornaments and other fun creations from 1pm to 3pm. Bring your family, bring your wish lists, but most all–be sure to bring your cameras!
Antique Christmas at the Taft Museum of Art, November 8, 2019 through January 5, 2020 (free on Sundays). Visitors will find beautiful decorations throughout the historic house, thanks to generous collectors from Cincinnati and beyond. This year, guests can expect many new and exciting displays, including several feather trees with decorations ranging from vintage Disney ornaments to characters from German fairy tales. Figures of the jolly old elf will also be on view under a large tree adorned with antique paper, chenille, and glass ornaments.
Holiday Toy Trains at Behringer-Crawford Museum, Nov. 16, 2019 – Jan. 5, 2020. This is the 28th year for BCM's Holiday Toy Trains display with its 250 feet of track and more than 30 guest-activated displays. Guests can also enjoy Wahoo's Winter Wonderland, a kid-size, animated exhibit based on the children's book by Kenton Hills author Diana Grady, "The Holiday Adventures of Wiley Wahoo & Me," plus special Polar Express and Wahoo readings, Santa visits, Charles Dickens Victorian Village display, holiday concerts and more.
Afternoon Tea at the Taft Museum of Art: Join in for a festive afternoon tea to complement your visit to the Antique Christmas and The Poetry of Nature. Enjoy a delicious assortment of savory bites and sweets—including petit fours and homemade scones—alongside a fine selection of teas. A harpist will enhance your enjoyment. Happening on Fridays and Saturdays in December. Reservations required.
An International Christmas Display will be at Christian Moerlein Event Center. You'll see a Christmas Creche display featuring nativities from around the world. Fr. Joachim's model trains, a Dickens Christmas village, a huge Santa Claus display, and lots and lots of decorated Christmas trees with comfortable chairs where you can sit and enjoy a beverage or food from the Christian Moerlein Taproom. Nov 29, 2019 through Jan 1, 2020. Hours: Wed. and Thursday: 4 – 10pm; Friday: 4 – 11 p.m.; Saturday: noon-11pm; Sunday 1-6 p.m. Parking available in the Moerlein lot or on the street.
See Scuba Santa at the Newport Aquarium! It's a Water Wonderland full of playful penguins, colorful holiday lights, and a flurry of magical bubbles. See Scuba Santa swim underwater with a tank full of sharks and tell him what you want for Christmas. Meet cheerful elves straight from the North Pole and join in the fun as Scuba Santa fills the Theater with bubbles. His magical bubbles will float and fall all around you and every time a bubble pops, a wish will come true for someone throughout the world. Plus, make a stop at Scuba Santa's Post Office where you can write your special holiday wish on a magic bubble and drop it in Scuba Santa's Mailbox.
---
See the Lights:
Holiday Lights at Sharon Woods, Nov. 16 – Dec. 31, 2019. This charming light show is built over a mile of wooded roadway, the only drive through light show through the woods of a beautiful Hamilton County park! The holiday themed displays showcase everything from Santa Claus and his elves to every animal on the ark. There's no need to bundle up to enjoy Holiday in Lights; simply warm up the car, turn your radio dial to Warm 98, round up your friends, family, or a special date, and head to Sharon Woods. It's that easy. Make sure to visit Santaland before or after you drive through the lights for the full Holiday in Lights experience!
Festival of Lights at the Cincinnati Zoo, Nov. 16, 2019 – Jan. 4, 2020. The Cincinnati Zoo will once again be transformed into a "Wild Wonderland" for the 37th annual PNC Festival of Lights! In addition to admiring the beauty of 3 million LED lights, visitors can watch a Madcap black-light puppet show, ride the Toyland Express train ride, marvel at the spectacular Wild Lights show on Swan Lake, or snack at one of two S'mores-n-More stands. Santa will be available for visits starting at 4 p.m., an hour before the rest of the festivities begin.
Christmas Nights of Lights is at Coney Island Nov. 8, 2019 – January 5, 2020. Experience this amazing light show synchronized to both traditional and rocking holiday music through your car radio. Visitors of all ages will be awed by the larger-than-life trees, glowing snowflakes, dancing candy canes and fantastic tunnels of lights! In the warmth of your own car, you can sing along to the sounds of the season synchronized to each holiday display. Christmas Nights of Lights welcomes carloads of families and friends to enjoy this Christmas tradition. With two and a half miles to drive through, your family can see displays and light shows made of over a million lights driven by more than forty thousand computer channels. The show will begin nightly at dusk and run through 10 p.m. Christmas Nights of Lights will be open every night including holidays.
Holiday Lights on the Hill at Pyramid Hill Sculpture Park, Nov. 22, 2019 – Jan. 5, 2020; Hours: Mon-Thurs, 6-9pm ($20/car) and Fri, Sat, Sun 6-10pm ($25/car); Members are $15 any day.
Light up the Levee Light Show at Newport on the Levee, November 23, 5:30-10pm. This magical evening begins with Santa's grand helicopter arrival followed by family activities, the season's first snowfall, the lighting of the 50-foot tree with 1.4 million lights, and more surprises. Cap off the night with an after-party filled with food, beverage and live music from the Clyde Brown Band.
ChristmasTown at the Creation Museum, Nov. 29 – Dec. 30, 2019 (closed Christmas Eve and Day). Tour the dazzling garden of lights, reflect on the true meaning of the season at the live nativity, and experience more during the free annual ChristmasTown!
---
Christmas Shows and Performing Arts:
Awaited, December 20-23 at The Aronoff Center. Awaited is the creative retelling of the Christmas story brought to life on stage by over 80 performers. Featuring original choreography and music, along with favorite holiday classics, this family-friendly production reminds you why Christmas is the ultimate season of hope.
A Christmas Carol at the Playhouse in the Park, Nov. 27 – Dec. 29, 2019. Ebenezer Scrooge undergoes a miraculous Christmas Eve transformation as he views with new eyes his past, present and the possibilities of the future. As he witnesses all those who have improved his life — his first love Belle, his kindhearted employer Fezziwig, his nephew Fred and his heartily abused clerk Bob Cratchit — he realizes that it's never too late to change his miserly ways. A Christmas Carol's heartwarming message, hundreds of costumes and thrilling special effects help to make the show one of the Playhouse's most popular productions each year.
Miracle on 34th Street the Musical, Covedale Center for the Performing Arts, December 5-29. A holiday classic from Meredith Willson, the writer of the musical classic, The Music Man! Single mother, Doris Walker, doesn't want her six-year-old Susan's head filled with romantic notions. Their neighbor, Fred Gailey, tries to woo Doris by taking Susan to see Santa Claus at Macy's, where Doris works. Doris is not impressed, but when it turns out that Macy's Santa may, in fact, be the real Kris Kringle, a wave of love spreads across New York City that melts even the most cynical hearts.
A Charlie Brown Christmas, The Children's Theatre, December 7-15. Charlie Brown and the rest of the Peanuts gang are here to remind us about what's most important during the Yuletide season. 2019 marks the 54th anniversary of the animated TV special, A Charlie Brown Christmas.
Every Christmas Story Ever Told (And Then Some!), Cincinnati Shakespeare Company, Dec. 13-29, 2019. What begins as another annual production of A Christmas Carol, soon devolves into a slightly irreverent look at all of our favorite "Beloved Holiday Classics" including It's a Wonderful Life, Frosty, Rudolph, Charlie Brown and more! Three actors (with the help of Santa) send up everything from Dickens to Dr. Seuss in 90+ minutes of high octane jollity and frivolity.
The Nutcracker from the Cincinnati Ballet, Dec. 19-29 at Music Hall. Celebrate the holiday season with Clara and her Nutcracker Prince as they journey to the Land of Sweets. Join us for Cincinnati's favorite family tradition—The Nutcracker. Let your imagination transport you to a land of dancing snowflakes and childhood dreams. Artistic Director Victoria Morgan's whimsical choreography accompanies Tchaikovsky's timeless score, performed by the Cincinnati Symphony Orchestra. Share the magic of the season with the ones you love at The Nutcracker.
An Acoustic Christmas with Over the Rhine at Memorial Hall on Dec. 20-22
---