Hop in the car, crank up the Christmas music, and pay a visit to one of the many Christmas Tree Farms in Cincinnati this year. Going out to a local Christmas Tree Farm is a great way to officially kick off the season – take in the scent of pine, enjoy the fresh air, and spend some time with those you love!
We created a list of local farms where you can cut your own Christmas tree. Let us know which one is YOUR favorite!
Be sure to check out our Christmas Tree Farms Near Me map too!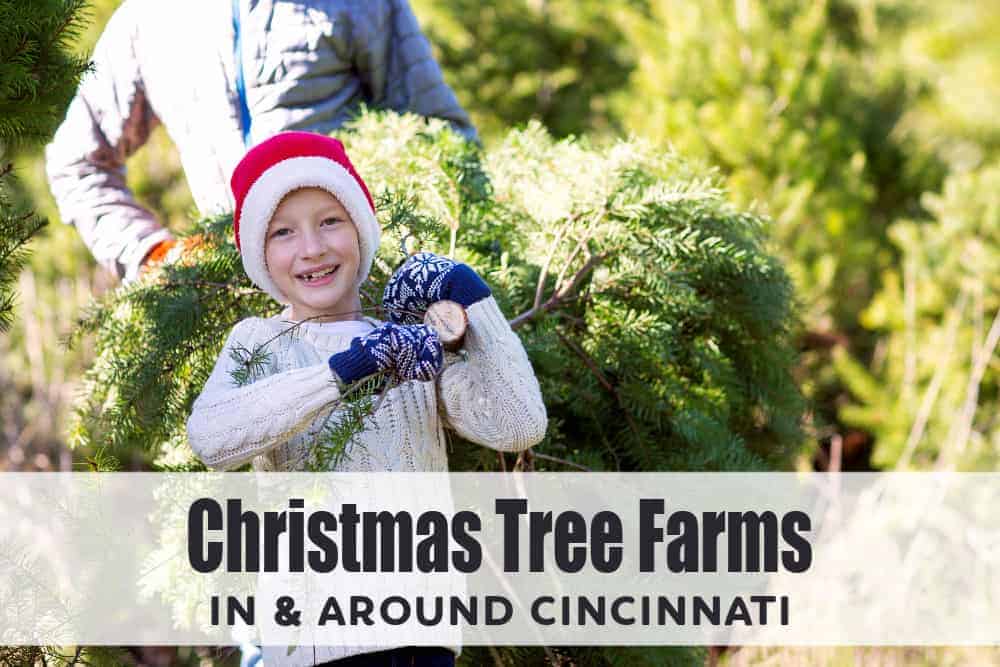 Tips: Be sure to call ahead and make sure the Christmas tree farm of your choice still has a nice selection and/or that their hours have not changed. Keep in mind that most farms do not accept credit cards – be sure to take cash.
---
Bartels Farm
4427 Cotton Run Rd., Hamilton, OH 45011
2022 season will be by appointment only; November 25, 26, and 27 – 3 days only
Schedule your tree farm visit here
(513) 795-2271 | Website
Bartels is a family-owned Christmas tree farm located on 124 acres nestled between Trenton and Oxford Ohio, within close driving distance from Cincinnati and Dayton Ohio. They have 10 acres of hand-planted Christmas trees, wreaths, live animals, hot chocolate, and more.
---
Berninger Christmas Trees and Wreaths
1220 Stubbs Mill Rd., Lebanon, Ohio 45036
Open November 25 – December 4th (weather dependent)
(513) 932-2780 | Website
Berningers have been growing trees since 1955 and they have hundreds of 6'+ trees. You can cut down your own or choose from a wide selection of pre-cut trees (as stock allows). Assorted variety of wreaths crafted on site with farm fresh boughs plus pine and cedar garland and roping. Free popcorn and hot chocolate.
---
Big Tree Plantation
2544 South Waynesville Road, Morrow, Ohio 45152
Pre-Season Dates: Nov. 19-23; Christmas Season Dates: Nov. 25-Dec. 22, 2022.
513-836-0975 | Website

Nestled around a 9-acre lake, the setting is perfect for a family outing, including a wagon ride to the fields, choosing the perfect tree, cutting the tree by hand, and a steaming cup of hot chocolate while their staff shakes the loose needles for you and bundles the tree, helping you tie it onto your car.

Christmas trees you can include Canaan Fir. They also sell "harvested" Fraser Firs.

Enjoy Winter Wonderland with Santa – Nov. 25-27, Dec. 3-4 and 10-11.
---
Corsi Christmas Tree Farm
1651 Bolender Rd., Hamersville, Ohio 45130
Open from Nov. 26 – Dec. 19, Wed.-Sundays
937-379-9200 | Website

All sizes up to 8′ are the same price – $82 (includes tax). Available trees include Norway Spruce, Colorado Spruce, White Pine, Scotch Pine, Canaan Fir.

Wander acres upon acres and choose from their fields of trees.  This is a very family-friendly environment and a wonderful tradition.  Don't forget to stop in the Broken Stone Lodge for everything from hot cocoa and ornaments to live music. There is also a free petting zoo.

---
Dirr Nurseries
6066 Goshen Road, Goshen, Ohio 45122
no news for 2022 yet
513-625-2000 | Website

---
Koch Christmas Trees
6232 Hamilton-Scipio Road, Okeana, Ohio 45053
Opening for the season on Nov. 25, 2022 (see info below)
513-593-2735 | Website
Koch Christmas Trees will be open for 2022. A reservation will be required to purchase a tree. By using the reservation system to purchase trees last year, they learned that if they control the flow of customers, they were able to help make the experience more enjoyable for you as well as ensuring that you have a great selection of trees to pick from no matter what day you do come…early or late in the season.
Your scheduled arrival time at the farm is for scheduling purposes only. You can stay on the farm as long as you like.
Their selection of Christmas trees includes Spruce, Canaan Fir, White Fir, Scotch Pine, White Pine and Douglas Fir. They will NOT have pre-cut Frasier Fir in 2022.


---
Nana and Pap's Christmas Tree Farm
93 State Route 133, Felicity, Ohio 45120
Opening for the season on Nov. 25, 2022 (check their page for updates – they close when the when trees get low in number)
(513) 600-0378 | Facebook Page (no website)
Christmas Tree Farm featuring choose and cut trees. Check their Facebook page for prices, hours, and selection.
---
John T. Nieman Nursery
3215 Hamilton New London Rd., Hamilton, Ohio 45013
November 19 – December 23; Mon-Sat, 10am-8pm and Sun 10am-6pm
(513) 738-1012 | Website
They've been growing Christmas trees for over 75 years and currently grow over 60,000 trees on their 125 acre farm. You can choose to roam the fields looking for that perfect tree, find a pre-cut tree by the Christmas barn, or pick from a large selection of balled and burlapped trees to plant after Christmas. Enjoy complimentary hot chocolate and cookies. They also sell wreaths, swags, pine roping and arrangements made fresh daily on the farm.
Fields close at dark but there are lights over the pre-cut, balled and burlapped trees for evening shoppers. Cash and check only.
---
Rossmann's Christmas Tree Farm
7917 State Route 132, Blanchester, Ohio 45107
One weekend only in 2022: November 25, 26 & 27, 9am – 5pm
(513) 317-0692 | Website
---
Shaker Tract Tree Farm
8626 New Haven Road Harrison, OH 45030
2022 dates: Nov. 19/20, 25-27; Dec. 3/4, 10/11, 17/18
(864) 986-8510 | Website
They invite you, family and your friends to visit the Shaker Tract Tree Farm and start a family tradition of "Cutting Your Own—Fresher and Greener Christmas Tree." Enjoy a complimentary warm-up beverage and cookies in their gift shop. Shop some hand-made "Shaker Inspired" wormy chestnut wooded baskets and other wood products. Hike and observe a black walnut plantation. Visit the nearby Shaker Trace Trail and the 1800s Whitewater Shaker Village.
Canaan Fir is their primart species. Some Balsam and White Fir are also available. Chosen trees are cleaned, baled (netted) and loaded on your vehicles for easy transportation home. Drilling of trees is available for tree-stands.
---
Whitetail Acres
8001 Old Blue Creek Rd Brookville IN 47012
Cut trees available beginning November 19, 2022; open daily, closed Thanksgiving Day
(765) 647-6812 | Website
Don't miss their Reindeer Encounter (reservations needed)!
Enjoy a selection of pre-cut Christmas trees, as well as, balled and burlapped trees available for purchase.
For the 2022 season, there will be no cutting of live trees on their farm. The summer droughts have been tough on the fields.
---
Find Christmas Tree Farms Near Me