Hop in the car, crank up the Christmas music, and pay a visit to one of the many Christmas Tree Farms in Cincinnati this year. It's a great way to officially kick off the season!
We created a list of farms where you can cut your own Christmas tree. Let us know which one is YOUR favorite!
Be sure to check out our Christmas Tree Farms Near Me map too!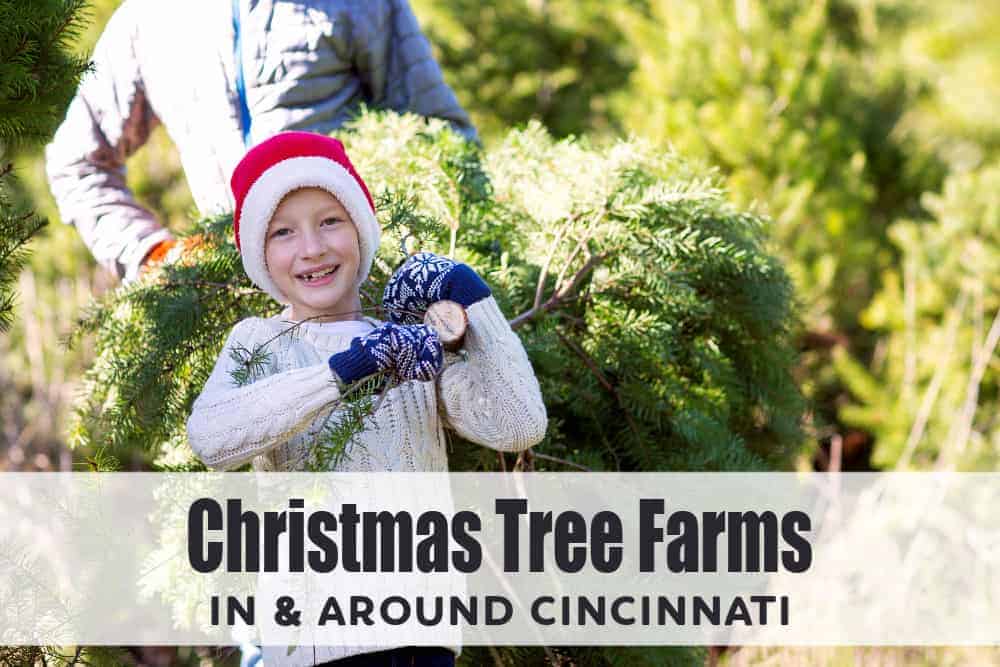 Tips: Be sure to call ahead and make sure the farm of your choice still has a nice selection and/or that their hours have not changed. Keep in mind that most farms do not accept credit cards – be sure to take cash.
---
Big Tree Plantation
2544 South Waynesville Road, Morrow, Ohio 45152
Open daily November 17 – December 23, 2018; closed Thanksgiving Day
513-836-0975 | Website

40 acres of Christmas trees plus a 9 acre lake. Christmas trees you can cut include Canaan Fir, Scotch Pine, Blue Spruce, and White Pine. They also sell "harvested" Fraser Firs. Tractor rides are always free and operate from open until dark. Horse drawn wagon rides cost $1 per person and operate 4 days only = 11/23, 11/24, 11/25 & 12/2 from 9:00 am – 5:00 pm. Final tickets sold at 4:30. On weekends, actors re-enact Mary and Joseph on their way to Bethlehem.
---
Corsi Christmas Tree Farm
1651 Bolender Rd., Hamersville, Ohio 45130
Open November 23 – December 21, 2018; Wed. – Sun., 9am – 5pm
937-379-9200 | Website

All trees are the same price – $52 (includes tax), cash or check only
Wander 100 acres and choose from thousands of trees.

---
Dirr Nurseries
6066 Goshen Road, Goshen, Ohio 45122
Open daily, 9am-5pm, Nov. 23 through Dec. 21, 2018
513-625-2000 | Website

All trees are the same price, cash or check only.
Snap a family picture on the full size Santa sleigh. Petting zoo, life size nativity display, free rides around the farm in a one horse open carriage.

---
Nana and Pap's Christmas Tree Farm
93 State Route 133, Felicity, Ohio 45120
Open Nov. 23 – Dec. 23 (or "until they run out of good trees")
(513) 600-0378 | Facebook Page (no website)
Christmas Tree Farm featuring choose and cut trees as well as live trees for re-planting. Petting zoo. Tractor drawn wagon rides.
---
Berninger Christmas Trees and Wreaths
1220 Stubbs Mill Rd., Lebanon, Ohio 45036
Fridays and Weekends 9am – 5pm; open the day after Thanksgiving
(513) 932-2780 | Website
Berningers have been growing trees since 1955 and they have hundreds of 6'+ trees. You can cut down your own or choose from a wide selection of pre-cut trees. Assorted variety of wreaths crafted on site with farm fresh boughs plus pine and cedar garland and roping. Free popcorn and hot chocolate.
---
Bartels Farm
4427 Cotton Run Rd., Hamilton, OH 45011
Nov. 23 – Dec. 2, 2018 ; Friday and Saturday, 10am-5pm and Sunday 12-5pm
(513) 795-2271 | Website
Bartels is a family-owned Christmas tree farm located on 124 acres nestled between Trenton and Oxford Ohio, within close driving distance from Cincinnati and Dayton Ohio. They have 10 acres of hand-planted Christmas trees, wreaths, live animals, hot chocolate, and more.
---
John T. Nieman Nursery
3215 Hamilton New London Rd., Hamilton, Ohio 45013
Nov. 17 – Dec. 23, 2018; Mon-Sat: 10am – 8pm, Sun.: 10am – 6pm
Fields close at dark, but there are lights over the pre-cut, balled and burlapped trees for evening shoppers.
(513) 738-1012 | Website
They've been growing Christmas trees for over 75 years and currently grow over 60,000 trees on their 125 acre farm. You can choose to roam the fields looking for that perfect tree, find a pre-cut tree by the Christmas barn, or pick from a large selection of balled and burlapped trees to plant after Christmas. Enjoy complimentary hot chocolate and cookies. They also sell wreaths, swags, pine roping and arrangements made fresh daily on the farm.
---
Rossmann's Christmas Tree Farm

7917 State Route 132, Blanchester, Ohio 45107
Open for just five days: Nov. 23-25 and Dec. 1-2; 9am – 5pm
(513) 317-0692 | Website
Trees, wreaths, and handmade Christmas decor. Complimentary hot chocolate. Cash and check only.
---
Find Christmas Tree Farms Near Me