It may be cold and it may just snow…. perhaps a few of these fun things to do in Cincinnati (which also happen to be free and cheap) will help you get out and enjoy our fine city this winter!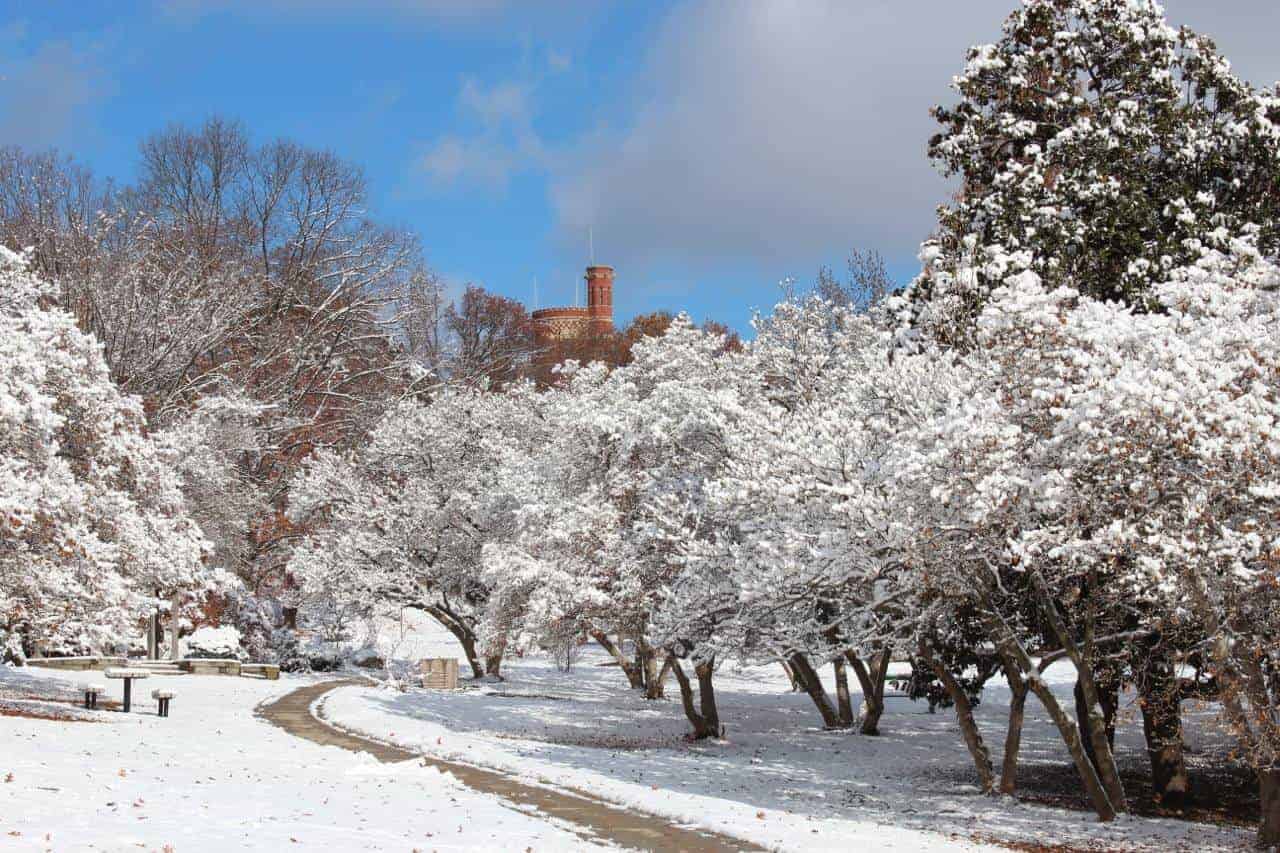 When we are trying to save some cash we do "no spend weekends" where we spend nothing all weekend. We eat from the kitchen stock, do things that cost no money, etc. This free and cheap winter things to do list is PERFECT for that!
All activities listed are for the winter of 2022-2023.

Free and Cheap Things to do in Cincinnati All Winter:
Great Parks of Hamilton County offers a number of fun winter events that happen both inside and outside. You do have to have a park sticker to get into the park. Click here for the Great Parks event calendar.
The 21c Museum Hotel has two floors of art galleries that are free and always open (24/7) unless they have a private event. Click here to see their current exhibition. The 21C Museum Hotel is right across from the Aronoff Center for the Arts.
Have a Cincinnati and Hamilton County Public Library card? Make a reservation to use a Discovery Pass that will give you access to the following: American Sign Museum, Cincinnati Art Museum's special exhibitions, Cincinnati Museum Center, Great Parks of Hamilton County, the Harriet Beecher Stowe House, and Pyramid Hill Sculpture Park & Museum. The number of visitors per pass varies based on the destination selected.
The Cincinnati Art Museum offers free admission and they have a number of fun events. The museum has something for every age. Families will enjoy the REC Center in addition to their various family programs throughout the month.
The Cincinnati Park District also offers a number of winter time events. Click here for the Cincinnati Park's event calendar.
"Music Live at Lunch" at the Christ Church Cathedral (downtown): At 12:10 p.m. each Tuesday, September through May. The concerts feature a variety of music, ranging from classical to jazz and music of other cultures. You may bring your lunch or enjoy a festive array of baked goods will be available at no charge.
The Contemporary Arts Center (downtown, across from the Aronoff Center) offers free admission.
When proper ice thickness allows, ice skating is permitted in designated areas at the following parks (Great Parks of Hamilton County): Miami Whitewater Forest, Mitchell Memorial Forest, Sharon Woods, Triple Creek, Winton Woods and Woodland Mound. Great Parks sticker is required to get into the parks and it is $10/car/year for Hamilton Co. residents (as of 2022).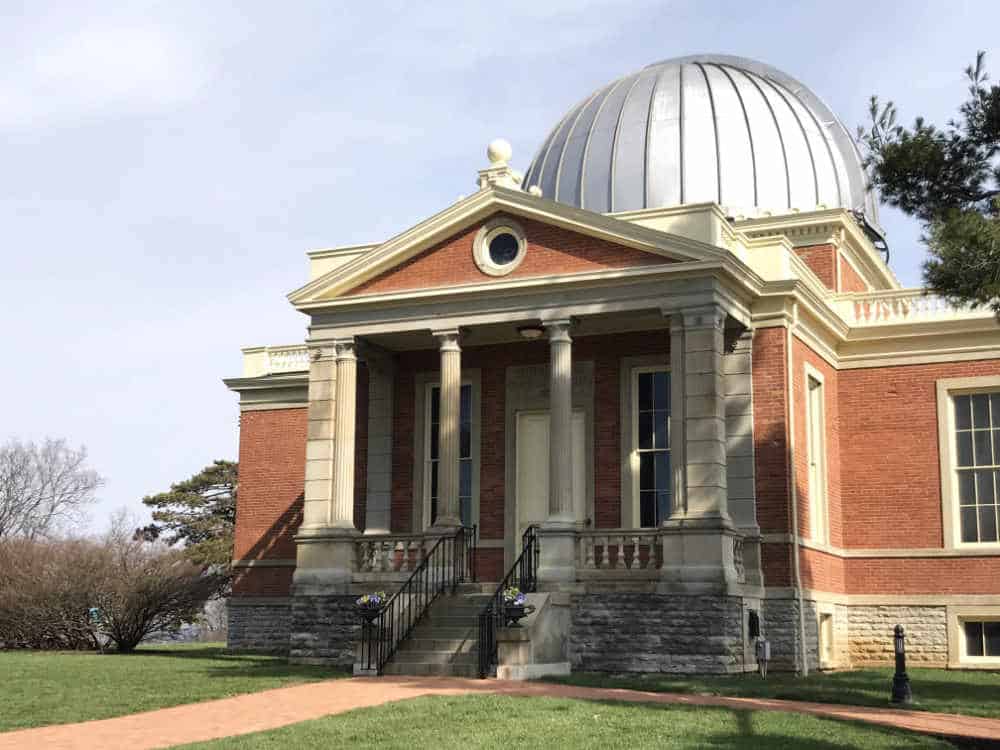 Enjoy an event and see the oldest public telescope in the country at The Cincinnati Observatory in Mt. Lookout. Make a day of it with the Observatory Historic District self-guided walking tour of the historic homes along Obervatory Ave, Observatory Place, and Avery Lane.
Along the lines of the Observatory, check out the Stonelick Star Gazes which happen on Saturdays near the New Moon. Amateur astronomers set up a variety of telescopes inviting the public to view the wonders of the night sky. The events are free and open to the public. Free stargazes at Stonelick State Park are held only if the skies are clear. Updates are posted on the Stonelick Star Gazers Facebook Page.
Get creative at one of the area's MakerSpaces. A few of our local libraries have great equipment (and classes). Check out the MakerSpace at the Cincinnati and Hamilton County Library and at The Lane Libraries in Hamilton, Ohio.
There are a few indoor playgrounds that are free. Check out our indoor playgrounds list here.
Take a self-guided Tour of the Artworks Murals. You'll find them all over town (downtown, suburbs/neighborhoods, NKy, etc.). There are a number of murals downtown, making it a great "car ride" tour. Pack up the hot drink of your choice or spend a buck or two and treat yourself to a hot cocoa at one of our favorite spots.
Enjoy the Cincinnati skyline and the Ohio River as you take a self guided tour of the Riverside Drive statues in Covington, Ky. You'll start at the Roebling Bridge and walk all along the riverfront. Enjoy the gorgeous architecture of the surrounding homes as you take a short walk through the neighborhood to a bonus statue next to the home of the founder of the Boy Scouts of America.
Free and Cheap Tours You Might Enjoy:
The City of Cincinnati offers tours of City Hall.
Findlay Market offers low cost tours of the market Tuesday through Friday. Registration is required.
Cathedral Basilica of the Assumption (Covington) has a self-guided tour and will also lead a tour for your group of 10 or more (for a "small fee"). See our blog post about our Basilica Tour here.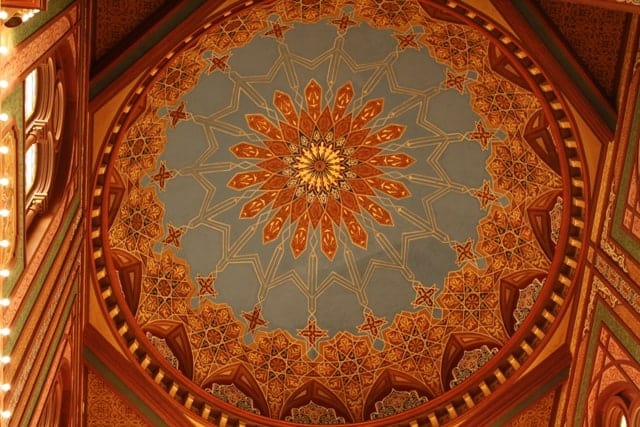 Tours of the Isaac Wise Temple (aka Plum Street Temple) are given to groups on scheduled Thursday mornings, by appointment only. Contact Sally Schott, Executive Director, 513.793.2556 to schedule. See our blog post from our Tour of the Plum Street Temple here.
The Cincinnati Observatory offers Daytime Tours which are held Tuesday, Thursday, and Sunday at Noon, 1pm, and 2pm. Take a guided tour of the two historic buildings and telescopes, plus solar viewing (weather permitting). There is a fee for the tour and the tour typically lasts 30-45 minutes. Be sure to schedule in advance.
---
All events were accurate at the time of this posting but things do happen and events do occasionally get canceled or postponed. You should always double check with the event source before you head out the door. Links for each event are provided so that you can be sure the date is still accurate before you head out.