Are you hoping to simplify your Christmas dinner this year? Or perhaps your celebration is a bit smaller than usual? You're in luck because our local restaurants are pulling out all the stops and are ready to help!
Yep, these Christmas dinner to-go combinations look pretty sweet, especially in the year 2020!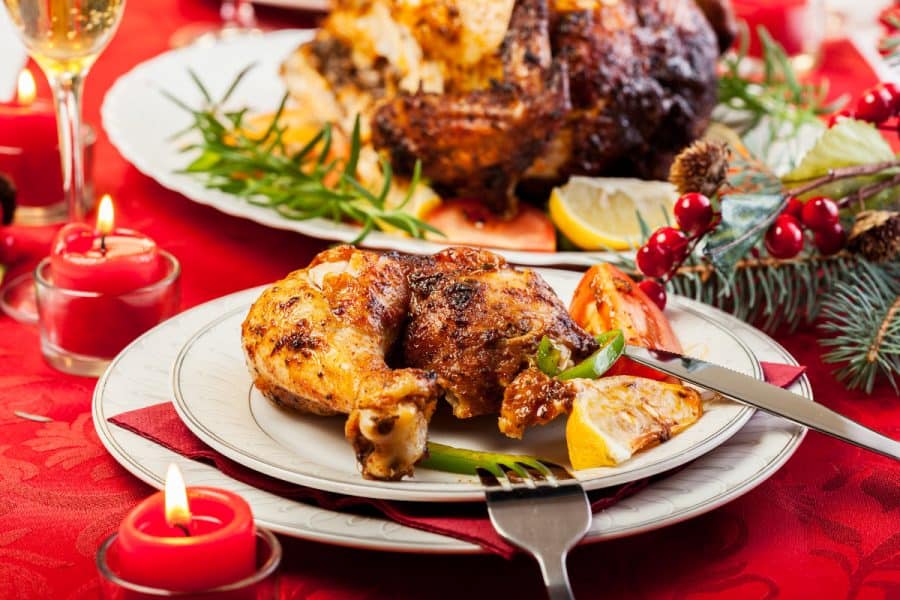 The following Cincinnati area restaurants do the prep work and/or the cooking – you do the serving at home.
🎄 = Locally Owned Restaurants. This is a great time to support your locally owned and operated restaurants!
🎄 Arnold's Bar and Grill: Details coming soon.
Bob Evans locations are offering their Farmhouse Feast®, a complete Thanksgiving meal with their signature slow-roasted turkey, farmhouse sides, pie, freshly-baked rolls & more. Place your Farmhouse Feast® order in advance for delivery or pickup for your Christmas meal. Just heat, serve and enjoy!
Bob Evans has multiple locations. Find a restaurant near you here.
🎄 Bouquet Restaurant's: Details coming soon.
Buca di Beppo is offering Christmas Dinner to go. All meals are "Buca Large" and serve up to 5 people. Choose from their regular Family Meal (salad and pasta) or the Deluxe Family Meal (choice of salad, choice of pasta, and choice of entree). Available for online orders Dec. 23-25 only.
Buca di Beppo has multiple locations. Search for a restaurant near you here.
The Capital Grille is offering Holiday Butcher Boxes. The main dish serves 4 people and best cooked within 48 hours. Enjoy Surf and Turf, Porcini Bone-In Ribeye or Butter Poached Lobster Tails. Order online to go and choose and date in December as the pickup date.
The Capital Grille: 3821 Edwards Road, Cincinnati, Ohio 45209
City Barbeque has their slow-smoked holiday meals back for 2020. Choose from smoked bone-in hams, whole turkeys, and ready-to-carve briskets plus sides. Due to limited supply, these aren't available for online order: these meals and meats are only available to order over the phone or in-store.
City Barbeque has multiple locations. Search for a restaurant near you here.
🎄Clybornes is offering Christmas Meal Kits. Prepared by their chef team, the Christmas Meal Kit provides you with everything you need to serve a delicious holiday meal for your family and friends. The dinner meal kit serves 4-6 people. The Pineapple and Brown Sugar Glazed Ham is accompanied by potato casserole, green beans, mac and cheese, salad and rolls. Desert is apple crisp. The dinner items come fully-cooked and simply need to be reheated in the oven or on the stovetop. Cooking and reheating instructions are included.
Order online and pickup Thursday, December 24. (they'll contact you about the time).
Clybornes: 5948 Snider Road, Mason, Ohio 45040
Cracker Barrel has a Holiday Heat N' Serve Family Dinner that serves a smaller crowd or their Holiday Heat n' Serve Feast that serves 8-10. The meals include: Spiral Sliced Sugar Cured Ham, Cornbread Dressing, Roasted Gravy, Cranberry Relish, Choice of 2-3 Country Sides (depends on which option you choose), and Sweet Yeast Rolls. Available for pickup 12/21-12/28, while supplies last. Receive a FREE Bonus Card (valid 1/1-2/28/21) when you schedule your pickup 12/22 or 12/23. 24-hour notice required for orders. Payment required at time of order. Use within 72 hours after pickup.
Cracker Barrel has multiple locations. Search for a restaurant near you here.
Eddie Merlot's is offering a Holiday Entertaining Menu. They offer a variety of options – from individual appetizers, entrees, side dishes, and desserts to complete holiday dinners for your entire guest list.
Deadline for Christmas orders is Tuesday, 12-22-20 by 7pm.
🎄 Eli's BBQ is offering a Christmas Combo. Start out with a whole Smoked Turkey Breast with a bottle of Eli's famous sauce. End your dinner with a fabulous Bourbon Pecan Pie from O Pie O.
Available at all Eli's locations: Riverside, Findlay, Harper's Point, Liberty Township, Newport and select Kroger locations
The Fresh Market has lots of options for your Christmas and Holiday Meals To Go ordering. Choose from a whole roast turkey meal, spiral sliced honey ham, standing rib roast, or even a Turducken! Some of their items are fully cooked and ready to heat at home. Some of their items require you to do the cooking so be sure to read the descriptions.
Fresh Market has multiple locations. Search for a market near you here.
🎄 Garnish Catering is offering a Christmas Menu To Go. Pick and choose your favorites from a choice of appetizers, filet mignon, rib eye, pork chop, salmon or chicken, a variety of non-traditional entrees, sides and desserts. To find the Christmas offerings, look for the menu order form and then the dropdown under Christmas Menu Pickup 12/24 to see your options.
Garnish Catering: 9648 Kenwood Road, Cincinnati, Ohio 45242
🎄 Good Pie Y'All is ready to help you with Christmas Brunch & Dessert on Dec 22nd. Items offered include cranberry orange sweet rolls, cinnamon rolls, breakfast bakes and more. Feeling generous, give a Holiday Gift pack of 3″ Cutie Pie sampler gift box. Order now, for pickup on December 15, 16 & 17..
Good Pie Y'All: check with them for pickup details
Whole Foods Market is serving up a variety of options including a Classic Christmas Dinner Menu, Christmas Brunch Menu, a Vegan Christmas Menu, a Vegetarian Christmas Menu, and more. All holiday orders must be placed at least 48 hours in advance. Pickup is usually available on the actual day of the holiday, except for Christmas Day. Food is sold chilled upon pickup (reheating instructions are provided). Order here.
Restaurants are listed in alphabetical order and include both Cincinnati and Northern Kentucky locations.