Are you hoping to simplify your Christmas dinner this year? Or perhaps your celebration is a bit smaller than usual? You're in luck because our local restaurants are pulling out all the stops and are ready to help!
Yep, these Christmas dinner to-go combinations look pretty sweet, especially in the year 2020!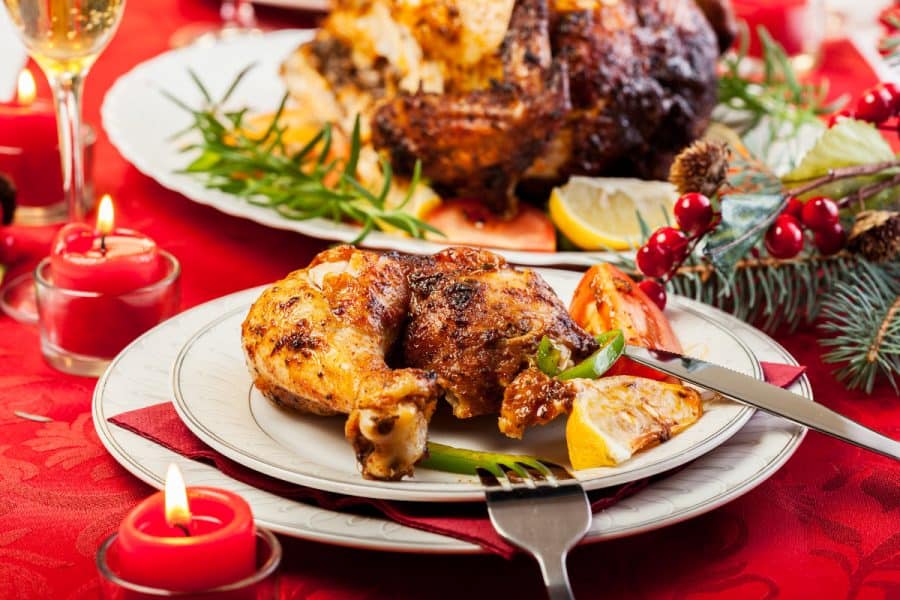 The following Cincinnati area restaurants do the prep work and/or the cooking – you do the serving at home.
🎄 = Locally Owned Restaurants. This is a great time to support your locally owned and operated restaurants!
Restaurants are listed in alphabetical order and include both Cincinnati and Northern Kentucky locations.
---
🎄 Arnold's Bar and Grill is offering premade, heat and eat Christmas dinners, breakfast, sides, and cocktails. Each dinner will be individually packaged; serving size of 1- 100. Pre-order by Dec. 19 at 5pm. Pick up will be at Arnolds's on Dec. 23, 3-9pm.
🎄 Bakers Table has a Christmas Holiday Dinner. Beef brisket, yukon potatoes, farm green salad and sourdough rolls. Serves 2. Pre-order now for pickup on 12/24.
Bakers Table is located at 1004 Monmouth St, Newport, KY 41071.
Bob Evans locations are offering their Farmhouse Feast®, a complete Thanksgiving meal with their signature slow-roasted turkey, farmhouse sides, pie, freshly-baked rolls & more. Place your Farmhouse Feast® order in advance for delivery or pickup for your Christmas meal. Just heat, serve and enjoy!
Bob Evans has multiple locations. Find a restaurant near you here.
🎄 Boomtown Biscuits and Whiskey has a Meal Kit for Two. A stress-free dinner for two. Customize your order by choosing from a selection of different mains, fixins, sweets, and everyone's favorite biscuits! Email by 6pm on 12/20 for inquiries and pre-orders. Pick-up is set for 12/24 from 11am- 4pm.
Boomtown Biscuits and Whiskey is located at 1201 Broadway, Cincinnati, OH 45202
🎄 Bouquet Restaurant is offering a Holiday Ham Dinner. This festive dinner serves 6 people and includes 3lbs of Marksberry Farm Kentucky ham, brown sugar glaze, bourbon creamed greens, and slow cooked garlic potatoes. Add-ons available. Pre- orders by Friday Dec 18th. For pick up on Tues 22nd or Wed Dec 23rd from. 12-8pm.
Bouquet Restaurant is located at 519 Main St, Covington, KY 41011
Buca di Beppo is offering Christmas Dinner to go. All meals are "Buca Large" and serve up to 5 people. Choose from their regular Family Meal (salad and pasta) or the Deluxe Family Meal (choice of salad, choice of pasta, and choice of entree). Available for online orders Dec. 23-25 only.
Buca di Beppo has multiple locations. Search for a restaurant near you here.
The Capital Grille is offering Holiday Butcher Boxes. The main dish serves 4 people and best cooked within 48 hours. Enjoy Surf and Turf, Porcini Bone-In Ribeye or Butter Poached Lobster Tails. Order online to go and choose and date in December as the pickup date.
The Capital Grille: 3821 Edwards Road, Cincinnati, Ohio 45209
🎄 Chez Renee French Bistrot's Christmas Dinner To Go feeds 4-6 people. Meal includes Salmon TarTare with toats, Orage Duck or Orange Chicken, salad, and chocolate mousse. Order anytime for pick-up on Thursday, Dec. 24th.
Chez Renee French Bistrot is located at 233 Main Street, Milford, OH 45150
City Barbeque has their slow-smoked holiday meals back for 2020. Choose from smoked bone-in hams, whole turkeys, and ready-to-carve briskets plus sides. Due to limited supply, these aren't available for online order: these meals and meats are only available to order over the phone or in-store.
City Barbeque has multiple locations. Search for a restaurant near you here.
🎄 Chloe's Eatery has created a Holiday Dinner. Each dinner is individually priced and includes Wagyu chuck roast (cooked low & slow), fingerling potato, braised collard greens, roasted root vegetables and salad. Before or after dinner be sure to add a charcuterie board or a dessert. Order by Dec 19th and pick-up Dec 24th.
Chloe's Eatery is located at 2872 Lawrenceburg, North Bend, OH 45052
🎄 Clybornes is offering Christmas Meal Kits. Prepared by their chef team, the Christmas Meal Kit provides you with everything you need to serve a delicious holiday meal for your family and friends. The dinner meal kit serves 4-6 people. The Pineapple and Brown Sugar Glazed Ham is accompanied by potato casserole, green beans, mac and cheese, salad and rolls. Desert is apple crisp. The dinner items come fully-cooked and simply need to be reheated in the oven or on the stovetop. Cooking and reheating instructions are included.
Order online and pickup Thursday, December 24. (they'll contact you about the time).
Clybornes: 5948 Snider Road, Mason, Ohio 45040
🎄 Commonwealth Bistro is offering Christmas Pre-Order Dinners for pick-up on Dec 24th. Several options feed 2 – 10. Includes pork loin, winter vegetables, rice pilaf, whipped sweet potatoes, mixed green salad. Breakfast strata available for up to 5 which includes sausage, mushrooms, onions, cheese and eggs ready to back and serve.
Commonwealth Bistro is at 621 Main St, Covington, KY.
🎄 Cozy's Cafe and Pub will be offering a ready to bake meal for Christmas! Prime Rib or Ham with all scallop potatoes, honey ginger roasted carrots, rolls and a 10″ Cozy carrot cake. Call and order before Friday Dec 18th. Meals can be picked up Wednesday Dec 23rd. Feeds 6.
Cozy's Cafe is located at 6440 Cincinnati Dayton Rd, Liberty Township, OH 45044
Cracker Barrel has a Holiday Heat N' Serve Family Dinner that serves a smaller crowd or their Holiday Heat n' Serve Feast that serves 8-10. The meals include: Spiral Sliced Sugar Cured Ham, Cornbread Dressing, Roasted Gravy, Cranberry Relish, Choice of 2-3 Country Sides (depends on which option you choose), and Sweet Yeast Rolls. Available for pickup 12/21-12/28, while supplies last. Receive a FREE Bonus Card (valid 1/1-2/28/21) when you schedule your pickup 12/22 or 12/23. 24-hour notice required for orders. Payment required at time of order. Use within 72 hours after pickup.
Cracker Barrel has multiple locations. Search for a restaurant near you here.
🎄 Crown Republic has Holiday Meal Kits with 3 selections. Choose from lasagna bolognese, maple ham style pork loin or prime rib style NY strip. Includes sides, salad and cookie. Holiday kits will be available for pick up from Crown Republic Gastropub on December 23rd and 24th. Each meal kit serves approximately 6 guests and includes warming instructions.
Crown Republic is located at 720 Sycamore St, Cincinnati, OH 45202
🎄 deSha's is listing Two Convenient Holiday Carryout options. One is a tradition Ham Dinner with three sides and cornbread. Kids portion available. Second is a Prime Rib Dinner with sides and cornbread. Appetizes, salads and desserts are available a-la-cart. Pre-order by Dec 22. Heat-at-home available on Dec 23 & 24. Hot & Ready available on Dec 24 after 3pm.
deSha;s is located at 11320 Montgomery Rd, Cincinnati, OH 45249.
Eddie Merlot's is offering a Holiday Entertaining Menu. They offer a variety of options – from individual appetizers, entrees, side dishes, and desserts to complete holiday dinners for your entire guest list.
Deadline for Christmas orders is Tuesday, 12-22-20 by 7pm.
🎄 Eli's BBQ is offering a Christmas Combo. Start out with a whole Smoked Turkey Breast with a bottle of Eli's famous sauce. End your dinner with a fabulous Bourbon Pecan Pie from O Pie O.
Available at all Eli's locations: Riverside, Findlay, Harper's Point, Liberty Township, Newport and select Kroger locations
🎄 Empanadas Aqui has Venezuelan Holiday Food Packs (link is for a .pdf download). Packs will feed 4 or 6. Meal includes Plato Navideno (hallacas, ensalada de gallina, pan de jamon), choice of meat (ham, chicken, pernil) and dessert. Order by 12:00 Sunday 12/20 for pickup by 2pm 12/24.
Empanadas Aqui is located at 322 Reading Rd, Mason, OH 4504
🎄 Fausto at the CAC is offering a Christmas Dinner. The Roasted Chicken Dinner is for 2 people. This dinner set comes with a bread salad with mustard greens & sherry vinaigrette, Potato Dauphinoise, Roasted Local Brassicas with shallot agrodolce, thyme, bacon fat & puffed quinoa, Roasted Parsnip Soup,Bread & Housemade Sherry Brown Butter Available for pick-up on Christmas eve between the hours of 12pm – 2pm.
Fausto at the CAC is located at 44 E 6th St, Cincinnati, OH 45202.
🎄 French Crust Cafe & Bisto has created a Noel Dinner. Menu includes lobster bisque, classic wedge salad, "Roast Beast" ribeye, potatoes gratin, vichy carrots, cream spinach and dessert. Order by Friday Dec 18. Pickup Thursday Dec 24 by 3:00pm.
The Fresh Market has lots of options for your Christmas and Holiday Meals To Go ordering. Choose from a whole roast turkey meal, spiral sliced honey ham, standing rib roast, or even a Turducken! Some of their items are fully cooked and ready to heat at home. Some of their items require you to do the cooking so be sure to read the descriptions.
Fresh Market has multiple locations. Search for a market near you here.
🎄 Garnish Catering is offering a Christmas Menu To Go. Pick and choose your favorites from a choice of appetizers, filet mignon, rib eye, pork chop, salmon or chicken, a variety of non-traditional entrees, sides and desserts. To find the Christmas offerings, look for the menu order form and then the dropdown under Christmas Menu Pickup 12/24 to see your options.
Garnish Catering: 9648 Kenwood Road, Cincinnati, Ohio 45242
🎄 Good Pie Y'All is ready to help you with Christmas Brunch & Dessert on Dec 22nd. Items offered include cranberry orange sweet rolls, cinnamon rolls, breakfast bakes and more. Feeling generous, give a Holiday Gift pack of 3″ Cutie Pie sampler gift box. Order now, for pickup on December 15, 16 & 17.
Good Pie Y'All: check with them for pickup details.
🎄 The Governor is offering their Feast of the Seven Fishes. Choose from smoked trout dip, peel and eat shrimp, lobster bisque, oysters rockefeller, crab cakes, pastrami smoked salmon or lobster macaroni and cheese. Feeds 6. All pre-orders should be in by Monday evening Dec 21st. Pickup anytime on Wednesday Dec 23. Heating instruction include.
The Governor is loacted at 231 Main Street, Milford, Ohio 45150.
🎄 Ivory House has $39 Holiday Meal Deals available. Their package serves 2-4. Choose from meatloaf, pork loin, bbq chicken, lasagna and more and family salad and bread. Meals will be ready for pickup at Ivory House same day if order by 2:00pm
🎄 Jungle Jims has Holiday Chef Creations. Choose from ready-to-cook or ready-to-heat. Select from turkey or ham. Includes choice of 3 sides traditional stuffing, mashed potatoes, candied yams, green bean casserole, or baby carrots. Meals serve from 6 to 14. In-store pick-up for ready-to-cook and ready-to-heat holiday dinners is available December 23 from 9:00 AM to 6:00 PM OR December 24 from 9:00 AM to 12:00.
Farifield location: 5440 Dixie Hwy, Fairfield, Ohio 45014
Eastgate location: 4450 Eastgate South Dr, Cincinnati, Ohio 45245
🎄 LuciusQ is packaging Holiday Take and Bake meals in partnership with Avril-Bleh Meat Market and Revel OTR Urban Winery. Slow-smoked hams, homemade sides, fresh-baked pies, & perfectly-paired wines. Take & bake meals will be fully cooked and provided with reheating instructions to be picked up on December 23rd between 11am and 9pm or on December 24th between 11am and 2pm. Pre-order by 12:00 on 12/20.
LuciusQ is locate at 1131 Broadway St, Cincinnati, OH, 45202
Maggiano's is offering a Holiday Carryout Meal. Meal for 4 -6 includes mini meatballs, ceaser salad, lasagna, fettucine alfredo, chicken parmesan or chicken piccata, cheesecake, butter cake, lemon cookies and fresh ciabatta bread. Available Dec 9 -24. Order your holiday meal warm & ready to serve or prepared cold to be heated at your convenience.
🎄 Midwest Best BBQ has a Ready to Bake Holiday Meal. Meal include smoked ham or turkey, roasted red potatoes, green beans, mac-n-cheese, glazed carrots , sweet potato souffle, rolls. OR by smoked meat by the pound. Feed 5, 10 or 20. Order by Dec 19th for pick-up Dec 24th 12-4pm.
Midwest Best BBQ is located at
🎄 Out of Thyme Kitchen will begin taking December holiday pre-orders soon! .
Out of Thyme Kitchen: 11915 Montgomery Rd., Cincinnati, Ohio 45249.
🎄 Pickles & Bones Barbecue has a Christmas Eve To Go. Choose from short ribs and jus or turkey breast and gravy. Sides include brussels sprouts and carrots, garlic yukon gold potatoes, salad and rolls. Included dessert. Multiple sizes feed 4 -10. Call to order for carryout on December 23.
Pickles & Bones can be found at 1149 Ohio 131, Milford, OH 45150.
🎄 Salazar is offering their Holiday Carry-Out Menu. Select from roasted heritage ham or brown sugar-honey glaze spinach and mushroom potato gratin (vegetarian). Sides include salad, brioche roll, sweet potatoes, apple-cranberry stuffing, cauliflower, pepitas, pomegranate. Pre-order your dinners with optional wine pairings here for pickup on Wednesday, December 23rd, between 11am – 3pm. Reheating information will be included with your order.
Salazar is located at 1401 Republic Street, Cincinnati, OH 45202
🎄 Sweets & Meats BBQ is making Holiday Dinner. Choose from smoked meats, holiday sides, and dessert. Additional menu items can be added. This one feeds 6. Orders must be placed online (or by phone at 513-888-4227) no later than noon on 12-20-20. Curbside pickup is offered on Christmas Even, 12-6pm.
Sweets & Meats BBQ is located at 2249 Beechmont Ave., Cincinnati, Ohio 45230
🎄 Tēla Bar + Kitchen is offering a Take Home Christmas Dinner. Menu includes spiral sliced ham, truffle mashed potatoes, mixed green salad and Sixteen Bricks honey wheat bread. Feeds 6 – 8. Simply pick up , heat and serve. Pre-order by December 19th at noon and pick up Dec 24th by 3:00pm.
Tēla Bar + Kitchen is located at 1212 Springfield Pike, Cincinnati, OH 45215
🎄 Tortilleria Garcia has a Christmas Pack. Nothing better to warm up on Christmas with your loved ones and enjoy some delicious Mexican champurrado (Mexican hot chocolate). Served a-la-carte. Tamales (veggie, chicken, pork, sweet), mole, pozole, or ensalade de fruta. Orders in by Dec 22nd for pickup on 12/24.
Two locations: Springdale or College Hill.
Whole Foods Market is serving up a variety of options including a Classic Christmas Dinner Menu, Christmas Brunch Menu, a Vegan Christmas Menu, a Vegetarian Christmas Menu, and more. All holiday orders must be placed at least 48 hours in advance. Pickup is usually available on the actual day of the holiday, except for Christmas Day. Food is sold chilled upon pickup (reheating instructions are provided). Order here.
🎄 Wodka Bar is offering Christmas Eve Dinner a of your favorite Eastern Bloc food. Serves 4 and includes borscht, halushki, crostini, pierogi, stuffed cabbage roll. Order any time between before Monday, December 21, then pick up between December 22 and 23 from noon – 3PM.
Wodka Bar is located at 1200 Main St, Cincinnati, OH 45202.
Restaurants are listed in alphabetical order and include both Cincinnati and Northern Kentucky locations.