Are you hoping to simplify your Christmas dinner this year? Or perhaps your celebration is a bit smaller than usual? You're in luck because our local restaurants are pulling out all the stops and are ready to help!
Yep, these Christmas dinner to-go combinations look pretty sweet, especially in the year 2021!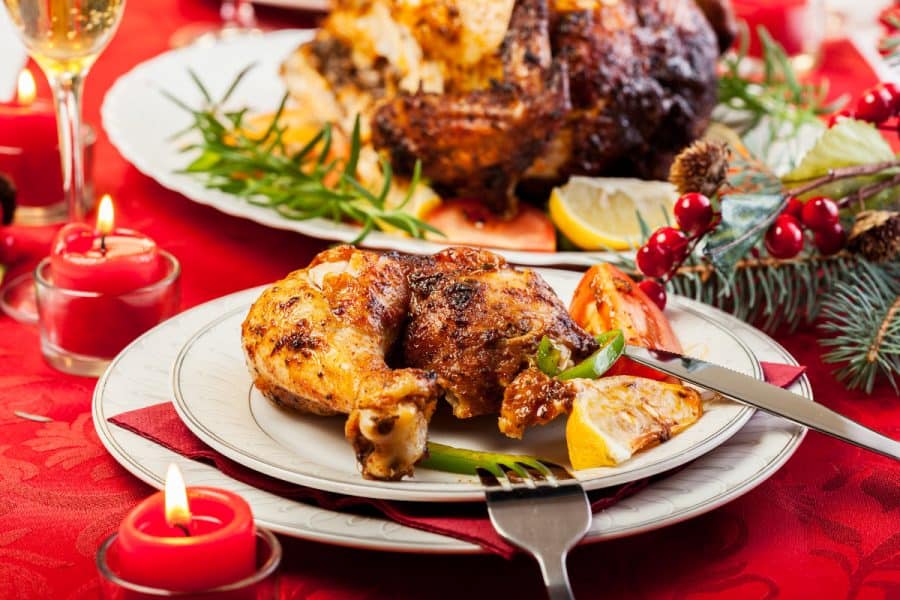 The following Cincinnati area restaurants do the prep work and/or the cooking – you do the serving at home.
🎄 = Locally Owned Restaurants. This is a great time to support your locally owned and operated restaurants!
Restaurants are listed in alphabetical order and include both Cincinnati and Northern Kentucky locations.
---
🎄 The Baker's Table Bakery is offering a Holiday Presale for breakfast and breads. Breakfast choices include Seasonal Veggie Strata, a 4 pack of Honey Ginger Buns, or Pumpkin Raisin Bread (1/2 loaf) plus lots of fresh bread choices. Order by Sunday, Dec. 19 at noon and pickup on Dec. 24, 10am-noon.
The Baker's Table Bakery is located at 1001 Monmouth St, Newport, KY 41071.
Bob Evans locations is offering variations of their Farmhouse Feast®, a complete Christmas meal with their signature slow-roasted turkey, farmhouse sides, pie, freshly-baked rolls & more. They're also offering Feasts with ham or pot roast as the main course. Place your Farmhouse Feast® order in advance for delivery or pickup for your Christmas meal. Just heat, serve and enjoy!
Bob Evans has multiple locations. Find a restaurant near you here.
🎄 Chez Renee French Bistro has a Christmas Dinner to Go offering. It includes Smoked Salmon Toast, your choice of Orange Duck, Orange Chicken, or Seafood O'Grat. Meal comes with wrapped bacon/prunes, mash potatoes, and green beans. End the meal with Mille Feuilles, French pastry with creme patissiere. Order by phone at 513-248-0454. Pickup is Dec. 24 from 2-4pm.
Chez Renee French Bistro is located at 235 Main Street, Milford, OH 45150
City Barbeque has their slow-smoked holiday meals back for 2022. Choose from smoked bone-in hams, turkey breasts, and/or whole turkeys plus sides. Due to limited supply, these aren't available for online order: these meals and meats are only available to order over the phone or in-store.
City Barbeque has multiple locations. Search for a restaurant near you here.
🎄 Cork and Cap of Hyde Park is offering a Holiday Beef Wellington Lit for the season. You can reserve a kit via DM on Facebook or put your name on the list. More details should be coming up from them soon. Check out the post here.
Cork and Cap of Hyde Park is located at 2637 Erie Ave., Cincinnati, Ohio 45208
Cracker Barrel has a Holiday Heat N' Serve Family Dinner that serves a smaller crowd (4-6) or their Holiday Heat n' Serve Feast that serves 8-10. The Feast meals include: Spiral Sliced Sugar Cured Ham, dressing, gravy, cranberry relish, mac & cheese, your choice of 2 Country Sides, and yeast rolls (depends on which option you choose). The Family Dinners come with your choice of prime rib or holiday ham plus sides and rolls. Available for pickup 12/21-12/28, while supplies last.
Cracker Barrel has multiple locations. Search for a restaurant near you here.
🎄 Crown Republic (one of my personal favorites!) is offering their Holiday Meal Kits with 3 selections in 2022. They're offering three different dinner options for pickup on Christmas Eve.
Pickup will be on December 24, 2021 from 10am – 12pm at Five on Vine, 1324 Vine St, 45202.
🎄 deSha's is listing Two Convenient Holiday Carryout options. One is a tradition Ham Dinner with three sides and cornbread. Kids portion available. Second is a Prime Rib Dinner with sides and cornbread. Appetizers, salads and desserts are available a-la-cart. Pre-order by Dec 22. Heat-at-home available on Dec 23 & 24. Hot & Ready available on Dec 24 after 3pm.
deSha's is located at 11320 Montgomery Rd, Cincinnati, OH 45249.
🎄 Eli's BBQ offered a Christmas Combo last year and we're hoping to see something similar from them soon. Stay tuned!
Available at all Eli's locations: Riverside, Findlay, Harper's Point, Liberty Township, Newport and select Kroger locations
🎄 Empanadas Aqui is offering their popular Party Packs. Packs will feed 4 or 6. Meal includes Plato Navideno (hallacas, ensalada de gallina, pan de jamon, pernil) and a choice of dessert. Order by noon on Tuesday, 12/21 for pickup by 4pm 12/24.
Call in your order at 513-701-9500.
Empanadas Aqui is located at 322 Reading Rd, Mason, OH 4504
The Fresh Market has lots of options for your Christmas and Holiday Meals To Go ordering. Choose from a whole roast turkey meal, spiral sliced honey ham, standing rib roast, or even a Turducken! Some of their items are fully cooked and ready to heat at home. Some of their items require you to do the cooking so be sure to read the descriptions.
Fresh Market has multiple locations. Search for a market near you here.
🎄 The Governor is offering their Feast of the Seven Fishes in 2021 it looks pretty amazing! All items serve approximately 4 people. Choose from smoked white fish dip, shrimp scampi, grilled broccolini, lobster alredo, grilled octopus, cioppino, and pesto roasted salmon.
Pick up on Thursday, Dec. 23, 2021. Call to order: 513-239-8298
The Governor is loacted at 231 Main Street, Milford, Ohio 45150.
🎄 Latin House is offering a Holiday Dinner that includes your choice of meats (roasted pork shoulder, roasted turkey, roasted chicken, maple glazed ham, or cranberry apple pork chops), and three sides (choose from 3 cheese mashed potatoes, coconut crusted asparagus, mac and cheese, stuffing, white rice with black beans, white rice with read beans, yuca). Enjoy all of that plus rolls, garlic butter, and flan for dessert. Serving sizes are 4, 8, or 12 people. Preorder by December 18, 2021 – online, in store, or by phone at 513-908-5154. Pickup is on Dec. 24 by 2pm.
Latin House is located at 823 Main Street, Cincinnati, Ohio 45202
🎄 Leyla Mediterranean will be open on both Christmas Eve and Christmas Day for take out orders. They are taking reservations and also accepting orders ahead of time if you'd like. It looks as though their full menu will be available. Check out items such as lamb chops, a huge variety of kebabs, fish entrees, Lahmacun (Kurdish style pizza), Soujouk Pide (Kurdish flatbread with toppings), and much more.
Leyla Mediterranean is located at Anderson Towne Center, 7418 Beechmont Ave., Cincinnati, Ohio 45255
🎄 LuciusQ has some awesome Holiday Take and Bake Meals. They're partnering with Avril-Bleh Meat Market and Revel OTR Urban Winery to bring you a local meal including slow-smoked hams, homemade sides, fresh-baked pies, & perfectly-paired wines. Take & bake meals will be fully cooked and provided with reheating instructions to be picked up on December 23rd between 3- 7pm or on December 24th between 11am and 2pm. Deadline to order is noon on 12-22-21.
LuciusQ is locate at 1131 Broadway St, Cincinnati, OH, 45202
🎄 Midwest Best BBQ is offering Holiday Meals for 2022. Their ready to bake meal offering includes Smoked Ham or Smoked Turkey Breast, roasted red potatoes, green beans, mac n cheese, apricot glazed carrots, sweet potatoe souffle, and rolls. They have meals for 5, 10, or 20 people. You can also choose some good eats from their a la carte menu. Order deadline is Wednesday, Dec. 14 with pickup being on Saturday, Dec. 24, 11am-2pm. Order online or by phone at 513-965-9000 (they ask that you do NOT leave your order via voicemail).
Midwest Best BBQ is located at 669 Justice Ct., Loveland, Ohio 45140
🎄 Oakley Kitchen will help you knock the holiday out of the park with a Smoked Turkey Breast from the Campfire Foods Group Commissary. It comes with a bottle of Eli's BBQ sauce and feeds 10-12 people. Pick up is on Thursday, Dec. 23, 2021 at Oakley Kitchen, 11am-8pm.
Oakley Kitchen: 3175 Madison Road, Cincinnati, Ohio 45209
🎄 Out of Thyme Kitchen is offering Complete Meal Packages which includes the main entree of your choice (choose from beef tenderloin with red wine sauce or sage + apple turkey breast with gravy), 4 sides, one soup/salad, and one freshly baked bread choice. You can even add a "Bake" for the next day with choices from things like lasagna, egg strata, and more AND/OR some holiday appetizers.
Call 513-781-4637 to order or order online here
Out of Thyme Kitchen: 11915 Montgomery Rd., Cincinnati, Ohio 45249.
🎄 Pickles & Bones Barbecue has a Holiday Heat and Eat available for this year. Included is red wine braised pot roast, mashed yukon gold potatoes, carmelinzed carrots and sweet onions, green bean salad with bleu cheese, almonds, cranberries, and buttermilk rolls. Choose your dessert from toasted white chocolate cranberry cake or Josh's peanut butter chocolate pie. Everything is prepped and ready to heat when you need it. Multiple sizes feed 4 -10.
Call 513-317-2214 to order for carryout on December 23.
Pickles & Bones can be found at 1149 Ohio 131, Milford, OH 45150.
🎄 Sweets & Meats BBQ has a Holiday Feast for 2021. Choose from smoked meats, holiday sides, and dessert. Additional menu items can be added. This one feeds 4-6. Orders must be placed online (or by phone at 513-888-4227, ext. 3) no later than 12-17-21 (or until they sell out). Curbside pickup is offered on Christmas Eve, 12-6pm.
Sweets & Meats BBQ is located at 2249 Beechmont Ave., Cincinnati, Ohio 45230
🎄 Tēla Bar + Kitchen will be offering a 2021 holiday meal but it hasn't been announced yet. We'll updates as soon as they post their menu for this year.
Tēla Bar + Kitchen is located at 1212 Springfield Pike, Cincinnati, OH 45215
🎄 Tortilleria Garcia – for when you want something different! Last year they had a Christmas Pack. Nothing better to warm up on Christmas with your loved ones and enjoy some delicious Mexican champurrado (Mexican hot chocolate). Served a-la-carte. Tamales (veggie, chicken, pork, sweet), mole, pozole, or ensalade de fruta. Orders in by Dec 22nd for pickup on 12/24.
Two locations: Springdale or College Hill.
Whole Foods Market is serving up a variety of options including a Classic Christmas Dinner Menu, Christmas Brunch Menu, a Vegan Christmas Menu, a Vegetarian Christmas Menu, and more. All holiday orders must be placed at least 48 hours in advance. Pickup is usually available on the actual day of the holiday, except for Christmas Day. Food is sold chilled upon pickup (reheating instructions are provided). Order here.
Restaurants are listed in alphabetical order and include both Cincinnati and Northern Kentucky locations.