2021 Christmas Markets and Holiday Craft Shows in Cincinnati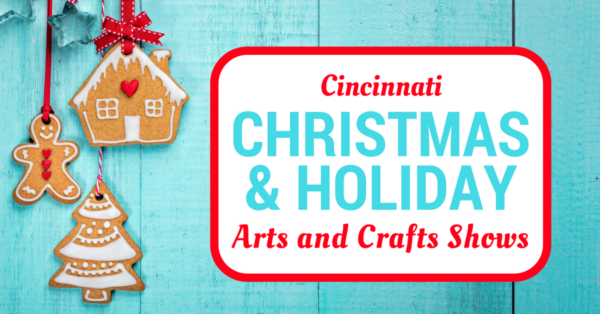 Did we miss your favorite Christmas Market in the Cincinnati area? Click here to email us with the details.
We've compiled a large list of Christmas and Holiday craft shows back in person this year. Each show is following it's own safety and social distancing procedures. Be sure to check with the shows for any updates or changes.
November Craft Shows (listed by date, updated for 2021):
Chriskindlmarkt at Germania
November 5-7, 2021
Germania, 3529 West Kemper Rd. 45251
It's the 23rd year for the oldest and most authentic German Christmas Market in the Cincinnati region — all under enclosed, heated tents. Enjoy holiday entertainment, German music, a children's lantern parade, petting zoo, caroling children's groups, and carriage rides plus traditional German food (including their famous dill pickle soup), German Bier, Glühwein (hot mulled wine), holiday cocktail bar, German pastries, cookies, and candies.
Keepsake Christmas Craft Show
November 5-7, 2021; Fri 10am-8pm, Sat 9am-4pm, Sun 11am-3pm
Edgewood Center, 550 Freedom Park Dr, Edgewood KY, 41017
It's 37th year for oldest Craft Show in Northern KY. Keepsake Christmas Craft Show offers unique "boutique style" shopping. A wide variety of handmade crafts and candies from 35 juried crafters. Admission is free.
Colerain High School Booster Craft Show
November 6-7, 2021; 10am-4pm
Colerain High School, 8801 Cheviot Rd 45251
Over 200 handcrafted artisan
Kindervelt Krafts
November 6, 2021; 10am-3pm
Seton High School, 3901 Glenway Ave. 45205
Loveland Athletic Boosters Arts and Crafts Show
November 6, 2021; 9:30am-3pm
Loveland High School cafeteria, 1 Tiger Trail 45140
200 Artists/Crafters with unique hand crafted items including jewelry, baby items, woodcrafts, candles, dips, seasonings, purses, hats, pottery
Admission $3
Winter Craft Show
November 6, 2021; 10am-3pm
EnterTrainment Junction, 7379 Squire Ct., West Chester Twp., Ohio
Come shop from local vendors and small businesses. A large variety to choose from! Perfect for all those last minute Christmas gifts. Show open from 10:00am-3:00pm in our Expo Room and admission to the show is free!
Deerfield Handmade Market
November 7, 2021; 11am-5pm. Early Bird 10am
Manor House, 7440 Mason-Montgomery Rd, 45040
Over 80 of the most talented artists, makers, creators, and crafters from this region. Eclectic and unusual items. First 100 guests receive goody bag. Open bar.
Admission $3, Early Bird $5
Greater Cincinnati Holiday Market
November 12-14, 2021
Duke Energy Convention Center, 525 Elm St. 45202
Cincinnati's shopping extravaganza! 350+ boutiques & specialty shops, gourmet food, artisans & unique gifts for anyone on your list.
CAM Holiday Market
November 12-14, 2021; 11am-4pm
Cincinnati Art Museum, 953 Eden Park Dr, 45202
Return of our Holiday Market in Gallery 126 (near the Terrace Café). Local artists, designers and authors during this three day shopping event. Shoppers will receive 10% off purchases. Festive treats and beverages will also be available for purchase. Free to attend. Masks required.
Lakota East PTSO Holiday Arts and Crafts Show
November 13-14, 2021; Sat 10-4- 9 am early bird and Sunday 11-4
Lakota East Arts and Craft show is proud to host 220 juried artisans in an indoor holiday shopping experience. This is one of the largest craft shows in the Cincinnati area. Don't miss out on some wonderful gift giving ideas for the upcoming holidays while supporting your Lakota East Student Scholarships/Services. Masks required.
St Vincent Ferrer Holiday Market
November 13, 2021; 10am-3pm
7754 Montgomery Rd, 45236
40 vendors and unique crafters to help you with your holiday shopping! Masks required.
Art on Vine
November 14, 2021; 12-6pm
Rhinegeist, 1910 Elm Street, 45202
Holiday OFF Market
November 20, 2021; 10am-4pm
Summit Park 4335 Glendale-Milford Rd., Blue Ash, Ohio
The O.F.F. Market is a monthly marketplace that brings together small businesses, artisans, brewers, bakers, farmers and the like to provide a unique shopping experience that supports strong community connections and strives to grow a hearty local economy.
Little Miami Arts and Crafts Show
November 20, 2021; 9:30am-4pm
3001 E US 22&3, Morrow, OH 45152
Crafters will be making handmade items. Perfect gift for the holidays!
$2 Admission
Oak Hills HS Craft Show
November 20, 2021; 9am-3pm
Oak Hills High School, 3200 Ebenezer Rd. 45248
Sycamore / SBOB Art and Craft Show
November 20, 2021
Sycamore High School, 7400 Cornell Rd., 45242
Winterfair
November 26-28, 2021; Fri & Sat 10am-5pm, Sun 11am-4pm
Northern Kentucky Convention Center, 1 W Rivercenter Blvd, Covington, KY 41011
Unique jewelry, glass, paintings, photographs, ceramics and more. The Gourmet Marketplace, featuring finely crafted soaps, lotions, chocolates, dips.
Admission $7
Crafty Supermarket
November 27, 2021; 11am-5pm
Cincinnati Music Hall, 1241 Elm St, 45202
Known as the biggest, baddest indie craft fair in the region with 100+ makers. Show features handmade goods made by local, regional and national artists.
Bring proof of vaccination or a negative COVID test to enter the building. Masks required.
Fibonacci Brewery Bazaar
November 27, 2021; 12pm-3pm
Fibonacci Brewing Company, 1455 Compton Rd, 45231
It's their first artist and craft show. Support local businesses for Small Business Saturday! It's a great opportunity to purchase gifts for the holidays and enjoy the beer garden. Mulled wine and great craft beers to drink.
Westside Market – Holiday Edition
November 27, 2021; 12-5pm
Harvest Home Park, 3961 North Bend Road, Cheviot, Ohio
100+ local vendors, food trucks, kid activities, first 200 people 18 & over get a local swag bag, free photos with Santa
December Craft Shows (listed by date, updated for 2021):
Milford Athletic Boosters Craft Show
December 4, 2021; 9am-3pm
Admission is $2 and parking is free
1 Eagles Way, Milford, Ohio
The almost 300 crafters exhibit their broad spectrum of products including, but not limited to, sewn items, embroidery, quilting, knitting, glass etching, painting, wood crafts, candles, handmade soaps, lotions, stuffed Santas, elves, doll clothes, floral arrangements, holiday décor, hair embellishments, jewelry, purses, alpaca products, dips & seasonings, photography, baby items, roasted almonds and pecans, homemade candies, and dog treats. This is a 'craft only' event with no manufacturer's representatives or consultants permitted.
Findlay Market Holiday Market
December 4-5, 2021
1801 Race Street, 45202
They will have farmers and outdoor vendors + dozens of full-time merchants selling holiday gifts, food and decor. Bundle up, grab your friends and support small businesses this holiday season!
Holiday One Stop Shop
December 4, 2021; 10am-3pm
Wyoming Civic Center, 1 Worthington Ave, 45215
Shop for jewelry, personalized stationery, monogramming, arts, crafts, and more! Enjoy holiday music and food at this event.
Holly Jolly Vendor Fair
December 4, 2021; 11am-5pm
Warren County Fairgrounds, 665 N Broadway St, 45036
St John Christmas Craft Fair
December 4, 2021; 9am-3pm
St. John Church, 9080 Cincinnati-Dayton Rd, 45069
Three buildings filled with great crafts and gifts for the holidays from over 100 crafters.
Holiday Market
December 4, 2021; 11:30am-3:30pm
Tafts Brewporium, 4831 Spring Grove Ave, 45232
Taft's Brewpourium for our annual Holiday Market! Twenty-four local vendors for you to shop and prepare for the holidays in a fun, merry way.
Madtree Winter Market
December 5, 2021; 10am-2pm
Madtree Brewing, 3301 Madison Rd, 45209
Artisans specializing in categories such as handcrafted jewelry, woodworking, photography, clothing and home goods.
City Flea Holiday Market
December 11, 2021; 4-9pm
Washington Park, 1230 Elm Street, 45202
Delhi Township Holiday Market
December 11, 2021; 9am-2pm
Delhi Community/Senior Center, 647 Neeb Rd, 45233
Crafters will be offering products that are entirely homemade, so you are sure to find something totally unique. Shop for baked goods and handmade soaps to jewelry and custom décor from 35 crafters.
Handmade Market
December 11, 2021; 10am-3pm
Pleasant Ridge Montessori, 5545 Montgomery Rd, 45212
Handmade artisan crafts as well as food trucks. Market to raise funds for schools makerspace (and future crafters).
Holiday Arts & Crafts Show
December 11, 2021; 10am-4pm
Ross Middle School, 3425 Hamilton Cleves Rd, 45013
Emphasis is on handmade crafts with demonstrations from local artists.
Holiday Craft Show
December 11, 2021; 9am-2pm
Dixie Heights High School, 3010 Dixie Highway, Edgewood, KY 41017
Art on Vine Holiday Gift Sale
December 12, 2021; 12-6pm
Rhinegeist, 1910 Elm Street, 45202
---
Craft Shows that are still TBD for 2021
Covington Winter Night Bazaar
TBD
Renaissance Covington Inc., 2 W. Pike Street
Home for the Holidays Craft and Vendor Show
TBD
Sharonville Convention Center, 11355 Chester Rd., 45246
La Salle High School Craft Fair
TBD
La Salle High School, 3091 North Bend Rd., 45239
---
All events were accurate at the time of this posting but things do happen and events do occasionally get canceled or postponed. You should always double check with the event source before you head out the door. Links for each event are provided so that you can be sure the date is still accurate before you head out.