Cincinnati has some pretty spectacular options when it comes to drive through Christmas light shows this year! A few of our traditional drive thru Christmas light displays are returning AND a few have added a new drive thru option for 2020.
And don't miss a few holiday light shows that offer the opportunity to wander around outdoor spaces like the Cincinnati Zoo and the Cincinnati Nature Center for their outdoor light displays (you'll find those listed towards the end).
🎄 = Drive Through Christmas Light Shows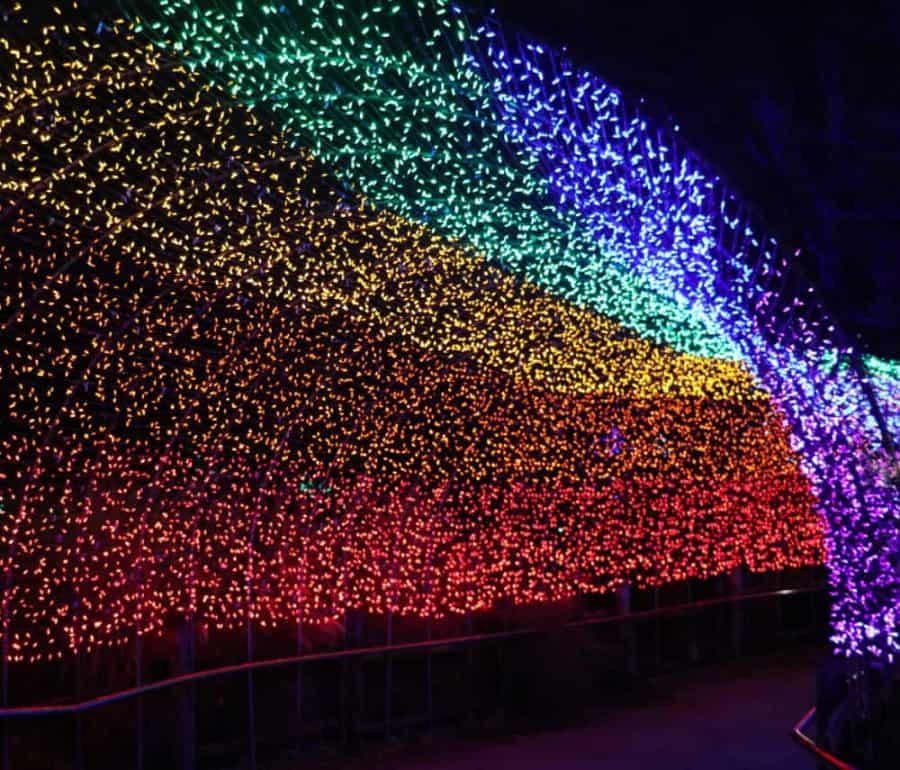 Enjoy our list of the best local Christmas Light Shows… and don't miss the map at the end that will help with your request to "find a Christmas Light Show Near Me"!
PLEASE NOTE: Some of the light shows are requiring online ticket purchases / timed tickets / reservations for 2020. Check the light show of your choice for their 2020 admission policies. In addition, some are not accepting cash at the gate.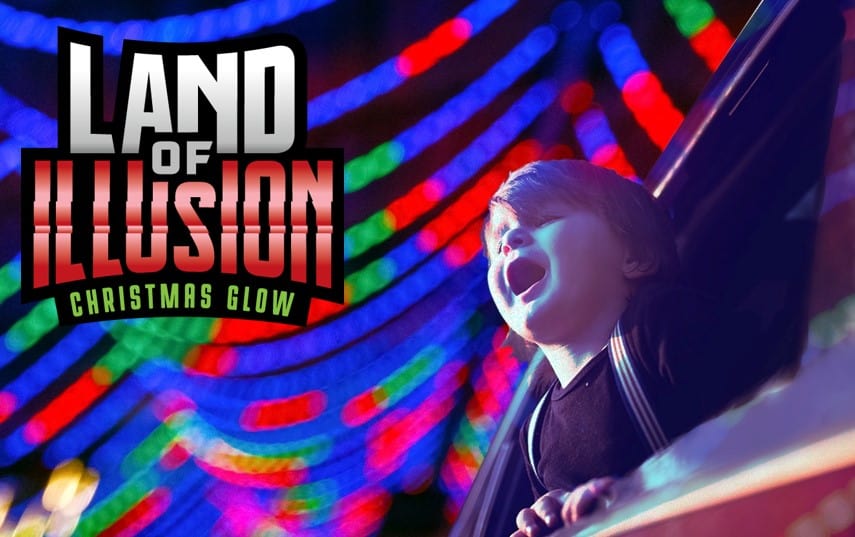 🎄 Christmas Glow at Land of Illusion

Celebrate the season at The Christmas Glow. Enjoy more than 3.5 million of lights at the Christmas Around the World drive-thru experience, visit Santa at the Christmas Village Santa Workshop, or just take in the majestic lights of the 45-foot Christmas Tree as you and yours warm by the gas fire pits. By visiting you will also be making other's Christmas Season bright – bring a canned good in to donate and you'll get $2 off park admission and they will donate that item to The Hope House Mission of Middletown. In addition, they are partnering with Toys for Tots and will be one of their sponsored drop-off locations.

Dates/Times: Christmas Glow Drive-Thru experience goes from November 25, 2020 through Dec. 30, 2020, 6-10pm. They are closed Nov. 30, Dec. 1, Dec. 2, and Christmas Day.


---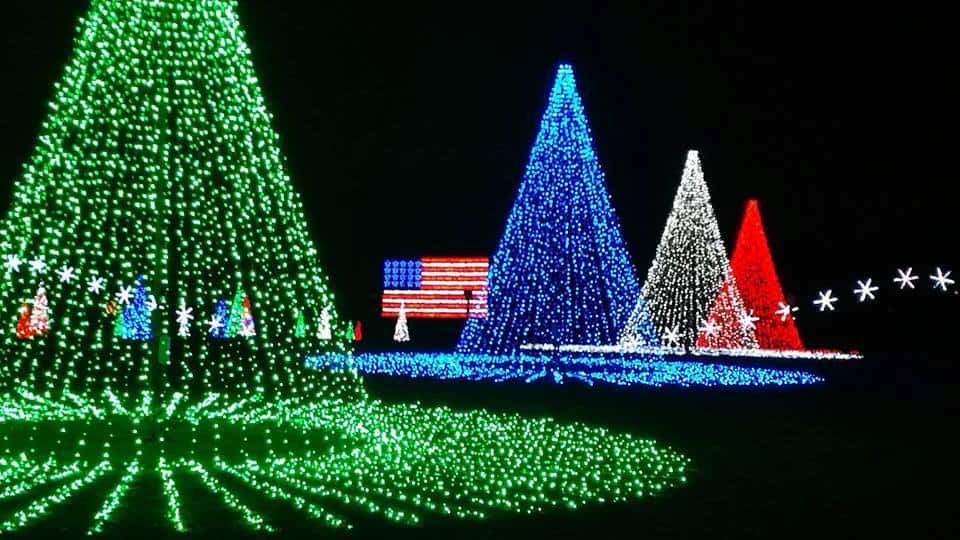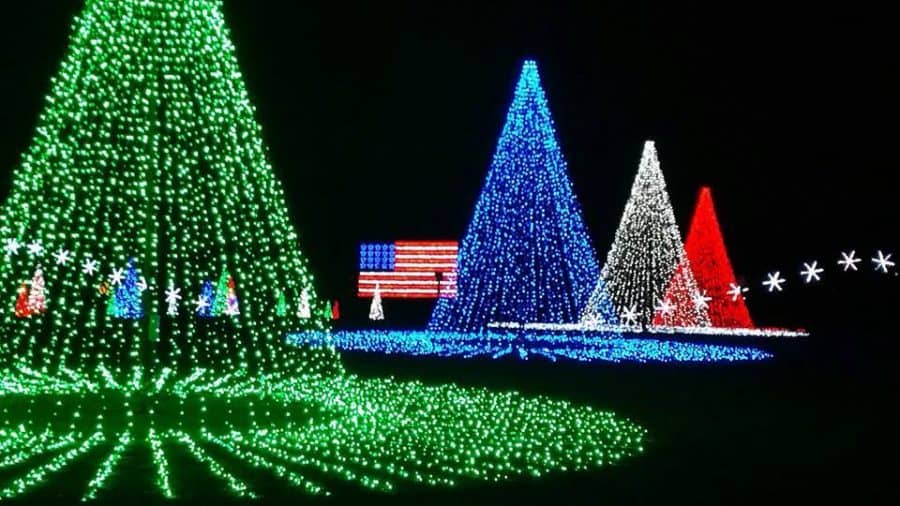 🎄 Christmas Nights of Lights (at Coney Island)

If you're looking for the perfect socially distanced Christmas event, this is it! Experience this amazing light show synchronized to both traditional and rocking holiday music through your car radio. Visitors of all ages will be awed by the larger-than-life trees, glowing snowflakes, dancing candy canes and fantastic tunnels of lights! In the warmth of your own car, you can sing along to the sounds of the season synchronized to each holiday display. Christmas Nights of Lights welcomes carloads of families and friends to enjoy this Christmas tradition. With two and a half miles to drive through, your family can see displays and light shows made of over a million lights driven by more than forty thousand computer channels. The show will begin nightly at dusk and run through 10 p.m. Christmas Nights of Lights will be open every night including holidays.

Dates/Times: Christmas Nights of Lights will be at Coney Island from Nov. 6, 2020 thru January 9, 2021, dusk to 10pm. Open rain, shine, or snow!

Get our Christmas Nights of Lights tips here
---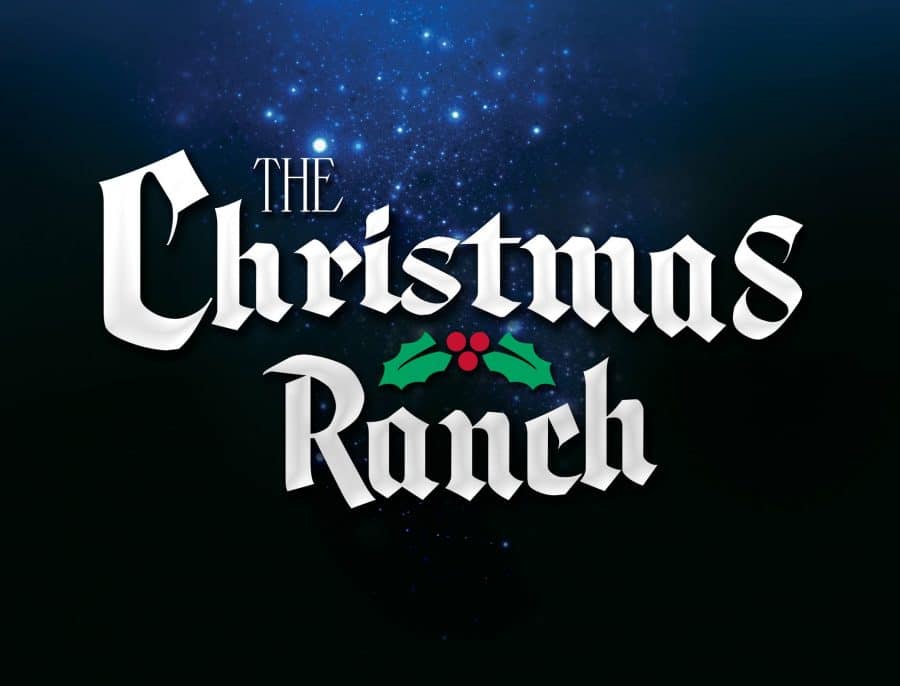 🎄 The Christmas Ranch

This Morrow, Ohio Christmas light show will be a drive-thru experience with a walk-thru element in 2020. You will purchase your tickets online and when you arrive at the welcome center in your vehicle, you will present your electronic ticket. When you arrive at the welcome center you will also be able to pick up your preordered hot chocolate and chocolate chip cookies, which you selected with your ticket. You may also purchase additional hot chocolate or chocolate chip cookies at this time. After leaving the welcome center, you will be directed to drive thru the light display throughout the village. Your journey will also include an opportunity to exit the drive-thru and park in our parking lot behind The Reindeer Room. From there you may enter the Reindeer Room, visit with Santa, and walk to their shops as well as their Animated Forest.

Reservations are required (per Facebook post here). Purchase one ticket per car or large van (see their site). No buses, RVs, or oversized trucks allowed.

Dates/Times: Open every day of the week from November 20 through December 23, 2020 (closed on Thanksgiving Day). Hours: Sun-Thurs, 6-9pm and Fri/ Sat 5:45-9:30pm.

🎄 Holiday in Lights at Sharon Woods

This charming light show is built over a mile of wooded roadway, the only drive through light show through the woods of a beautiful Hamilton County park! The holiday themed displays showcase everything from Santa Claus and his elves to every animal on the ark. There's no need to bundle up to enjoy Holiday in Lights; simply warm up the car, turn your radio dial to Warm 98, round up your friends, family, or a special date, and head to Sharon Woods. It's that easy.

Dates/Times: Holiday in Lights will be at Sharon Woods from Nov. 21, 2020 through January 2, 2021. No cash will be accepted at the gate. They will accept all major credit and debit cards and you can pre-buy your tickets.

You can "Walk the Lights" this year on Wednesdays, Dec. 2 and 30. The lights will be closed to vehicle traffic on those nights. No coupons accepted. Kids 3 and under are free for Walk the Lights. Dogs are WELCOME as long as they are on leashes and controlled by their owners.
---
🎄 Journey Borealis at Pyramid Hill Sculpture Park:

Pyramid Hill Sculpture Park will light up the night with Journey Borealis, a light display designed by Brave Berlin (the folks who brought us BLINK). This 2.5 mile drive through is a one-of-a-kind holiday light spectacular featuring more than 1,000,000 lights and holiday art installations created by regional and national artists. This drivable tour of the park provides a safe, contactless experience for the whole family to enjoy. Pyramid Hill is also partnering with the Cincinnati Chamber Orchestra and Cincinnati Boys Chior to bring an additional layer of music to the display.

Dates/Times: Open every day of the week from November 20 through January 2, 2021. Hours: Mon-Thurs, 6-9pm and Fri, Sat, Sun 6-10pm.
---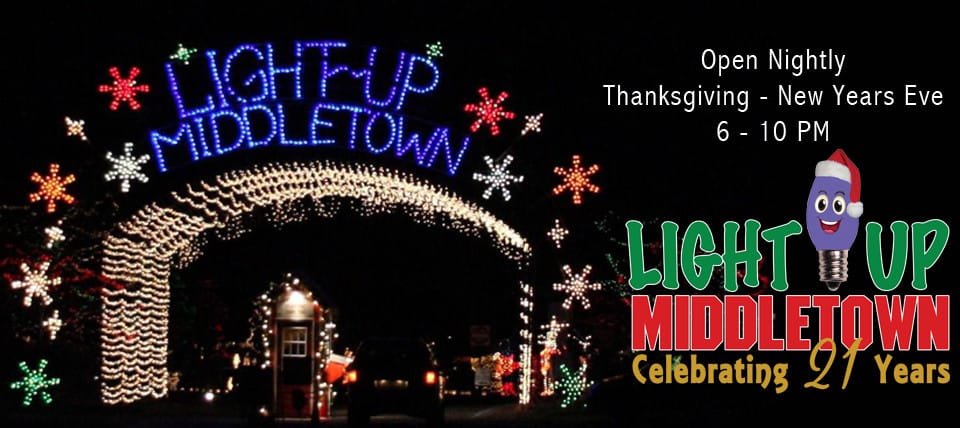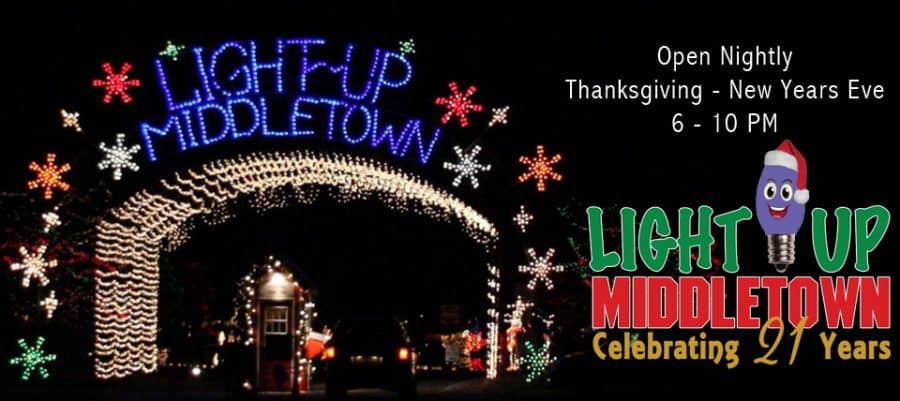 🎄 Light up Middletown

Light Up Middletown, now in its 15th year, is a fantasy drive-thru light display in Middletown, Ohio's downtown 100 acre Smith Park. Admission is by CASH donation – just drop something in the box at the entrance gate.

Dates/Times: Light Up Middletown is open from Thanksgiving thru Dec. 31, 2020, 6-10 pm, regardless of weather, and including holidays.
Walk Through Christmas Light Displays


ChristmasTown at the Creation Museum

ChristmasTown returns for 2020. Stroll through the museum's botanical gardens amid the breathtaking display of thousands of multi-colored lights. Enjoy a live nativity, petting zoo, skating on their Glice® (synthetic ice) rink, festive treats and shopping, and more.
Dates/Times: ChristmasTown is open Wednesday through Sunday evenings beginning at 5 p.m. (ET) from November 27 through December 20, 2020 and then every evening beginning at 5 p.m. from December 21–30. They are closed Christmas Eve and Christmas Day.
---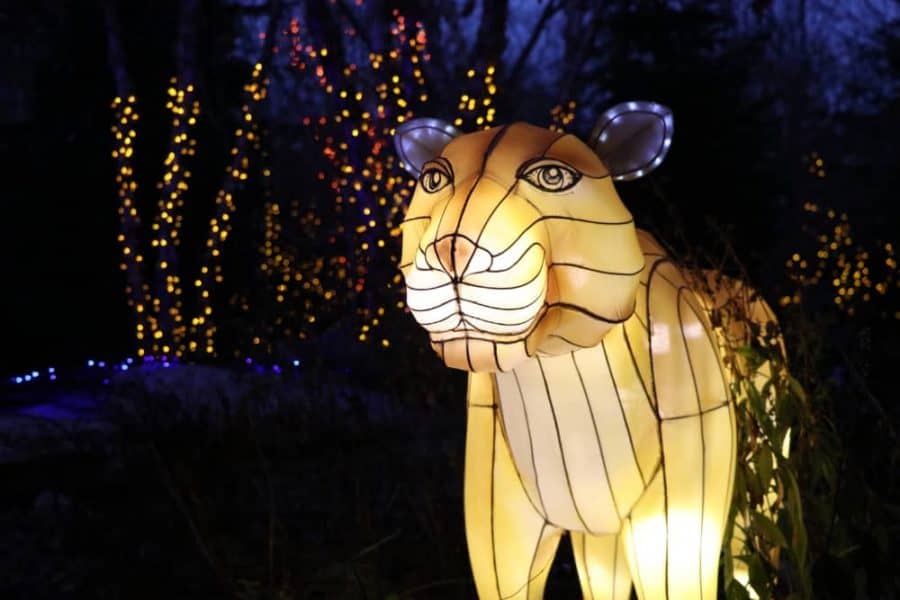 Festival of Lights at The Cincinnati Zoo

The Cincinnati Zoo will once again be transformed into a "Wild Wonderland" for the 38th annual PNC Festival of Lights! In addition to admiring the beauty of 3 million LED lights, visitors can ride the North Polar Express train ride, marvel at the spectacular Wild Lights show on Swan Lake, or snack at one of two S'mores-n-More stands. Santa will be available for visits starting at 4 p.m. through December 23.

Dates/Times: Festival of Lights will be at the Cincinnati Zoo from Nov. 21, 2020 thru Jan. 3, 2021. Closed all day on Thanksgiving Day, Christmas Eve, and Christmas Day. Advance reservations are required.
---

Light in the Forest at Cincinnati Nature Center (NEW IN 2020):

Nature Center trails will sparkle with gentle lights reflecting a theme of peace, tranquility, and inspiration featuring the forest as a canvas for an artistic display of light. The softly illuminated trees and paths will include three installations by OBLSK, a participant in Cincinnati's popular BLINK event. Throughout the walking tour, you will enjoy music, bonfires, holiday shopping, and the historic Krippendorf Lodge and Abner Hollow Cabin adorned in period decorations!

Dates/Times: Light in the Forest is offered Thursday through Sunday, Dec. 3, 2020 – Jan. 3, 2021
Preregistration required. Tickets on sale now. 
---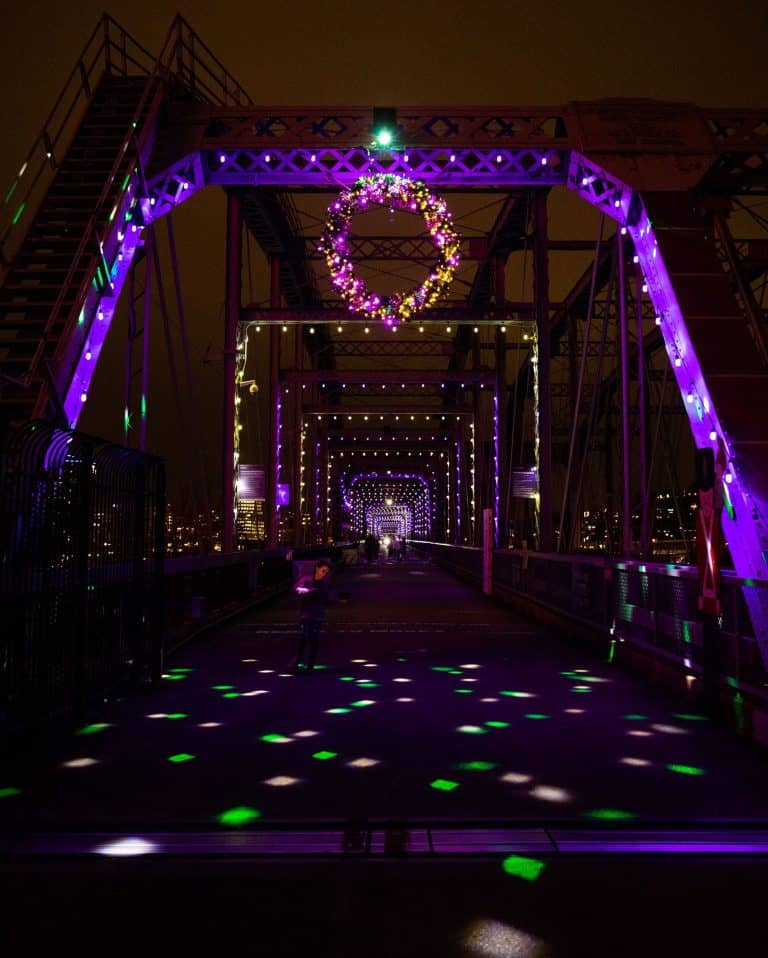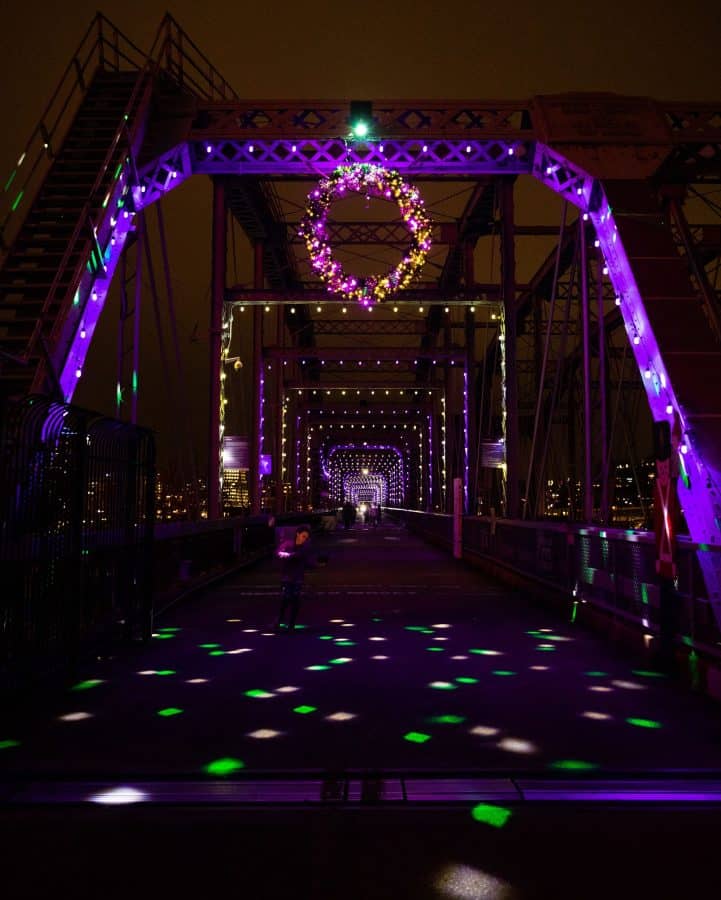 Winter Nights, River Lights (NEW for 2020)
There's not a whole lot of info out on this one yet – other than the following Facebook post from Newport on the Levee: "The holiday season may feel different this year but that doesn't mean you can't celebrate them in a safe way! We're excited to announce Winter Nights, River Lights! Enjoy a socially distanced family activity with a beautifully lit holiday walk across the Purple People Bridge and Riverwalk at the Levee. Be sure to complete your visit by stopping at the Wish Tree to make someone's holiday wish come true! The Wish Tree is located on the Newport side of the bridge approach."

Dates/Times: 11-20-20 through 1-15-2021