Cincinnati has some pretty spectacular options when it comes to drive through Christmas light shows this year! Most of our traditional drive thru Christmas light displays are returning AND a few have been added for 2021.
And don't miss a few holiday light shows that offer the opportunity to wander around outdoor spaces like the Cincinnati Zoo and the Cincinnati Nature Center for their outdoor light displays (you'll find those listed towards the end).
🎄 = Drive Through Christmas Light Shows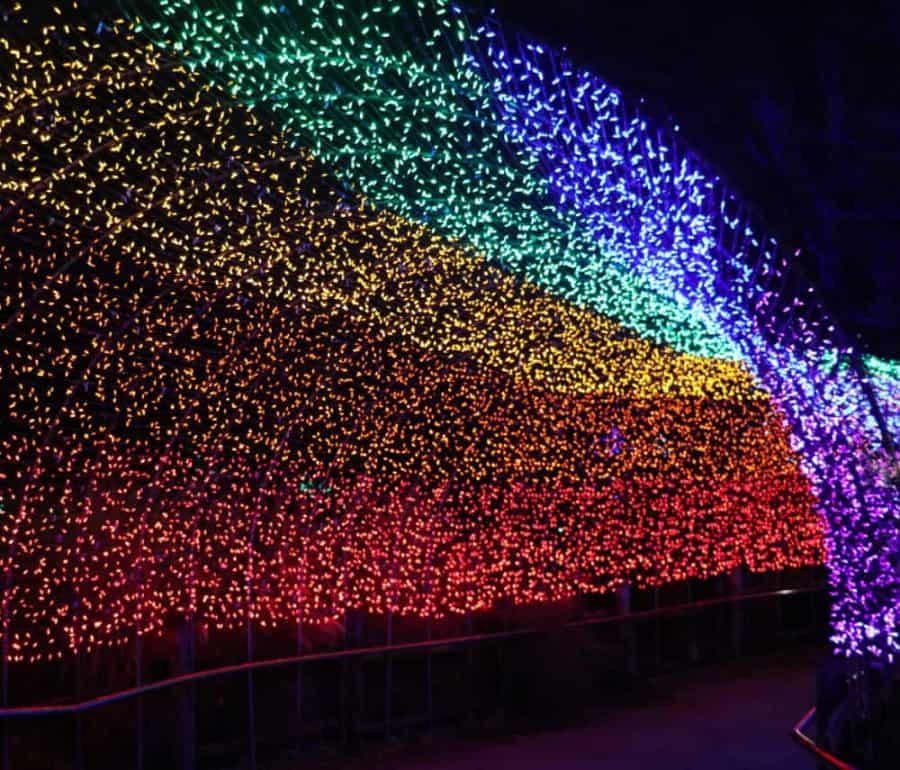 Enjoy our list of the best local Christmas Light Shows… and don't miss the map at the end that will help with your request to "find a Christmas Light Show Near Me"!
PLEASE NOTE: Some of the light shows are requiring online ticket purchases / timed tickets / reservations for 2021. Check the light show of your choice for their 2021 admission policies. In addition, some are not accepting cash at the gate.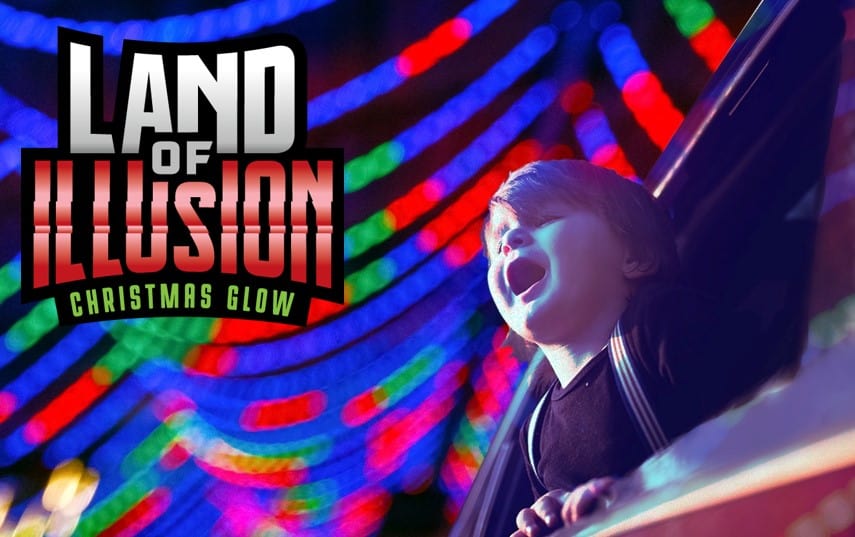 🎄 Christmas Glow at Land of Illusion

Celebrate the season at The Christmas Glow. Enjoy more than 3.8 million of lights at the 2 mile long Christmas Around the World drive-thru experience. Visit Santa at the Christmas Village Santa Workshop or just take in the majestic lights of the 45-foot Christmas Tree as you and yours warm by the gas fire pits.

Dates/Times: Christmas Glow Drive-Thru experience goes from November 24, 2021 through Dec. 30, 2021, 6-10pm. They are closed Nov. 29, Nov. 30, Dec. 1 and Christmas Day.
Land of Illusion Adventure Park is located at 8762 Thomas Road., Middletown, Ohio 45042.


---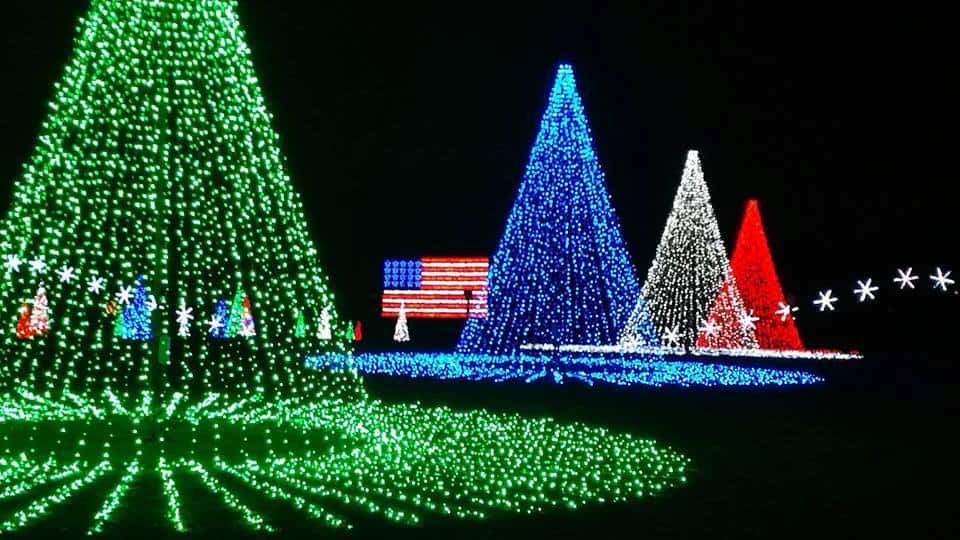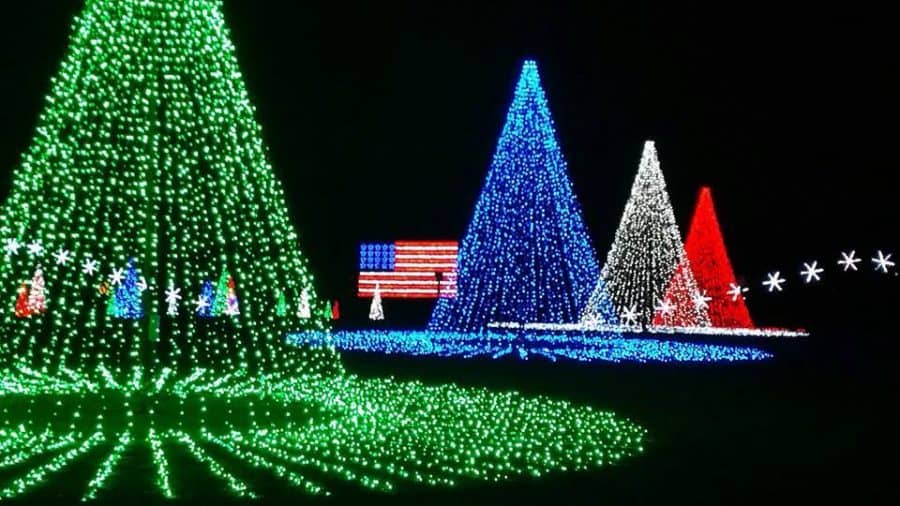 🎄 Christmas Nights of Lights (at Coney Island)

If you're looking for the perfect socially distanced Christmas event, this is it! Experience this amazing light show synchronized to both traditional and rocking holiday music through your car radio. Visitors of all ages will be awed by the larger-than-life trees, glowing snowflakes, dancing candy canes and fantastic tunnels of lights!  In the warmth of your own car, you can sing along to the sounds of the season synchronized to each holiday display. Christmas Nights of Lights welcomes carloads of families and friends to enjoy this Christmas tradition. With two and a half miles to drive through, your family can see displays and light shows made of over a million lights driven by more than forty thousand computer channels. The show will begin nightly at dusk and run through 10 p.m. Christmas Nights of Lights will be open every night including holidays.

Dates/Times: Christmas Nights of Lights will be at Coney Island from Nov. 12, 2021 thru January 29, 2022, dusk to 10pm. Open rain, shine, or snow!

Christmas Nights of Lights is at Coney Island, 6201 Kellogg Avenue, Cincinnati, Ohio 45230

Get our Christmas Nights of Lights tips here
---

🎄 Holiday in Lights at Sharon Woods

This charming light show is built over a mile of wooded roadway, the only drive through light show through the woods of a beautiful Hamilton County park! The holiday themed displays showcase everything from Santa Claus and his elves to every animal on the ark. There's no need to bundle up to enjoy Holiday in Lights; simply warm up the car, turn your radio dial to Warm 98, round up your friends, family, or a special date, and head to Sharon Woods. It's that easy.

Dates/Times: Holiday in Lights will be at Sharon Woods nightly from Nov. 19, 2021 through December 30, 2021 (closed on Thanksgiving, 11-25-21). No cash will be accepted at the gate.
They will accept all major credit and debit cards and you can pre-buy your tickets.

You can "Walk the Lights" this year on Wednesdays, Dec. 1 and 29. The lights will be closed to vehicle traffic on those nights. No coupons accepted. Kids 3 and under are free for Walk the Lights. Dogs are WELCOME as long as they are on leashes and controlled by their owners. Tickets must be pre-purchased for this event (see site).
Holiday in Lights is at Sharon Woods, 11450 Lebanon Road, Route 42, Sharonville, OH 45241
---
🎄 Journey Borealis at Pyramid Hill Sculpture Park:

Pyramid Hill Sculpture Park will light up the night with Journey Borealis. This 2.5 mile drive through is a one-of-a-kind holiday light spectacular features more than 1,000,000 lights and holiday art installations. This drivable tour of the park provides a safe, contactless experience for the whole family to enjoy.
New for 2021 (based on visitor feedback), they have created a new, expanded route with less two-way traffic and have made changes to the entrance for faster, safer entry.
The 2021 "Journey" starts with glimmering trees and arches before winding through the blue-and-white glow of Jerusalem's Hanukkah celebration and arriving to the park's famed Swan Lake. Visitors will then travel through Germany's Candy Cane Forest with more than 50 yarn-wrapped trees. Next, see if you can find two sneaky characters in Grinch's Greenland. Then we celebrate Bethlehem's birth of Jesus, and finally arriving at the North Pole. Before exiting, they have one last surprise provided by Brave Berlin: a spectacular transformation of the park's Pavilion into a beautiful Winterland with video projection surprises behind every door!
To enjoy the new, festive soundtrack by Butler Philharmonic Orchestra and vocals by Cincinnati Boychoir, please download the OTOCAST APP before arriving to the show.
Plan ahead – no public restrooms are available. No limos or buses permitted.

Dates/Times: Open every day of the week from November 19 through January 2, 2022 (closed on Mon., November 29). Hours: Mon-Thurs, 6-9pm and Fri, Sat, Sun 6-10pm.
Journey Borealis is at Pyramid Hill, 1763 Hamilton Cleves Rd., Hamilton, Ohio 45013
---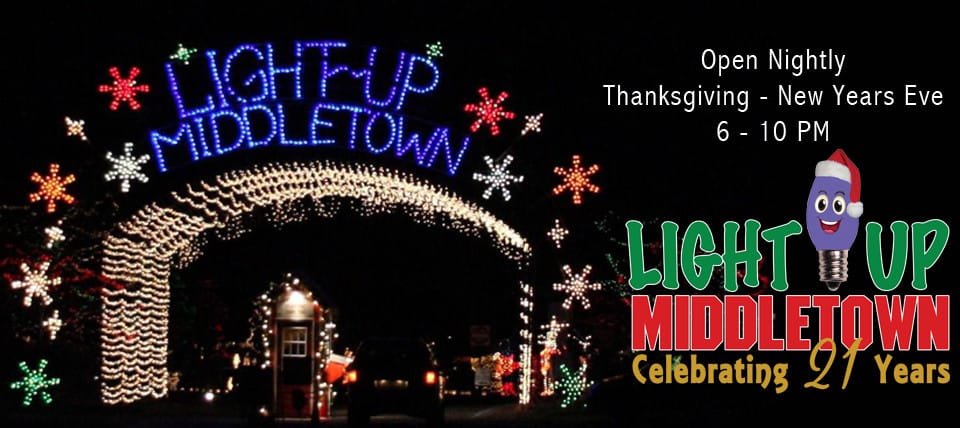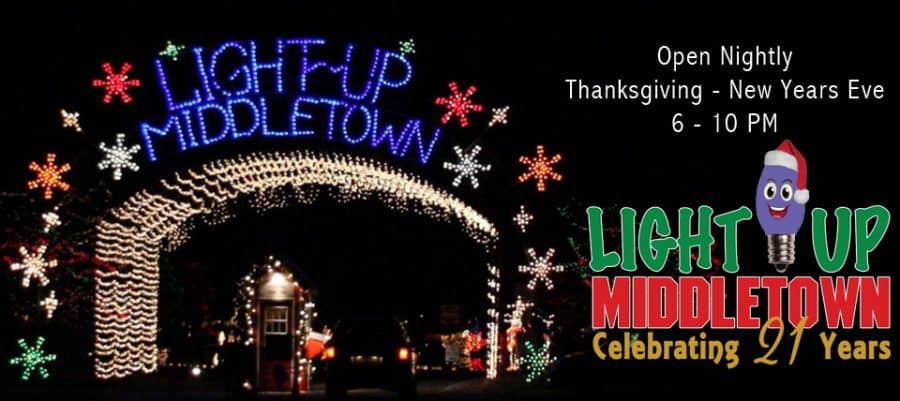 🎄 Light up Middletown

Light Up Middletown, now in its 16th year, is a fantasy drive-thru light display in Middletown, Ohio's downtown 100 acre Smith Park.
Admission is by CASH donation – just drop something in the box at the entrance gate.

Dates/Times: Light Up Middletown is open every night from Thanksgiving thru Dec. 31, 2021, 6-10 pm, regardless of weather, and including holidays.
Light up Middletown is at Smith Park, 500 Tytus Ave., Middletown, Ohio 45042
---
Light up the Fair is a drive thru light show held at the Boone County Fairgrounds in Northern Kentucky.
There is not a lot of info out for 2021 yet but it looks like they'll be opening on November 12, 2021.
We'll add more details as they become available.
Light Up the Fair is at the Boone County Fairgrounds, 5819 Idlewild Rd., Burlington, KY 41005
Walk Through Christmas Light Displays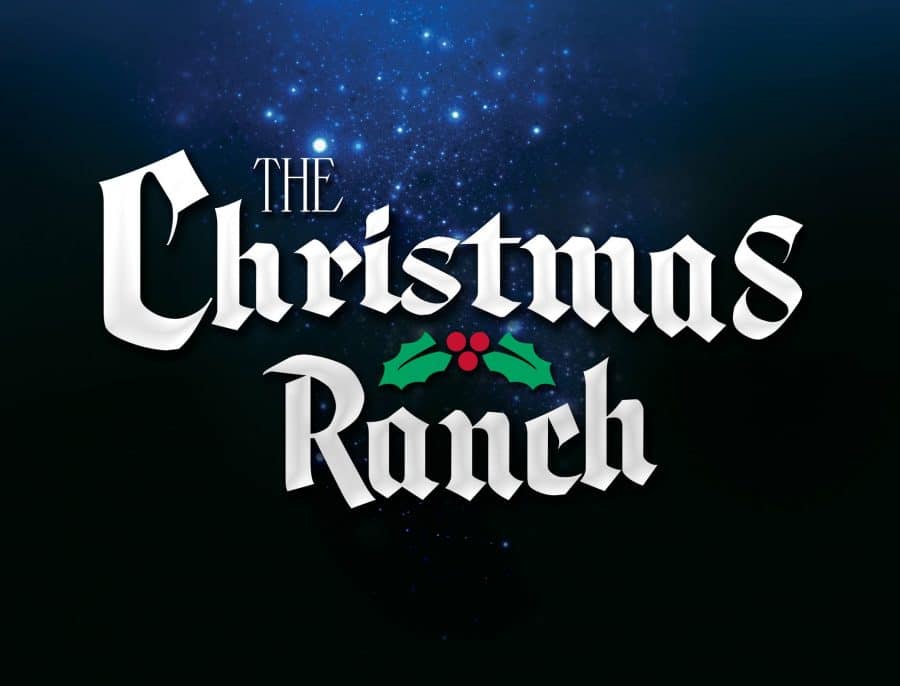 🎄 The Christmas Ranch (a walk through experience with some displays visible from your car)

Make this Christmas season special with The Christmas Ranch. Enjoy train and wagon rides, Christmas shops, bonfires, pictures with Santa, and more.  
The Christmas Ranch is both an OUTDOOR and INDOOR walking experience. There are seven heated buildings in the Village area, connected, for the most part, by gravel walkways. Strollers are welcome.

Many of the displays are viewable from your vehicle as you enter and exit the center village area, or while exploring the outer reaches of The Christmas Ranch by Train and Wagon rides.

Purchase one ticket per car or large van (see their site). No buses, RVs, or oversized trucks allowed.

Dates/Times: Open from November 19 through December 23, 2021 (closed on Thanksgiving Day). November hours: Sun-Wed, 5-9pm and Fri/ Sat 5-10pm (closed Thursdays in November only). December hours: Sun-Thurs, 5-9pm and Fri/Sat 5-10pm.
The Christmas Ranch is located at 3205 S. Waynesville Rd., Morrow, Ohio 45152
---


ChristmasTown at the Creation Museum

ChristmasTown returns for 2021. Stroll through the museum's botanical gardens amid the breathtaking display of thousands of multi-colored lights. Enjoy a live nativity, petting zoo, skating on their Glice® (synthetic ice) rink, festive treats, and more.
Head inside the museum for a free showing of Encounter the Wonder Christmas video in their 4D SFX Theater. See their Christmas Star program in the 4K planetarium (timed ticket required). Or shop inside at the museum store.
Get a bird's-eye view of the colorful lights as you soar down the Screaming Raptor's special 3-line Zip Line Christmas course (limited availabilty, tickets required).
Dates/Times: ChristmasTown is open Wednesday through Sunday evenings beginning at 5 p.m. (ET) from November 26 through December 12, 2021 and then every evening beginning at 5 p.m. from December 15–30. They are closed Christmas Eve and Christmas Day.
ChristmasTown is at The Creation Museum, 2800 Bullittsburg Church Rd., Petersburg, KY 41080
---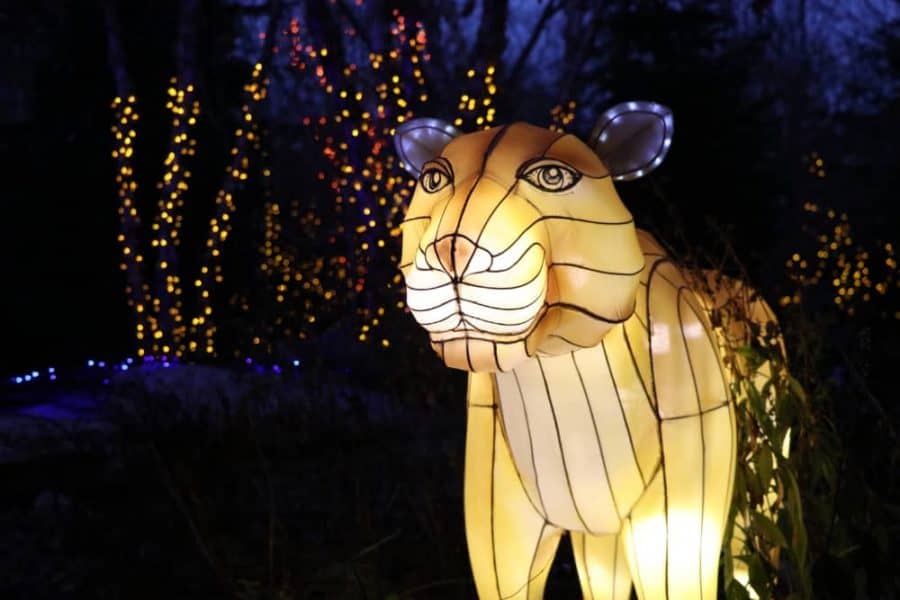 Festival of Lights at The Cincinnati Zoo

The Cincinnati Zoo will once again be transformed into a "Wild Wonderland" for the 39th annual PNC Festival of Lights! In addition to admiring the beauty of 4 million LED lights, visitors can ride the North Polar Express train ride, marvel at the spectacular Wild Lights show on Swan Lake, or snack at one of two S'mores-n-More stands.
The Polar Express Train will be equipped with a longer-than-ever light tunnel to make your ride extra bright! North Polar Express train ride begins at 2:30pm.Santa will be available for visits starting at 4 p.m. through December 23. Madcap Winter Wonders performances happen nightly at the Wings of Wonder Bird Ampitheater.
Don't miss their Photo Opp and Elfie Selfie Spots! Test your knowledge during the new scavenger hunt. Make your way through the Zoo to solve these festive riddles and heat things up with a little friendly competition! Share your scavenger hunt pictures on social media using #cincyzoopic for a chance to be featured in future Zoo marketing material.

Dates/Times: Festival of Lights will be at the Cincinnati Zoo from Nov. 19, 2021 thru Jan. 9, 2022. The zoo will be open 10am-9pm; Festival of Lights activities begin at 4pm. Closed all day on Thanksgiving Day, Christmas Eve, and Christmas Day.
The Cincinnati Zoo is located at 3400 Vine Street, Cincinnati, Ohio 45220
---

Light in the Forest at Cincinnati Nature Center (NEW IN 2020):

Nature Center trails will sparkle with gentle lights reflecting a theme of peace, tranquility, and inspiration featuring the forest as a canvas for an artistic display of light. The softly illuminated trees and paths will include installations by Brave Berlin (the creative team behind Cincinnati's Luminosity and BLINK). Throughout the walking tour, you will enjoy music, bonfires, holiday shopping, and the historic Krippendorf Lodge and Abner Hollow Cabin adorned in period decorations!
Pre-registration is required.

Dates/Times: Light in the Forest is offered Wednesdays through Sundays Dec. 1, 2021 – Jan. 2, 2022 (closed Dec. 24 and 25).'
Light in the Forest is at Cincinnati Nature Center, 4949 Tealtown Rd., Milford, Ohio 45150
 
---