November in Cincinnati – it's one of my favorite times of year. There's so much to do here in town. From the openings of all the holiday shows and events to lights and pumpkins and pie!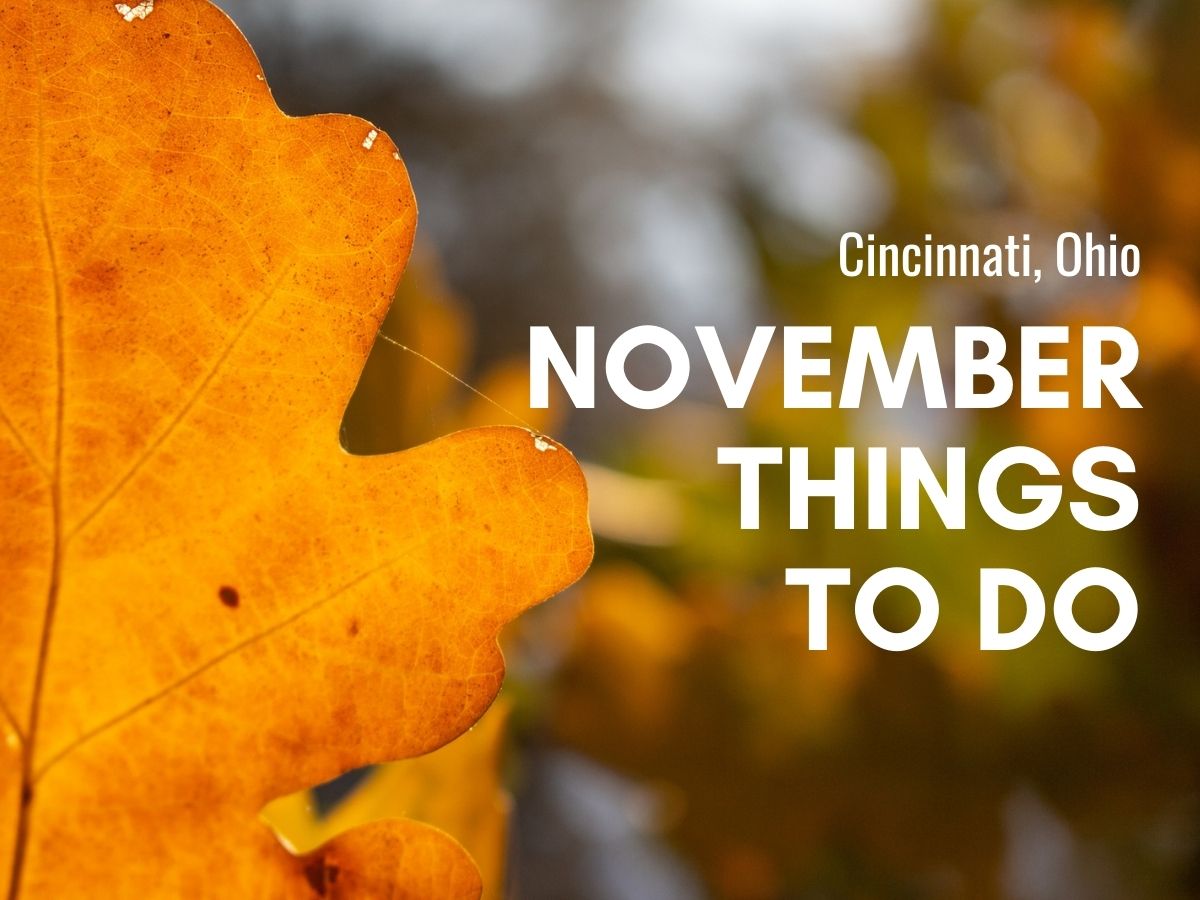 Enjoy this month long list of Things to Do in Cincinnati for the month of November:
Looking for events by date? Scroll down for the daily happenings below.
Holiday Craft Shows are heating up for November! You're sure to find one you like in this list that goes from the beginning of November to the end!
Thanksgiving will be here before you know it! Want to lessen the work load this year? Check out our list of Thanksgiving Dinner To Go Options for Cincinnati for all the great TDay offerings from our local restaurants. You can order just your turkey OR the entire meal. Be sure to order early!
We have lots of seasonal shows and events opening in November:
Cincinnati Christkindlmarkt
Fountain Square's Ice Rink
Festival of Lights at the Cincinnati Zoo
Deck the Y'Alls Lightfest
and so much more!
Lots of Drive Through Light Shows will be open for the season in November. November is a great time to see a light show as the lines/crowds are typically easier to manage. Don't miss:
Nights of Lights at Coney Island
Pyramid Hill Light Show
Christmas Glow
and more!
Looking for something to do ON Thanksgiving Day? Check out the list of November 23 events (there are a surprising number of things to do!).
Make your plans for Thanksgiving Weekend Events with our list for Nov. 23 -26, 2023 (list coming soon).
Make your plans to cut your own Christmas tree at any one of our Cincinnati area farms.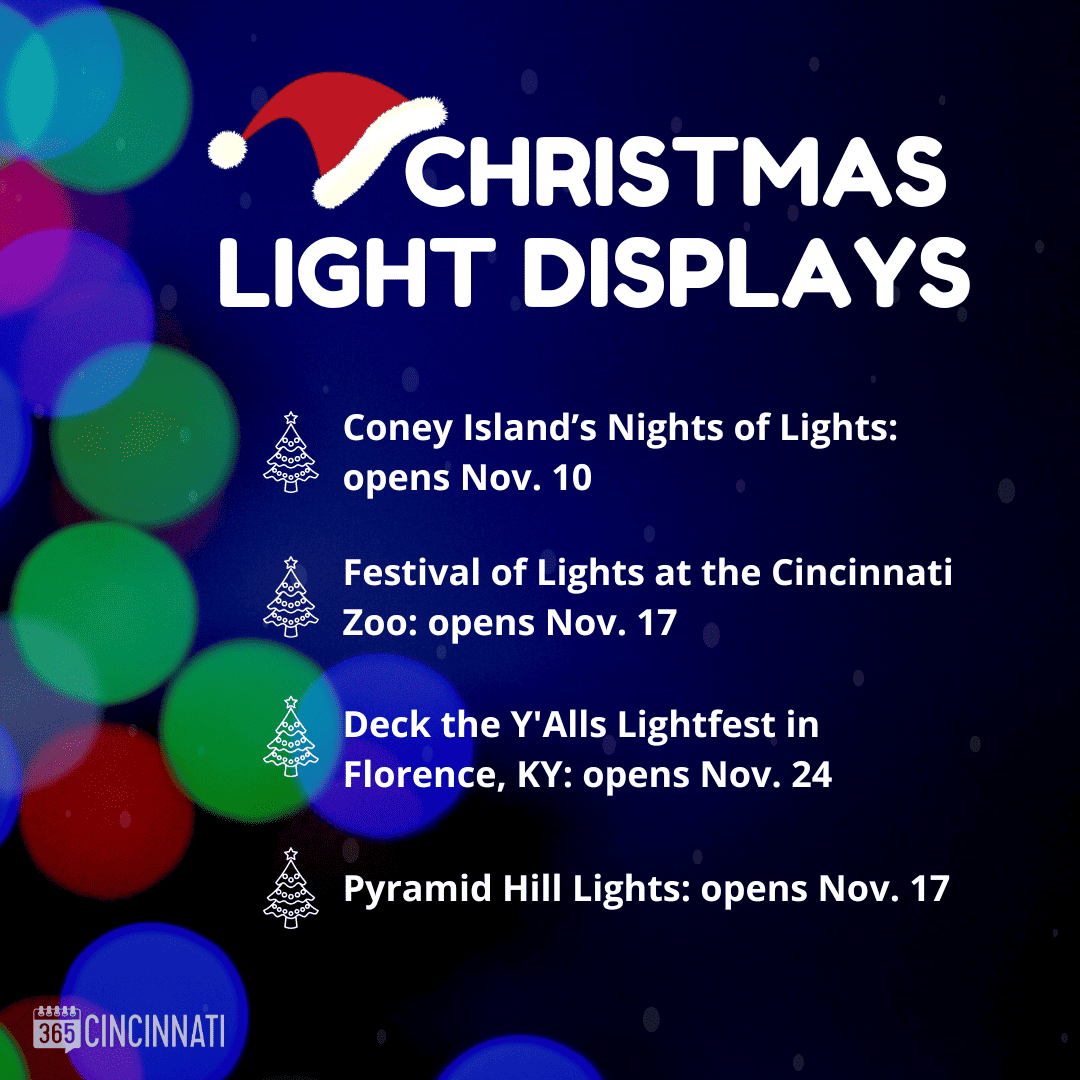 November 4: The Fountain Square Ice Rink opens for the season! Enjoy skating on this outdoor rink, admire the huge Christmas tree, and twinkling lights of downtown. They even have bumper cars on ice! Admission charged.
November 4: Save those pumpkins and head to Stanbery Park for their annual Pumpkin Chuck, happening from noon to 5pm. Use their giant trebuchets to launch your pumpkin through the air and into the field. They'll have food trucks on hand, craft beer, live entertainment, and more.
November 4: The City of Bellevue hosts a Touch a Truck, 10am-2pm. Head to Bellevue Beach Park to get up close to all your favorite vehicles.
November 4: Play a Life-Size Chutes and Ladders at the Kenton County Public Library, 2-4pm. Come see and play as the Covington Children's Department will turn into a dinosaur-themed Chutes and Ladders game.
November 6-12: It's Pizza Week! Nosh on $12 pizzas from some of Cincinnati's best pizza joints. It's the perfect time to check out newly opened Razzo (Pendleton) or enjoy old favorites like Goodfellas or Fireside!
November 10-12: The Greater Cincinnati Holiday Market will be at the Duke Energy Convention Center. Save a few bucks when you purchase tickets online.
November 10+: Holiday Junction featuring the Duke Energy Holiday Trains opens for the season at Cincinnati Museum Center. See all the old CG&E trains, have some fun at Holiday Junction, admire all the at LEGO brick creations at Brickopolis, and more. Admission charged.
November 10: Coney Island's Nights of Lights opens for the season. This is Cincinnati's largest drive through lights show and it will be open daily through December 31. The show is open rain or shine AND on holidays as well. Admission charged.
Get our tips for Nights of Lights here.
Don't miss our list of Veterans Day Celebrations here.
November 11: The holiday show at the Krohn Conservatory opens for the season! "Golden Days of Yule" will include all of the wonderful trains meandering through the lush foliage and iconic Cincinnati landmarks and buildings. The show will be open daily, Nov. 11 – Jan. 7, 10am-8pm. Admission charged.
November 11: The Summit Park Ice Rink opens for the season and will be open through January 7, 2024 (closed on holidays). Tickets can be purchased at the ice rink (no online option). Admission charged.
November 11: Great Parks is offering a Fall Bird Walk Series walk at Glenwood Gardens, 8-9am. Observe and learn about birds that migrating back to their winter homes (those snow birds!). This is a free event but you must register in advance. Find this event when you click the link above and then their calendar day for Nov. 11. Great Parks does require a vehicle permit to enter their parks (sold at a kiosk as you enter).
November 17-19: Mustard Seed Market will be at the Clermont County Fairgrounds. This market includes 100+ makers, vintage curators, and artisans set up in three heated barns. They'll have outdoor fires to keep to gather around, a Christmas tree lighting, and a live nativity. Santa will be on hand too! Tickets required (purchase online or at the gate – if they're not sold out).
November 17: Festival of Lights opens for the season at The Cincinnati Zoo.
November 17: Delve into some cheesy goodness at the 2023 Mac & Cheese Throwdown, happening at The Phoenix, 5:30-8:30pm. Some of Cincy's talented chefs will go head to head for this event and one will be named Mac N' Cheese Champion. Tickets required.
November 18-19: Rookwood Pottery's Holiday Open House is happening all weekend. Sign up for complimentary Behind the Scenes Tours, workshops, and more.
November 18: Light Up the Levee is happening at Newport on the Levee, 3-7pm. Celebrate the season with live music, fireworks, Santa Claus and the lighting of the tree on The Plaza. Santa arrives at 1:30pm and will be available for pictures until 5:30pm. The tree lighting will be at 7pm followed by Rozzi fireworks.
November 18: Take some pictures with The Grinch at CinCity Harley-Davidson, noon to 3pm. Bring your camera/phone (no photographer on site) and have some fun with pictures with The Grinch. Fur baby pictures permitted too! This is a community event and it's free. They are holding a food/toy drive if you'd like to donate new toys or bring non-perishable food items.
November 18: Lights Up will be happening at Liberty Center starting at 6pm. The evening includes a holiday parade, family-friendly activities, and a very special guest – Santa! The tree lighting will take place following the parade.
November 18: The Holiday OFF Market will be on the grounds of Summit Park, 10am-4pm.
November 22+: Cincinnati Christkindlmarkt (adjacent to the Moerlein Lager House on the Event Lawn at Smale Park) opens for the season on November 22. The festival runs Wednesday through Sunday each week until December 31 (closed Thanksgiving and Christmas day). Admission is free.
New this year: an ice slide (!), Happy Hour, Kids Eat Free Day on Wednesdays, characters days, carolers, and much more!
November 23-26: See our list of Thanksgiving Weekend Events here
November 25: It's time for Crafty Supermarket at Music Hall, 11am-5pm.
November 28: Get yourself registered for a Holiday Wreath Workshop at Benken Garden Center. Learn to make your own wreath in popular class. Advance registration required.