Veterans Day is a federal holiday in the United States and is observed on November 11 each year. The day is set aside to honor our military veterans, those who have served their country.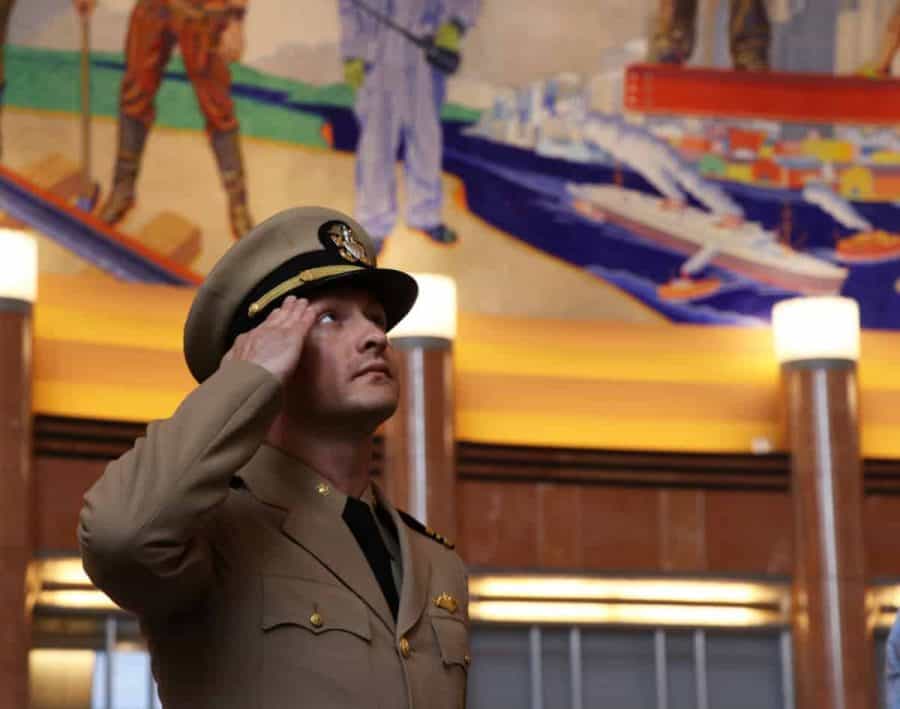 The Cincinnati area is proud to honor our veterans with these special 2020 Veterans Day events and freebies:
---
Veterans Day Events in Cincinnati:
November 7: DAV 5k, Run to Honor Veterans. The DAV 5K Cincinnati is a walk, roll, run, and ride that thanks those who served and raises awareness of the issues our ill and injured veterans face every day. This will be a virtual event for 2020. Walk, Roll, Run or Ride in your own neighborhood. They will kick off our event on Nov. 7th with an opening ceremony streamed live on Facebook and DAV5K.org.
November 11: VFW Post 10380 Veterans Day Open House, 9am-8pm at Twin Lanterns / Veterans Park (6303 Harrison Ave). VFW Post 10380 will showcase their float commemorating the Battle of Iwo Jima. The public is invited to pay their respects while practicing social distancing.
November 11: Virtual Veteran's Day Concert and Event / Blue Ash. Join the City of Blue Ash, BAMSO, and the Blue Ash Veterans Day Committee as we bring you a virtual Veterans Day Concert and Ceremony. The video will feature local Veterans both on stage as performers as well as through narrative voices telling the "Veteran Story". BAMSO will perform stirring renditions of the Armed Forces Medley, Victory at Sea, God Bless America and other patriotic selections. You will also hear moving poems written and read by the students from EH Greene School. The hour-long Veterans Day video will be available on YouTube for a limited time from November 11 at 10:00 a.m. – November 13 at 10:00 a.m.
Free Admission for Veterans:
B105 Military Days at the Cincinnati Zoo: All members of the military — active and retired — will receive FREE admission to the Zoo on Veteran's Day. The offer also allows military personnel to purchase up to six (6) half-price admission tickets for members of their immediate family. Military personnel who qualify for the free admission ticket and discount offer for family members include active military, retired military, National Guard, veterans with honorable or medical discharge and Reserve Officers' Training Corps with government issued ID.
Free Meals for Veterans on 11-11-20:
Applebee's:  Applebee's is offering Free Meals For Veterans & Active Duty Military on Veterans Day. Over the past 12 years, Applebee's® restaurants nationwide have served free meals to veterans and active duty military on Veterans Day to honor them for their courage and sacrifice. They invite you to join in this Veterans Day, Monday, November 11, 2020 to continue the tradition.
Bibibop Asian Grill is offering a free bowl to veterans and active military members on Nov. 11, 2020. Veterans and active military will be able to build their own complimentary bowl filled with the fresh and healthy ingredients they want- ingredients like USDA steak or antibiotic-free chicken, fresh vegetables, rice, potatoes, and bold and flavorful sauces like sweet and tangy Yum Yum or a spicy Korean favorite, Gochujang. BIBIBOP's customizable bowls allow guests to create gluten-free, vegetarian, or vegan-friendly meals that align with their diet and lifestyle. To claim a free bowl, veterans and active military members can present a military ID or identify as a veteran or active military member. This offer will be available in-store on November 11th only.
BJ's Brewhouse and Restaurant: All current and former military can enjoy a free entree (up to $14.95) and a free Dr. Pepper beverage on Monday, November 11, 2020. Dine in only. Offer not valid towards Daily Brewhouse Specials Half Off Pizza. Must present Military ID or other proof of service.
Buffalo Wild Wings is offering 10 free boneless wings and fries to all veterans / past and present armed services members on 11-11-20. Must show valid proof of service (see their site for details). Dine in and carryout only. Valid on regular fries. One offer per person. Not valid with any other offers. 
Bob Evans: Veterans and Active Duty Military, this Veterans' Day your meal is on Bob Evans. Join them on Monday, November 11, 2020 and they'll treat you to one of their favorites (choose from limited menu, see link). Dine-in only, beverage not included.
Chicken Salad Chick locations is offering all Veterans and active military a free Chick Special and regular drink. Valid at all locations on November 11th, 2020 for service members in uniform or those with a valid military ID or DD214.
Chili's Grill and Bar is honored to be at YOUR service. All veterans and active duty military personnel can enjoy a complimentary entree (choose from a list they provide) on Nov. 11, 2020. Dine in only.
Cracker Barrel will thank the brave men and women who have served our nation by offering all U.S. military veterans a complimentary slice of Double Chocolate Fudge Coca-Cola® Cake when dining at any Cracker Barrel location nationwide on Nov. 11, 2020. They also announced that in recognition of Military Family Appreciation Month, they will donate a $10 Cracker Barrel gift card to Operation Homefront for each Country Fried Turkey Family Meal Basket sold in the month of November (up to $50,000)*, and the Cracker Barrel Old Country Store Foundation will make an additional $50,000 donation to Operation Homefront – totaling up to $100,000 to support military families this holiday season.
Dunkin' Donuts gives veterans a sweet salute with a free donut offer on Veteran's Day. On Wednesday, November 11, veterans and active duty military are invited to participating Dunkin' restaurants nationwide for a free donut of their choice, no purchase necessary*.
* While supplies last. Limit one per customer. Offer available in-store only. Not available for orders placed using On-the-Go Mobile Ordering through the Dunkin' Mobile App.
Gold Star Chili has a great "way" to celebrate Veterans Day – a complimentary 3-Way & Drink! On Wednesday, November 11, every Gold Star is celebrating the men and women who have served our country with a complimentary regular 3-Way and regular drink, available for dine-in, carry out or drive-thru lunch/dinner. Proof of service includes: Uniformed Services ID Card, U.S. Uniformed Services Retired ID Card, current Leave and Earnings Statement, Veterans organization card (e.g., American Legion, VFW), present yourself in uniform, a photograph of yourself in uniform, a citation or commendation.
Golden Corral: For the safety of honored guests and communities, their Military Appreciation Event will look a little different this year. All active or former military members who have served in the U.S. Military can pick up a promotional card during the month of November redeemable for a FREE "Thank You" Meal! Promotional Cards redeemable from November 1, 2020 – May 31, 2021 for Dine-in Only, Monday-Thursday. Limit one free meal per person while supplies last.
Little Caesars Pizza will give away a Lunch Combo® which includes four slices of DEEP!DEEP! Dish pepperoni pizza and a 20 ounce Pepsi product on November 11, 2020 to each veteran or active member of the United States military (limit one) who comes into a Participating Store between 11:00 a.m. and 2:00 p.m. (local time) and mentions this offer at the check-out counter along with presenting Proof of Service (such as an ID card with veteran designation, DD-214 form, or a current military issued ID card). Offer good on Nov. 11, 2020 during each Participating Store's 11:00 a.m. to 2:00 p.m. window or while supplies last, whichever occurs first. Offer expires and will not be redeemable after 2:00 p.m. (local time) on November 11, 2020. Get full details here.
Logan's Roadhouse is offering a free meal (chosen from their American Roadhouse Meals Menu) to all veterans and military personnel from 3-6pm on November 11, 2020. Proof of service required, menu may vary by location, and dine-in only.
McDonald's: Participating Cincinnati McDonald's restaurant will offer free meals to all veterans on 11-1-20 (with valid ID). Options for the meal include Breakfast: a choice of an Egg McMuffin®, Chicken McGriddles® or a Bacon, Egg and Cheese Biscuit with any size soft drink, tea or hot coffee and a Hash Brown. Lunch and Dinner choices include: choice of a Double Cheeseburger, 6-Piece Chicken McNuggets® or a Filet-O-Fish®. All options come with any size soft drink, tea or hot coffee and small fries. Each meal will be available at no charge via Drive Thru or carry out at participating McDonald's restaurants across Ohio.
Quaker Steak & Lube: All military members get a free meal and beverage on Monday, Nov. 11, 2020. See details at their site (link).
Red Robin would like to thank you for your service. Veterans Days typically brings a surge of guests to Red Robin to take advantage of their free burger offer. During their safe re-opening phase, they can only serve a limited capacity each day to abide by social distancing standards which means many Veterans and Active Military would miss out on their free burger. Veterans and Active Military who are Red Robin Royalty members can redeem their FREE Tavern Double Burger with Steak Fries any time between 11/12 and 11/30 for Dine-in or To-Go. The offer will be automatically uploaded to your dashboard.
Starbucks is honoring those who have served with a free tall hot brewed coffee for veterans, military service members, and military spouses at participating U.S. Starbucks stores on Nov. 11, 2020. Starbucks is also donating 25 cents for every cup of hot brewed coffee sold that day to support the mental health of military communities.
Yard House is honoring those who have served our country (both veterans and active military) by inviting them in for a complimentary appetizer on Veteran's Day.
Other Veterans Day Offers:
Great Clips: Veterans and Active Duty Military Members can visit a U.S. Great Clips salon on Nov. 11, 2020 and receive either a free haircut that day or a free haircut card to use at a later date. Haircut cards are redeemable until Dec. 11 2020.
Metro will offer free rides to military veterans and active-duty personnel on Wednesday, November 11. To ride for free on November 11, active, reserve and retired military members are asked to show valid proof of veteran status upon boarding the bus, including: U.S. Department of Defense issued military ID card, Veterans Affairs ID card, State issued driver's license with veteran designation.
Mike's Carwash is offering a Free Basic Wash for all veterans and active military personnel OR upgrade to their Ultimate Wash with a $5 Donation to Project Hero. Happening Nov. 11, 2020, 7am-9pm.
---
November 14, 2021: The Honor Run (Florence, Ky) will return in 2021. All proceeds from the St. Elizabeth Healthcare Honor Run Half Marathon, 10K Run/Walk, and 5K Run/Walk are donated to Honor Flight Tri State to help send our local Veterans who have served in World War II, Korea, and Vietnam to Washington DC for the day to see the memorials that they have earned.