Veterans Day is a federal holiday in the United States and is observed on November 11 each year. The day is set aside to honor our military veterans, those who have served their country.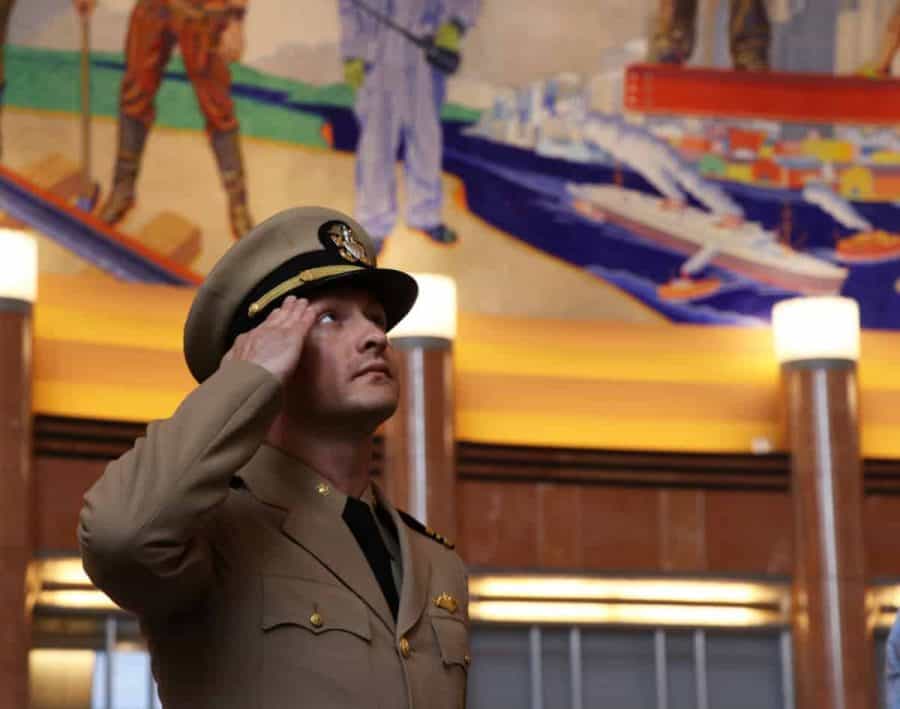 The Cincinnati area is proud to honor our veterans with these special 2019 Veterans Day events and freebies:
---
Veterans Day Events in Cincinnati:
November 9: DAV 5k, Run to Honor Veterans. The DAV 5K Cincinnati is a walk, roll, run, and ride that thanks those who served and raises awareness of the issues our ill and injured veterans face every day.
November 9: Rhinegeist Veterans Day Fundraiser. Head to the Rhinegeist taproom this Veterans Day to celebrate the men and women who have served bravely in our Armed Forces. Join in on this annual Veterans Day fundraiser. Valor, a beer brewed by the amazing group of veterans who work at the brewery, will be on tap, and a portion of the day's proceeds will go to the good folks at The Barracks Project.
November 10: Veterans Day Celebration at Union Terminal. Veterans will receive free parking and admission on November 10 to: Duke Energy Children's Museum, Cincinnati History Museum, Museum of Natural History & Science.
November 10: Honor Run in Florence, Ky
November 10: Veterans Salute at Memorial Hall. Memorial Hall proudly continues its century-long mission of honoring Cincinnati veterans with a full day of patriotic programming. Theatre, visual arts, symphonic music and history coalesce in an evocative celebration of our armed services. All programs are free of charge, though reservations are required. Free tickets can be reserved at MemorialHallOTR.com, or by calling the Memorial Hall Box Office at 513.977.8838.
November 11: VFW Post 10380 Veterans Day Ceremony, 11-11:30am at Veterans Park (6303 Harrison Ave)
November 11: Veteran's Day Ceremony in Blue Ash. The public is invited to the largest Veterans Day Ceremony in Southwest Ohio on Monday, November 11, at 10:30 a.m., at the Bicentennial Veterans Memorial Park in downtown Blue Ash. The event features a memorial ceremony, tolling of bells, music from the Ohio Military Band, and keynote speaker Mark Murdock. Following the ceremony, the public is invited to a luncheon at the Blue Ash Recreation Center, 4433 Cooper Road.
November 11: Anderson Township Veterans Day Dinner. The Patriot Center in Anderson Township once again is the place to be for a special free Veterans Day Dinner on Monday, Nov. 11. Sponsored by the Anderson Township Veterans Memorial Committee, the evening includes a complimentary dinner for veterans, courtesy of Belterra Park and Mt. Washington Care Center, a cash bar and a live performance by "The Veterans of Comedy". The center is at 6660 Clough Pike, a venue owned and operated by Post 318 of the American Legion. The dinner is open to Anderson Township veterans who may bring one other attendee for free. Reservations are first-come, first-served up to 200 attendees.
November 11: Vietnam veteran and Operation Desert Storm volunteer Bob Hamilton is the keynote speaker for the 65th Veterans Day Commemoration Monday, Nov. 11, at 10:45 a.m. in the atrium at the Downtown Main Library. Hamilton's talk is part of an annual celebration dedicated to the men and women who serve our country. The event also features musicians from the Cincinnati Symphony Orchestra performing the armed service songs from each military branch: the Army, Navy, Air Force, Marines, and Coast Guard, and participation from local veterans groups. Veterans receive a commemorative keepsake, while supplies last, and light refreshments will be served.
Spring Grove Cemetery and Arboretum honors our Veterans with Flags of Honor, Nov. 10 – 16; 100 3' x 5' sponsored US flags will be placed along the roadways within the cemetery and will be on display the entire week of the Veterans Day holiday. The proceeds from sponsorships will be distributed to Honor Flight Tristate and the Spring Grove Heritage Foundation.
Free Admission for Veterans:
B105 Military Days at the Cincinnati Zoo: All members of the military — active and retired — will receive FREE admission to the Zoo on Veteran's Day. The offer also allows military personnel to purchase up to six (6) half-price admission tickets for members of their immediate family. Military personnel who qualify for the free admission ticket and discount offer for family members include active military, retired military, National Guard, veterans with honorable or medical discharge and Reserve Officers' Training Corps with government issued ID.
The Newport Aquarium is honoring all the men and women who've served our country by offering them free admission November 11-17. If you're an active or retired member of the military, a disabled veteran, military reservist, or anyone who has ever served in the Armed Forces, just show your Military I.D. (Military I.D. card, VA membership or healthcare card, a state verified veteran status logo on your driver's license or state I.D., discharge papers or any other proof of military service) at the Newport Aquarium ticket window to receive your free admission. Family members can receive their military discount of $3 off adult tickets and $2 off child tickets.
Free Meals for Veterans:
Applebee's: Applebee's is offering Free Meals For Veterans & Active Duty Military on Veterans Day. Over the past 11 years, Applebee's® restaurants nationwide have served free meals to veterans and active duty military on Veterans Day to honor them for their courage and sacrifice. They invite you to join in this Veterans Day, Monday, November 11, 2019 to continue the tradition.
BJ's Brewhouse and Restaurant: All current and former military can enjoy a free entree (up to $14.95) and a free Dr. Pepper beverage on Monday, November 11, 2019. Dine in only. Offer not valid towards Daily Brewhouse Specials Half Off Pizza. Must present Military ID or other proof of service.
Bob Evans: Veterans and Active Duty Military, this Veterans' Day your meal is on Bob Evans. Join them on Monday, November 11, 2019 and they'll treat you to one of their favorites (choose from limited menu, see link). Dine-in only, beverage not included.
Chili's Grill and Bar is honored to be at YOUR service. All veterans and active duty military personnel can enjoy a complimentary entree (choose from a list they provide) on Nov. 11, 2019. Dine in only.
Dead Low Brewing: Visit them on Veterans Day (Nov. 11, 2019) for a free pint and a beer cheese appetizer with a valid military ID.
Dunkin' Donuts: Dunkin' is once again celebrating Veterans Day with a sweet salute to the brave men and women of the armed forces. On Monday, November 11, 2019 veterans and active duty military are invited to participating Dunkin' restaurants nationwide for a free donut of their choice, no purchase necessary.
Golden Corral honors those who served at their Military Appreciation Night. Any person who has served in the US Military (retirees, veterans, active duty, National Guard or Reserves) received a free meal on Nov. 11, 2019. Dine in only.
IHOP: This Veterans Day, IHOP is serving pancakes for those who served our country. Come to IHOP for a free red, white, and blueberry pancake combo for our veterans and active duty military. Available on 11/11/19 at participating locations. Beverages and gratuity not included. U.S. Veterans & active duty military simply show proof of military service. Dine-in only. Free menu item may vary by location.
Little Caesars is offering one $5 Free Hot and Ready Lunch Combo (4 slices of DEEP! DEEP! Dish pepperoni pizza and a 20 oz. Pepsi product) to each veteran or active member of the United States military who comes into a participating location between 11am and 2pm, Nov. 11, 2019 (or while supplies last).
Max and Erma's: America's heroes eat free at M&E 🎖this Veterans Day. They're honored to offer all Veterans & Active Military a FREE Cheeseburger, Endless Fries & Fountain Drink. It's just a very small way for us to salute America's Heroes for their service & sacrifices. Valid Monday, November 11th, 2019 at participating locations. Dine in only. See site for details.
Paxton's Grill: Paxton's wants to recognize and salute all our military Veterans. Stop into Paxton's Grill on Monday, November 11, 2019 for a free meal on us and from all who are grateful for your service! Offer Valid for Lunch or Dinner.
Quaker Steak & Lube: All military members get a free meal and beverage on Monday, Nov. 11, 2019. See details at their site (link).
Red Robin would like to thank you for your service with a free Red's Tavern Double Burger and Bottomless Steak Fries on Monday, Nov. 11, 2019. Veterans and active duty service members are eligible. Dine in only. Proof of service required.
Other Free for Veterans Offers:
Great Clips: Veterans and current military members are invited to visit a U.S. Great Clips salon on Nov. 11, 2019 to receive either a free haircut that day or the free haircut card to use at a later date (redeemable until Dec. 31, 2019).
Mike's Car Wash is giving a FREE Basic Wash to all Veterans and Active Military Personnel on November 11, 2019. You can, if you wish, upgrade to their Ultimate Wash with a $5 Donation to Project Hero.