Want to cut back on some (or all) of the cooking for Thanksgiving? Check out this list of Cincinnati area restaurants that offer Thanksgiving dinners and desserts for pickup.
My own family gathering will be smaller this year and I decided to really hunt through the offerings to see if maybe this would be the year to just scale it back. And I have to admit that I'm pretty blown away by some of these offerings! By the time you buy a turkey and all the sides and make the desserts… wow! Ordering it for pickup is looking better and better.
Yep, these Thanksgiving to-go combinations look pretty sweet, particularly in the year 2021!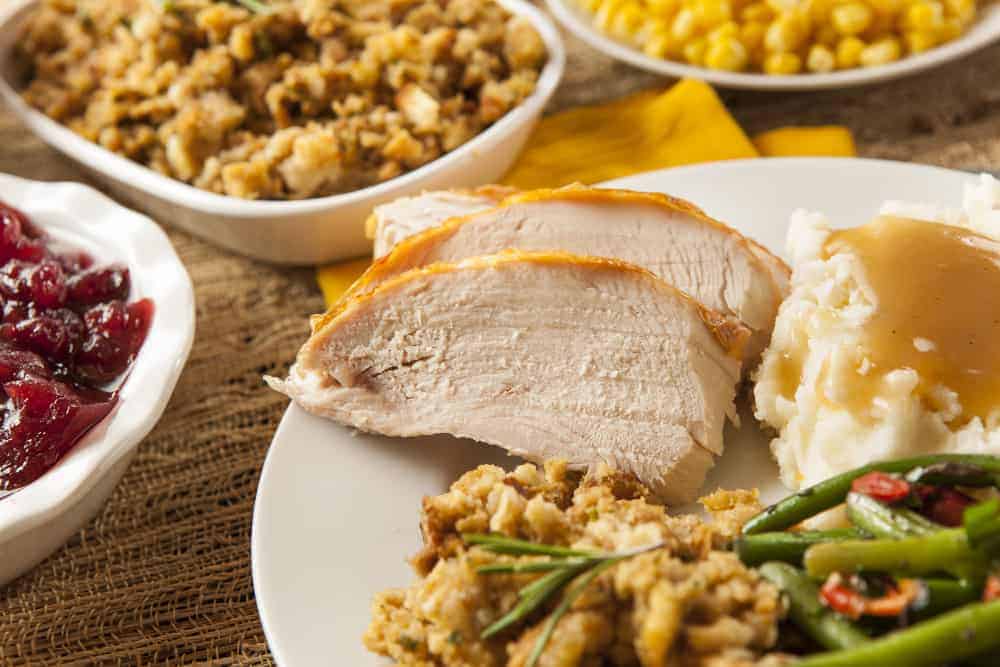 The following Cincinnati area restaurants do the prep work and/or the cooking – you do the serving at home.
🦃 = Locally Owned. This is a great time to support your locally owned and operated restaurants!
Restaurants are listed in alphabetical order and include both Cincinnati and Northern Kentucky locations.
---
Bob Evans locations are offering their Farmhouse Feast®, a complete Thanksgiving meal with their signature slow-roasted turkey, farmhouse sides, pie, freshly-baked rolls & more. Place your Farmhouse Feast® order in advance for delivery or pickup for your Thanksgiving meal. Just heat, serve and enjoy!
Bob Evans has multiple locations. Find a restaurant near you here.
Bravo Italian Kitchen will do the cooking this Thanksgiving! Order their Thanksgiving Feast for Pick Up. Their traditional meal includes sliced white meat turkey, homestyle gravy, Italian sausage stuffing, mashed potatoes, green beans, cranberry sauce, and pumpkin pie. They offer a variety of serving sizes including Family Style: feeds 3 or feeds 6, Half Pan / Catering that feeds 10, or Full Pan / Catering that feeds 20. To Go Feasts are prepared hot or cold. Cold Packages are available for pick up between Nov. 23rd – 25th. Hot Packages are available for pick up Nov. 24th & 25th. Orders must be placed by 8am on 11/23/21. Catering Feasts are available for pick up between Nov. 15th – 25th.
Bravo has multiple locations. Search for a restaurant near you here.
🦃 Brothers Barbecue Smokehouse is taking orders for Thanksgiving Turkeys. They offer a Bourbon Brined or Butter and Herb smoked turkey.
Buca di Beppo is offering a Thanksgiving Dinner to go. Their Thanksgiving Feast includes sliced white meat turkey, homestyle gGravy, roasted garlic mashed potatoes, spicy Italian sausage stuffing, green beans, cranberry sauce and pumpkin pie. You can choose from a 3 person or a 6 person offering. They also offering Thanksgiving Catering (10 and 20 people options). To Go Feasts are prepared cold for pickup between Nov. 23-25 or prepared hot for pickup Nov. 24 and 25. Orders to go can NOT be placed on Thanksgiving Day. Pre-orders are due by 8am on November 23, 2021.
Buca di Beppo has multiple locations. Search for a restaurant near you here.
🦃 Butler's Pantry Market and Cafe has individual plates of Thanksgiving Dinner To Go. It includes smoked turkey, mashed potatoes, gravy, green bean casserole, and dressing. All Thanksgiving items will be ready for pickup on Wed., Nov. 24 from noon to 6pm. Place your order by 11-19-21.
Butlers Pantry: 50 E. Rivercenter Blvd., Covington, KY 41011
The Capital Grille is offering Thanksgiving Sides to go. The sides serve 4-6 people and can be stored in your refrigerator and reheated. Enjoy brioche stuffing, housemade gravy, mashed potatoes, pecan-crusted sweet potatoes with hot honey, French green beans, cranberry-pear chutney, and seeded rolls. Order online to go and choose Nov. 24 or 25 as the pickup date.
The Capital Grille: 3821 Edwards Road, Cincinnati, Ohio 45209
🦃 Cartridge Brewing is taking Thanksgiving To Go preorders. Choose from smoked turkey breast, smoked ribs, and lots of side options. Preorders are due by 11pm on 11-17-21 and you can pick up at the taproom on 11-23-21 or 11-24-21, 4-10pm.
Cartridge Brewing: 1411 Grandin Rd., Maineville, OH 45039
🦃 Chloe's Eatery is offering individual Thanksgiving Meals. All meals are fully cooked in re-heatable containers with instructions. Order online for pickup on 11-24-21.
Chloe's Eatery: 2872 Lawrenceburg, North Bend, Ohio 45052
City Barbeque has their slow-smoked holiday meals back for 2021. Choose from smoked bone-in hams, whole smoked turkeys, and a slow-cooked turkey breast plus sides. Due to limited supply, these aren't available for online order: these meals and meats are only available to order over the phone or in-store.
City Barbeque has multiple locations. Search for a restaurant near you here.
Cooper's Hawk is offering a Heat and Serve Thanksgiving Package that serves 6 and includes pretzel bread and butter, traditional stuffing, Mary's potatoes, roasted green beans and carrots, butternut squash soup, slow roasted turkey, and Eli's pumpkin praline cheesecake. Kits must be ordered by Friday, November 19th. Based on available quantity.
Cooper's Hawk: 8080 Montgomery Rd., Cincinnati, Ohio 45236
Cracker Barrel has a Thanksgiving Heat N' Serve Feast for you (plus additional offerings). Choose your number of servings (4-6 or 8-10). The meal comes chilled and ready to heat in 2 hours. Choose from the traditional meal of turkey, sides and dessert or select their holiday meal featuring ham, sides, and dessert.
Cracker Barrel has multiple locations. Search for a restaurant near you here.
🦃Clybornes has Thanksgiving Meal Kits in 2021, prepared by the Looking Glass Hospitality chef team. The meal serves 4-6 and includes herb-marinated turkey breast, mashed potatoes, herb stuffing, green beans, gravy, cranberry relish, Clyborne Greens Salad, dinner rolls, and pumpkin pie. Gluten free Meal Kits available too! Order online and pick up on 11-24-21.
Clybornes: 5948 Snider Road, Mason, Ohio 45040
🦃 Crown Republic has their To-Go Thanksgiving Meals available for pre-order. Choose from 3 different Thanksgiving Kits (entree choices: pork loin, turkey, or Lasagna Bolognese). They will be available for pick up on Wednesday, November 24th.
Crown Republic: 720 Sycamore St., Cincinnati, Ohio 45202
🦃 deSha's is offering a Thanksgiving Carryout Menu. You'll order your meals individually and it's all fully cooked and ready to eat. Choose from roast turkey and sides, a Thanksgiving Prime Rib Dinner and sides, desserts, salads… even Kid Meals! Preorder now at 513-247-9933.
deSha's: 11320 Montgomery Rd., Cincinnati, Ohio 45249
🦃 Eat Well is hosting a pop-up store for Thanksgiving. Choose from their Turkey Dinner Bundle, Beef Burgundy, Individual Thanksgiving Meals, and more. They're preparing their most requested Thanksgiving side dishes and desserts for pick-up this year including classics like traditional sausage stuffing, vegan stuffed acorn squash, and Kentucky pecan pie with bourbon & dark brown sugar.
eat well Thanksgiving Orders will be available for pickup on Wednesday, November 24th (order before Nov. 22 at 5pm). Prefer delivery? Delivery is available to most addresses within the I-275 loop. Enjoy reduced price delivery on orders that are more than $75.00 and FREE delivery on orders of $150.00 or more.
🦃 Fausto at the CAC is offering a Thanksgiving Dinner Kit. The meal includes Riverside Farms confit turkey leg; local mashed potatoes with confit garlic, creme fraiche, and fines herbes; charred cabbage salad with smoked almonds, dates and local cheddar; roasted root vegetables and local pumpkin with maple, crispy shallot and scallion butter. Thanksgiving Kits will be ready for pick-up on November 24th. Cutoff to order is going to be November 22nd.
Fausto: 44 East 6th Street, Cincinnati, Ohio 45202
The Fresh Market has lots of options for your Thanksgiving ordering. Choose from a whole roast turkey meal, a fully cooked turkey breast, spiral sliced honey ham, or even a Turducken! Some of their items are fully cooked and ready to heat at home. Some of their items require you to do the cooking so be sure to read the descriptions. Online ordering ends Nov. 22 at 2pm. Pickup Nov. 22-25, 2021.
Fresh Market has multiple locations. Search for a market near you here.
🦃 Garnish Catering is accepting orders for their Thanksgiving Menu but you must order early (deadline is Nov. 12 at 5pm). Orders will be ready for pickup and delivery on Nov. 24.
Garnish Catering: 9648 Kenwood Road, Cincinnati, Ohio 45242
🦃 Good Pie Y'All is ready to help you with Thanksgiving brunch and dessert offerings. Items offered include cinnamon rolls, pecan sticky buns, sausage and cheddar bake, southern pecan pie, pumpkin streusel pie, caramel apple streusel pie, and more.
Good Pie Y'All: check with them for pickup details
🦃 Hometown Cafe has a Thanksgiving Carry Out Meal for 2 that includes a roast turkey, stuffing, salad, sides, rolls, and two slices of pumpkin pie. All orders must be placed by Thursday, November 18, by 8pm. You'll pick up in oven-ready containers on Wed., Nov 24 between 5 and 7pm.
Hometown Cafe: 111 Railroad Ave., Loveland, Ohio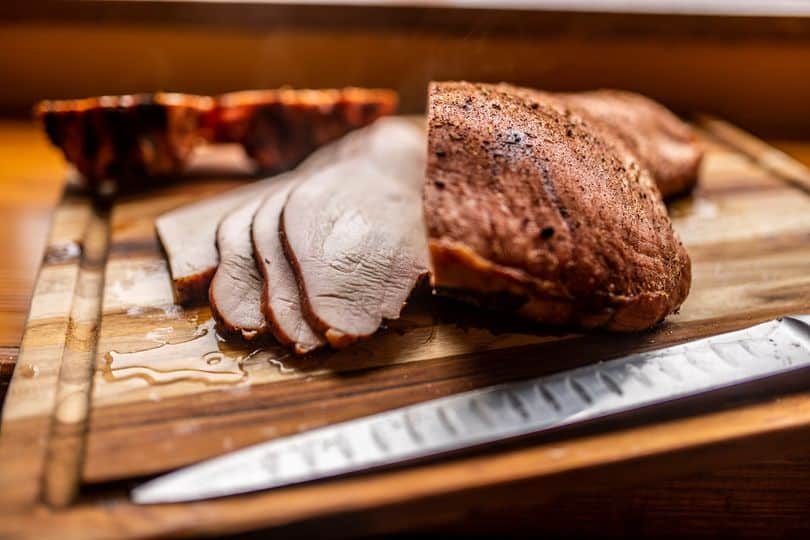 🦃 Incline Smoke Shack is offering Thanksgiving Meal Kits for pre-order. The kit includes 1 lb. house smoked turkey breast with smoked gravy, 1 lb. mac and cheese, 1 lb. bourbon and brown sugar carrots, 1 lb. bacon and walnut mashed sweet potatoes, and a flight of their 6 scratch made BBQ sauces. Add a Shack Salad for 4 if you'd like. Incline Smoke Shack is located at 13 Below Brewery so be sure to pick up a growler on the way out! Pickup is on Wed., November 24 at the brewery.
🦃 Ivory House has a Thanksgiving Meal To Go. Pick up a ready-to-heat Chef's Feast (feeds 8-10) that includes turkey, gravy, 4 sides, cranberry relish, rolls, and a pimpkin pie.
🦃 Jeff Ruby's offered a Thanksgiving Meal Kit in 2020. TBD for 2021. More details to come.
Jeff Ruby's Steakhouse: 700 Walnut Street, Cincinnati, Ohio 45202
🦃 Lucius Q is smokin' for Thanksgiving .Choose between whole birds or all-white turkey breasts, depending on how many people you plan to feed. Whichever you choose, your turkey will come from Cincinnati's iconic Avril-Bleh Meat Market and it will be smoked on-site at Lucius Q. Your sides and desserts will all be made in house. Reheating instructions will be provided. You can pick up turkey breasts and sides on Wed., Nov. 24 between 3 and 7pm or on between 11a and 1p on Thanksgiving Day. Whole turkeys will be given to you hot and can only be picked up on Thanksgiving Day, 11am-2pm (sides will need to be reheated).
Deadline to order is November 17, 2021 at noon.
Lucius Q: 1131 Broadway St., Cincinnati, Ohio 45202
Maggianos Little Italy offered a Thanksgiving To Go menu in 2020. TBD for 2021. More details to come.
Maggianos Little Italy: 7875 Montgomery Road, Cincinnati, Ohio 45236
Metropole is offering a Thanksgiving Feast for 2021. Each Thanksgiving Feast includes everything you need for a full thanksgiving meal including roast turkey, all the fixin's, sides and pie. Meals can be picked up Wednesday the 24th or Thursday the 25th – fully cooked and refrigerated, with reheat instructions ready for you to enjoy whenever you and yours are ready to enjoy
Metropole: 609 Walnut Street, Cincinnati, Ohio 45202
🦃 Midwest Best BBQ has Thanksgiving Meals for pre-order. The Ready to Bake Thanksgiving Meal includes smoked turkey breast, mashed potatoes and gravy, homestyle stuffing and gravy, green beans, mac n cheese, sweet potato souffle, and rolls. They also offer a whole turkey, smoked turkey breast, pies and a la carte sides. Order by 11-17-21 and pickup on Wednesday, November 24, 12-2pm.
Midwest Best BBQ: 669 Justice Ct., Loveland, Ohop 45140
🦃 Moerlein Lager House is offering pre-ordered Thanksgiving Dinner Packages that are pre-cooked. Each Thanksgiving dinner package ordered is a complete meal for 4 and will come with heating instructions to make your dinner perfect. Each package includes Honey Glazed Ham, Turkey with Gravy, Garlic Mashed Potatoes, Stuffing, Green Beans, House Salad with Dressing, Bread, and Carrot Cake. You can pickup between November 23rd and 24th from 3-8PM. Order by Nov. 17, 2021. Free validated parking for those who join them for dinner to pick-up inside. Parking directly below the Moerlein Lager House. Curbside Pick-up available by texting 513-601-9005 when you arrive.
Moerlein Lager House: 115 Joe Nuxhall Way, Cincinnati, OH 45202
🦃 Out of Thyme Kitchen is offering a variety of Thanksgiving Dinner Choices that include a Complete Turkey Package (oven ready turkey, 4 sides, soup or salad, bread, cranberry sauce; serves 8), Thanksgiving Dinner Plates, Just the Sides Package, or individual sides.
Out of Thyme Kitchen: 11915 Montgomery Rd., Cincinnati, Ohio 45249
🦃 The Phoenix – officially sold out for 2021
The Phoenix: 812 Race Street, Cincinnati, Ohio 45202
🦃 The Pickled Pig has a Thanksgiving Menu that allows you to buy just the main course, just sides, or a combo of both. Choose from meats by the pound (smoked turkey breast, smoked pork loin) and sides by the pan. Order by 11-15-21 and pickup November 23 and 24. Call to order: 513-748-7114.
The Pickled Pig: 645 E. McMillan St., Cincinnati, Ohio 45206
Ruth's Chris Steak House is ready to help you prepare your Thanksgiving meal. Their Thanksgiving at Your Table serves 4 and is a Thanksgiving meal to enjoy at home. They are also offering Thanksgiving Sides at Home (everything but the turkey). The full meal is available for pickup on Wed., Nov. 24, 2021, 12-6pm and the Sides at Home menu is available for pickup on Thursday, Nov. 25, 11am-3pm.
Ruth's Chris Cincinnati: 100 E. Freedom Way #160, Cincinnati, Ohio 45202
🦃 The Schoolhouse Restaurant is offering a Thanksgiving Family Packed Dinner. Orders must be placed by 11-14-21. They're offering a Family Turkey Dinner plus a la carte appetizers, extra sides, individual meals, and desserts for a crowd.
Schedule a pickup time for November 24.
🦃 Soul Secrets Catering is accepting Thanksgiving Pre-Orders. Choose from a variety of homemade southern sides, ribs, smoked turkey, beef roast, spiral glazed ham, vegan salisbury steak, and a number of desserts. They also have a Family Meal Deal that serves 6-8. Orders can be picked up on Tuesday or Wednesday of Thanksgiving week.
🦃 Station Family + BBQ has a great a la carte Thanksgiving Day Menu which allows you to get just the turkey to go or individual sides. Order your smoked turkey breast or thighs by the pound and enjoy Family Style Sides that serve 4-6 people (including garlic whipped potatoes, herbed giblet gravy, French green beans, mac & cheese, stewed apples, and sweet potato pound cake loaf).. Don't miss the opportunity to add on bottles of wine, Thanksgiving Sangria, Mimosas, and more.
Place your orders by Wed., Nov.17, 2021
Pickup on Wednesday night, 11-24, 2021
🦃 Sweets and Meats BBQ has some Thanksgiving openings left! Their selections are plentiful and include items such as a Smoked Bone-In Turkey (16-20lb), Smoked Spiral Ham, Smoked Brisket, Smoked Pulled Pork, Smoked Chicken, and lots of sides. Pickup slots are available on Wed., November 24 from 4-7pm and Thursday, November 25 from 10am-1pm.
🦃 Tablespoon Cooking Co. is ready to help you with some great instruction for your Thanksgiving dinner! Take one of their hands on prep classes and leave with your prepped turkey or sides. Their Thanksgiving Sides Take and Bake class is Nov. 20 and 22. Their Thanksgiving Turkey Prep Party is Nov. 24.
Tablespoon Cooking Co.1731 Elm Street, Cincinnati, Ohio 45202
🦃 Tortilleria Garcia (College Hill location) offers a great Thanksgiving To Go menu at their College Hill location. Small portions are available or buy the whole big pack (serves 15-20). Selections include turkey, jalapeno macaroni, jicama slaw, cranberry tamales, cranberry sauce, queso with chips, guac, flan, tres leches cake, and more.
Tortilleria Garcia: 5917 Hamilton Ave., Cincinnati, Ohio
Whole Foods Market is serving up a variety of options including a Classic Thanksgiving Dinner Menu, Simple Thanksgiving Supper Menu, Small Thanksgiving Gathering Menu, a Vegan Thanksgiving Feast, a Vegetarian Thanksgiving Feast, and more. All holiday orders must be placed at least 24 hours in advance. Pickup dates are 11/19-11/25, 2021. Order here.