If you're looking for something to do for the 2021 Thanksgiving Day weekend in Cincinnati, we've got you covered!
Whether you have family in town, you're visiting for the weekend, or you simply have a few days off of work, you'll enjoy this list of events for Thanksgiving weekend.
We will add to this list as more Thanksgiving Weekend events pop up so be sure to bookmark the link and check back often!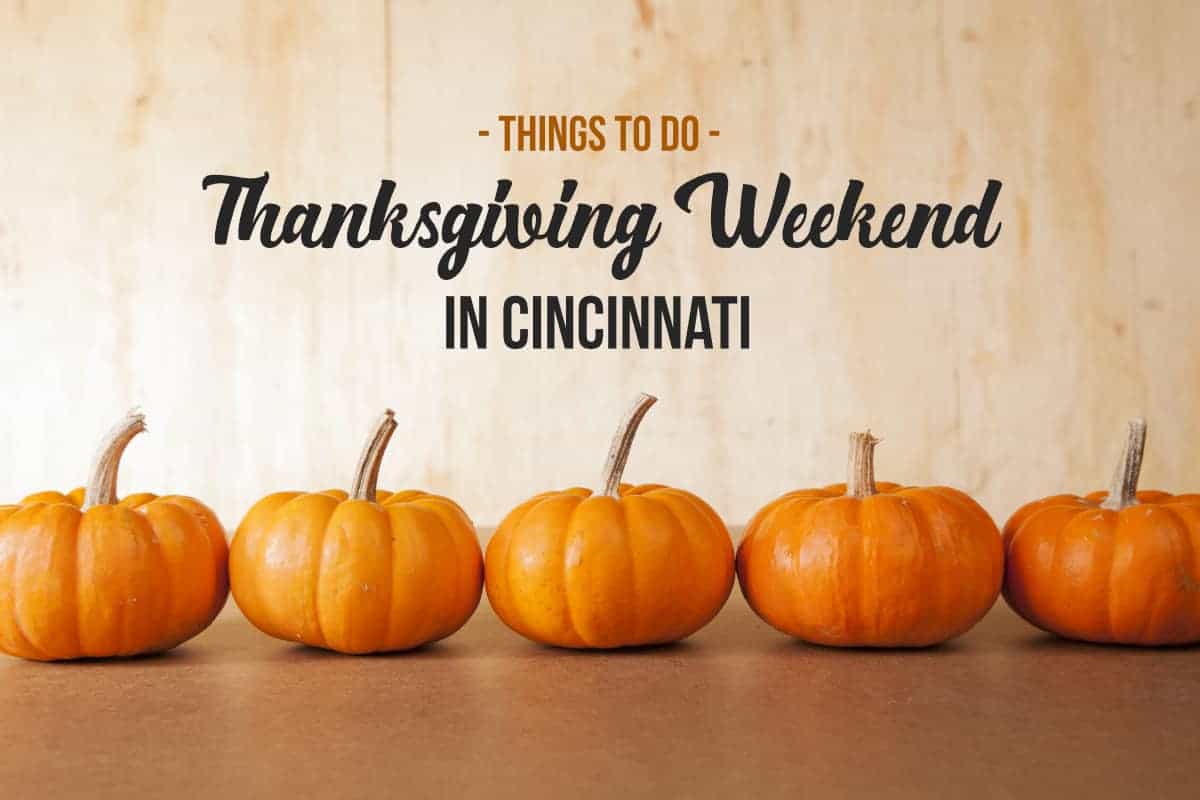 The following events are date specific. Don't miss our list of Holiday Events that go on all weekend – find it after the dated events.
Friday, Nov. 26:
Santa arrives at Cincinnati Museum Center! Although guests will not be able to sit with Santa to make sure he hears their wish list this year, they will be able to speak with the jolly elf in the Public Landing adjacent to Holiday Junction. Santa will be busy preparing for the big day but will happily pause to speak with guests from a safe distance.
Macy's Light Up the Square annual tree lighting celebration is back. Festivities will begin at 5pm with live music and a special appearance by Santa Claus and continuing into the evening with a dazzling fireworks display.
Saturday, Nov. 27:
Take the kids to see Santa at Washington Park as part of their "Santa's Workshop", 12-4pm. Every Saturday and Sunday in December, Santa and his merry band of Elves will be spending time in Washington Park making gifts, ornaments and other fun creations. Stop by the wish-list station where elves will help you write a list to give to Santa when you meet him- or bring yours from home. Bring your family, your dog, your friends, but most all–be sure to bring your cameras! *Please note that this event is free, but you must bring your own camera for photos.*
---
You Might Also Like…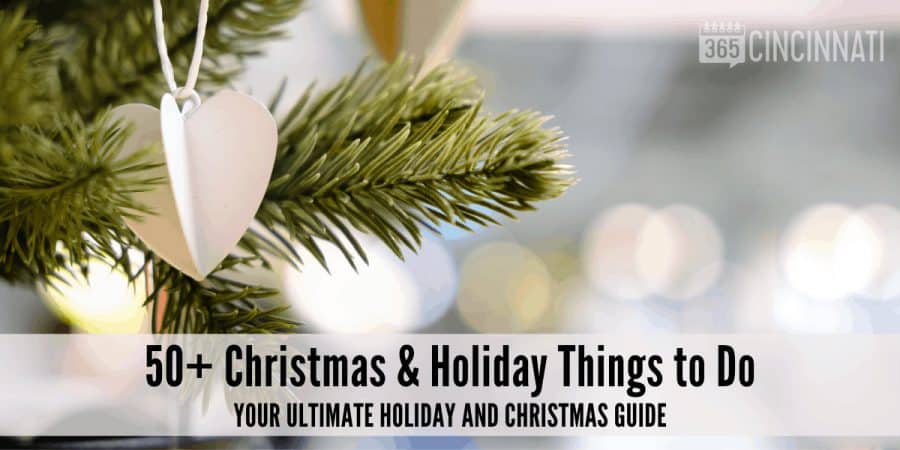 ---
Holiday Events that go on all weekend:
Christmas at EnterTRAINment Junction will be open Nov. 13, 2020 – Jan. 2, 2021. See the magic of Christmas at the home of the World's Largest Indoor Train Display. Take a "Journey to the North Pole", where you can meet Mrs. Claus and Santa himself.
Christmas Nights of Lights is at Coney Island Nov. 12 – January 2. If you're looking for the perfect socially distanced Christmas event, this is it! Experience this amazing light show synchronized to both traditional and rocking holiday music through your car radio. Visitors of all ages will be awed by the larger-than-life trees, glowing snowflakes, dancing candy canes and fantastic tunnels of lights! In the warmth of your own car, you can sing along to the sounds of the season synchronized to each holiday display. Christmas Nights of Lights welcomes carloads of families and friends to enjoy this Christmas tradition. With two and a half miles to drive through, your family can see displays and light shows made of over a million lights driven by more than forty thousand computer channels. The show will begin nightly at dusk and run through 10 p.m. Christmas Nights of Lights will be open every night including holidays. See our best tips on making the most of the evening at Christmas Nights of Lights post.
Festival of Lights at the Cincinnati Zoo, Nov. 19 – Jan. 9. The Cincinnati Zoo will once again be transformed into a "Wild Wonderland" for the 39th annual PNC Festival of Lights! In addition to admiring the beauty of 4 million LED lights, visitors can ride the North Polar Express train ride, marvel at the spectacular Wild Lights show on Swan Lake, or snack at one of two S'mores-n-More stands. Santa will be available for visits starting at 4 p.m. through December 23. Reservations are required. Closed on Thanksgiving Day.
Fountain Square Ice Rink, Nov. 1 – Feb. 22; You'll need reservations this year AND don't miss the Bumper Cars on Ice! Details here.
Holiday Junction at Cincinnati Museum Center: Nov. 12 – Jan. ?; Come experience a deep-rooted Cincinnati holiday tradition: Holiday Junction Featuring the Duke Energy Holiday Trains. The exhibition, a display of hundreds of model trains zipping around a winter wonderland, has been a part of Cincinnati holidays since 1946. You'll also get to see Brickopolis, a room full of fantastical scenes created with LEGO bricks. You can also play along with the new Holiday Scavenger Hunt which will feature a rotating set of objects hidden in the garden railway layout begging guests to walk around, peel their eyes and scour every detail for objects tucked away in the snowy hills.
Holiday Lights at Sharon Woods, Nov. 19 – Dec. 30; This charming light show is built over a mile of wooded roadway, the only drive through light show through the woods of a beautiful Hamilton County park! The holiday themed displays showcase everything from Santa Claus and his elves to every animal on the ark. There's no need to bundle up to enjoy Holiday in Lights; simply warm up the car, turn your radio dial to Warm 98, round up your friends, family, or a special date, and head to Sharon Woods. It's that easy. Special effect glasses available to enhance the experience. Show them this coupon on your phone and get $1 off. NOT open on Thanksgiving day this year and cash is not accepted.
Holiday Toy Trains returns to Behringer-Crawford Museum from Nov 13 – Jan 9. Eight Lionel model trains will circle 250 feet of track, passing miniature cities, farms and snow-covered fields. Thirty moving displays will allow guests to activate landmarks along the way.
Journey Borealis is and artful drive through adventure at Pyramid Hill Sculpture Park. This year has an expanded route, new lights and new music. The Journey includes glimmering trees, Jerusalem's Hanukkah celebration, the Grinch's Greenland, Bethlehem's birth of Jesus and the North Pole. Nov. 19 – Jan. 2.
Krohn Conservatory's Holiday Show -Trains and Traditions, Nov. 6 – Jan. 9. The seasonal display located in the main exhibition house, invites visitors to explore a botanically designed Cincinnati theme. Guests will experience an enchanting, immersive train display, winding their way through a miniature world of botanical models thoughtfully sculpted in natural plant material. Included are models of the famed Roebling Bridge, Great American Tower, P&G Towers, Fountain Square, Krohn Conservatory, Eden Park Water Tower, the Winton Place Rail Station, Mount Adams and its incline track, along with many other icons that represent the architectural diversity of the Queen City. G-scale model train tracks traverse the elegant flow of the walking path, and pass by a waterfall, which spills into a bubbling brook. Hand-sculpted cedar mountains combined with decorative grapevine stretch throughout the layout creating a perfect backdrop for the plants, trains and models. Open 10-2 on Thanksgiving Day.
See Scuba Santa at the Newport Aquarium! It's a Water Wonderland full of playful penguins, colorful holiday lights, and a flurry of magical bubbles. See Scuba Santa swim underwater with a tank full of sharks and tell him what you want for Christmas. Meet cheerful elves straight from the North Pole and join in the fun as Scuba Santa fills the Theater with bubbles. His magical bubbles will float and fall all around you and every time a bubble pops, a wish will come true for someone throughout the world. Plus, make a stop at Scuba Santa's Post Office where you can write your special holiday wish on a magic bubble and drop it in Scuba Santa's Mailbox. Scuba Santa will be at The Newport Aquarium every day from November 26 through December 24.
Winter Market at Washington Park all weekend long. The Winter Market features regional artisans and crafters in cozily designed huts! The Porch will be open and offers beer, wine and hot drinks
---
All events were accurate at the time of this posting but things do happen and events do occasionally get canceled or postponed. You should always double check with the event source before you head out the door. Links for each event are provided so that you can be sure the date is still accurate before you head out.