We can all make a difference in our city! Whether you simply want to give back, are looking to start a new tradition with your family, or need a service project – here are a number of our "reader submitted" best volunteer opportunities for Cincinnati.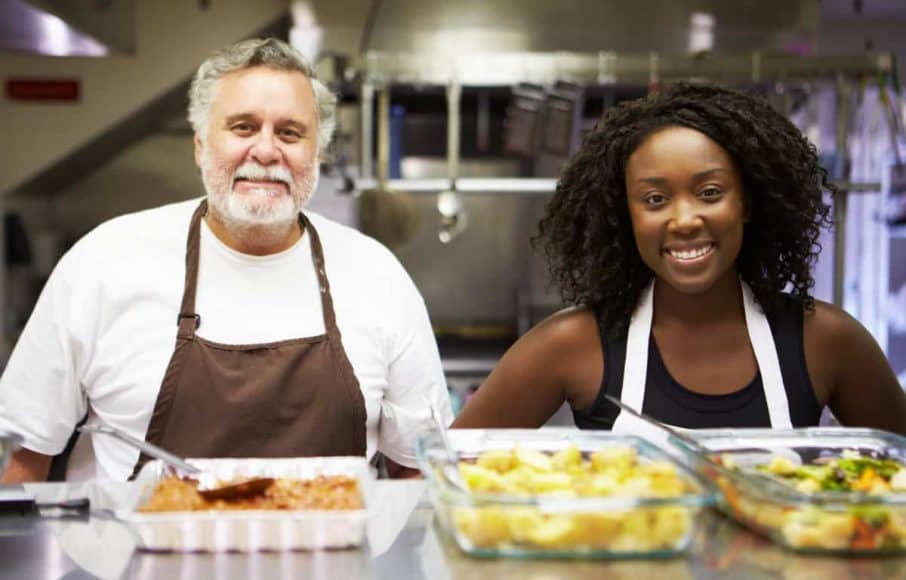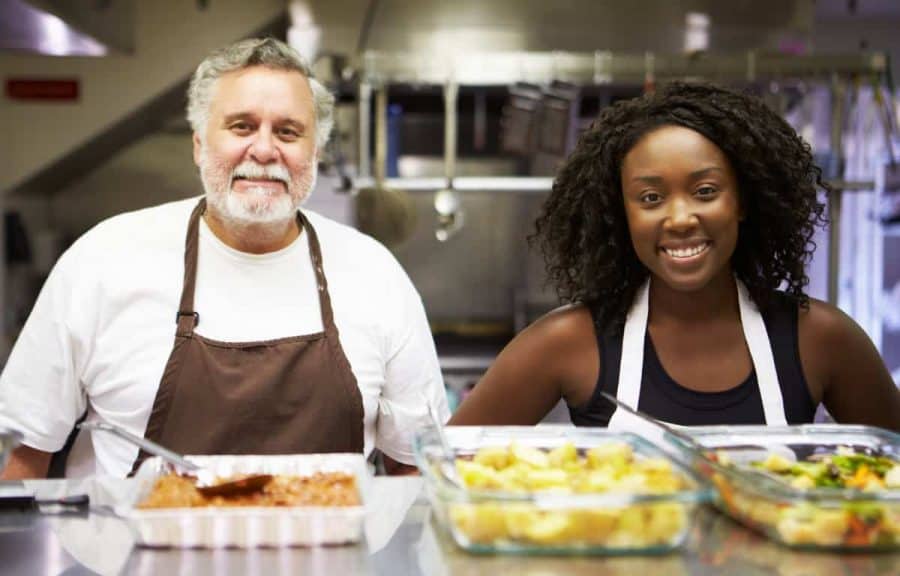 Some of these volunteer opportunities are appropriate for families and teens while others are adult only.
Volunteer at a Soup Kitchen:
Our Daily Bread is the city's largest soup kitchen. Located in Over the Rhine, they are in need of volunteers to help prepare and serve the daily meals (Mon.-Fri., 8:30 am – noon), keep the dining room tidy and clean, and help run Kids Club (Tues.-Thurs., 2:30-5 pm) – their children's afternoon program. Volunteers are also needed to bake cakes for their guests' birthdays.
St. Francis Seraph Ministries serves breakfast and dinner, Monday – Friday for anyone in need of a meal. Their dining room operation (found in the Saint Anthony Center on Republic Street) needs 6 to 8 volunteers for every meal served each day. Volunteers are welcome year-round to help serve our guests during the breakfast and dinner times. Small groups and families are welcome to volunteer too but children under 16 must be accompanied by an adult.
Wesley Community Services delivers meals to almost 3,000 seniors each week. Along with these meals, seniors receive a snack box. Clients choose from an assortment of fresh fruits, crackers, cereals, and more. They are in need of volunteers to fold/assemble and fill the boxes with snacks. They also have a variety of other senior focused volunteer opportunities listed on their site.
Queen City Kitchen has been serving meals for over 40 years. They have two kitchens – one in Over the Rhine (1620 Vine St.) and The Walnut Hills Kitchen. A hot meal is served at the OTR location at noon on Sat. and Sun (closed on weekdays). The Walnut Hills Kitchen serves a hot meal six times a week – every day except Monday and Friday, twice on Saturday. They are always in need of volunteers to help at the kitchens and at the Walnut Hills Pantry.
La Soupe helps bridge the gap between food waste and hunger when they rescue otherwise wasted produce to create delicious and highly-nutritious meals for customers, non-profits and food-insecure families. La Soupe is in need of Food Runners (pick up surplus food and deliver to La Soupe or deliver from La Soupe to receiving agencies), Kitchen Help, and Crockpot Teachers.
Holiday Volunteers Needed Here…
Fall Feast: On Thanksgiving Day, City Gospel Mission partners with Give Back Cincinnati and other organizations to present Fall Feast. Fall Feast takes place at the Duke Energy Center in downtown Cincinnati. Volunteer opportunities include Kitchen Prep, Pre-event Prep, Kitchen, Kitchen Clean Up Crew, Kid Zone, Beverage and Bussers, Servers, Host/Hostess, Share a Meal, Coat Shop, and much more.
Crossroads Church Thanksgiving Food Drive: In partnership with local churches, schools, civic organizations, and faith-based ministries, they'll be providing Thanksgiving meals to over 115,000 people in our communities. They'll also be providing thousands of bulk food items to food pantries and partners in our cities. Be a part of our 24th annual Thanksgiving Food Drive by signing up to serve during box distribution and collection.
Little Brothers – Friends of the Elderly needs volunteers to visit the elderly on holidays. They arrange visits to the elderly in their home/apartment on Easter Sunday, Thanksgiving and Christmas Day. They deliver a hot meal with flowers and additional goodies. They also visit friends residing in area nursing homes, taking them a basket of goodies. They also visit three nursing homes on the holidays, taking gifts to all the residents residing in the home.
Freestore Foodbank needs help distributing Christmas Holiday Food Boxes to households in our community. Look for opportunities on December 19 and 20, 2019.
Other Volunteer Opportunities
The Aronoff Center and Music Hall both operate with the help of over 1,000 dedicated volunteers! Volunteer opportunities include ushers, working at the Aronoff Center Information Desk, and more.
Bethany House offers ways for both groups and individuals to volunteer. Groups can host a weekday dinner or a weekend breakfast. They have yardwork and fall/spring cleaning jobs at their facilities. Individuals are needed to assist with their Kidz Zone program, provide child care, help in the office, help with mailings, and more.
Freestore Foodbank is working hard to reduce hunger in the Tri-State area. They are one of the largest food banks in Ohio, distributing 33 MILLION meals annually and serving 20 counties in Ohio, Kentucky, and Indiana.They need volunteers every day to pack Power Packs and Senior Boxes for the youngest and oldest in our community, sort food donations to be sent to our community partners, provide customer service at our Liberty Street Market (pantry), assist with special events throughout the year, and provide talents and skills for dozens of other activities that help people when they are in crisis.
A Kid Again helps restore a sense of normal for families thrust into the situation of caring for a child with a life-threatening illness. They offer year-round adventures that allow children to feel "like A Kid Again". Volunteers are needed to help with bookkeeping, office support, event planning/working, hospital visitation, and more.
Matthew 25 : Ministries helps the poorest of the poor and disaster victims throughout the United States and around the world. Volunteers are needed to help sort, count, and package donated goods for shipments to other parts of the world. They welcome both groups and individuals.
Big Brothers Big Sisters offers two volunteering options: Community-Based (unsupervised visitation with your Little and you pick him/her up from home for fun activities in the community) and Site-Based (which is supervised visitation with your Little at his/her school or Boys and Girls Club in which they have a partnership). They offer Lunch Buddies, School Day options or After School, depending upon the site.
CABVI / Cincinnati Association for the Blind and Visually Impaired offers comprehensive vision rehabilitation services for people of all ages who are blind or visually impaired. Volunteers are needed for administrative office tasks, reading printed materials to individual clients, or reading materials on the air for Radio Reading Services.
Ronald McDonald House offers opportunities to individuals, families, and groups. They need volunteers to prepare and serve meals, prepare snacks in their kitchen, help with household chores, and more.
Cincinnati Museum Center welcomes Museum Ambassadors Volunteers, Greeters, Featured Exhibit Volunteers, Corporate Volunteers, as well as to help with these Tracks: Gallery Activities Track, Shows and Interpretation Track, Labs and Maker Track.
Give Back Cincinnati offers more than two dozen free volunteer opportunities annually. Give Back Cincinnati is designed to attract members ages 18-35 who live and/or work in Greater Cincinnati, Northern Kentucky and surrounding communities.
Little Brothers – Friends of the Elderly is an international network of non-profit, volunteer-based organizations committed to relieving isolation and loneliness among elderly. Volunteer opportunities include visiting with the elderly, helping with social outings, birthday celebrations, nursing home visits, and more.
The Public Library of Cincinnati and Hamilton County welcomes volunteers at the Main Library, in administrative departments, and at branches to assist staff by providing services that support library activity. They have a number of rewarding opportunities for volunteers including supporting children and teen programming, assisting with patron holds, keeping collections in order, assisting with clerical work, helping patrons with technology, rewarding participants in the Summer Reading Program, serving children nutritious meals through their Summer Feeding Program, tutoring through the William Hueneke Homework Center, and several other specialized roles.
Animal Shelter Volunteer Opportunities
Ohio Alley Cat Rescue provides low cost, high-quality spay/neuter services for ferals, strays and pets. They also operate a no-kill adoption center dedicated to finding loving homes. Volunteers are needed for cat care, adoption hosts, fostering, and more.
Save the Animals Foundation / STAF is a 100% no-kill shelter for abandoned dogs and cats. STAF is run by volunteers, 400+ volunteers! Volunteer activities include daily care of the animals, obedience training for dogs, socialization of the cats, upkeep of the building and grounds, adoption activities, and working with community groups and schools in promoting humane education. Volunteers also perform all administrative tasks involved in running a financially sound and secure non-profit.
Volunteer at our Parks:
Great Parks of Hamilton County offers long-term volunteering opportunities as well as one-day volunteering. You can remove invasive plants, adopt a trail, harvest native seeds, or interact directly with park guests at a gift shop, visitor center or during a nature program. Whether you have time to volunteer for a day, a few weeks or years to come, Great Parks has a place for you!
Cincinnati Parks depends on the support of their volunteers. Volunteers assist with the Butterfuly Show, Carol Ann's Carousel, Holiday Crafts at the Krohn Conservatory, and more.
Anderson Park District is looking for volunteers who have a genuine desire to help promote parks and recreation. Their volunteer opportunities include help with special events, programs and leagues as well as clerical support, landscaping help, park ambassadors, and more.
MetroParks of Butler County would love to have you share your talents with them. Volunteers are need for their numerous projects and programs.