Escape the busy everyday life and reconnect with family and friends in one of these magical treehouse rentals in Ohio!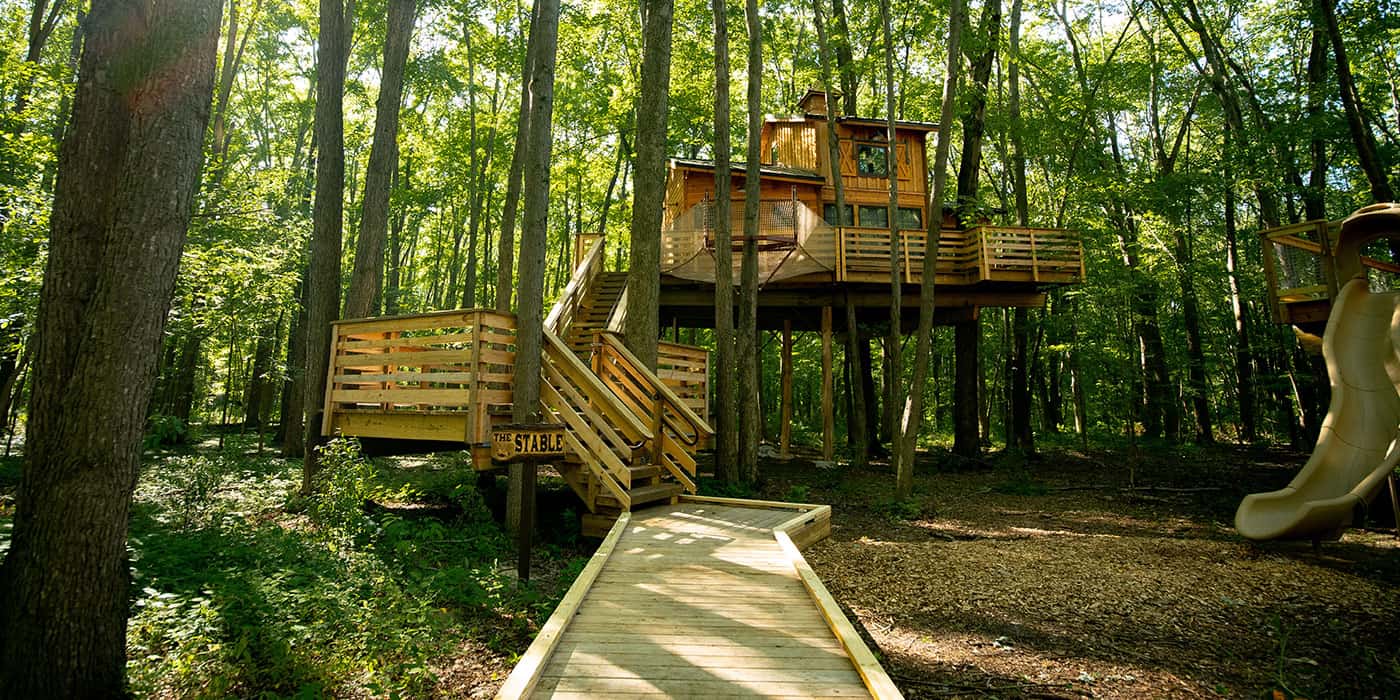 If there was ever a year that should be declared the year of "I need a getaway!", this is it! I'm ready to pack a few things and hop in the car for a short getaway, one that does not involve emails or meetings or any other distractions. Sunshine and fresh air required.
That desire led me down the path of researching fun treehouse rentals in Ohio. I found all kinds of great options – spots with reading lofts, cabins in the trees, wood fired hot tubs. Big treehouses. Small treehouses. Low ones. High ones.
So if you, too, are itching for a weekend getaway in Ohio, one that will make you feel like a carefree kid again, I'm sharing my list of treehouse rental possibilities below.
Here are the results of my search for the best treehouse rentals in Ohio:
If I missed your favorite or you know of any we should add to the list, let us all know in the comments!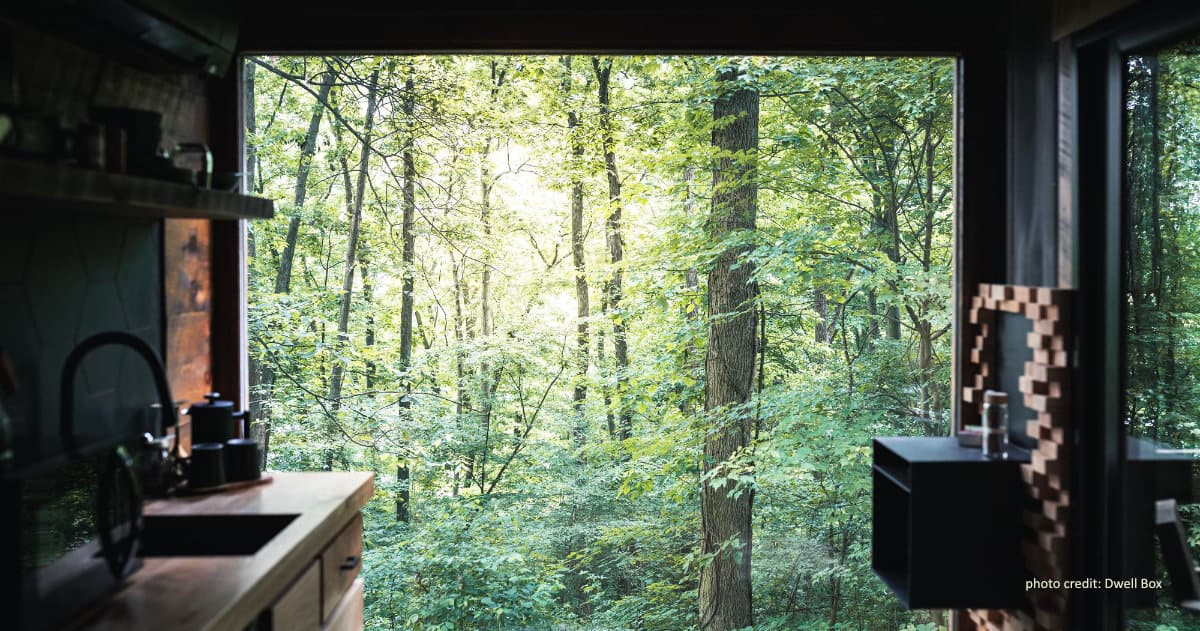 Shipping Containers Turned Treehouses in Dundee
You'll find a perfect getaway for two at Dwell Box Treehouse Village in Dundee, Ohio.

Their Forest Havens units offer shipping containers as treehouse rentals in Ohio. Set in a clearing in the forest, these elevated getaways are furnished with luxury linens and the comforts of home inside. Become one with nature on a porch that feaures an outdoor soaking tub, an outdoor shower, lounging seats and chairs, and a natural gas firepit.

Or perhaps you'd prefer The Box? This shipping container is set in the trees and offers a modern, minimal design for a unique experience. There is a bedroom with a queen bed, a full bath, a kitchenette, and a living area featuring huge windows looking high into the treetops.

---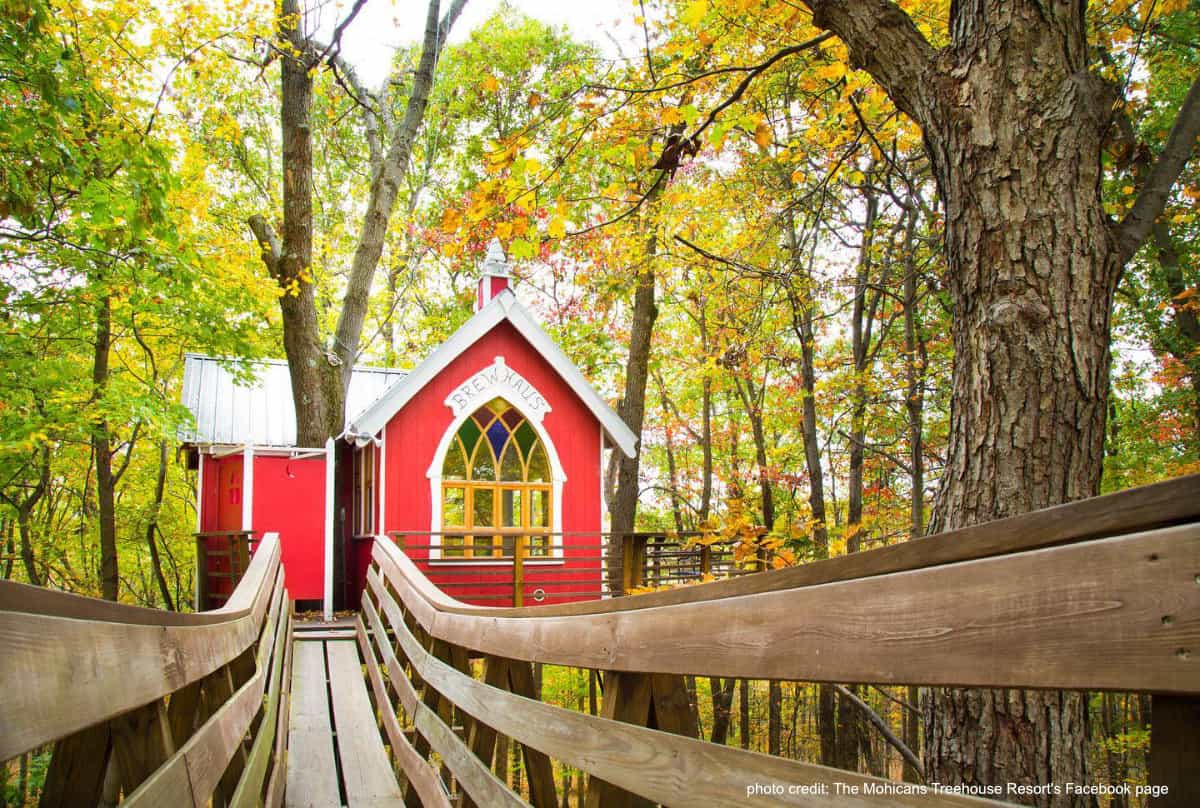 The Little Red Treehouse Near Mohican State Park
If you're looking for a charming spot for a getaway, look no further than the Little Red Treehouse located in The Mohicans Treehouse Resort. Perhaps one of the most popular treehouse rentals in Ohio, it's perched in the trees and features a queen bed loft with ladder access, a kitchenette, an indoor toilet, heat and air. You'll also find an outdoor shower and a wrap-around deck with table and chairs on the exterior… and, of course, lots of forest!
---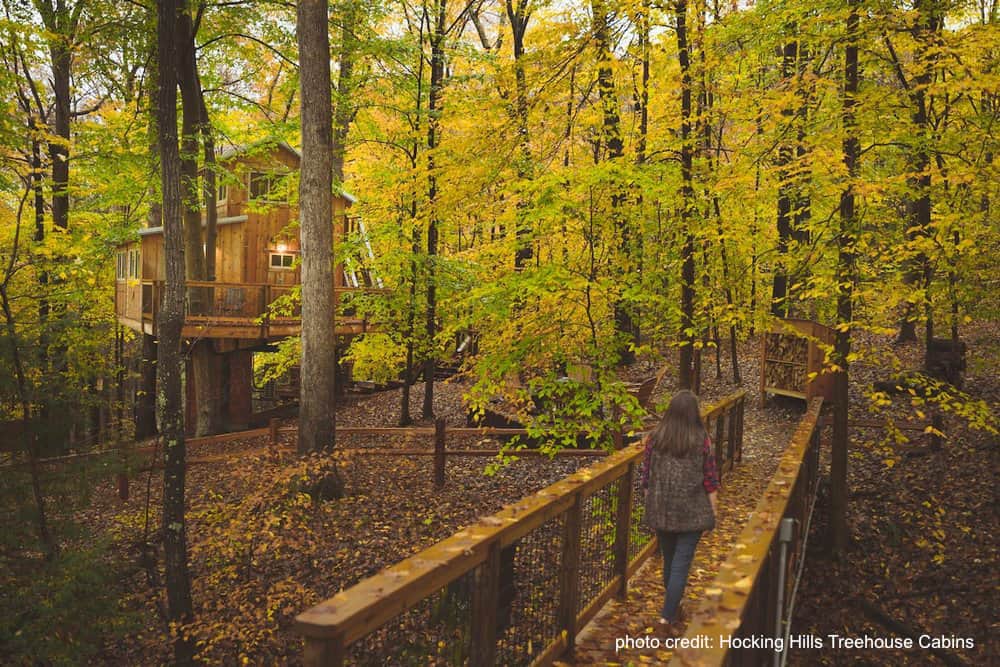 Enjoy the Hot Tub at White Oak Treehouse in Hocking Hills
If you're looking for treehouse rentals in Ohio that offer larger accomodations, this two bedroom getaway might fit the bill. White Oak Treehouse is a luxury treehouse located in the heart of Hocking Hills. One of a four different treehouses available at Hocking Hills Treehouse Cabins, this rental features two bedrooms, a full bath, a kitchenette, an outdoor shower, a secuded fire pit, a grill, and a wood fired hot tub!!!

Make it a true outdoor getaway with a hike at nearby Old Man's Cave, Ash Cave, and Cedar Falls.
---
Treehouse Getaways at Cannaley Treehouse Village in Toledo
Cannaley Treehouse Village is the largest public overnight treehouse site in the country and you'll find it right here in Ohio! This amazing treehouse rental experience comes to us from Metroparks of Toledo.
From treehouse rentals to tent/hammock platforms, Treehouse Village offers something for every outdoor lover.
---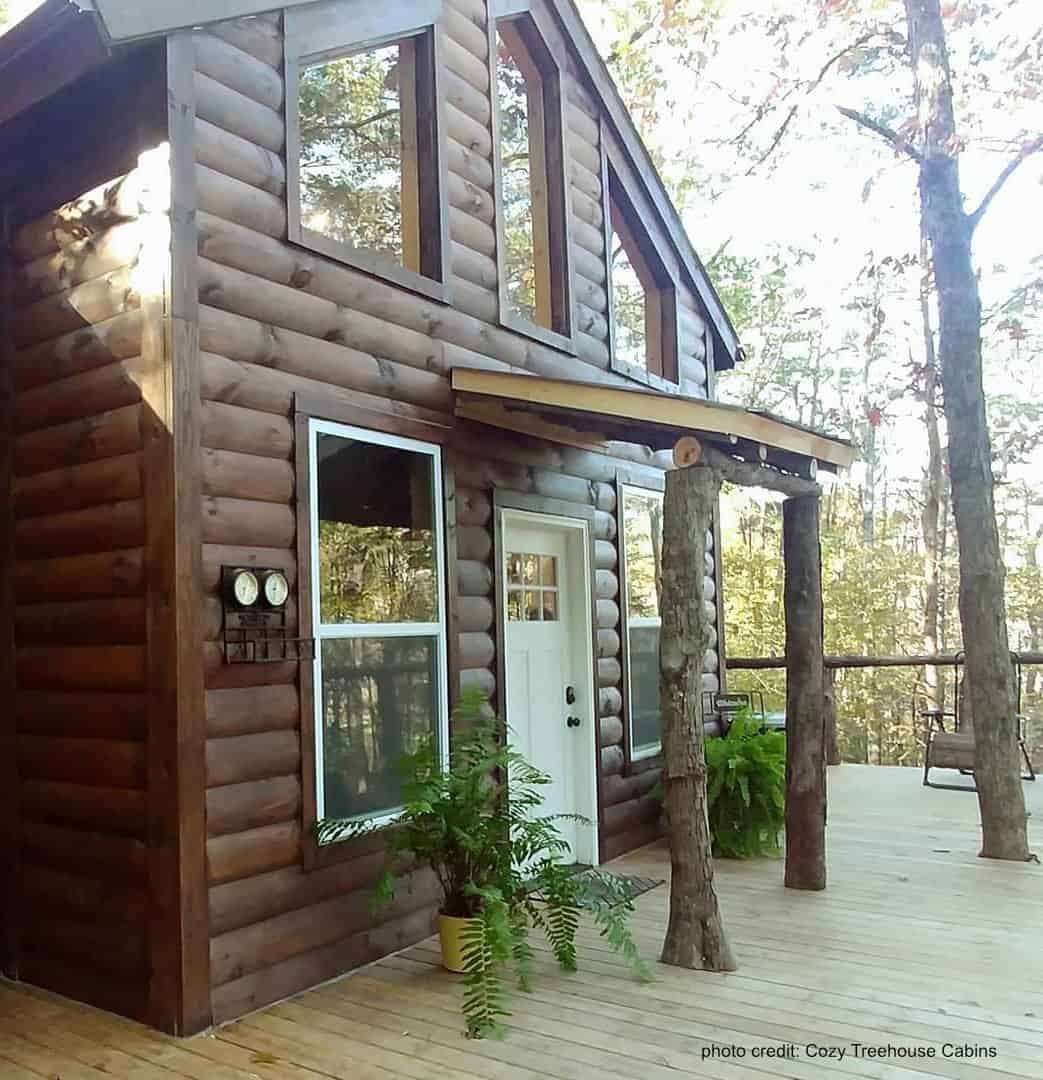 10 Acres to Explore at Cozy Treehouse Cabins in Hocking Hills
Take in the view from this cozy cabin treehouse that sits 20 feet off the ground. Enjoy the privacy of staying on 10 acres of private woods. This cabin in the trees has a queen size bed plus a second floor loft, a full bath, a kitchen with full sized appliances (including a dishwasher), board games, and more. Outside you'll find a large deck, a charcoal grill, a fire pit, and a hot tub.
It's another great Hocking Hills area treehouse rental. Cozy Treehouse Cabins is just one exit away from Old Man's Cave, Ash Cave, and Cedar Falls.
---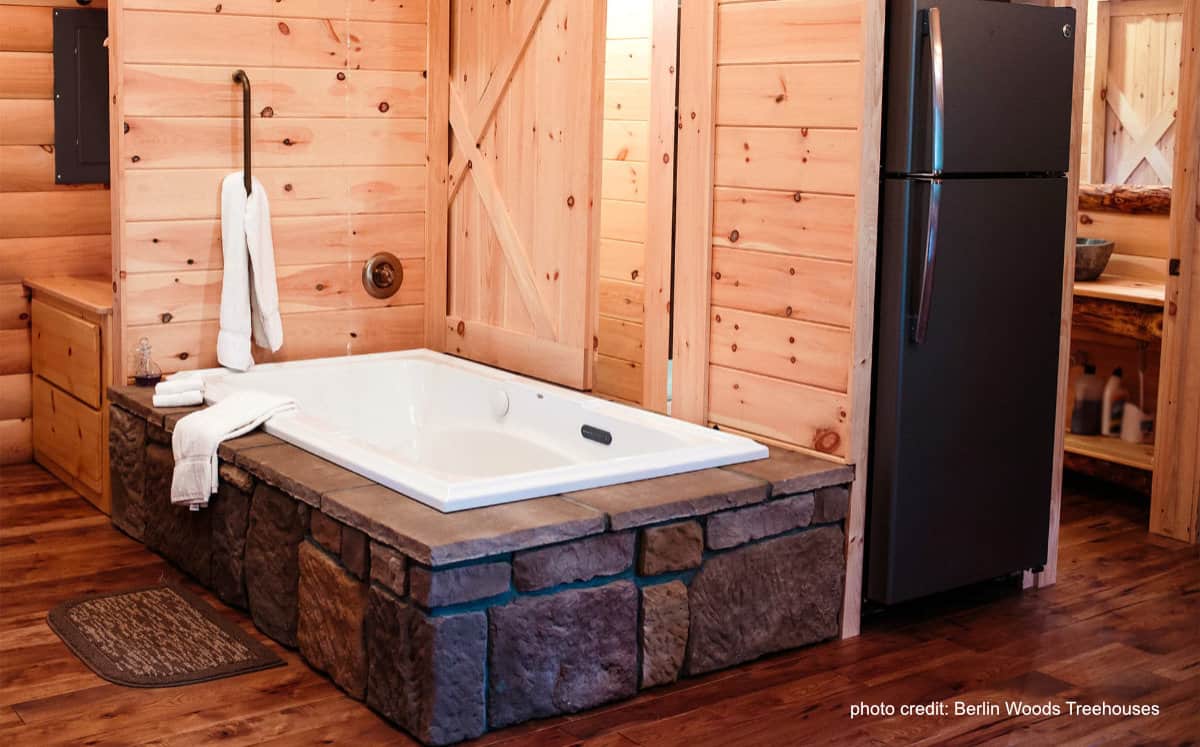 Relax on a Covered Porch at Berlin Woods Treehouses
Escape to Amish Country for a luxury treehouse experience. The Berlin Woods Treehouses are secluded in the woods of a 38 acre setting and sit 30 feet up in the trees.

Just the two of you? Look for Treehouse #5 which has a king size bed, a two person jetted tub, a full kitchen, a living room, a stone fireplace, and a covered porch!

Or book a stay for the family at Treehouse #1, one of the tallest and largest treehouse rentals in Ohio. It accommodates up to 6 guest, has two stories, 2 king beds, 2 twin beds, a full kitchen, a jetted tub, and more.

These unique treehouse rentals in Ohio are located less than a mile from the shops and restaurants in downtown Berlin, Ohio.
---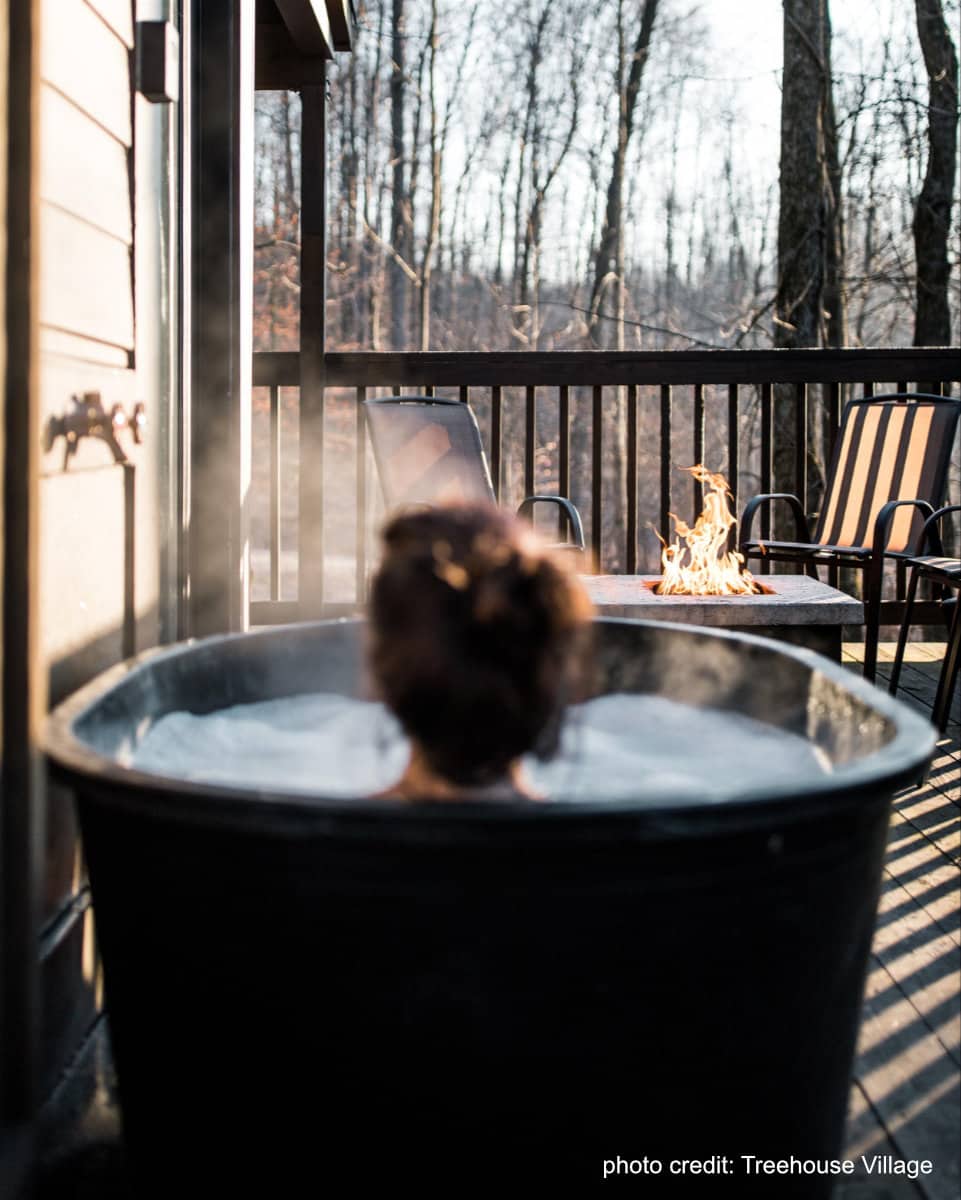 Reconnect at Treehouse Village, Dundee
We mentioned the shipping container options (from Dwell Box) above but want to be sure to mention their traditional treehouses here as well. They have three treehouses that would be perfect for a couple's getaway, a small group, or a family gathering.
The Arrow: an A frame set up in the woods with a claw foot tub!
The Sky Loft: a modern take on a cozy hideaway way up in the trees
The Shack: a cabin in the woods feel with a lounging loft
All of the Treehouse Village treehouses have outdoor soaking tubs, mattresses made by local Amish craftsmen, indoor woodstoves and fireplaces, outdoor fire pits, outdoor grills, a kitchenette, and outdoor showers.

Don't miss their Treehouse Lodge, a 3 bedroom spot that's great for a family or a group. This beautiful, modern space has two full baths and a total of SIX queen beds!
---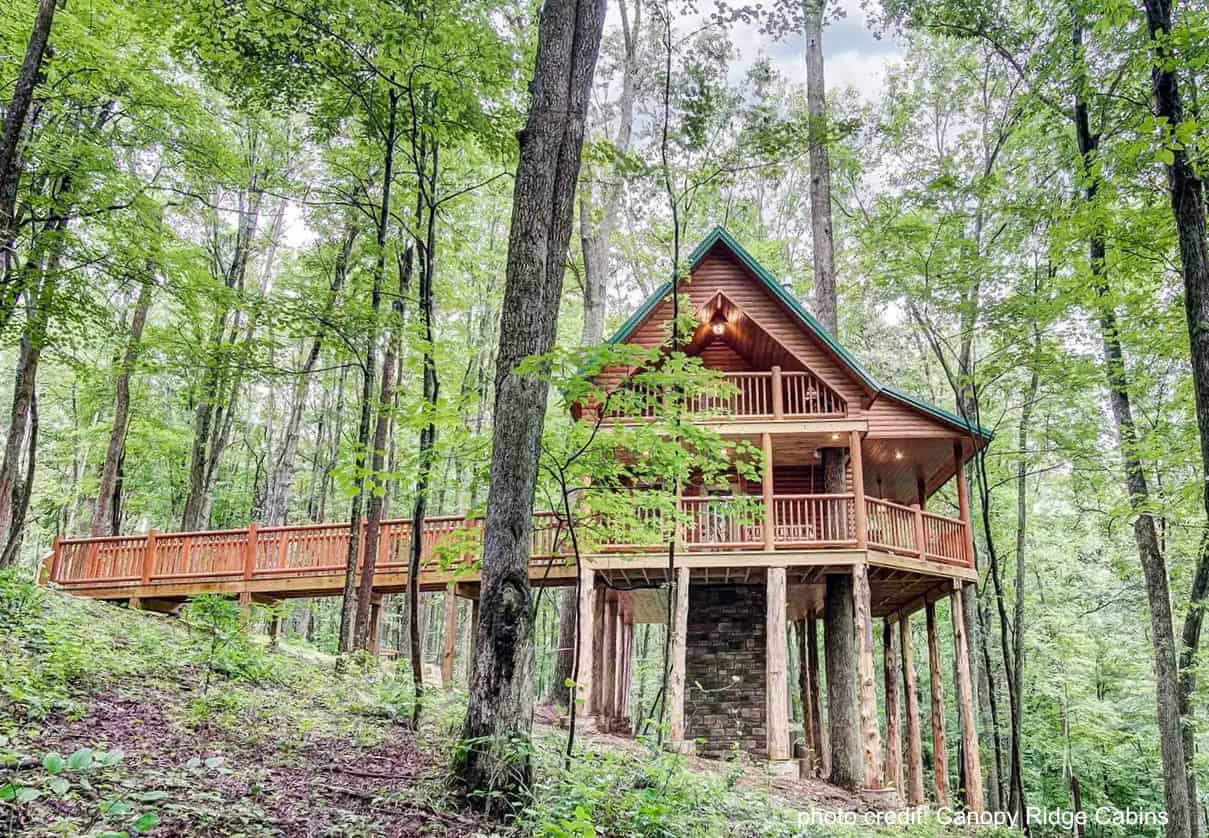 The Canopy Treehouse in Hocking Hills
Another option for Hocking Hills lovers, The Canopy Treehouse is a cabin in the trees! This two story treehouse sits 20 feet off the ground and sleeps up to four guests. You'll enjoy a fully stocked kitchen with granite counters, a large walk-in shower, a covered porch, a hot tub, a seasonal outdoor shower, a fire pit, and more! The upstairs loft has a spacious king bed and a second story deck.
---
You might also like:
Glamping in Ohio – 15 Fantastic Spots with Domes, Yurts, RVs, and Luxury Tents
10 Relaxing and Romantic Getaways in Ohio