If you're looking for a one-of-a-kind getaway, a treehouse cabin in Ohio just might fit the bill! Treehouse cabins can provide the perfect escape, allowing you to get away from it all and feel like a kid again! And if you want to try out the newest spot for your treehouse experience, look no further than Cannaley Treehouse Village.
Cannaley Treehouse Village is the largest public overnight treehouse site in the country and you'll find it right here in Ohio! This amazing treehouse rental experience comes to us from Metroparks of Toledo.
From treehouse rentals to tent/hammock platforms, Treehouse Village offers something for every outdoor lover. Choose from one of four cabins in the trees:
The Stable:
The Stable sleeps 6 with two queen beds and a full bed. This cabin has an equestrian theme. This cabin has a kitchen area (with a fridge and microwave), a large spot to lounge (see below), and a loft for some serene relaxation.
---
The Dragline
The Dragline is a spider-web themed treehouse cabin that houses two guests.
Come on! Where else will you find something like this? The cabin has a spidery-loft to hang out in…and you have to rope climb up into it too!
This place would make for a great romantic weekend destination! Imagine lounging in these hanging chairs while admiring the changing colors of fall right outside the windows!
---
The Hub
The Hub is a bicycler's dream getaway! This ADA accessible treehouse sleeps 4 with two queen beds. Kids of all ages will enjoy a slide from the cabin to the ground. A separate ramp leading bikers to the trails will be coming soon.
---
The Nest
Birdlovers – here's your spot! The Nest sleeps 2 in a full sized bed.
Who wants to walk down a ramp when you can exit on a curly slide?!
---
Do They Offer Tent Camping in the Trees?
Yes! You can camp on one of three tent/hammock platforms. Rentals rates start at just $30/night for the tent platforms (as of Feb., 2023).
---
What Can We Do at Treehouse Village:
In addition to the cabins and platforms, Treehouse Village also includes a common treehouse (Flatwood Commons) that seats up to 50 and a common fire pit (with wood provided). Don't miss the attached crow's nest and canopy bridge! Flatwood Commons is for day use only and is ADA accessible.
Leave some time to explore the surrounding 500 acre Beach Ridge Area of Oak Openings Preserve, the largest park of the Metroparks of Toledo. Enjoy the new Beach Ridge Trail, a 12 mile single track mountain bike trail. Practice your mountain biking skills at the new FitPark Ride obstacle course. Hike along the 50+ miles of trails including a 15+ mile primitive trail. Or explore the water by kayak.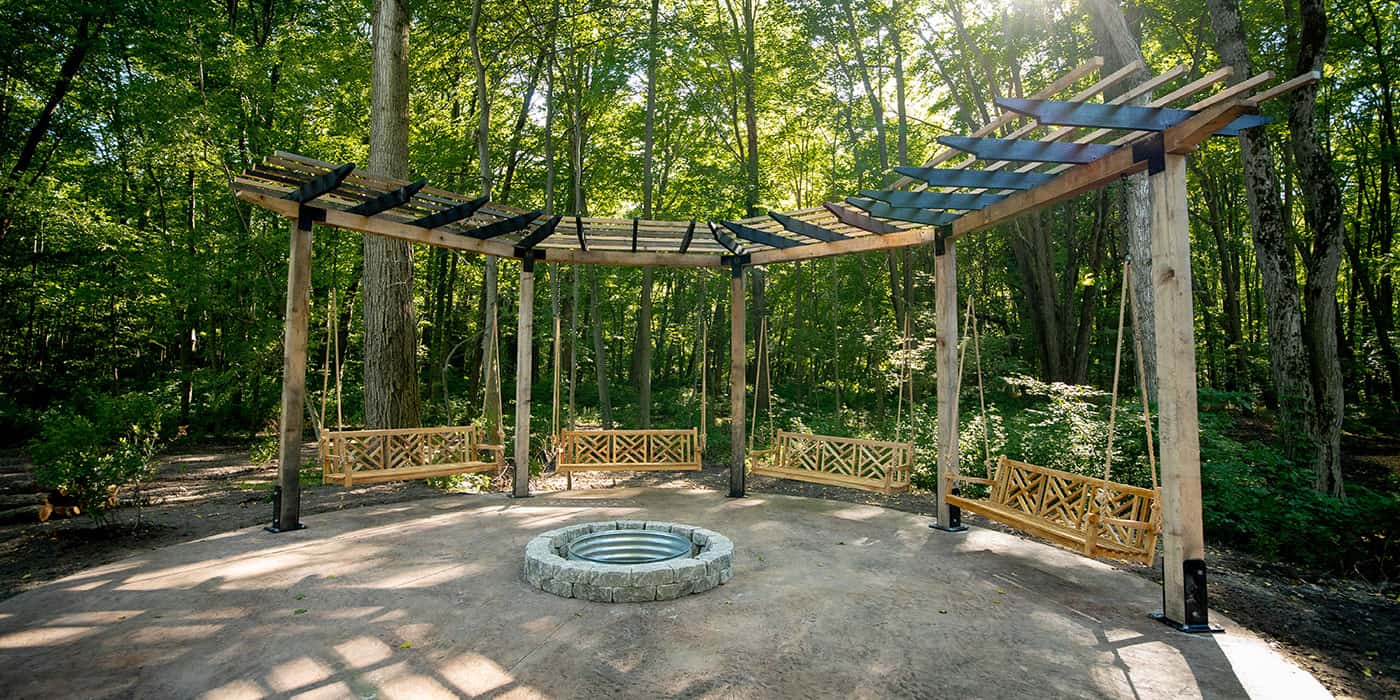 ---
Important Details:
Each cabin has a table and chairs and an electric grill on the deck.
Each treehouse features an under the counter refrigerator, Kuerig coffee maker, and microwave.
You'll stay comfortable with heat and air in the treehouse cabins.
The 4 and 6 person treehouses have composting toilets. An ADA accessible portable toilet is located in the Treehouse Village.
There are full ADA flush restrooms located at the Beach Ridge Wheelhouse. Showers are located there as well.
Quiet time at the Village is 11pm until 7am.
---
Cannaley Treehouse Village is located in the Beach Ridge area of Oak Openings Preserve
Address: 3520 Waterville-Swanton Road, Swanton, OH 43558
For reservations and more info, call: 419-407-9723