Are you looking for the perfect spot for romantic getaways in Ohio? You're in luck because our state is FULL of opportunities! From staying overnight in a treehouse to glamping under the pines to a romantic hotel, we've scouted and found lots of romantic getaways to help you unplug and reconnect!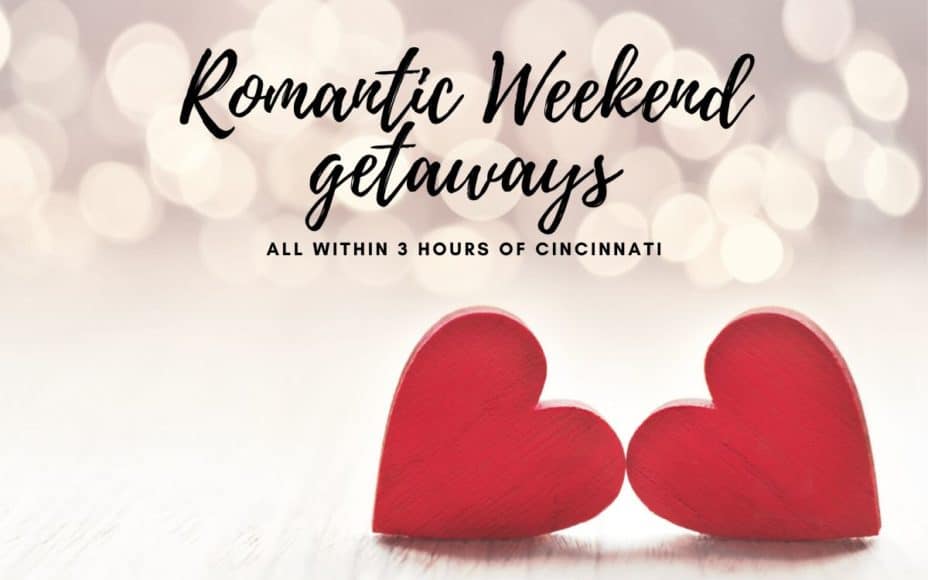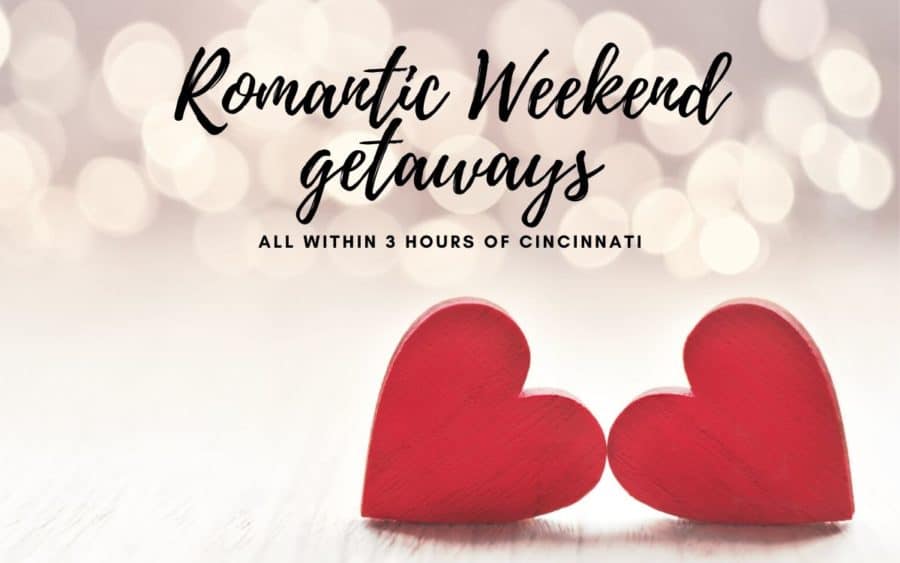 The Mohican's Treehouses and Cabins:
How far from is it from Cincinnati? about 3 hours
Get ready for adventure when you choose a romantic getaway that allows you to stay in a treehouse at The Mohicans! Stay in one of 7 treehouses which range in size from "Little Red Treehouse" (a one bed loft) to "White Oak Treehouse" (sleeps six with 1 bedroom and a loft). If the treehouse thing is not for you, they also have four well appointed cabins, each with a sweeping front porch. The cabins are larger accommodate multiple people (each having 2-4 bedrooms).
---
Amish Country Lodging in Berlin, Ohio
How far from is it from Cincinnati? about 3.5 hours
Explore Berlin, Ohio, the world's largest Amish settlement, when you call Amish Country Lodging your home base. Like The Mohicans, they offer treehouse living. In addition, they also offer Pine Cove Lodging where you'll find their new Farmhouse Suites, specifically designed for couples. They also offer cabins and cottages too – all in the heart of Ohio's Amish Country.
---
Ravenwood Castle
How far from is it from Cincinnati? about 2.5 hours
Enjoy romance like a king and queen when you visit Ravenwood Castle in New Plymouth, Ohio. Their unique accommodation choices include castle rooms, medieval village cottages, and cabins in the Huntsman Hollow. Ravenwood Castle hosts all kinds of special events including Murder Mysteries, Beer Tastings, special holiday events, and more. There are lots of board games available to play at the castle. And it's close to Hocking Hills if you'd like to get some hiking in.
You might also like: Treehouse Rentals at Cannaley Treehouse Village
---
Glenlaurel, A Scottish Inn and Cottages
How far from is it from Cincinnati? about 2.5 hours
Experience a bit of the Scottish Highlands when you visit Glenlaurel, A Scottish Inn and Cottages (also near Hocking Hills). Their accommodation choices include rooms, suites, crofts, and cottages. Experience the look and feel of the Scottish countryside as you hike the wooded trails around the peaceful 140 acre estate (includes Camusfearna Gorge and waterfalls), play golf, or enjoy the spa services. Feast on a multi-course meal in The Manor House dining room and/or have a drink in the pub (lower level rathskeller).
---
Nomad Ridge at The Wilds
How far from is it from Cincinnati? about 3 hours
Head to The Wilds and experience "glamping" from the comfort of your very own yurt at Nomad Ridge, an adults only (21 and over) place to stay. Enjoy the grounds from your own personal deck next to The Wilds' animal pastures. Your overnight package includes an open-air safari tour plus dinner and breakfast for two. You can add on special experiences such as a Zipline Safari Tour, Sunset Horseback Safaris, and more.
Of note: Nomad Ridge is open May through October.
---
The Welsh Hills Inn
How far from is it from Cincinnati? about 2.5 hours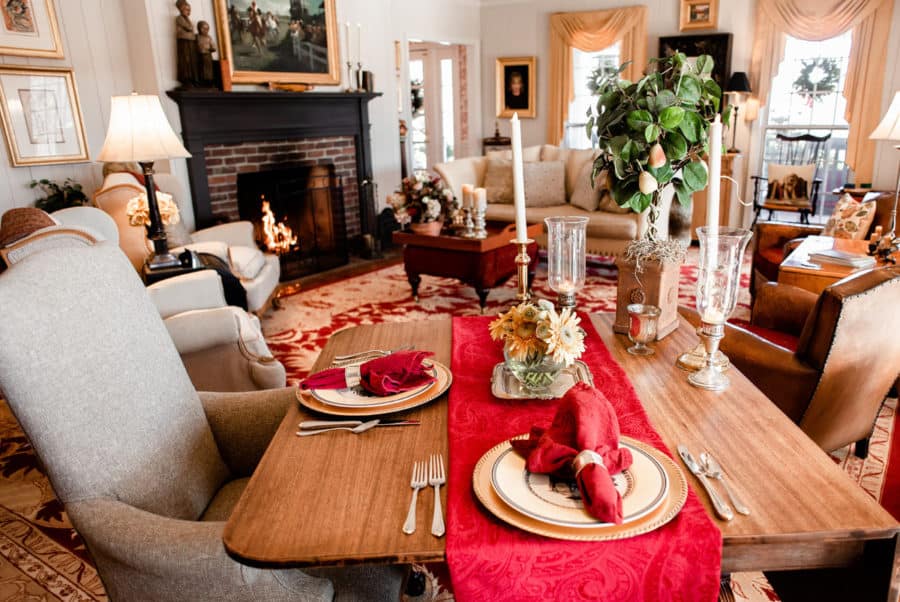 Welsh Hills Inn is an award-winning, romantic bed and breakfast experience is in Central Ohio. It's located on 15 wooded acres in the Welsh Hills. Get outside for some hiking, fish in the pond, lounge in the hammock, rock on the covered porches, swim in the outdoor pool, and enjoy some time in their spa. The Inn has three guest rooms and two suites plus "The Cottage", a two room suite.
---
Orchard House
How far from is it from Cincinnati? about 2.5 hours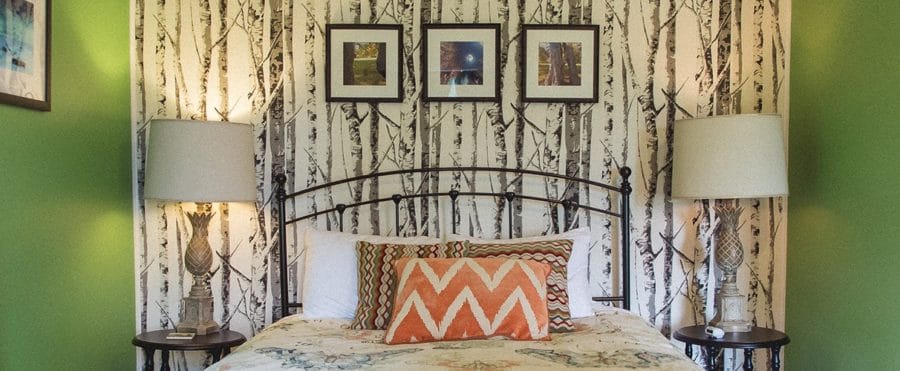 Enjoy a romantic trip to stay at the Orchard House, a boutique hotel located in an 1850s manor. Snuggle up next to indoor fireplaces or around the outdoor fire pits. Enjoy wine and cheese hour each night, complimentary coffee/tea/soft drinks and baked goods. Feeling a little adventurous? They offer a glamping option by their pine forest!
---
Romantic Getaways Within 2 Hours of Cincinnati
German Village Guest House
How far from is it from Cincinnati? about 2 hours
Have some fun in Columbus' German Village when you stay at the German Village Guest House. The Guest House itself was built in the late 1800s and was converted into a hotel in 2005. This unique hotel offers three Guest House Rooms as well as two Whittier Suites – private 880 sq ft apartments that are dog friendly. Enjoy some time outside on their deck, in front of the outdoor fireplace, or in a patio seating area. All rooms include continental breakfast.
Don't miss our write-up on our trip to Columbus for some things to do while you're there!
---
Murphin Ridge Inn
How far from is it from Cincinnati? about 1.5 hours
Get away from it all at Murphin Ridge Inn, a romantic bed and breakfast in West Union, Ohio. 142 acres of rolling hills and farmland surround this B&B that's located at the foothills of the Appalachian Mountains. Take in the view while rocking on the front porch, hike on the trails, lounge in the hammocks, and shop for antiques in the nearby town. Stay in one of the ten guest rooms at the Murphin Ridge Inn, one of Murphin Ridge Inn's nine cabins, or in one of five guest rooms in The Amish House.
---
The Golden Lamb Inn
How far from is it from Cincinnati? about 0.75 hours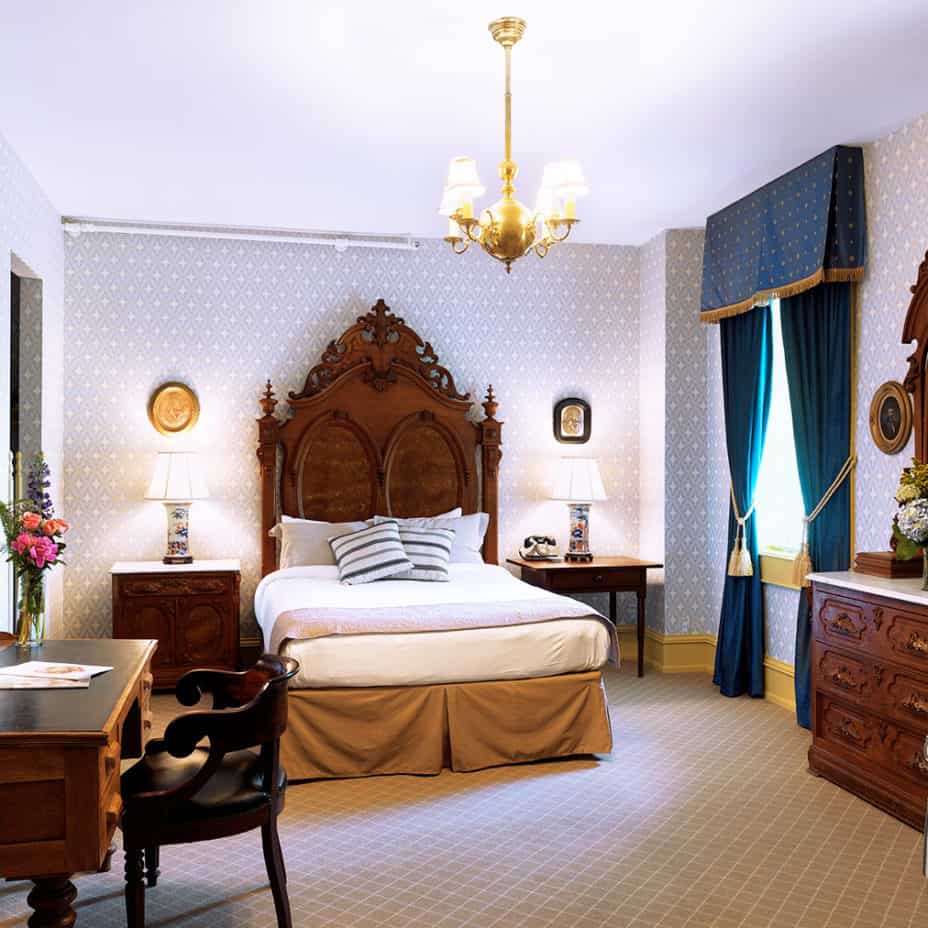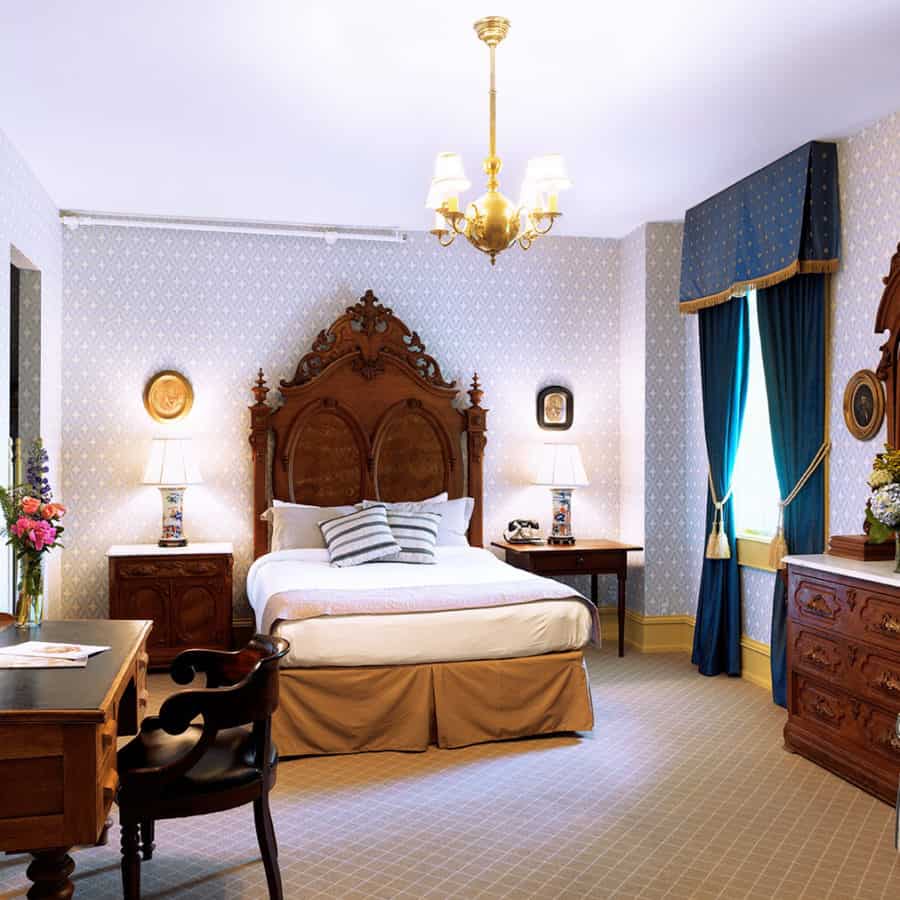 If you're looking for something a bit closer to Cincinnati, The Golden Lamb Inn offers a romantic environment. The Golden Lamb has been host to travelers, presidents, and families since 1803. They have 17 rooms, all with antique furnishings and private bathrooms. Located in downtown Lebanon, you can easily explore multiple shops within walking distance of this historic hotel. To be noted: There is no elevator and this hotel has multiple floors.