Welcome to the Cincinnati Summer Camp Guide! We hope this list will be of assistance as you're searching for a great summer camp for your littles (and perhaps the not-so-littles) this summer.
Our list contains all kinds of Cincinnati Summer Camps: STEM camps, summer camps for teens, theater camps, art camp, overnight camps, and much more. There's even a summer camp that centers around horses!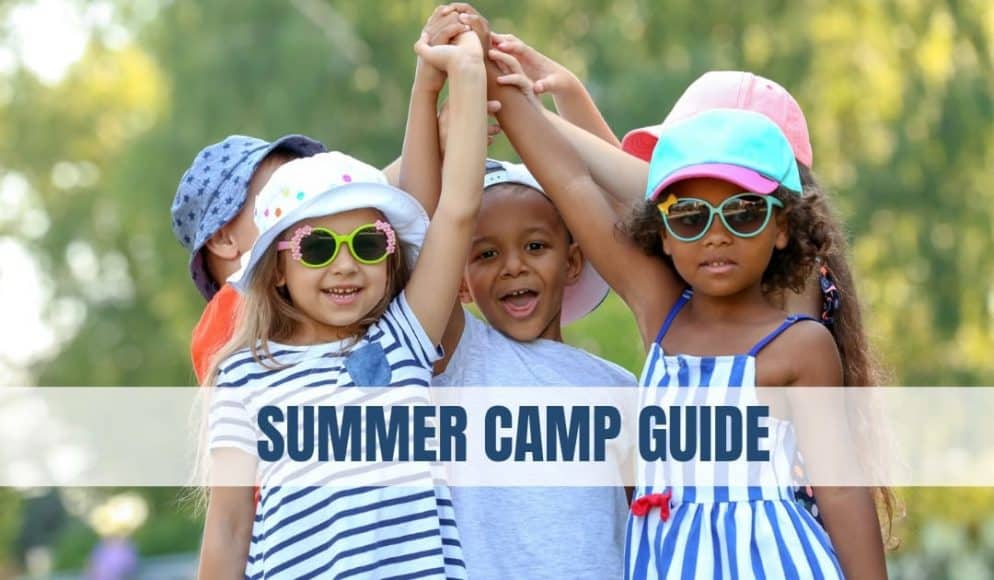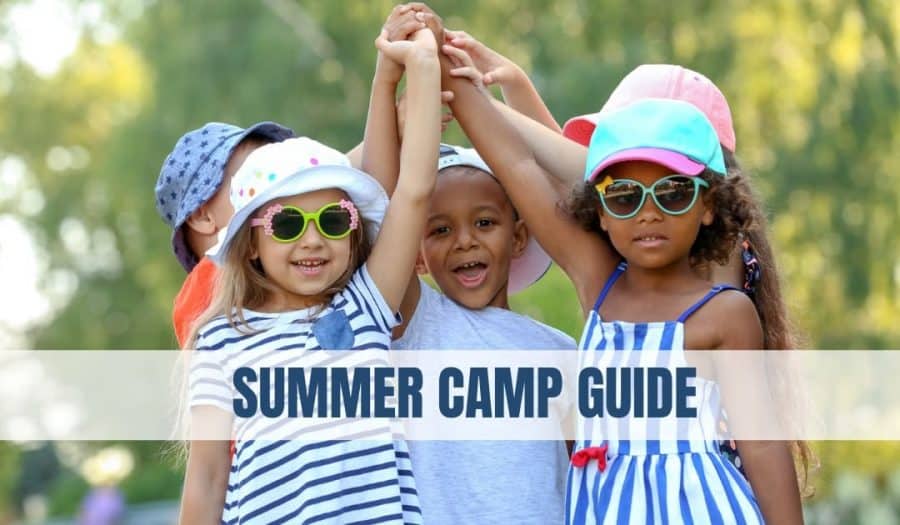 Do you know of any Cincinnati Summer Camps that we don't have on our list? Shoot us an email.
IMPORTANT: Links are supplied for each camp. Be sure to click through on the camp of your choice to get the most up to date information (links provided below).
Cincinnati Summer Camps
ArtsConnect Summer Camps
Location: 9158 Winton Road, Building A, Cincinnati, Ohio 45231
At ArtsConnect, your kids will have a summer packed with imaginative, creative and fulfilling art projects. We believe in empowering kids to
make a difference through their art. Campers will explore a wide range of topics, artistic styles and media. Kids are exposed to a variety of artistic skills and media. Campers will learn about cultural differences and stewardship of their environment while creating their projects. Experience a week or an entire summer of art!
Website
---
Camp at the J (Mayerson JCC)
Location: 8485 Ridge Road, Cincinnati, Ohio 45236
At Camp at the J, kids can experience the best of summer. From swimming and archery, to arts & crafts, camp values and color wars, and much more, kids will create memories and form friendships to last a lifetime. Give your child a summer to remember at Camp at the J!
Website
---
Camp Give

Location: 9940 Reading Rd., Cincinnati, OH 45241
Camp Give is a fun and meaningful summer day-camp where youth in grades 5-9 engage in service and learn how they can give of their time, talent, and treasure to meet needs in their community. Youth will be empowered through field trips to local nonprofits, hands-on service activities, and through the creation of a meaningful art mural!
Website
---
Camp Tablespoon
Location: 1731 Elm Street, Cincinnati, OH 45202
Camp Tablespoon is a four day, in-person camp for young chefs, ages 8-13. Camp goes from Tuesday through Friday, 2 hours per day. You can choose from a morning session (9-11am) or an afternoon session (1-3pm).
Camp dates are June 14-17 and 21-24 and July 12-15 and 26-29.
Details are fully available yet but be sure to get on the email list as their classes sell out every month and camp is likely to do that too!
Website
---
Children's Theatre of Cincinnati Summer Camps
Location: 4015 Red Bank Road, Cincinnati, Ohio 45227
Join The Children's Theatre of Cincinnati for their themed summer camps. Enjoy a variety of themes for ages 7-18! Focus on music, dance, drama, or all three! All levels welcome. Summer camps run weekly from May 31 – July 1, 2022, from 9:30 am – 4:00 pm.
Website
---
Cincinnati Art Museum Summer Camp
Location: 953 Eden Park Dr., Cincinnati, Ohio 45202
The Cincinnati Art Museum is the place for summer fun and creativity. Jump into art with eight weeks of exciting projects, gallery games and more! Explore a different theme each week with activities taught by skilled museum educators. Designed for children ages 6–12. Convenient before- and after-care available.
Website
---
Cincinnati Ballet Kids Dance Camp
Location: 1555 Central Parkway, Cincinnati, Ohio 45214
Cincinnati Ballet is your ticket to summer adventure! Kids Dance Camp is a creative exploration of dance, music and art through beloved stories. Each week-long experience explores an overall theme through ballet classes and activities led by professional faculty. Students ages 5-8. Placement based on age. Former dance experience not required.
Website
---
Cincinnati Country Day School Summer Programs
CCDSummer programs are located on Cincinnati Country Day School's 62-acre campus. The campus features expansive athletic fields, gymnasiums, a performing arts theater, all-weather track, turf field, multi-age playgrounds, dining facility, 25-yard, 6-lane pool, 7-court tennis complex, amphitheater, hiking trails, playscape, and natural outdoor classrooms. CCDSummer 2022 will offer a variety of day camps, courses, and athletic camps for children 18 months through entering grade 12.
Website
---
Cincinnati Museum Center Summer Camps
Locations: Cincinnati Museum Center, Blue Ash Rec Center, Cincinnati Observatory
Explore science, technology, history and the arts through creative activities and games at Cincinnati Museum Center's fun and educational Museum Camps. Whether there's a day or a week off from school, there's a camp for that.
Website
---
Cincinnati Parks' 2022 Summer Day Camps
Location: Various Cincinnati Parks locations
Cincinnati Parks' Explore Nature! section offers one week award-winning summer camps at various locations for ages 3 1/2 – 14 years old. Their team strives to serve all people of all backgrounds with the goal to instill and foster a sense of wonder in the world around us. Camps include daily hikes, games, live animal encounters, experiments and make & take projects to keep campers active all day.
Website
---
Cincinnati Playhouse in the Park Summer Theatre Camp and Performance Academy
Location: various locations
Young people ages 6 to 17 will have fun and learn theatre skills by taking their imaginations to great heights, creating fantastical characters and so much more. Due to construction of our new mainstage theatre complex, all our Summer Camp programs will be held out in the community this year. Camps will be held at the Evendale Cultural Arts Center, Mason Community Center, Wyoming Civic Center, the Wyoming Fine Arts Center and a location in the Downtown Cincinnati area (tba).
Website
---
Cincinnati Recreation Commission's CAMP CRC
Cincinnati Recreation Commission's CAMP CRC Summer Day Camps information does not appear to be current (as of 2-3-2022) but I want to keep the listing here so that you can check it out over the next few months.
Website
---
Cincinnati Reds Baseball and Softball Camps
Location: Various locations throughout Greater Cincinnati
Reds Camp is about providing a blueprint for aspiring ballplayers to find the joy and success that our great game can give. It's also about writing a chapter in the memory book of every "Future Reds" player who puts on that new uniform on Monday morning.
Kids will come to camp that have never played ball before and kids will come to camp that may someday play at Great American Ball Park. Camps are a mix of one part competition, two parts fun, one part friend building and five parts instruction. A camp concoction that is magical with positive reinforcement and encouragement.
Website
---
Cincinnati Shakespeare Company Summer Camp
Location: 1195 Elm Street, Cincinnati, Ohio 45202
Campers work with members of Cincinnati Shakespeare's professional resident ensemble, staging scenes, learning the tricks of the trade, gaining confidence, and often finding an inclusive community of friends that lasts well beyond the summer. Whether you've never stepped on a stage before, or have already been bitten by the acting bug and are looking for a challenge, they say their camps are the perfect place to learn and improve new skills, make new friends, and have a whole lot of fun!
Website
---
Cincinnati Zoo Summer Camps
Location: 3400 Vine Street, Cincinnati, Ohio 45220
Explore the Zoo, experience nature, and discover the excitement and wonder of animals! Hikes in the Zoo, visits from Animal Friends, crafts, train rides, animal shows, and so much more make Summer Camp a jam packed week to remember! Please register children according to the grade they will enter in the fall.
Website
---
Clifton Cultural Arts Center @ Short Vine – Summer Camps
Location: 2728 Short Vine Street, Cincinnati Ohio 45219
Clifton Cultural Arts Center presents a brand-new slate of exciting summer camps. You'll have the opportunity to sign up for your choice of Visual Arts Camps, Music Camps, and/or Theatre Camps.
Website
---
Classroom Antics Summer Tech Camps
Location: Various locations throughout Greater Cincinnati
Offering multiple weeks of exciting STEM-focused summer camps throughout the Cincinnati area for kids and teens ages 7-13.
Website
---
College-Conservatory of Music Summer Programs
Location: University of Cincinnati | 2600 Clifton Ave., Cincinnati, Ohio 45221
CCM offers high caliber opportunities to students from across the country and around the world to youth, teens and adults during the summer months. From week-long day camps to multi-week residencies and even elective classes, our summer programs offer students of all ages the opportunity to work with our world-class faculty, along with renowned guest artists, all at the state-of-the-art CCM Village.
Website
---
Drake Planetarium Summer Camps
Location: 2020 Sherman Ave, Cincinnati, Ohio 45212
Programs combine science, technology, engineering, and math in ways that encourage kids to actively discover and examine concepts for themselves. Drake Planetarium inspires a lifelong passion for learning and teach kids creative problem-solving skills, teamwork, persistence, and follow-through in a fun learning environment.
Website
---
ETC Summer Camps
Location: 1127 Vine Street, Cincinnati, OH 45202
Ignite your child's imagination with a theatre camp from Ensemble Theatre Cincinnati. In addition to performance-focused camps and classes, their popular, one-of-a-kind technical theatre intensive is a unique chance for aspiring artists who are eager to participate in theatre but who may prefer working behind the scenes. Age ranges are 7-18.
Website
---
Fitton Center for Creative Arts Summer Camp
Location: 101 S Monument Ave., Hamilton, Ohio 45011
Grow. Become. Shine. Bring the arts out of you by bringing them to you. Kids don't receive art time at school. Get them into a structured art environment to give them that exposure.
Website
---
Gorman Heritage Farm Summer Camp
Location: 10052 Reading Road, Evendale, Ohio 45241
Gorman Heritage Farm offers a variety of summer day camp sessions on their 122-acre historic farm, forest and fields. The farm is the landscape, as you care for farm animals, harvest fresh foods, play games, and explore this hidden gem. You will never want to leave!
Website
---
Great Parks of Hamilton County
Location: Hamilton County Parks throughout Cincinnati
Great Parks Day Camps will get your children outside and active throughout the summer. With a focus on specific age groups, day camps are designed to keep kids moving, learning about nature and wildlife, and most importantly, having fun!Choose from: Farm Camps, Adventure Camps, Fishing Camps, Horse Camps, Nature Camps, or Photography Camps.
Website
---
Greenacres 2022 Summer Program
Location: varies by camp
New camps and old favorites return this year. Each program offers its own, unique, way to explore all that Greenacres has to offer. Get creative outdoors with Arts in the Natural World, learn the basics of English riding at Horsin' Around Camp, or experience Greenacres after dark at Night Camp. A Greenacres camp will fill your child's summer with unforgettable experiences and are tailored to be age appropriate.
Website
---
Kennedy Heights Arts Center Summer Art Camps
Location: 6546 Montgomery Road, Cincinnati, Ohio 45213
Unleash your creativity and imagination this summer at Kennedy Heights Arts Center! They offer a variety of one-week camps for youth ages 5-13 exploring visual arts, music, creative writing, acting, animation, and design.
Website
---
Kids First Sports Center Camp-A-Palooza
Location: 7900 East Kemper Road, Cincinnati, Ohio 45249
CAMP-A-PALOOZA is Greater Cincinnati's most talked about summer camp experience! Why? Four words: Kids First Sports Center. . .108,000 square feet of kids sports heaven! Imagine a summer camp taking place in the country's largest children's activity center with exceptional instruction in the most popular children's recreational pursuits.
Website
---
Madcap Edutcation Center Summer Camps
Location: 3064 Harrison Ave., Cincinnati, OH 45211
Camps change theme each week with sample weeks including: Slime Camp, Musical Theatre, Write and Star in a Play, Puppet Camp, and many more. Offerings range from ages 6 years to 18 years old.
Website
---
MumLuft&Co. Dance Camp
Location: 8222 Monon Ave., Cincinnati, Ohio 45216
Choose from full-day camp or half day for the younger set. Camp that teaches children to move creatively, cooperatively, and confidently! Children will learn dance, make props and "scenery" to accompany their dances, and prepare for a Friday afternoon performance for parents!
Website
---
My Nose Turns Red Summer Camps
Location: Evendale Cultural Arts Center, 10428 Reading Rd., 45241
Circus camps! Activities depend on age – snippet from one class says: Learn how to juggle, balance on the rolling globe and learn the basics of creating a clown character. Summer Circus Camps are highly engaging; challenging youth to walk on the wire, balance on the rola bola and build human pyramids, which builds their physical literacy and hand-eye coordination. Students play a wide variety of circus games that build teamwork and cooperation, trust and friendship.
Website
---
Playful Wanderings Summer Camp
Location: Grailville Retreat Center, 931 O'Bannonville Rd., Loveland OH 45140
Do you want your kids to get outside, explore nature, and have fun? Playful Wanderings may have the camp for you! Their classes are small (limited to 10 per week). Kids enjoy hiking, exploring, and playing on grass trails, in the woods, and in the creek.
Website
---
Queen City Clay Summer Camp
Location: 2760 Highland Ave., Norwood, OH 45212
Pottery Wheel classes will be offered all summer as well as an exciting line-up of themed art classes. Selections include Beginning or Advanced Drawing, Creature Camp, Art Explorers, and much more.
Website
---
REC Kids Camp
Location: 2820 Bearcat Way, Cincinnati, OH 45221
The University of Cincinnati Campus Recreation Dept. brings us REC Kids Summer Camp 2022. This is for rising 1st to 8th graders and you can go for 1 week all the way up to 10 weeks. Activities include sports, games, indoor climbing, arts & crafts, team building, fort building, Friday events, and much more. In addition, campers swim every day for at least 45 minutes.
Website
---
School of Rock of Mason Music Camps
Location: 55 Reading Rd #1, Mason, Ohio 45040
School of Rock Mason, where students learn to rock their worlds. School of Rock isn't just about creating killer musicians with a lasting love for all things rock. Camps help advance musical skills, build confidence, create great friendships – and are just a blast!
Website
---
STEAM Studio (Miami University Regional Campuses)
Location: not clear on the site
Welcome to the STEAM Studio- a chance to explore Science, Technology, Engineering, Art, and Math in real life while having fun, making friends, and creating summer memories at nationally recognized Miami University Regionals campuses! Each week of camp is centered around a common theme to provide unique hands-on opportunities to imagine, design, and bring your ideas to life while experiencing traditional and not-so-traditional summer camp activities! From robotics and game creation to environmental exploration and DIY art, you will see all areas of STEAM come alive! Open for grades 5 – 10.
Website
---
Summer Camp WAVE at Newport Aquarium
Location: One Aquarium Way, Newport, Kentucky 41071
Get ready to dive into the deep and make some waves with Camp WAVE! This is a day camp experience for students who have completed grades K-8 held at Newport Aquarium in Newport, KY from 8am-4pm. Campers must have completed Kindergarten. Camp WAVE is the only camp around where campers will meet sharks, penguins, and stingrays up close while exploring aquatic wonders and earth's incredible natural diversity. From cruising alongside Antarctic penguins to celebrating innovations in science and engineering, there's something for everyone this summer at Camp WAVE!
Website
---
Taft Museum of Art Day Camp
Location: 316 Pike Street, Cincinnati, Ohio 45202
Get creative at the Taft this summer! Whether you're thinking about becoming an artist or just like to have fun creating art, the small classes and experienced teachers will make this a summer to remember.
Website
---
West Chester Academy of Music and Dance Summer Camps
Location: 8107 Market Place Dr., West Chester, Ohio 45069
Choose from music, dance, art, and gymnastics. Camps are filled with artistic learning, crafts, a snack, character building, and more with a Special Performance the last day of each camp.
Website
---
Wyoming Fine Arts Center Summer Camps
Location: 322 Wyoming Avenue, Wyoming, Ohio 45215
Specialized art, music, and theater Summer Camps are back for 2022! Morning and Afternoon camps are available. Add on supervised lunch for an all day specialized experience!
Website
---
YMCA of Greater Cincinnati Summer Camps
Location: Various YMCA locations throughout Greater Cincinnati
Campers are able to explore creativity, teamwork and leadership in a wide range of physically active programs that influence lifelong healthy living. Camper build an interest in community with experiences in local and global cultures, where campers gain an appreciation for others different from themselves.
Website