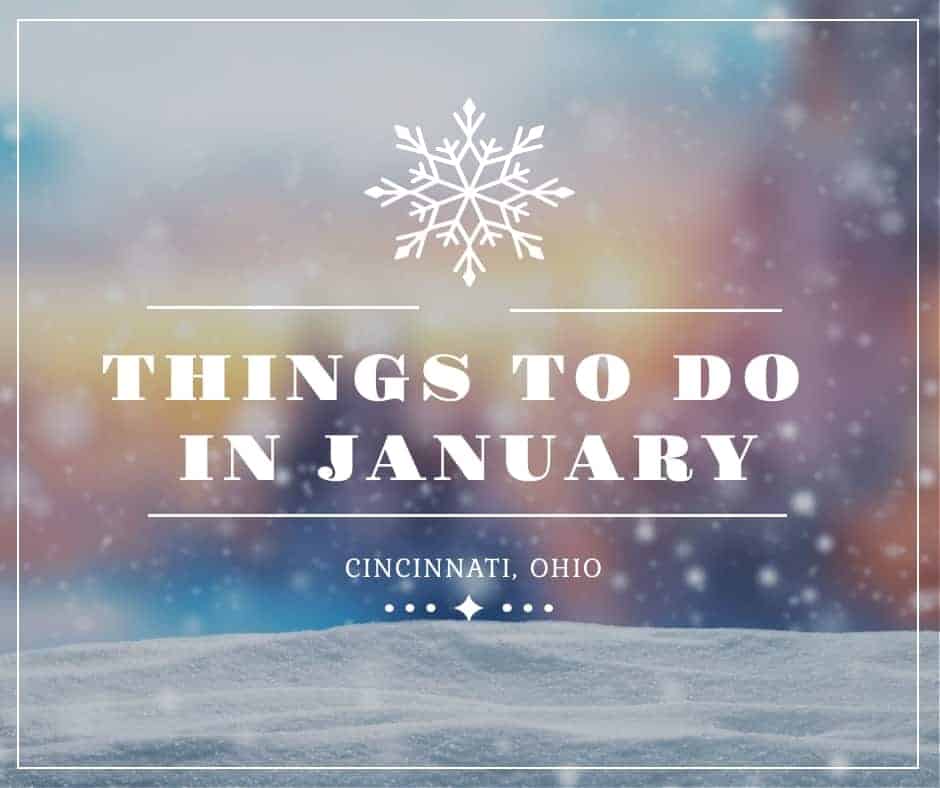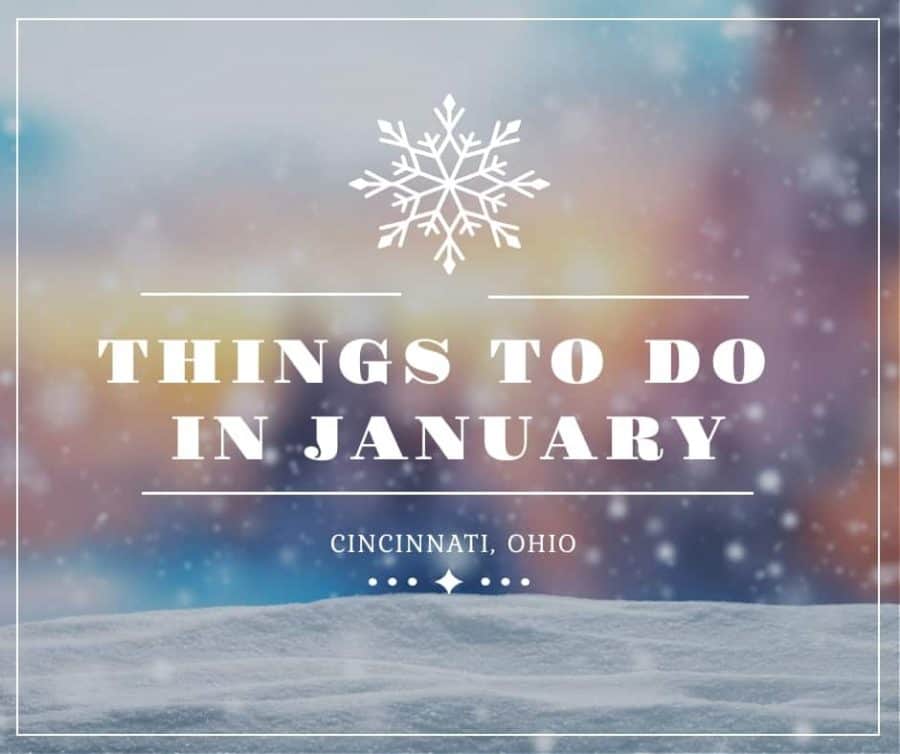 Can you believe it's 2020 already?! We can't predict what this year will hold but we certainly can tell you how great January is going to be!

There's lots to do in Cincinnati this month. Fun events include lots of hearty cooking classes, tours, full moon walks, German Winterfest, and…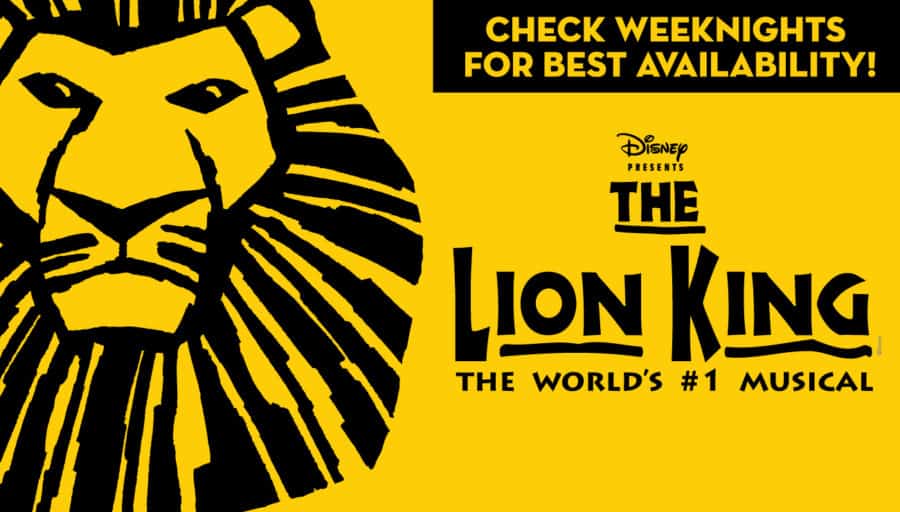 Disney's The Lion King will be at the Aronoff Center January 8 – February 2, 2020!

More than 85 million people around the world have experienced the phenomenon of Disney's THE LION KING, and now you can, too, when Cincinnati's best-loved musical returns to the Aronoff Center. Winner of six Tony Awards®, including Best Musical, this landmark musical event brings together one of the most imaginative creative teams on Broadway.
Thank you to Broadway in Cincinnati for sponsoring our January Fun List!

Ticket Info | Broadway in Cincinnati
Here's some more January fun in Cincinnati!
January 3-4: Cyclones Hockey/ Throwback Weekend! The Cyclones most popular promotion is so nice, they are having it twice. Throwback Night features $10 tickets, $1 hot dogs, pizza, soda, and beer. Bring a new or slightly loved teddy bear to throw on the ice after the Cyclones First Goal.
January 4: Winter Hike Series hosted by Great Parks of Hamilton County. With challenging hikes ranging from 4-5.5 miles that are held at different parks each week, it's the perfect time to come together with old friends and new friends alike. Sign up for one hike, several or the whole series!
January 4: Family First Saturday: Fiesta! at the Cincinnati Art Museum, 11am-4pm. Spend the day with your family and celebrate their special exhibition, Treasures of the Spanish World, with free and fun activities for the whole family. Enjoy a special scavenger hunt, performances, hands-on art-making and more. Enjoy special preschool activities from 11:00 a.m–1:00 p.m. Free.
January 4: New Year's Refresh Day at Cincinnati Nature Center, 9am-4pm. Learn new skills, exercise your creativity, and get outside with your family and friends during this day-long celebration. A variety of programs will be offered throughout the day to help you get a head start on your resolutions. From mindfulness activities, to winter hikes, to crafts and reading suggestions, you are sure to find something to start your new year on a new leaf.
January 5-31: Penguin Days. Enjoy discounted zoo admission every day! Every weekend, guests can watch penguins, polar bears and even elephants enjoy the winter weather in their own way during a variety of animal enrichment activities. Penguin Parades return in 2020! It must be below 50 degrees for the penguins to walk. See the Zoo's site (link above) for the Animal Encounters schedule.
January 7: Teen Culinary Competencies: Knife Skills will be taught at Turner Farm Teaching Kitchen. The new year is a great time to hone culinary skills, and this teens-only class will focus on developing dexterity with chef's knives. Not only will teens learn how to properly hold a knife for safety and efficiency, but also how to slice, chop and dice a variety of ingredients. Students will practice and hone their skills throughout the class to create a meal. Few spots are available to maximize hands-on time and coaching, so get your tickets sooner than later. Ages 14-19.
January 8: 80 Acres Farm Tour. In this one-hour tour of the farm you will uncover the science of how plants thrive in completely-controlled conditions, and experience new flavors and ways of thinking about local food. Tickets required.
January 9: House Party at the Taft Museum of Art – '90s Game Night! House Party goes back in time for the #NewYear with '90s Game Night! Come celebrate with: a curated selection of board game favorites thanks to The Play Library, What Do You Meme – Taft edition, and a Last Call Trivia competition (7-8 p.m.) – prizes included. Mixes by DJ Nill including classic hits from TLC to Backstreet Boys. Creation zone to make an era-appropriate Perler Beads work of art with bonus points for drawing inspiration from the iconic Lisa Frank. Spiked hot chocolate at the cash bar and Mikey's Late Night Slice (Over-The-Rhine) for purchase. Complimentary access to Journey to Freedom: Art Quilts by Cynthia Lockhart and a last chance to view the special exhibition, The Poetry of Nature: Hudson River School Landscapes from the New-York Historical Society (only on view through January 12). Free admission. Reservations recommended.
January 10-12: Cincinnati Cavalcade of Customs. The annual KOI Cavalcade of Customs Car Show brings hundreds of the coolest custom cars, hotrods, motorcycles, trucks, and more to the floors of the Duke Energy Convention Center in downtown Cincinnati, OH.
January 10: Full Moon Walk: Wolf Moon at Rowe Woods, 7:30-9pm. Hit the trails at night and enjoy the full moon and natural history readings. Full Moon Walks provide rare opportunities to hike Nature Center trails when they're normally closed. Registration required.
January 11: Maple Tree Tapping Day at Cincinnati Nature Center, 1-4pm. Help tap the trees as they start the sugaring season. Head out into the sugarbush with a maple guide to learn the ins and outs of tree identification and tapping all while drilling holes, setting taps, and hanging sap buckets. Enjoy hot cocoa and a fire to warm up. Registration required.
January 11: The first annual German WINTERFEST 2020 will be held at Station Family + BBQ. Inspired by the great outdoor winter markets and festivals of Germany, they'll have Glühwein (hot spiced wine), sausage sandwiches, customized beer steins, LIVE MUSIC from Green Light Morning (you know, the brilliant guys with the accordion), and a little market of their own too.
January 11: Mascot Broomball will be played on the ice at the Fountain Square Ice Rink, 11am – noon. Come watch your favorite Cincinnati Mascots lace up their skates to compete. This free match promises to provide plenty of comical thrills and spills, so bundle up and come prepared to cheer. Stick around for meet and greets and photos, then hit the ice and skate with your family. The event is free to attend. Rink Admission is $6 and skate rental is $4.
January 12: Second Sunday Family Showtime presents "Passport to the World". Take a journey around the world without ever stepping on an airplane! Join their cultural indigenous games and explore traditions and celebrations from around the world. Students will "visit" various countries in this hour long program which can be customized to fit the specific needs of the audience. Participants will explore different cultures through a variety hands-on activities such as learning a traditional dance from India, playing a tag game from Mexico, participating in a Japanese green tea ceremony, or experiencing the joy of Irish fiddle music! Recommended for ages 5+ and families.
January 12: Brunch. Art. Music. at The Cincinnati Art Museum, 12-1pm. Join in every second Sunday of the month for music in the Great Hall from 12:00 – 1:00. Visitors will be invited to connect what they hear with objects in the permanent collection. Before or after the music, we invite guests to stop by the Terrace Cafe for a brunch special. Musical performance is free. Food must be purchased separately.
January 15: Museum Selfie Day. Around the globe, thousands of people will be pulling out their smartphones and showing the world their museum discoveries during National #MuseumSelfie Day.
January 17-19 and 22-26 Cincinnati Travel, Sports, and Boat Show will be at the Duke Energy Convention Center.
January 18 Barrel Aged Beer Fest at Jungle Jim's. Aged in bourbon, tequila, or rum barrels, barrel-aged beers are often deeply flavorful, nuanced, and intense. JJ's one-of-a-kind Barrel-Aged Beer Bash celebrates the art of barrel-aging by bringing together barrel-aged beers of all kinds. From light and funky, to sour and bright, to deep, dark, and roasty, there's something for everyone to try and enjoy!
January 18: Remus Revival at Memorial Hall. Dress in your best themed attire, and join George Remus Bourbon at Memorial Hall as they dive into the history of George Remus, King of the Bootleggers, with Robin Carnes, Market Manager for George Remus Bourbon. Explore delicious cocktails from Bill Whitlow, mixologist and owner of Rich's Proper Food & Drink with a great cocktail demo! Enjoy light bites from Boomtown Biscuits and Whiskey, and more George Remus cocktails from the bar, as you dance the night away with themed music from the era!
January 18: Winter Bird Count with Clermont County Parks, 8:30am-1pm. Join Park District Naturalists and staff for the annual winter inventory of the birds that live in our parks. Spend the morning hiking, searching for and counting the types of birds we find. Afterward join in for lunch and warm up with hot chocolate while you tally your counts. No experience is necessary and groups will be starting at different parks including Shor, Sycamore, and Chilo Lock 34 Park. Please email rgreen@clermontcountyohio.gov to sign up.
January 19: Third Sunday Fundays at the Taft Museum of Art, 1-4pm. Bring the whole family to the Taft Museum of Art to experience a free afternoon of great art, hands-on fun, family-friendly performances, and animal encounters. Most activities are ongoing throughout the afternoon, so stop by when you have time and stay as long as you can. FREE. No reservations required.
January 19: Art on Vine returns to Rhinegeist. Up to 70 Local artists displaying and selling Fine Arts and Hand Made goods.
January 20: Pursuing His Dream: MLK Day at Cincinnati Museum Center. On Monday, January 20 Cincinnati Museum Center will be celebrating Martin Luther King Jr. Day with, Pursuing His Dream. It will be a day filled with musical performances, vendors, and lectures honoring the teachings of one of America's most prominent activists and civil rights leaders. Free for CMC Members or included with a Discovery Pass.
January 20: MLK Day 2020 at the National Underground Railroad Freedom Center. The National Underground Railroad Freedom Center will open to the public from 12-5 pm on Monday, January 20 with FREE general admission to the museum's permanent exhibitions and programming.
January 20: Burns Night Celebration at Nicholson's / The Backstage Event Center, 6-9pm. Party like it's 1759! Join in for live Celtic music, dancing, whiskey, poetry, the Cincinnati Highland Dancers, bagpipers, and a rollicking good time at the annual celebration of Scotland's beloved poet, Robert Burns!
January 24: "Drink and Draw with Evan Keeling" at Cincinnati Museum Center, a 21+ event. Join Evan Keeling, a resident comic artist with the Smithsonian Institution, in the Destination Moon: Apollo 11 Mission exhibition (at Cincinnati Museum Center) for an evening of suds and sketches! Evan uses graphic art to engage with history and teach visitors fundamentals of storytelling. Explore the exhibition and then visit drawing stations as Evan mingles with guests. Drinks will be available for purchase. Destination Moon will be open until 9 p.m. (last entry at 8 p.m.). Drink and Draw admission included with Destination Moon ticket. This is a 21+ event. Drinks are not permitted in the exhibit. 6-9pm and Destination Moon tickets are required.
January 25: Fiona's Birthday Party with Graeter's Ice Cream (at Rookwood Pottery). Rookwood Pottery is throwing a fun-filled birthday party for Cincinnati's favorite hippo with Graeter's Ice Cream, where an additional 1,000 Fiona Ice Cream Bowls will be released. From 9:30 a.m. to 4:00 p.m., celebrate while enjoying complimentary: behind-the-scenes tours of Rookwood Pottery featuring the 'making of' the ceramic ice cream bowl at 10:15 a.m., 11:15 a.m., 1:00 p.m. and 2:00 p.m.; signings with the local artists behind the design, Gary Simon and Loren Long, from 11:00 a.m. to 1:30 p.m.; ice cream from Graeter's including Chunky Chunky Hippo, a signature flavor created to honor Fiona and her friends; photos with the beloved Fiona mascot; birthday-themed treats and refreshments.
January 25: Sam Adams Cincinnati Taproom's Brewhouse and 21 Cellar Tour. This tour starts at the taproom with their brewer, Chris Siegman, and will move across the street to experience their 21 Cellar, with 175 bbl Hungarian oaks tuns and where their Kosmic Mother Funk calls home. You will also get to experience a behind the scenes tour of where the Samuel Adams Cincinnati Taproom makes their taproom exclusive beers! Also included in the ticket price is a guided flight of our taproom exclusive beers and a 12 oz Samuel Adams snifter to take home with you.
January 25: Family Festival – Frosty, Frozen Fun at the Contempory Arts Center. Join in for a meet and greet with a real live penguin from the Cincinnati Zoo (from 12:00-12:30pm). Stop by for some frosty fun as they experiment with ice painting, design a frozen snow crown and take part in an epic snowball battle. No blizzard bash would be complete without a hot chocolate warm up station stocked with all your favorite toppings (because whipped cream makes everything better).
January 25: Maple Syrup Making and Guided Sap Collecting Hikes in the Sugarbush (Cincinnati Nature Center), 10am-3pm. Experience the process of producing liquid gold from maple sap. Bask in the warmth of the evaporator and its maple-scented steam. Drop by the Outdoor Learning Center and join in an interactive sap collecting maple hike. Hikes start at the sugar house (Outdoor Learning Center) at 10 am, 11 am, 1 pm or 2 pm.
January 26: 16th Annual Findlay Market's Chili Cook-Off and 2nd Annual Hot Sauce Boss Competition! While free chili/hot sauce samples from our competitors are limited, you can enjoy chili-themed food samples from some of your favorite Findlay Market merchants all day long by purchasing tickets. See details for more information.
January 26: The Viennese School: Transfigured is the January selection for The Immaculata Chamber Music Series. The series seeks to bring together talented young musicians from the region to present enlightening and inspiring performances to the Cincinnati community. Admission is free, donations accepted. 4-5:30pm.
January 26: Bloom and Grow Your Own Houseplants for Families at the Krohn Conservatory. Explore the beauty of the plants grown in their tropical collection areas and pot up a small foliage plant to add to your very own "Krohn Grown" collection. 1-3pm. Included with price of admission.
January 26: Chamber Music at the Taft Museum of Art. For the 67th annual Chamber Music Series, The Taft Museum has have partnered with the Cincinnati Chamber Orchestra to bring you four months of beautiful music. The first concert in the series is on Jan. 26 starting at 2:30pm. Free – reservations are required.
January 28: Culinary Competencies: Winter Stocks and Soups with Turner Farm Teaching Kitchen. In this hands-on workshop, learn the process of making stock, as well as how to prepare stocks and soups that are cost-efficient and low-waste. Students will get tips and tricks for making the most out of produce and meat trimmings by turning them into flavorful, multipurpose stocks. They will cover how to make beef, chicken and vegetable stock at home, as well as how to use stocks throughout your cooking to produce more flavorful dishes—soup or otherwise. Lunch will be provided.
January 31: Art After Dark at the Cincinnati Art Museum. Art After Dark is back and they're throwing a black and white party to celebrate 2020 and special photography exhibition The Levee: A Photographer in the American South. Enjoy music from DJ ETrayn, food for purchase from Camp Washington Chili, specialty cocktails and docent-led tours throughout the night. **Guests are encouraged to wear black and/or white to go along with the black and white photography theme.**
---
All events were accurate at the time of this posting but things do happen and events do occasionally get canceled or postponed. You should always double check with the event source before you head out the door. Links for each event are provided so that you can be sure the date is still accurate before you head out.