What do you do when you're faced with a dreary winter day in Cincinnati? You create your own Hot Chocolate Tour!
I started with a little research before we left home, making a list of all the downtown spots that serve some sort of "elevated" hot chocolate. And then we headed out to try them all!
We enjoyed each and every stop we made. Seriously, they were all so good!
We found it interesting to discover that each cup of hot chocolate (or hot cocoa) had something that made it unique and different from the others. No two were the same. It was like a fun hot chocolate flight!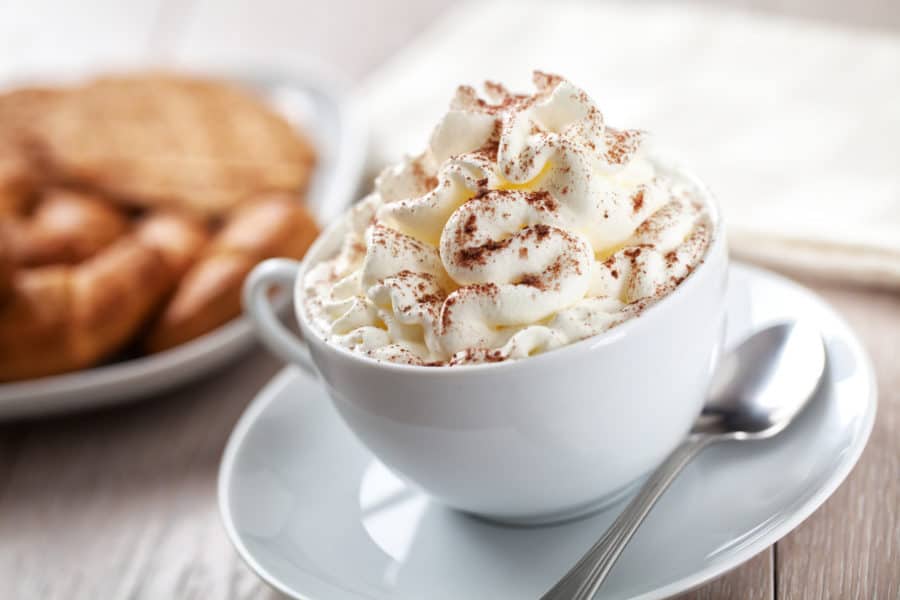 Knowledge Share: After I came home and researched a few of the new things I was exposed to on our hot chocolate trek (Italian vs. French vs. Mexican hot chocolate for instance), I found that hot chocolate is not the same thing as hot cocoa. Hot chocolate starts with chocolate while hot cocoa is made with powdered cocoa. Now you know!
---
Hot Chocolate at Maverick Chocolate Co.
Maverick Chocolate is a chocolate lover's dream. They create award winning chocolate – from bars to truffles to drinking chocolate.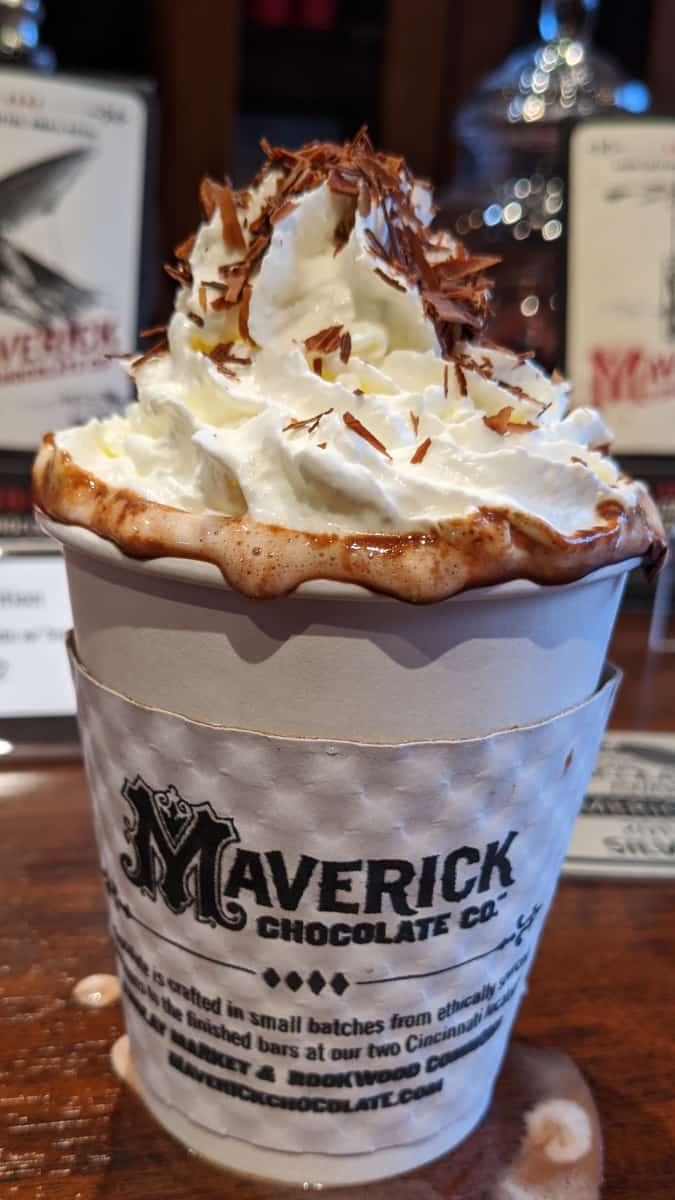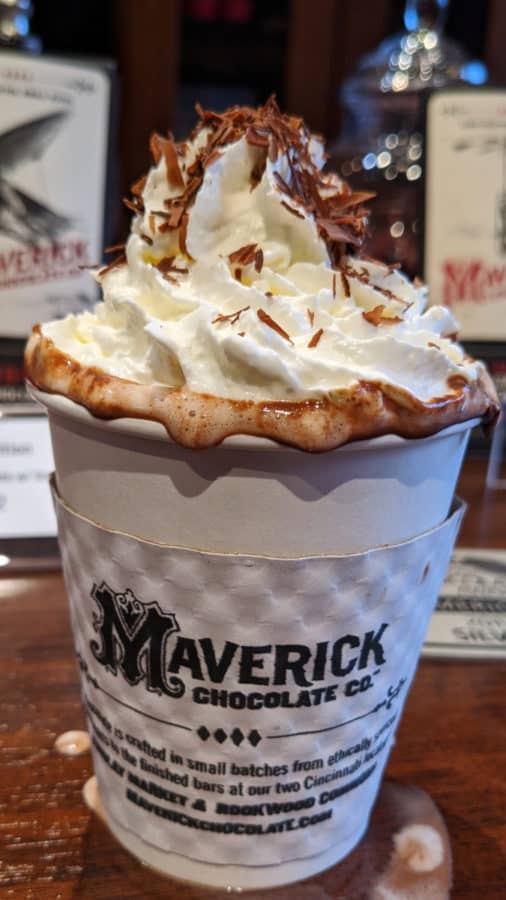 Their hot chocolate starts with their own chocolate that they pulverize (for easy melting). Maverick's French-style drinking chocolate is rich and has a wonderful depth of flavor. You can definitely tell it contains a lot of high quality chocolate. If you love their chocolate you will LOVE this drinking chocolate. Yummy!
A dairy free option is available – just ask and they'll make your hot chocolate with almond milk. The chocolate they use for their drinking chocolate is both vegan and soy free.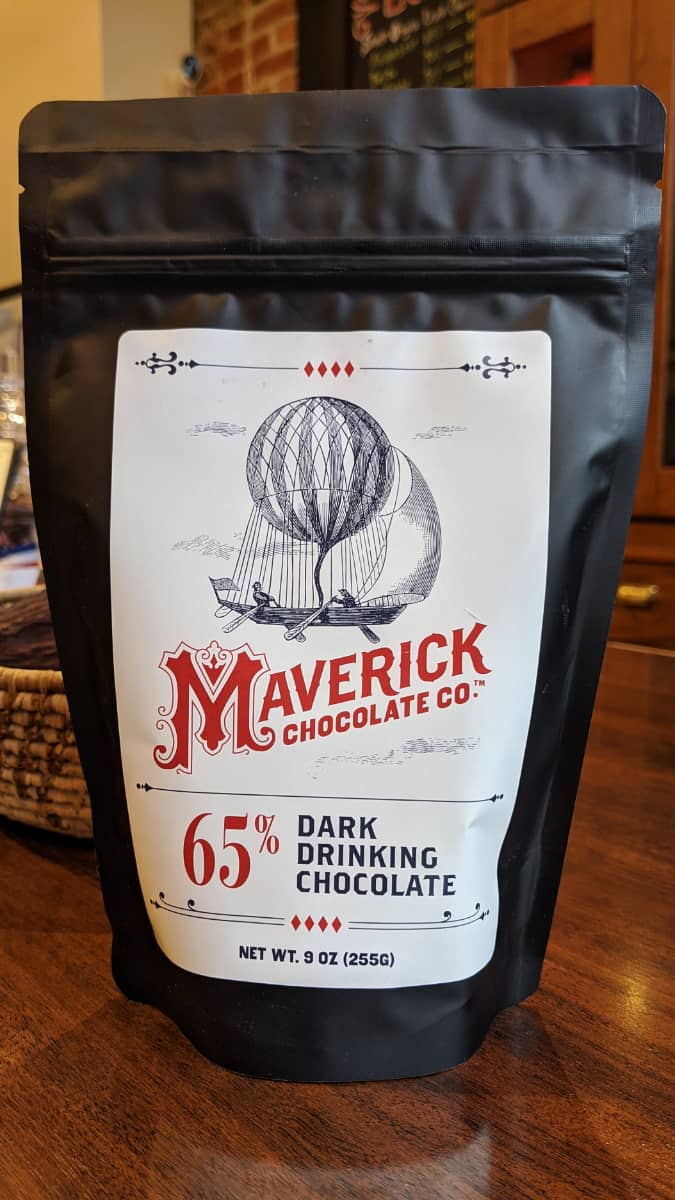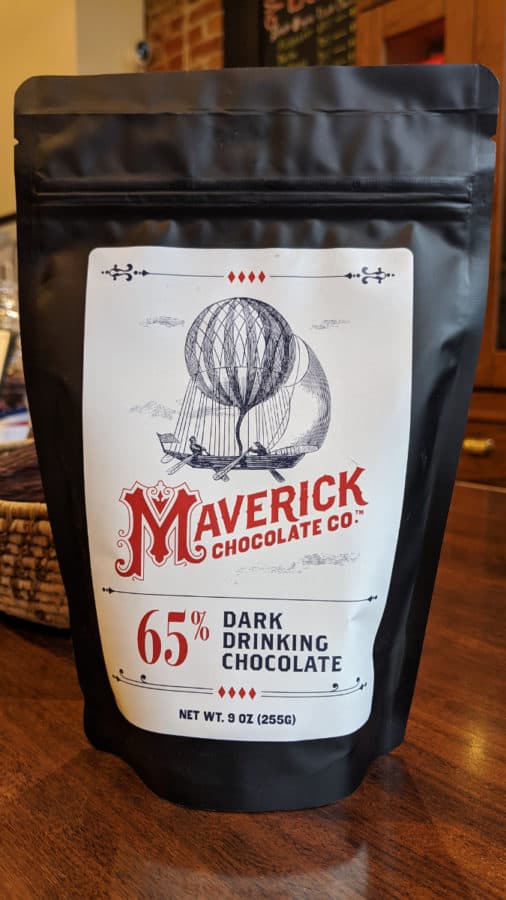 You can buy a cup of hot chocolate at the shop OR you can purchase a bag of their Dark Drinking Chocolate and make your own at home!
Maverick Chocolate: 129 W. Elder Street, Cincinnati, Ohio 45202
---
Hot Chocolate at Dojo Gelato
Dojo Gelato, located inside Findlay Market, is known for their delicious gelato but they should REALLY be known for their hot chocolate! This was, hands down, our favorite for the day.
Dojo Gelato's hot chocolate is "Italian style", made with chocolate they import from Bologna, Italy. Italian Hot Chocolate is thicker than traditional hot chocolate. It's almost like drinking a thin chocolate pudding. It's thick, creamy, and oh so chocolaty!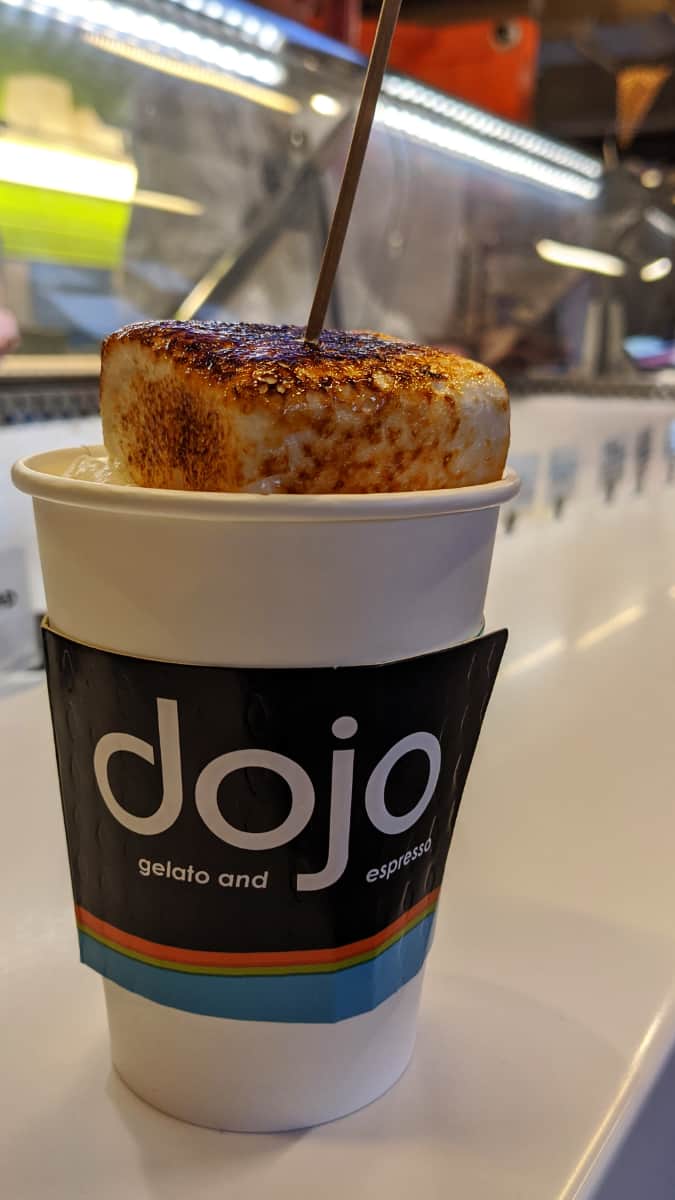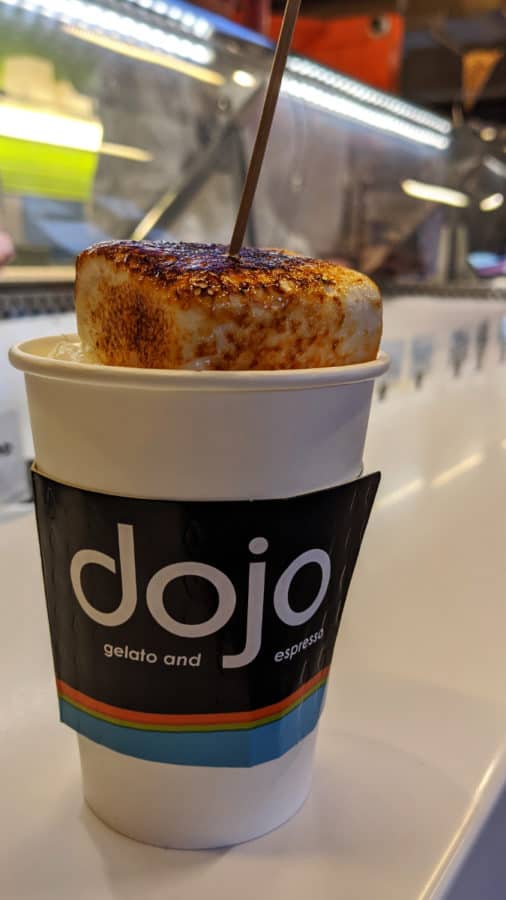 They top it with whipped cream and you can have them roast a homemade marshmallow to go on top (highly recommended). They offer the addition of different flavored syrups or even Espresso.

Of note: they only serve hot chocolate through March so don't delay!
Dojo Gelato: 137 W. Elder Street, Cincinnati, Ohio 45202
---
Hot Cocoa at 1215 Wine Bar
They serve up two varieties of hot cocoa at 1215 Wine Bar – traditional and Mexican (which is a spicy hot cocoa). We tried a cup of each and while they were both delicious, we definitely had a favorite….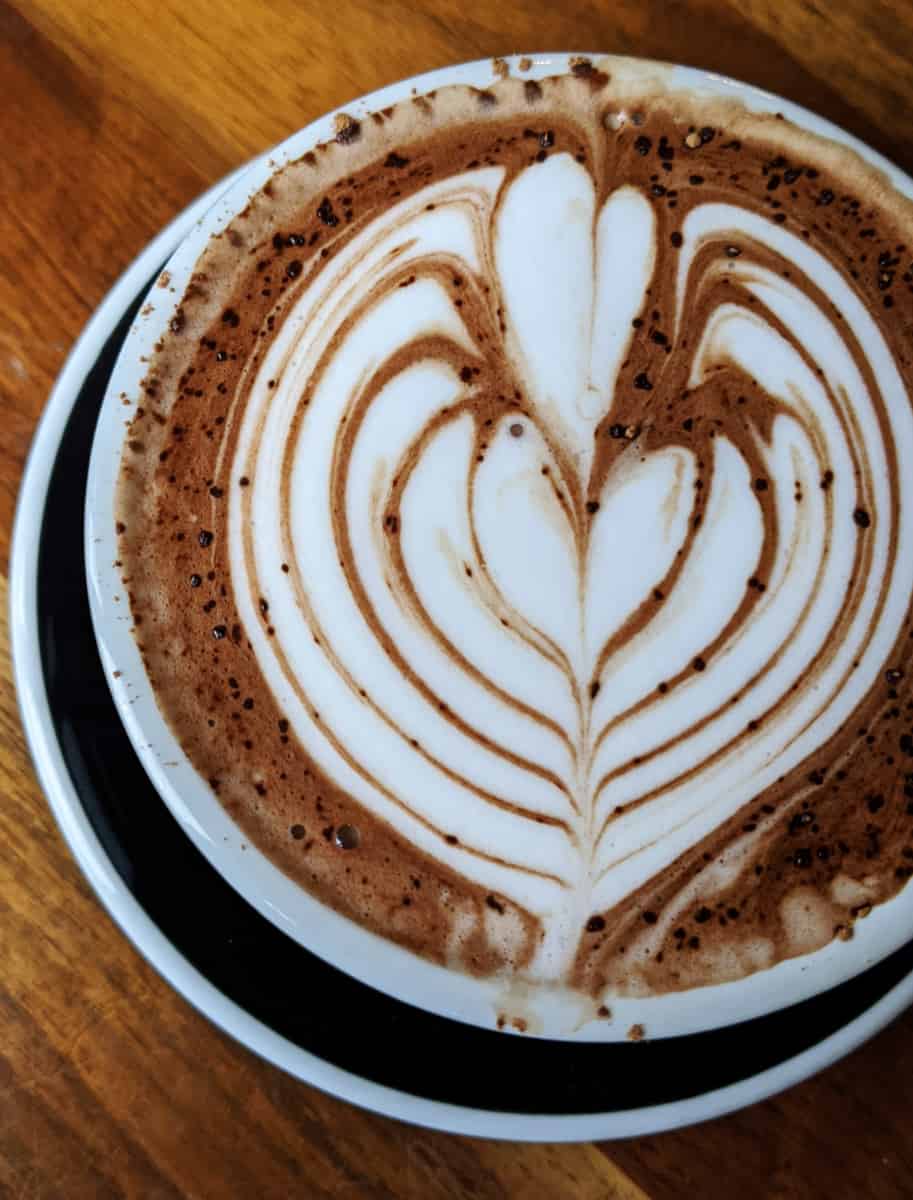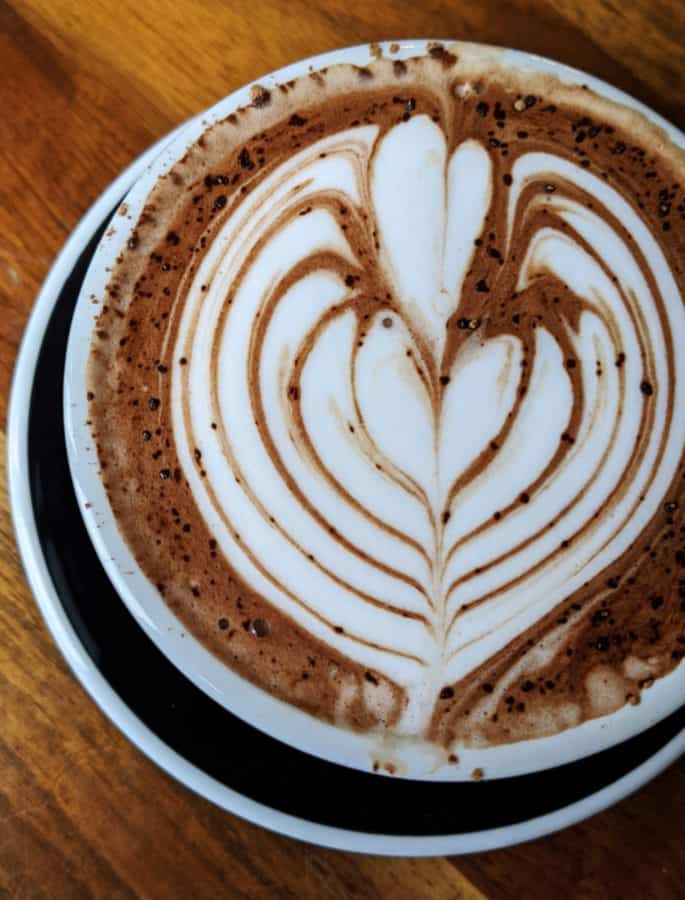 Surprising to us both, we LOVED the Mexican hot cocoa. They add cinnamon and a bit of cayenne to it and while it definitely adds a kick, it's an addition that really elevates this cup of hot cocoa! I love spicy and my husband doesn't – but we both LOVED this one. Give it a try!
Need a dairy-free option? They can make it with your choice of almond, soy, or oat milk upon request.
1215 Wine Bar: 1215 Vine Street, Cincinnati, Ohio 45202
---
Hot Chocolate at Taste of Belgium
Taste of Belgium has so many amazing menu items – from their waffles to their dessert items to their selection of Belgian beers to their brunch menu. I could go on and on. But one thing I'd never tried there is their hot chocolate!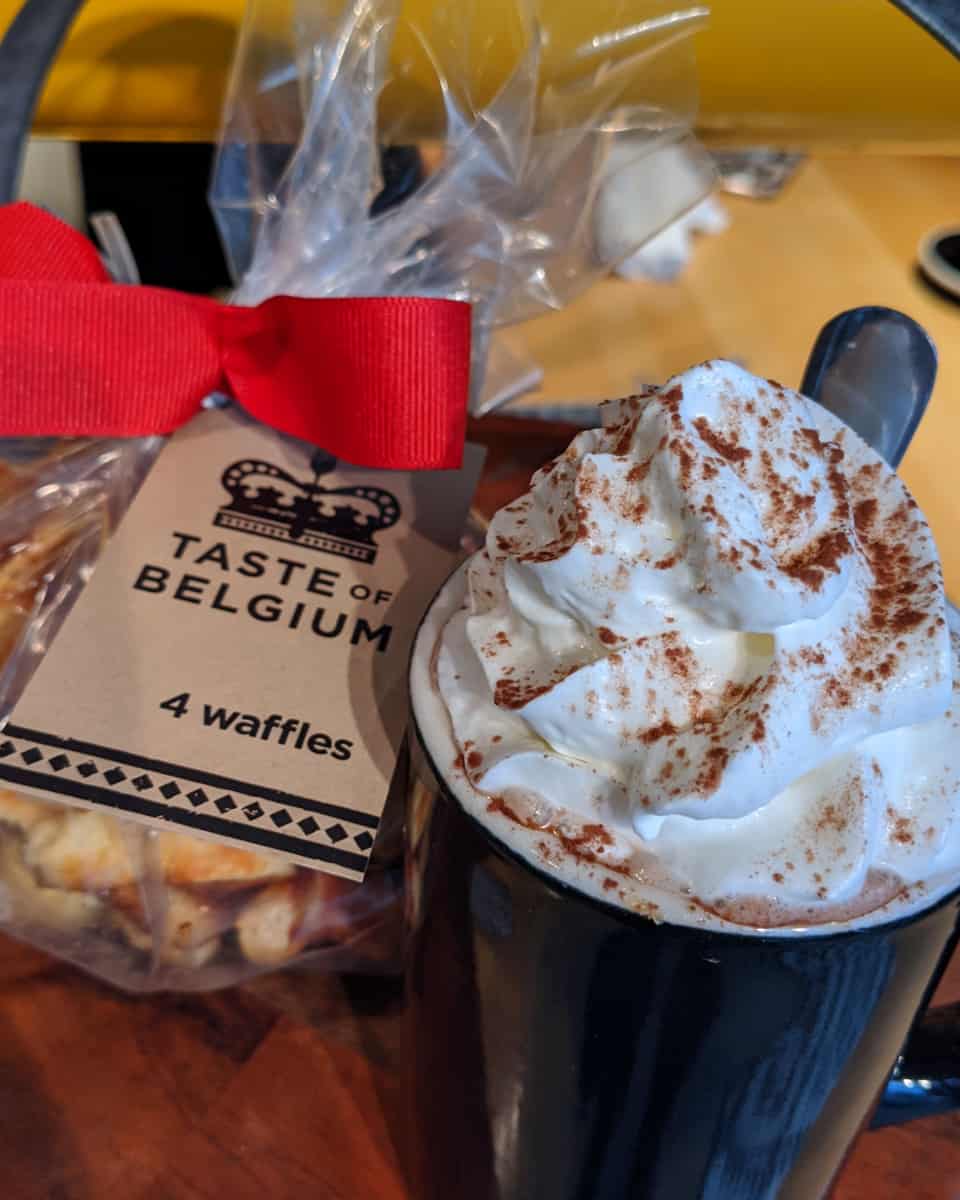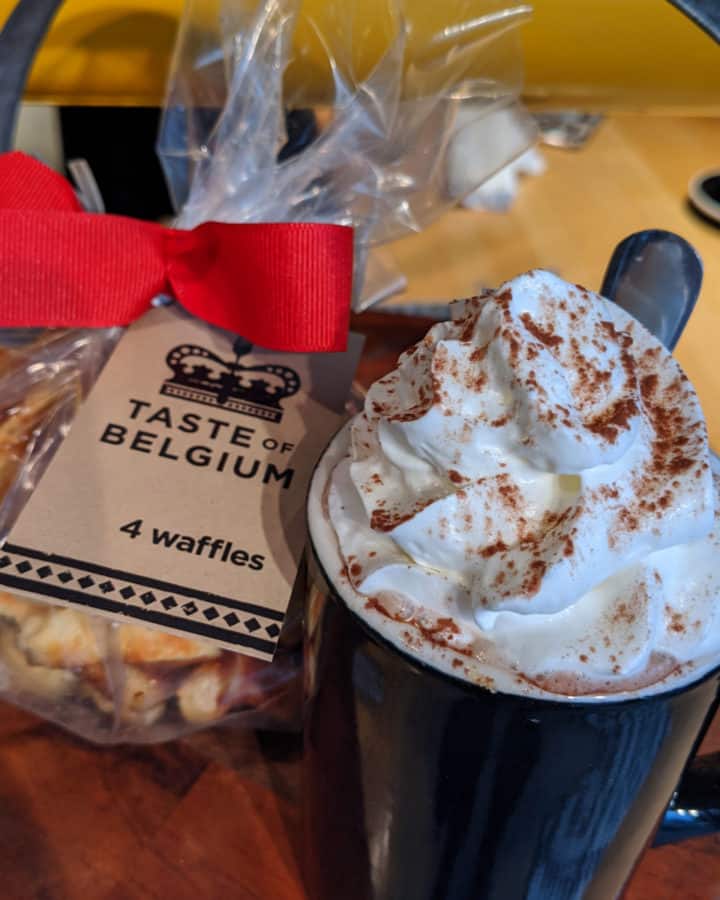 Knowing that we were only having hot chocolate (no food), we headed up to the bar and ordered our drinks. Their hot chocolate is made with steamed milk and topped with whipped cream and a dusting of cocoa. You can get chocolate or white chocolate. And they can make it dairy free upon request (almond milk).
Taste of Belgium: multiple locations, our favorite is 1135 Vine Street, Cincinnati, Ohio 45202
---
Hot Cocoa at Coffee Emporium
Coffee Emporium has a cult-like following for their coffee (which is well deserved) but you should know that they do a delicious hot cocoa as well. They offer three varieties: hot cocoa, white chocolate hot cocoa, and Aztec hot cocoa.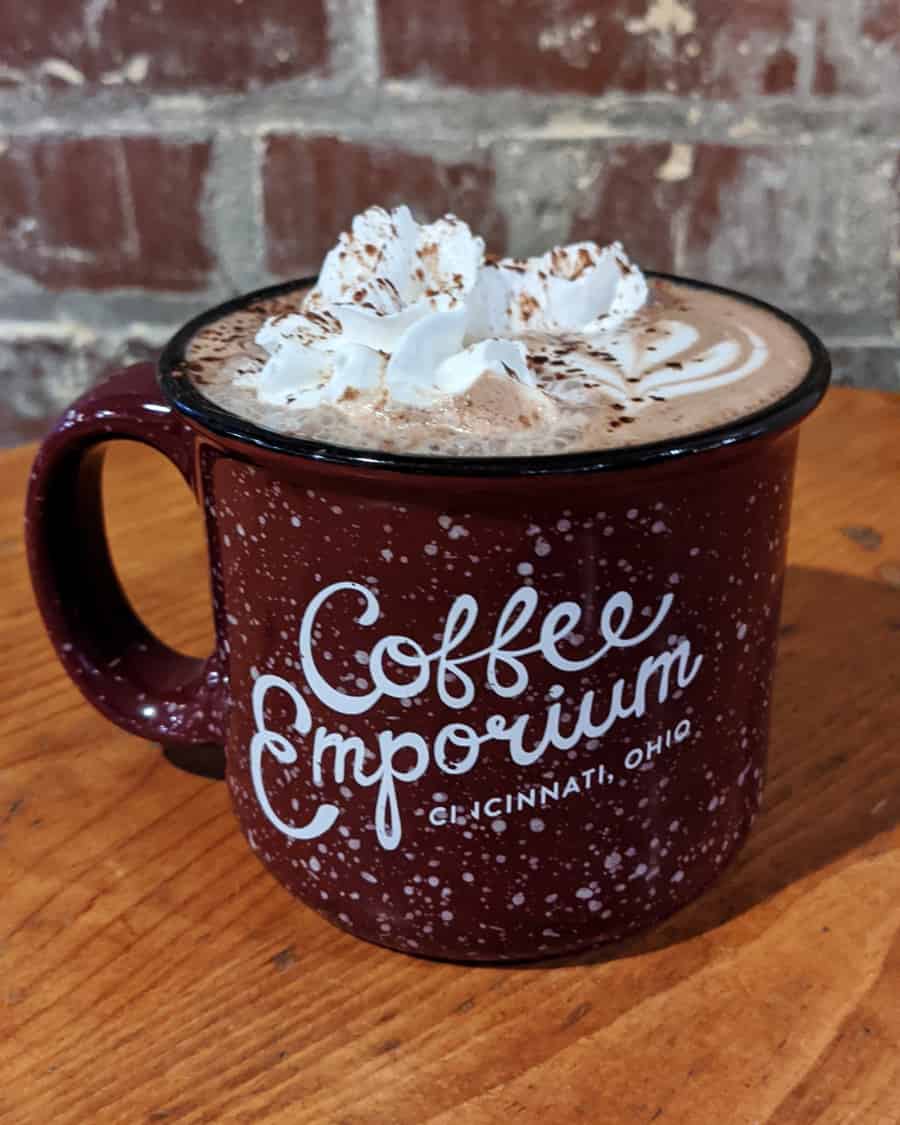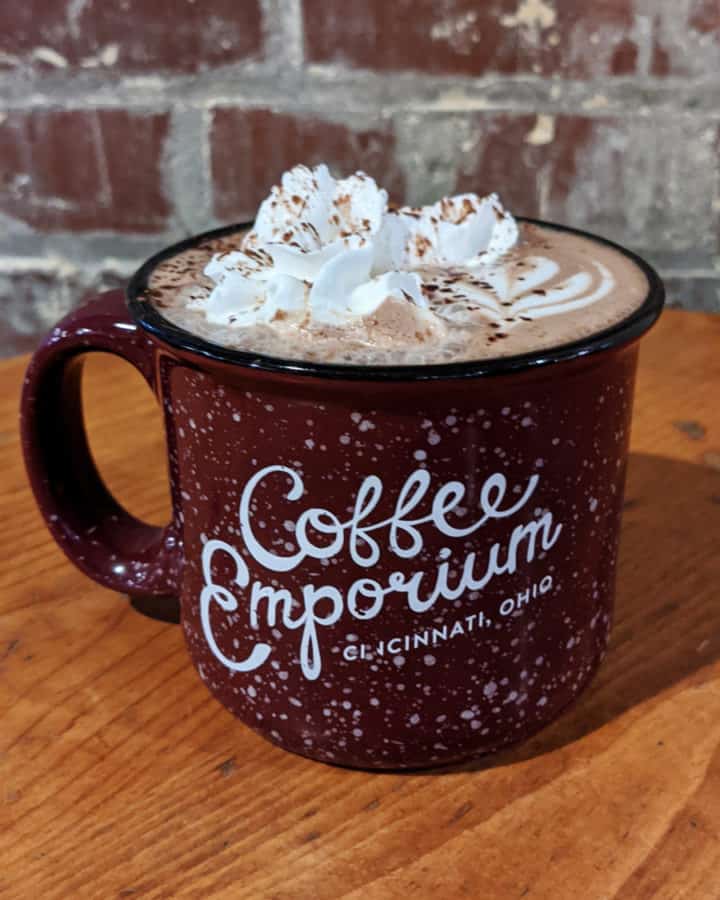 We had their traditional hot cocoa, made with steamed milk and dark chocolate. It was fun to stand at the counter and watch as they made it. And who doesn't love hanging out in their comfy space?!
They offer dairy free options including almond, soy, and oat milks – just ask!
Coffee Emporium: 110 E. Central Parkway, Cincinnati, Ohio 45202
---
One spot we want to try is Brown Bear Bakery. They were already closed for the day when we headed out. If you do your own sampling of hot chocolate, know they are near you on this route and can be added to the list. Just watch for their hours as they're primarily a bakery.
I hope this inspires you to get out there and enjoy some new hot drinks in OTR!