A cherished holiday tradition returns for 2020! Fountain Square will welcome the Ice Rink back for the season … with a few changes AND a fun new surprise!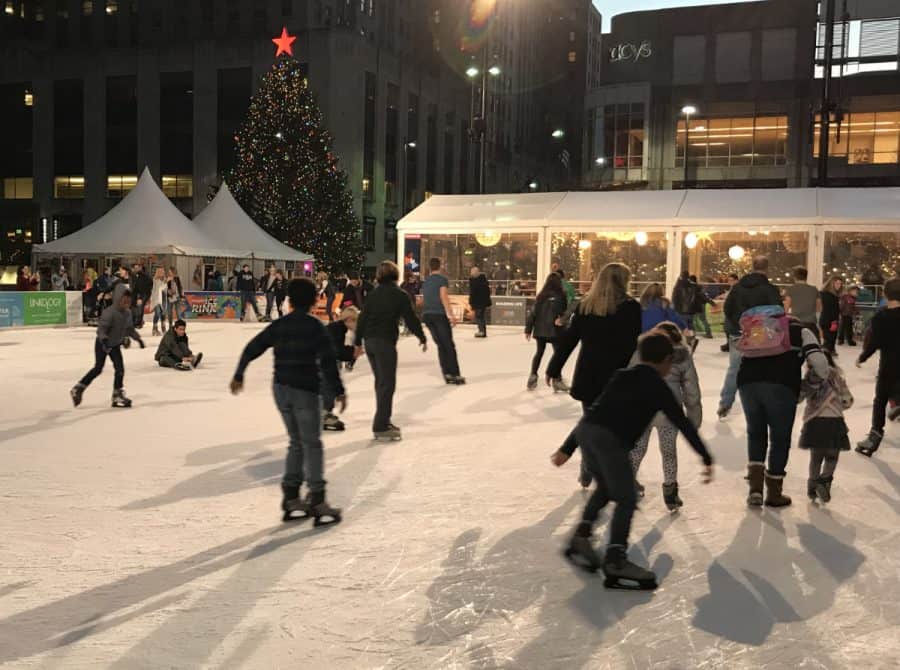 The Fountain Square Ice Rink will return for 2020-21
The ice rink will return for 2020-21 and will operate with timed reservations. That means you'll want to grab your tickets and get your timed slot in order to get out on the ice. The good news? You'll be less likely to fight big crowds as capacity will be limited to 80 patrons.
Most of your favorites will return like the warming tent with its viewing platform and benches. There will be a full service concessions tent with hot and cold snacks and drinks. And for those of you without your own skates, skate rental will still be available.
Let Loose with Bumper Cars on Ice!
We all need a GOOD surprise this year, right?! There will be a new addition on the ice for 2020 – Bumper Cars! Fountain Square will be the only rink in the area to offer Bumper Cars on Ice this fall and winter.

Here's what to expect: There will be 16 Bumper Cars during split ice sessions (bumper cars will be in their own separate ice area at the rink). They may be driven by adults as well as children ages 7 and up (must be at least 42″ tall). There is a max weight of 300 pounds per car. Children 3-6 years old can ride in the lap of someone age 16+ as long as the total weight does not exceed 300 pounds. Each ride will last 5 minutes. If there's a line you are asked to exit your car but you're able to get back in line and repeat as many times as you can within your 60 minute session.
Choose Your Favorite Type of Session:
There will be a variety of sessions offered, full ice skating sessions or split ice rink sessions.
Split Ice Rink Sessions: The ice rink will be split up to allow both ice skating and bumper cars from Sunday through Thursday, November 7 – December 18 (info on later dates to come). Split ice sessions (rink + bumper cars) will cost $15 per person and include admission, ice skates, and unlimited bumper car rides during your 1- hour session.
Full ice sessions (ice skating only sessions) will cost $10 per person for admission and include skate rental.
Mixed Sessions: On Fridays and Saturdays there will be a mix of split ice and full ice skating sessions. See rates listed above for full or split session pricing.
Info to Know – Fountain Square Ice Rink 2020:
Reservations can be made up to two weeks in advance starting November 2, 2020.
The Fountain Square Ice Rink will operate 7 days a week starting November 7, 2020.
The rink does close if it's too warm or during inclement weather. You can call 513-381-0782 or visit their Facebook page for rink status.
All rink sessions are for 60 minutes.
Only 80 guests will be allowed per session, and they will be cleaning and re-setting for approximately 30 minutes between each session.
Masks are required for entry and must be worn at all times.
Children under the age of 3 are free and do not need to be included on your reservation upon checkout.
If you are spending $60 or more, use code FSQFAM at checkout to save 20% off your purchase.

The Fountain Square Ice Rink will be open from Nov. 7, 2020 through Feb. 15, 2021.
You must have a reservation this year.
Purchase your Ice Rink Tickets here (tickets go on sale Nov. 2, 2020).
Fountain Square is located at 520 Vine Street, Cincinnati, Ohio 45202