Sometimes you don't want to wait for a vacation to get out of town for a bit! That's where our list of day trips from Cincinnati comes in!
It can be hard to get the change of scenery your soul needs between work, busy, schedules, and travel restrictions. Luckily, Cincinnati is surrounded by other exciting cities, small towns, parks, and hidden gems just waiting to be explored.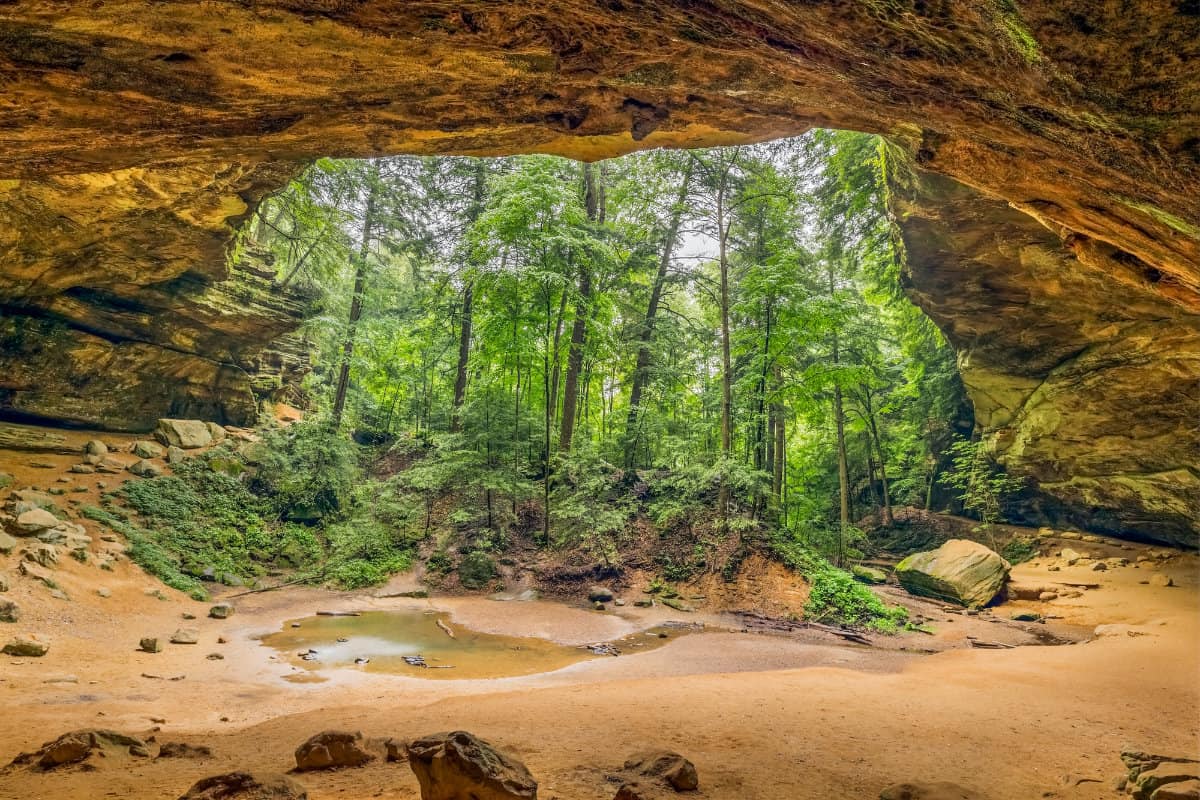 From nature and art to shopping and museums, there are some fun Cincinnati day trips just waiting for you! You can find all kinds of adventure within 150 miles of Cincinnati. That's less than one tank of gas!
(Psst… If you can't get out of town but still want to try something new, be sure to check out our Cincinnati Staycation ideas!)
Day Trips From Cincinnati:
Indianapolis, Indiana
Distance from downtown Cincinnati: 109 miles, approx. 1.75 hour drive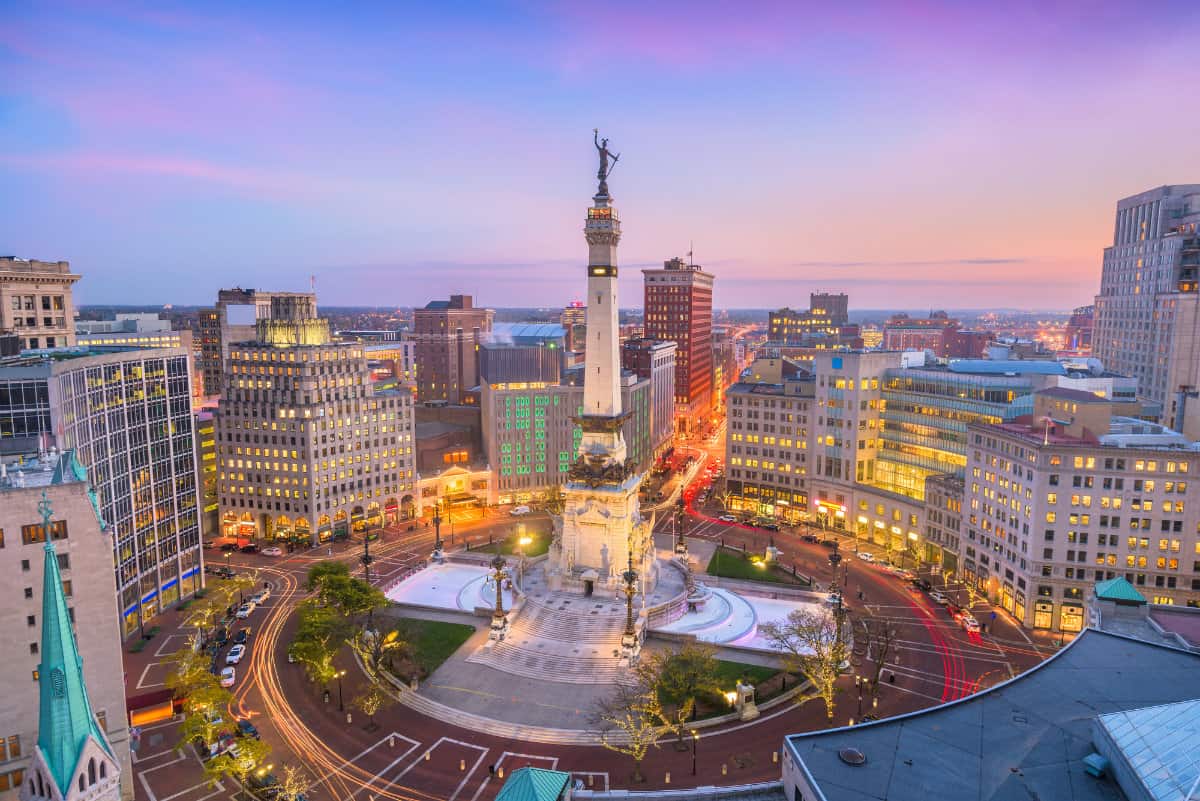 When you want to get away from it all but don't have time to go far, Indianapolis is a great place to visit. Indy is the capital of Indiana and it's also the largest city in the state. Indianapolis may be known as home to the Indianapolis Speedway but there's so much more to discover!
Check out the things to see and do in Indianapolis below.
Learn something new at the Children's Museum of Indianapolis. Kids (and their grownups) can explore DinoSphere, the massive dinosaur exhibit; immerse in Greek culture at Take Me There: Greece; hear the stories of three powerful kids – Anne Frank, Ruby Bridges, and Ryan White; and much more!
See the diverse wildlife at the Indianapolis Zoo – including orangutans, elephants, tigers, dolphins, and the country's largest Shark touch pool!
Take a tour of Lucas Oil Stadium, home of the Indianapolis Colts.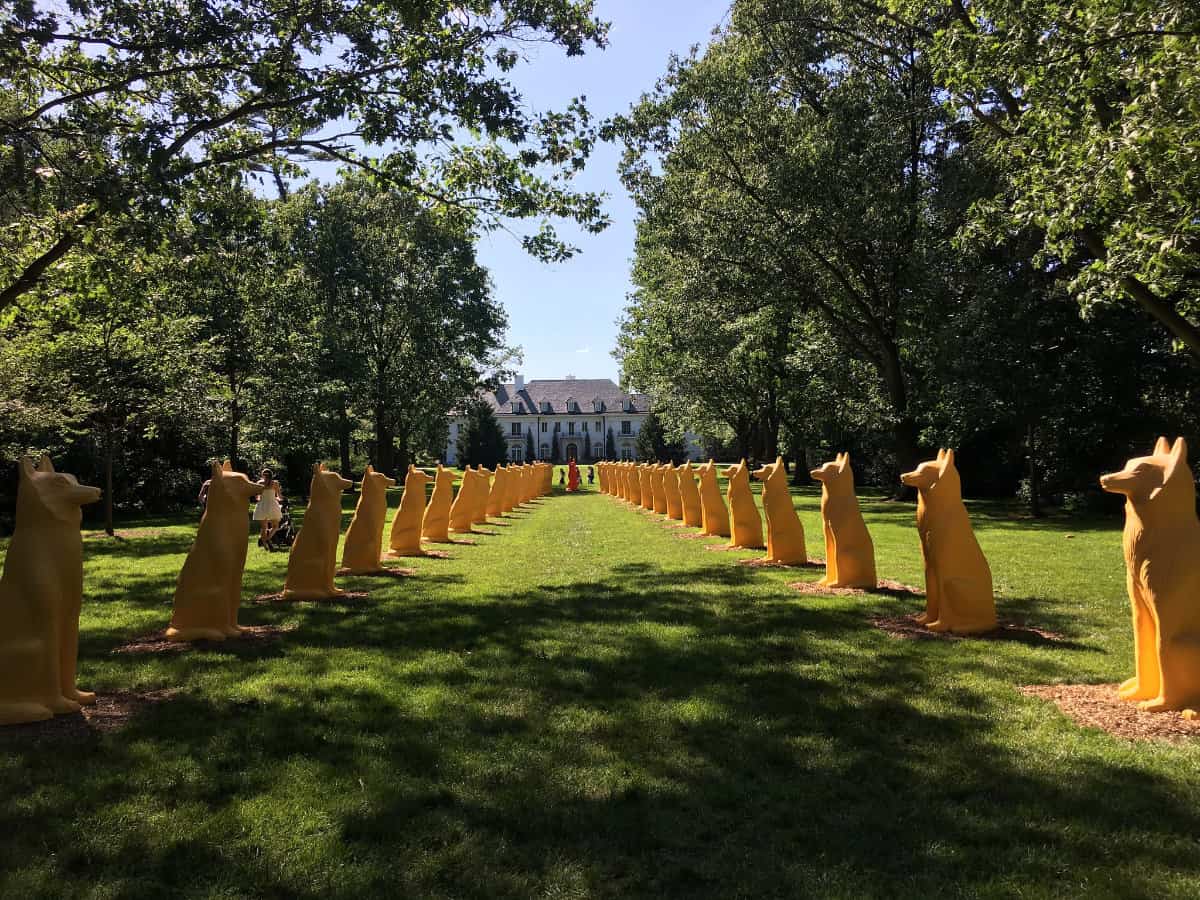 See world-renowned works of art at the Indianapolis Museum of Art, visit the historic Lilly House, and explore the 100-acre Virginia B. Fairbanks Art & Nature Park – all located on the campus of Newfields: A Place for Nature & the Arts.
Spend the whole day exploring the Indianapolis Motor Speedway and the Indianapolis Motor Speedway Museum. The museum offers tours where you can see behind-the-scenes, visit the track, and even take a golf cart around the grounds with a professional tour guide.
And don't miss your chance to live the pioneer life at Conner Prairie.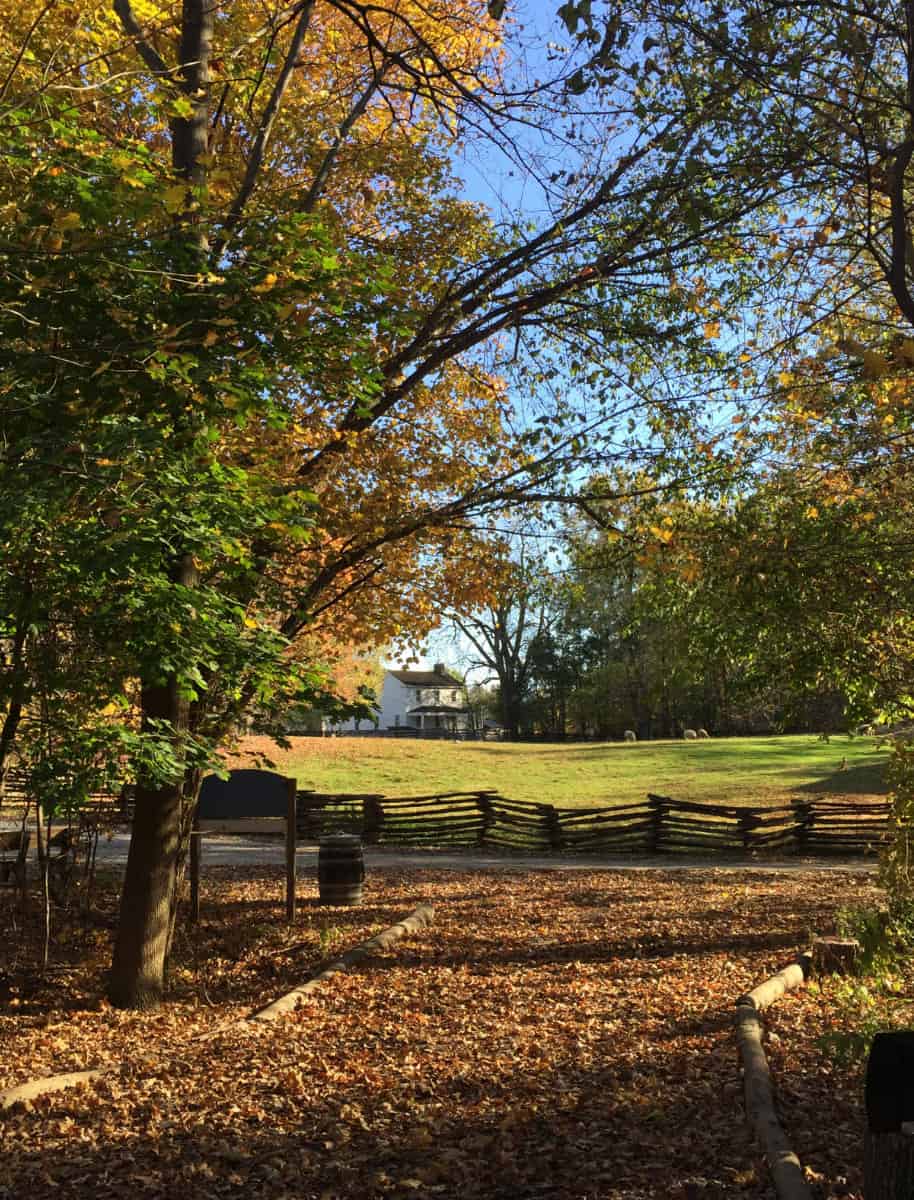 ---
Louisville, Kentucky
Distance from downtown Cincinnati: 100 miles, approx. 1.5 hour drive
Another city that sits upon the banks of the Ohio River is nearby Louisville, Kentucky. The largest city in the state of Kentucky, this city is often linked to horse racing as it's the home of Churchill Downs.
Louisville is home to Bourbon Country as well with stops along Kentucky's famous Bourbon Trail. Bourbon lovers can try out some local favorites at Stitzel Weller Distillery, Rabbit Hole, and Michter's Distillery.
Experience the internationally renowned Churchill Downs. Even when it's not Kentucky Derby season, there are plenty of other opportunities to see a live race. And don't miss the Kentucky Derby Museum!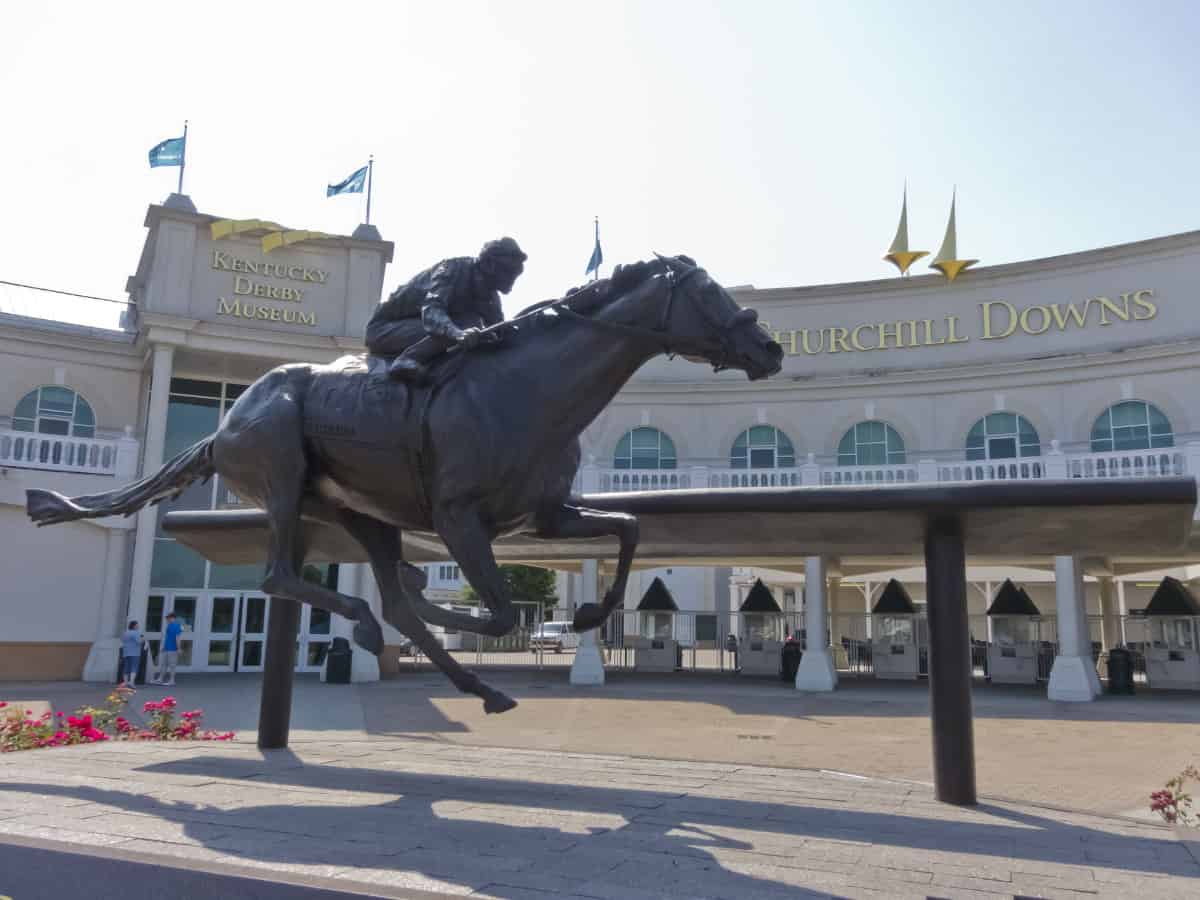 All ages will love the Louisville Zoo. Over 1,100 animals currently call the zoo home, and exhibits include: Africa, Australia, Glacier Run, HerpAquarium, Islands, and South America.
Reds fans will want to "swing" by the Louisville Slugger Museum and learn all about how this iconic baseball hat has helped shape one of America's favorite games.
---
Yellow Springs, Ohio
Distance from downtown Cincinnati: 68 miles, approx. 1.25 hour drive
What's not to love about Yellow Springs, Ohio – nicknamed "Everyone's Favorite Place"? You can enjoy some shopping and great food in the downtown area and then drive just a few miles to some of the best hiking areas in Ohio.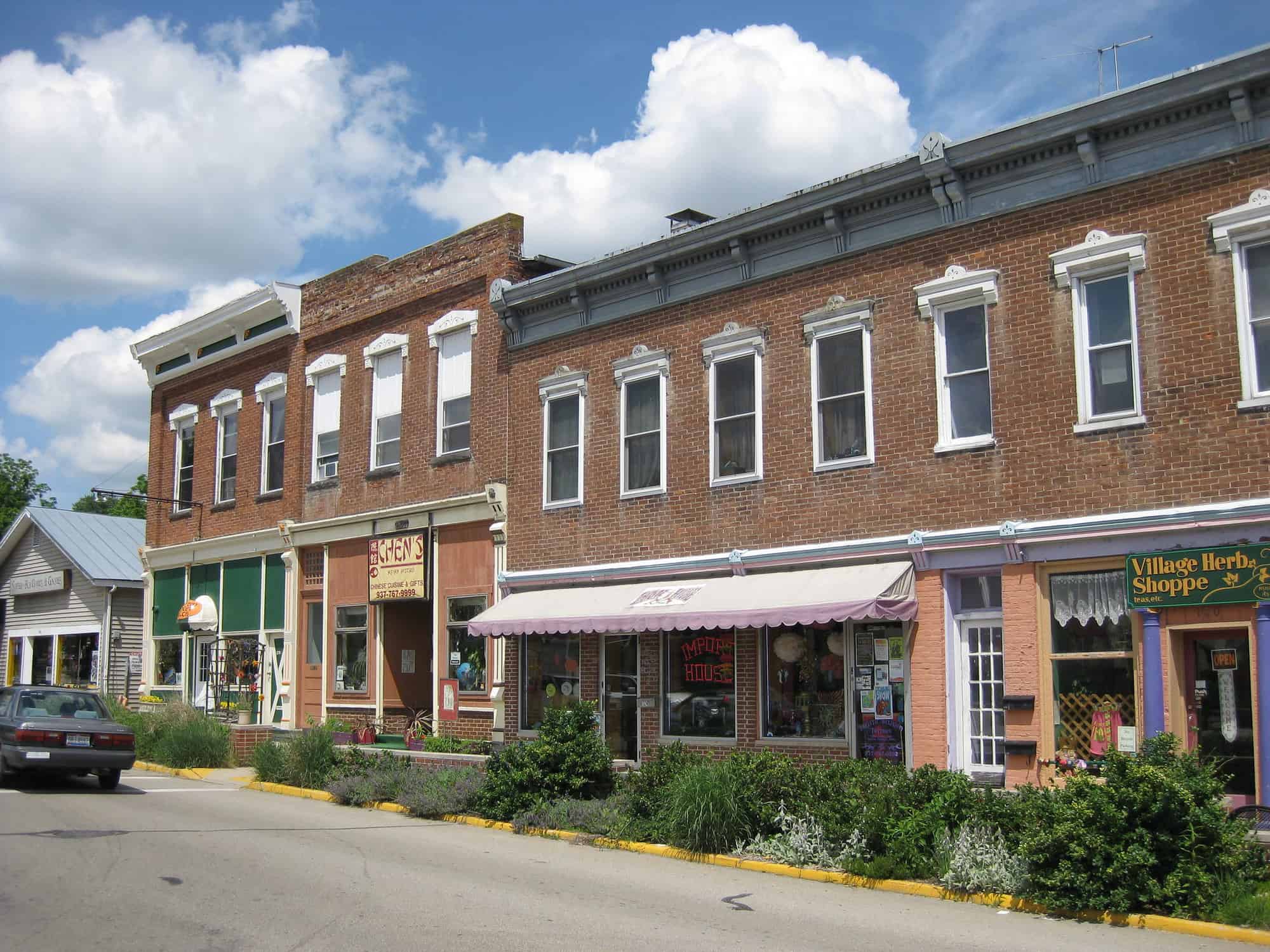 Check out the things to see and do in Yellow Springs below.
Downtown Yellow Springs is packed with an eccentric assortment of restaurants, shopping, and galleries.
Glen Helen Nature Preserve is home to the town's namesake, the Yellow Spring. Hit the trails to explore the area's natural beauty and see a waterfall (or two!).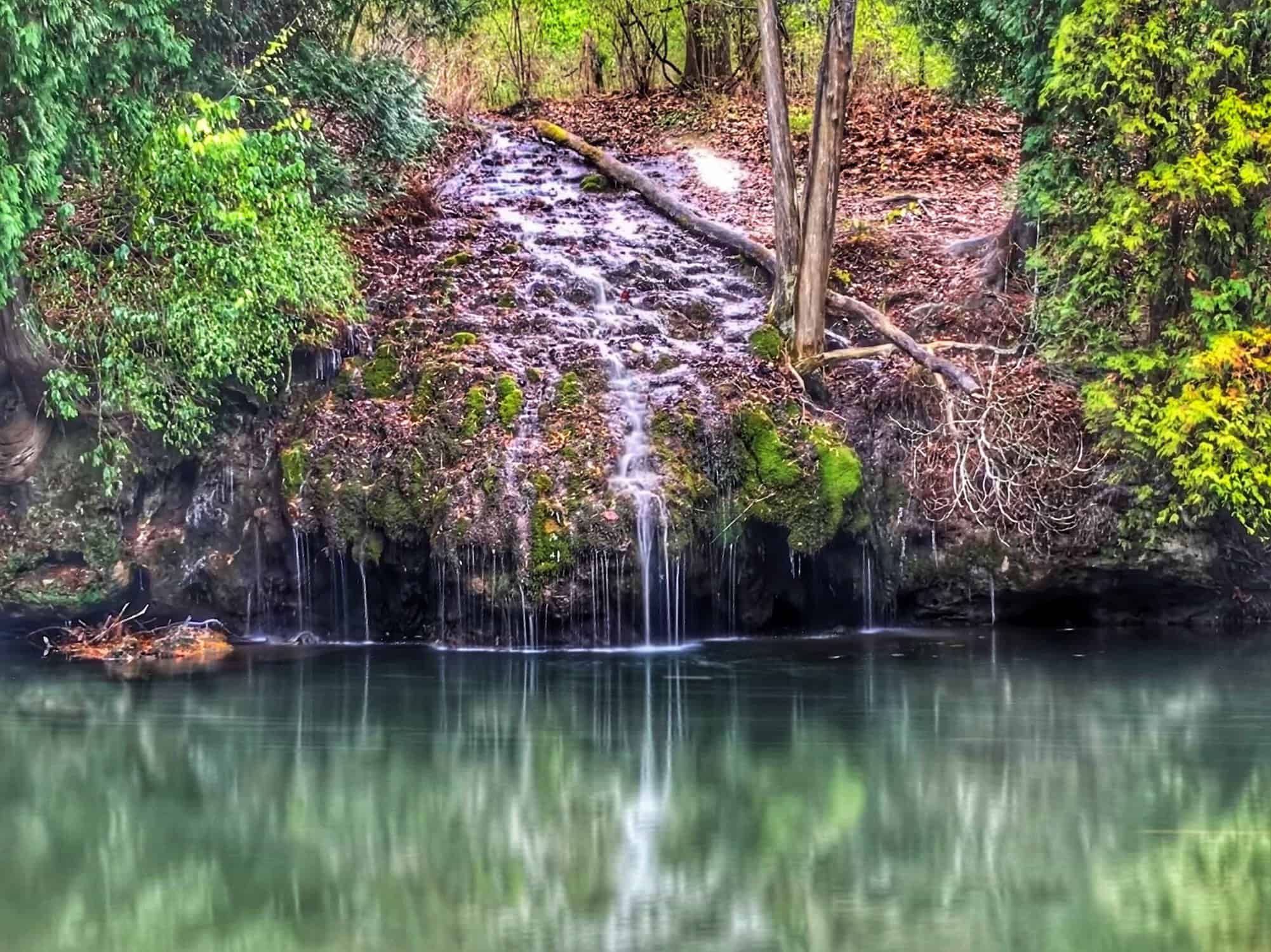 Hike, bike, canoe, fish, and camp at John Bryan State Park. You won't want to miss the limestone gorge and scenic river views!
Grab some homemade ice cream and see a real working farm at Young's Jersey Dairy. Over the years, they've also added batting cages, mini golf, and the Kiddie Corral for more family fun.
Take a bike ride or walk along the Little Miami Scenic Trail. This 78-mile shaded trail runs nearby downtown Yellow Springs and John Bryan State Park.
---
Hocking Hills, Ohio
Distance from downtown Cincinnati: 135 miles, approx. 2.25 hour drive
Hocking Hills is an Ohio State Park. Located in southeast Ohio, this area is popular in all four seasons. From hiking to camping to overnight cabin stays, put this one on your must-do list!
Be sure to make a stop at the park's nature center and become an Ohio Explorer with the New Ohio State Parks Passport!
Check out the things to see and do in Hocking Hills below.
Take a zipline tour with Hocking Hills Canopy Tours to get an adventurous view of the area's beautiful forests.
Hike to the area's scenic waterfalls. Reach the Upper Falls by taking the Old Man's Cave trail. Take the Cedar Falls trail to see (can you guess?)… Cedar Falls! Ash Cave is a unique waterfall that you can view from 360° by taking the aptly named Ash Cave trail.
Rappel and rock climb with High Rock Adventures. They also offer guided Ecotours where you can take a nature hike and learn all about the area's history, plants, and animals.
Enjoy locally crafted wine at family-owned Hocking Hills Winery.
---
Frankfort, Kentucky
Distance from downtown Cincinnati: 80 miles, approx. 1.5 hour drive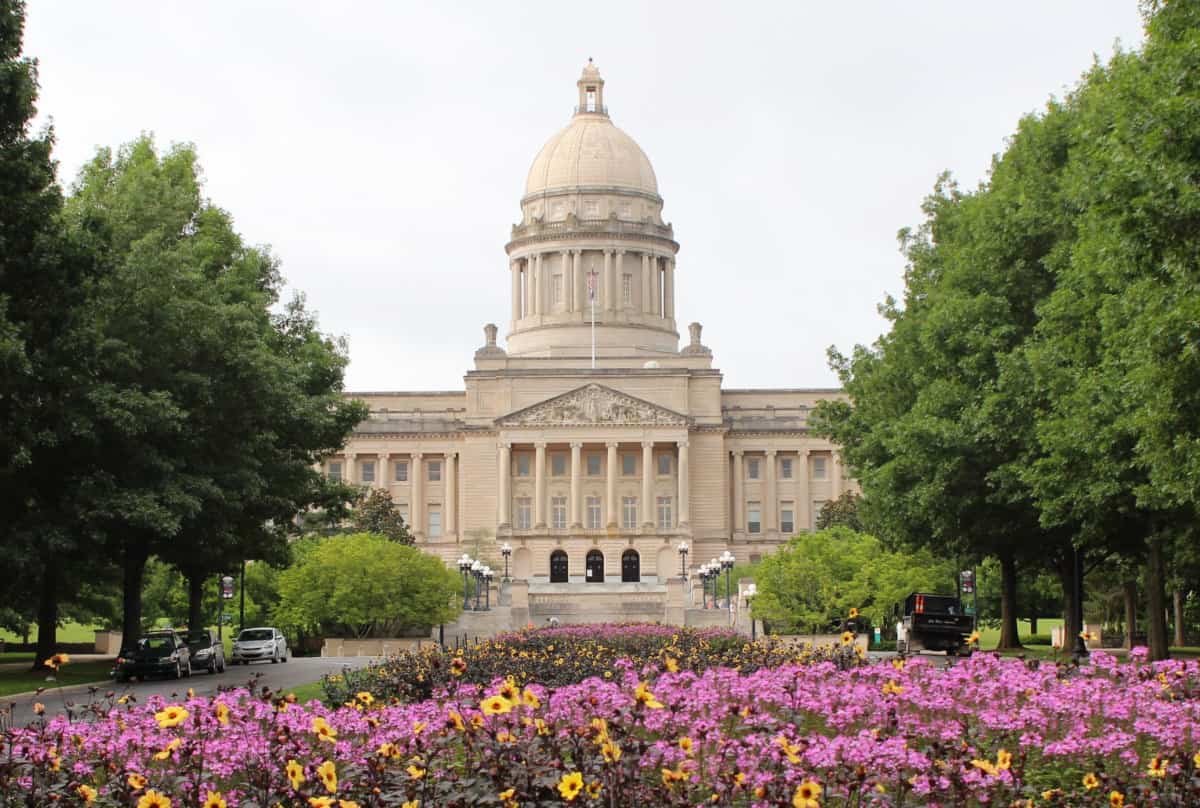 Here's a day trip that took me by surprise! The town of Frankfort is so charming! Take a tour of the Kentucky State Capitol Building (in the image above). Be sure to take advantage of the self guided tour using the building's Walking Tour brochure, and be sure not to miss the rotunda murals. There's a nod to Cincinnati included there!
Right outside of Frankfort, you'll find some popular spots along the Bourbon Trail: Buffalo Trace (love that place!), Four Roses Bourbon, Woodford Reserve, and Wild Turkey.
Daniel Boone is said to be buried at the nearby Frankfort Cemetery, along with his wife Rebecca. His final resting place provides a lovely view of the area.
Don't miss the downtown area (so charming). If you'd like to stay over for the night, I can recommend the bed and breakfast in Frankfort – The Meeting House. Our room was wonderful, the hosts were super friendly, and the food was amazing!
---
Lexington, Kentucky
Distance from downtown Cincinnati: 83 miles, approx. 1.5 hour drive
Just a few hours south of Cincinnati and right off I-75, Lexington is the heart of Kentucky's Bluegrass region. The city is best known for its beautiful rolling hills, fertile soil, and, of course, its horse farms.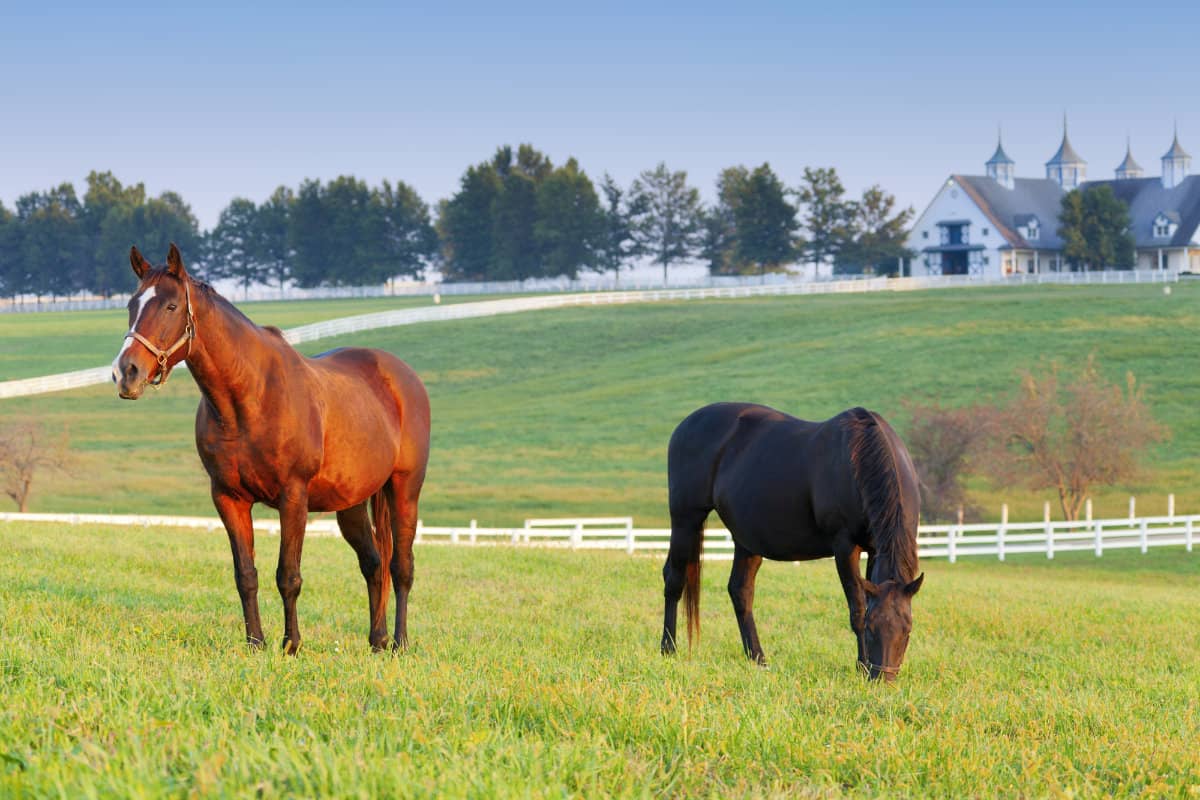 Check out the things to see and do in Lexington below.
Lexington is known as the Horse Capital of the World, so a visit almost wouldn't be complete without a trip to Keeneland. See a live race, take a tour of the property, or grab dinner at the Keeneland Track Kitchen – or try them all!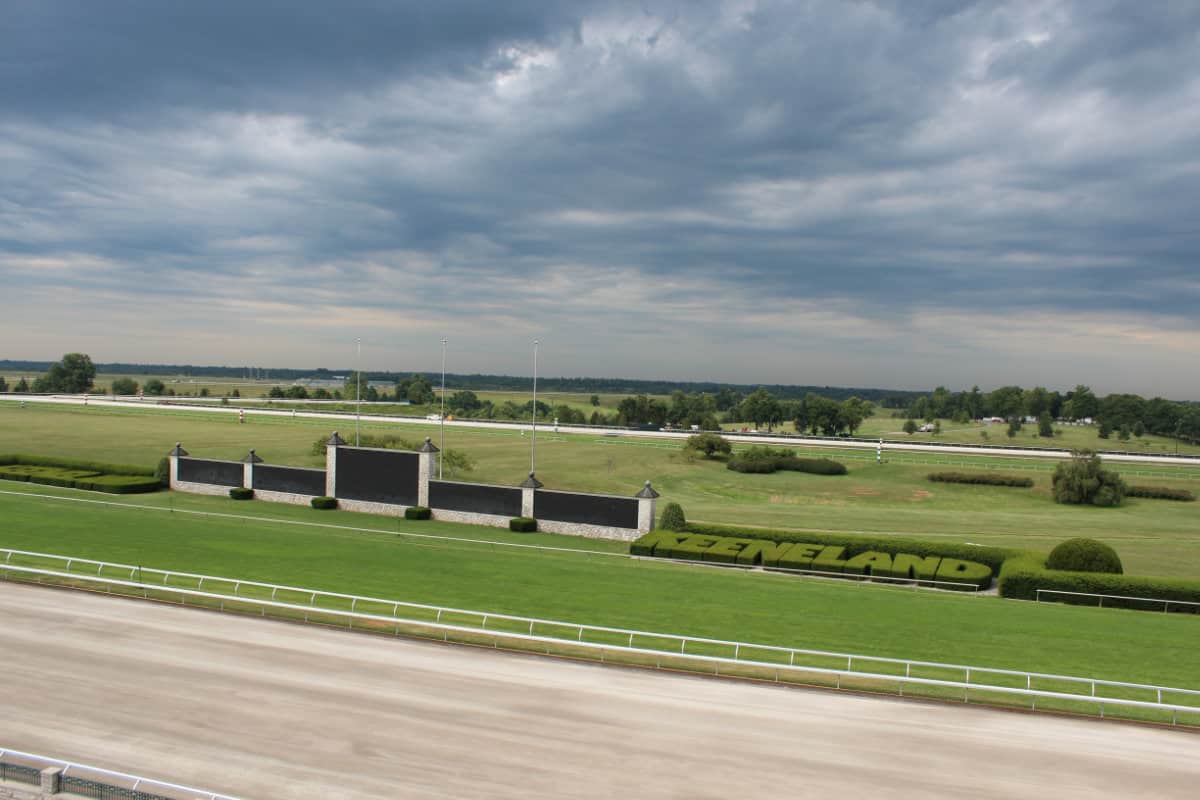 Maybe a Zipline Canopy Tour through the Boone Creek Gorge is more your style? See the gorge from a new perspective via six zip lines, three sky bridges, a rappel, a spiral, and a floating staircase. The tour is perfect for 2-10 people and lasts 2.5 hours.
Visit Lexington Brewing & Distilling Co. for an authentic taste of the Bourbon Trail. Or, take a guided tour with Bourbon in the Bluegrass to tour and visit three nearby distilleries: Woodford Reserve Distillery, Historic Buffalo Trace Distillery, and Four Roses Distillery.
Grab a beer at one of our favorite Kentucky breweries: West Sixth Brewing. Enjoy a brew straight from the source and check out the building's 100 year history, which was originally home to the Rainbo Bread Factory. The brewery has a huge taproom, a section full of picnic tables, and a few tables along the street.
---
Columbus, Ohio
Distance from downtown Cincinnati: 107 miles, approx. 1.5 hour drive
We couldn't have a day trips post without featuring the capital of Ohio, "the heart of it all" – Columbus, Ohio. There's so much to see and do in this city – so much so that we wrote an entire article just on what to see and do in Columbus.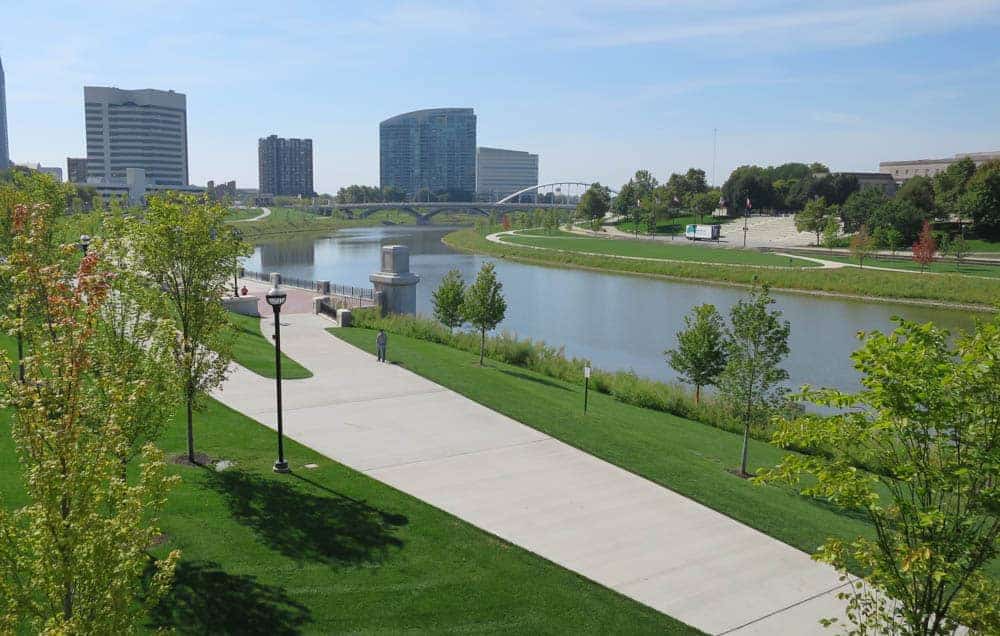 Check out the things to see and do in Columbus below.
Spend hours exploring the gardens at Franklin Park Conservatory and Botanical Gardens. Beautiful views are at every turn, between 400+ plant species, the Chihuly Collection of glass artwork, and the Light Raiment II light art installation at the Palm House.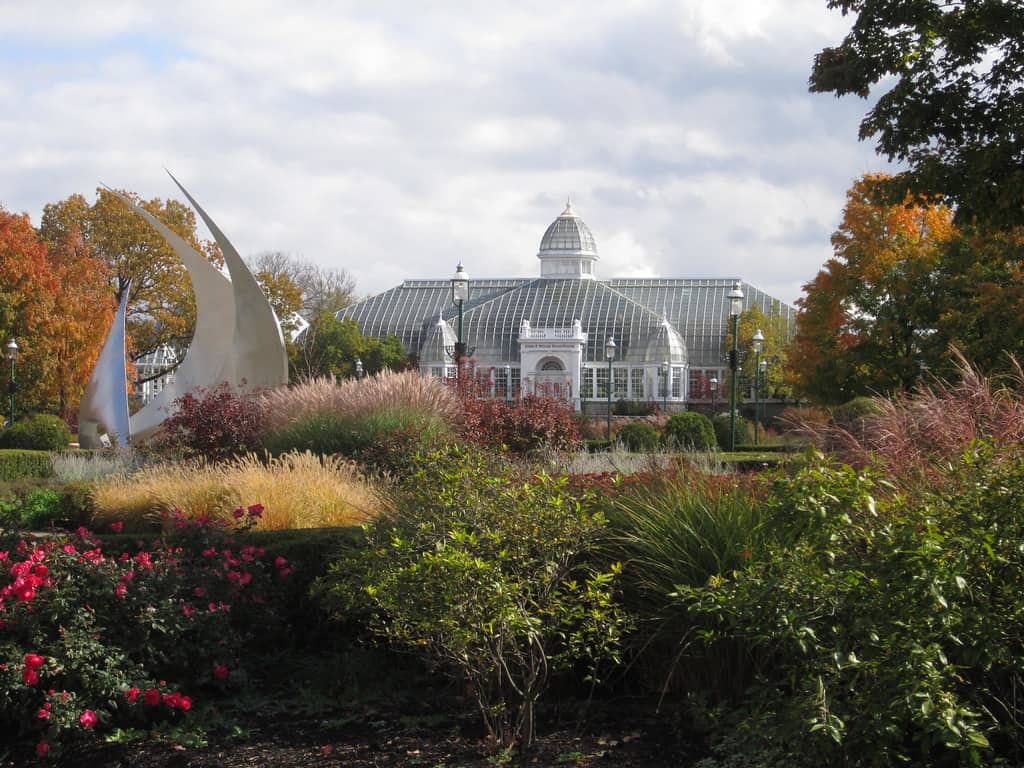 With 300+ stores and over 30 million visitors each year, the Easton Town Center is one of the midwest's premier shopping destinations. Beyond shopping, the campus is also home to Ohio's largest movie theater, parks, town squares, dining destinations, and a comedy club.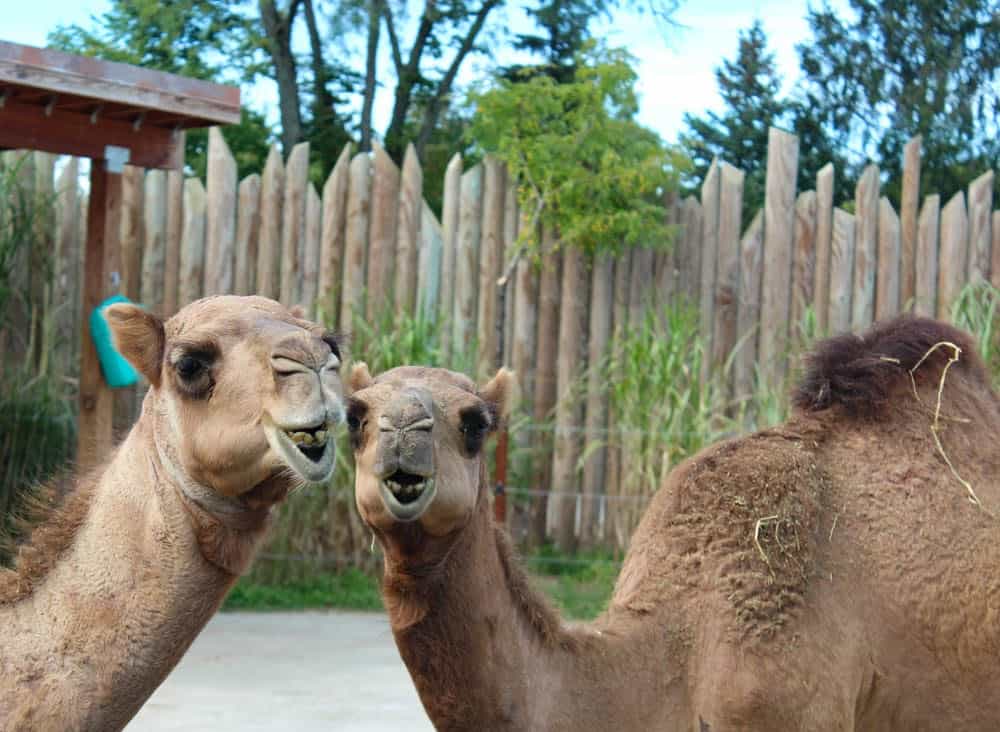 Visit the Columbus Zoo and Aquarium, home to 130+ animals from around the world! Exhibits include Asia Quest, Expedition Congo, Heart of Africa, North America, Shores, and Voyage to Australia and the Islands.
Every Saturday from June to October (excluding July 4), Ohio farmers sell their freshly-picked produce at the North Market Farmer's Market. Grab a bite to eat, shop local vendors, or pick up some produce to go at the area's oldest and largest market of its kind.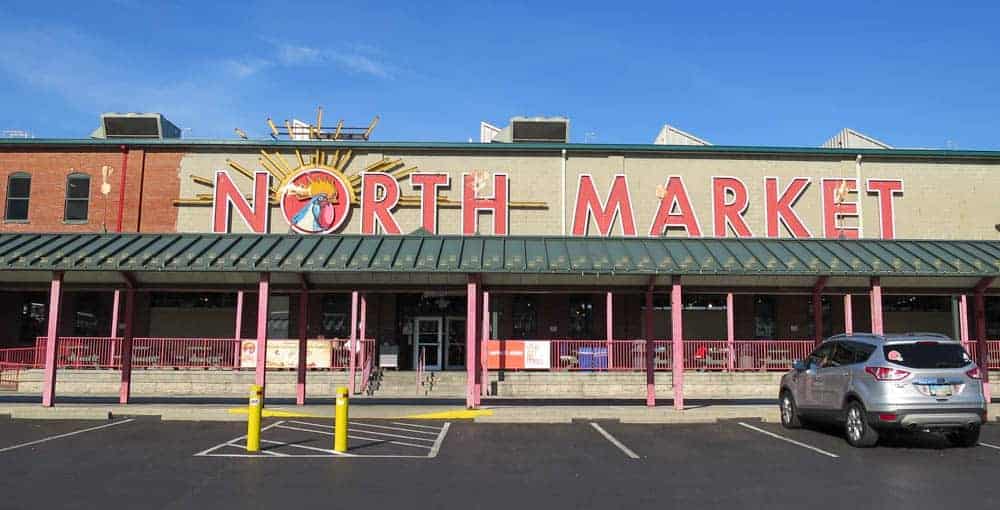 Visit COSI, the "hands-on science museum and planetarium". Exhibits are set up to make kids (and adults!) feel like they are actually experiencing the things they are learning about: see giant dinosaur skeletons, take a ride in a space capsule, drive an underwater ROV, and more!
---
Dayton, Ohio
Distance from downtown Cincinnati: 55 miles, approx. 1 hour drive
Located less than an hour away, Dayton is definitely day trip worthy. Enjoy some great food at the Oregon District, visit a musuem, take a hike… and don't overlook nearby Yellow Springs too (see info about that above).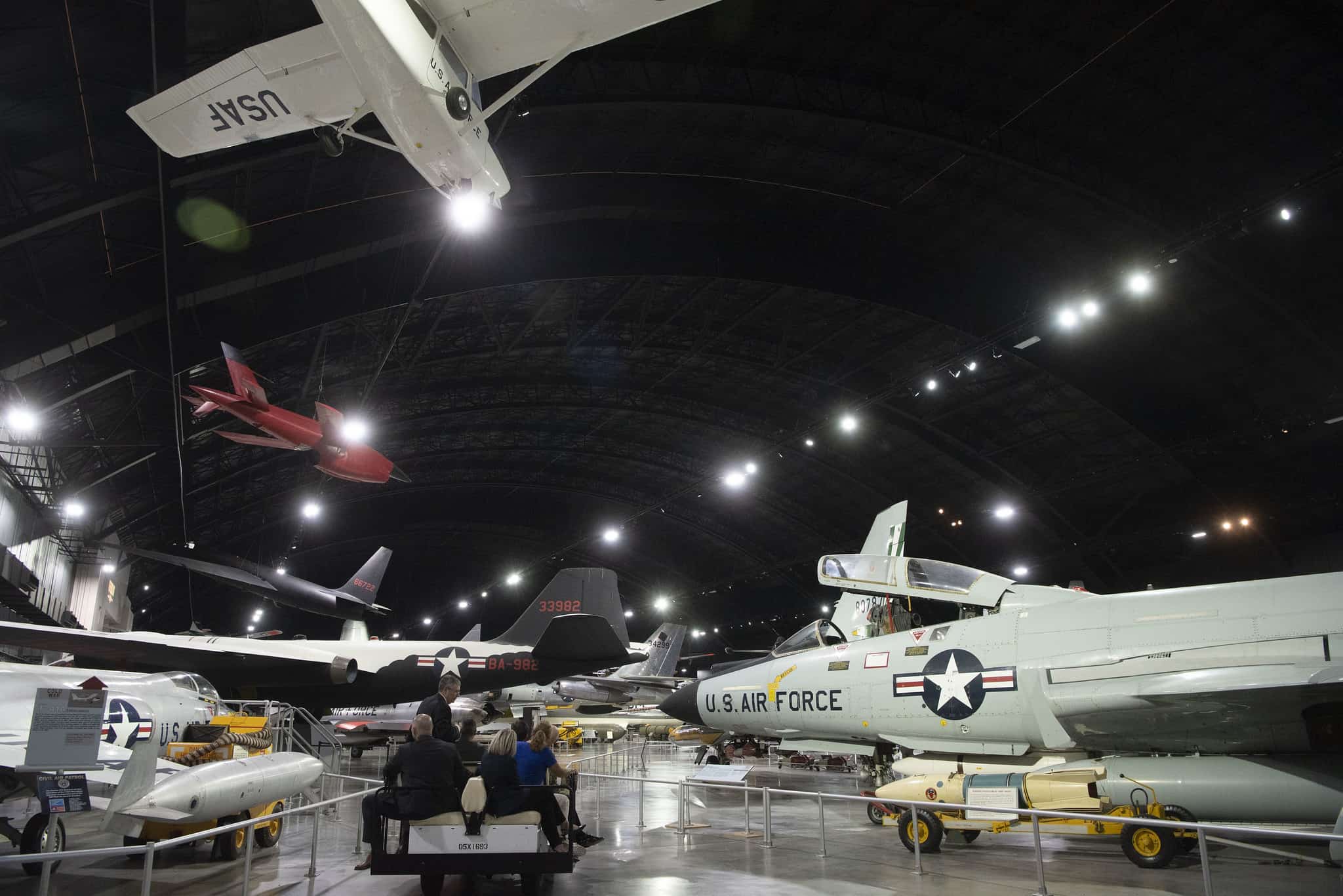 Check out the things to see and do in Dayton below.
Visit the world's largest aviation museum: the National Museum of the U.S. Air Force. Military history and aviation buffs can spend hours exploring the displays of 360 aerospace vehicles and missiles, thousands of historical items, and the story of Orville and Wilbur Wright.
Learn about Dayton's history and its impact on the world (hint: Orville Wright was born in Dayton!) at Carillon Historical Park.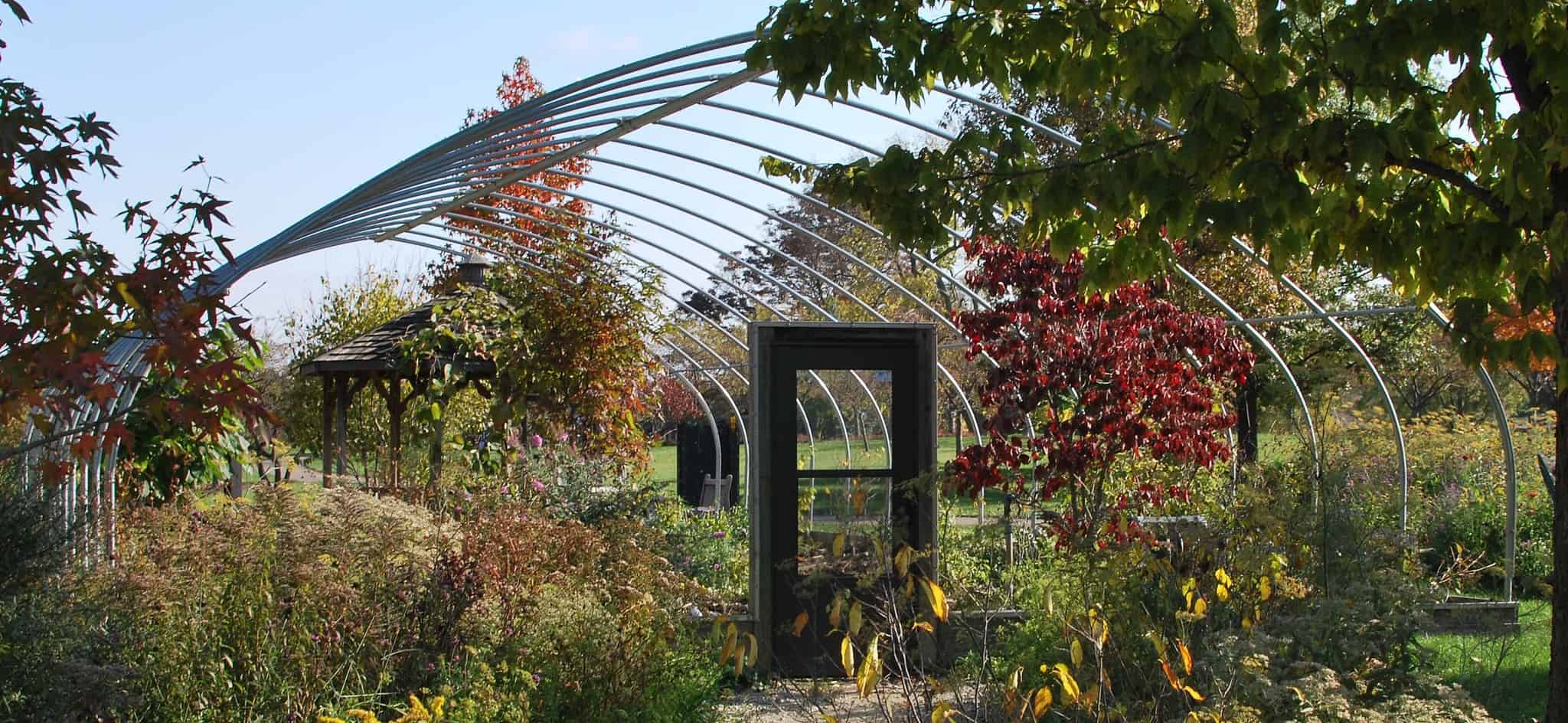 Explore Cox Arboretum. Between a butterfly house, shrub garden, walking trails, a children's maze and more – these lush gardens will make you forget you're within an hour's drive of two major cities.
With over 1,000 works of art, you can spend all day admiring the Dayton Art Institute's vast collection of art form all over the world – some dating back 5,000 years!
Kids will love spending the day at the Boonshoft Museum of Discovery. With a heavy focus on hands-on experiences, kids can pretend play at the Explorers Crossing, create at the Strictly Briks building station, experience ocean life first hand at the Tidal Pool, spend some time in the MeadWestvaco treehouse, and more!
---
Rabbit Hash, Kentucky
From downtown Cincinnati: 30 miles, ~45 minute drive
Here's a trip that everyone needs to make at least once – Rabbit Hash!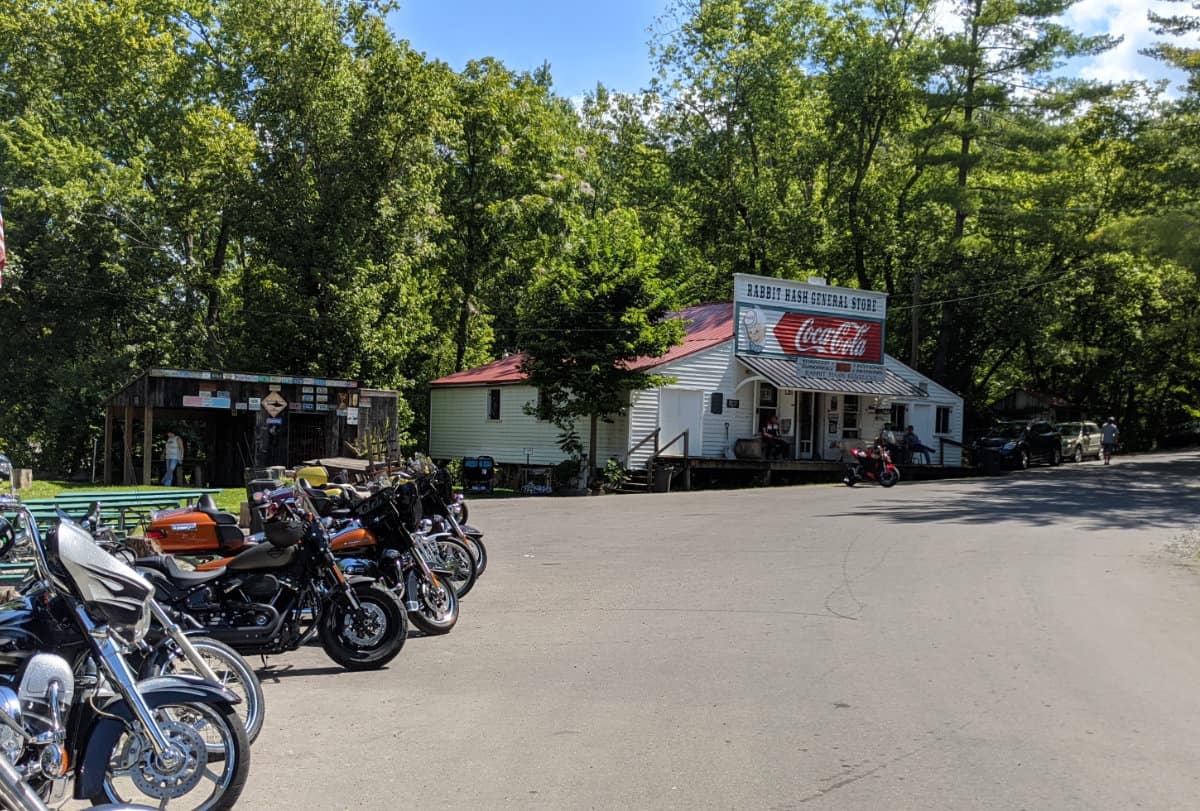 Rabbit Hash is pretty tiny, but the Rabbit Hash General Store is definitely worth the drive! Started in 1831, this hidden gem draws visitors from far and wide and has survived three major floods. Shop its famous antiques, Bybee pottery, handmade goods from Berea College, and more.
---
Hoosier National Forest, Indiana
Distance from downtown Cincinnati: 144 miles, approx. 2.25 hour drive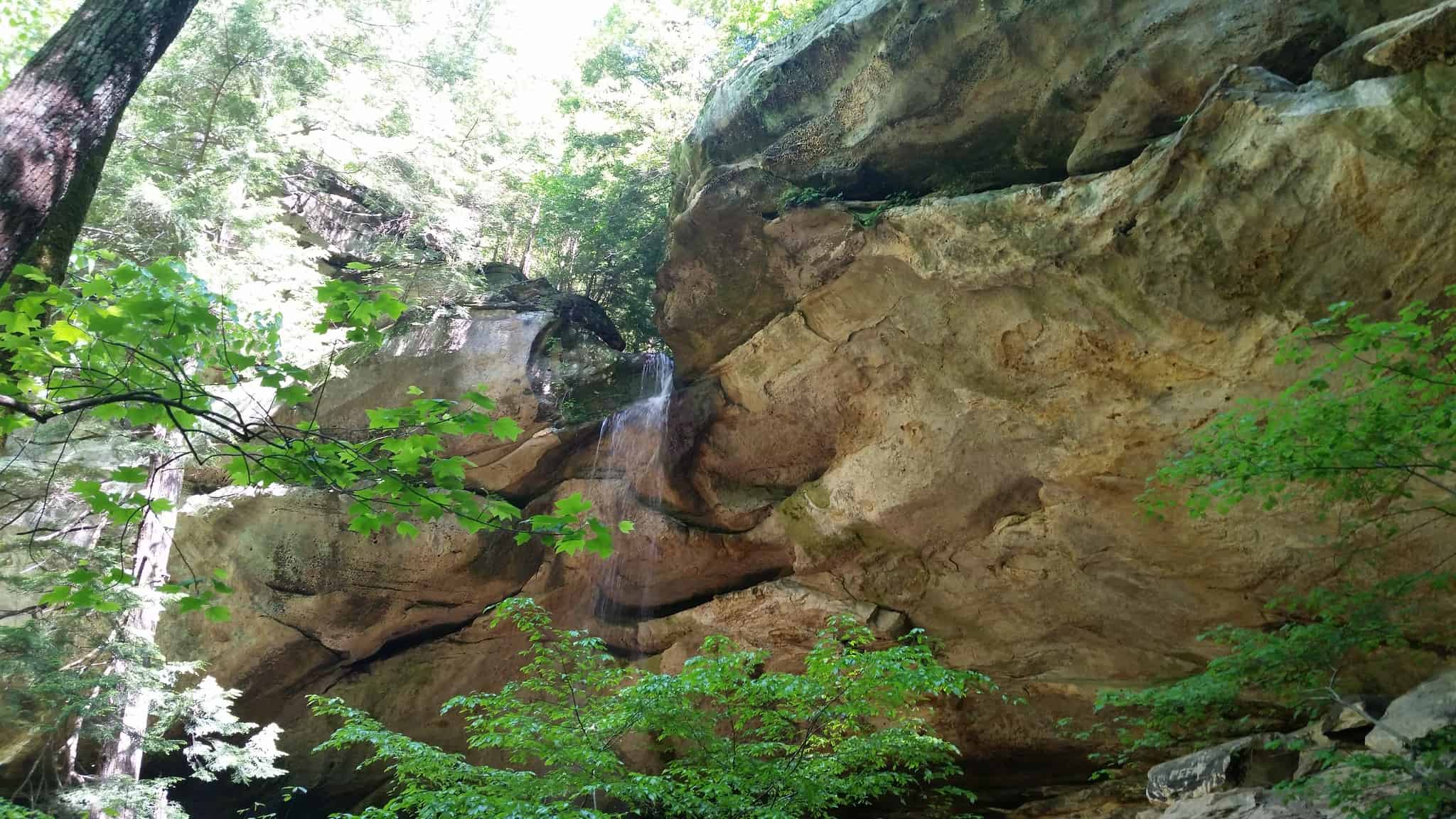 Spanning across 9 counties in southern Indiana, this 200,000+ acre forest is the perfect outdoor escape from the city and suburbs. There's TONS to do there, but here are a few ideas to get you started:
---
Hueston Woods, Ohio
Distance from downtown Cincinnati: 47 miles, approx. 1 hour drive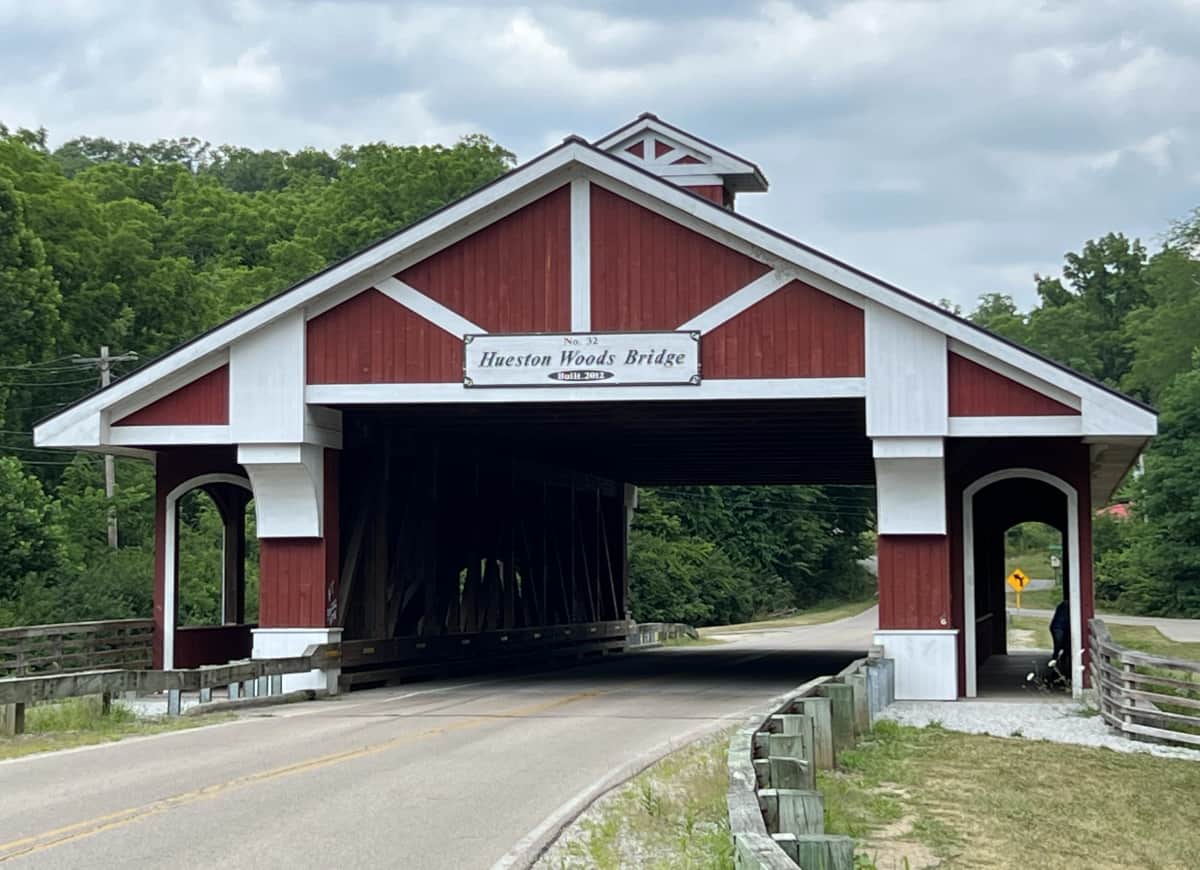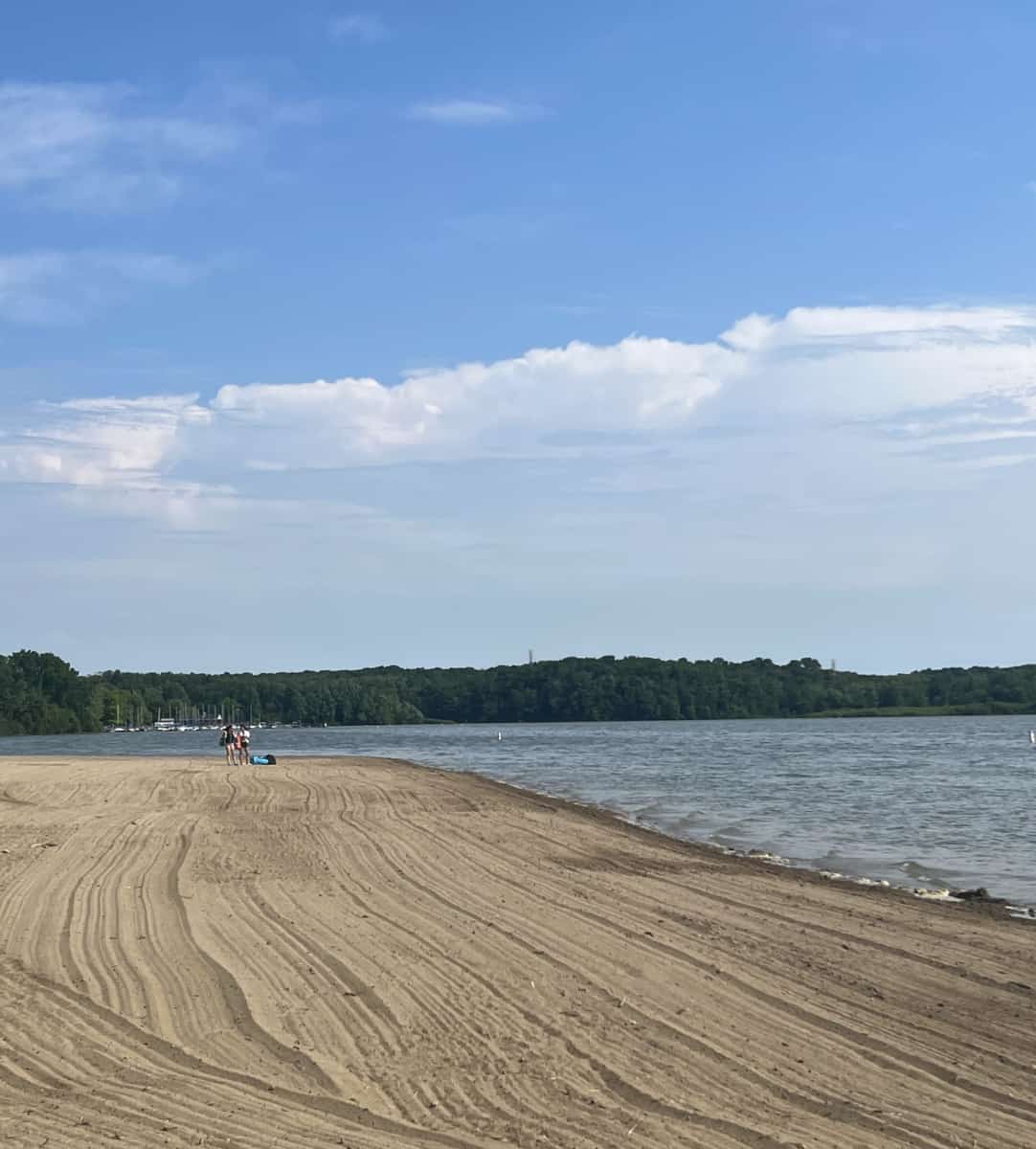 Hueston Woods isn't too far from Cincinnati, but offers a day full of outdoor adventure:
Hike on the park's 12 trails, including the Handicap Accessible Sugar Bush Trail
Fish, swim, and boat at Acton Lake
Stay overnight at the Lodge or the park's campground
Play a round of golf at the Hueston Woods Golf Course
Take a ride on 18 miles of mountain bike trails
Search for fossils and geocaches
Shoot some arrows at the archery range
And much more!
---
Caesar Creek State Park, Ohio
Distance from downtown Cincinnati: 44 miles, approx. 1 hour drive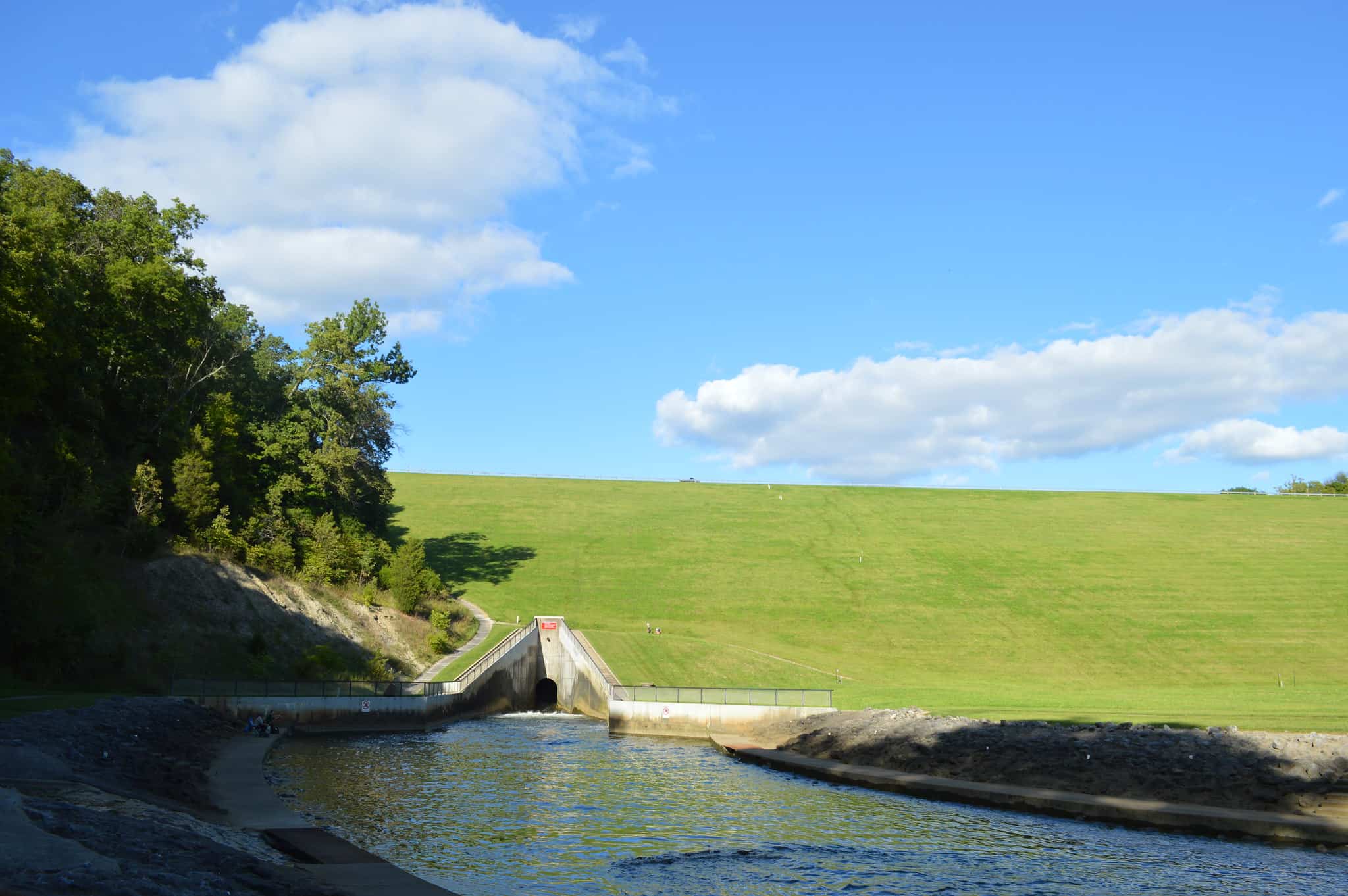 Caesar Creek State Park is another park that's close enough to Cincinnati to make it an easy day trip, but far enough way to feel like you're getting out of town:
Take a swim or lounge in the sand at the 1,300 square foot public beach
Hit the trails for hiking, mountain biking, and horseback riding
Shoot arrows at targets 10-40 feet away at the Archery Range
Go fishing on over 40 miles of shoreline
Take your boat out on the 2,830 acre lake, including 5 launch ramps
Stay overnight at the park's campground
---
Here's our quick list of Day Trips from Cincinnati:
Louisville, Kentucky
Yellow Springs, Ohio
Hocking Hills, Ohio
Frankfort, Kentucky
Lexington, Kentucky
Indianapolis, Indiana
Columbus, Ohio
Dayton, Ohio
Rabbit Hash, Kentucky
Hoosier National Forest, Indiana
Hueston Woods, Ohio
Caesar Creek State Park, Ohio