Get ready to wander because these beautiful waterfalls in Ohio will make you want to hit the trails right now!
Rivers, lakes, and even some not-so-far beaches – Cincinnati is PACKED with beautiful waterways. When I'm in the mood to spend a day at the water, my go-to is usually a hike or venturing out on a kayak or canoe.
But lately I've been seeing some out-of-town friends posting pictures of waterfalls in Ohio – places they've visited that are right in my own backyard! So I did a little digging…
I was thrilled to find there ARE some pretty gorgeous waterfalls in Ohio.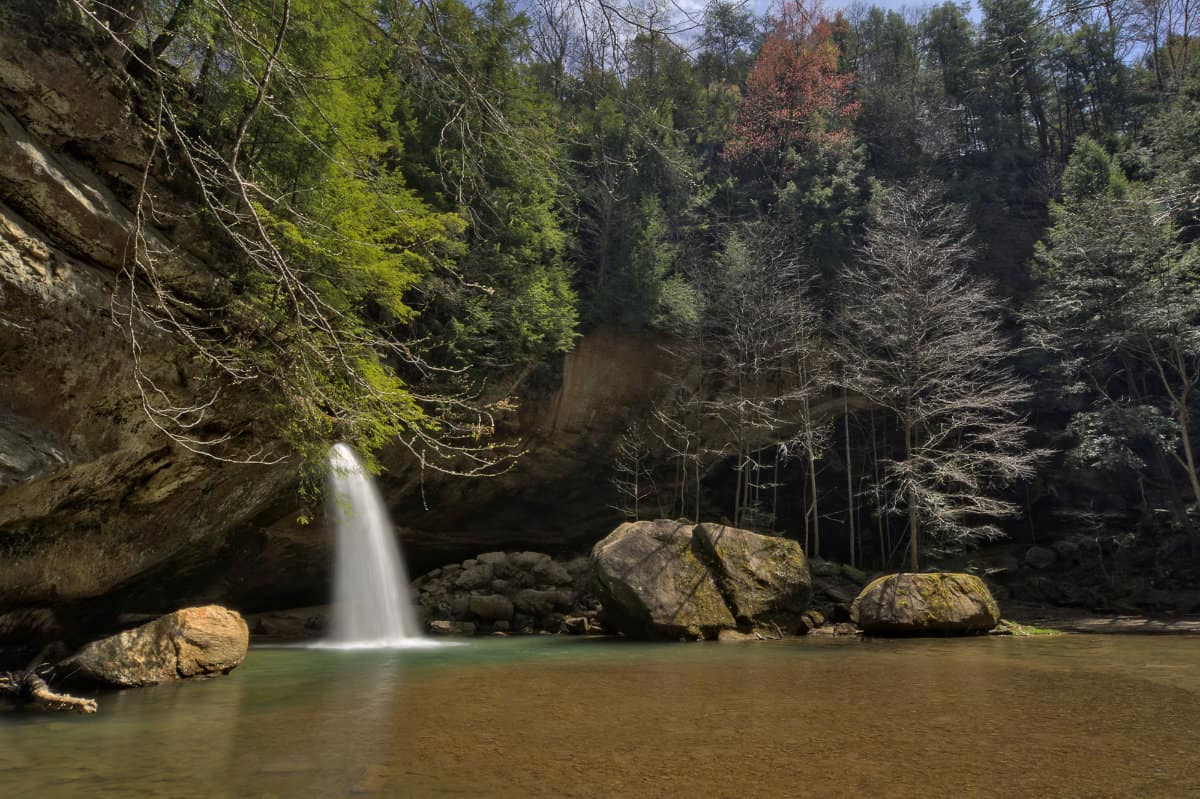 They might not be right here in Cincinnati, but these Ohio waterfalls are definitely worth a day trip!
---
Here are 13 waterfalls in Ohio, all within a few hours of Cincinnati, Ohio:
---
Upper Falls at Old Man's Cave
Hocking Hills, Ohio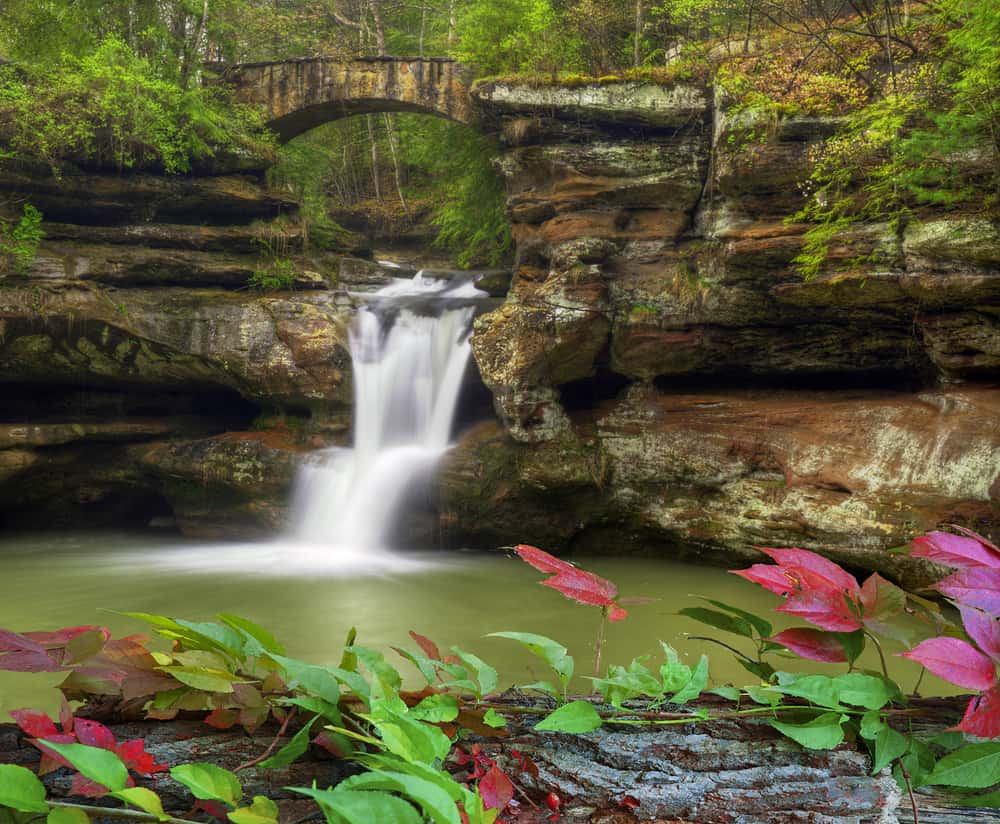 Height: 15 feet
Water Flow: Moderate, thinner during Summer months
Park: Hocking Hills
Trail: Old Man's Cave Trail
If you're looking for waterfalls in Ohio, Hocking Hills is a great place to start.
Old Man's Cave is one of the most popular waterfall spots at Hocking Hills – and for good reason. The Upper Falls are the type of falls you'd see on a postcard: steady and scenic falls flowing right underneath an archway bridge.
Hocking Hills is about two and a half hours east of Cincinnati. Visit this website to learn more about where to find Old Man's Cave and more connecting trails.
---
Cedar Falls
Hocking Hills, Ohio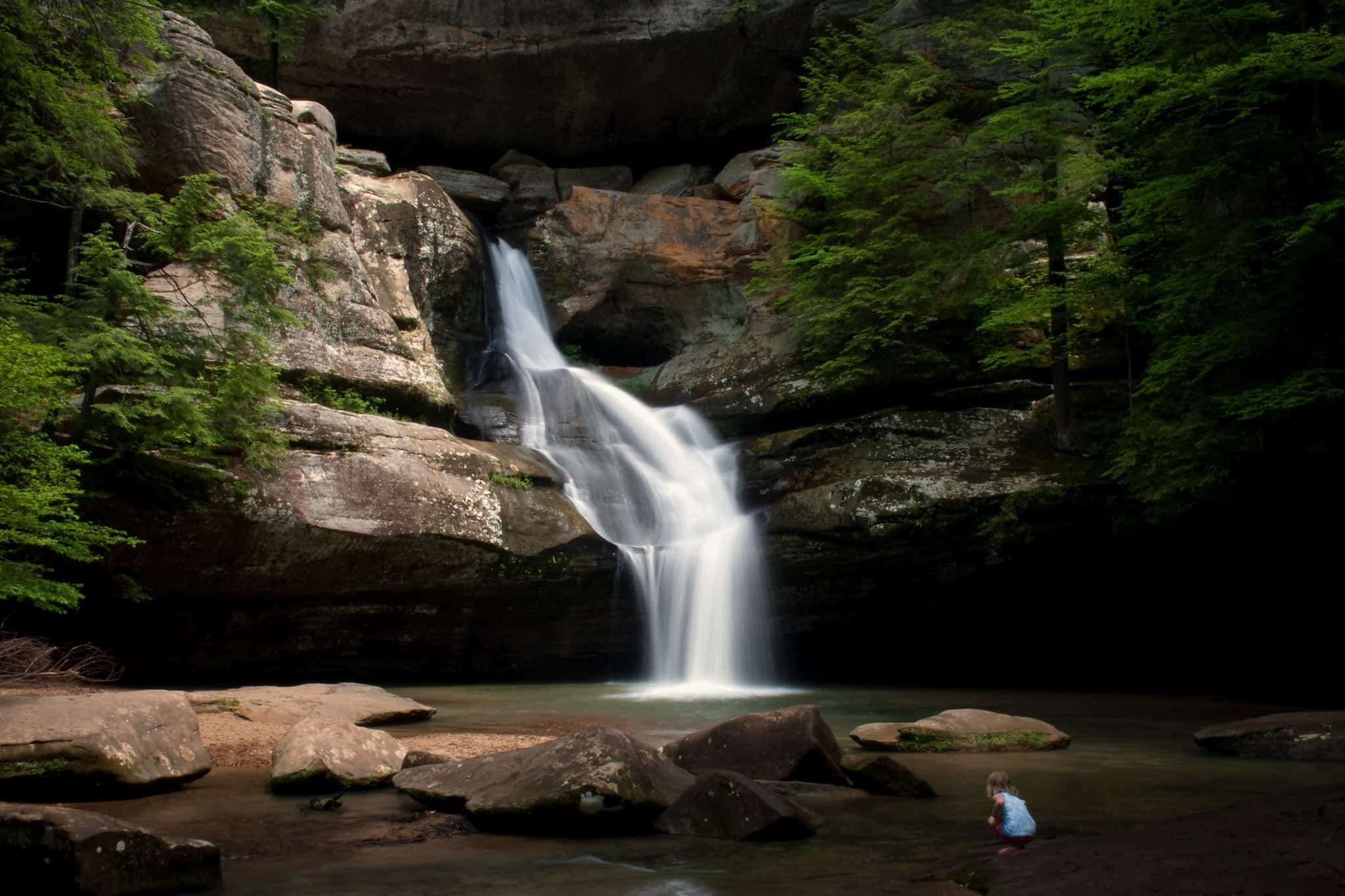 Height: 50 feet
Water Flow: Moderate
Park: Hocking Hills
Trail: Cedar Falls Trail
If you're looking for tall waterfalls in Ohio, Cedar Falls needs to be at the top of your list. Clocking in at around 50 feet tall and with the most water out of all the Hocking Hills waterfalls, it's no surprise this is an Ohio favorite and a major draw for outdoor adventurers.
For more info on Cedar Falls, visit this website.
---
Ash Cave
Hocking Hills, Ohio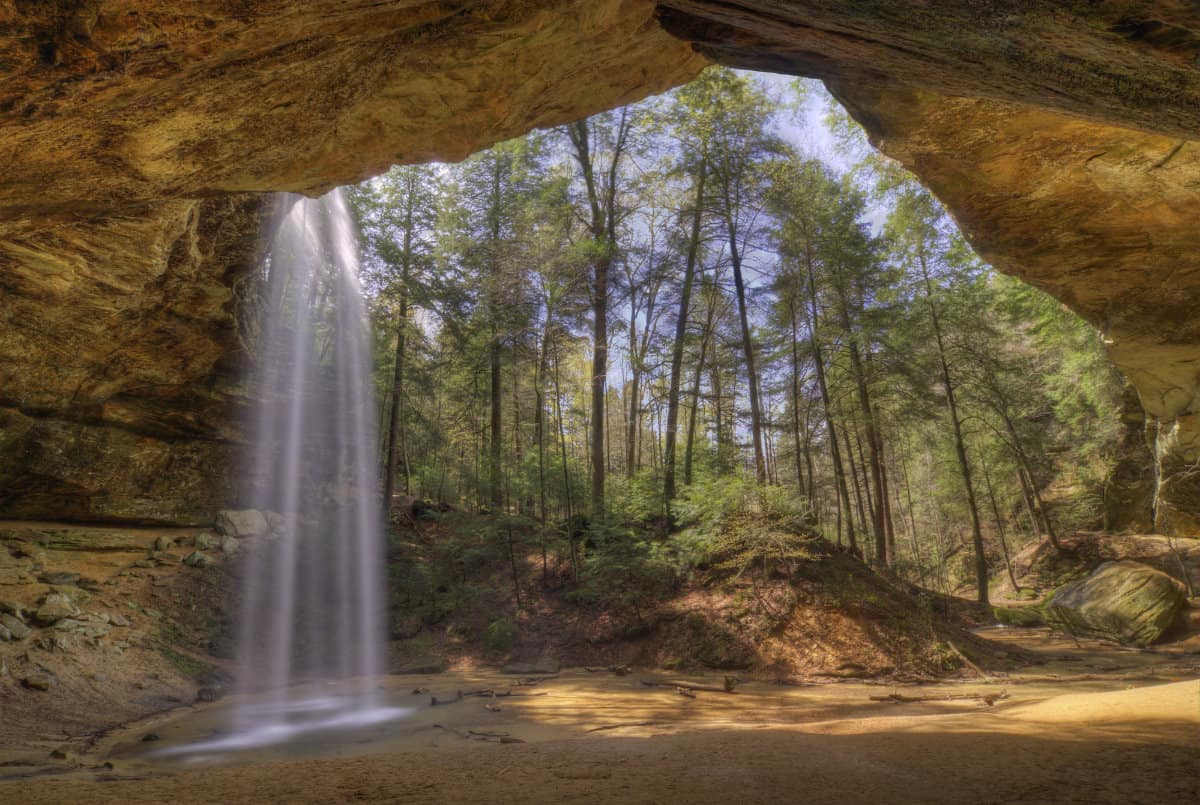 Height: 90 feet
Water Flow: Low, usually only flows in Spring
Park: Hocking Hills
Trail: Ash Cave Trail
This spot may be known for its cave (for obvious reasons), but the real cherry on top is the waterfall almost right in its center.
Ash Cave is a recessed cave with a 700 foot rim rising almost 90 feet high, making it the largest of its kind in this part of the country. Throwing a waterfall into the mix makes it truly one of a kind.
And even better? According to this website, the trail and restrooms are wheelchair accessible.
Learn more about Ash Cave and tips for visiting here.
---
The Grotto
Yellow Springs, Ohio
Height: <10 feet
Water Flow: Light
Park: Glen Helen Nature Preserve
Trail: Inman Trail
It doesn't take much to convince me to visit Yellow Springs, and the Yellow Spring itself is one of my favorite reasons to make the trip. The Spring used to be known for its "healing waters" and can be found on the Inman Trail.
Nearby, you can find a smaller waterfall called the Grotto. Although the falls are only about 7 feet high, there's a small hidden cave behind it where you can go inside and enjoy the view from a different angle.
Visit the Glen Helen Nature Preserve website for more information about the Yellow Spring, the Grotto, and other cool things the park has to offer.
---
Charleston Falls
Tipp City, Ohio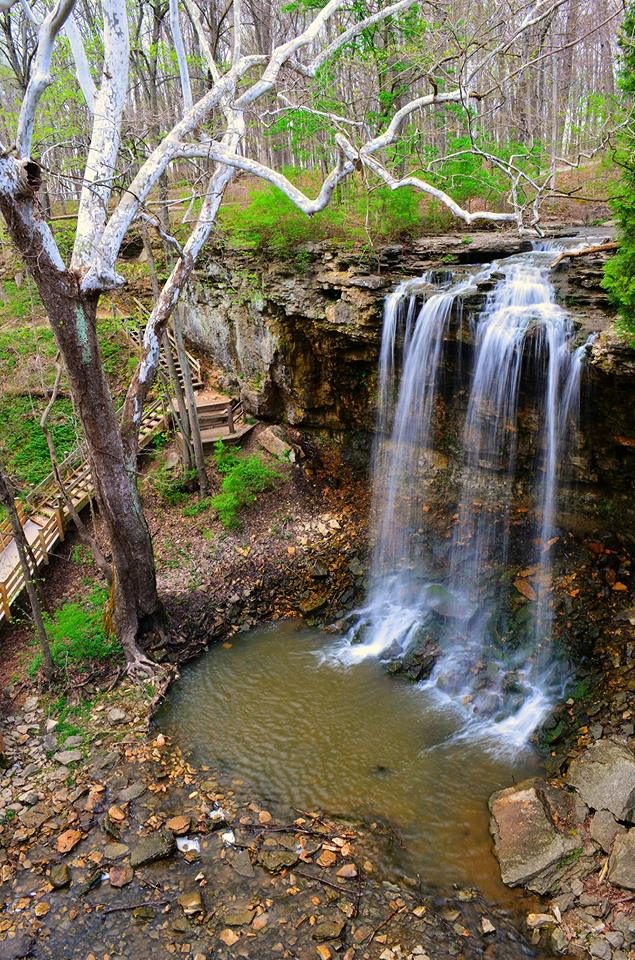 Height: 37 feet
Water Flow: Light, may dry up during Summer
Park: Charleston Falls Nature Preserve
Trail: Loop Trail
Just when I thought I'd have to stick around Hocking Hills to find waterfalls in Ohio, I discovered Charleston Falls.
At 37 feet high, these falls are some of the most impressive on our list. Some even call them a "Miniature Niagara" due to its similar rock formations. Water begins in an underground spring, then travels a few miles and down the falls before joining up with the Great Miami River.
Charleston Falls Preserve is a little over an hour's drive north from downtown Cincinnati.
Visit the park's website here for information about the park's trails and where to find the falls.
---
Amphitheater Falls
Yellow Springs, Ohio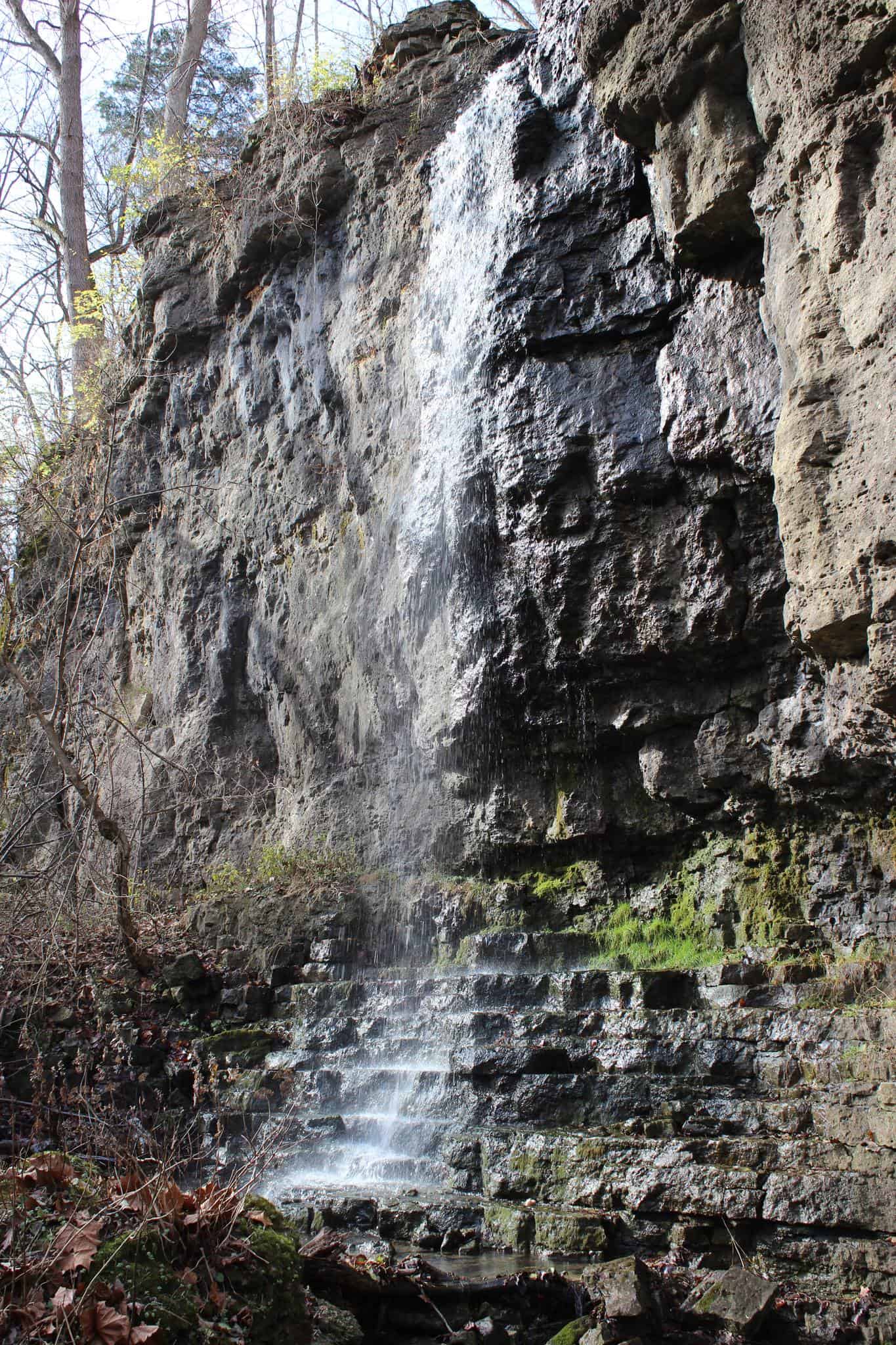 Height: 25 feet
Water Flow: Light, may dry up during Summer
Park: Clifton Gorge State Nature Preserve
Trail: Gorge Trail
Another reason to make the trip up to Yellow Springs! These waterfalls in Ohio are about about 25 feet high, making them another one of the taller falls on our list.
Amphitheater Falls is located at the Clifton Gorge State Nature Preserve. Take the Gorge Trail out and enjoy the view from a wooden observation trail.
Warning before you head out: some have indicated that these falls may dry up during the summer. But trust us, Clifton Gorge has plenty of other scenic views to make it worth the trip.
Here's some park tips from an Ohio adventuring website.
---
Ludlow Falls
Ludlow Falls, Ohio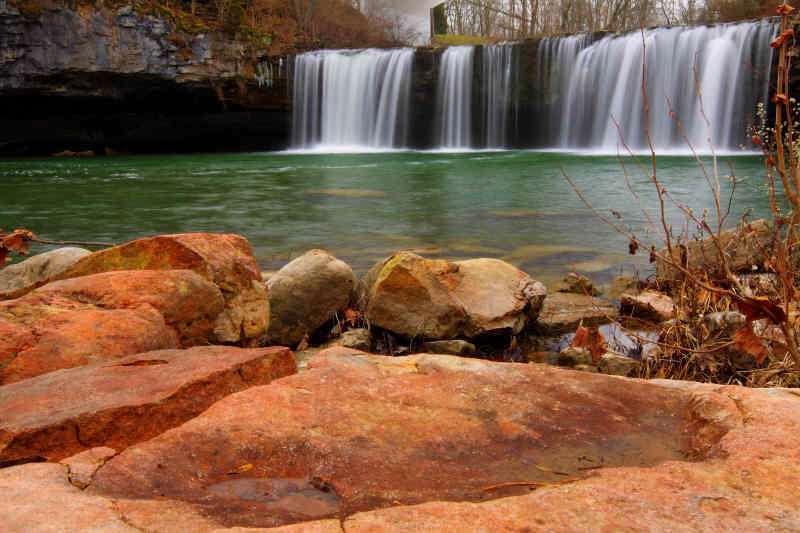 Height: 15 feet
Water Flow: Moderate
Park: None
Trail: None
If you're wondering if these falls are going to be impressive, let me just point out they have an entire city named after them!
The crest of this waterfall gives Ludlow Falls its own unique stage that you can't find many other places in the state. While it may be shorter than some of the other Ohio waterfalls at 15 feet high, the falls are pretty wide when there is a strong water flow.
Please note these falls aren't located in a park or preserve like the others on our list. Check out this waterfalling site for tips on visiting the Ludlow Falls from a visitor's point of view.
---
Hayden Falls
Dublin, Ohio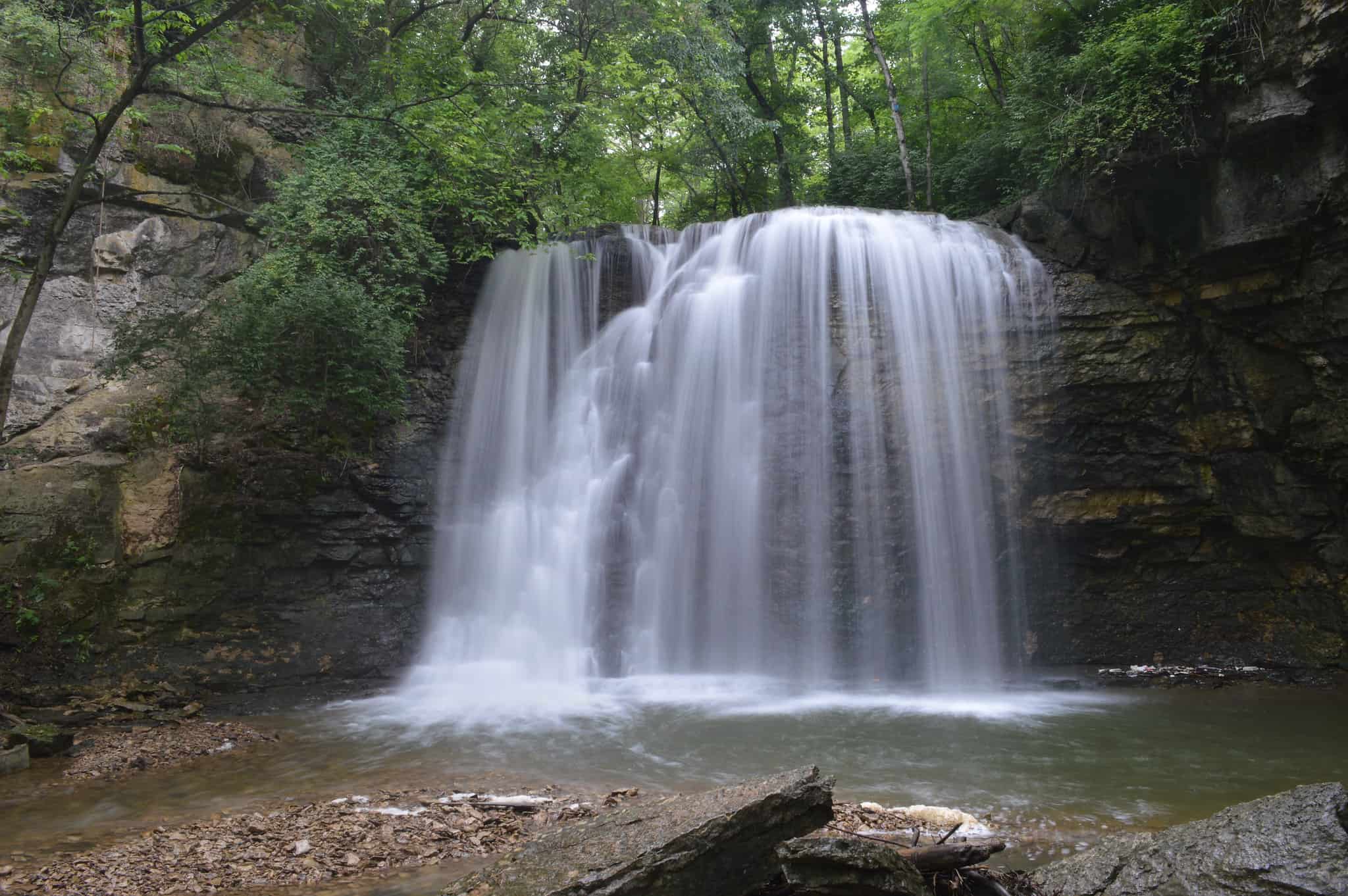 Height: 35 feet
Water Flow: Varies
Park: Hayden Falls Park (sign says Grigg Reservoir)
Trail: Yes, boardwalk from the parking lot (includes steps)
This hidden gem is one of the only waterfalls in the Columbus, Ohio area.
The best time to visit is after a rainfall, when the waterfall's crest is 30 feet wide (it can shrink to less than 10 feet other times).
Take the steps (~50) lead to a wooden boardwalk and observation deck, which gives visitors a great view of the falls while protecting the park's endangered plants.
Website
---
Indian Run Falls
Dublin, Ohio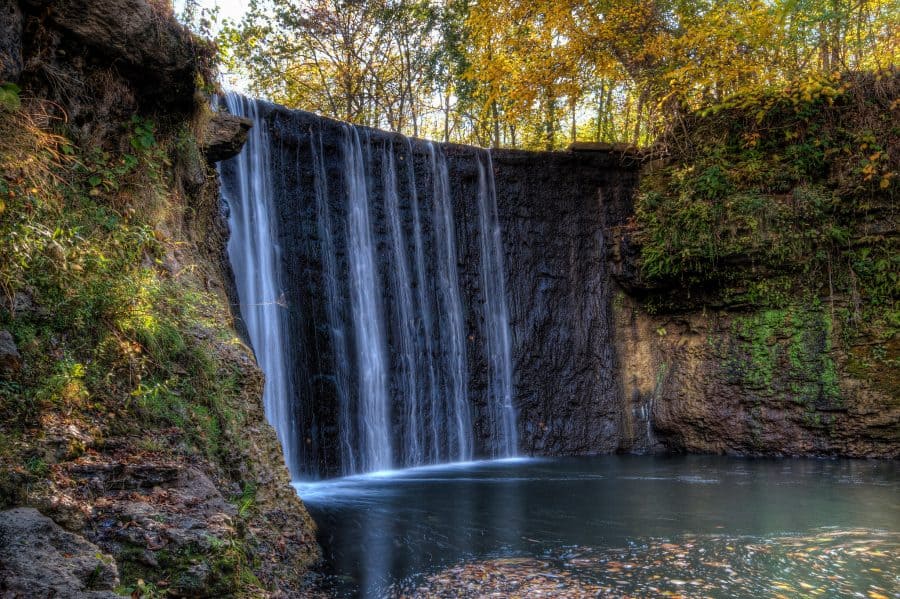 Height: ~15 feet
Water Flow: Light to Moderate
Park: Indian Run Falls Park
Trail: Yes, Boardwalk
Indian Run Falls is one of Dublin's best kept secrets.
Tucked away in historic Dublin, you'll find the falls with several observation decks. A bit further upstream you'll find some beautiful cascades that flow down into the waterfall. This is definitely a great addition to the waterfalls in Ohio list!
---
Big & Little Lyons Falls
Loudonville, Ohio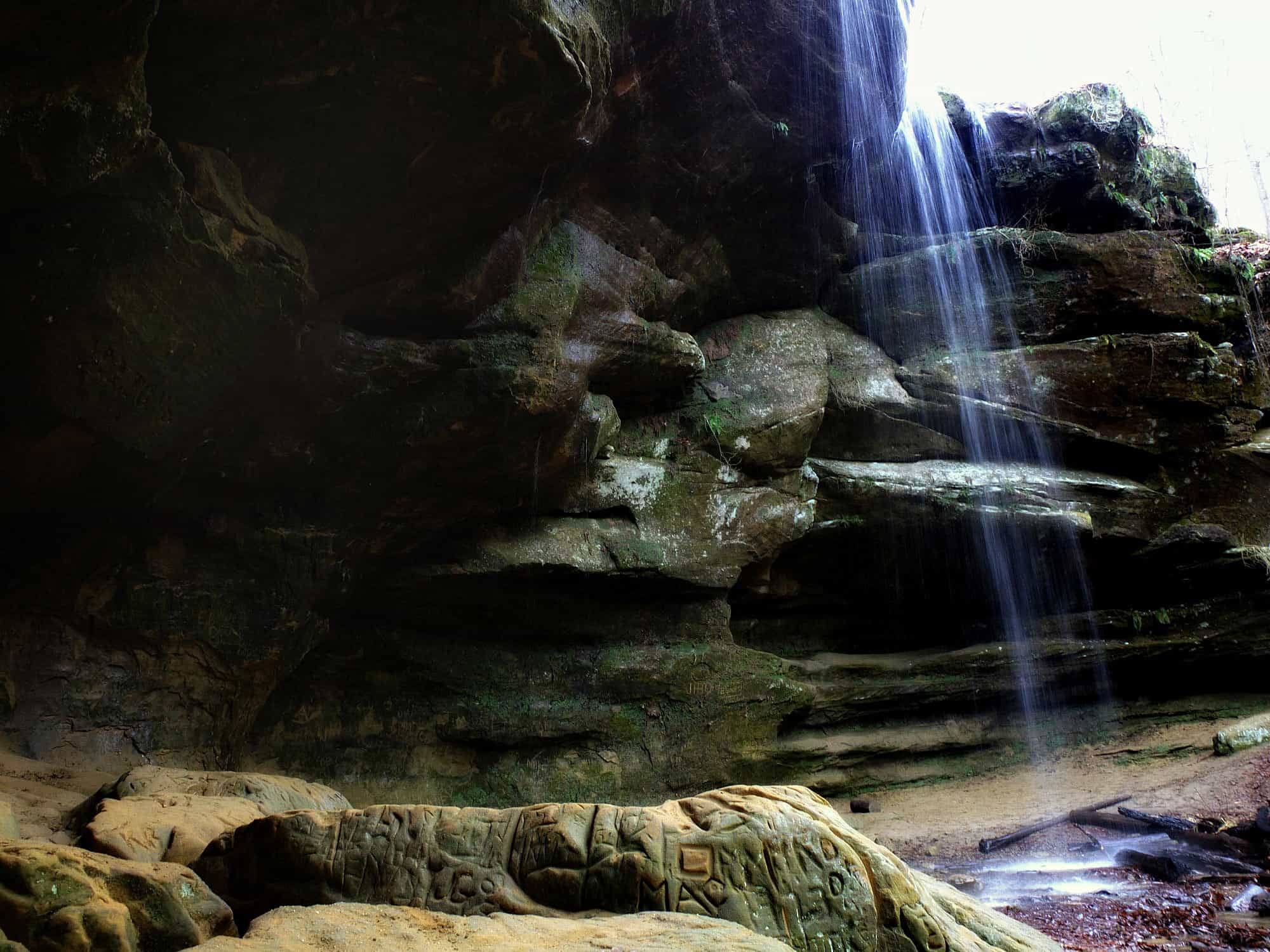 Height: 80 feet (Big), 25 feet (Little)
Water Flow: Light
Park: Mohican State Park
Trail: Lyons Falls Trail
Double the fun with this Mohican State Park set of waterfalls in Ohio!
Big Lyons Falls is a tall, low-flow waterfall flowing over a recessed cave. Although the water flow is light, the height and surrounding cave makes for impressive views.
The Little falls are located farther along the trail. Although Little Lyons Falls are much smaller, it's still worth it in my book to get to see two waterfalls within one hike!
---
Brandywine Falls
Sagamore Hills, Ohio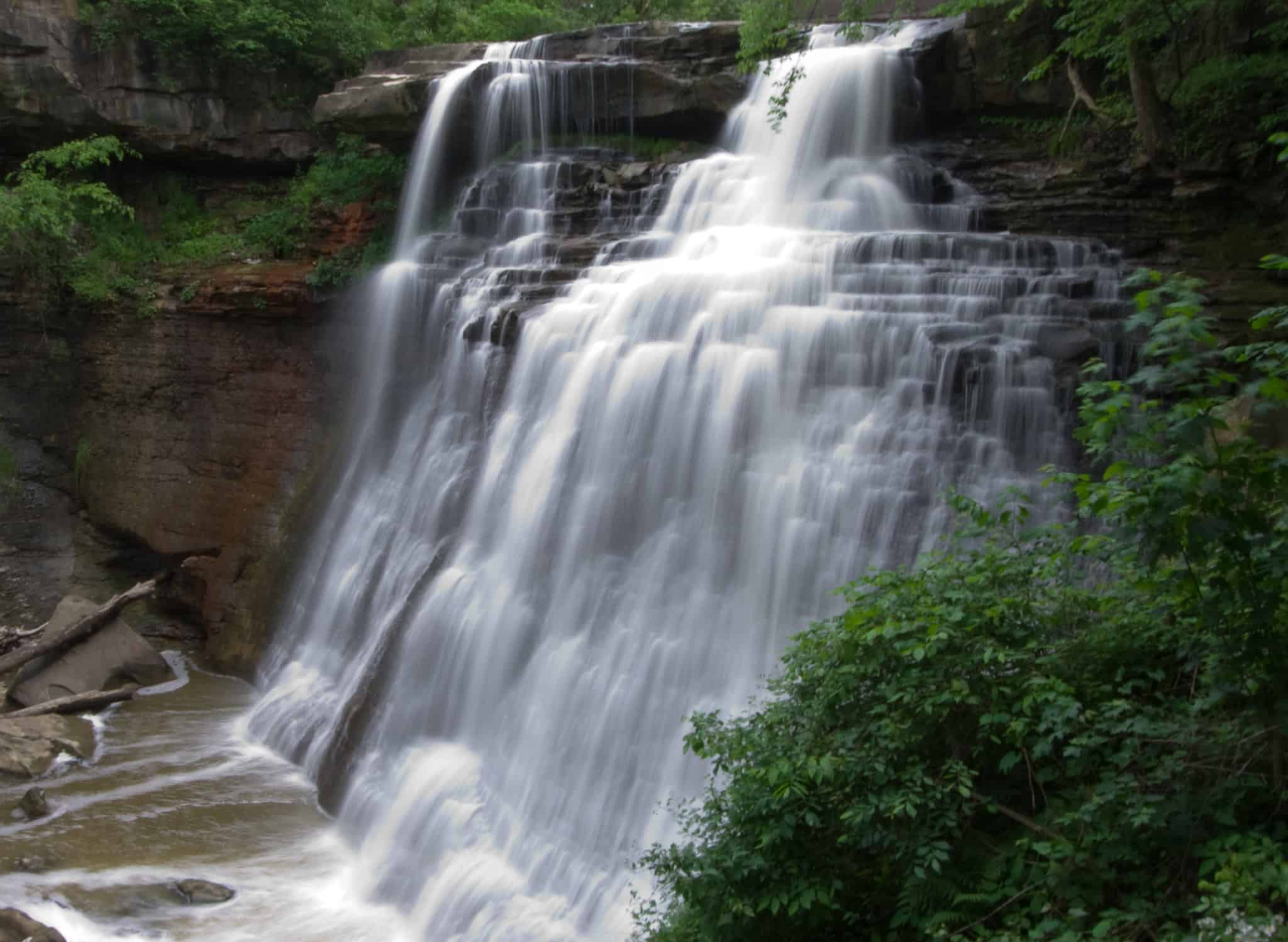 Height: 60 feet
Water Flow: Light to Heavy
Park: Cuyahoga Valley National Park
Trail: Brandywine Gorge Trail
This waterfall is one of the greats in Ohio. The falls are especially impressive during Spring and Fall. Plan your trip early or later in the afternoon; as one of the most popular spots at Cuyahoga National Park, parking spots can be hard to find between 10 AM – 2 PM.
---
Lanterman's Falls
Youngstown, Ohio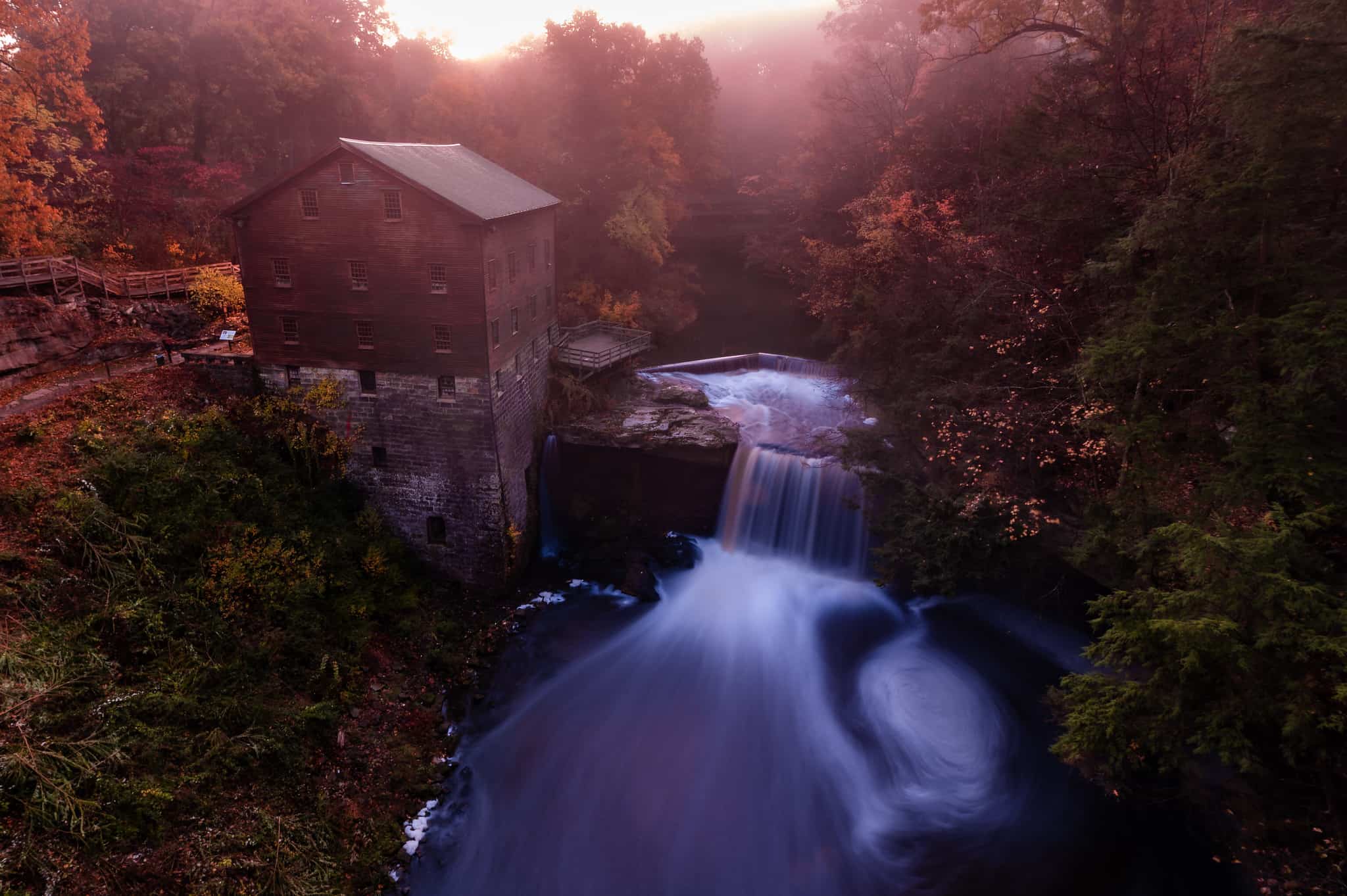 Height: ~15 feet
Water Flow: Moderate
Park: Mill Creek Park
Trail: Lanterman's Mill Trail
Most are drawn to Lanterman's Mill to visit the pioneer-era meal and flour mill. But right next door, you'll find the waterfall that started it all.
You can see the falls from an overlook near the parking area, but if you're in the mood for a hike you can also hop on a trail to see alternate views of the falls and other parts of the gorge.
The mill still operates today! Visit the gift shop where you can purchase fresh stone-ground cornmeal, buckwheat, and whole wheat flour to take home with you.
---
West Falls of the Black River
Elyria, Ohio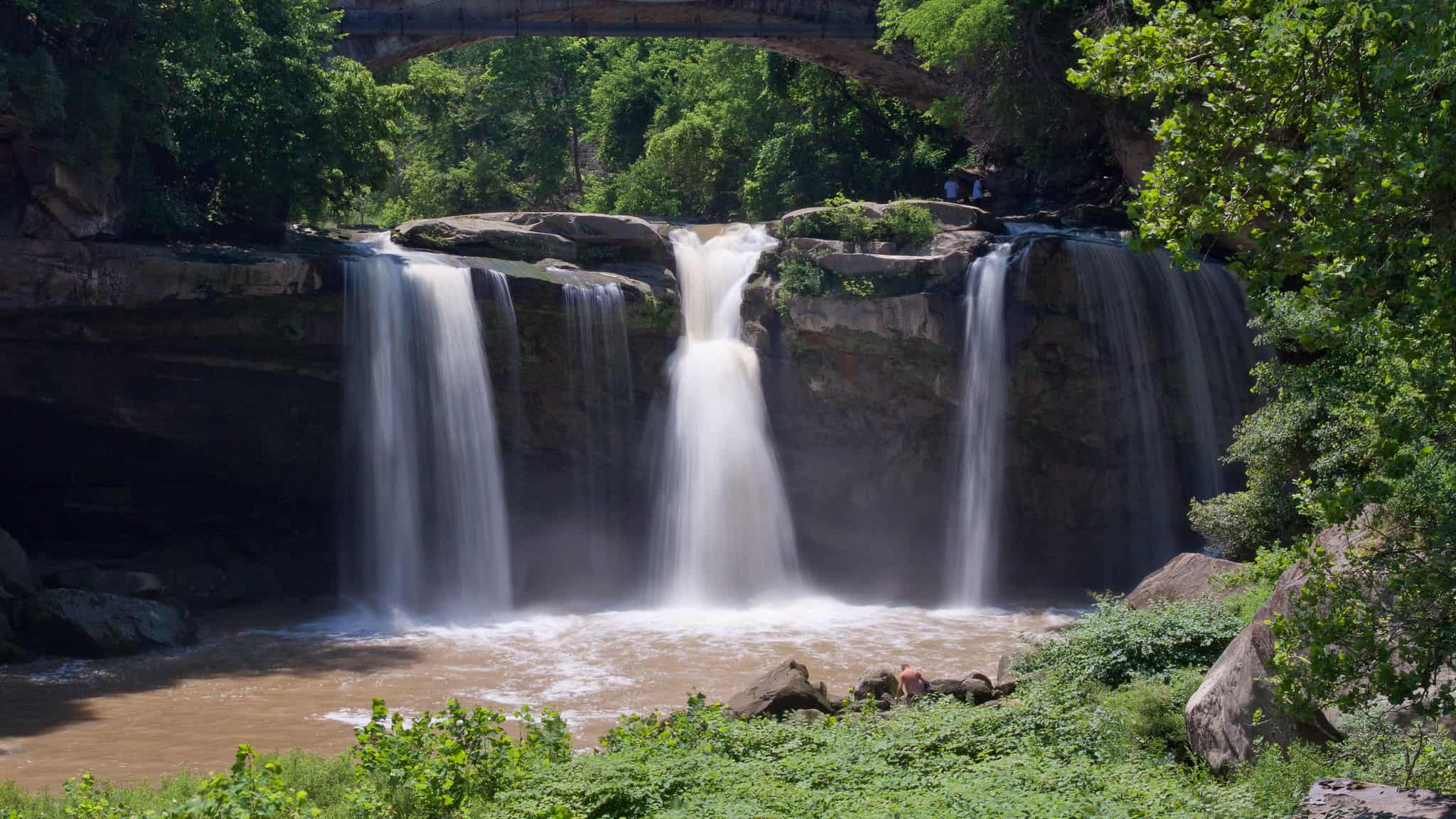 Height: 35 feet
Water Flow: Moderate
Park: Cascade Park
Trail: Yes, via asphalt trails from main entrance parking lot
West Falls is a great spot to bring the younger waterfall adventurers.
You can see the falls via an asphalt trail (which also connects the park's two playgrounds), or opt for a more natural view from the park's dirt trails.
Bonus: take the connecting trail to the smaller East Falls to see two waterfalls in one day-hike!
---
If you can't get enough from these waterfalls in Ohio, here are more waterfalls to check out in Kentucky and Indiana:
Clifty Falls
Clifty Falls State Park (Website)
Madison, Indiana
80 miles from downtown Cincinnati
Creation Falls
Red River Gorge, Rock Bridge Trail
Campton, Kentucky
150 miles from downtown Cincinnati
Cumberland Falls
Cumberland Falls State Resort Park (Website)
Corbin, Kentucky
190 miles from downtown Cincinnati
Eagle Falls
Cumberland Falls State Resort Park (Website)
Corbin, Kentucky
190 miles from downtown Cincinnati