Readers rejoice! We have a number of great independent bookstores in Cincinnati!
Going into a local bookstore has always been one of my favorite past times. There's just something magical about walking down a bookstore aisle, browsing the pristine covers and looking for a great new read. Whether it's a cookbook or a work of fiction or a special sale book rack…. it's a wonderful feeling to open the pages of a book!
And local bookstores have heart! Do you need some help finding just the right book? Or maybe you're in search of something to add to your collection of first edition rare books? The staff at these shops are there to help you!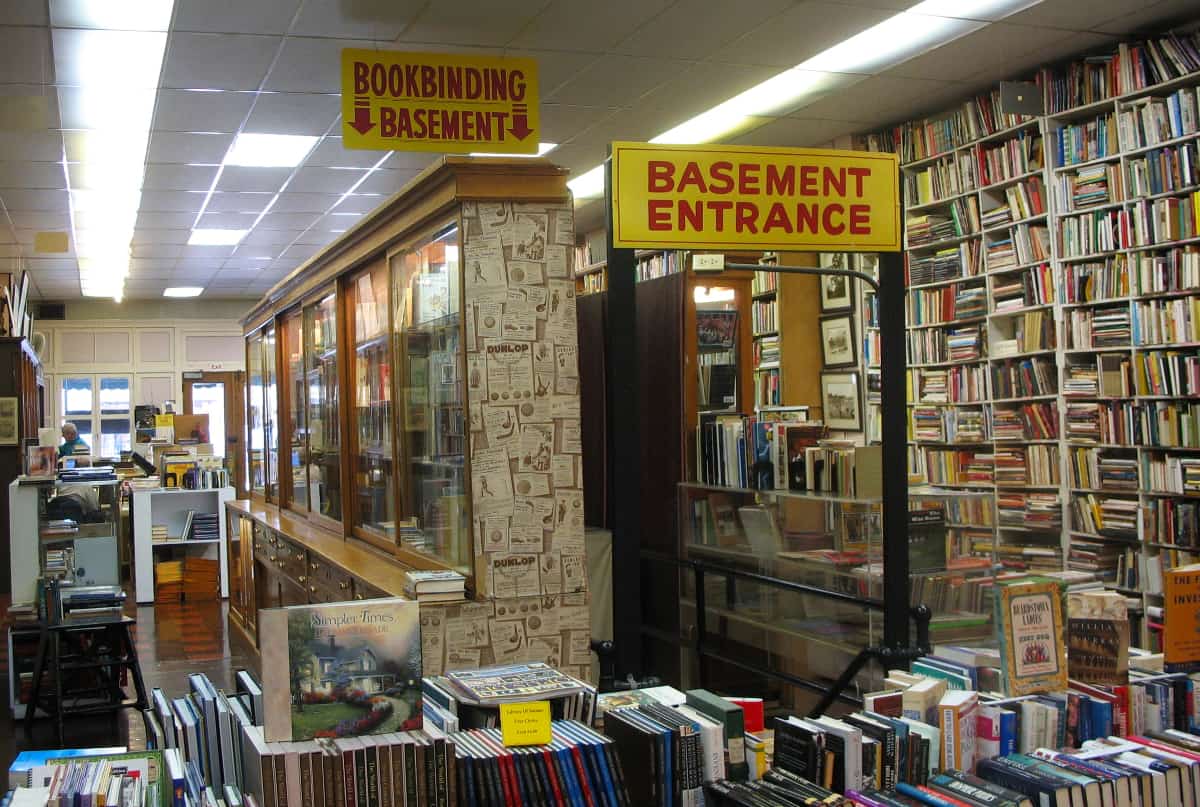 I live in Cincinnati, I am an avid reader, and I love nothing better than a good bookstore.
So I thought it would be fitting to share my favorites here. Some small, some large, some new, some used… all offering great titles!
The Best Independent Bookstores in Cincinnati
Ohio Book Store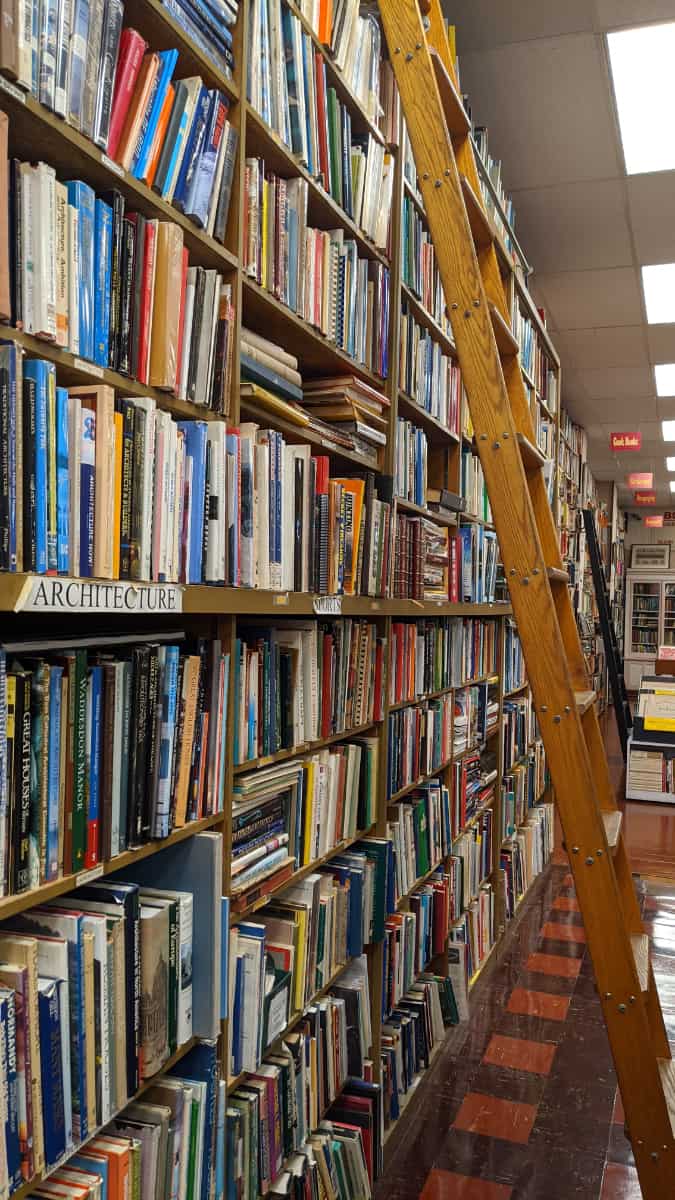 One of my personal favorites, the Ohio Bookstore is a hidden gem in Cincinnati. You'll find aisle after aisle of books and stacks upon stacks that span five floors. It's the perfect place to go and spend an afternoon. You never know what you'll find! They have all kinds of books, old magazines, comic books, Cincinnati history books, reprints, rare books… if you can't find it here, they'll know where to get it!
Jim and Michael run the book binding and restoration shop that's located in the lower level. They are two of the nicest guys you'll meet. The book binding and restoration service is one of the only ones left in the area. If you have any family heirlooms in need of repair – this is the place to take them.
726 Main Street (downtown), Cincinnati, Ohio 45202
Website
Joseph-Beth Booksellers
Joseph-Beth is a spacious shop with all sorts of books and magazines. Hungry? Enjoy a meal or a drink at their Bronte Bistro (yum!). Looking for an unusual gift? This is a great place to shop, especially if you're looking for something from local makers. The children's books section is huge and includes books, games, toys, soft goods, and more. This is truly a one-stop shop for anything literary!
2692 Madison Rd., Cincinnati, Ohio 45208
Website
Roebling Books and Coffee, independent bookstore with 3 locations
Covington's Roebling Point Books has grown into a wonderful community of bookshops, now with three northern Kentucky locations. Stop in to chat with their friendly staff, browse the great selection of books, and enjoy a cup of Seven Hills coffee. Coming soon – eats from Lil's Kitchen!
Covington: 306 Greenup St.
Newport: 601 Overton St.
Dayton: 301 6th Ave.
Website
Iris Book Cafe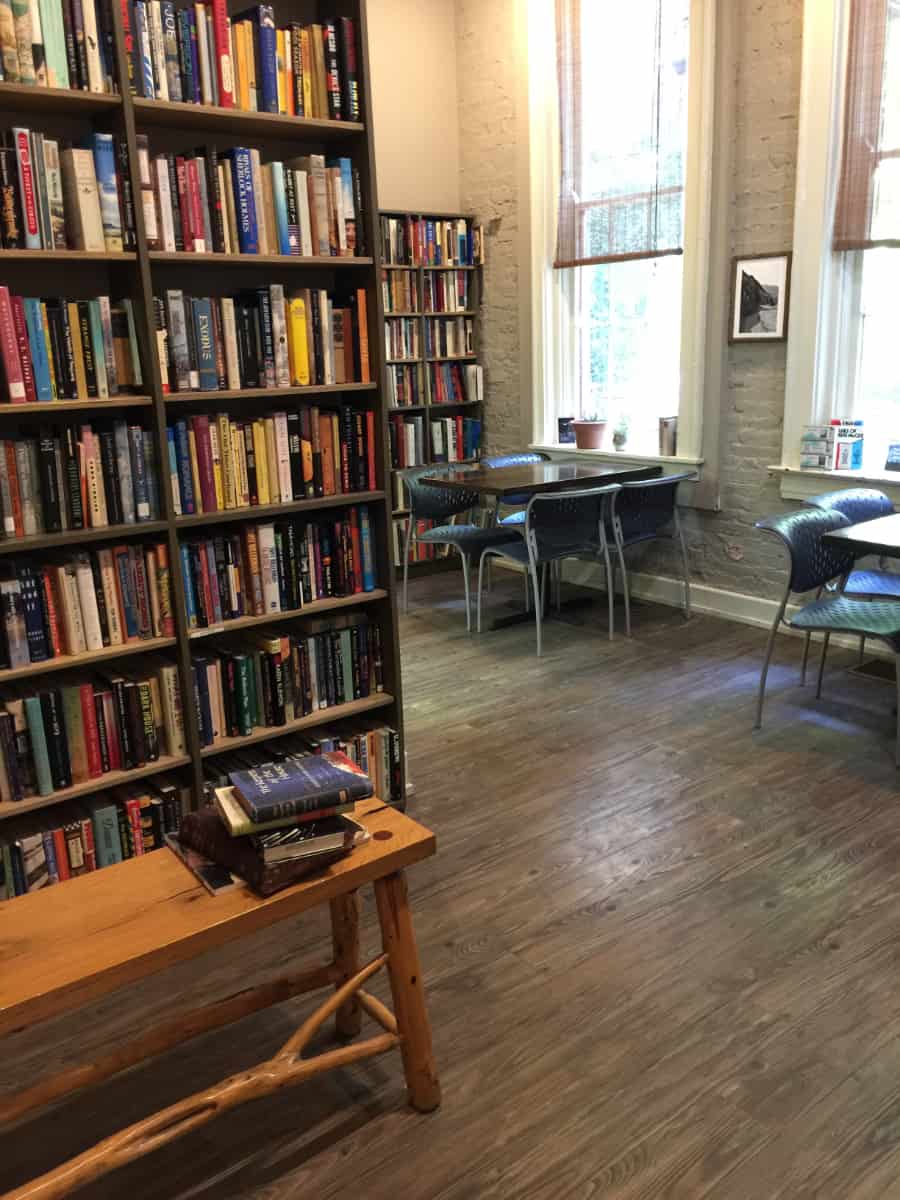 Another hidden bookstore gem in the Queen City, the Iris Cafe looks like a coffee shop as you enter. But if you go beyond the coffee counter, you'll find that this local independent bookstore is made up of a maze of book stacks, complete with benches for your browsing enjoyment. I highly recommend wandering all the way to the back and exiting out onto their secluded courtyard when the weather allows. It's charming!
1331 Main Street, Cincinnati, Ohio 45202
Facebook page
The Book Bus Depot and The Cincy Bookbus, a Bookstore on Wheels!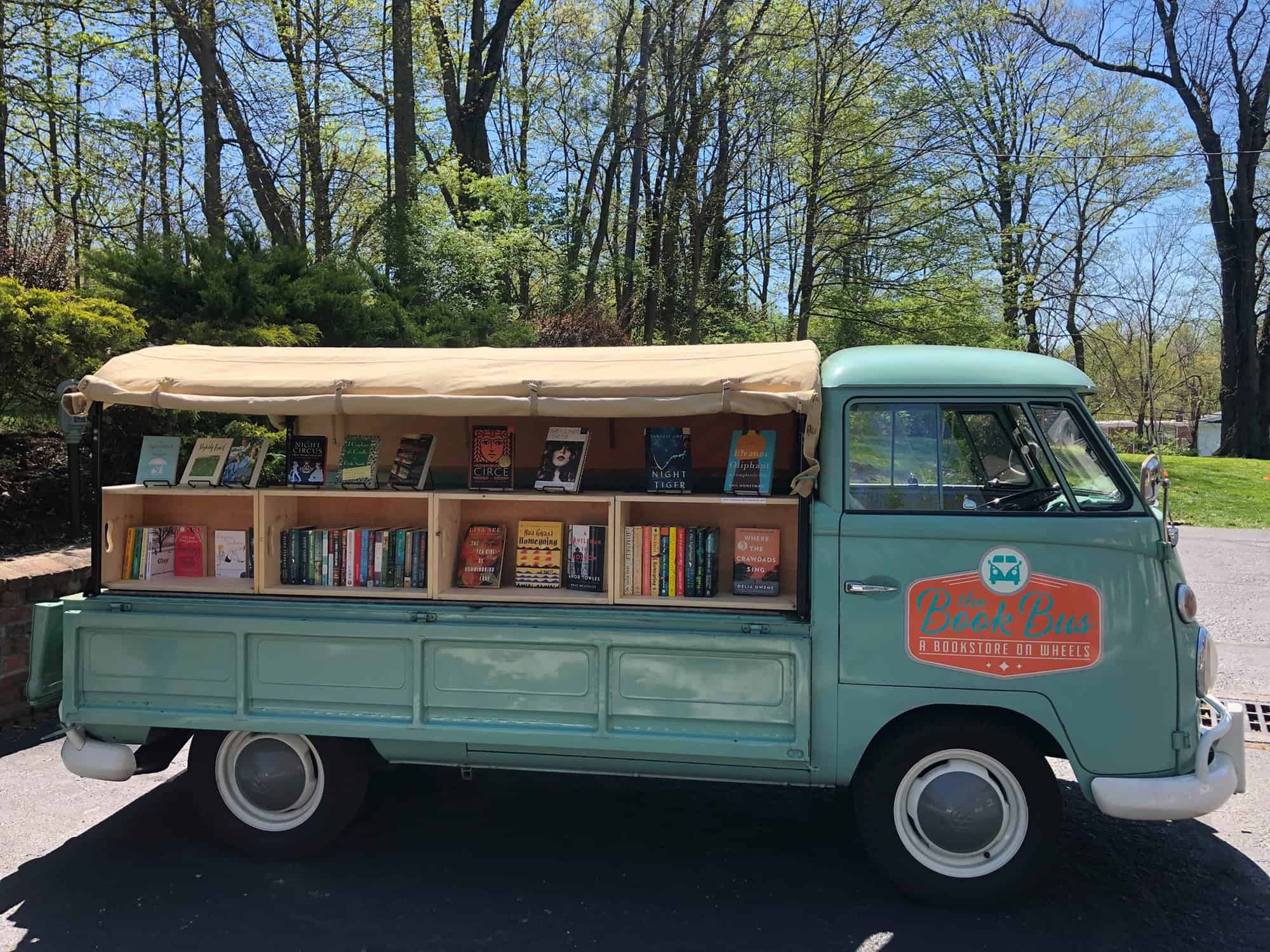 The Cincy Bookbus is redefining the idea of a bookstore. This locally owned business takes their books to the streets with their charming Book Bus. A bookstore on wheels, you'll be happy to see the 1962 Volkwagon pickup truck pull up to your favorite venue! Shop directly from the bus, chat with fellow book lovers, and support our local neighborhoods. Profits from The Book Bus are used to buy children's books for schools in low-income areas, to help build classroom libraries, and give students the opportunity to experience the joy of reading for themselves.
And they now have The Book Bus Depot where you can gather, shop, read, or attend a fun event. Book groups – it would be a great meeting spot!!! Look for book discussions, yoga, and more!
The Book Bus Depot is at 10936 Reading Rd., Sharonville, Ohio 45241
Website
The Friends of the Public Library Used Bookstore at the Warehouse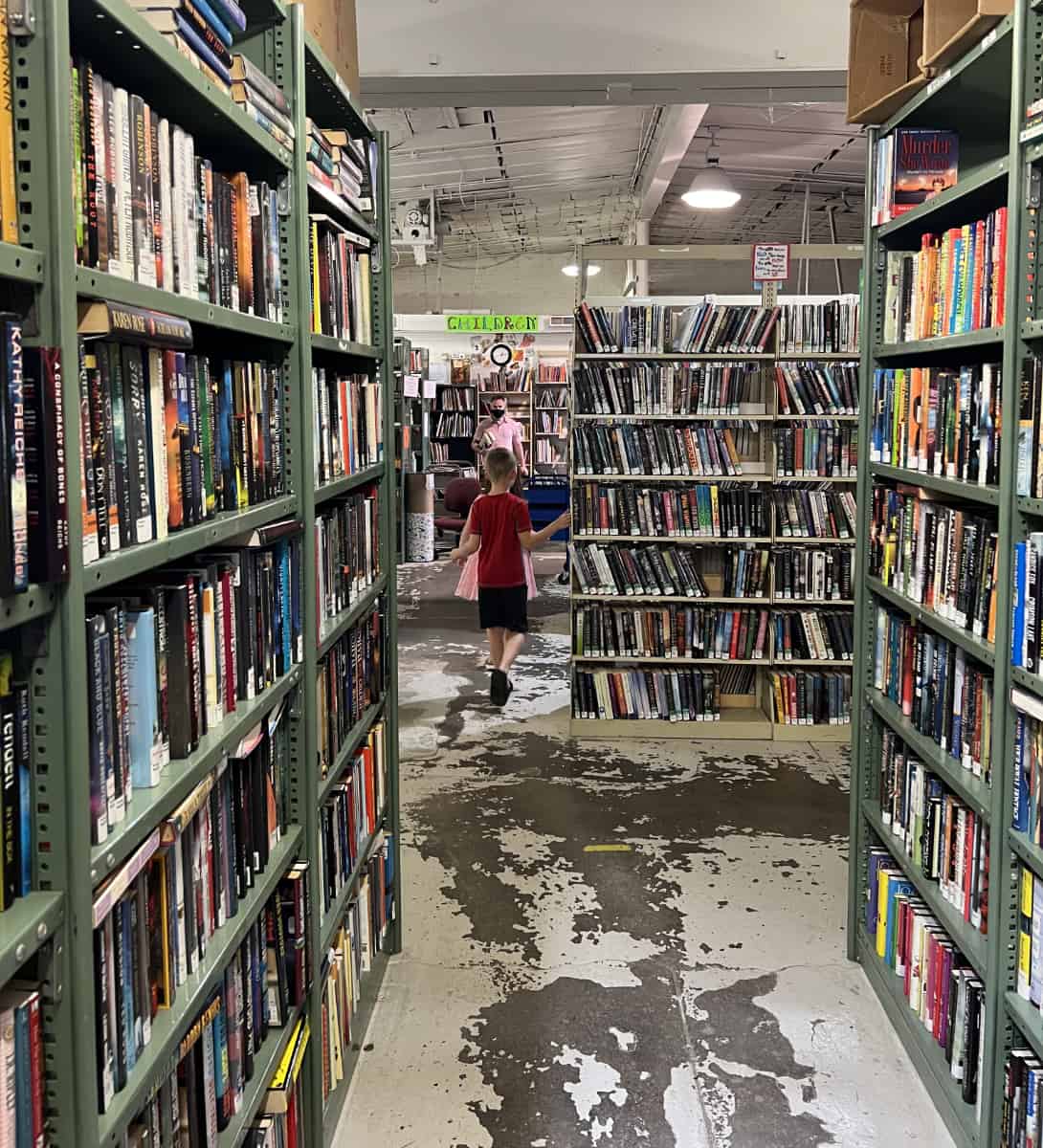 Located in an unassuming spot in Hartwell (just south of Wyoming, Ohio), you'll this gem of a used bookstore! The Friends of the Public Library of Cincinnati and Hamilton County operates the Friends Used Book Warehouse, a place to shop for all kinds of used books while supporting your Library at the same time. I've found all sorts of great books here and you simply can't beat the price! Put this spot on your must visit list – it's HUGE!
8456 Vine Street, Cincinnati, Ohio 45216
Website
The Bookshelf
If you're looking for a charming little out-of-the-way bookstore, check out The Bookshelf. Forget the big box stores and head to this friendly neighborhood spot for a wonderful bookworm experience. You'll find them tucked away in a corner of Madeira, a fitting spot for a booklover!
7754 Camargo Rd., Cincinnati, Ohio 45243
Website
Downbound Books
Founded in 2019 with a goal of being an old-fashioned neighborhood bookstore for Northside, this spot is a wonderful addition to the community. They make the most of their space (500 square feet) by offering you things other than the current bestsellers; you can find those everywhere! This is a place to find a hidden gem! They strive to offer books, ideas, and authors that aren't always so easy to discover elsewhere.
4139 Apple St., Cincinnati, Ohio 45223
Website
The Tome Bookstore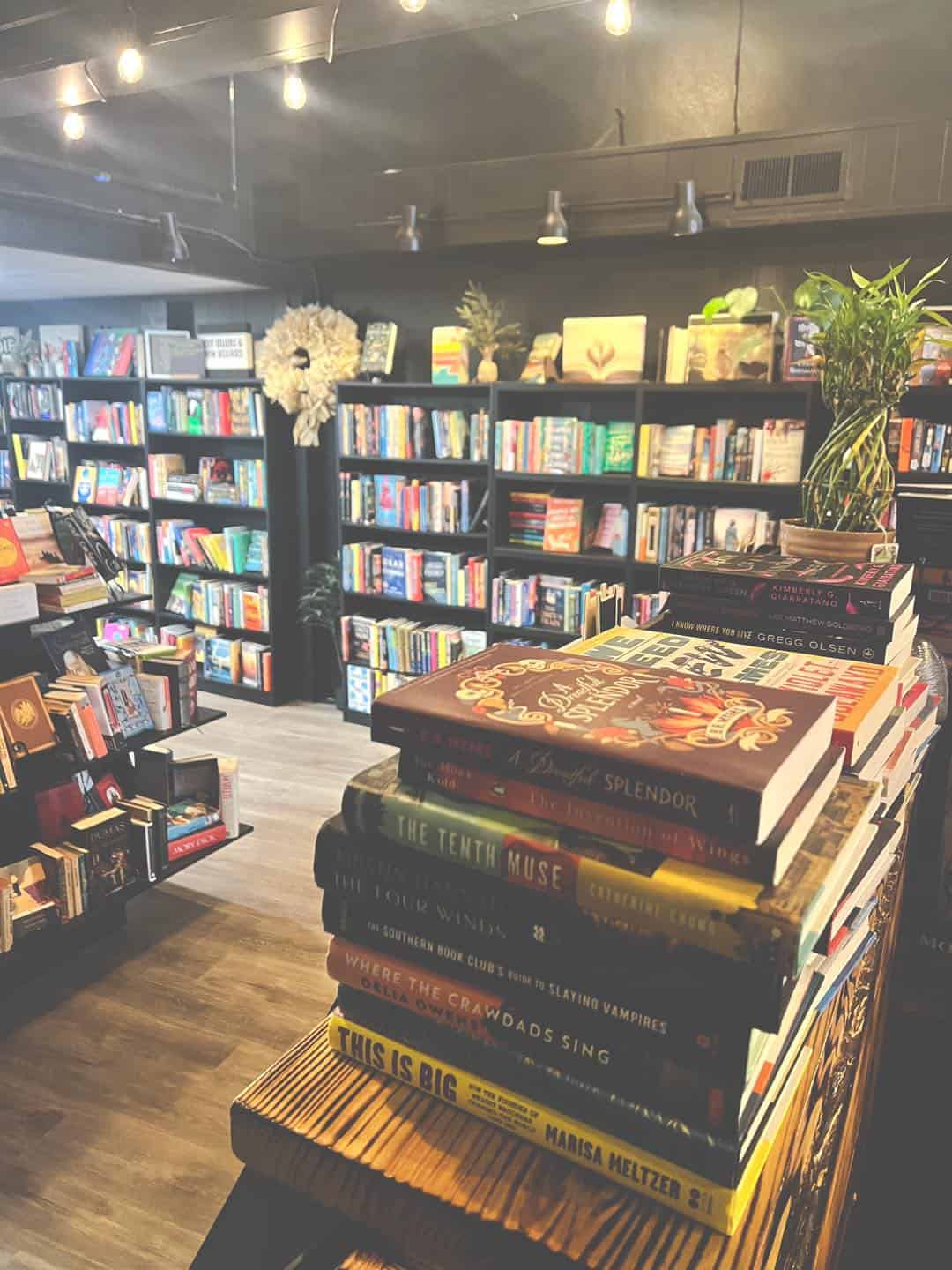 New to the list of bookstores in Cincinnati, the Tome Bookstore can be found in downtown Mt. Washington. This is a unique little spot has an eclectic mix of great books, sci-fi art, coffee, and greenery! Owner J.M. Clark, a local best-selling science fiction author, likes nothing more than to share his love of books and knowledge of creation with his guests.
2123 Beechmont Ave., Cincinnati, Ohio 45230
Website
Blue Marble Books
Blue Marble Books is one of the last children's independent bookstores in our area (sad but true). They stock more than 20,000 title plus plush animals, puppers, educational toys, book character clothing, and more. Don't miss the Goodnight Moon room!
1356 S. Ft. Thomas Ave., Ft. Thomas, Ky 41075
Website