I recently had the pleasure of spending a few days in Columbus, Ohio. We decided to take a few days off and visit a new city as a new "Tank of Gas Trip". We ventured up to visit both The Columbus Zoo and to explore downtown Columbus.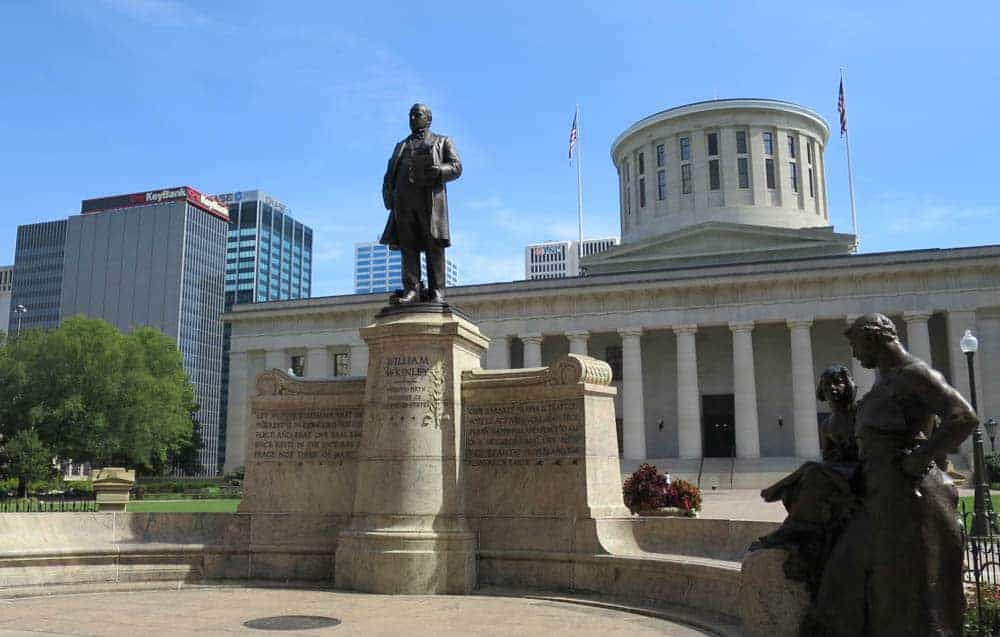 We headed to Columbus for a few days, just for pleasure, and stayed downtown for two nights. I can highly recommend staying downtown, largely due to the fact that this a GREAT walking city. In addition to being able to walk to lots of places, Columbus has a FREE downtown transportation system that will take you up past the Italian Village section and down as far as German Village and their Brewery District.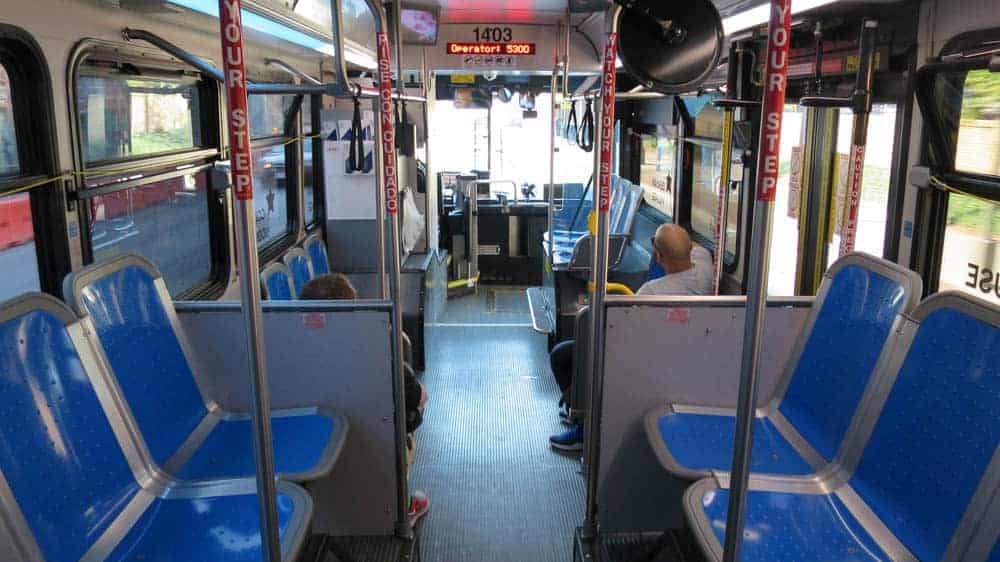 CBUS is Columbus' downtown "Circulator". As I mentioned, this transportation is free. It's on wheels with the look and feel of a smaller city bus. They have stops all around the downtown loop and the bus runs every 15 minutes or so. Stops are marked along the street, similar to a bus stop. You just hop on and off as you choose.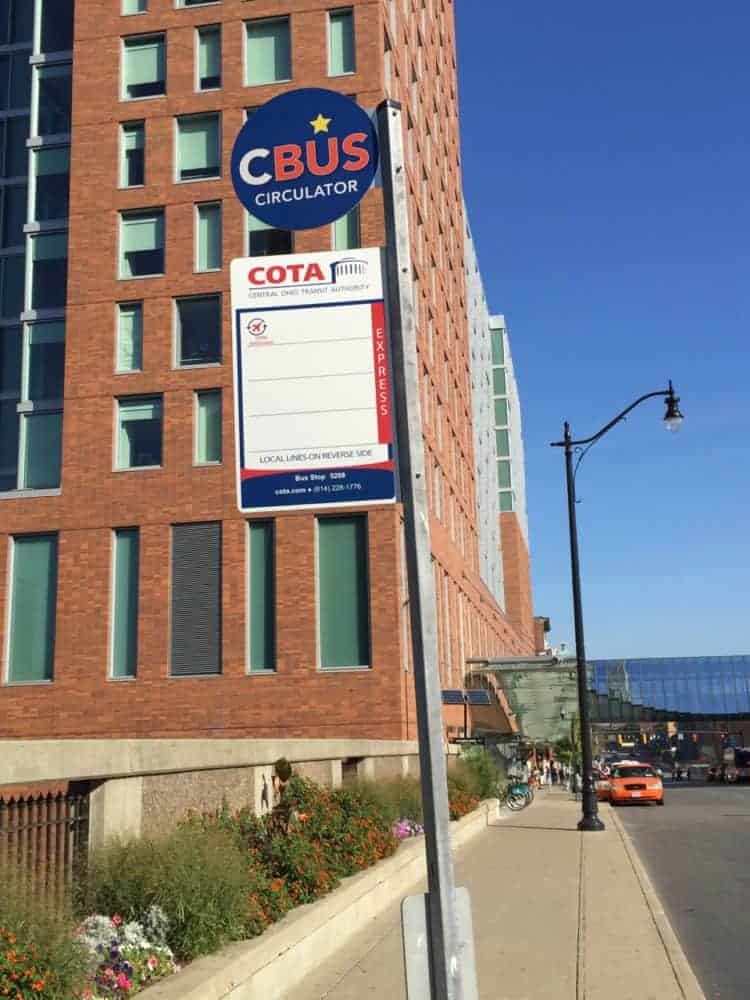 We started our day with a walk from the hotel over to the North Market. This market reminds me of our own Findlay Market.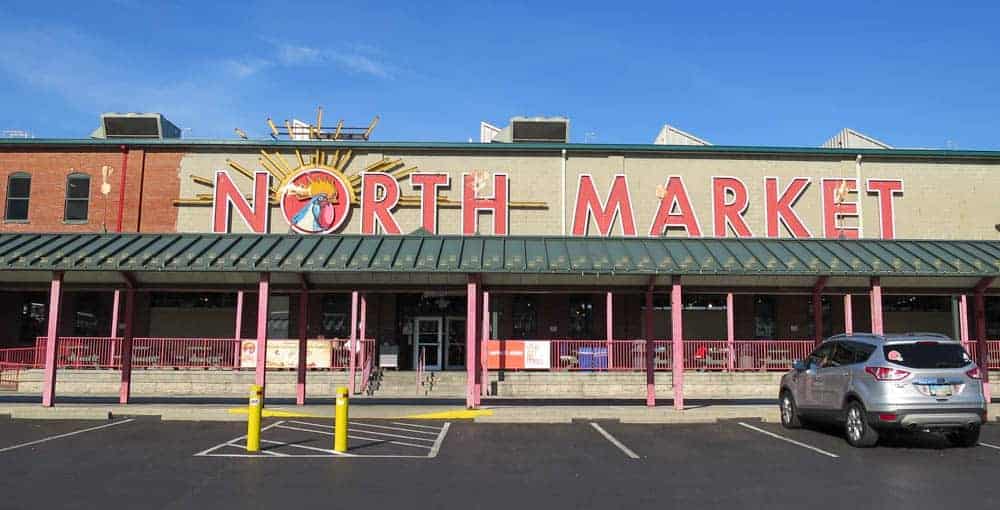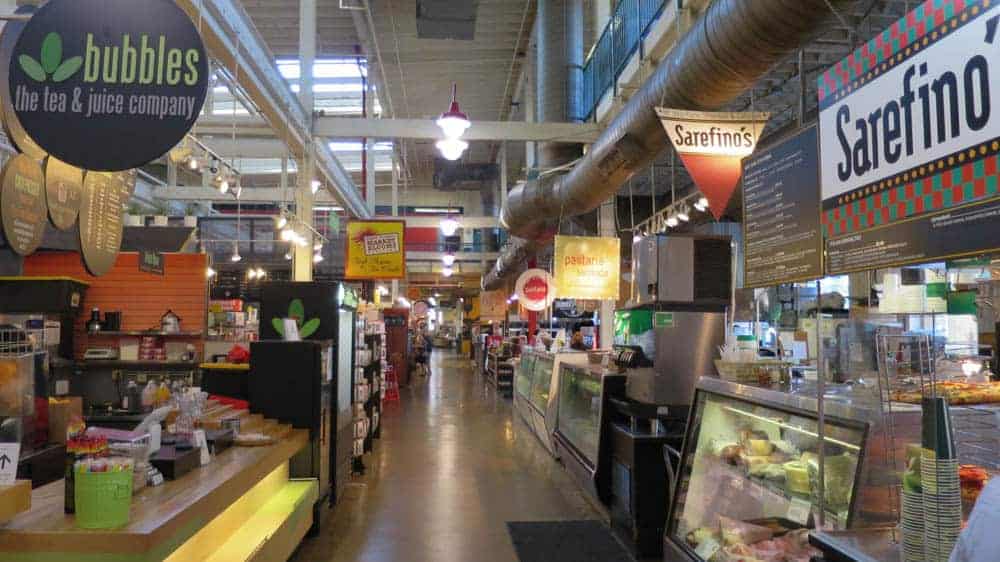 North Market has more than 30 vendors and you can find all kinds of great food and drink inside those doors. North Market has two levels with most of the shops being on the first floor and lots of seating on the second floor. We wandered around on the first level (happy to see our own Taste of Belgium there!) and then headed upstairs for a look.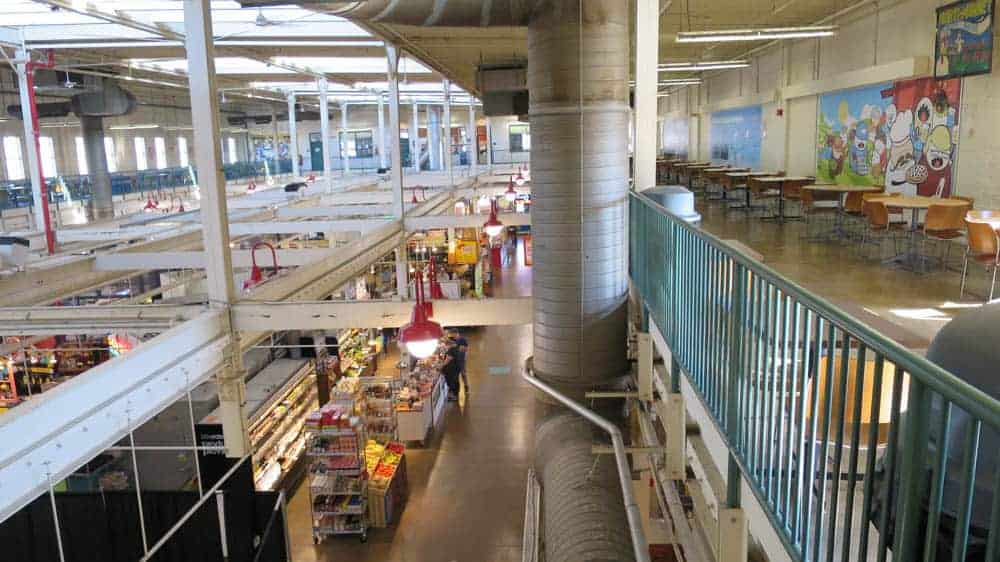 The outer perimeter is all seating and you can look over the rails to the floor below.
The main reason we headed upstair was for this place – Hot Chicken Takeover.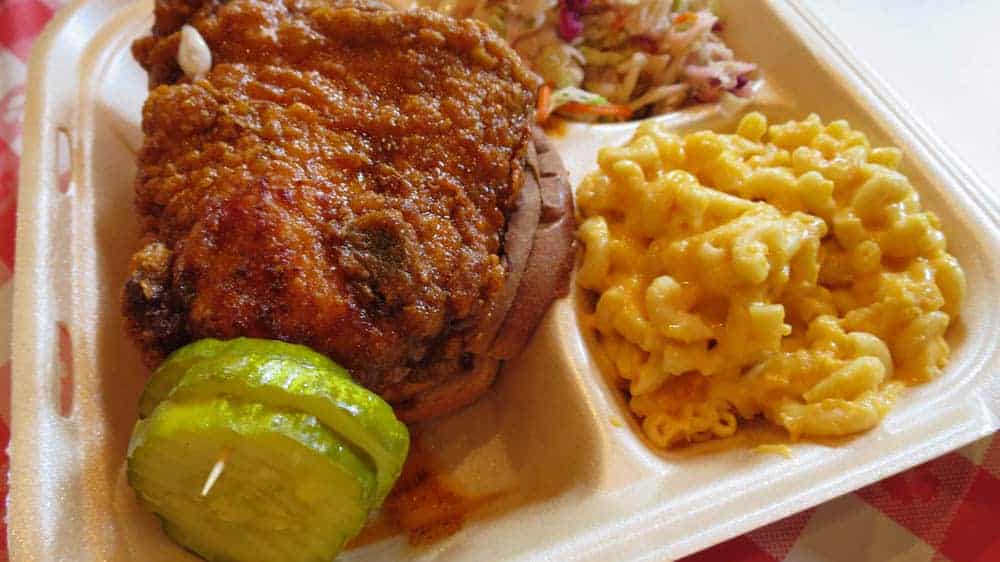 This is fried chicken at its best folks! They serve up "Nashville Hot Chicken rubbed with a cayenne-infused paste" plus fixin's that will leave you full and happy. Choose your meat (leg, breast, boneless, etc.) and your level of heat (cold, warm. hot, or holy!). The House Ranch is free and makes a great dipping sauce. They also offer free iced tea and water – which you will likely need if you order anything other than "cold". Fried chicken lovers be aware – they're only open from 11am – 3pm, Tuesday through Sunday so plan accordingly.
From there we hopped onto the Circulator and rode to one of the southern most stops – German Village. Like Cincinnati's own OTR, this is a community named due to the number of German immigrants who helped establish this part of Columbus in the late 1800's.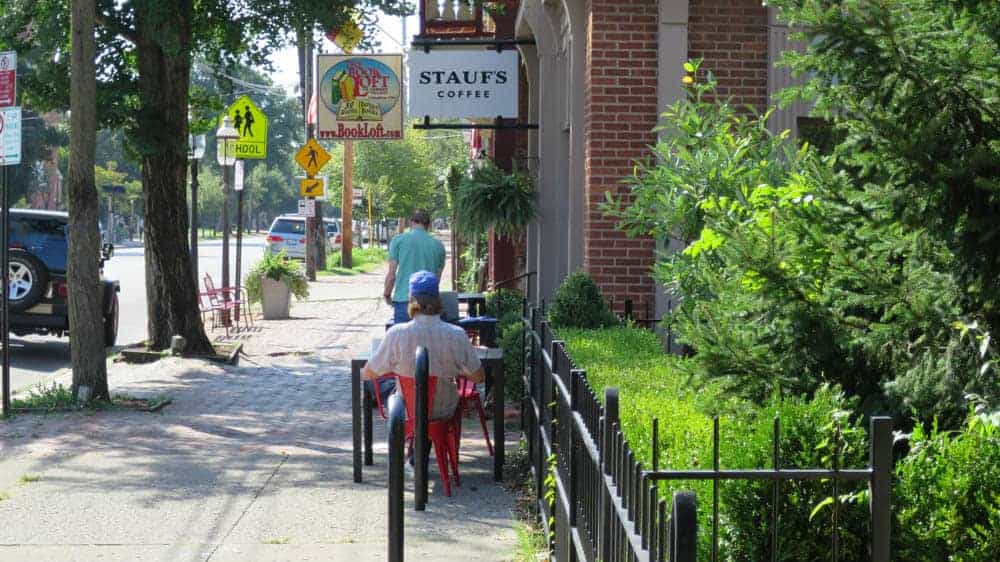 German Village is largely residential but they do have some great little shops and eateries. Our first stop was at Pistachia Vera, a "pastry kitchen and cafe".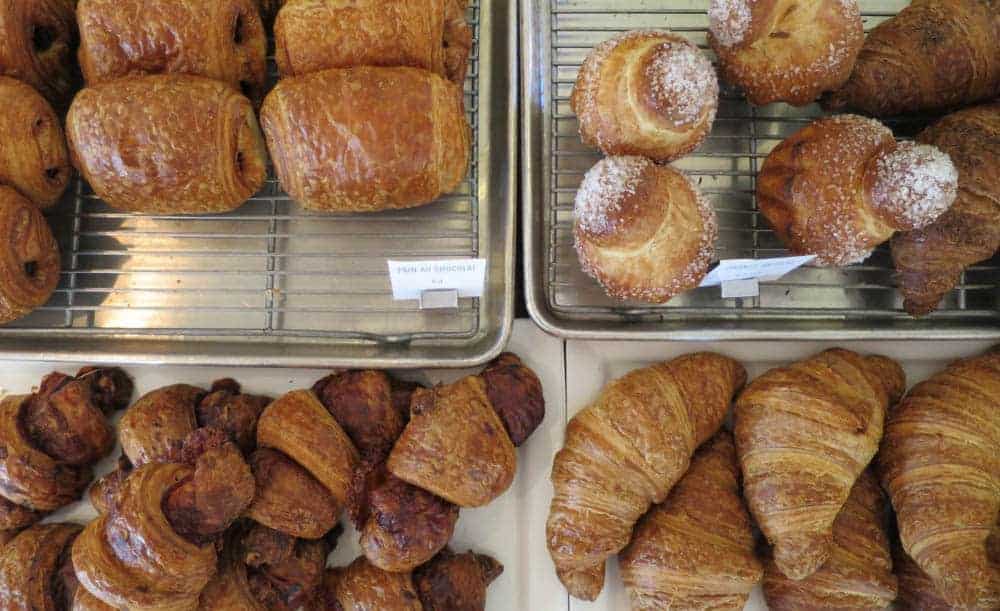 I had a hard time deciding on my pastry treat as they have soooo many delectable choices. I settled on an Orange Brioche and a Raspberry Iced Tea and headed to their outdoor patio to watch Columbus go by.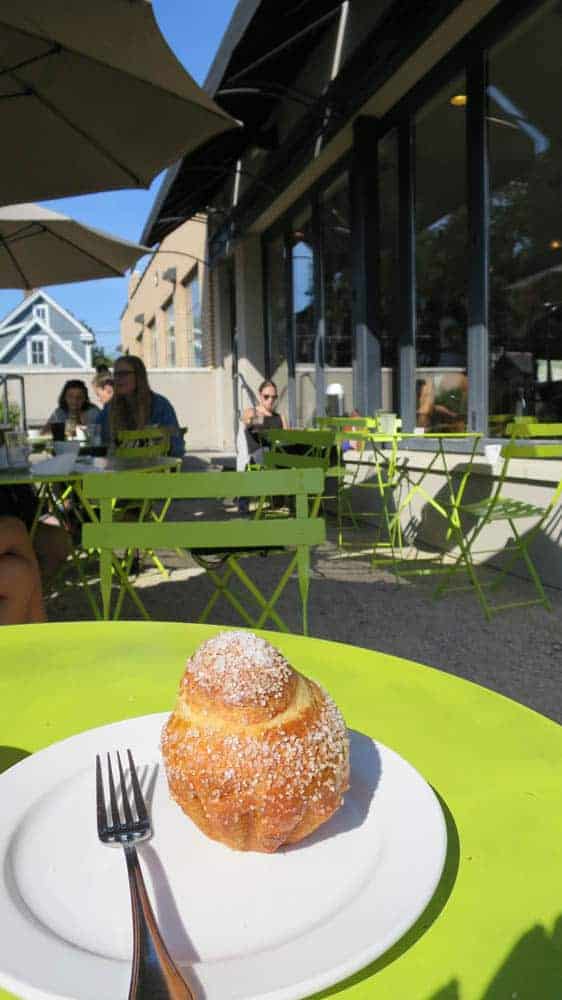 Afterwards, we ventured just a bit up the street to get lost at The Book Loft. Housed in pre-Civil War era buildings that once were general stores, a saloon, and a nickelodeon cinema, the space now offers 32 rooms and all kinds of nooks and crannies full of Bargain Books.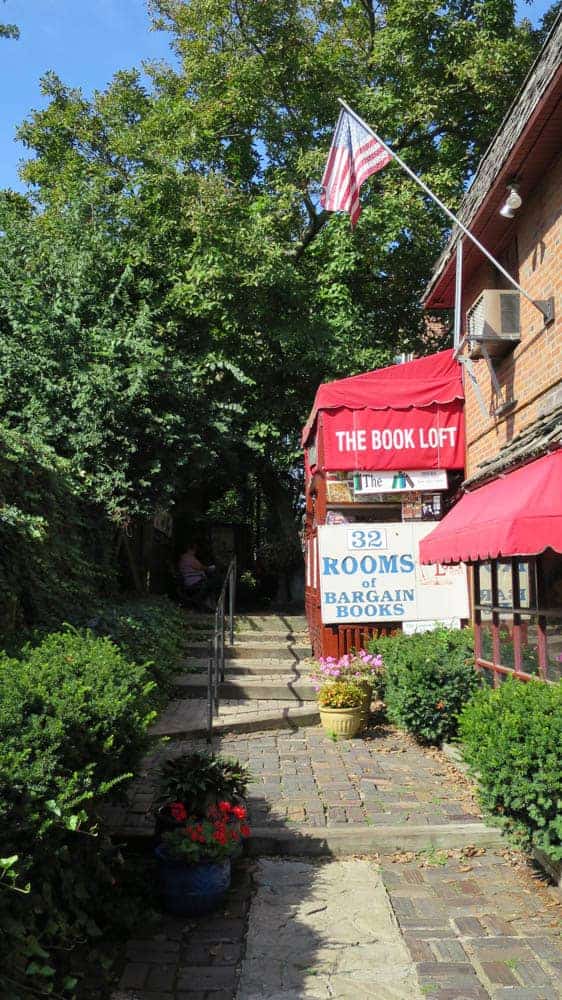 They have a lovely garden outside with benches and oddities, including an outdoor book shop.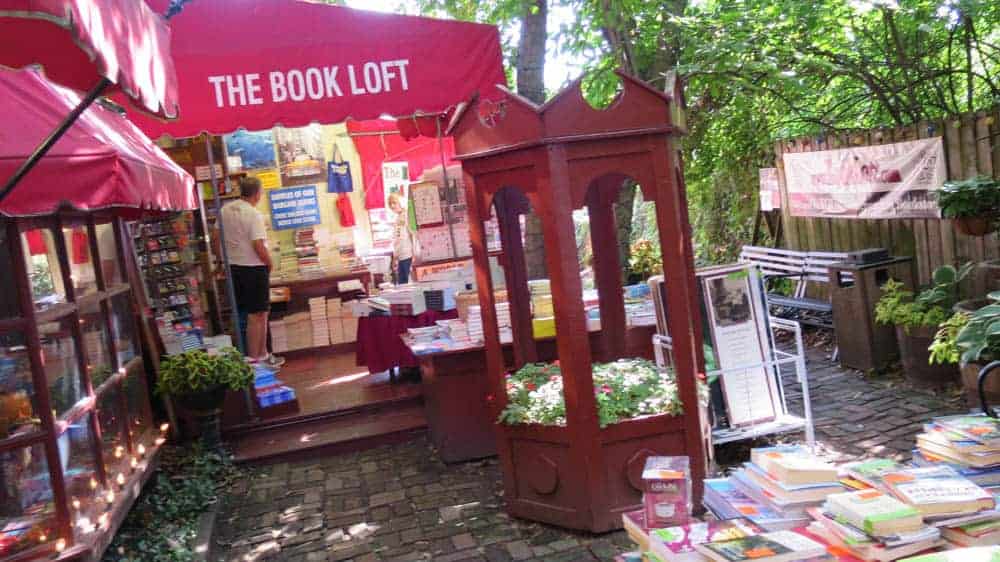 They have lots of gift items, trinkets, puzzles and the like too.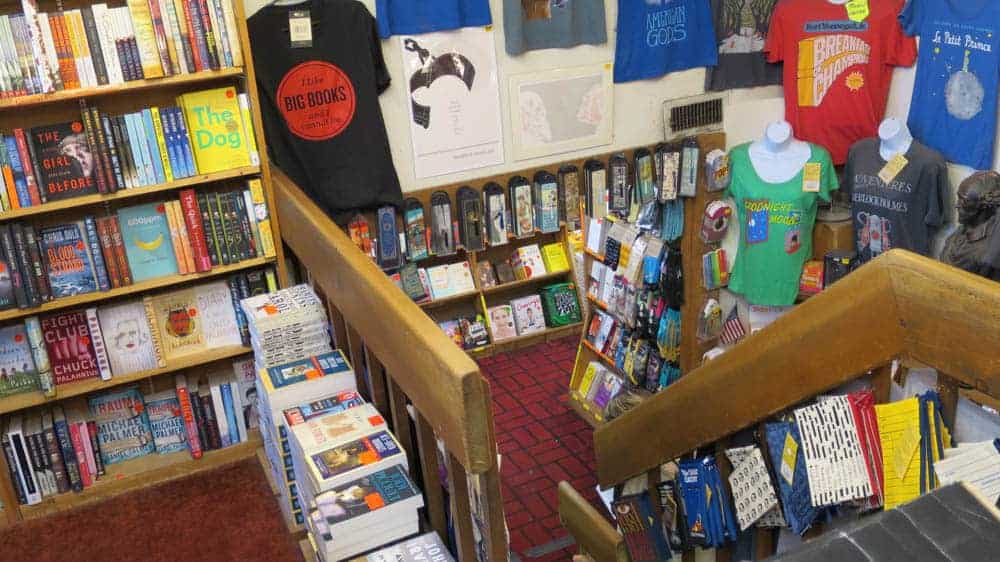 We hopped back onto the CBus and headed just bit north as I wanted to be sure to stop and see The Scioto Mile, a newly developed area along the downtown riverfront.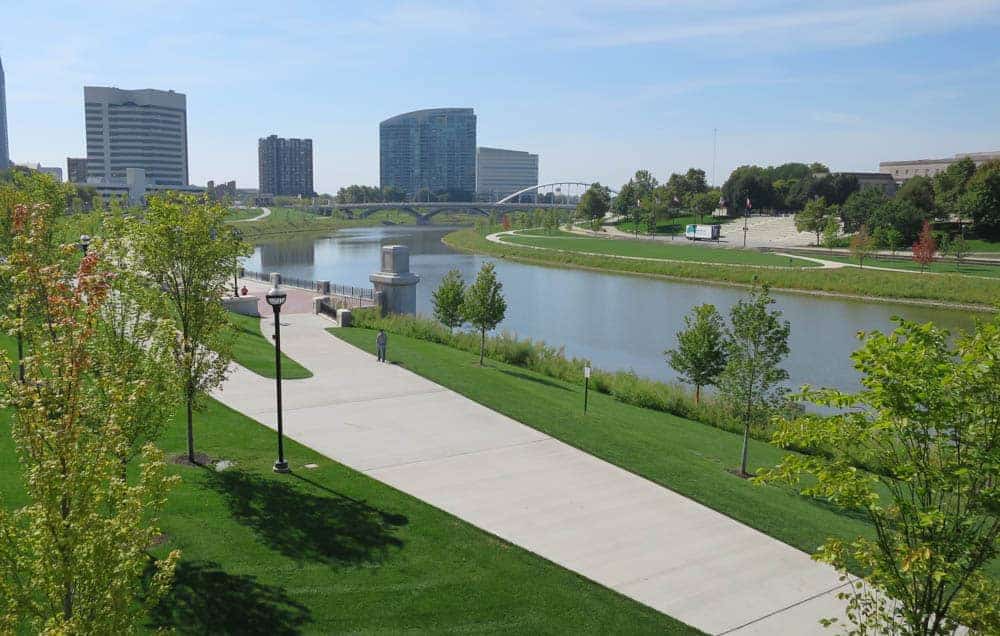 Lined with parks, benches, and greenery, this place is expansive …. and way too much to explore in just an hour or two. You could easily allow an entire day to meander around in this area.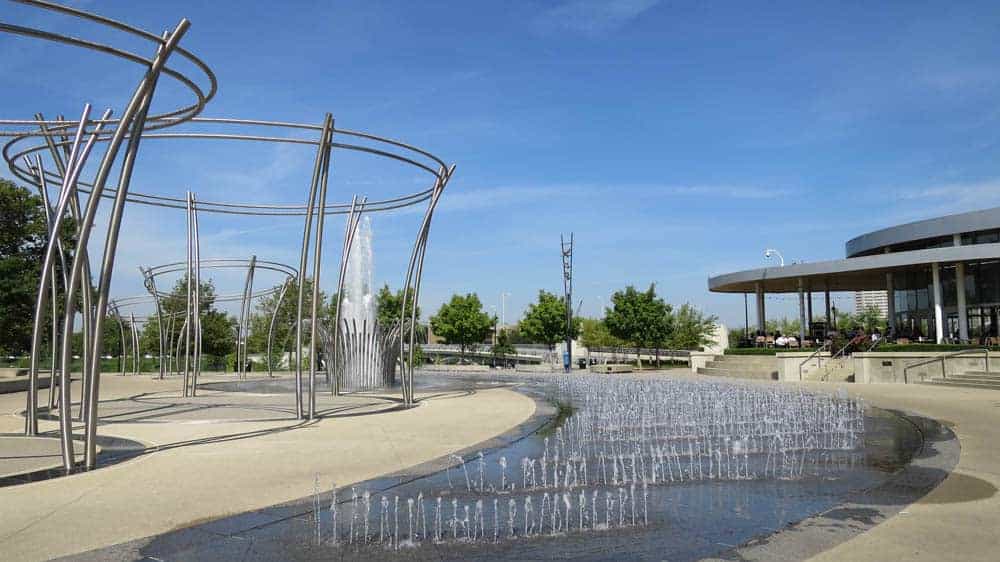 In addition to watching the river from the swings and biking along the trails, you can play in the multiple parks and enjoy a great meal in the area. See a map of The Scioto Mile here.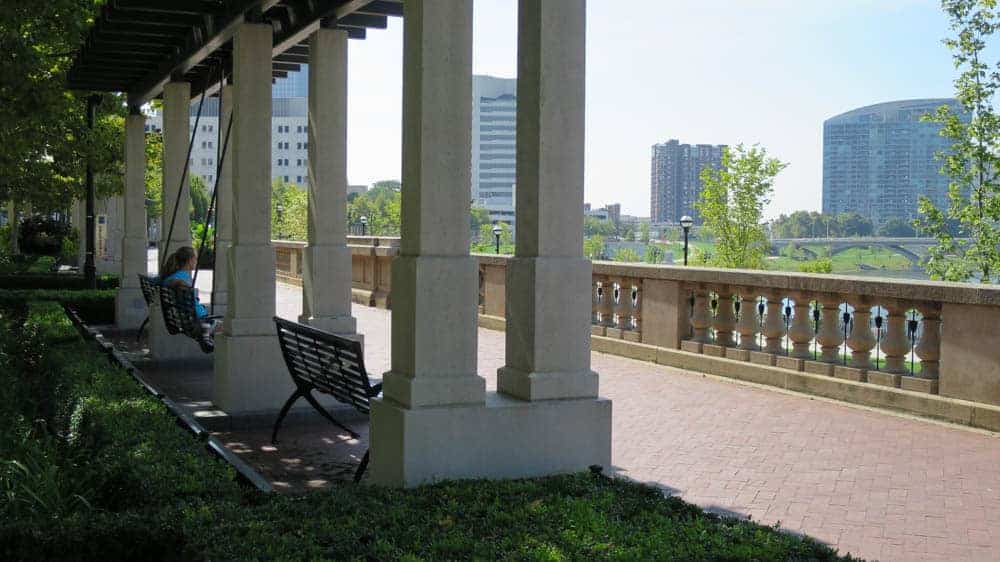 The Scioto Mile is surrounded by some GORGEOUS architecture too.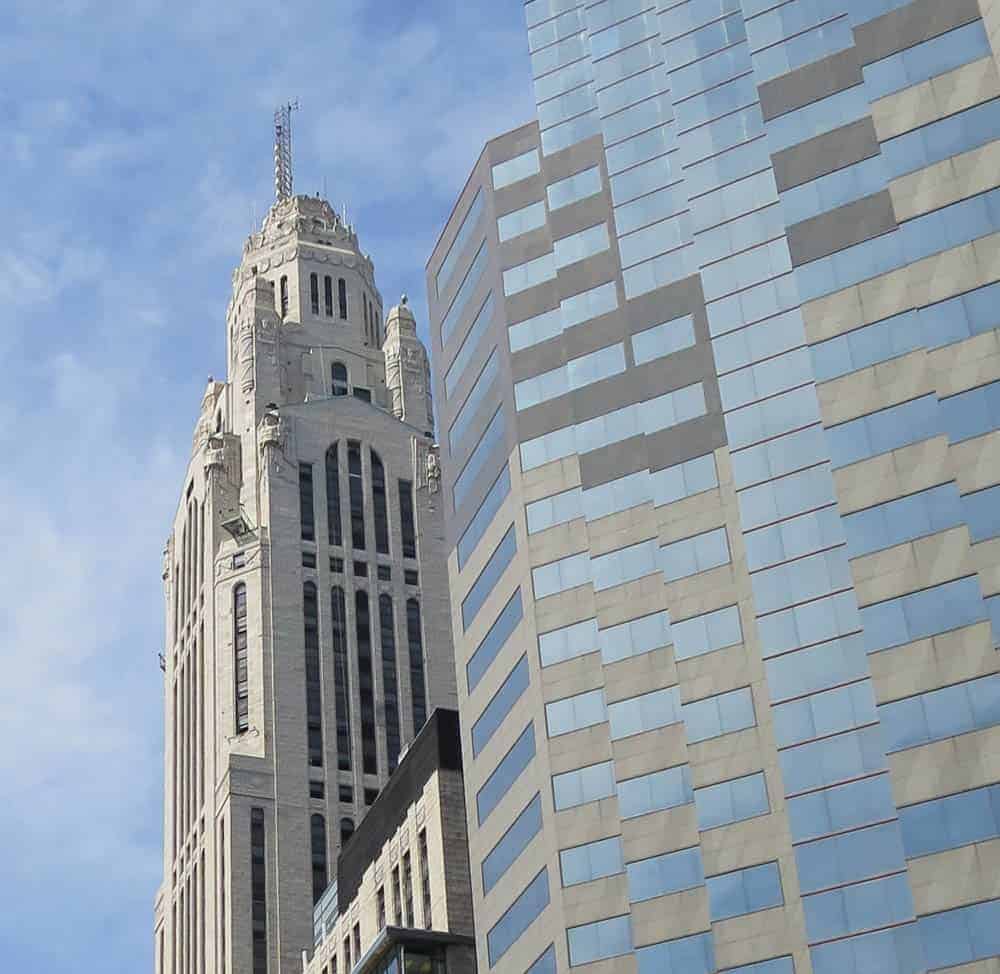 I didn't want to go to our state's capital and NOT see our Statehouse so that was our next stop. The Ohio Statehouse is a massive structure that is right in the middle of town.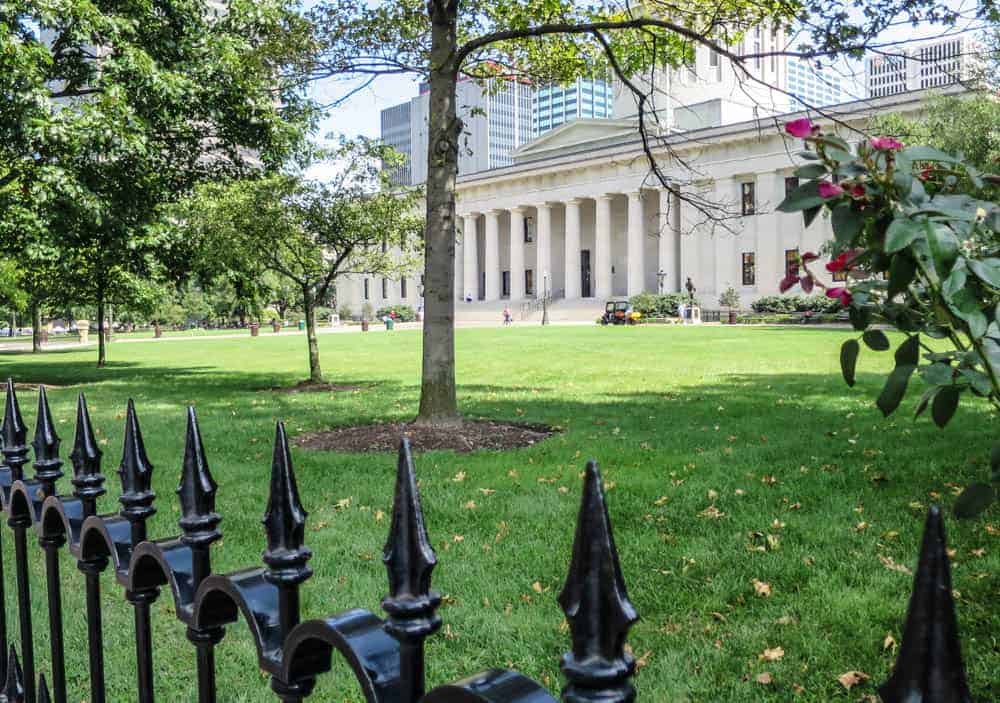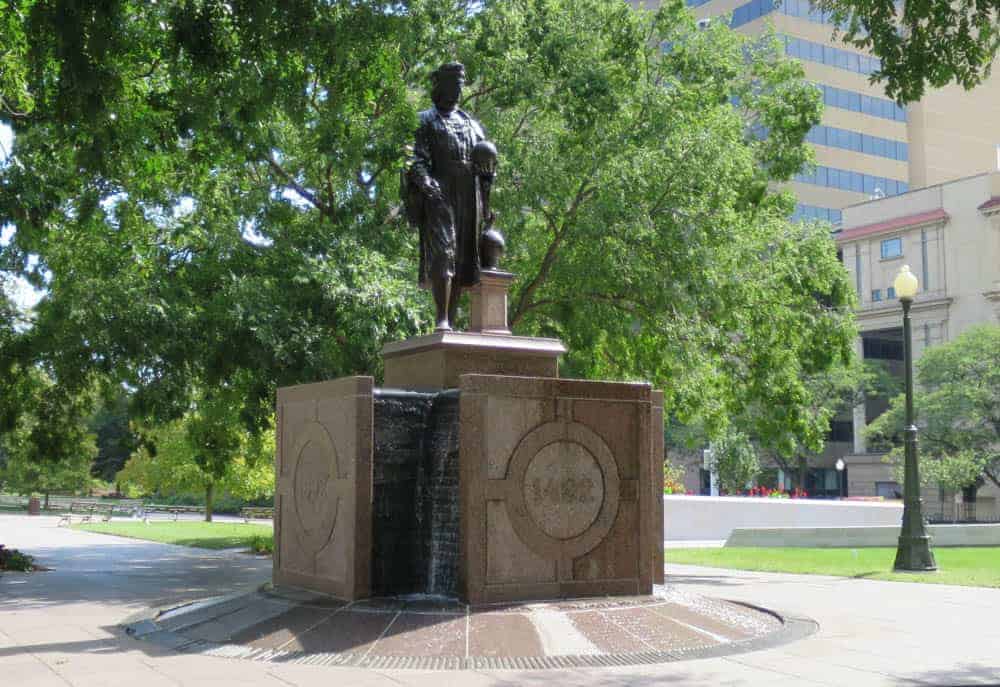 I am going to be brutally honest here…. having been inside a number of capitol buildings around the US (it's kind of an obsession of mine at this point), I was disappointed when I went inside. They have a nice tribute to the Ohio Presidents and a few pieces of art here and there. But I found the outside of the building to be the best part.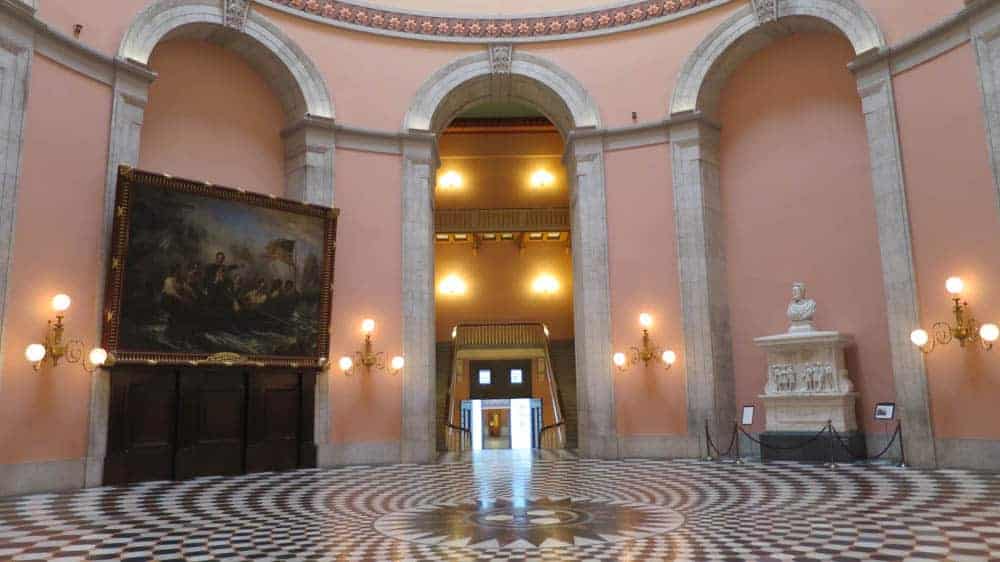 And, much like The Scioto Mile area, Capitol Square has some great architecture too.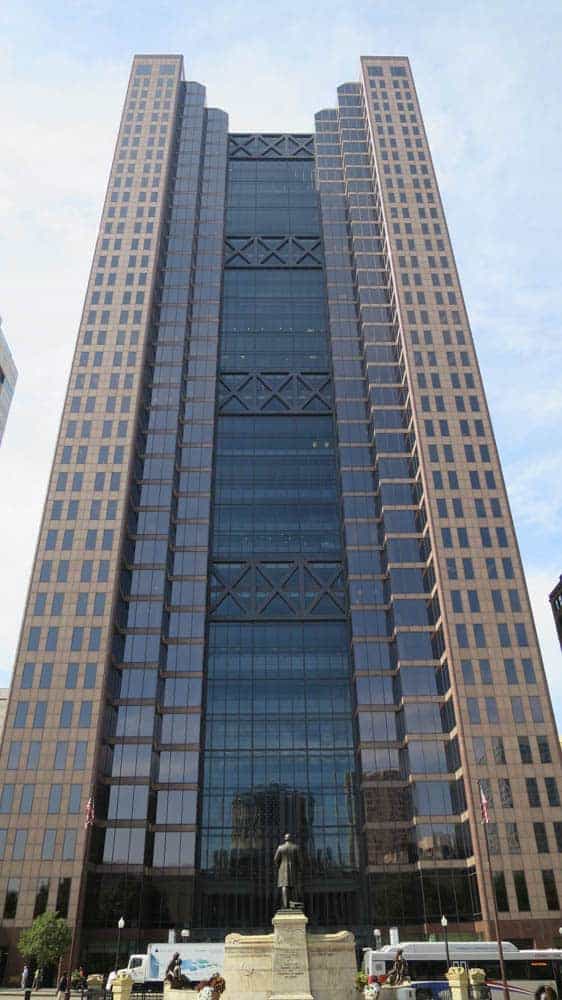 After all that walking (and there was lots of it), we headed back to the hotel to enjoy the afternoon and our hotel's "5:30 Kickback". Feeling recharged, we headed back out to have dinner and a few drinks. We tried to get into a few places in the Short North area but they were pretty packed (and more of a college crowd) so we hopped back on the CBus.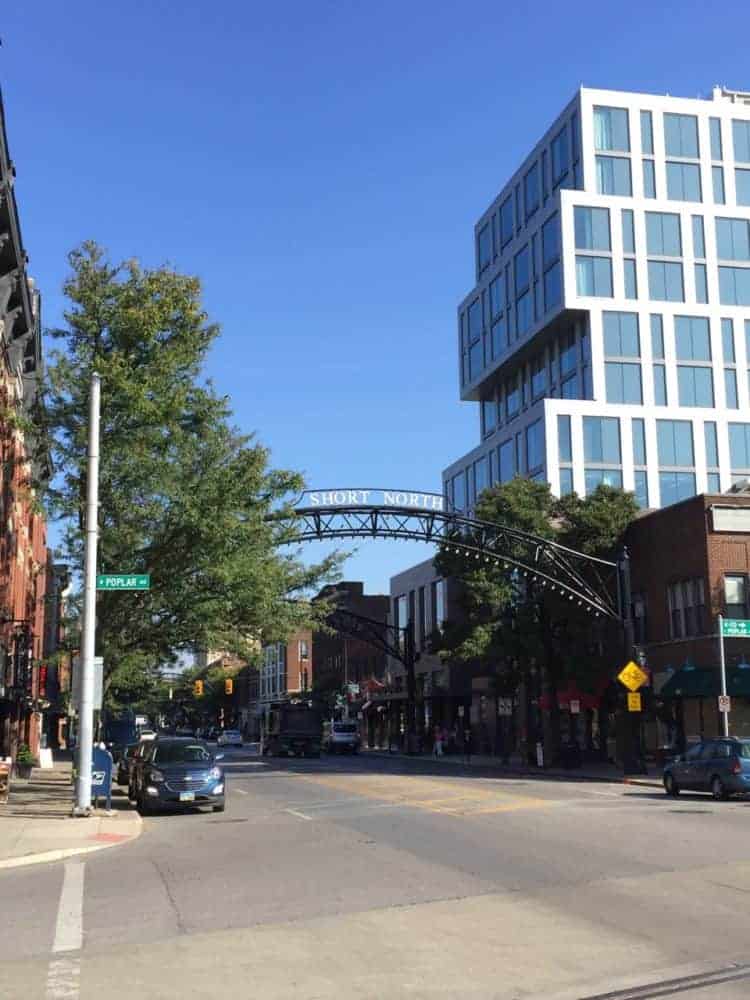 We finally settled on Gordon Biersch in the Arena District. We had some great local brew with our dinner, all enjoyed on their outdoor patio.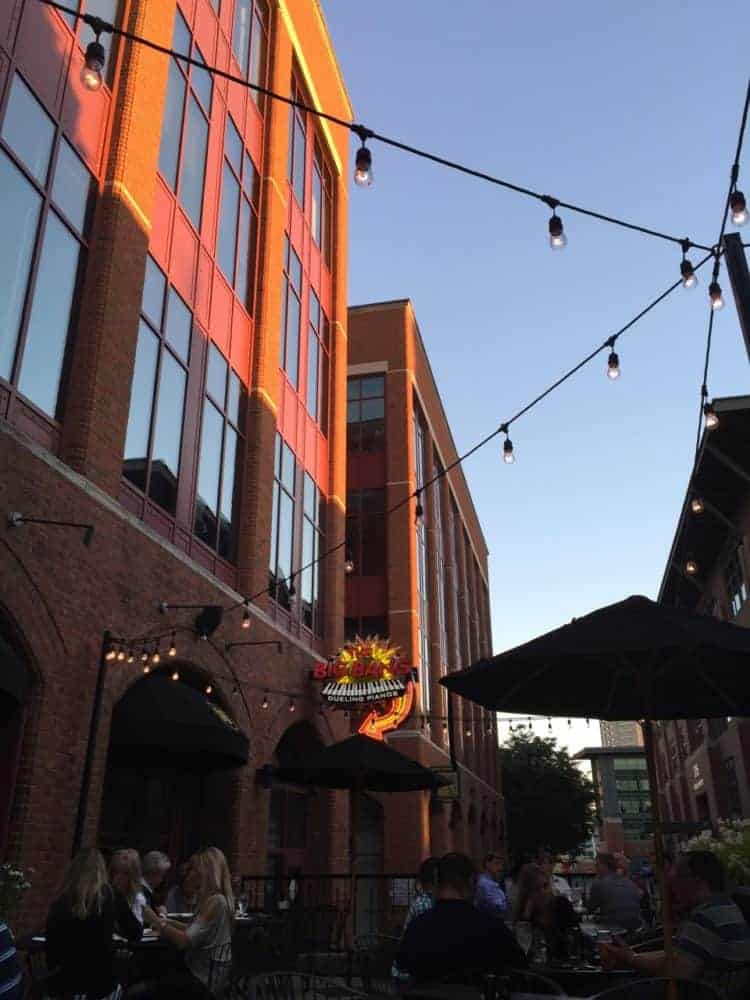 We ended our evening with a ride BACK to the Short North area for our final stop of the day – Jeni's Ice Cream.
It was worth the wait … even though there was a line out the door and it was starting to rain. Truly worth the wait!
And, with that, we add another destination to our "Tank of Gas Trips". I hope this encourages you to get out and explore all the great areas we have within just a few hours from Cincinnati!