We recently had the pleasure of spending a few days in Columbus, Ohio. Located in central Ohio, our state capital makes for a convenient "road trip", being just a few hours north of Cincinnati.
We recently did just that – took a road trip up to Columbus for a few days, just for pleasure. And I'm here to tell you that there are LOADS of fun things to do in Columbus!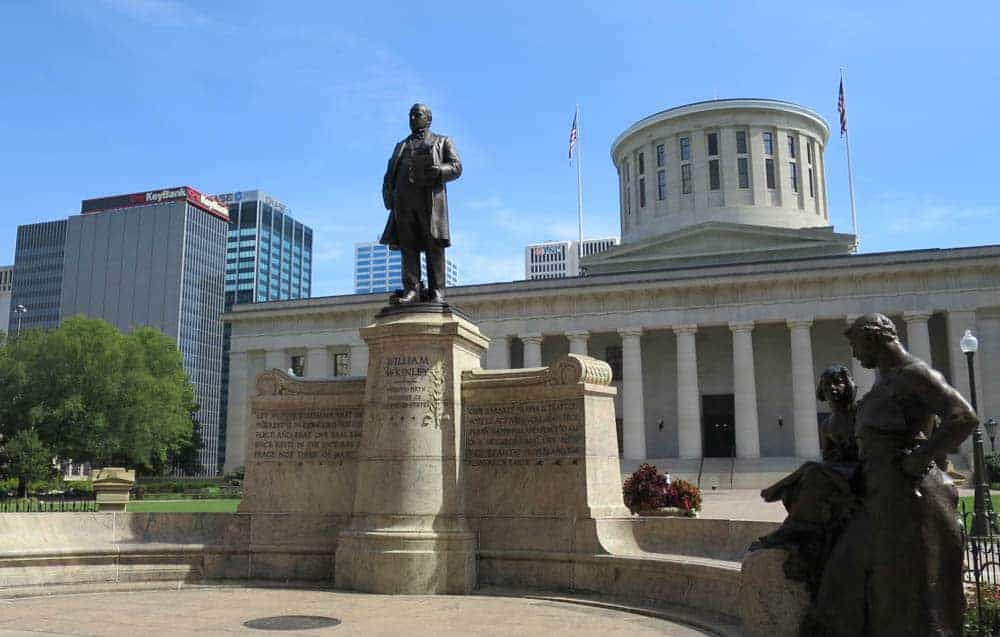 Whether you're looking for a great day trip or an overnight getaway that's close to home, there's plenty to see and do in downtown Columbus.
Since Columbus is Ohio's largest city and because you're likely to have a car with you, we've included some of the best things to do in Columbus (things that go beyond downtown) as well.
Best Things to Do in Downtown Columbus
The North Market
We started our day off with a walk from our downtown hotel over to the North Market. It's an old favorite for us – great food, fun shopping, convenient location!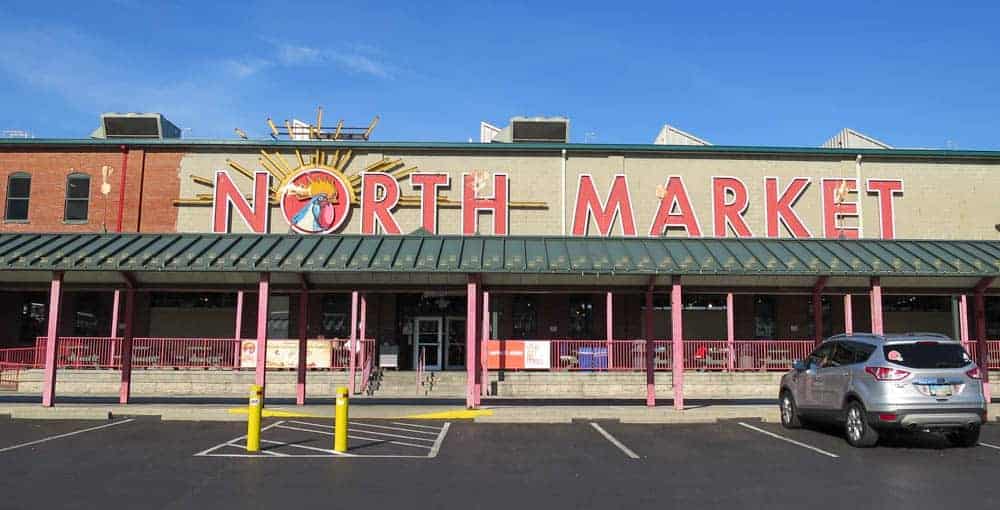 North Market has more than 30 vendors and you can find all kinds of great food and drink inside those doors.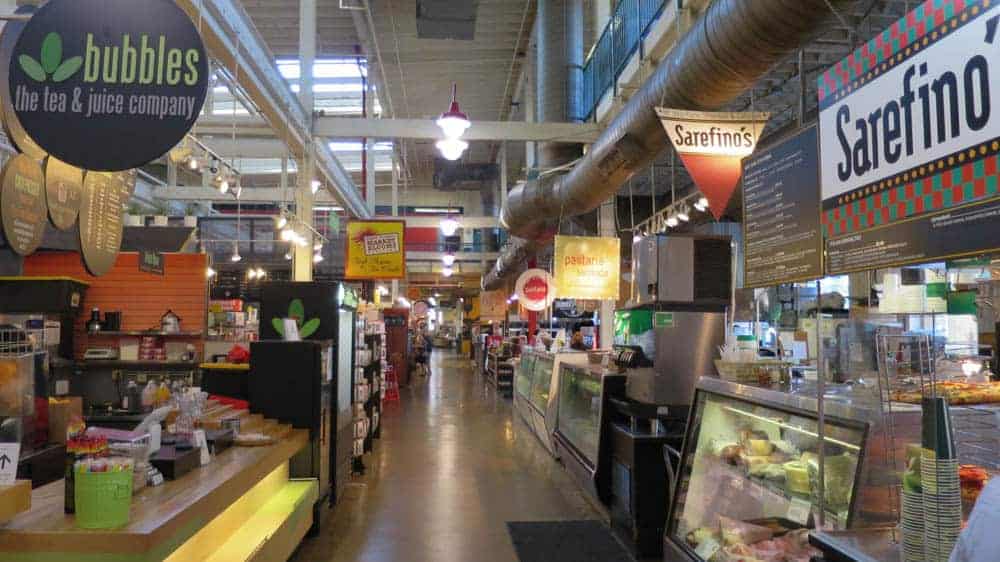 North Market has two levels with most of the shops being on the first floor. The second story has lots of seating and overlooks the first floor.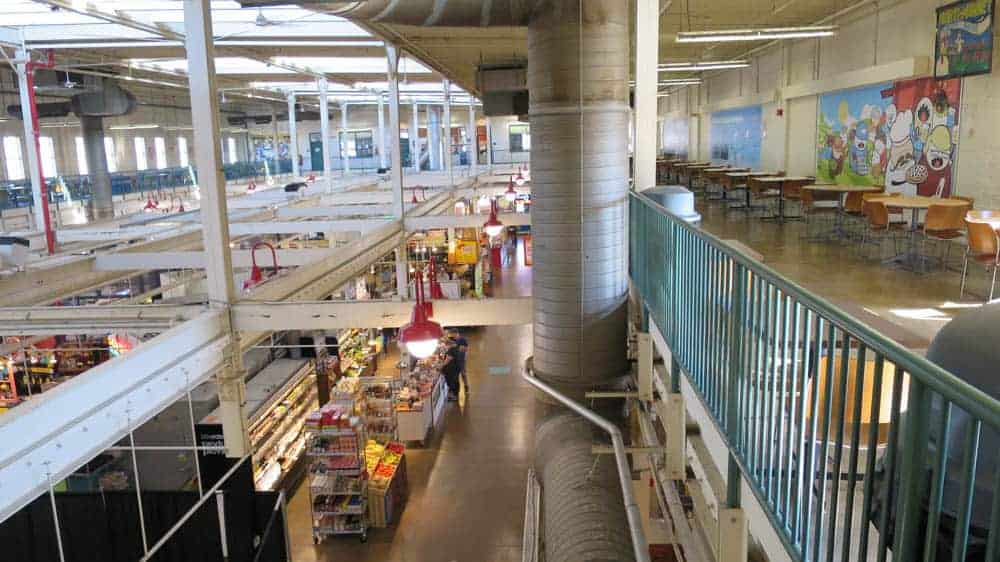 The outer perimeter is all seating and you can look over the rails to the floor below.
The main reason we headed upstairs was for this place – Hot Chicken Takeover.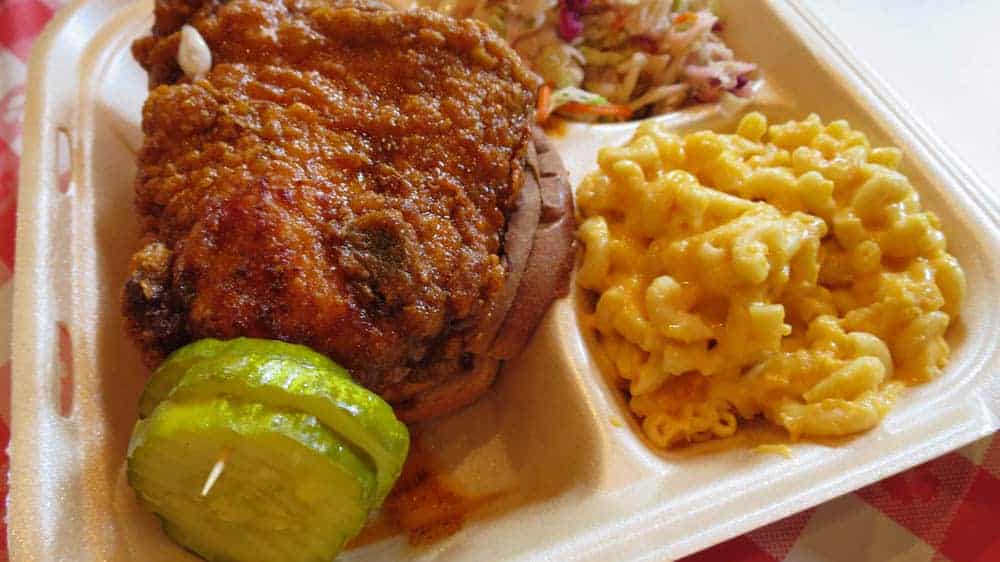 This is fried chicken at its best folks! They serve up "Nashville Hot Chicken rubbed with a cayenne-infused paste" plus fixin's that will leave you full and happy. Choose your meat (leg, breast, boneless, etc.) and your level of heat (cold, warm. hot, or holy!). The House Ranch is free and makes a great dipping sauce. They also offer free iced tea and water – which you will likely need if you order anything other than "cold". Fried chicken lovers be aware – they're only open from 11am – 3pm, Tuesday through Sunday so plan accordingly.
Visit One of the Historic Districts – German Village
Like Cincinnati's Over the Rhine, Columbus' German Village is a community named due to the number of German immigrants who helped establish this part of Columbus in the late 1800's.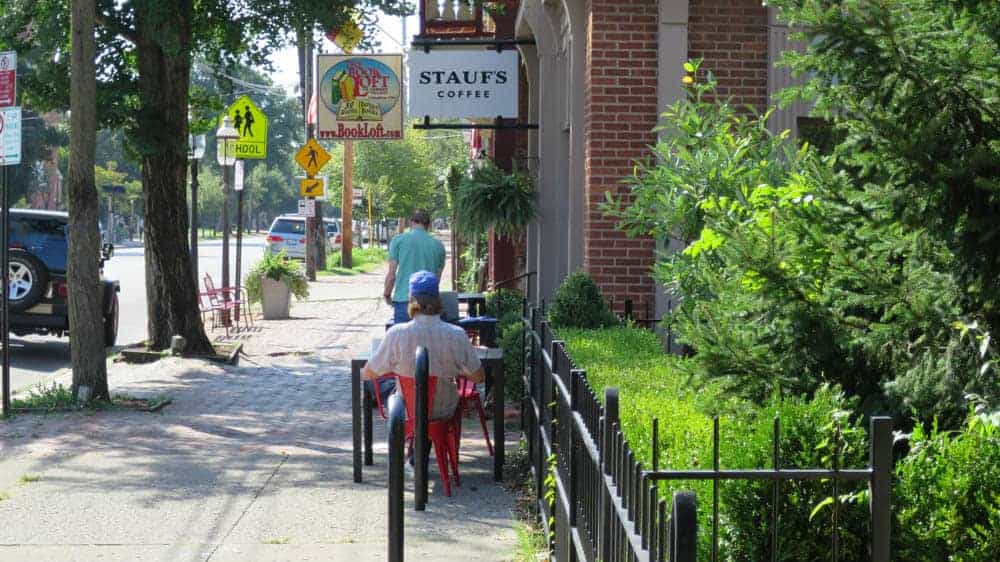 German Village is largely residential and the homes are so charming! But it's not all about the architecture. They have some great little shops and eateries.
Our first stop was at Pistachia Vera, one of many coffee shops that are a must do for any Columbus getaway. I first visited this spot on a food tour from Columbus Food Adventures many years ago (we HIGHLY recommend any of their tours) and LOVED the place!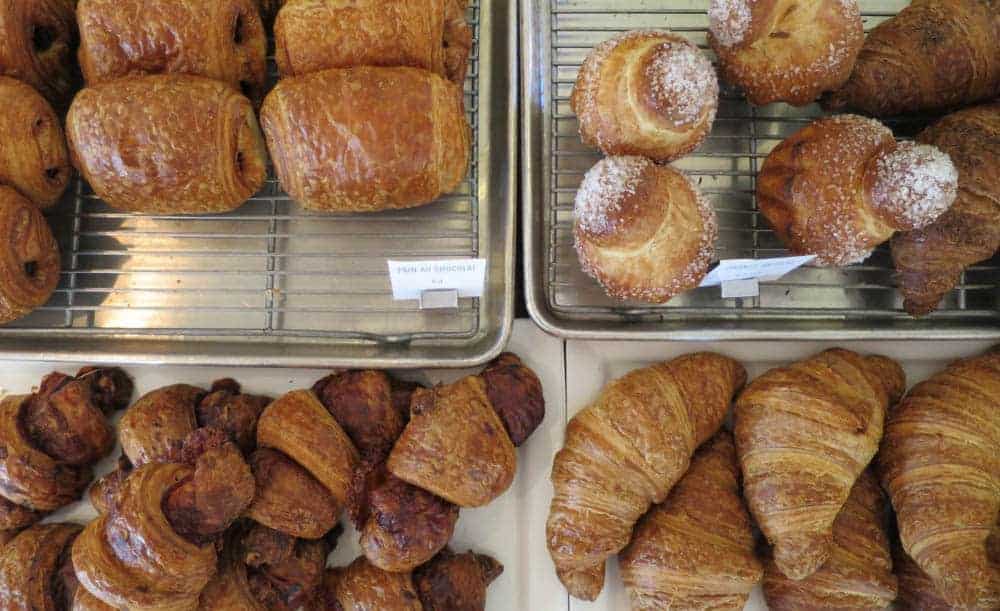 I had a hard time deciding on my pastry treat as they have soooo many delectable choices. I settled on an Orange Brioche and a Raspberry Iced Tea and headed to their outdoor patio to watch Columbus go by.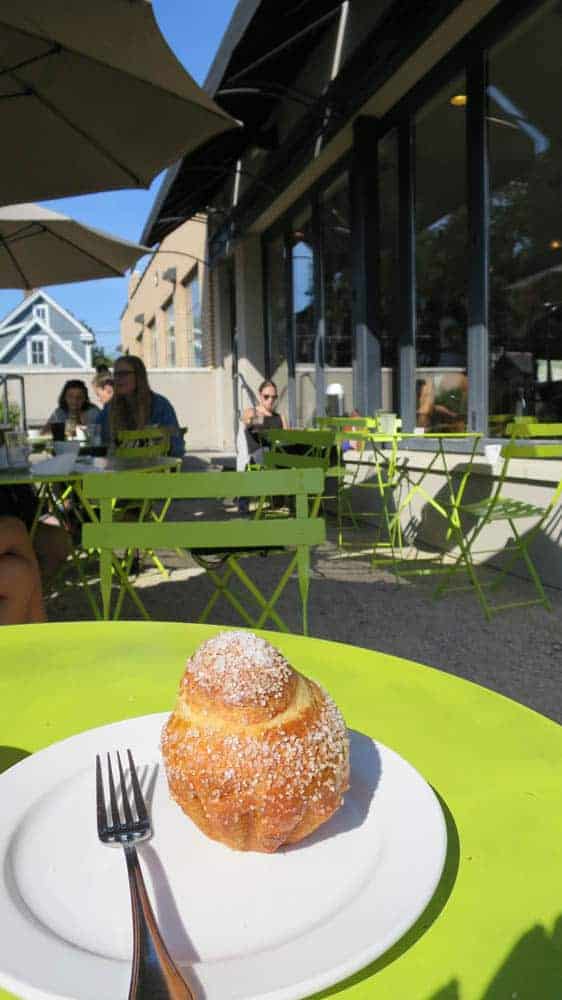 Get Lost at The Book Loft, also in German Village
Whether you're an avid reader or not, The Book Loft is a must see when you're in Columbus.
Housed in pre-Civil War era buildings that once were general stores, a saloon, and a nickelodeon cinema, the space now offers 32 rooms (!) and all kinds of nooks and crannies full of Bargain Books.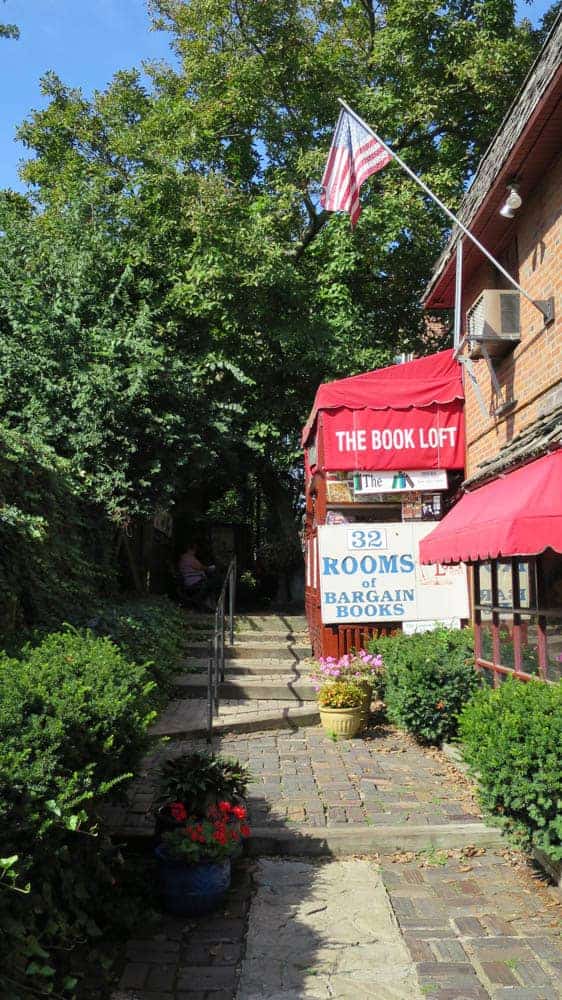 And outside? The Book Loft has a lovely garden with benches and oddities, including an outdoor book shop.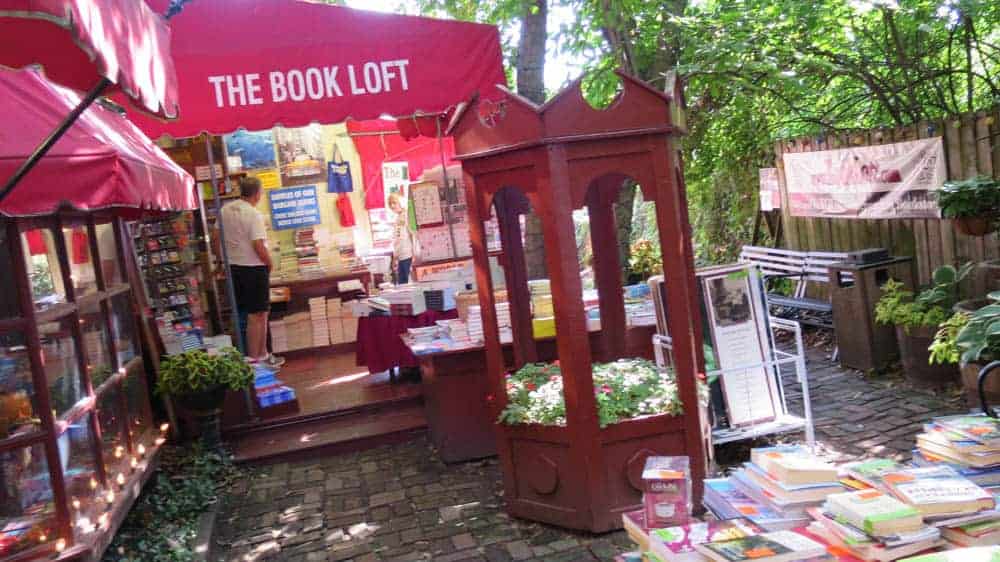 They have lots of gift items, trinkets, puzzles and the like too.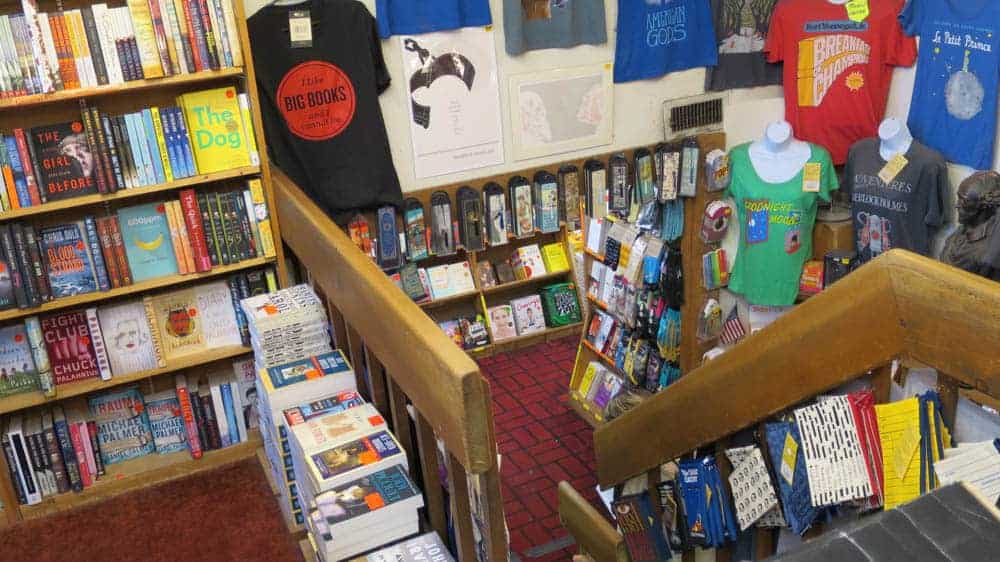 Hike the Scioto Mile Along the Scioto River
One of the cheaper things in our list of things to do in Columbus would be a stop to see The Scioto Mile, a (somewhat) newly developed area along the downtown Columbus riverfront.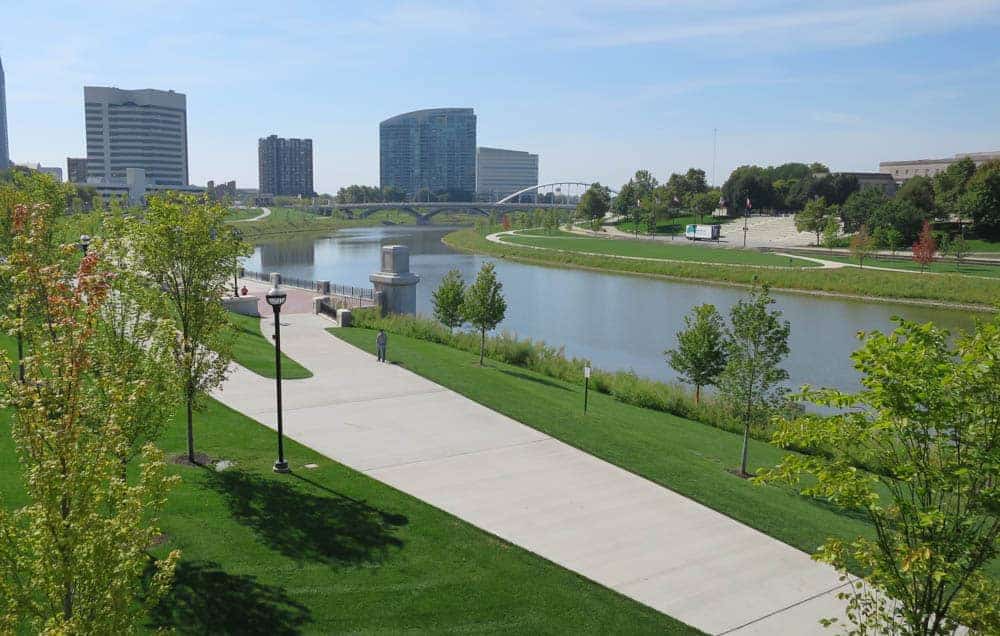 Lined with parks, benches, and greenery, this place is expansive …. and way too much to explore in just an hour or two. You could easily allow an entire day to meander around in this area.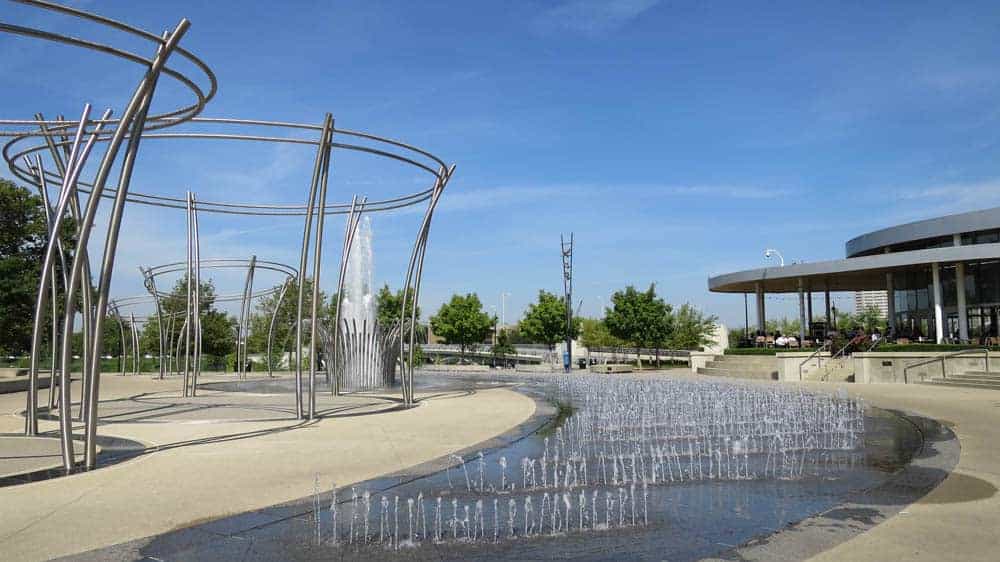 In addition to watching the river from the swings and biking along the trails, you can play in the multiple parks and enjoy a great meal in the area. See a map of The Scioto Mile here.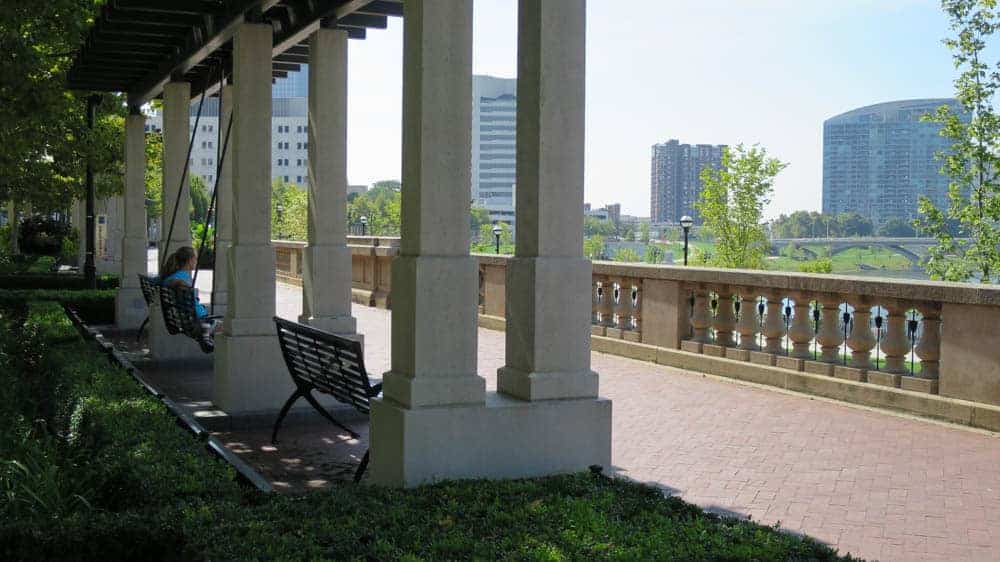 The Scioto Mile is surrounded by some GORGEOUS architecture too.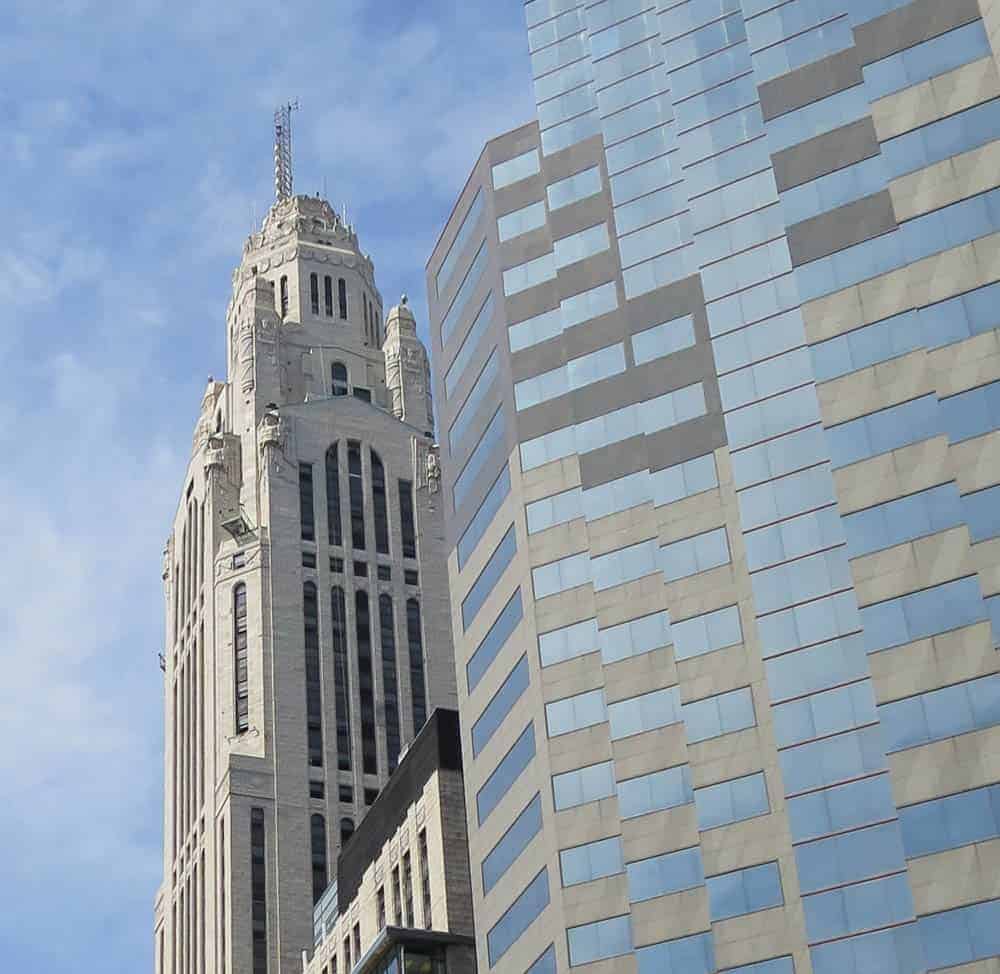 Brush up on Your Ohio History at Capital Square
I didn't want to go to our state's capital and NOT see our Statehouse so that was our next stop. The Ohio Statehouse is a massive structure that is right in the middle of town.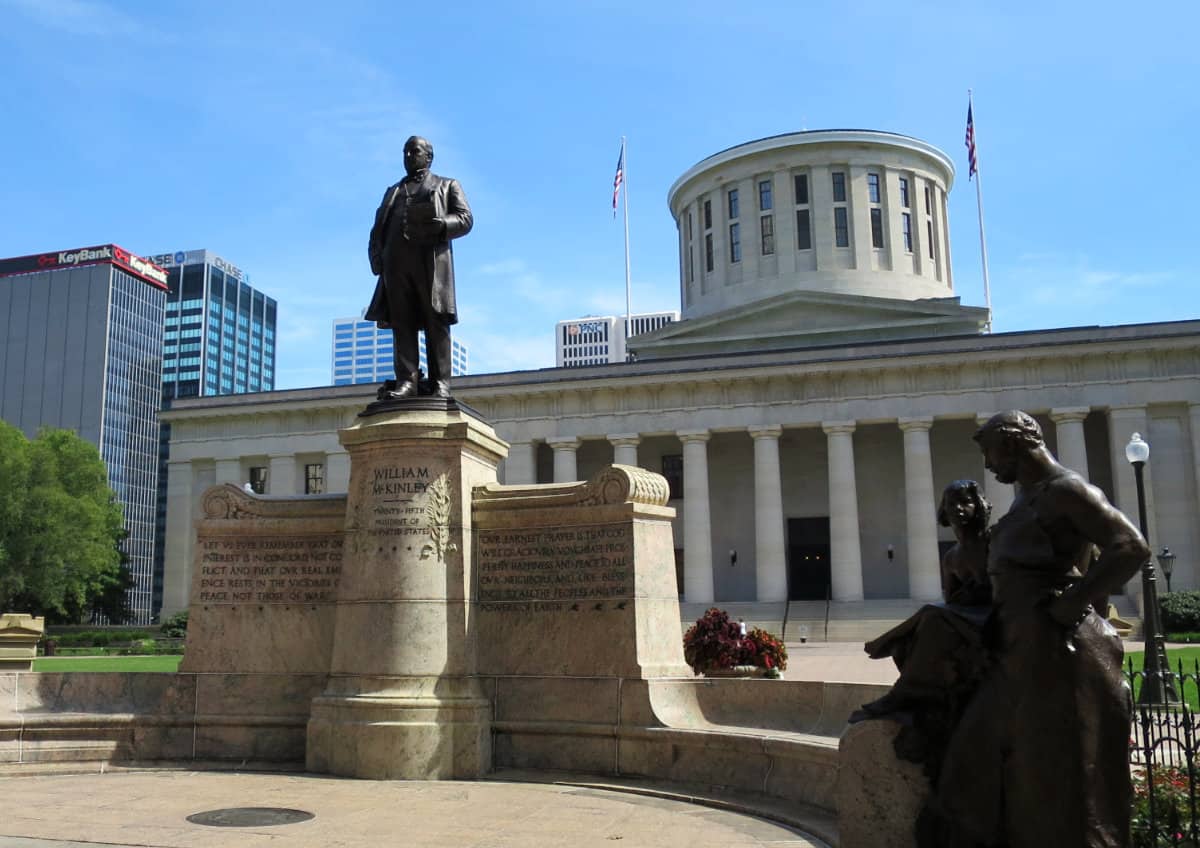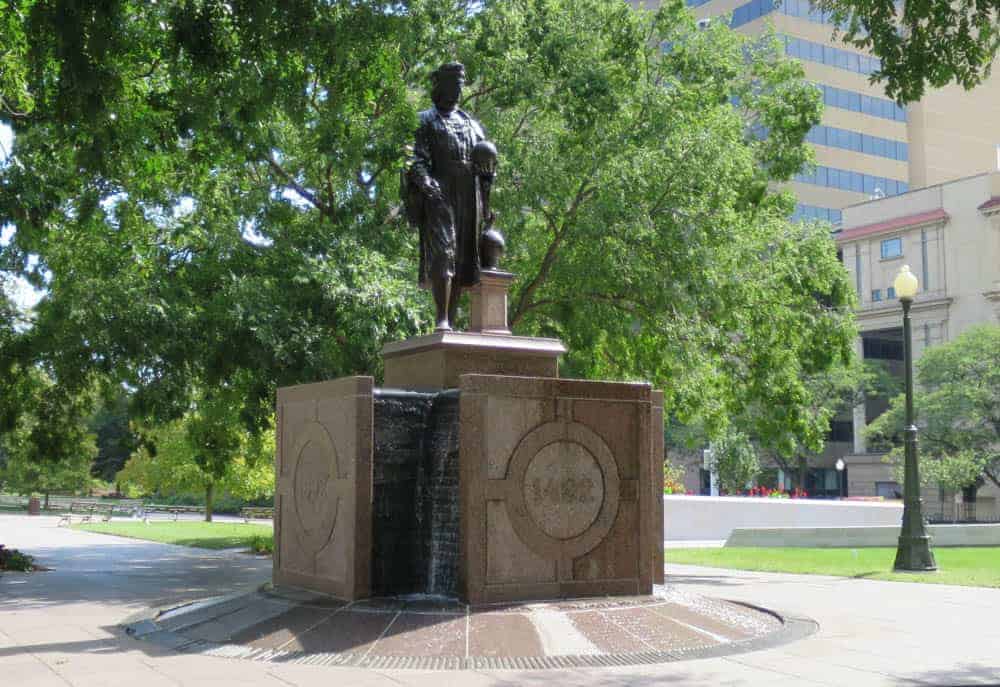 Go inside to see a nice tribute to the Ohio Presidents and fine pieces of art. If you don't have time to tour the Statehouse as part of your own list of things to do in Columbus, know that we found a walk around the outside of the building to be the best part.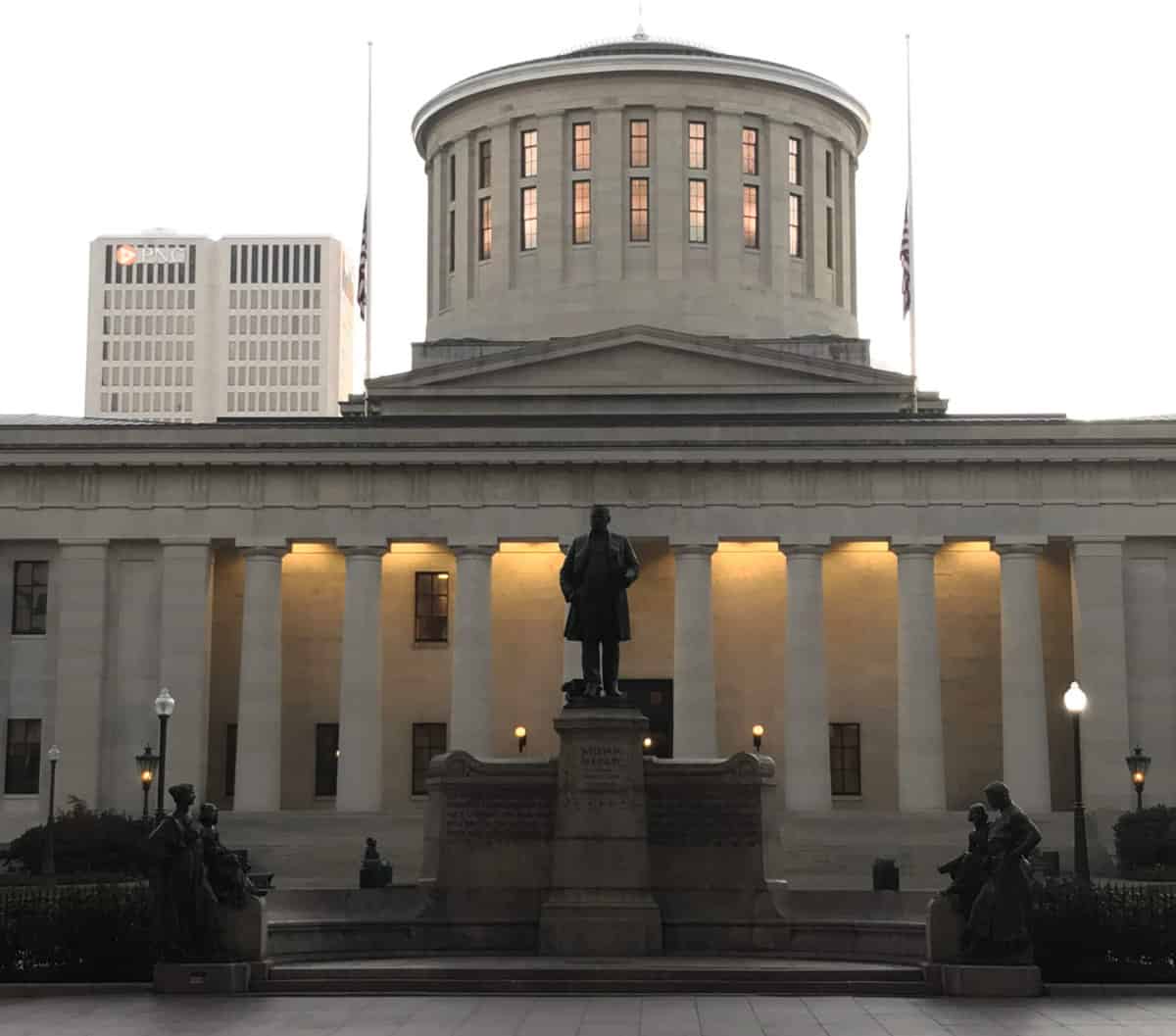 And, much like The Scioto Mile area, Capitol Square has some great architecture too.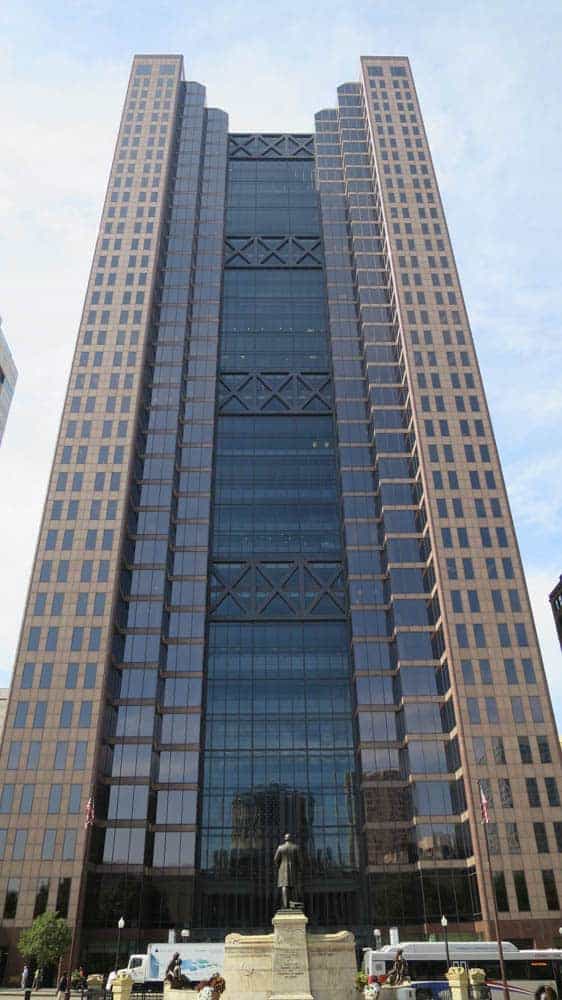 Stop in to See the Beautiful Ohio Theatre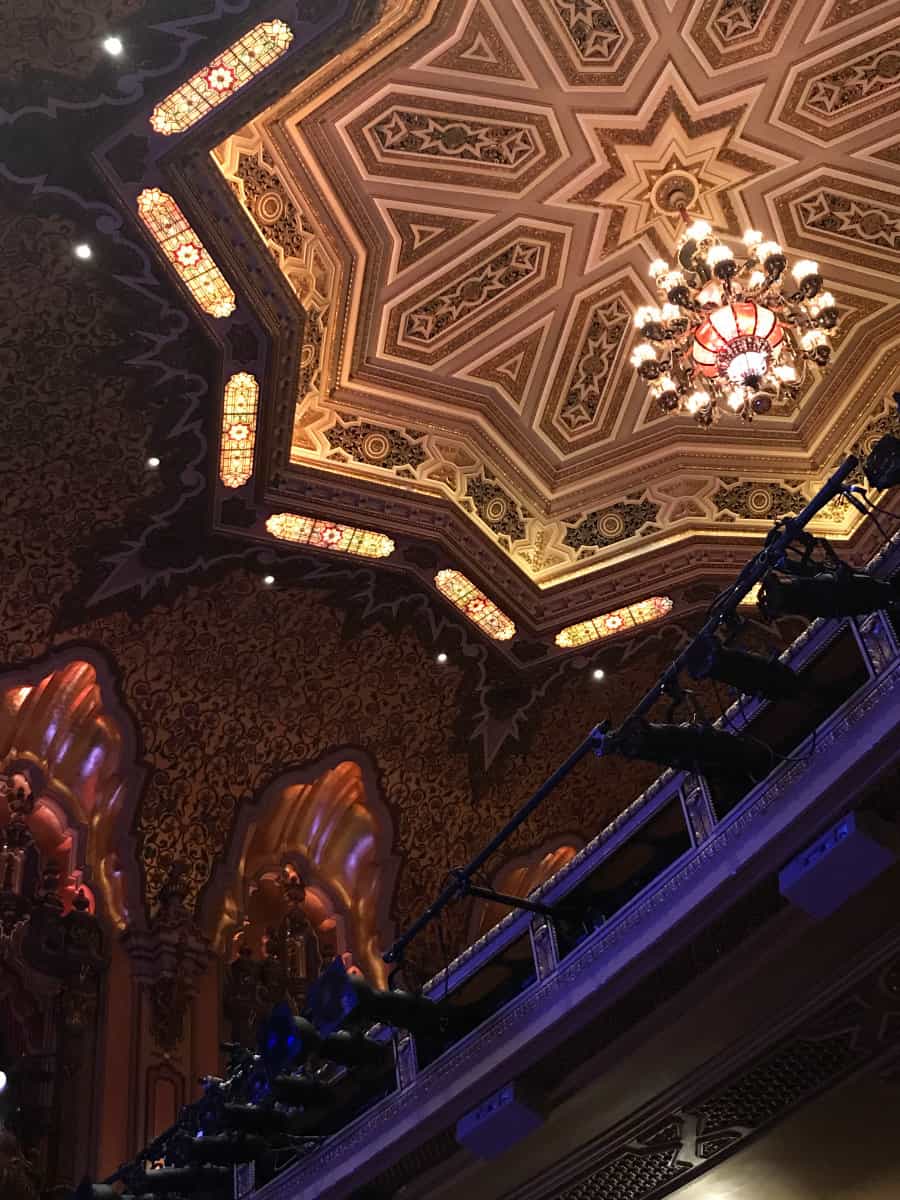 Home to the Columbus Symphony, BalletMet, and Broadway in Columbus, the Ohio Theatre is an opulent piece of Ohio history. If you happen to find it open while you're there, a peek inside would be a quick addition to your list of things to do in Columbus.
The theatre actually opened as a movie theater in 1928, complete with its own orchestra and organ! You can, if fact, sometimes see movies there as part of their CAPA Summer Movie Series!
A Hidden Downtown Gem – the Columbus Museum of Art
Featuring collections that include American and European works of art, this art museum is also the proud home of the world's largest collections of works by beloved local artists Aminah Brenda Lynn Robinson, Elijah Pierce, and George Bellows.
Extend Your Art Admiration to Topiary Park
Topiary Park is located in Columbus' Discovery District, close to the Columbus Museum of Art. This 7 acre public park is an outdoor topiary garden and a recreation of Georges Seurat's famous painting, A Sunday Afternoon on the Island of LaGrande Jatte.
Be Inspired by Short North Arts District
Short North and North High Street might be best associated with THE Ohio State University. But did you know Short North is also home to a great arts district?
Meander along the Short North Arts District Art Trail to see murals, scuptures, 12+ art galleries, and more. Admire the public art installations such as The Makers Monument that was inspired by (and perforated with) the shapes of items made in Columbus over the years.
Don't overlook what is probably the most obvious of the Short North public art pieces – the Short North Arches (seen in the image below). This permanent artwork features 17 steel arches, paying homage to when Columbus was known as "Arch City".
And I do have one more Short North stop to recommend. It is not arts related (unless you consider burgers as a work of art, like I do!), but there's a Shake Shack on North High Street! IYKYK. Definitely a great addition to a list of things to do in Columbus. IMHO 🙂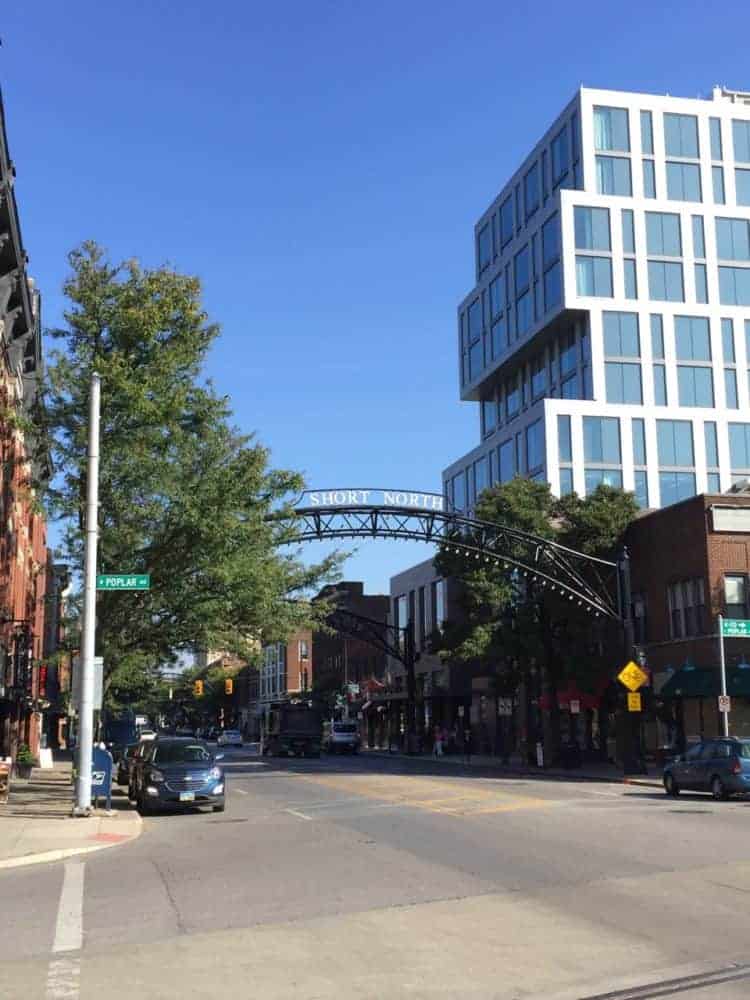 Have Some Hands on Fun at COSI
Voted as America's #1 science museum, the Center of Science and Industry (aka COSI) calls Columbus home. This 320,000 square foot science center prides itself on "bringing science to life" with 300+ interactive exhibits, nine galleries of traveling and permanent exhibitions, live shows, a Planetarium, and more. COSI is located on West Broad Street in downtown Columbus – on the west side of the Scioto River just opposite the Ohio Statehouse (which lies on the east side of the river).
Jeni's Ice Cream Calls Columbus Home
We ended our first evening with our final stop of the day – Jeni's Ice Cream. Even though there was a line out the door and it was starting to rain, we called this stop a win. Truly worth the wait!
More of the Top Things to do in Columbus
While we love a good list of popular attractions in the downtown area, we realize the list would be incomplete without a mention of some of the best places and fun things that surround downtown Columbus, Ohio!
Experience The Columbus Zoo and Aquarium
Located north of Columbus, this Columbus Zoo is home to over 10,000 animals across 800 species. While you might be thinking "Cincinnati has a great zoo – why would I add this to my list of things to do in Columbus?", I can say I had the same doubts… until I went to the Columbus Zoo. It is VERY different from our zoo and it is, in my opinion, well worth a visit.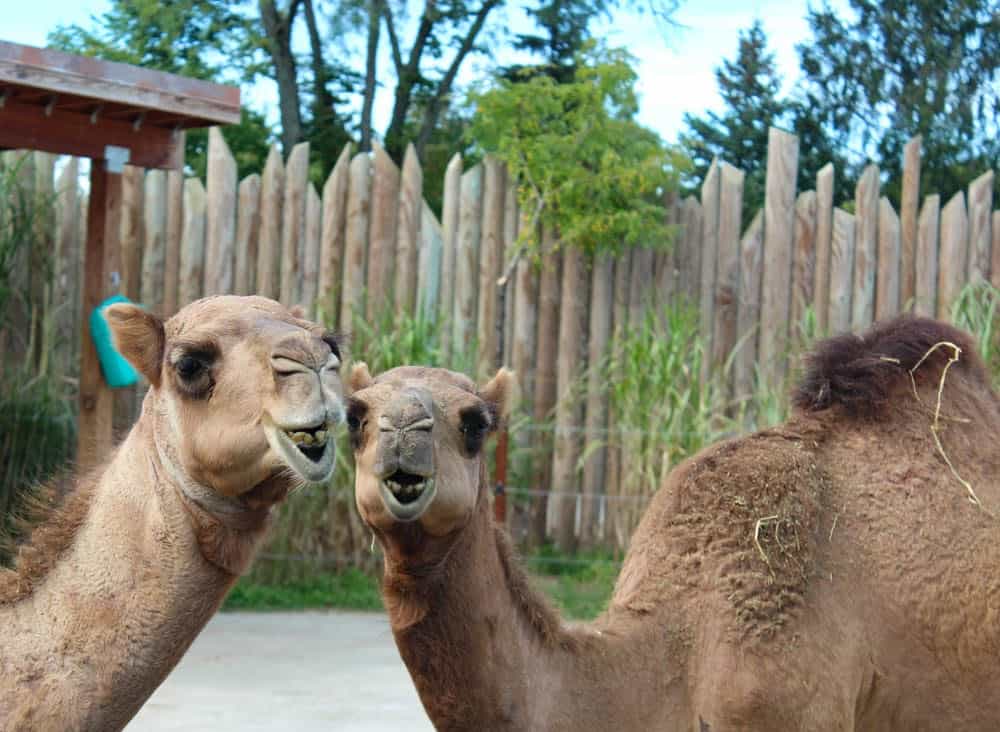 You'll find 6 regions represented here: North America, Polar Frontier, Heart of Africa, Asia Quest, Australia & The Islands, and Congo Expedition. Adventure Cove offers sea lions, seals, Stingray Bay, and lots of seasonal ride options. Visit with the marine life at Shores & Aquarium to round out the mix.
If "waterpark" is on your list of things to do in Columbus, you'll be happy to know the zoo complex also houses Zoombezi Bay. This 22 acre water park offers 17 water slides, a wave pool, and kid-friendly attractions as well. As you might expect, the water features of Zoombezi Bay are open during the summer months. But be sure to watch for their cooler weather themed events too such as ZOMBIEzi Bay, a horror theme park in the fall.
You might also like: 11 of the Coolest Outdoor Waterparks Near Cincinnati
And it wouldn't be a good "things to do in Columbus" list without a mention of The Wilds. Voted in as the #2 Best Safari Park in North America by USA TODAY 10Best Readers' Choice awards, they offer Open-Air Safari Tours, Wildside Tours, and Winter at the Wilds Tours (this guided tour is seasonal). You can even spend the night!
Love Odd Collections? Don't Miss "Cornhenge"!
Located south of the zoo you'll find The Field of Giant Cobs (aka Cornhenge). This eclectic public art installation features large concrete ears of corn set amongst a large green space. I wouldn't make a special trip out to see this addition to our own list of things to do in Columbus but if you're coming south from the zoo, it's a fun Ohio stop!
Visit the Franklin Park Conservatory and Botanical Gardens
Located just a few miles east of downtown Columbus, these award-winning botanical gardens feature exotic plant collections, seasonal artworks, outdoor gardens… all within the 88 acre Franklin Park. The collections include the Conservatory (400 species of plants displayed in the indoor glass greenhouses), The Palm House, The Children's Garden, the Botanical Gardens, a Community Garden, a Bonsai Collections, a Dale Chihuly Collection, and Light Raiment II (an architectural art installation that illuminates the Palm House).
Don't miss their Chihuly Nights. Happening on select evenings from January through October, their 18 installations are lit up to create "illuminating" views within the backdrop of the interior Conservatory.
Don't miss the gift shop – Botanica! Here you'll find reasonably priced plants, gardening implements, jewelry, children's items, and much more. The Conservatory's Hot Shop supplies Botanica with a unique selection of hand-blown glass, perfect for gift giving.
Get Some Shopping in at Easton Town Center
Easton Town Center, located on the northeast side of Columbus, is a shoppers paradise. With 200+ retailers and lots of great eateries, it's easy to see why they attract more than 30 million visitors a year.
Want to go beyond shopping at Easton Town Center? Watch a flick at Ohio's largest movie theater, have a few laughs at the comedy club, or catch some live music in one of their outdoor parks. Watch their calendar for all kinds of special events too.
And if you have young children with you, don't miss LEGOLAND!