Gas up the car, pack up some fun holiday snacks, and map out your route… because it's time for Neighborhood Christmas Light Displays! Families all over Cincinnati are doing their best to spread Christmas cheer with some fabulous Christmas light displays!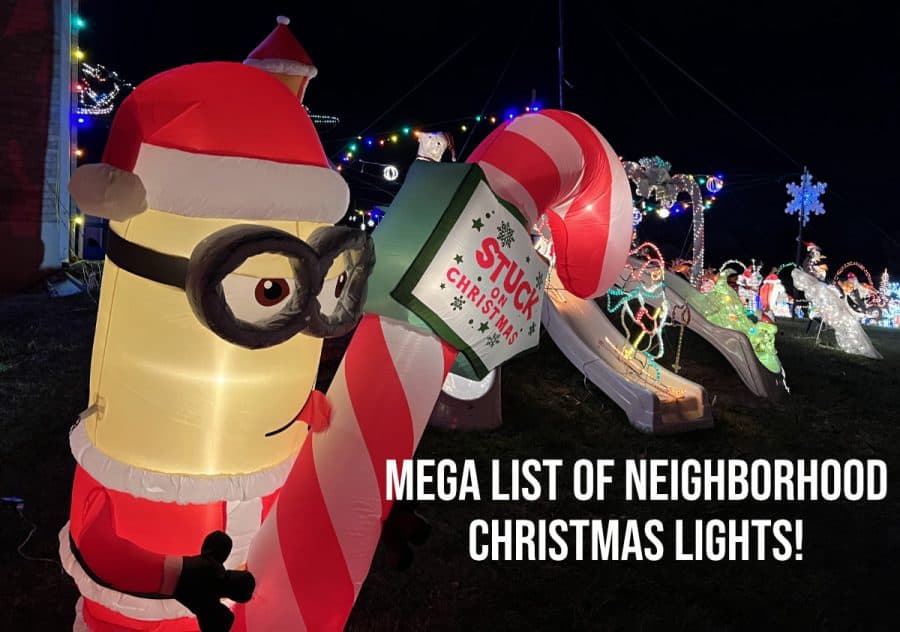 We spend many nights driving around town to see the lights in December and we're so thankful to all the homes who take the time to make this happen for us, especially in 2021!
Do you know of a great light show we missed? A house that's LIT?! Let us know in the comments!
---
Enjoy this list of neighborhood Christmas light shows, all broken up by area
Please remember that lots of these addresses were submitted by readers and fellow Christmas Lights enthusiasts. These are private homes and may not have their lights on when you arrive. If you discover any inconsistencies with our list, please let us know in the comments so we can correct them. And if you'd be willing to scout out new addresses for us while you're out, please do!
LEGEND:
🎄=fan favorite
🎵=music at this one!
🎅=confirmed for 2021
✖=will not be displaying in 2021
Lover of all things Christmas Lights? Be sure to also check out @CincyXMasLights over on Facebook!
Amelia / Withamsville / Bethel
🎵🎅 31 Grouse Drive – The Klanke's Christmas Estate, this family is collecting unwrapped toys for Toys for Tots, includes musical display to radio station
🎅49 Fawn Court
🎅3174 Lindale-Mt. Holly Road
🎅🎵1202 Twin Gate Run (Bennett Family Lights), includes musical display to radio station
56 Robin Way – Lots of inflatables
3914 & 3915 Greentree Terrace
🎅3753 & 3756 Redthorne Drive
3118 State Route 133 (Bethel, OH)
1736 Starling Rd (Bethel, OH) – 44 blowups and a Christmas Shop onsite
3890 Dieckman Lane
Anderson Area
472 4 Mile Road, includes musical display to radio station
🎅🎄757 Eight Mile Road
🎅🎄932 Watch Creek Drive
1213 Immaculate Lane
🎅1756 Pinebluff Lane, includes music (new songs coming early Dec.)
1721 Muskegon Drive (same neighborhood as Pinebluff)
🎅8496 Shenstone Drive (same neighborhood as Pinebluff)
🎅1952 Rusticwood Lane – lots of inflatables
7884 Stoneleigh Ln – lots of inflatables
🎅🎵2110 Candlemaker Drive, hours are Sun -Thurs 5:30-10pm and Fri/Sat 5:30-11pm, park on the downside of the hill and tune to 97.5 FM to enjoy
6145 Woodlark Drive
✖6344 Coffey Street, includes musical display to radio station
7424 Gungadin Drive
1425 Apple Hill Rd – there's a plane in the yard!
2250 Regis Court
8006 Meadowcreek – lots of large inflatables and the rest of the street is lit
6748 Pecos Drive
Batavia
5242 Stonelick Williams Corner
4595 Water Dance Dr.
2327 Pleasant Meadows Dr
2530 Gadwell Lane
Blue Ash Area
4595 Cooper Road
🎅9491 Wynnecrest Drive
Bridgetown – see Green Township below
Carthage
🎅🎄7211 Fairpark Avenue: EPIC! includes musical display to radio station, should be ready by Dec. 6, 2021
Cheviot and Westwood areas
4111 Homelawn
2874 Dirheim Ave
3049 Verdin Avenue – lights dance to music but no radio station
Cleves
8944 Harrison Pike
Colerain Township
3022 Aries Court
5790 Blackwolf Run
7209 Austin Woods Lane, includes musical display to radio station
9205 Silva Drive
2751 Overdale Dr
8730 Cheviot Rd., includes a 75′ lit up tree
Covedale
5373 Maylee Place – multiple houses on the street!
Deerfield Township
3578 Simpson Trace
Deer Park and Dillonvale
7818 Dearborn Avenue
Tramore Drive
3856 & 3824 Mantell – lots of inflatables
4039 Limerick Ave.
Delhi
5341 Delhi Pike
5125 Whitmore Drive
Eastgate / Mt. Carmel
515 and 522 Kaldy Street
🎅4226 Deepwood Lane
Rustic Way
446 Glenrose Ln
London Court
Fairfield
906 Linwood Avenue
🎅🎄 1050 Gail Avenue
🎅1023 Oberlin Dr
964 Antioch Drive, includes musical display to radio station
🎅899 Shady Lane
🎅773 Doris Jane Avenue (lots in this neighborhood)
🎅776 Southwind Drive – starts 12/6
🎅1553 Hunter Road
🎅2096 Harrowgate Hill Lane
🎅1839 Gloucester Drive – front & backyard
🎅5731 Sigmon Way
🎅5734 Sigmon Way
🎅🎵 1 Kingsmont Court, includes musical display to radio station
🎅5839 Sigmon Way
🎅2547 Skylark Drive – bring a letter to Santa with a return address & you'll get a letter back!
🎅3329 Cherryhill

Finneytown
🎅🎵691 Buff, tune to 100.9fm for music, 5pm-midnight
🎅Buff has other decorated houses on the street
🎅Silverhedge (on the way to Buff) has lots of decorated houses
🎅9080 Arrowhead
🎅Brent Drive neighbors have been busy! Lots of houses decorated
🎅853 Reynard Ave.
🎅936 Timber Trail
🎅943 Timber Trail
🎅1097 Peachtree Court
🎅8750 Winton Road
🎅973 Huffman Court
Forest Park / Springdale
🎅🎄11198 Lincolnshire Drive
🎅11581 Mill Road
🎅638 Cloverdale
Green Township
🎅3505 Moonridge Drive
3625 Coral Gables Road
3717 Krierview Drive
3858 Biehl
3678 Jessup Road
5201 Valley Ridge Road
6365 Carley Lane, includes musical display to radio station
4036 Ridgedale Drive, includes musical display to radio station
5846 Fawnridge Court
6023 Ramblingridge Drive, includes musical display to radio station
4049 Hubble Rd
🎅6778 Taylor Rd., they expect to be ready 12-5-21
Hamilton / Lindenwald (make a day of it with Top Things to See and Do in Hamilton, Ohio)
🎅170 and 172 Ritter
🎅3938 Withrow Rd
🎅4066 E Taylor School Road, large display but it sits back off the road and is hard to see
🎅🎄2900 Eaton
🎅3250 Eaton
🎅1379 Peregrine (and more houses surrounding)
637 W Taylor School Rd
🎅359 Bevington Lane
🎅857 Sanders Dr
🎅969 North "E" St
🎅710 & 720 Webster Ave, lots of animated inflatables with movie playing on garage
🎅 6124 Tyler Point Drive
🎅🎄6093 Tyler Point Drive (worth the drive!)
🎅6487 Lakerun Ct (plus more lights throughout neighborhood)
3450 Hamilton Mason Rd
🎅🎄2825 Pleasant Avenue
🎅2907 Pleasant Ave.
4161 Leona Ct
🎅200 block of Sherman Ave., reader reports "lots of houses decorated"
🎅2235 Noble Ave.
🎅910 Brough Ave.

Harrison
1526 Abigail Court, includes musical display to radio station
337 South Elm St, includes musical display to radio station
Liberty Township and West Chester areas
🎄🎅6656 Devon Drive – Christmas at the Hormanns (collecting non-perishable food for Reach Out Lakota & The Princeton Closet through Dec 25); includes musical display to radio station; they plan to run the show every night (weather permitting) from 5-11pm through the new year; viewers can send their first name via text message to personalize the experience.
🎅Quail Hollow and Bruce Hills
🎅6401 Sauterne Dr 45011
8145 Cherry Laurel Drive
🎅6209 Yankee Road
🎅4863 Cedar Brook Ct
🎅 6124 Tyler Point
5226 Traverse Ct.
🎅5062 Anmer Hall Lane – lots of figurines
4518 Aspen Dr.
🎅🎵 7395 N. Pisgah Drive, synched to music (tune to 95.9 fm), runs 6-9pm daily
🎅North Pisgah Drive: Mary Ann says, "The entire street has Christmas displays. One of the homes is synced to your radio. Make sure to go all the way down the street."
🎅 8305 Kimberly Ann Court
446 West Chester Rd., spans two houses
7702 Bonnie Drive
🎅🎵8757 Bluebird Drive, see it Friday-Sunday, 7-10pm, tune to 95.9 for synched music
Loveland (make a day of it! 15 of the Top Things to See and Do in Loveland)
819 & 843 Marbea Drive
1100 Sunrise Drive – Bring a letter to Santa, and take a pic at the selfie stand wreath!
1111 Redbird Meadows Dr (4 homes together)
1001 Hickory Lane
🎵11942 Riveroaks Drive
🎅10100 Sleepy Ridge Drive
Mason
102 Elmlinger Drive
5186 Minuteman Court – multiple houses
4966 Elizabeth Court
🎅3263 Ultra Court

Miamisburg
🎅🎵1219 Kirkley Hall Drive: new in 2021; Show runs 5:30 to 10:30 pm and midnight on weekends. Check out their YouTube channel for a great preview.
Mariemont / Fairfax
🎅3901 Lonsdale Street
Middletown
🎅 8145 Cherry Laurel Drive
Monroe
90 & 100 Hollytree Drive, includes musical display to radio station
905 Ryan Court
38 Village Court
Montgomery
10419 Stone Court
10869 Bromwell Lane
Mt. Healthy
🎅7242 Clovernook Avenue
🎅7228 Park Avenue
🎅7350 Elizabeth St (+2 neighbors)
🎅9295 Montoro
🎅2502 Garrison
🎅9232 Orangewood
Mt. Lookout
3488 Principio Avenue
New Richmond
2426 Country Place – bigger and better this year
130 Regatta Dr
North College Hill
🎅1267 West Galbraith Road
✖2032 West Galbraith Road, Zapf's Christmas Display will not be up in 2021 🙁
Reading
2263 Pompano Ave
160 Eagleview Way – lots of inflatables
15 Magic Lane
Sharonville
3955 Elljay Drive
10602 Robindale Drive
4010 Beavercreek Circle
Springdale – see Forest Park/Springdale
Springfield Township
🎅10210 Lochcrest (circle around the neighborhood for more)
🎅Millbrook and surrounding streets have numerous houses
St. Bernard
🎅403 Jefferson Avenue
🎅309 McClelland Ave, includes musical display to radio station
🎅320 Cleveland Avenue, includes musical display to radio station
Sycamore Township
3824 Mantell Avenue
West Chester – see Liberty Twp. above
Western Hills
2213 Rollingridge Ln
Corner of Werk & Boudinot

White Oak – see Green Township above
Wyoming
🎅9 North Avenue (as seen in the image at the top)
🎵🎅115 Linden Drive: lights only on 6-9pm (weather permitting), includes musical display, lights up through New Years Day
🎅342, 346, 350 Hilltop Ln, includes musical display to radio station
🎅Circlewood Lane (to the right of 346 Hilltop, above) is spectacular! Houses include 387, 388, 383, 379, 375, 371, 315, 311, 308 and more
🎅1304 and 1308 Stonemill Court
🎅Allen Ave. has lots of decorated houses
🎅Burns has lots of decorated houses, especially north of Wyoming Ave.
🎅Ritchie Ave. has lots of decorated houses


Find Cincinnati Neighborhood Christmas Lights Near Me
---
You Might Also Like:
Ultimate Christmas and Holiday Fun Guide
Virtual Visits with Santa – Christmas 2020
Drive Through Christmas Light Shows in Cincinnati, perfect for 2020