This trip was sponsored by Biltmore Estate.
Editor's note: This article about Christmas at Biltmore first appeared on our site in 2017. I have added new info for 2022, including dates. Please keep in mind that pictures are from 2017.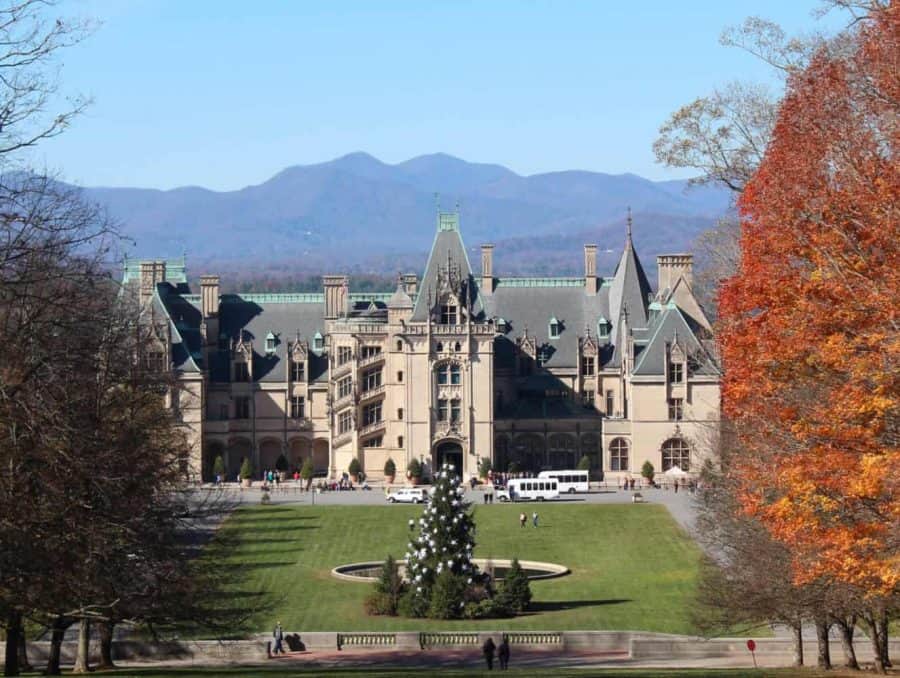 My husband and I recently checked something off on our bucket list – a visit to Biltmore Estate at Christmas.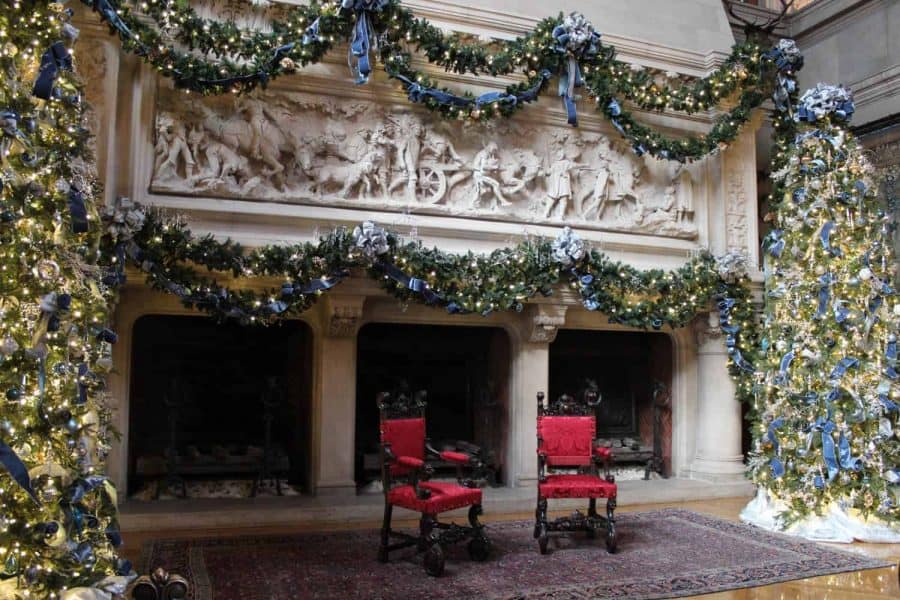 Located in the beautiful Blue Ridge Mountains of Asheville, North Carolina, Biltmore Estate welcomes visitor all year long. But at Christmas time they really pull out all the stops.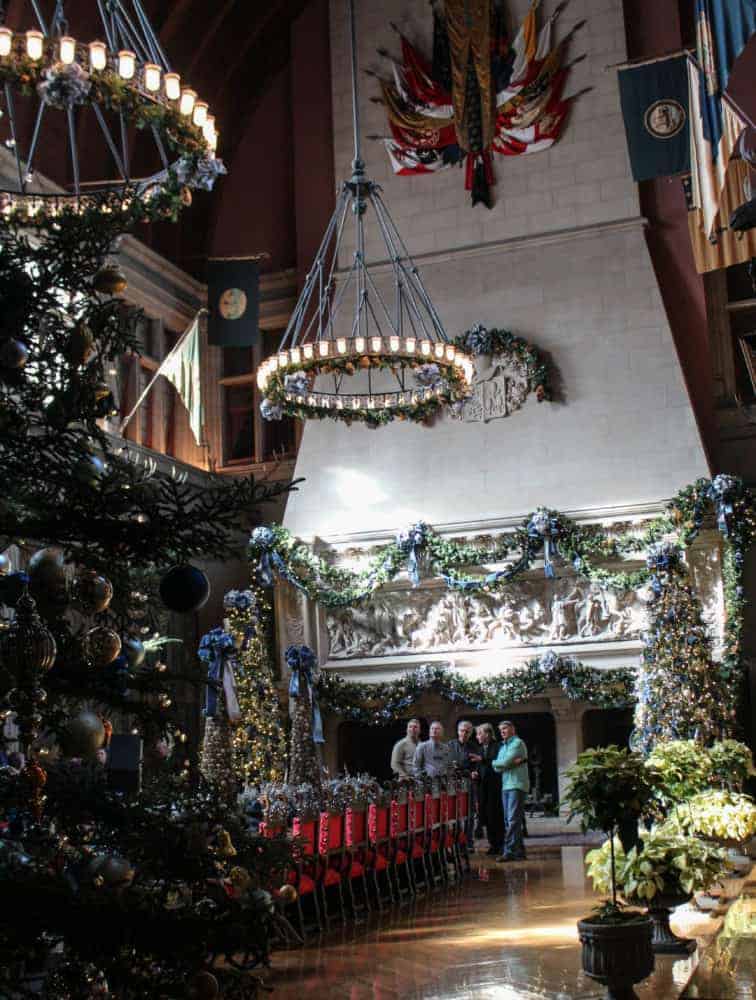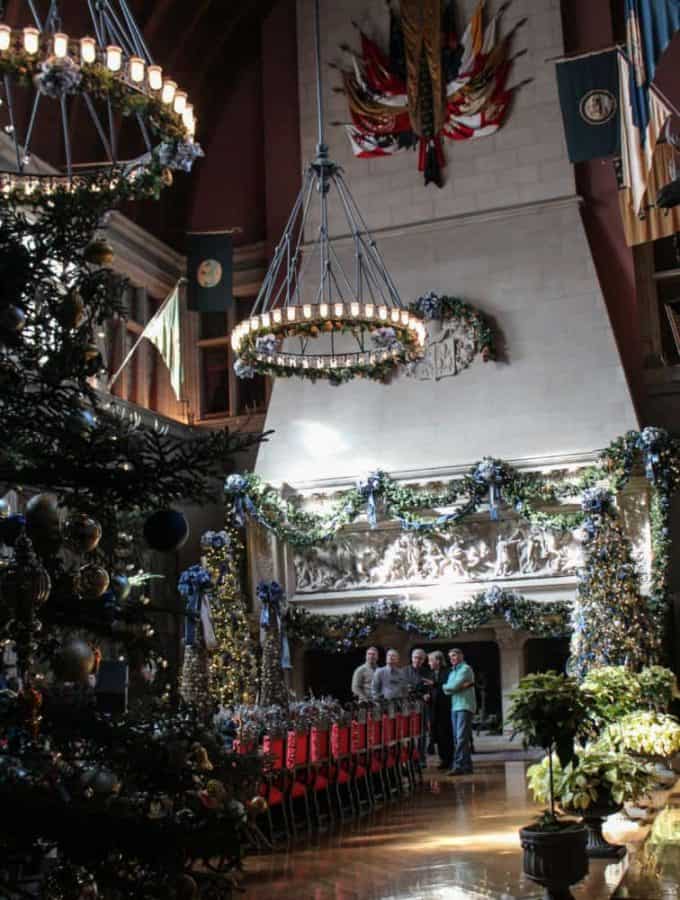 Biltmore Estate spans more than 8,000 acres today and is a community all its own. With two hotels and multiple restaurants on the grounds, you really have no reason to leave until it's time to head home.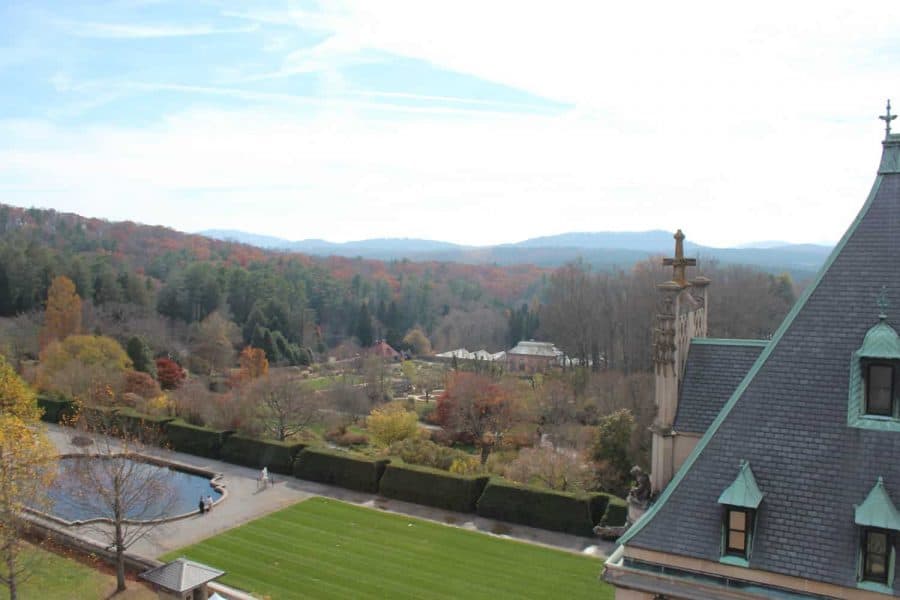 We spent one full day and two half days on the grounds and I feel like that was the perfect way to do it. We left Cincinnati around 11am on our first day, arriving in Asheville around dinner time. We spent the entire next day at Biltmore Estate. We left on the third day in the middle of the afternoon and drove home. We never felt rushed for time and were even able to go back and see some of our favorite spots.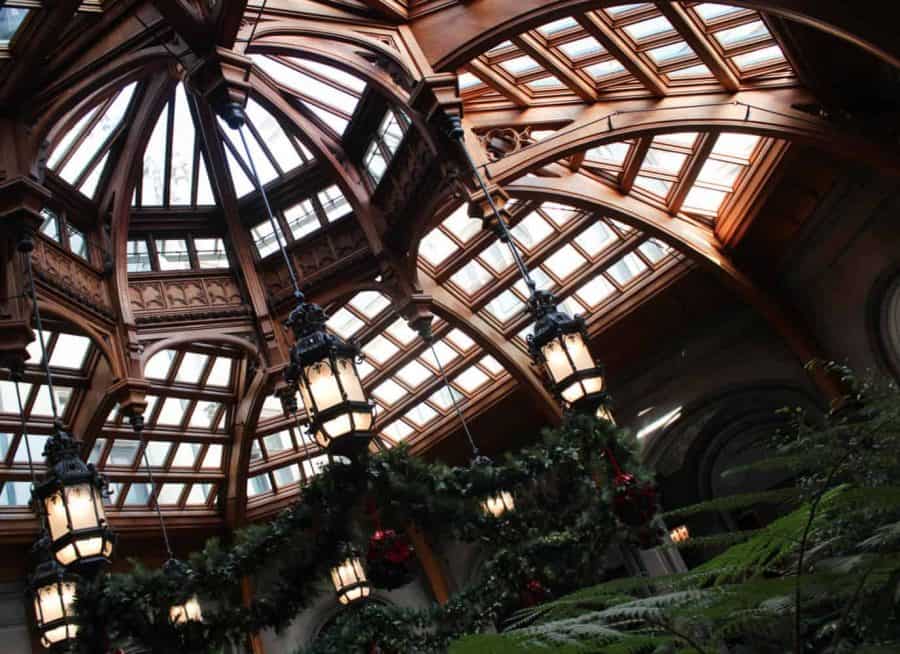 Here's the recap on our stay at Biltmore Estate and what we thought of each aspect:
Touring Biltmore House
At over 135,000 square feet, this was where we spent the majority of our time. We started off Day 2 with a self-guided tour of the house (see below for Day 1 activities).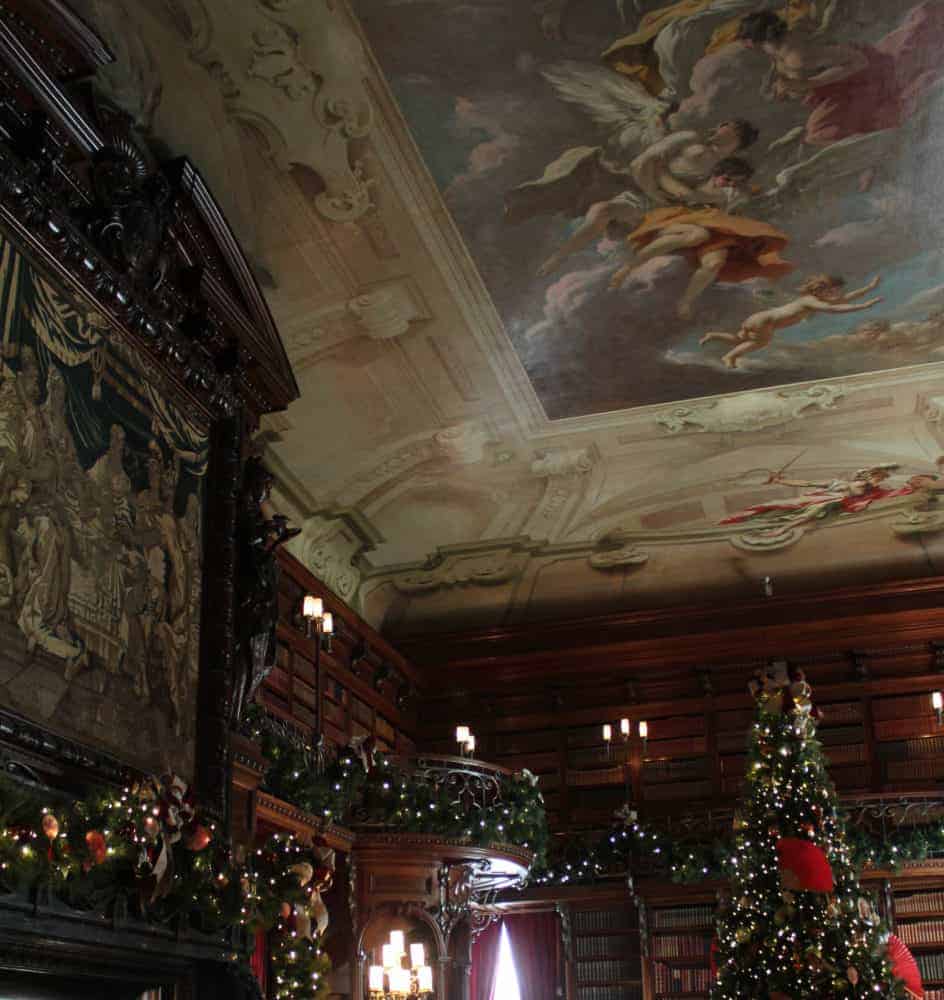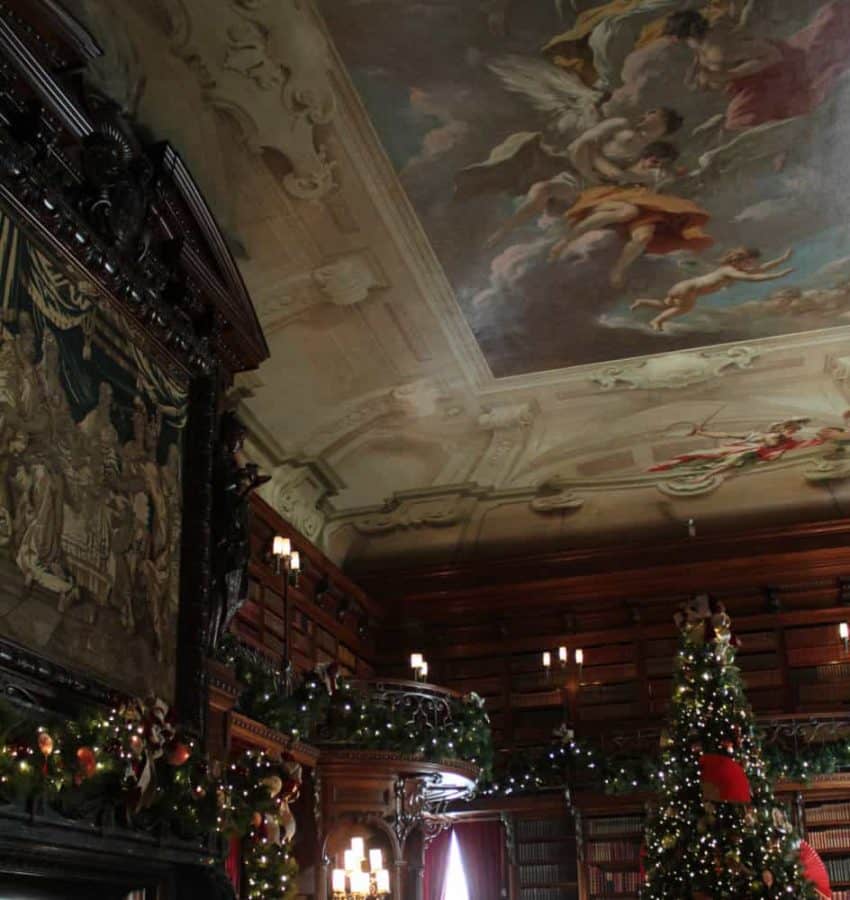 You have the option to purchase an audio tour and I am glad we had that. The audio tour is given via a device that hangs around your neck. It's a battery operated audio device that's long and narrow, similar to a cordless phone. There are stops in the house that are numbered and you simply punch in that number and hold the device to your ear to hear the history of the room you're viewing. We walked through Biltmore House with our audio tour for about two hours.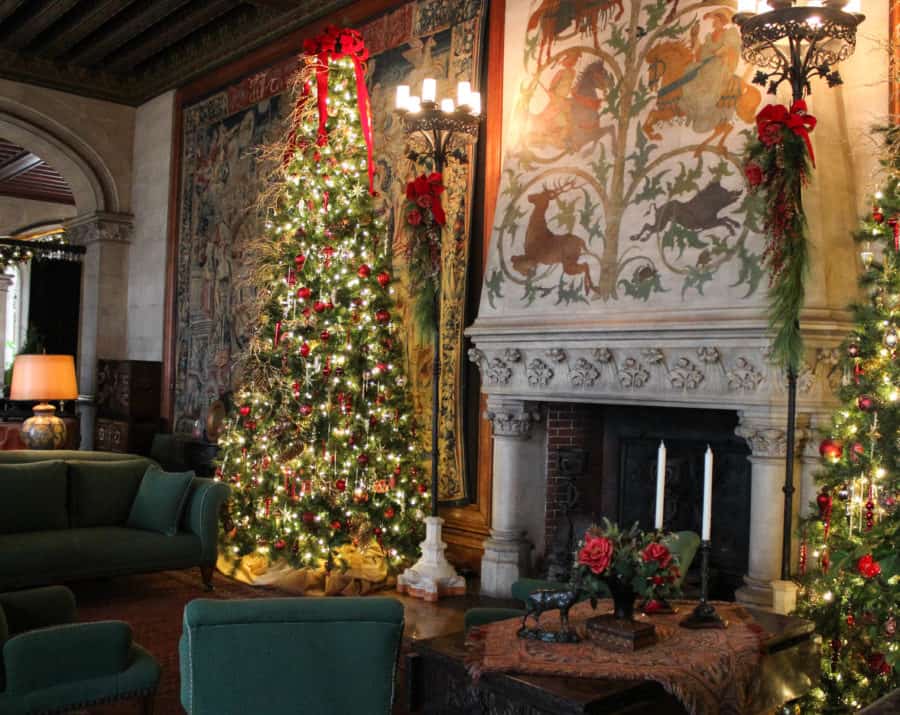 Biltmore House is stunning all year long but it is especially gorgeous when it's adorned with 55 Christmas trees, wreaths, garlands, and the sparkle of thousands of ornaments.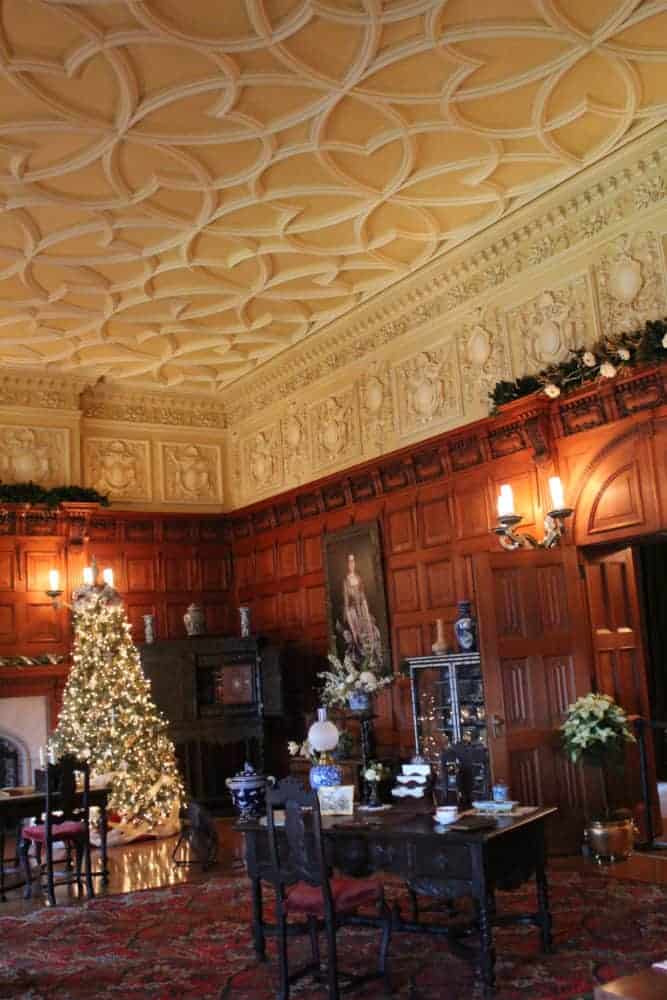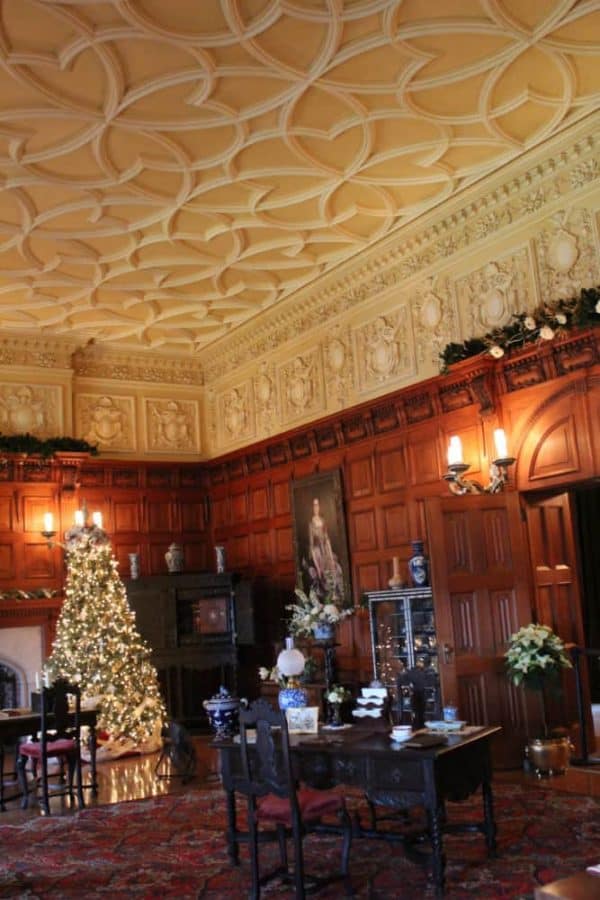 Biltmore House is the largest privately owned home in the United States and is still owned by George Vanderbilt's descendants. Completed in 1895, there are 250 rooms in the house including 35 bedrooms and 43 bathrooms.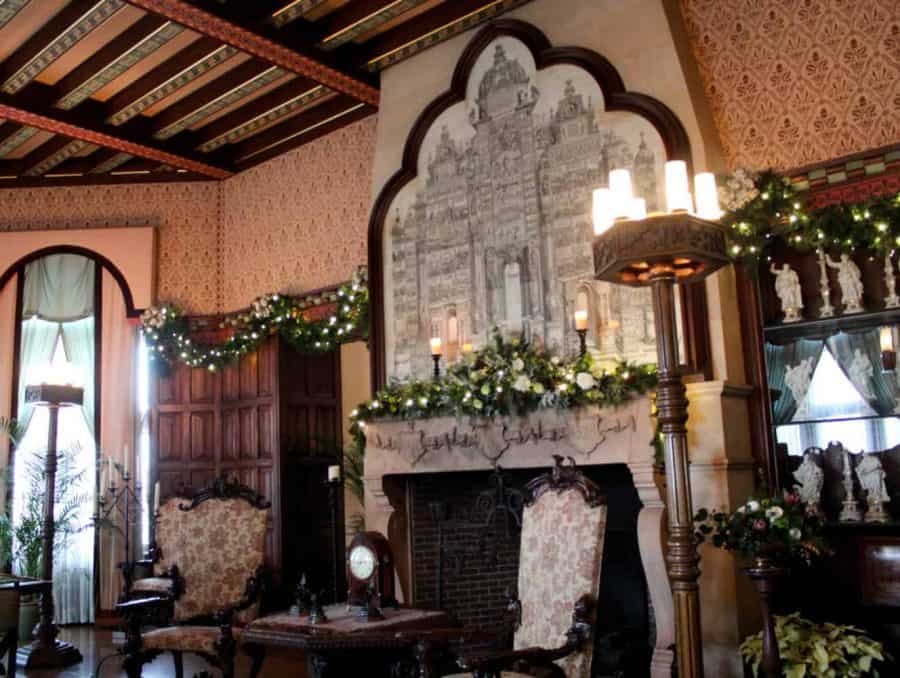 The rooms are beyond gorgeous with attention to detail everywhere you look.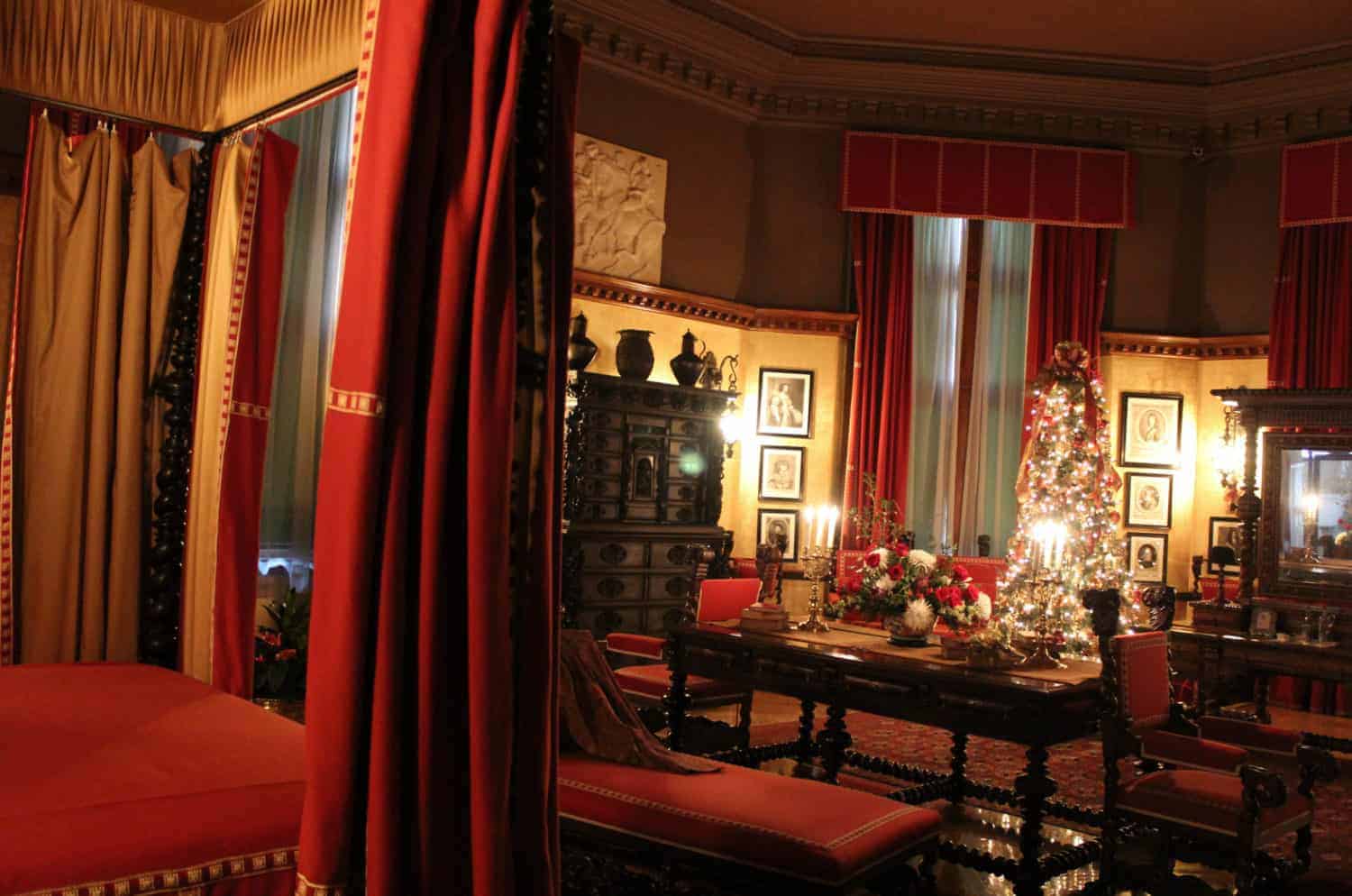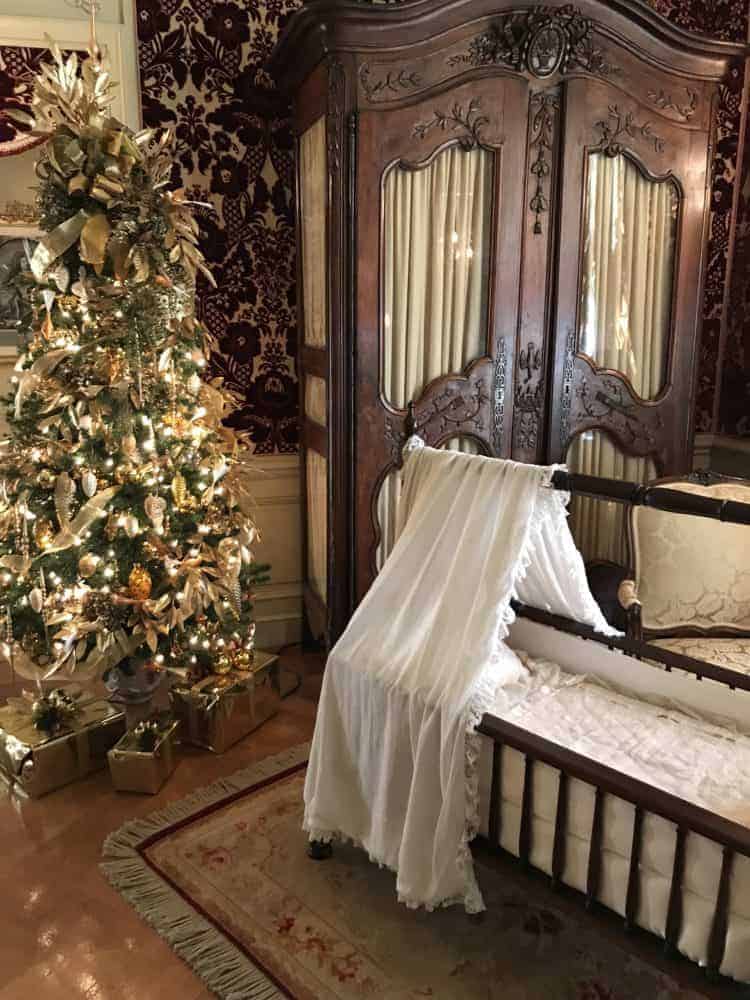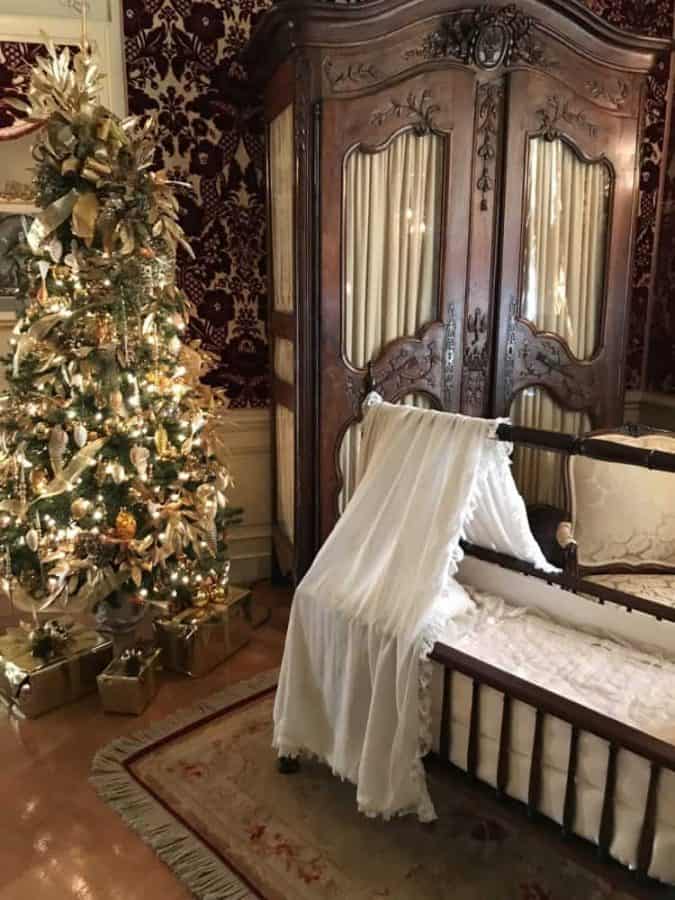 You'll travel through the house, upstairs and downstairs. You'll see entertaining spaces, guest rooms, dining halls, and bedrooms. You'll also get to see the playful side of George Vanderbilt with his indoor pool and bowling alley.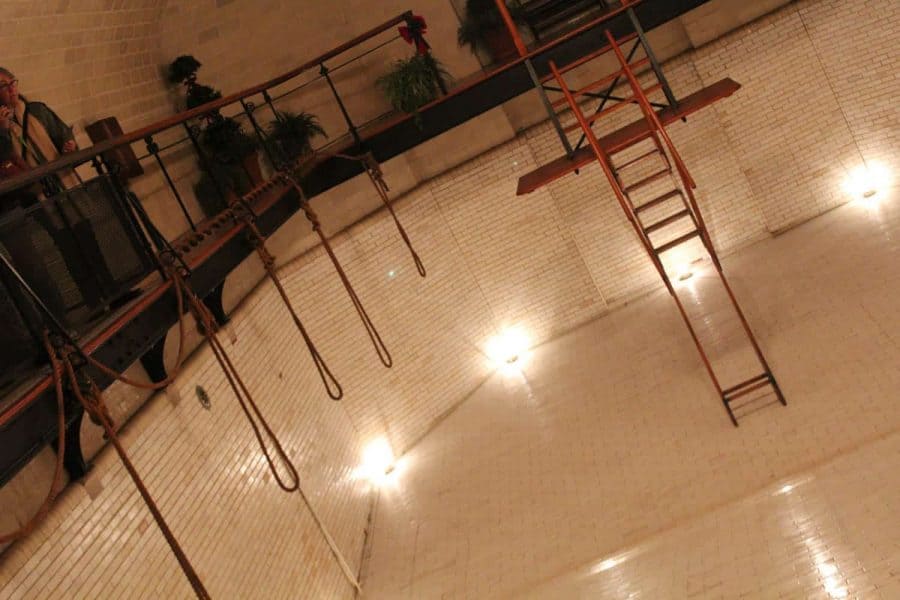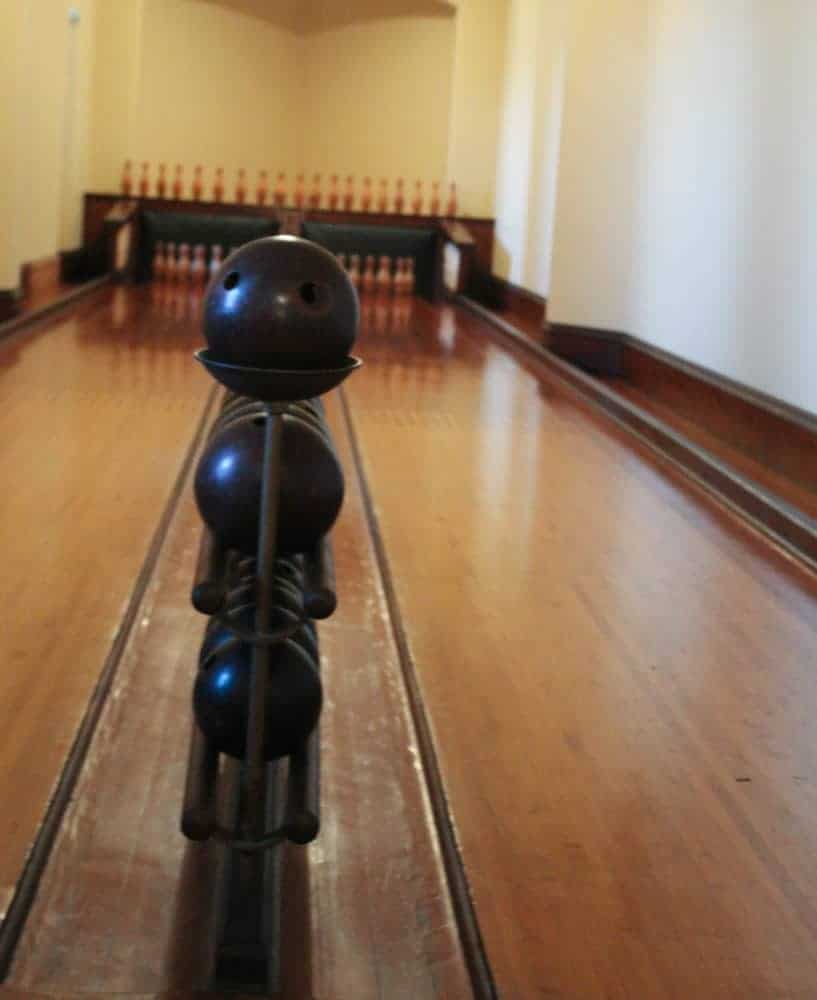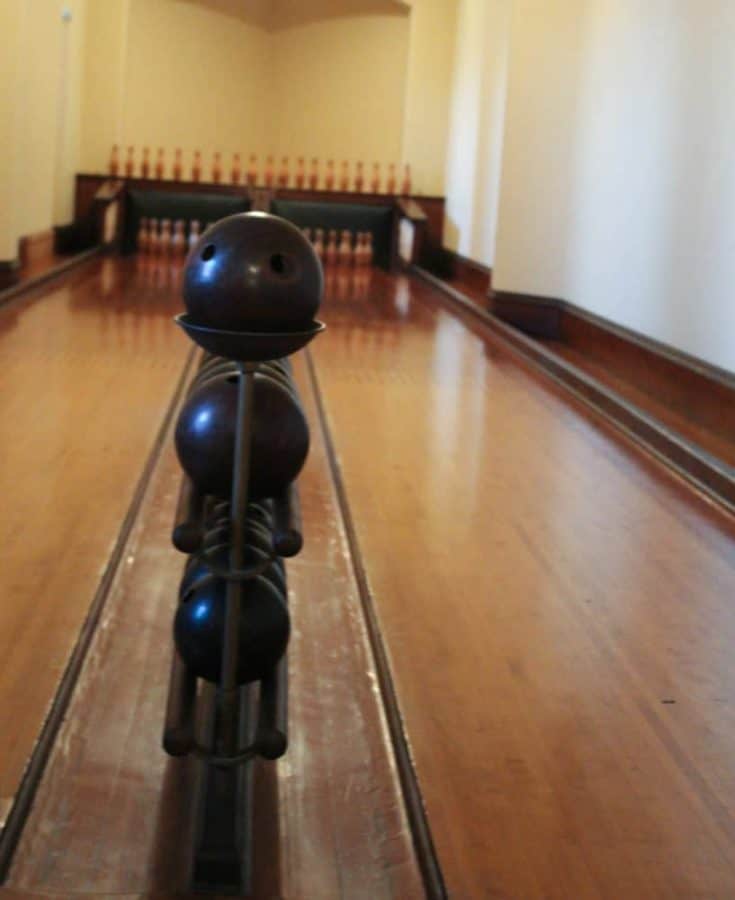 You'll even get to see the servant areas – dining halls, laundry room, and kitchens.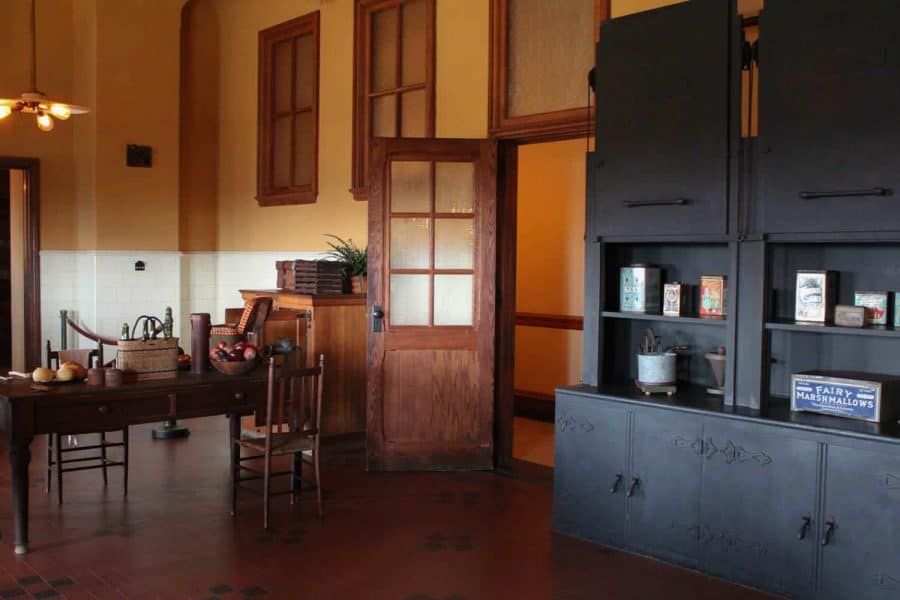 Take a Guided Tour and Get the Full Biltmore Experience:
In addition to our self-guided tour of the house, our Day 2 also included the Rooftop Tour. If you're going to take just one tour, make it this one!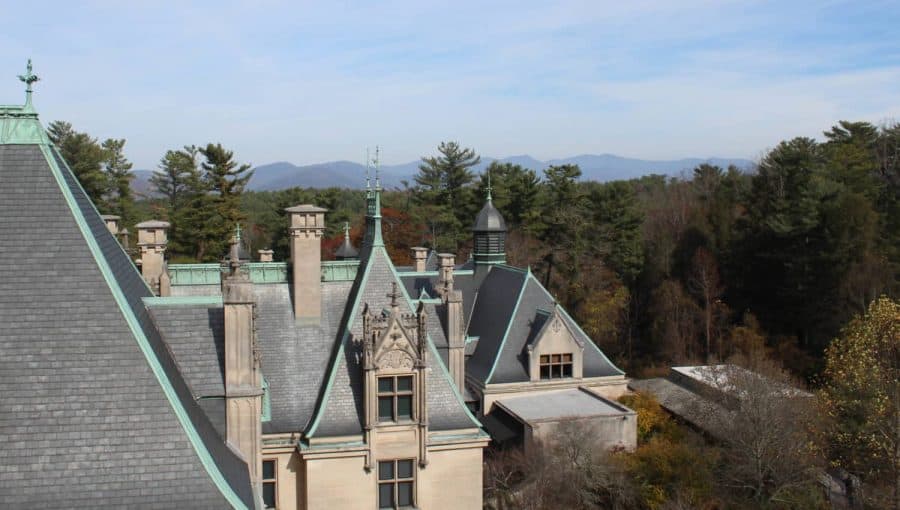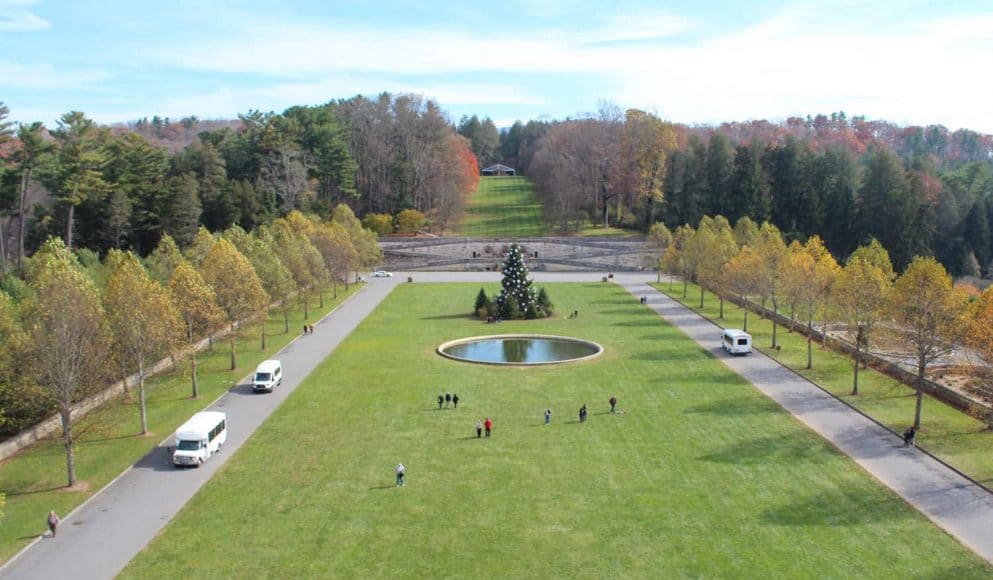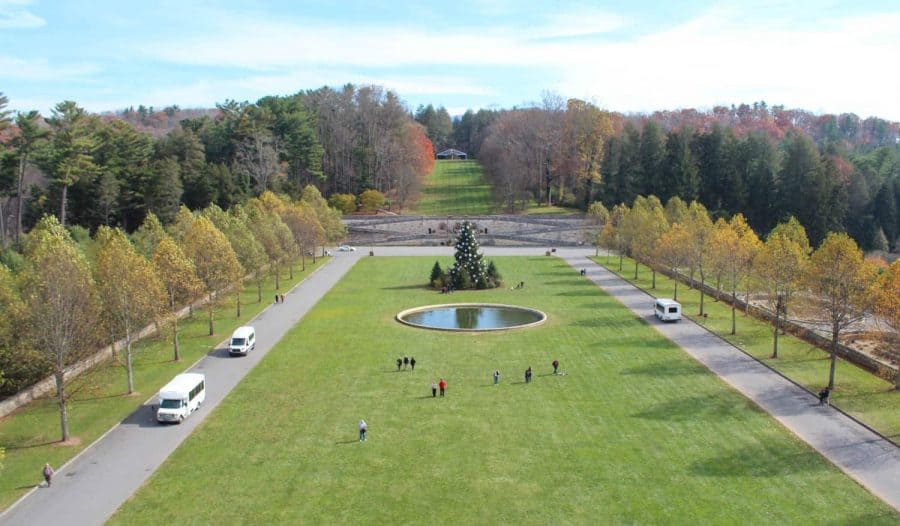 The Rooftop Tour of Biltmore is part architecture tour, part history tour, with a whole lot of gorgeous rooftop views. Our tour guide was fantastic and it was, by far, one of our favorite parts of our visit.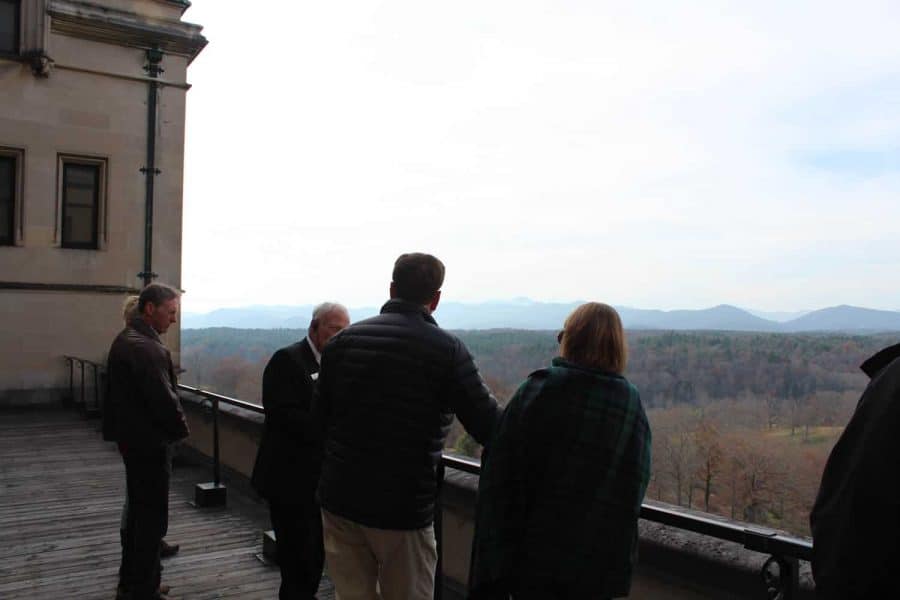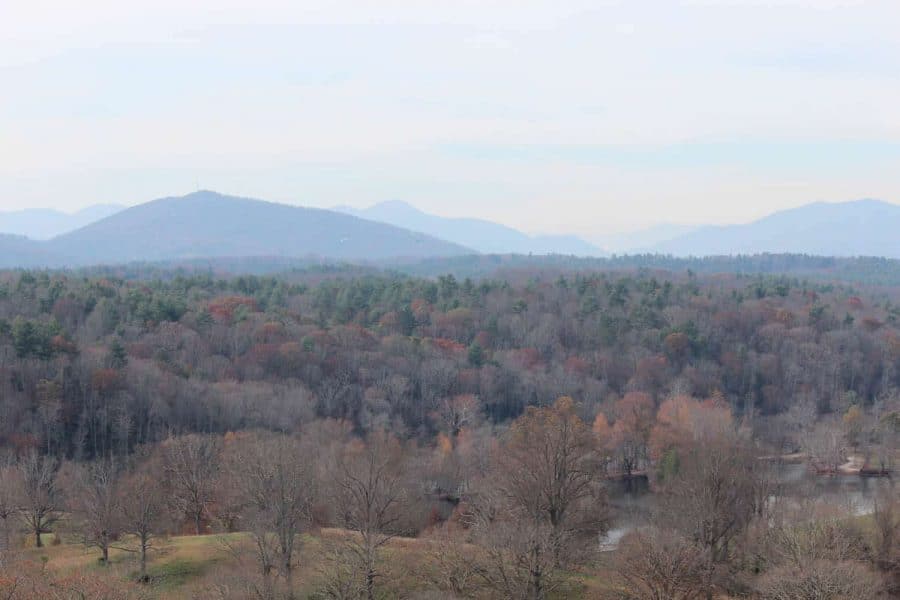 We got to see parts of the house that are not on the usual self-guided tour like the private office of George Vanderbilt (below). Our tour guide told us that he often took the elevator up to his office and worked here (yes, the elevator has been there since the beginning). The light and the views are amazing (as they are throughout the house).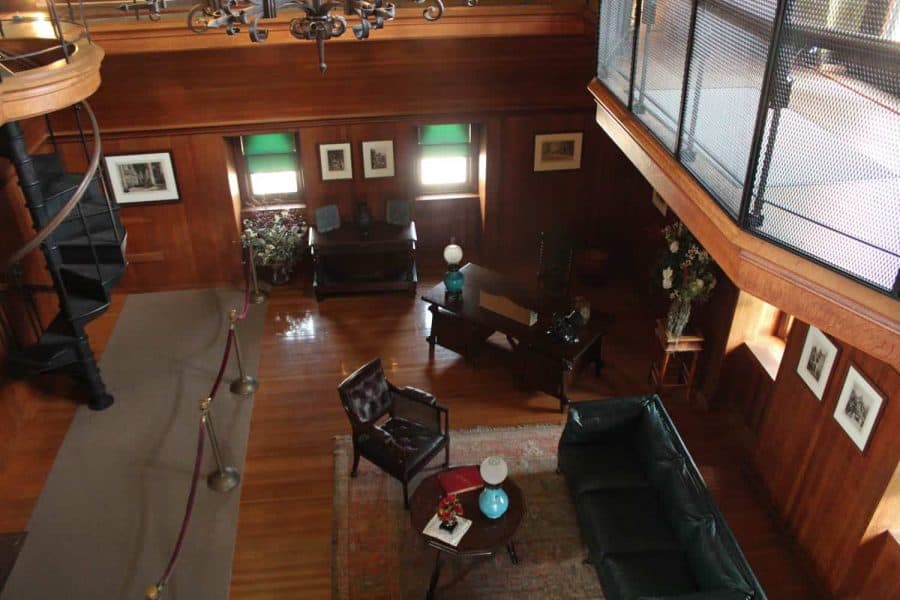 We were able to get up close and personal with the house's "adornments" – which I thought to be gargoyles. But we learned they are actually grotesques (gargoyles are downspouts, these are not downspouts). Technically, we did see one gargoyle but the great majority of them are grotesques… and they're fabulous.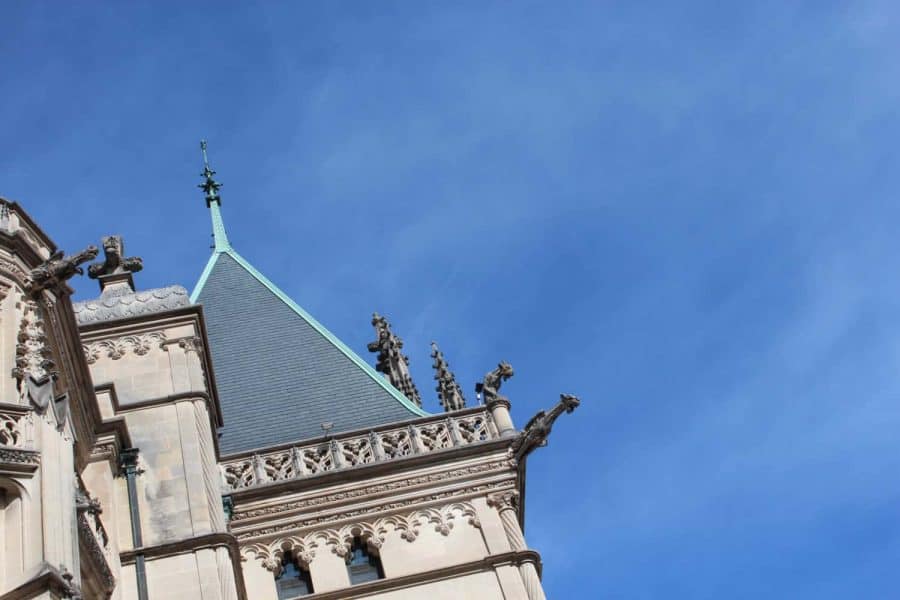 Tour the Gardens and Grounds:
I have to admit that I was surprised by how much there was to do beyond Biltmore House. Day 3 was spent exploring the grounds and the gardens.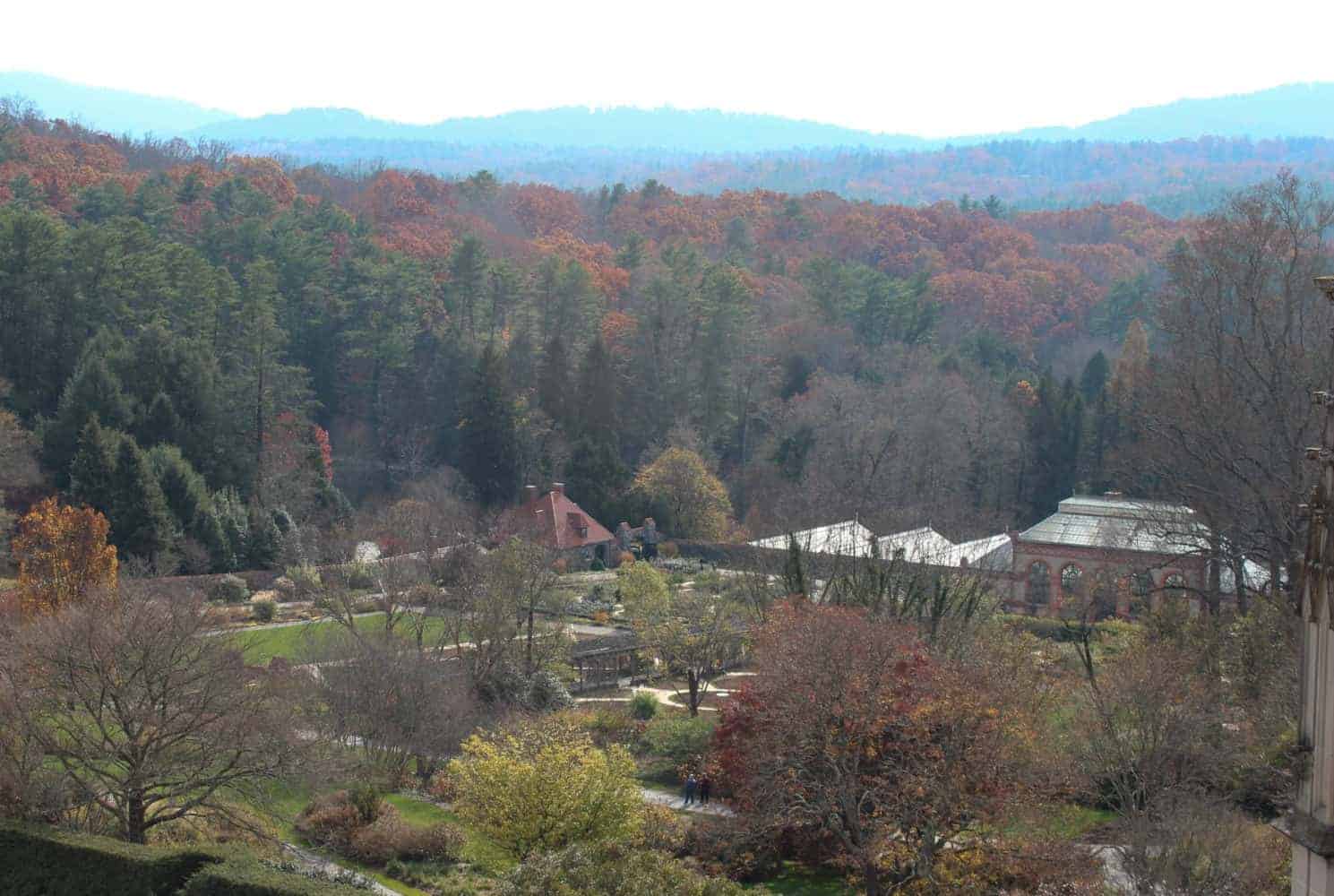 The grounds include miles of hiking trails with lush gardens and thousands of blooming trees and plants. The grounds were rather bare in November but it was still one beautiful scene after another.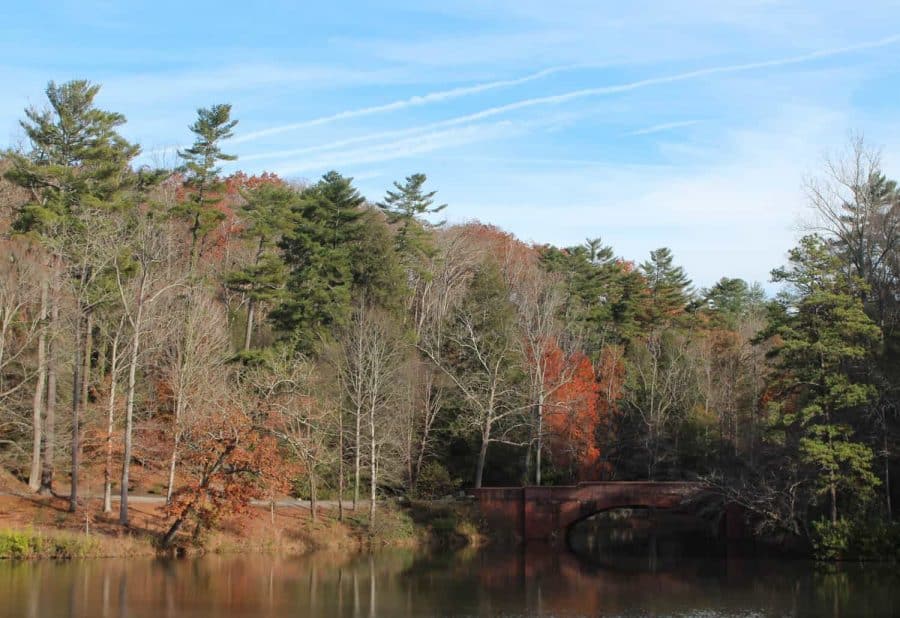 I'd love to come back in the spring to see the 15 acre Azalea Garden in bloom.
Enjoy Antler Hill Village and Biltmore Winery
Upon arriving at Biltmore we headed out to Antler Hill Village. The area was lit with thousands of Christmas lights and was such a warm welcome for our first night at Biltmore Estate.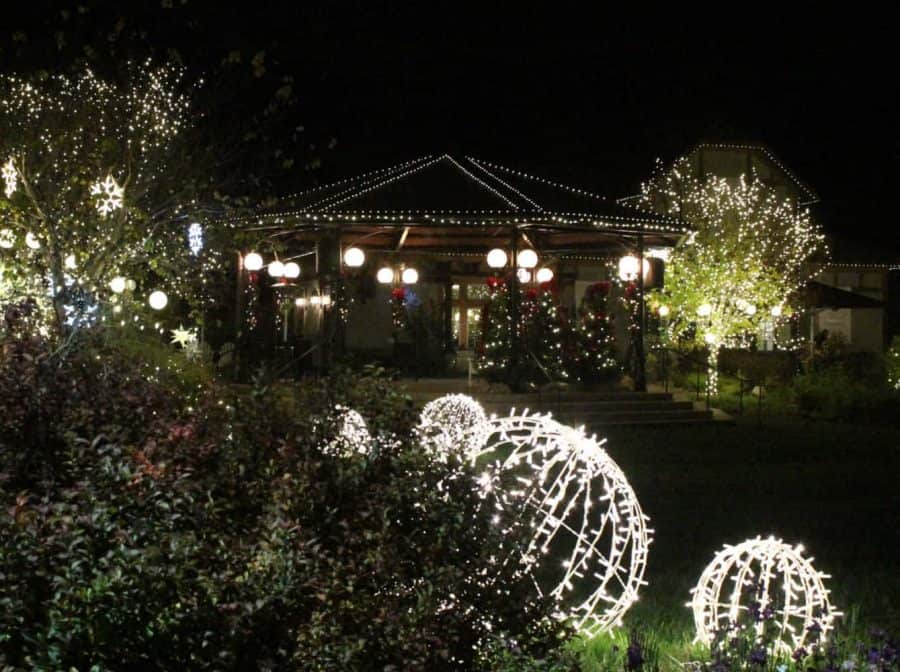 We strolled in and out through the Christmas shops there at the village and debated stopping into the pub there… until we saw this in the distance…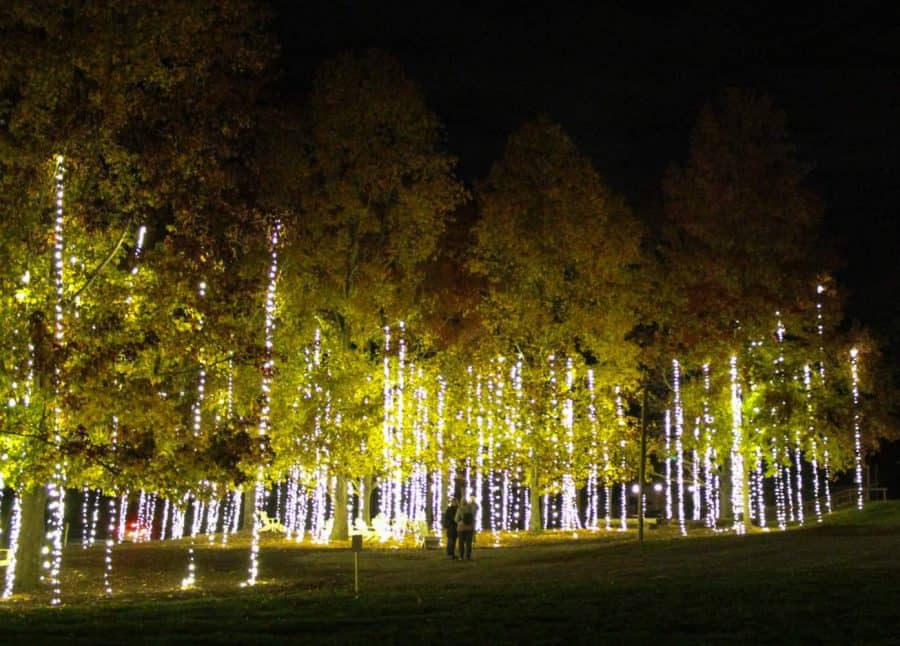 Nestled amongst the evergreens you'll find strings of cascading lights that illuminate this little forest. The area is full of benches and seats where you can sit down and take it all in. It was truly magical.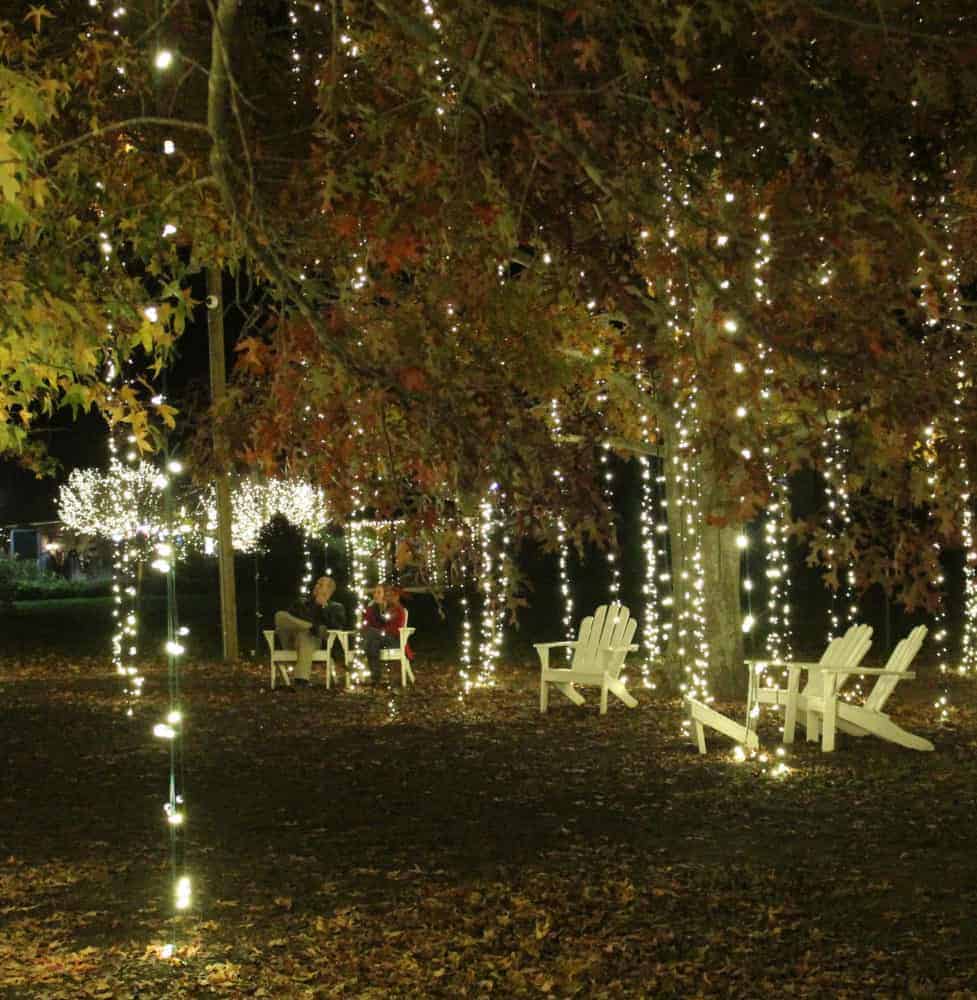 Our next stop was the Winery. Even the arbor was lit up!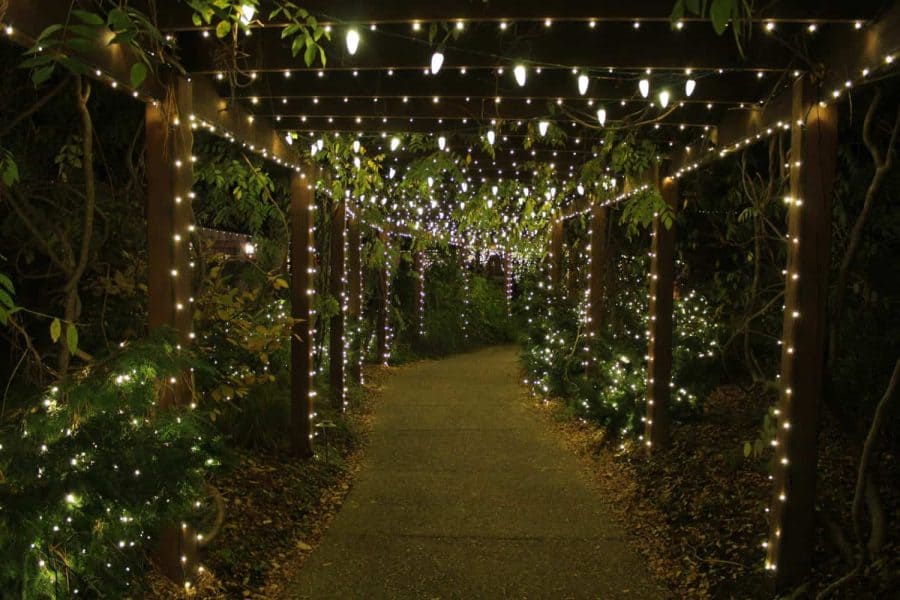 The Winery is housed in what used to the the Vanderbilt Dairy Barn. You proceed through tunnels that originally used to transport dairy cows on this working farm.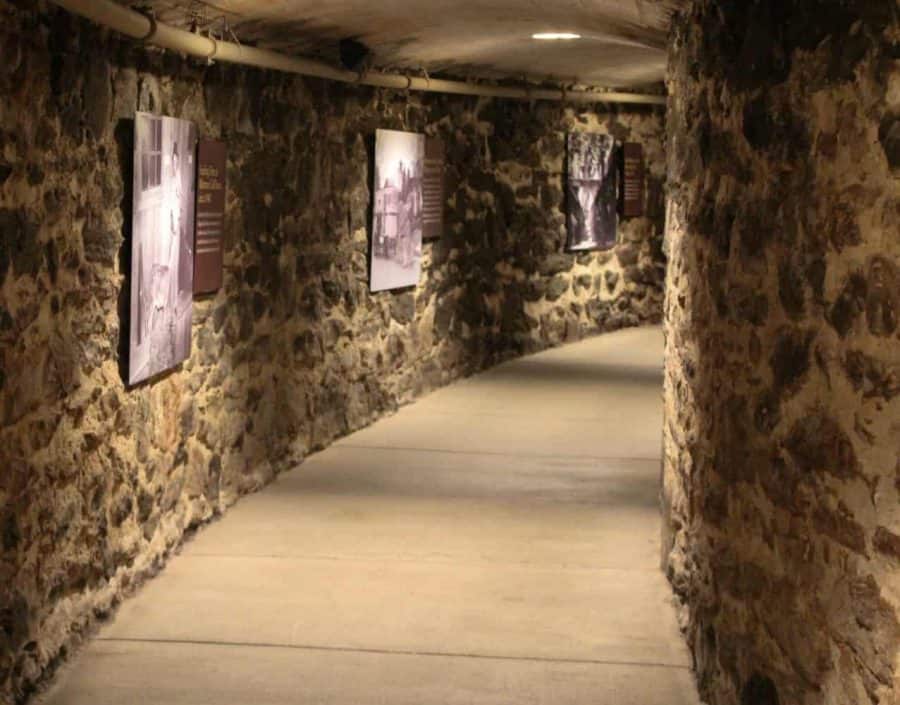 The tunnels quickly give way to a modern winery and tasting bar. You can choose from 20 of their handcrafted vintages in the wine shop, including some special Christmas wines.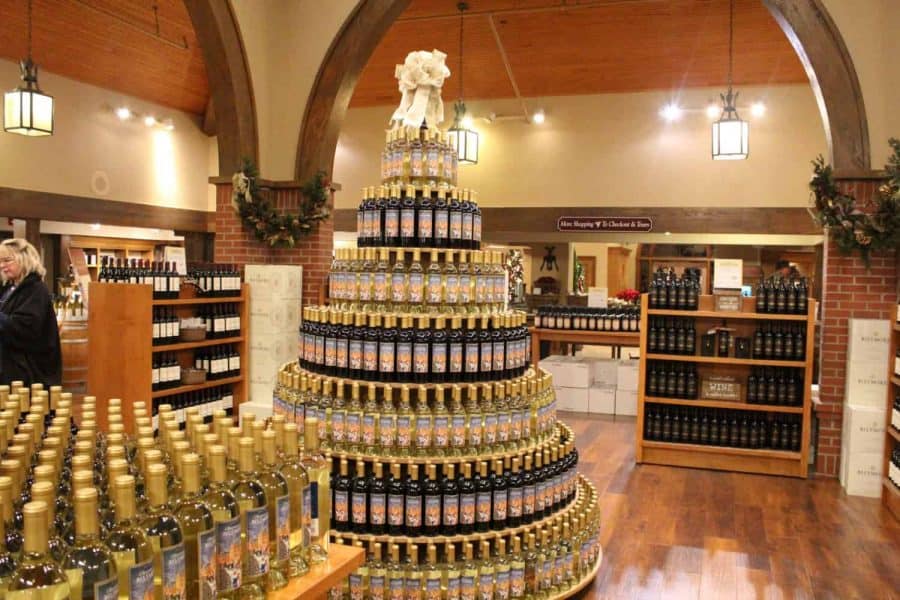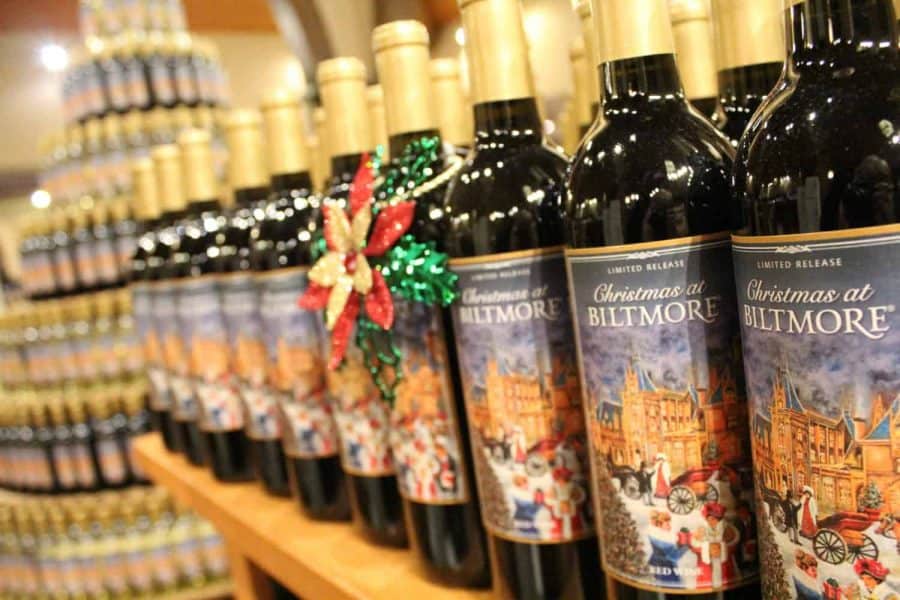 If you'd like to try a few wines out, head over to the Tasting Bar. You can enjoy complimentary tastings of their wines, enjoy wines by the glass, and nosh on delectable cheeses, charcuterie, and locally-made truffles. And be sure to take in the gold ornament chandeliers hanging over the bars at Christmastime.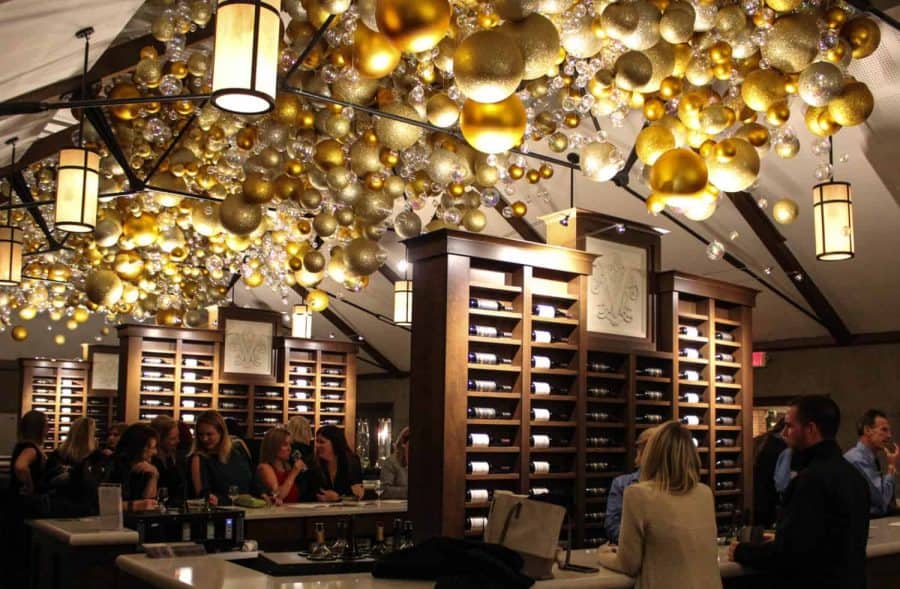 Get the Full Experience When You Stay on the Grounds
Biltmore Estate has two hotels on the grounds. We stayed at The Village Hotel on Biltmore Estate.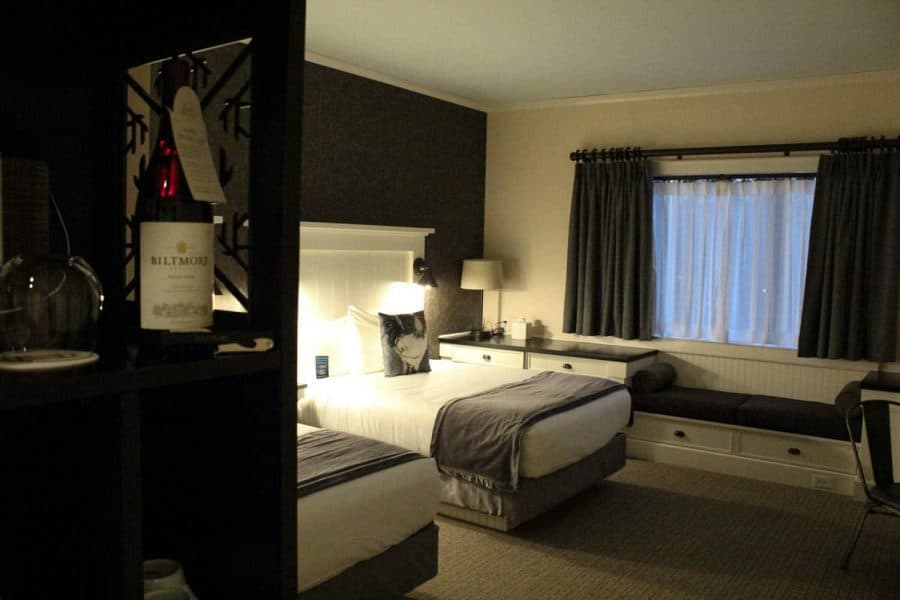 Our room was everything you'd want in a hotel room – clean, quiet, and spacious. I loved the decor. It had a nice nod to Antler Hill Village with just a bit of lodge decor, painted black farmhouse style doors and tables, light colors on the walls, a feature wall of charcoal wallpaper, and crisp white bedding. I actually took detailed pictures to replicate the mix at my house.
Village Hotel is conveniently located right next to Antler Hill Village and the Winery so you can walk over for a glass of wine or to do some shopping. There's a shuttle bus that runs every fifteen minutes or so and it will take you to Biltmore House or to one of the other areas on the grounds (complimentary).
You Won't Go Hungry!
The Village Hotel has a nice restaurant on the second level – Village Social. We enjoyed dinner there on our first night and breakfast on Day 2. The dinner menu included a number of fish and seafood dishes and, sadly, I am not a fan of seafood. While my husband enjoyed their Frogmore stew, I kept it classy with a burger and garlic-herb fries. It was a great first meal for what would become a wonderful Biltmore experience.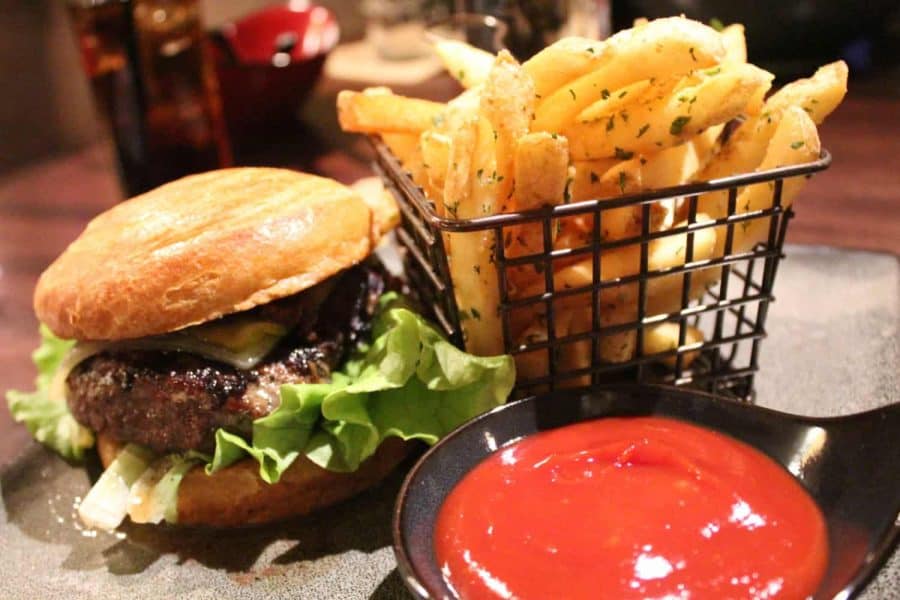 Village Social also has a bar as well as outdoor seating. They serve breakfast, lunch, and dinner.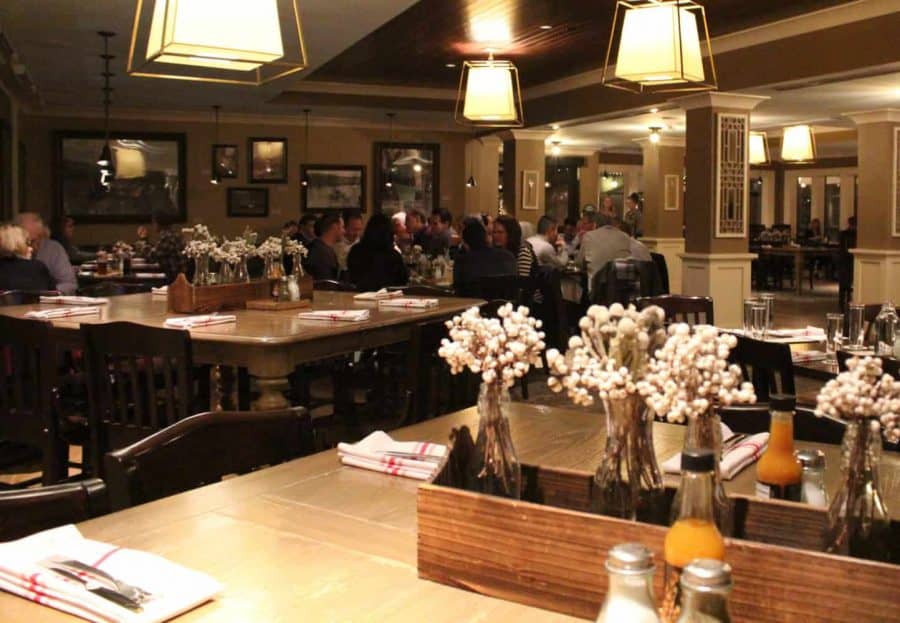 We also had the opportunity to dine at Stable Cafe. This casual eatery is in what used to be the estate's horse stable. We were actually seated in a booth in one of the old horse stalls.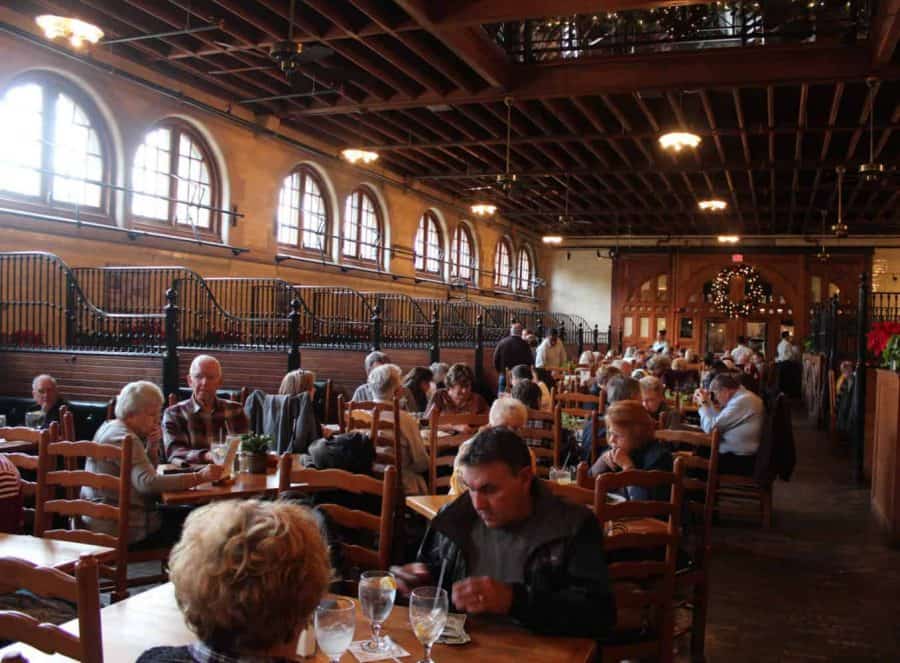 Stable Cafe was my favorite place to eat on the grounds. They have a rotisserie going in the kitchen and I had a quarter chicken with mashed potatoes and vegetables. It was a warm and comforting meal. And I'd just walked a gazillion miles around Biltmore House so I also had this…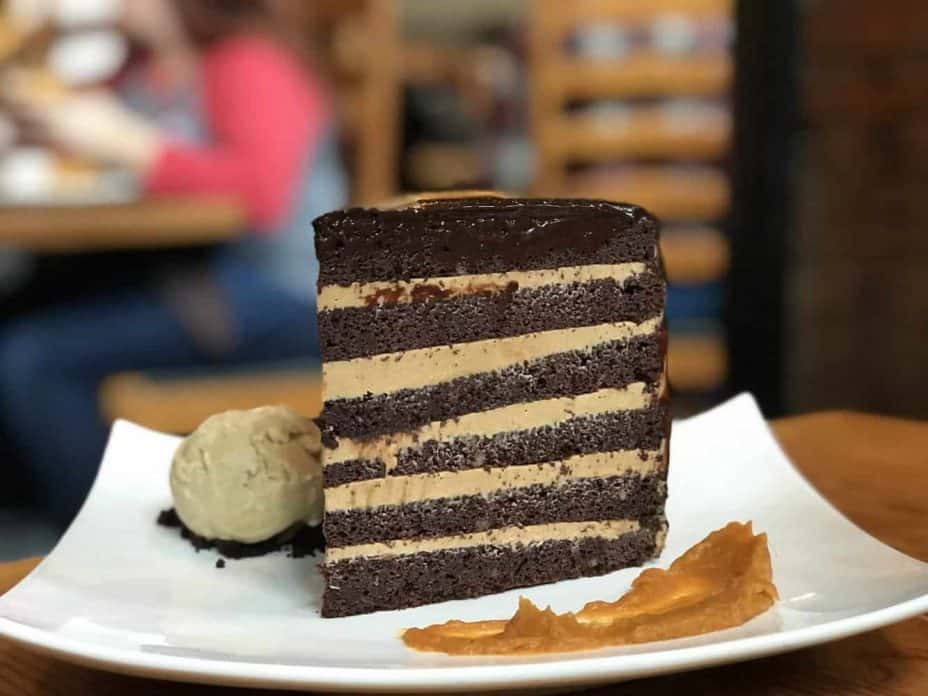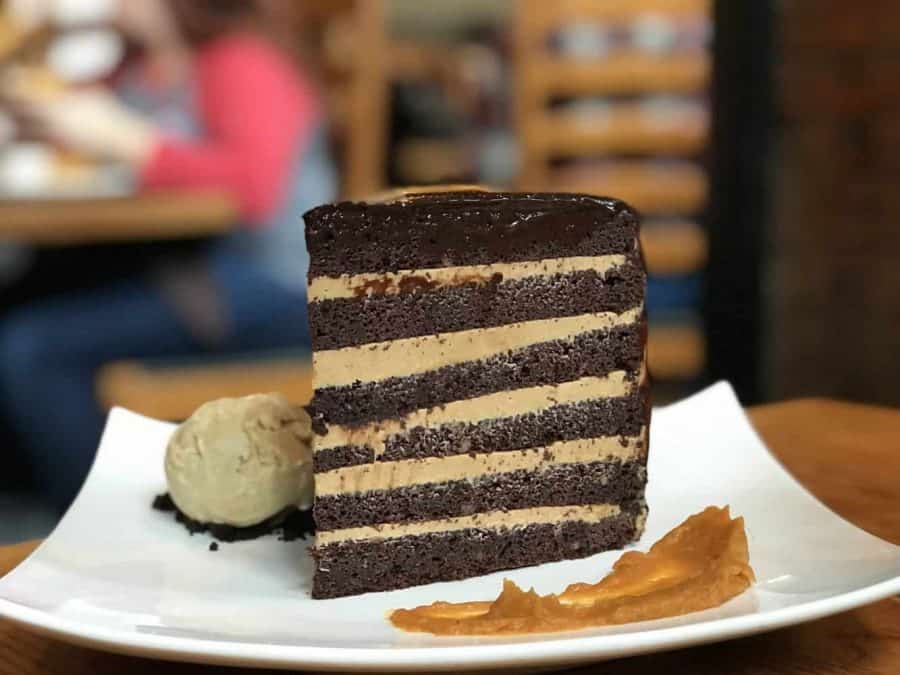 You can also enjoy a meal at The Dining Room, the four star restaurant at The Inn (Biltmore's other hotel). This is more of a fine dining option for you (collared shirts and slacks suggested for men; dresses, skirts, or dress pants for women).
And there are a number of other eateries throughout the grounds – from bakery goods to ice cream to hot dogs. Like I said, you won't go hungry here!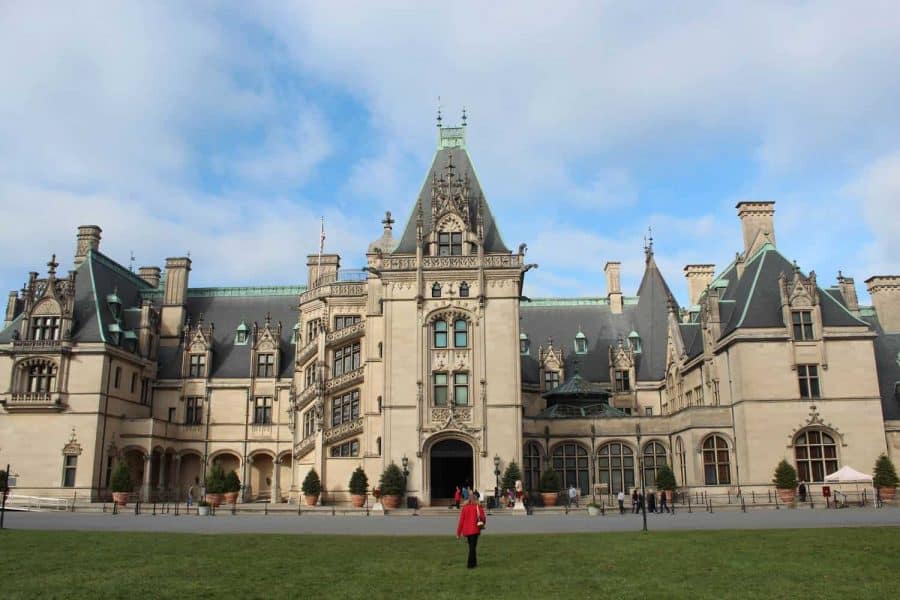 Tips for Making the Most of Your Biltmore Estate Visit:
Do the Rooftop Tour. It was, by far, our favorite part of the experience. Not only do you get to see parts of the house that are off limits to others, you will take in amazing views of the grounds.
A couple on one of our shuttle runs to Biltmore House talked about the Premium Biltmore Tours that are offered. On a Premium Tour a tour guide is assigned exclusively to you. We plan to return and take a private tour next time.
We did our first house tour at 9am on a weekday and there was quite a crowd as we moved from room to room. We came back later in the early afternoon and there was about a quarter of the number of people touring the house at that time. I don't know if that's always the case but the next time I will plan my time to explore Biltmore House for shortly after lunch in the early afternoon (or perhaps even later in the afternoon).
Wear sensible, comfortable shoes and wear layers. We walked a LOT and there are lots of steps too. I was so thankful to have taken comfortable shoes. And about layers – I found myself taking my jacket on and off all day and was glad I had taken one that was light enough to carry without being a burden. If you take a camera (which is allowed) and also have the audio tour device to hold to your ear, you don't want to have to mess with a heavy coat in your hands.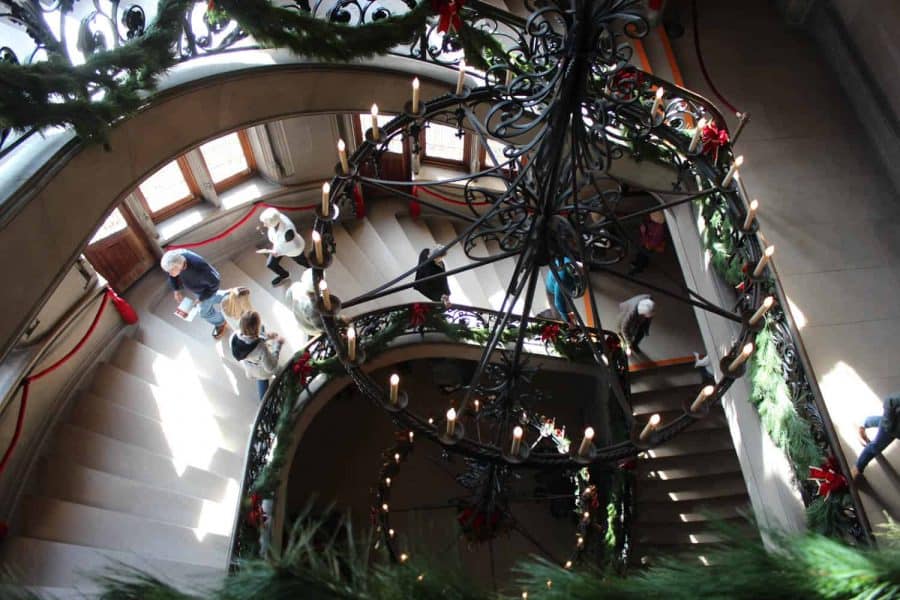 Biltmore Estate is located at One Lodge Street – Asheville, NC 28803
Christmas at Biltmore is happening Nov. 4, 2022- Jan. 8, 2023