The list of things to do ON Thanksgiving Day in Cincinnati is, surprisingly, pretty great. From Christmas lights to the holiday show at the Krohn Conservatory, you have your choice of fun Thanksgiving Day events.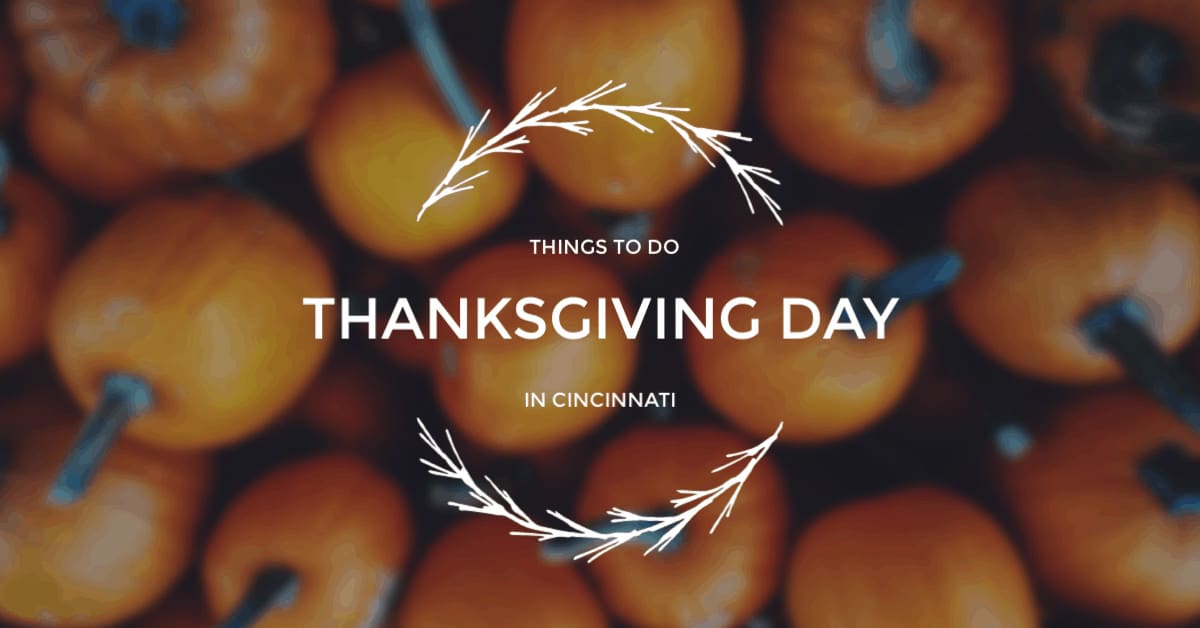 Things to do on Thanksgiving Day in Cincinnati
Christmas Nights of Lights at Coney Island, dusk – 10pm
6201 Kellogg Ave., Cincinnati 45230
Experience this amazing light show synchronized to both traditional and rocking holiday music through your car radio. Visitors of all ages will be awed by the larger-than-life trees, glowing snowflakes, dancing candy canes and fantastic tunnels of lights! In the warmth of your own car, you can sing along to the sounds of the season synchronized to each holiday display. Christmas Nights of Lights welcomes carloads of families and friends to enjoy this Christmas tradition. With two and a half miles to drive through, your family can see displays and light shows made of over a million lights driven by more than forty thousand computer channels. The show will begin nightly at dusk Christmas Nights of Lights will be open every night including holidays.
Newport Aquarium is open 10am – 5pm
One Aquarium Way Newport, KY 41071
Newport Aquarium showcases thousands of animals from around the world in a million gallons of water. You'll be amazed at all there is to see and do, including fun and interactive activities, like touching a shark or meeting a penguin. Scuba Santa does not show up until the day after Thanksgiving.
The Fountain Square Ice Rink, 12-9:30pm
520 Vine Street, Cincinnati, Ohio 45202
The ice rink is open, 12-9:30pm. While they are allowing a limited number of walk-up sales per session, they strongly recommend reserving your session in advance to guarantee your desired session time and to accommodate your full party. Don't miss the fan favorite of Bumper Cars on the ice!
Celestial Holiday at The Krohn Conservatory
10am – 1pm on Thanksgiving Day (check their site before you go; they've changed the closing time a number of times lately)
1501 Eden Park Drive, Cincinnati, Ohio 45202
Guests can experience an enchanting, immersive train display, winding their way through a miniature world of botanical models thoughtfully sculpted in natural plant material. Included are models of the famed Roebling Bridge, Great American Tower, P&G Towers, Fountain Square, Krohn Conservatory, Eden Park Water Tower, the Winton Place Rail Station, Mount Adams and its incline track, along with many other icons that represent the architectural diversity of the Queen City. G-scale model train tracks traverse the elegant flow of the walking path, and pass by a waterfall, which spills into a bubbling brook. Hand-sculpted cedar mountains combined with decorative grapevine stretch throughout the layout creating a perfect backdrop for the plants, trains and models.
Click here to see our list of restaurants that are open ON Thanksgiving Day
Fall Feast Cincinnati (Volunteer Opportunity) 9am – 2pm
Duke Energy Center, 525 Elm St, Cincinnati, OH 45202
Fall Feast is an event focused on community. Whether you have fallen on hard times, staying in Cincy for the holiday, find yourself homeless, or are living paycheck to paycheck be a guest on Thanksgiving Day and enjoy a great meal prepared by local chefs. 9am-11am guest can visit the coat shop. 11am-2pm dinner is served.
Churchill Downs, 10am – 5pm
Churchill Downs, 700 Central Ave, Louisville, KY, 40208
Celebrate Thanksgiving at the track. Enjoy a Thanksgiving buffet and watch exciting live thoroughbred racing including the Falls City (GII) Stakes with family and friends.
The following events are NOT open for Thanksgiving 2022:
---
All dates, times, events were accurate at the time of this posting but things do happen and events do occasionally get canceled or full. You should always double check with the event source before you head out the door. Links for each event are provided so that you can be sure the date is still accurate before you head out.