The list of things to do ON Thanksgiving Day in Cincinnati is, surprisingly, pretty great. From Christmas lights to the holiday show at the Krohn Conservatory, you have your choice of fun Thanksgiving Day events.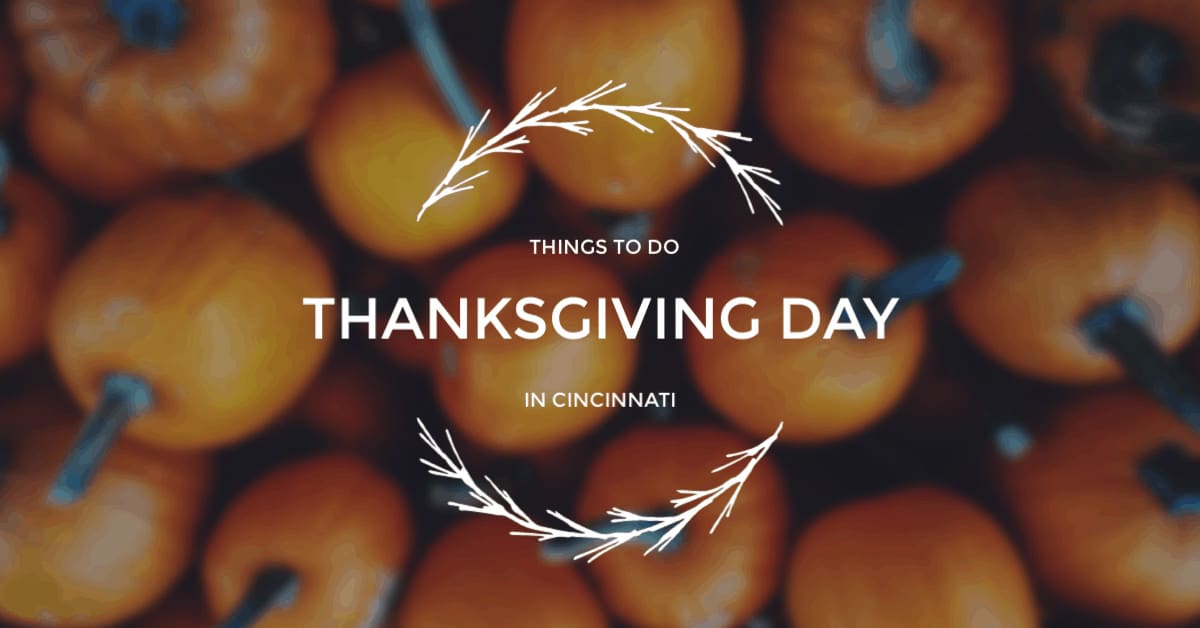 Things to do on Thanksgiving Day in Cincinnati (updated for 2020):
Click here to see our list of restaurants that are open ON Thanksgiving Day
The Fountain Square Ice Rink, 12-9pm
520 Vine Street, Cincinnati, Ohio 45202
The ice rink is open and you will need reservations this year, 12-9pm. New for 2020 = Bumper Cars on the ice! They will operate alongside ice skating from Nov. 7 to Feb. 15, seven days a week. Bumper Cars may be driven by adults as well as children ages 7 and up and will allow for individuals with limited physical abilities to enjoy the rink in a new way. The ice rink will open this year with new COVID-19 procedures in place, including a timed reservation system with a maximum of 80 patrons and increased cleaning processes.
Christmas Nights of Lights at Coney Island, dusk – 10pm
6201 Kellogg Ave., Cincinnati 45230
Experience this amazing light show synchronized to both traditional and rocking holiday music through your car radio. Visitors of all ages will be awed by the larger-than-life trees, glowing snowflakes, dancing candy canes and fantastic tunnels of lights! In the warmth of your own car, you can sing along to the sounds of the season synchronized to each holiday display. Christmas Nights of Lights welcomes carloads of families and friends to enjoy this Christmas tradition. With two and a half miles to drive through, your family can see displays and light shows made of over a million lights driven by more than forty thousand computer channels. The show will begin nightly at dusk and run through 10 p.m. Christmas Nights of Lights will be open every night including holidays.
The Newport Aquarium is open 10am – 6pm
One Aquarium Way Newport, KY 41071
Newport Aquarium showcases thousands of animals from around the world in a million gallons of water. You'll be amazed at all there is to see and do, including fun and interactive activities, like touching a shark or meeting a penguin.
The following events have been open in years past but have chosen to be closed for Thanksgiving 2020:
A Very Merry Garden Holiday at The Krohn Conservatory, 10am – 2pm on Thanksgiving Day
1501 Eden Park Drive, Cincinnati, Ohio 45202

Updated 11-23-20: This just in from Cincinnati Parks. "Krohn Conservatory will close to the public, effective Tuesday November 24, 2020 as part of the City of Cincinnati's COVID-19 Emergency response efforts. The health and safety of our staff and guests remain our top priority. The closure is being done as a precaution to protect the public health by limiting opportunities for community transmission of COVID-19. We look forward to re-opening our doors to the public as soon as we are able to do so safely. Anyone who has purchased online tickets to "A Very Merry Garden Holiday" may receive a refund by calling 513-421-4086."

Guests can experience an enchanting, immersive train display, winding their way through a miniature world of botanical models thoughtfully sculpted in natural plant material. Included are models of the famed Roebling Bridge, Great American Tower, P&G Towers, Fountain Square, Krohn Conservatory, Eden Park Water Tower, the Winton Place Rail Station, Mount Adams and its incline track, along with many other icons that represent the architectural diversity of the Queen City. G-scale model train tracks traverse the elegant flow of the walking path, and pass by a waterfall, which spills into a bubbling brook. Hand-sculpted cedar mountains combined with decorative grapevine stretch throughout the layout creating a perfect backdrop for the plants, trains and models.
The Cincinnati Zoo is will not be open for Thanksgiving Day 2020
Holiday in Lights are Sharon Woods will not be open for Thanksgiving Day 2020
---
All dates, times, events were accurate at the time of this posting but things do happen and events do occasionally get canceled or full. You should always double check with the event source before you head out the door. Links for each event are provided so that you can be sure the date is still accurate before you head out.