Ohio may not be the first place you think of when it comes to castles. We are not ancient Europe or the Scottish Highlands, after all. But you might be surprised to learn there are a number of majestic castles spread all across Ohio – just waiting for you to come explore!
Plan a little road trip through Ohio to see some of these historical landmarks. You can even plan to stay the night in one as some of the Ohio castles on our list have overnight accommodations – from a Victorian era bed and breakfast to a stay in the small cottages of a "medieval village".
Take a Tour – Castles in Ohio:
Stan Hywet Hall & Gardens in Akron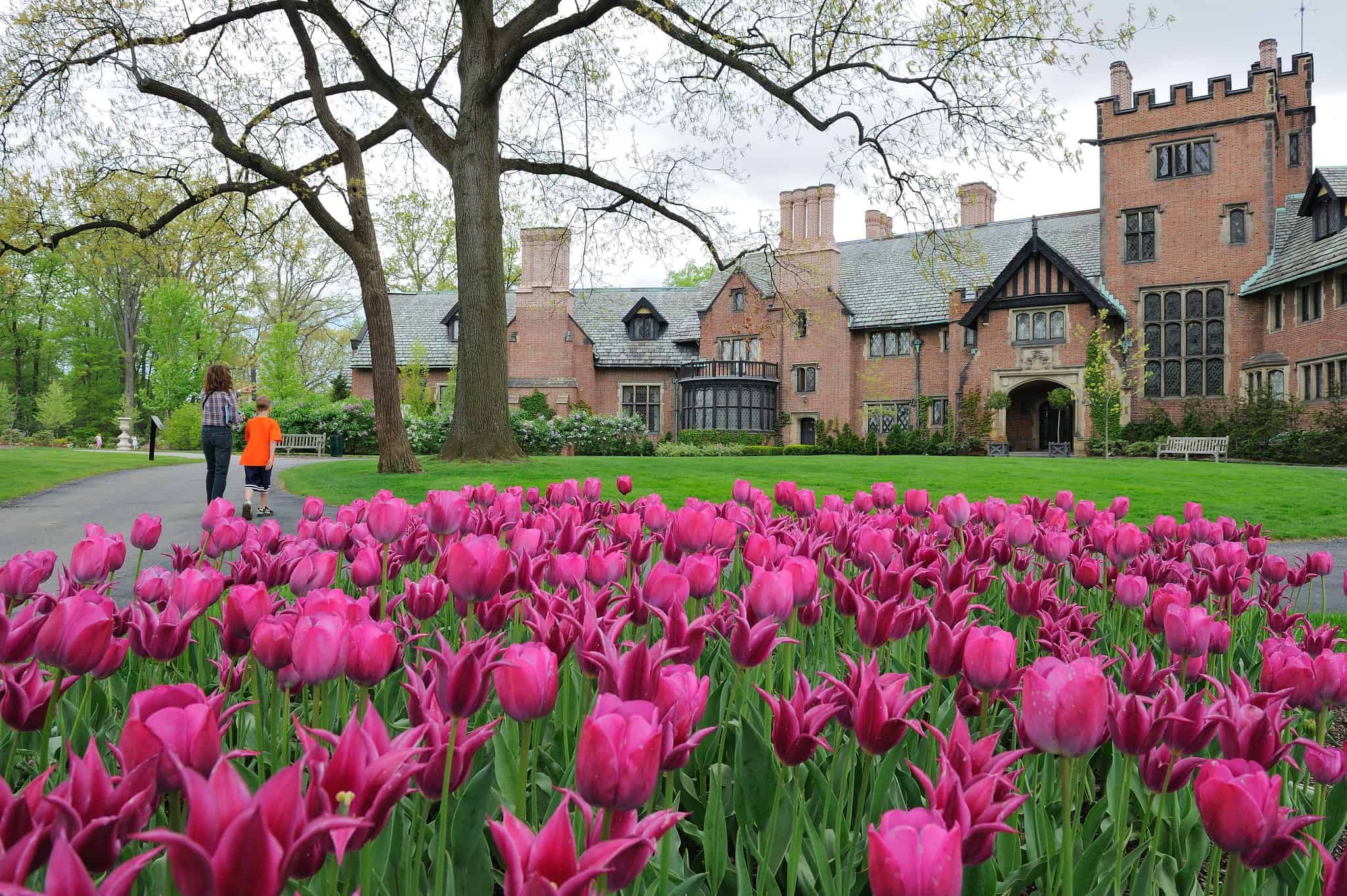 Spend all day exploring the beautiful Stan Hywet Hall and Gardens, Akron's first (and biggest!) National Historic Landmark. This 65-room Tudor Revival Manor it the 6th largest historic home open to the public in the country.
The manor was built between 1912-1915 by the F.A. Seiberling family, the co-founders of the Goodyear Tire & Rubber Company. Today, it operates as historic landmark offering tours, public events, and private event rentals.
Stan Hywet Hall & Gardens is open seasonally from April – December. While you're there, be sure to explore the grounds outside of the manor house to see its 70 acres of landscaped gardens, the Corbin Conservatory, or enjoy a meal at Molly's Cafe (built in what used to be the Carriage House's horse stalls!).
Stan Hywet Fall and Gardens
🧭 714 North Portage Path, Akron, Ohio 44303
📞 (330) 836-5533
Website
Explore Piatt Castle Mac-A-Cheek in West Liberty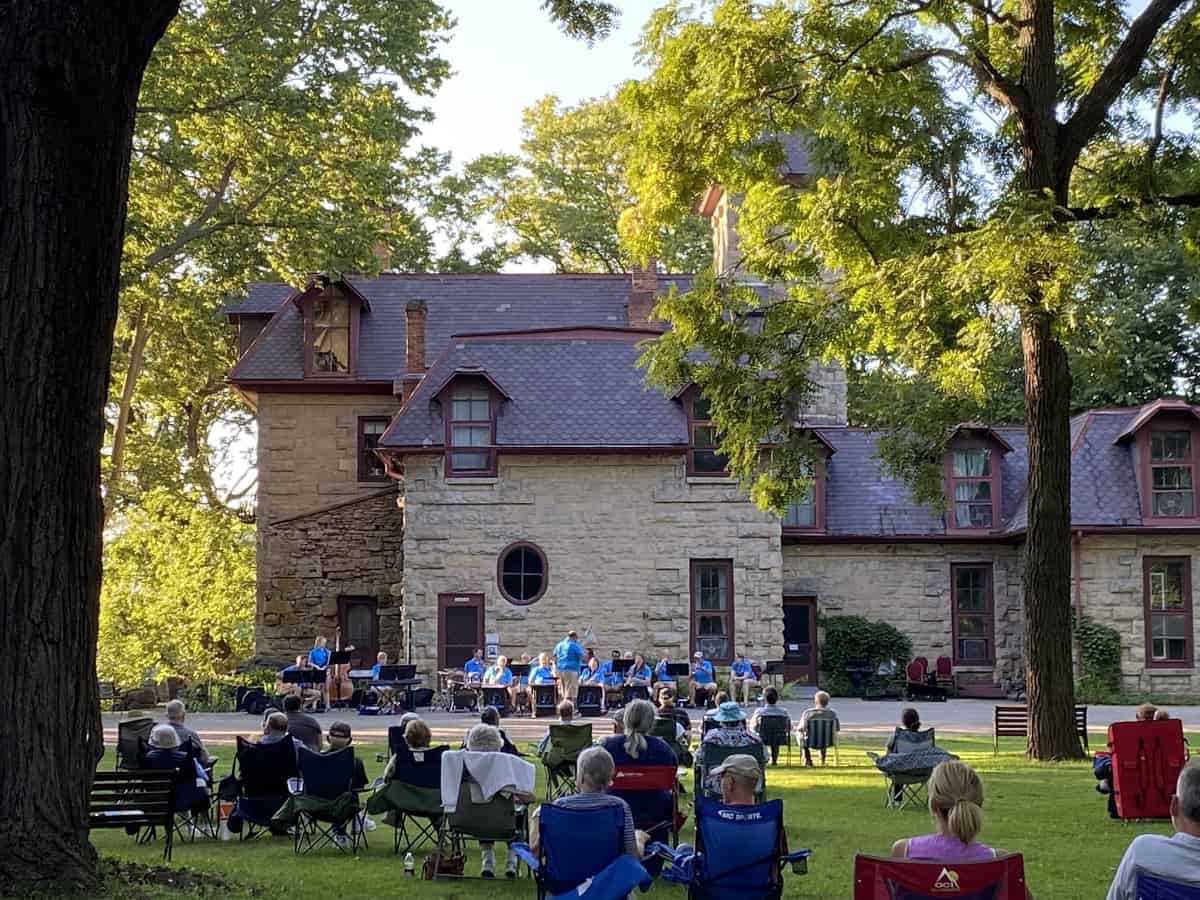 The Piatt Castles in Ohio were made up of two historic houses near West Liberty: Mac-O-Chee and Mac-A-Cheek. These castles stand just one mile apart, each having belonged to members of the Piatt family in the late 1800s. Today, one of the castles is still open for tours (Mac-A-Cheek).
Self-guided tours are available at the Mac-A-Cheek castle where you can learn all about the Piatt Castles' histories through exhibits, historical artifacts, and artwork. Piatt Castle Mac-A-Cheek is open seasonally (typically April through October) and admission to the grounds and outdoor exhibits is free. Tickets are required to tour the home and indoor exhibits.
Piatt Castle Mac-A-Cheek
🧭 10051 Township Road 47, West Liberty, Ohio 43357
📞 (937) 465-2821
Website
Glamorgan Castle in Alliance (northeast Ohio)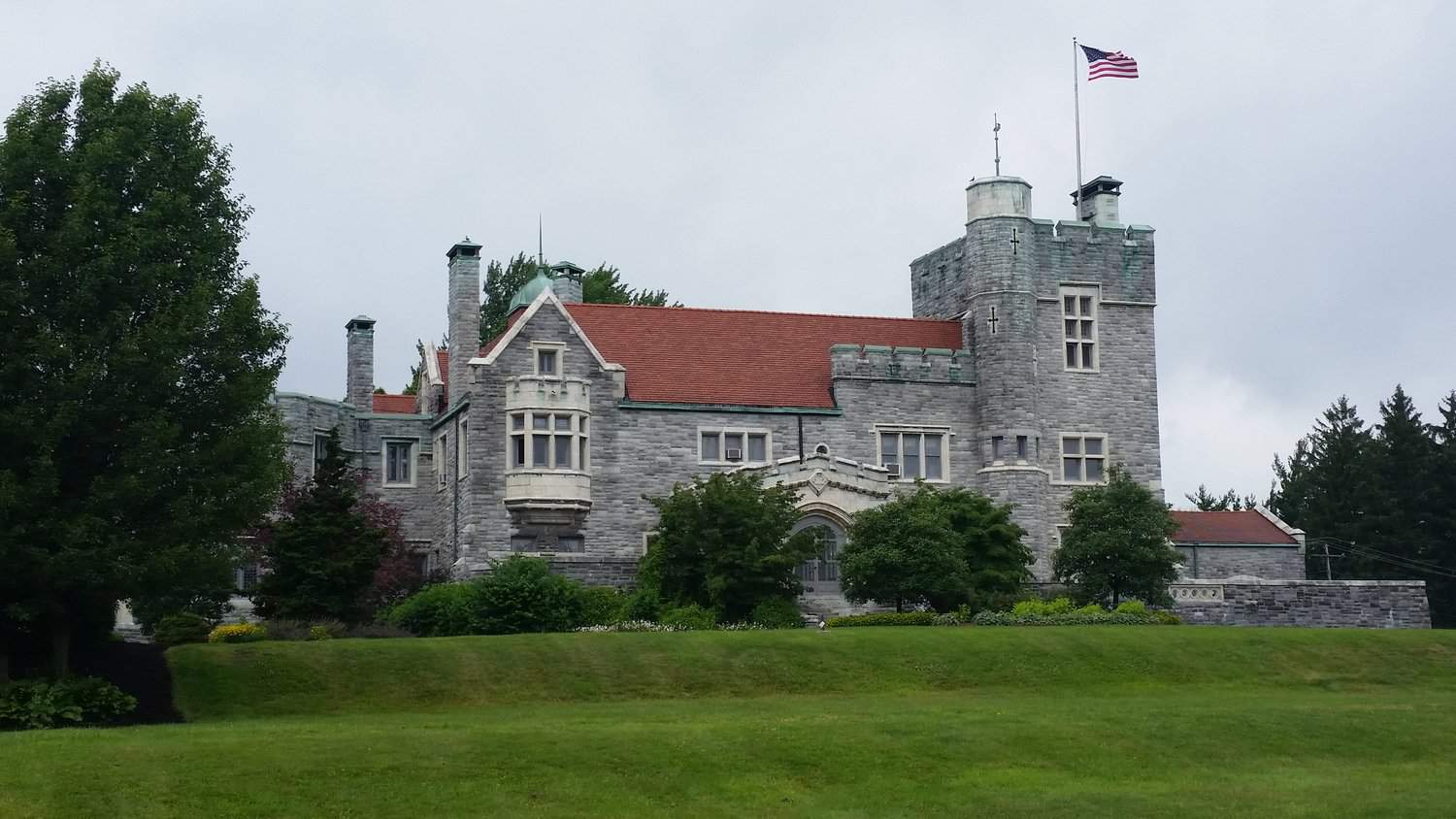 Glamorgan Castle was first built as a private residence in the early for Col. William Henry Morgan in 1904. Today, it houses administration offices for Alliance City Schools. Talk about a beautiful place to work – can you imagine getting to stroll the castle grounds during your lunch hour?
You can take a tour of Glamorgan Castle on Fridays. Be sure to check thier Facebook page for tour and event information before you visit.
Glamorgan Castle
🧭 200 Glamorgan St, Alliance, OH 44601
📞 (330) 238-8787
Website
The Castle in Marietta, Ohio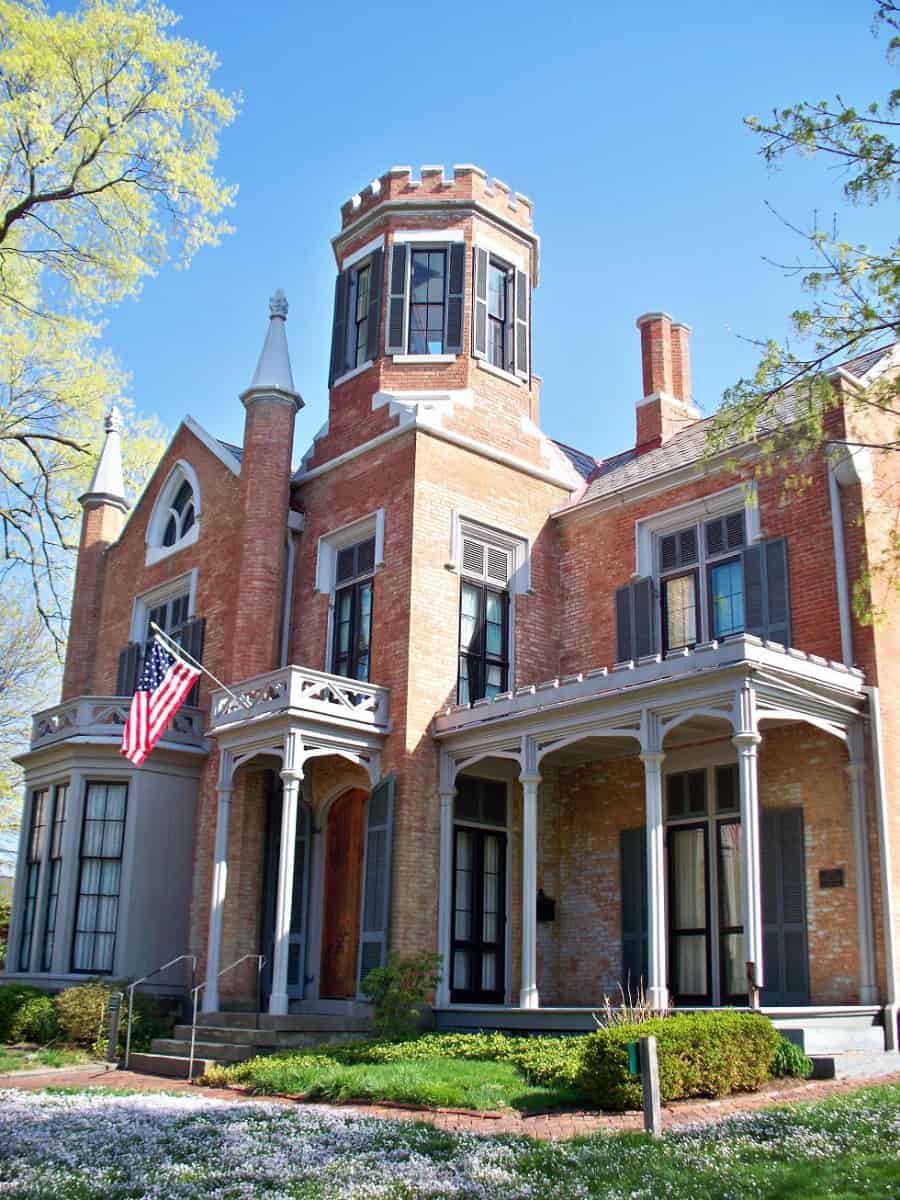 The Castle was built in 1855, making it the oldest castle on our list! The estate served as a private residence to several families from 1808 (pre-castle days!) to 1974, before being restored and opened as a historical house museum in 1994.
The Castle is open for tours from April through December. They also offer a long list of events onsite including archaeology camp, archaeology field school, cemetery tours, teas, history events, and many more.
The Castle
🧭418 4th Street, Marietta, Ohio 45750
📞 (740) 373-4180
Website
Grizer Castle near Marietta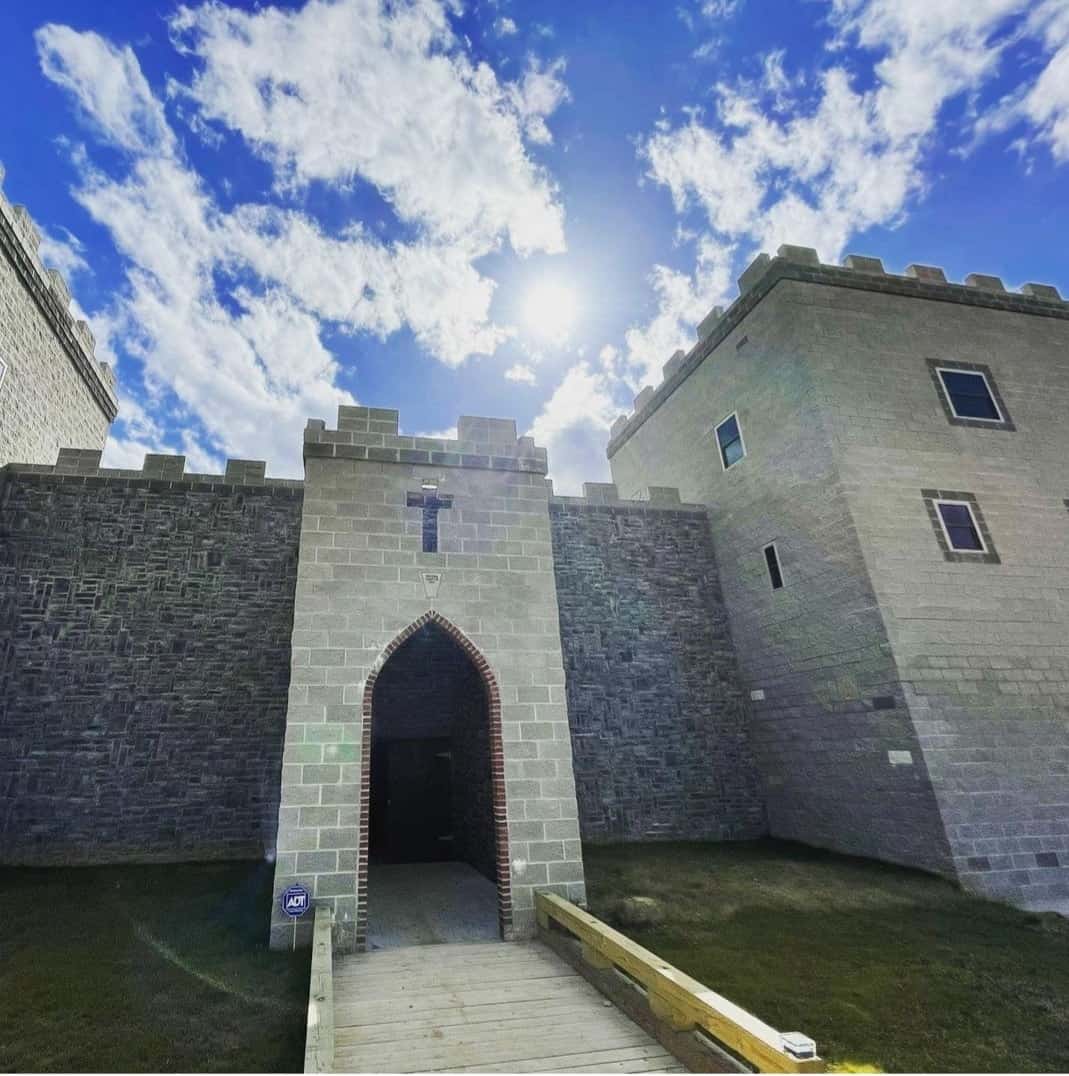 Grizer Castle is the newest of Ohio's castles, having just opened in 2019. This medieval style castle is located in Whipple (eastern Ohio) and close to nearby Marietta (see The Castle above).

This is largely a wedding and party venue but they do offer tours by appointment. You can schedule a tour when you call Grizer Castle in advance.
Grizer Castle
🧭 1298 Scotts Ridge Rd, Whipple, Ohio 45788
📞 (740) 516-6536
Grizer Castle's Facebook Page
Stay Overnight in an Ohio Castle:
GreatStone Castle, a Bed and Breakfast in Sidney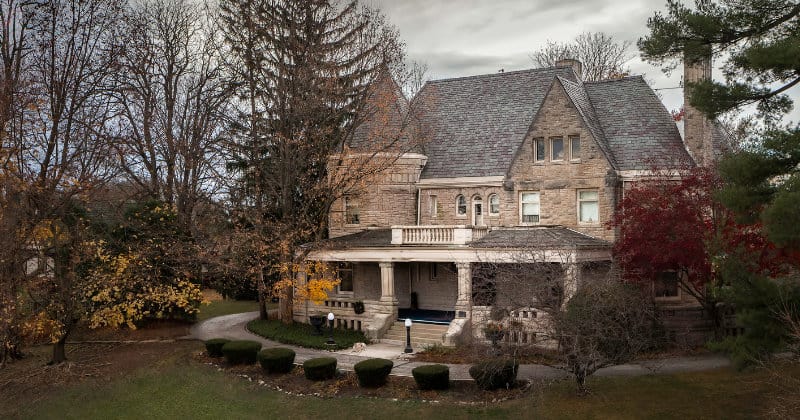 GreatStone Castle is a historic landmark located in Sidney, Ohio. Built over 100 years ago, you'll notice its expert craftsmanship as soon as you approach the property. With its wrap-around porch, manicured gardens, and stained glass windows, this Ohio castle will make you feel as though you've stepped back in time.
The mansion now operates as a bed and breakfast, complete with 3 guest suites and a spa.
GreatStone Castle
🧭 429 N. Ohio Ave., Sidney, Ohio 45365
📞 (937) 498-4728
Website
Spend the Night at Ravenwood Castle, New Plymouth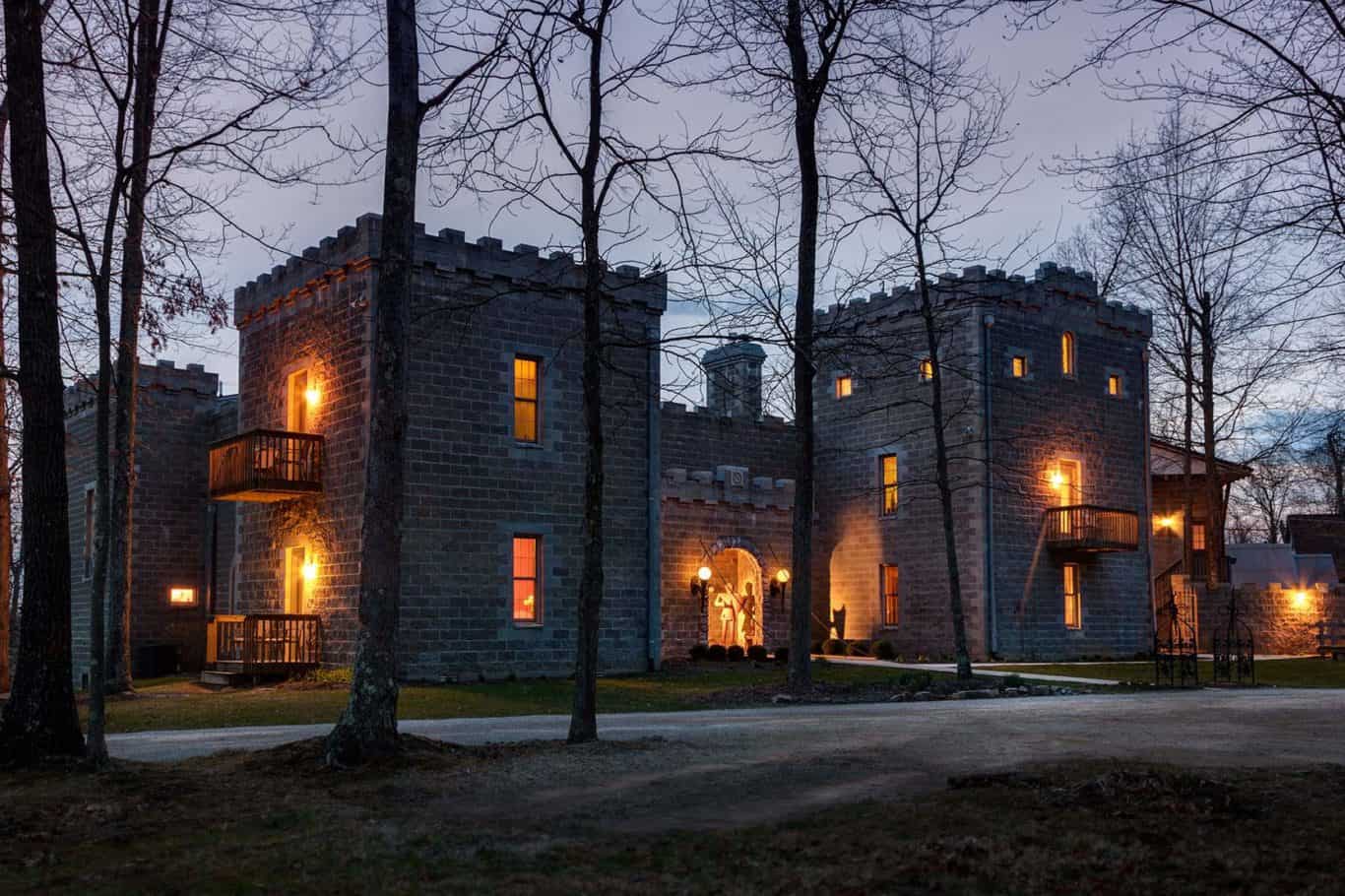 Ravenwood Castle looks right at home nestled within the forests of the Hocking Hills region. Modeled after 12th and 13th century British castles, you will feel like you are stepping back in time while you're there – even though this castle is only 25 years old!
There's plenty for guests to do on the castle grounds. You can grab a bite to eat at the Raven's Roost Pub, or explore the Medieval Village and hiking trails. Enjoy time with your family and friends at the Library, where you can pick from over 100 board games to play. The castle hosts a wide range of themed events throughout the year including Weekend Werewolf, scavenger hunts, murder mystery nights, beer tastings, and more.
Individual rooms are available in the castle or you can stay in a cottage or cabin on the castle grounds.
Ravenwood Castle
🧭 65666 Bethel Rd., New Plymouth, Ohio 45654
📞 (740) 596-2606
Website
Stay the Night at Landoll's Mohican Castle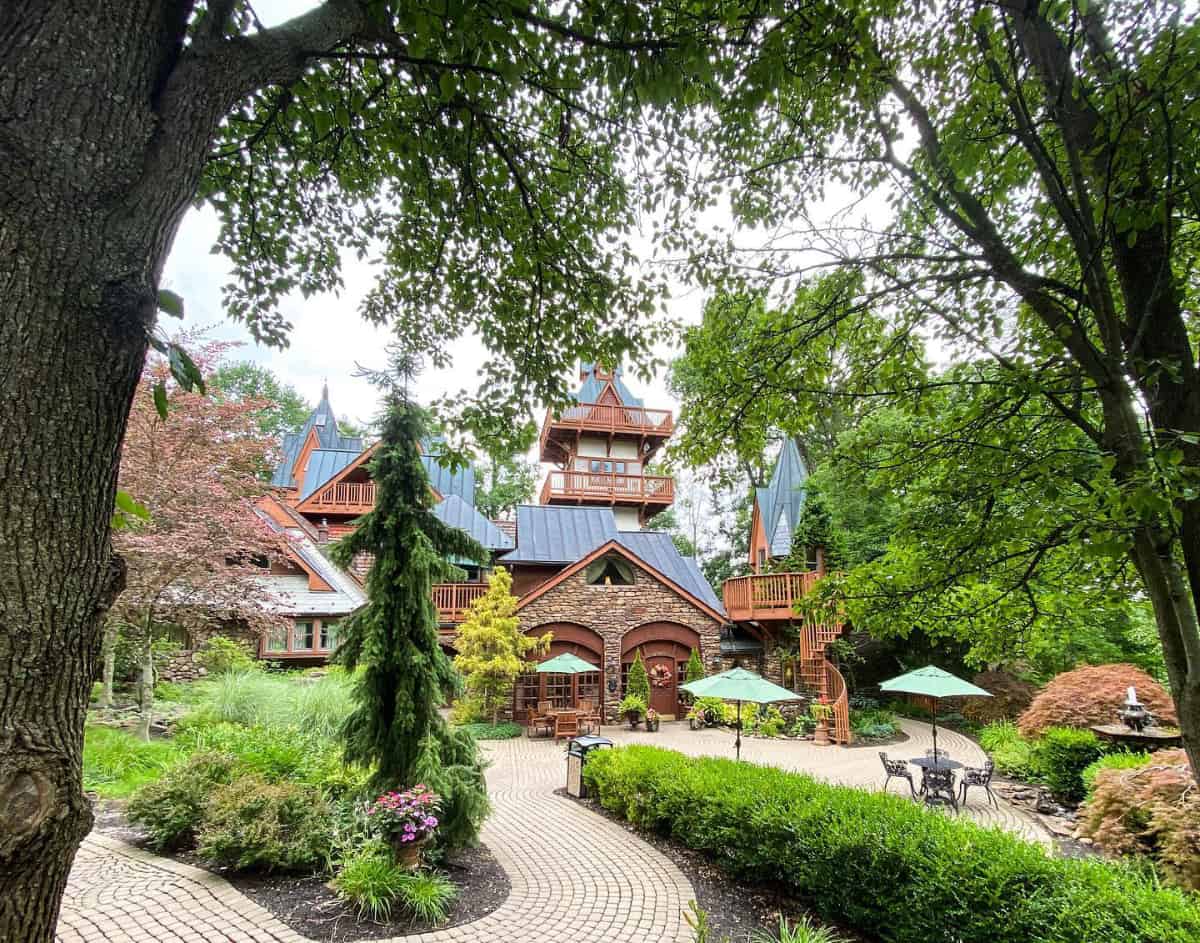 After a two year Army tour in Europe, Jim Landoll promised himself that if he ever had the money, he would build a castle in America one day. Lucky for us, his dream became a reality! Today, Landoll's Mohican Castle stands 1,200 feet tall on 30 beautiful acres and operates as a luxury hotel and event venue.
This central Ohio castle offers daily tours from April to October (ticket required) and you can lunch at their Copper Mug Bar and Grille Restaurant too.
The property is also home to the 230 year old Heyd Cemetery. If you're into the paranormal, sign up for a Ghost Walk or Ghost Tour to visit the cemetery, learn about the land's history, and maybe even make contact with a spirit! Haunted History Tours are offered in September and October.
Landoll's Mohican Castle
🧭561 Township Road 3352, Loudonville, Ohio 44842
📞(419) 994-3427
Website
Castle Inn Bed & Breakfast in Circleville
The Castle Inn was first built in 1895 by Samuel Ruggles. It's been updated for the 21st century standards, but you'll still be charmed by its stained glass, cozy fireplaces, and unique history.
Murder Mystery fans will love their unique take on their Murder Mystery Dinners, which take place on the last Friday of each month. At the Castle Inn, the GUESTS are the characters in the mystery! Guests will be provided early 1900s attire and get to create their story as the night evolves – no scripts necessary!
This historic bed and breakfast is the perfect spot for an overnight stay if you're visiting these popular Ohio attractions: the Circleville Pumpkin Show, Tecumseh (the outdoor drama), and nearby Columbus, Ohio (which is just half an hour away).
The Castle Inn
🧭610 S. Court Street, Circleville, Ohio 43113
📞 (740) 412-2472
Website
Visit These Ohio Castles That Are Open to the Public
Loveland Castle near Cincinnati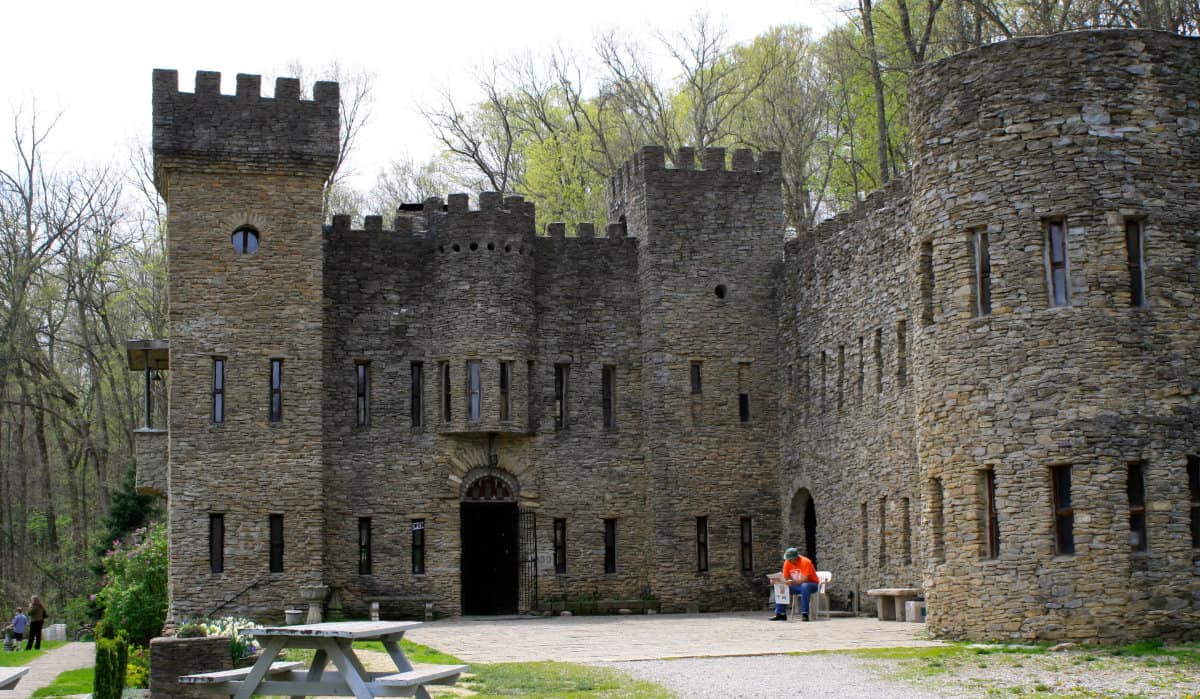 The Loveland Castle was built by Harry Delos Andrews who acquired the land in the 1920s. Harry modeled the castle as a full scale replica of those he visited during his travels in Europe after serving in World War I.
While you're there, you might notice knights guarding the castle. These guards are part of the Knights of the Golden Trail, named after Harry's childhood Boy Scout troop where the land and idea for the Loveland Castle all began. Upon Harry's death in 1981, he willed the castle to these Knights who carry on its tradition to this day!
Tours of the castle are self-guided, but you're welcome to ask questions about its history to the knight on duty. Spend the day exploring the castle grounds and discover the secrets Harry included this historic castle's architecture – can you find the entrance to the secret room he built in the garden?
The Loveland Castle (aka Chateau Laroche)
🧭12075 Shore Dr., Loveland, Ohio 45140
📞(513) 683-4686
Website
The Brumback Library, Van Wert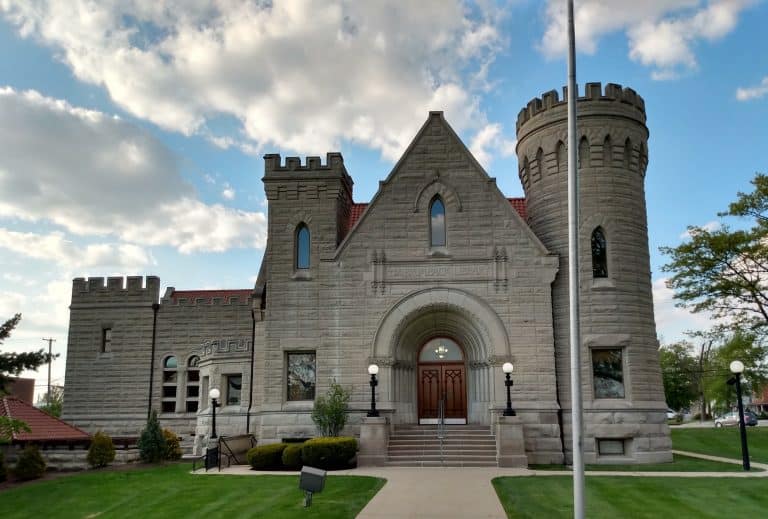 This castle in Ohio is home to the first county library formed in the United States, the Brumback Library.
John Sanford Brumback, who moved his family to Van Wert back in 1862, was a supporter of the free public library and had plans drafted for construction of a county library. Orville S. Brumback, his son, would go on to aid in enabling legislation in the Ohio Legislature which resulted in the approval of the first tax-supported county library in the United States—the Brumback Library.
In 1979, Main Library was added to the National Register of Historic Places. It was recognized as a historic site by the Ohio Historical Society in 2001.
Brumback Libary
🧭 215 W. Main St., Van Wert, Ohio 45891
📞 (519) 238-2168
Website