With our close neighbor Lexington, Kentucky known as the "horse capital of the world", it's no surprise that there are quite a few horseback riding centers in the Cincinnati area!
Whether you're new to horseback riding, an experienced rider practicing for your next competition, or an owner looking for the perfect spot to ride your horse – there are plenty of places to choose from for horseback riding in Cincinnati, Northern Kentucky, or Indiana.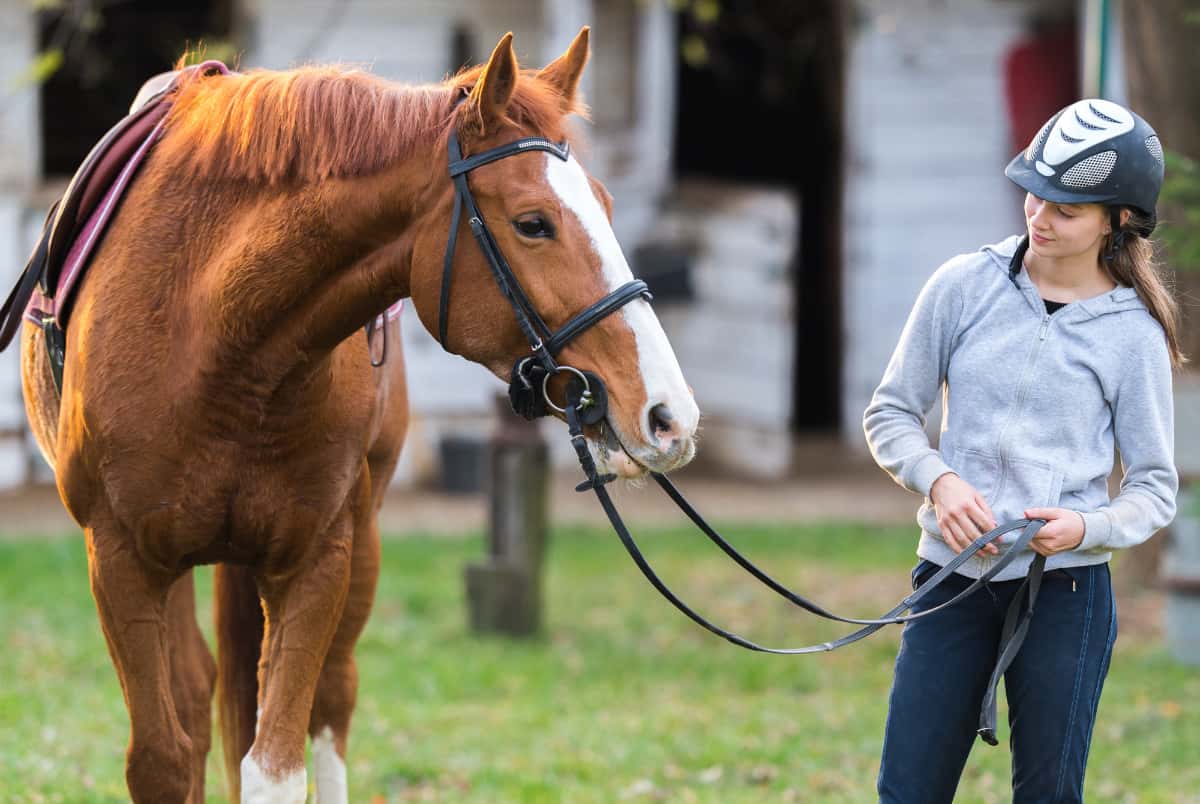 Check out our list below of Cincinnati area horseback riding centers with activities ranging from horseback riding, lessons & coaching, horse boarding, trail rides, birthday parties, and more!
---
All locations have different policies in regards to seasonal openings, weather-related closings, ages, and skill level. Be sure to call the venue ahead of time to plan your trip accordingly.
---
Guided Trail Rides, One Day Lessons, and Horseback Riding in Cincinnati:
Morgan Stables
(513) 724-0105
3872 Cain Run Rd., Batavia, Ohio 45103
Group trail rides ranging from 1-2.5 hours
32 miles of riding trails
Lessons available
Horse boarding available
Hosts pony parties & events
Morgan Stables offers a variety of group trail ride options ranging from beginners to advanced equestrians. The 1-hour trail ride takes the group through East Fork State Park, and other non-stop options include a 2.5 trail ride.
---
Muddy Water Equestrian Park
(513) 522-8545
10129 W Mill Rd., Cincinnati, Ohio 45231
Seasonal
1-hour weekend trail rides
Children's pony rides
Hosts events, parties, and field trips
Muddy Water Equestrian Park offers a shaded 1-hour weekend ride (these are not riding lessons so riders should be able to control turns, stopping, and going with their horses). They also offer a package that includes an introductory riding lesson followed by a trail ride. Children's pony rides are available, led by an instructor in an arena for younger riders who aren't quite ready for the trails yet.
---
Nation Road Horse Rental
(513) 255-5752
6484 Morning Sun Rd., Oxford, Ohio 45056
They offer 5 different guided trails, each based on your horseback riding experience. Beginner to intermediate to accomplished
Parent-assisted pony tides allow children to experience horseback riding on their Pony Trail while a parent/grandparent leads the pony/horse. Limited to ages 3-7.
Riding lessons are offered and are based on age
Start2 Finish Programs are offered for adults
They also hosts birthday parties and special events
Nation Road Horse Rental offers trail rides for all experience levels, starting at age 8. Five guided trail options range from 30 minutes to an hour and a half featuring different terrains (based on skill level). Jr. Wrangler programs are coming soon. 
---
Carriage Hill MetroPark Riding Center
(937) 275-7275
8111 E. Shull Rd., Huber Heights, Ohio 45424
Barn is open year-round (some offerings June-August only)
Lessons available, including adult-only classes
Guided trail rides
7+ miles of bridle trails
All ages and beginner-immediate riders can enjoy horseback riding activities at Carriage Hill MetroPark Riding Center. The Riding Center houses more than 20 horses and has an outdoor arena, indoor arena, and access to 7 miles of bridle trails. Lessons are available for riders 8+ years old, with adult-only classes also available and pony rides for 2-8 year olds too young for lessons.
Trail rides take place on Saturdays and Sundays, June-October on guided trails through the woods at Carriage Hill MetroPark. Horse camps are offered during the summer to teach kids ages 8-17 all about horsemanship skills and safe handling.
---
Royal Creek Farm
(937) 206-3945
4880 Old Springfield Rd., Springfield, Ohio 45502
Horseback Riding, open year-round
Private lessons
Indoor arena, turnout pasture, and a half-mile track
Horse boarding available
Hosts birthday parties
Royal Creek Farm offers riding on the farm, including a turnout pasture, indoor arena, and a half mile track. All levels and ages can take part in riding lessons, which includes: horse safety, care, grooming, riding, cleanup, and more.
---
Misty Ridge Farm
(859) 781-5779
5210 Owl Creek Rd., Melbourne, Kentucky 41059
Group and private lessons
Trail riding on Fridays & Sundays
9 pastures, indoor arena, outdoor arena, heated viewing area
Horse boarding available
Misty Ridge Farm is a 40-acre family friendly farm located just 10 miles south from downtown Cincinnati. All skill levels can enjoy riding lessons, with horses available for those who don't own a horse. Trail riding is available on Fridays and Sunday, where riders can groom and tack then enjoy a riding adventure. Horse owners can board their horses at Misty Ridge Farm, with 9 pastures, daily stall cleaning, and indoor and outdoor riding arenas.
---
Whispering Woods Riding Stables
(502) 570-9663
265 Wright Lane, Georgetown, Kentucky 40324
Open March-November
Trail rides & private rides (2 person minimum)
250+ acres with miles of riding trails
Hosts birthday parties
Whispering Woods Riding Stables is set on 250 wooded acres, offering miles of trails and beautiful views. Bring your own horse out for a ride, or rent one of 24 horses from Whispering Woods Riding Stables. The venue includes picnic tables, a petting zoo, a playground, and a small tack shop. Group and private trail rides are available for riders 8+ years, but ask about pony rides if you're planning on bringing younger visitors along. There are also many fun horse-related events available throughout the year, including: Wild West Weekend, a Scavenger Hunt, and the Haunted Trails of Whispering Woods.
---
You Might Also Like Our "Get Outside" category of articles!
---
Salt Creek Ranch
(765) 698-2044
21040 US-52, Laurel, Indiana 47024
Open year-round
Guided trail rides
Overnight 18-person cabin rental available
Cash only
Salt Creek Ranch sits on 700 scenic acres of hills, trails, streams, waterfalls, and overlooks. Housing around 100 horses, your entire group will love 1-2 hour guided trail rides or the "Saddle and Paddle" package that also includes a canoe trip! Rent the rustic cabin (sleeps up to 18 guests) for a fun group weekend getaway, family trip, or staycation. Summertime camps are also available for girls ages 9 and up, which includes overnight camping (tent or cabin), trail riding, horse lessons, games, creek swimming, and bonfires.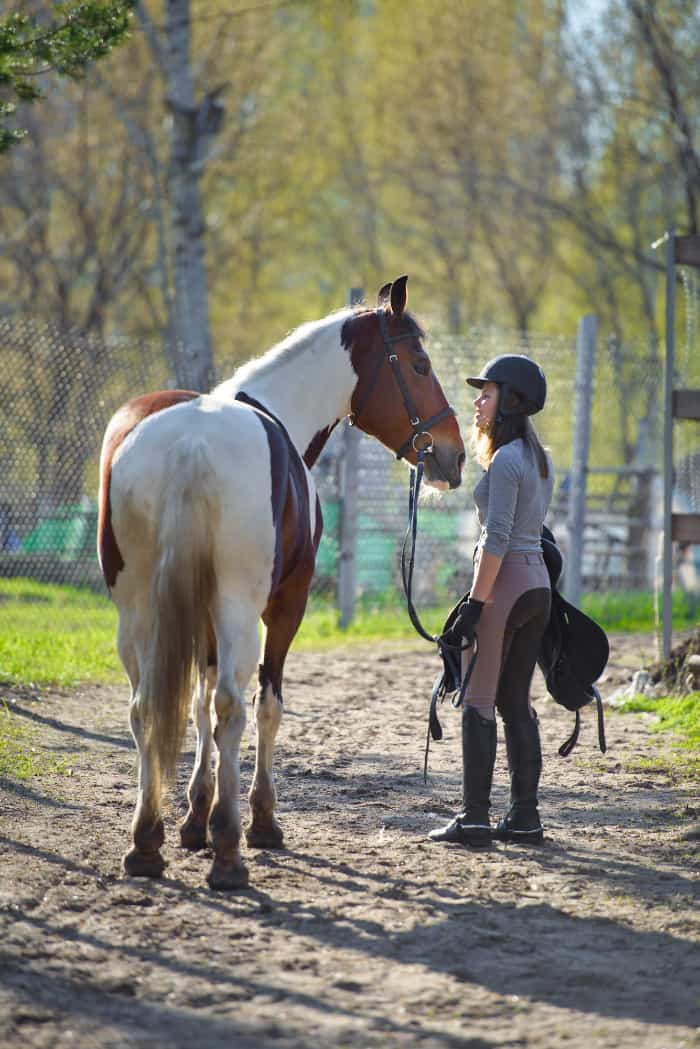 Extended Horseback Riding Lessons and Camps:
Winton Woods Riding Center
(513) 931-3057
10073 Daly Rd., Cincinnati, Ohio 45231
Open year-round
Group, semi-private, and private lessons available
2.6 mile one-way public trail (you can bring your own horse)
2 outdoor arenas, 1 indoor riding hall
First opening in 1954, the Winton Woods Riding Center is now home to 40 horses, 3 barns, 2 outdoor arenas, an indoor hall and cross-country style field jumps. All skill levels will find something to enjoy, from beginners lessons to more advanced competitions and an equestrian team for grades 6-12. Other offerings include: kids horse camps (all skill levels), group and private lessons, group trail rides, horse shows, and a Special Olympics Equestrian training program. If you have your own horse, you are can bring them to the Open Schooling Days or take them out on their public trail.
---
East Fork Stables & Trails
(513) 797-7433
2215 Snyder Rd., Batavia, Ohio 45103
Open year-round
Group rides and private lessons available
50 miles of riding trails
1 indoor arena, 1 outdoor sand arena, 1000 ft banked riding track, 17 paddocks
Horse boarding available
East Fork Stables & Trails is a trail lover's dream with 50 MILES of horse riding trails, including scenic trails along the East Fork River. The 37-acre farm also features an indoor arena, a 1000 foot banked riding track, an 80 foot round pen, 11'x11' ventilated stalls. Group rides, private lessons, day camps, 10-hour riding passes, and seminars are available to offer fun experiences and learning opportunities for all skill levels.
---
Kneipp Farm
(513) 374-9028
6743 Ragland Rd., Cincinnati, Ohio 45244
Private and semi-private lessons
All-weather outdoor arena, indoor arena with heated viewing room
Horse boarding & training available
Kneipp farm features all-weather outdoor arenas and an indoor arena with a heated viewing room. Horse riding lessons are available to all experience levels, with a special "New Client Starter Package" for those new to Kneipp Farm. Kids summer camps are available for those able to canter and jump cross-rails, where they can learn more about riding, horse shows, and horse safety.
---
Saddle Lake Equestrian Center
(859) 750-7568
Kentucky: 2369 Nelson Rd., Camp Springs, Kentucky 41059
Ohio: 9765 Murdock-Goshen Rd., Loveland, Ohio 45140
Beginner-Advanced lessons
Horse boarding & training available
Between the 2 locations: 50+ stalls, several turnouts grazing pastures, indoor arenas, and outdoor arenas
Hosts birthday parties & events
Saddle Lake Equestrian Center has two locations: Camp Springs, Kentucky and Loveland, Ohio. The Camp Springs location is a 26-acre facility with 35 spacious stalls, several turnouts, grazing pastures, a WHOA Dust (™) indoor arena, an OTTO Sport Base Mat arena, and an 1800 square foot observation lounge with dining, kitchen, office areas, and a restroom with a shower. The Loveland location is 17-acres with 29 stalls (which includes 4 pony sized stalls), several paddocks, an indoor arena, and a grass outdoor arena. Beginner-advanced lessons, horse training, summer camps, and birthday party packages are available on site.
---
Little Britain Stables
(859) 743-0892
5309 Idlewild Rd., Burlington, Kentucky 41005
Private and semi-private lessons
Horse boarding & training available
Indoor and outdoor arenas
Hosts birthday parties
Little Britain Stables is a family-owned horse farm with over 20 different horse and pony breeds