Fall on the Farm has been one of our favorite fall season outings for YEARS. From the kids' play area to the pumpkin patch to the gorgeous field of sunflowers, this is one fall outing you don't want to miss!
When Blooms and Berries' Farmer Jeff called and asked if I'd be able to help them get the word out about this year's "Fall on the Farm, Season of Safety", I immediately agreed. I'm so glad to have them opening this year and I'm happy to be able to help him spread the word about what they're doing to offer a safe experience in 2020.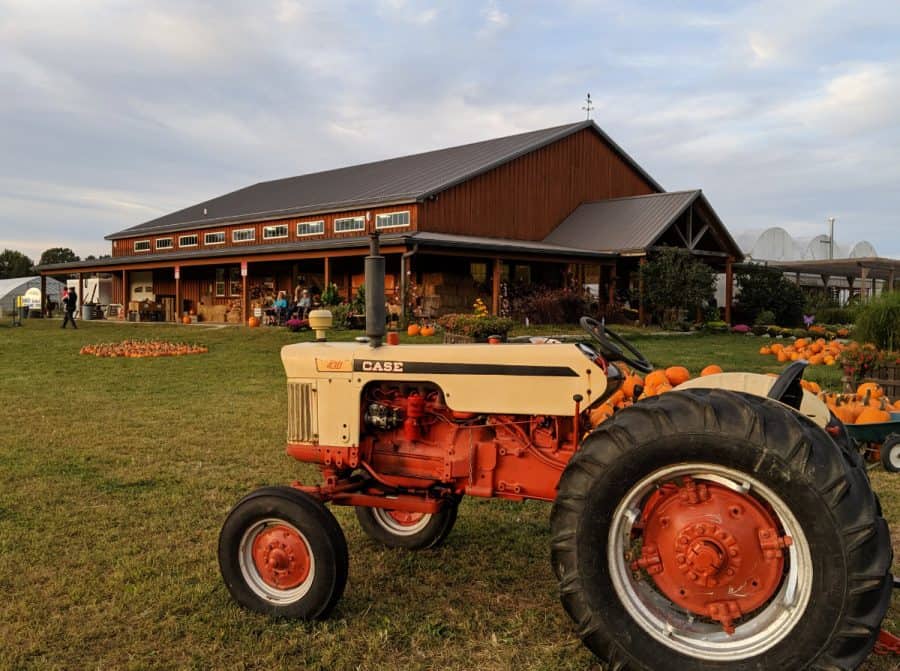 First, let's talk about what to expect from Fall on the Farm and then I'll detail what is new this year in this era of Covid-19…
Exciting fall fun at Fall on the Farm, a Season of Safety…
Fall on the Farm 2020 will include all the things you love: hayrides, the Pumpkin Bounce Pad, a giant corn maze, the mini corn maze, the Cow Train, the play area returns (yay!), farm animals, Spookley, pumpkin patch, the Market Barn, and more… with lots of safeguards in place.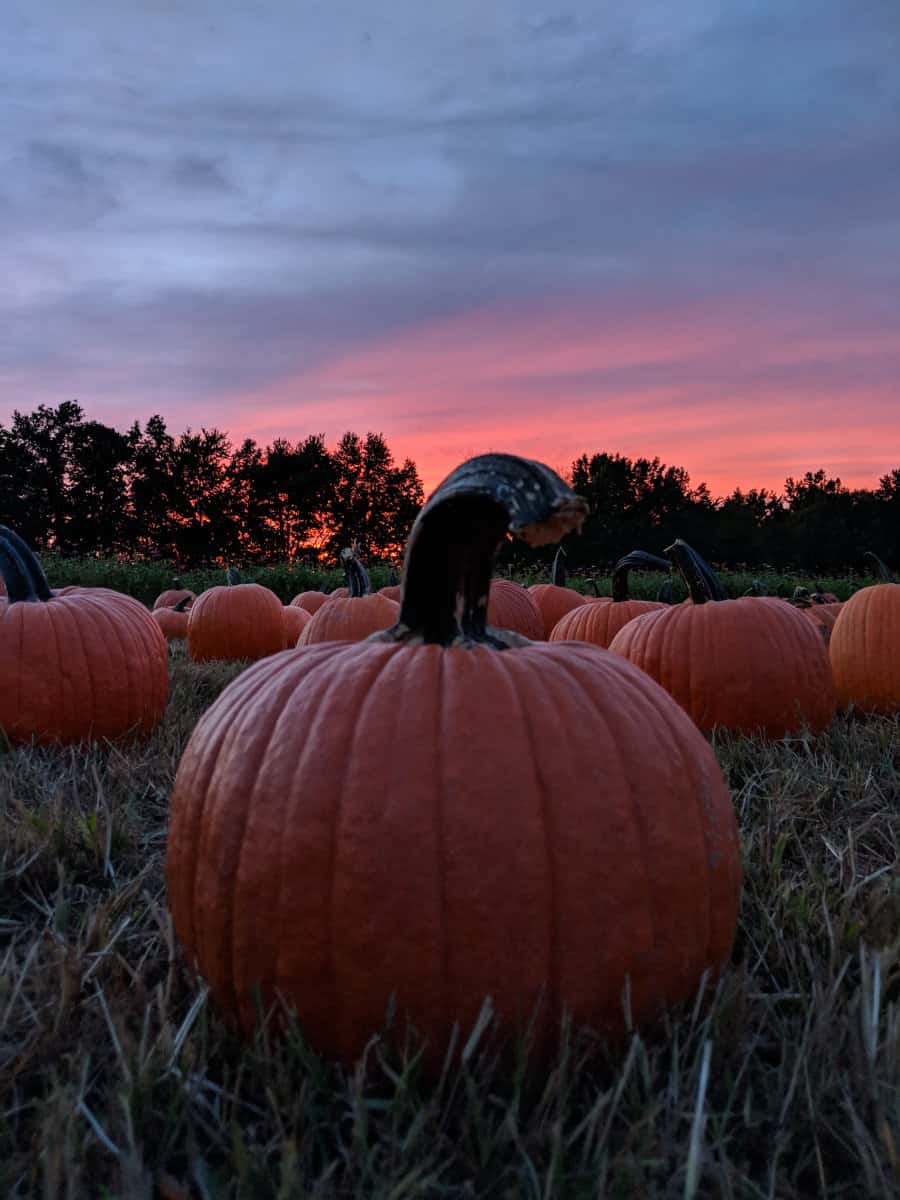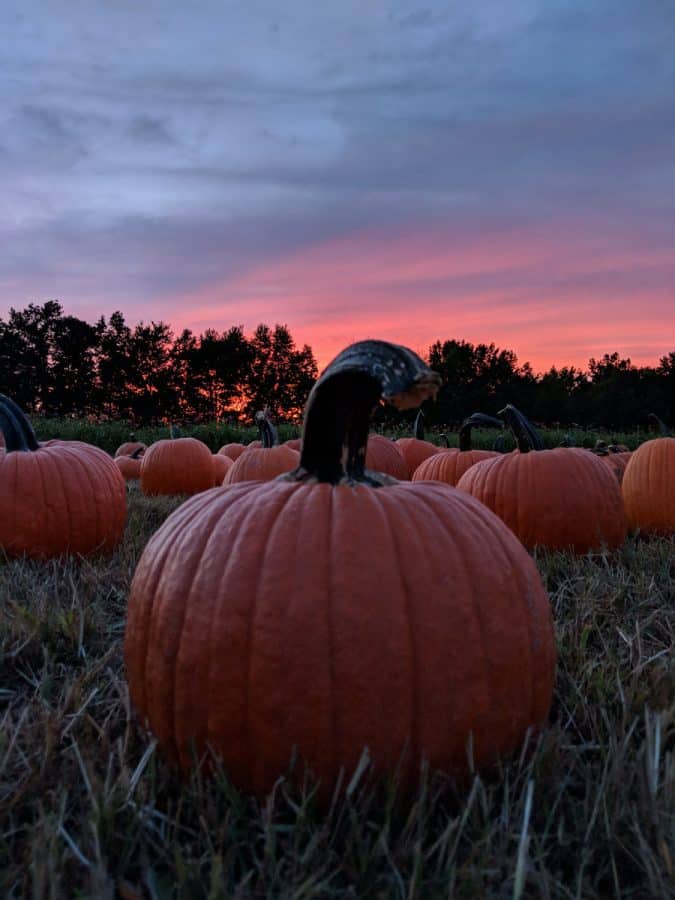 The season will kick off with Pony Ride Weekends. Mini trail pony rides will be available for the first two weekend of Fall on the Farm (Sept. 19/20 and Sept. 26/27), 10:30am-4:30pm. This is fun for the kids. They go around a dirt trail twice, accompanied by a leader (plus an adult that came with the child).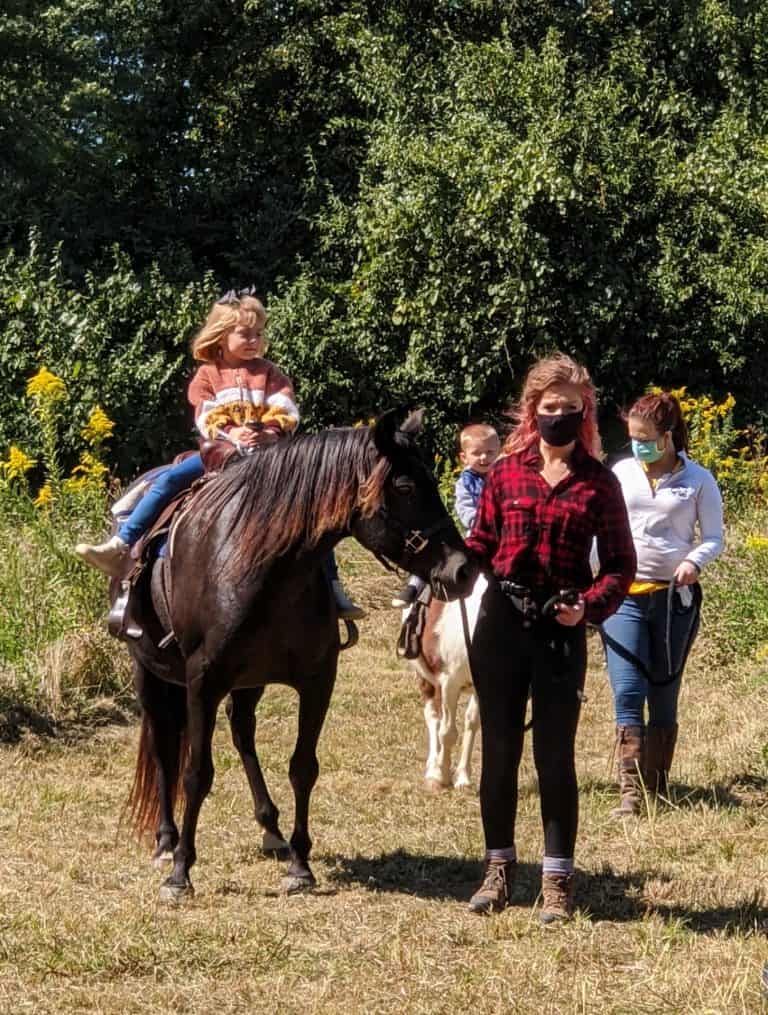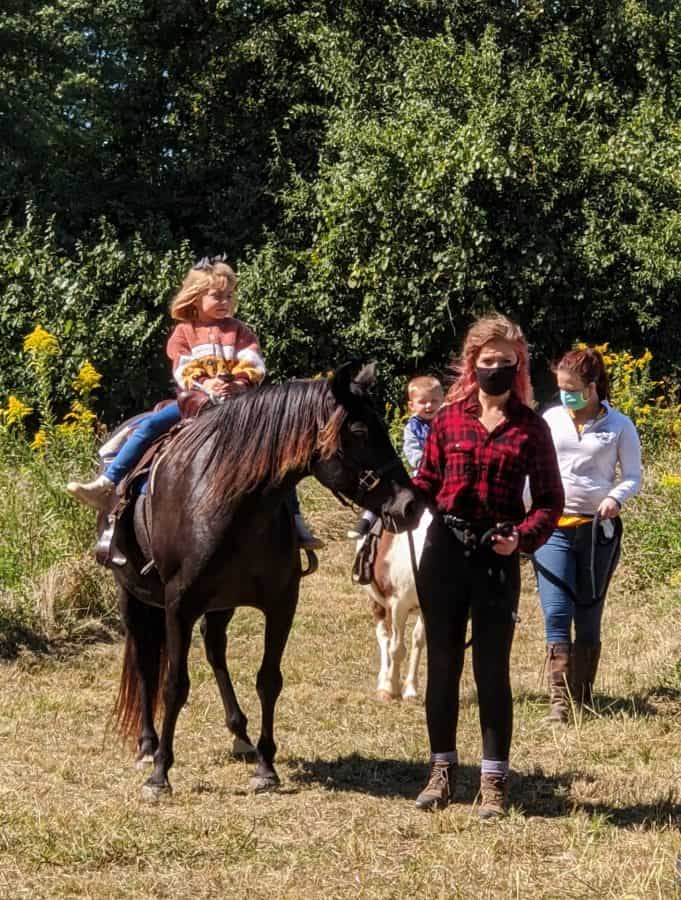 TIP: Don't miss your chance to schedule your pony ride when you get your admission tickets online. I've got the feeling these will go fast!
Socially Distanced Hay Rides are on the agenda…
All 7 of the farm's hay wagons have been partitioned to provide a safe experience for up to 5 small family groups. Larger family groups are welcome as well using multiple partitioned areas.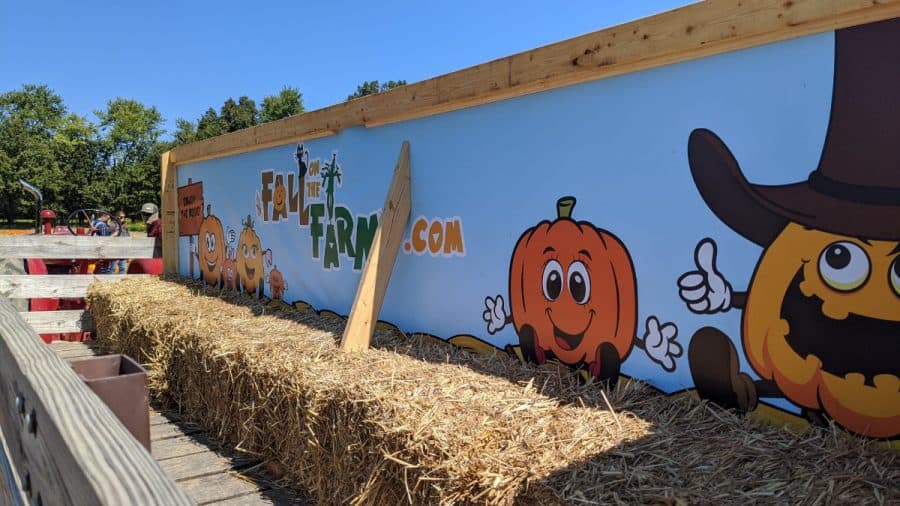 The wagon is outfitted with a barrier down the middle plus a separator in the middle of the row. Our family sat on the back side of the wooden barrier and another sat on the front side… while a family of eight sat on the other side of the middle "wall".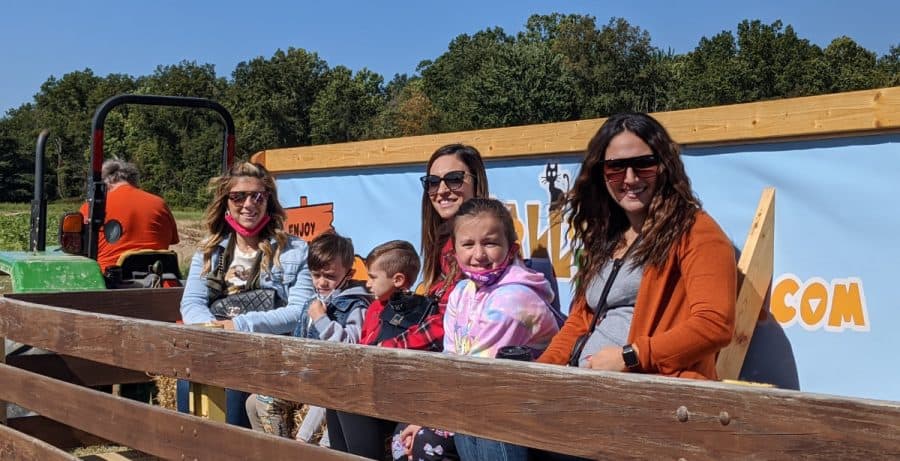 Masks are required to enter Fall on the Farm. The family above was all alone on the hay wagon when I took this pic.
Due to the reduced capacity of the hayride, please consider taking your hayride early in your visit to help prevent a line from forming.
Corn Mazes for every age group!
Fall on the Farm at Blooms and Berries offers two corn mazes – one giant traditional corn maze and one "mini maze" that's perfect for younger families.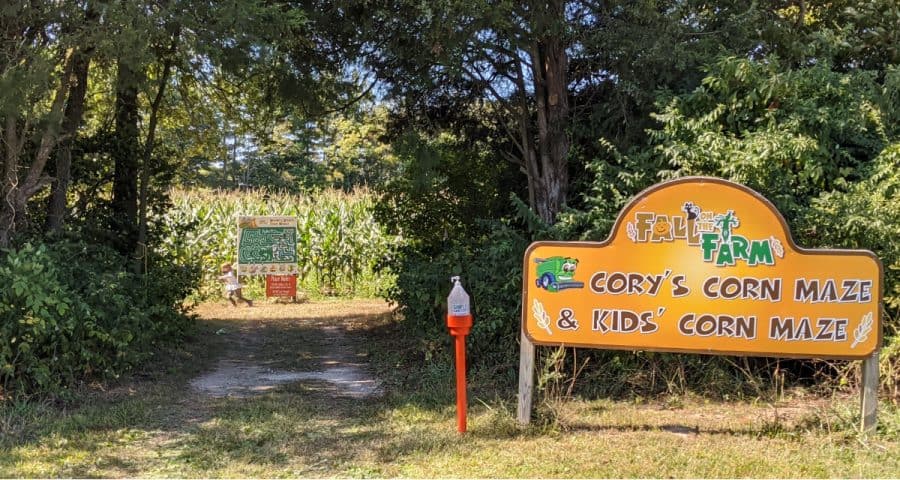 This year's corn maze theme is "Knights & Dragons & Pumpkin Pie". Grab your punch card and make your way through the corn maze to find the dragons, stamping your card at each find. Five dragons are innocent and the sixth and final dragon is full on pumpkin pie and on the run! You can expect this 7 acre corn maze to take about an hour to complete.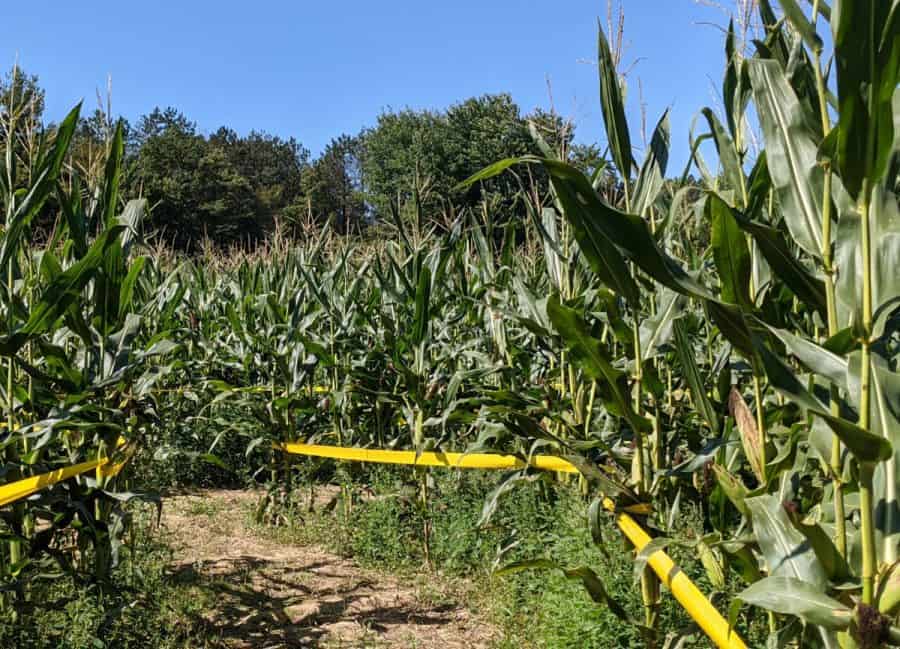 Sunflowers should be blooming in late September!
The sunflower fields at Blooms and Berries should be blooming in late September this year… or maybe even early October! It's perfect timing for Fall on the Farm, which opens September 19 this year. Keep an eye out on Blooms and Berries Facebook page for sunflower updates.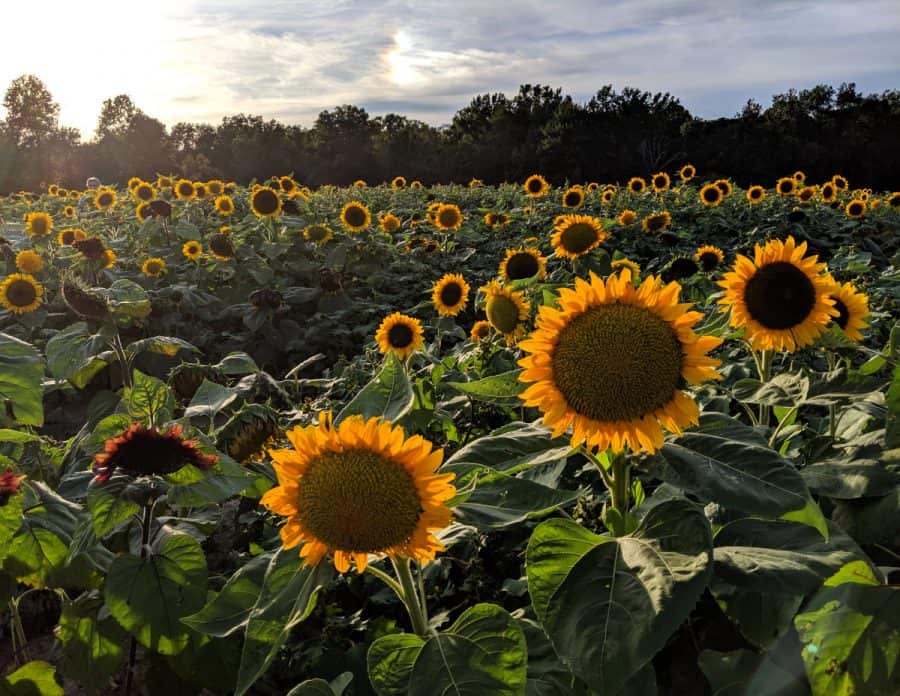 Enjoy a cold beverage at The Beer Garden
Blooms and Berries fall fun wouldn't be complete without a stop at their 2019 addition – The Beer Garden! Overlooking the sunflower fields, the beer garden is open Friday-Sunday (noon to 6pm) during Fall on the Farm. It's a great place to enjoy a craft beer or a glass of wine after some fun in the corn maze or the fields.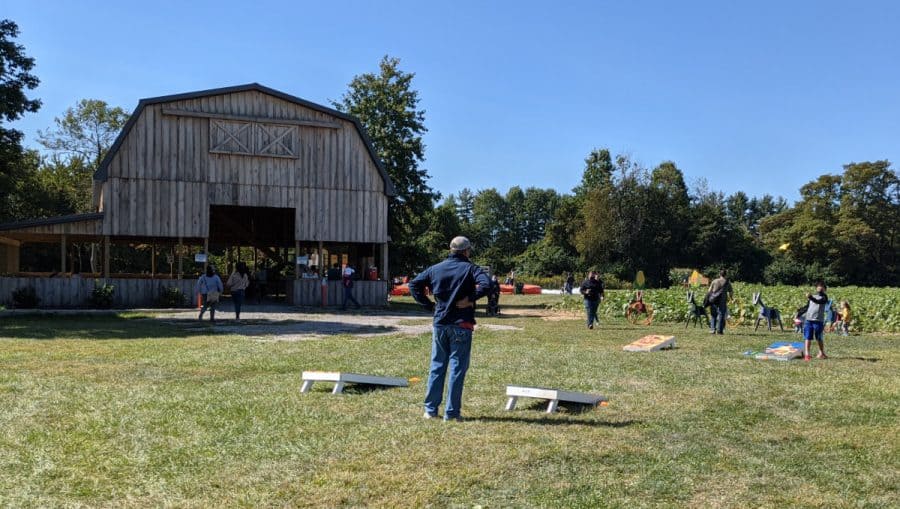 Have some Farmyard Fun at the Play Area
Leave PLENTY of time to play because there's lots to do!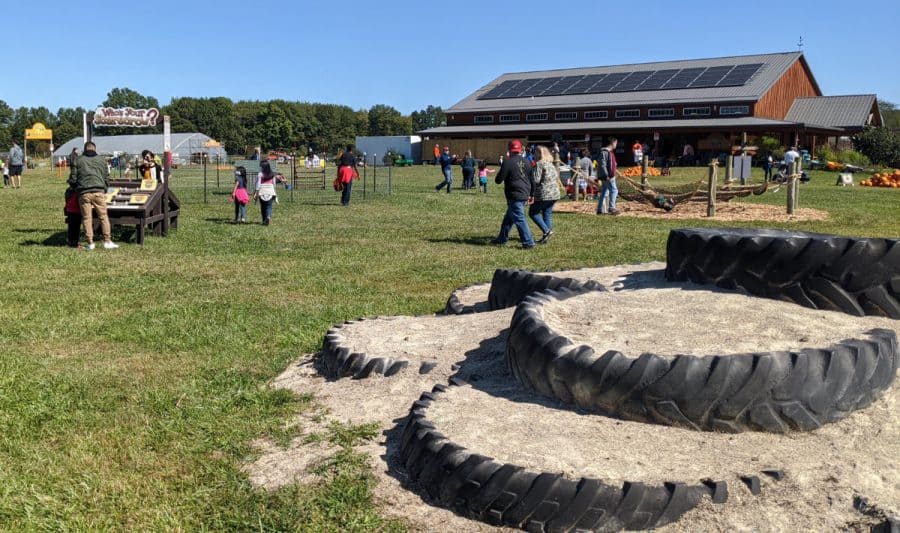 Blooms and Berries has a great play area for the kids called Farmyard Fun and it includes giant slide, a pumpkin bounce pad, duck races , a "Sound Garden", farm animals, and MUCH more.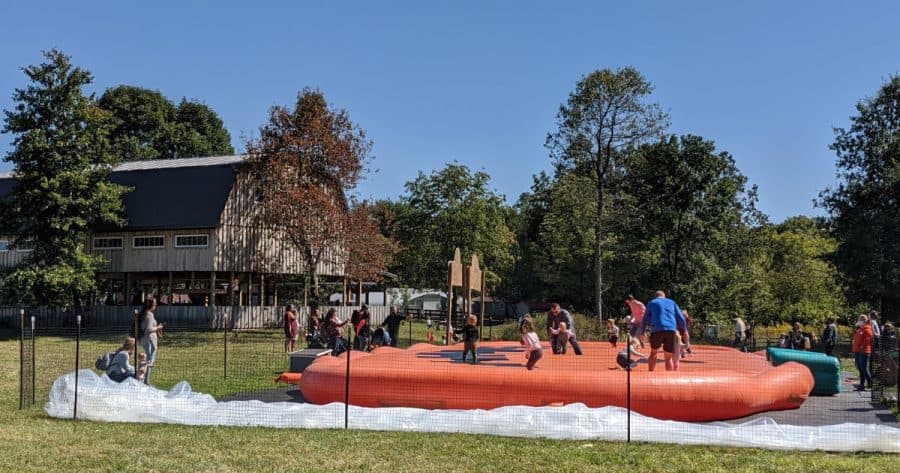 The giant pumpkin bounce pad provides fun for all ages. The capacity is limited and they get out and sanitize/clean/spray the whole area 2-3 times a day.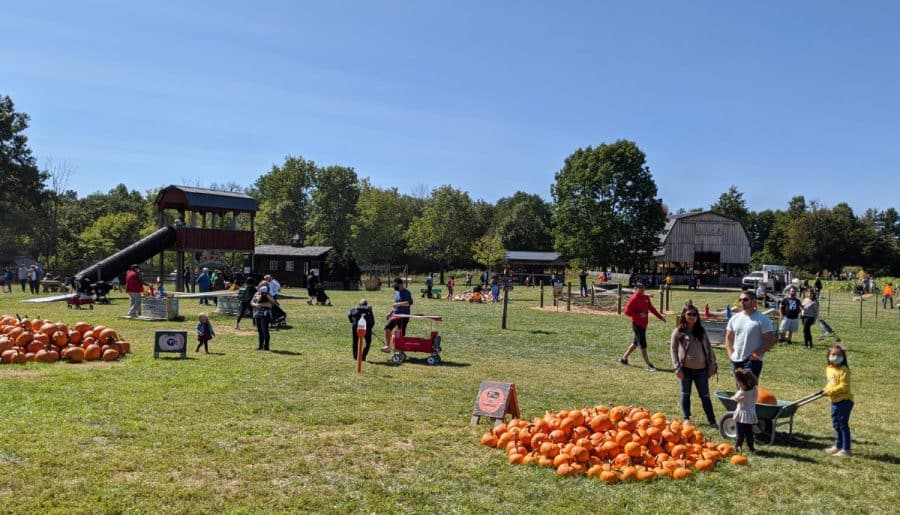 You can grab a bite to eat at Mr. Farmers Grill – serving up hot dogs, brats, and a vegetarian option. The Farm Market bakery has been moved just outside the market doors to eliminate crowding. That's where you can find all things dessert including ice cream and bakery items.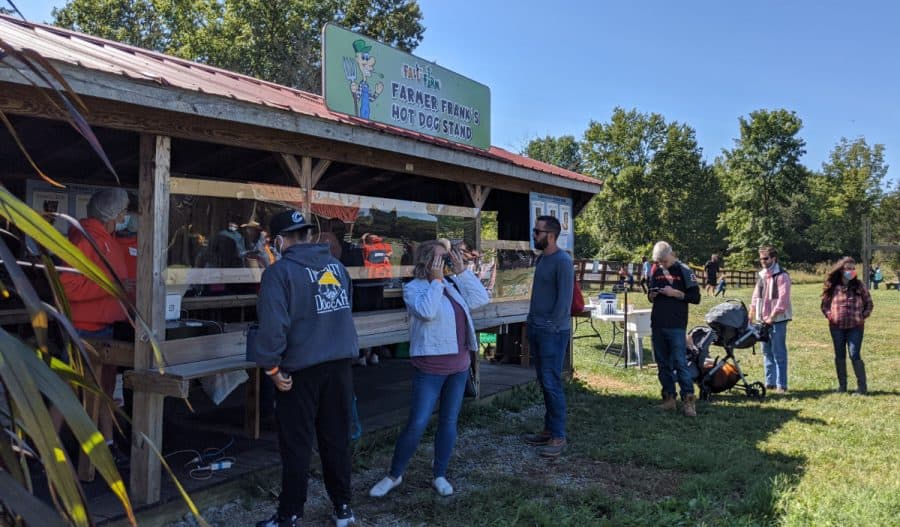 Distanced picnic tables will be provided for you to enjoy your snacks.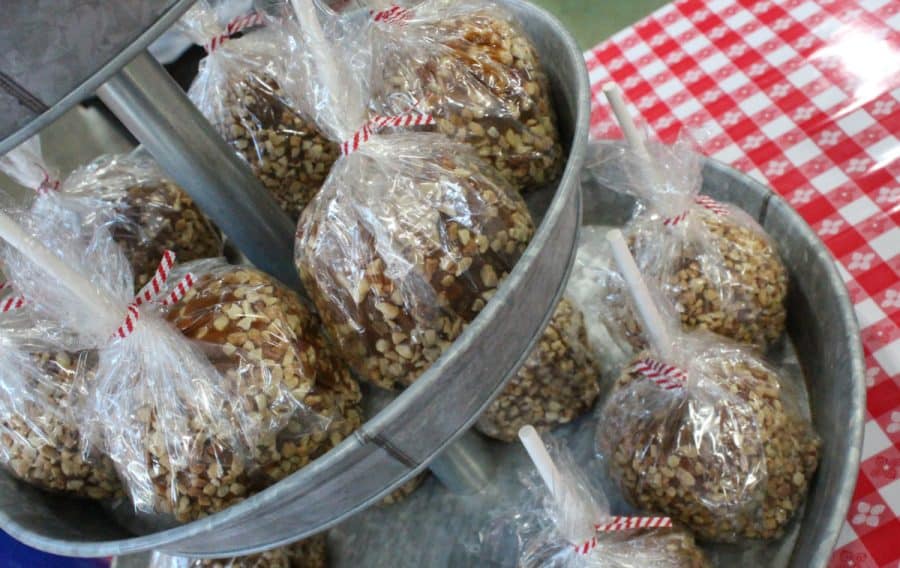 It's the "Season of Safety" at Fall on the Farm this year.
They have multiple stands for hand sanitizer all over the farm. There's a hand washing station near Mr. Farmers Grill. And, as you can see from the pictures above, there's plenty of room to roam and play.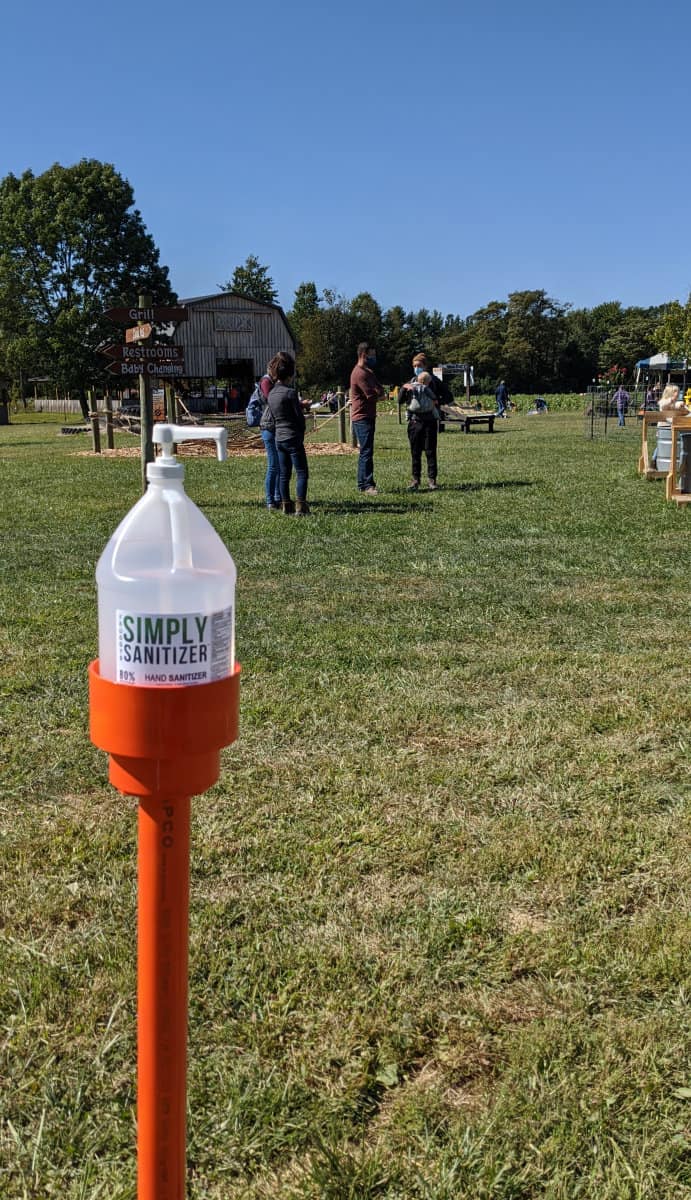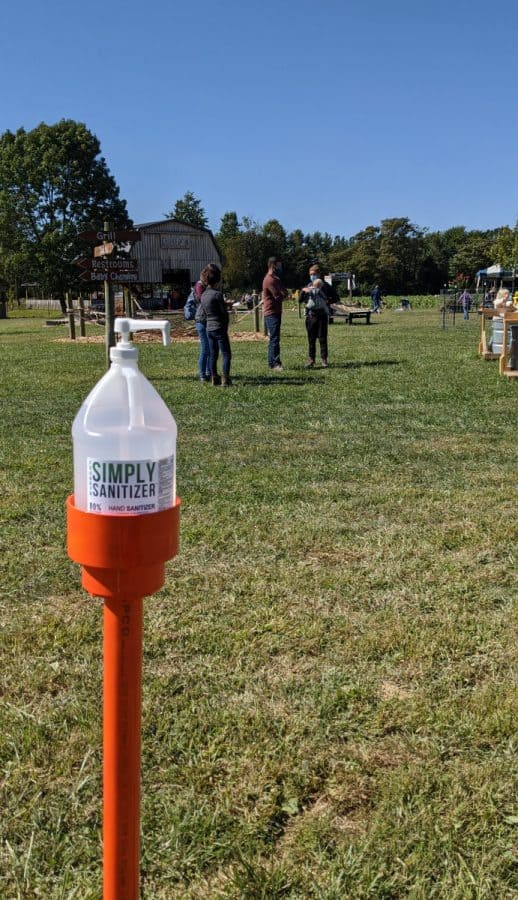 Highlights for a Season of Safety:
🚜 All ticket sales will be online for 2020. Tickets will NOT be sold at the gate this year.
🚜 A modest number of tickets are available for each time slot to maintain a safe and comfortable flow of guests.
🚜 Per the state of Ohio, masks are required when out in public unless engaged in actively eating or drinking. All staff and guests are required to wear a mask.
🚜 All guests and staff will have a touch-less temperature check upon arrival. The State of Ohio requires a temperature of less than 100.4. Fall On The Farm requires a temperature less than or equal to 99.9. Their temperature checking technology does not come near your face.
🚜 Working with and beyond the guidelines from the CDC, their Clean Team will be armed with gallons of sanitizer and will continuously be sanitizing the touch points of our facilities. They will be sanitizing high touch points on our play equipment. Per CDC guidelines, they will not be sanitizing porous or wooden surfaces.
Learn more about their 2020 Safety Plan here. Look for the red button right below the sudsy pumpkin.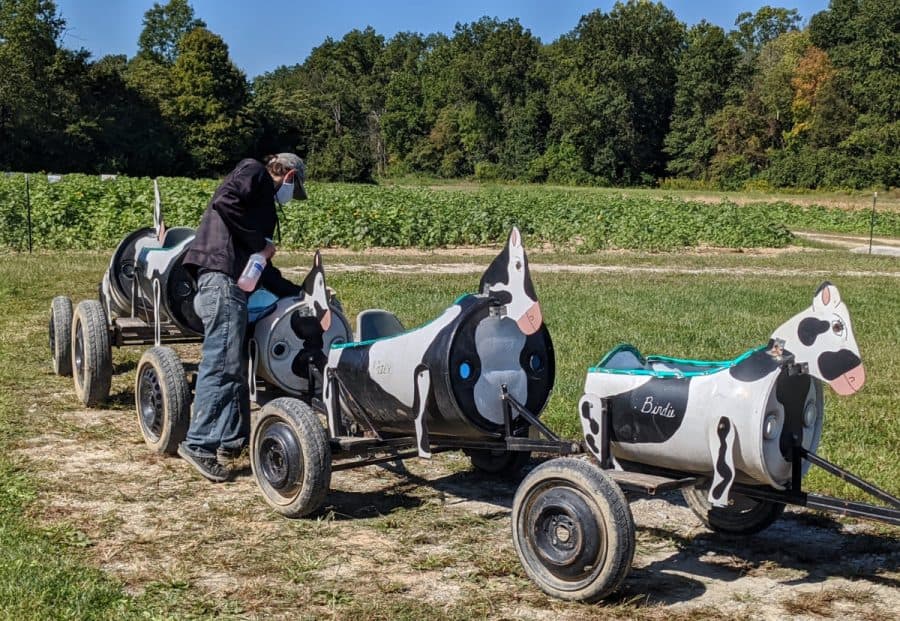 ---
Fall on the Farm is open daily at Blooms and Berries Farm Market from September 19 through November 1, 2020.

Tickets available exclusively by online reservation to help manage attendance. They will not be selling tickets at the gate – you must purchase online and in advance to secure your spot.

Find more information here.
Click here for to purchase your tickets
Blooms and Berries is located at 9669 S. St. Rt. 48 in Loveland, Ohio
Admission:
Admission includes: Hayrides, Pumpkin Bounce Pad, Corn Maze, Mini Corn Maze, Cow Train, Play Area, Farm Animals, Spookley, & more!
Monday – Friday: $10/person, children under 2 free
Saturday – Sunday: $12/person, children under 2 free

Tuesdays: 1/2 Priced admission for kids 2-4 years old with a paying adult every Tuesday
Hours are Monday – Saturday: 9:30am – 7pm and Sunday: 9:30am – 6pm
Hayrides start at 10am on Saturday & Sunday and at noon Monday – Friday 12pm. Hayrides end 30 minutes prior to closing