Fall is one of my favorite times to get outside and see nature. Like everyone out there, we're looking for something new to do this year, so I searched to see if there are any scenic train rides in Ohio.
To my surprise, there are quite a few fall train rides in Ohio. Some are all about the fall foliage while others have spooky themes for Halloween fun. We can't wait to see fall in Ohio from these railway views. All aboard!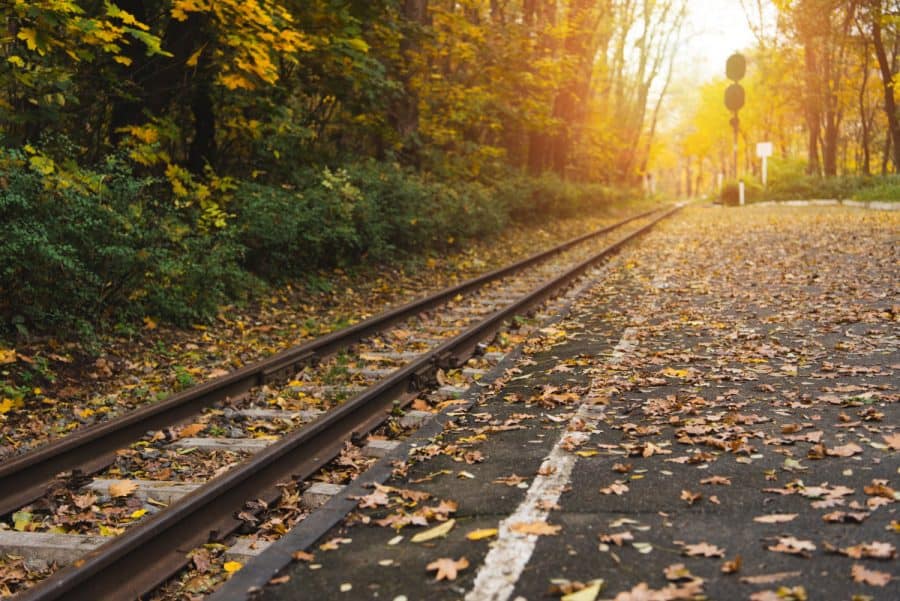 ---
Fall Foliage Train Ride (Hocking Valley Scenic Railway)
Hocking Valley Scenic Railway train rides explore beautiful southeastern Ohio from the comfort of a railway car. The fall months are so popular that they've added two special Fall Foliage train rides each week during the month of October. You can catch these fall train rides in Ohio on Thursdays and Fridays at 1PM. Train rides last 2 hours.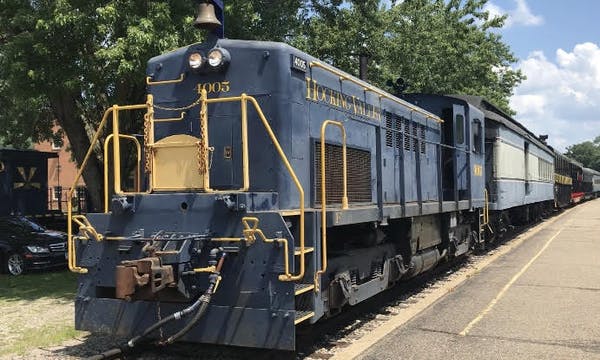 Hocking Valley Scenic Railway is located in Nelsonville, Ohio. It is run by an all-volunteer organization dedicated to the restoration, maintenance, and operation of historic railroad equipment. Beyond the Fall Foliage Train Rides, there are also other themed events throughout the year including the Elegant Dinner Train, Spring Time Express, Easter Bunny Train & Egg Hunt, the Memorial Day Train, and Ohio's Friendliest Robbery Train.
Located at 33 West Canal Street, Nelsonville, Ohio 45764
Website
---
National Park Scenic Train Ride (Cuyahoga Valley Scenic Railroad)
This sight-seeing tour shows fall in all its colors in one of the state's only national parks. Take a 3.5 hour round-trip excursion through Cuyahoga Valley National Park to see bald eagle nests, historical landmarks, and the Cuyahoga River. Ticket prices vary based on which cabin you would like to sit in – we recommend the Upper Dome, which has a panoramic glass enclosure.
The Cuyahoga Valley Scenic Railroad is a nonprofit organization operating in partnership with Cuyahoga Valley National Park. Other train rides throughout the year include Bike Aboard, The Polar Express winter train ride, Ales on the Rails, Cocktails on the Rails, Grape Escape, Murder Mysteries, and more.
2020 Update: Cuyahoga Valley Scenic Railroad (CSVR) train departures have seen some changes in 2020. Their Fall Flyer is set to resume on October 1. Watch their site for news.

Website
---
Pumpkin Train (Zanesville & Western Scenic Railroad)
The Pumpkin Train will be running in October. Last year's Pumpkin Train took passengers to a pumpkin patch, where every child (15 and under) got a pumpkin. 2020 details coming soon.
Located at 5700 OH-204, Mt Perry, Ohio 43760
Website
---
Ghost Trolley (Ohio Railway Museum)
The Ghost Trolley is a fall train ride for families and not overly frightening. Details are TBD for this year's Ghost Trolley. Last year's tour included decorated trains and a lights-out story of the Ghost Trolley.
This fall train ride in Ohio is hosted by the Ohio Railway Museum. In the Winter, the Ohio Railway Museum also hosts a Letters to Santa event. While you're there, stop in the museum to see an assortment of equipment and artifacts from locomotives, streetcars, interurbans, and more.
Located at 990 Proprietors Road, Worthington, Ohio 43085
Website
---
Autumn Lantern Tour (Dennison Depot)
This one is not a train ride, but is a fall train-themed event worth mentioning. The Dennison Railroad Depot Museum is a National Historic Landmark that served 1.3 million service members during WWII. Today, it is a beautifully restored Depot with a museum, restaurant, theater, and gift shop.
The Autumn Lantern Tour takes visitors back in time as they travel through Ohio's first village. Luminaries will light the paths and cabins will have reenactors. This special after-hours evening will take place on Friday, September 18 and Saturday, September 19 from 7:30 to 9:30 PM.
Located at 400 Center Street, Dennison, Ohio 44621
Website
---
Lebanon Mason Monroe Railroad (reopening in December)
The Turtle Creek Valley Flyer is one of the only scenic train rides in the Cincinnati area. In the autumn months, this route turns into one of the prettiest fall foliage train rides in Ohio. Most of the train route stays close to Turtle Creek and crosses over 5 bridges. Imagine the splendor of the fall leaves from that view!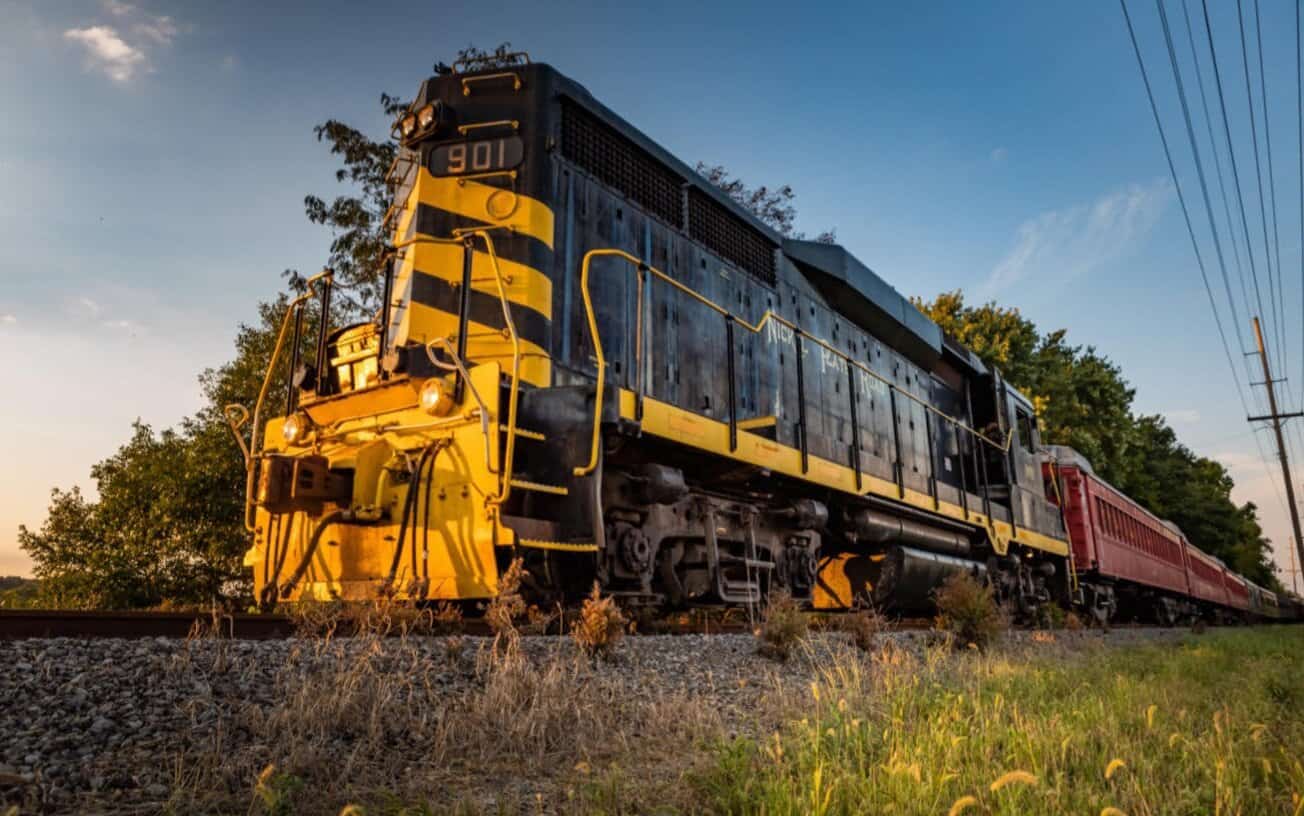 Throughout the year, the LM&M Railroad also hosts the Princess Express, Cherry Street Murder Mystery, Summer Steam Train, Pizza Train, and the Bourbon Train.
2020 Update: The LM&M Railroad will resume operations in December, 2020.
Located at 16 E. South Street, Lebanon, Ohio 45036
Website
---
Cincinnati Dinner Train (will reopen in 2021)
Dinner with a view! The Cincinnati Dinner Train is a 3.2 hour trip that takes passengers throughout Cincinnati and along the downtown riverfront. This train ride in Ohio may not meander through the countryside, but its fall views are just as stunning in the urban landscapes. Autumn foliage and a four course dinner are the perfect recipe for your next date night!
The Dinner Train operates every Saturday throughout the year, with the exception of January and February. Book during the October to see the city's fall splendor. They recommend booking 8 to 10 weeks in advance to make sure you snag a seat before tickets are gone.
2020 Update: Temporarily closed.
Located at 2172 East Seymour Avenue, Cincinnati, Ohio 45237
Website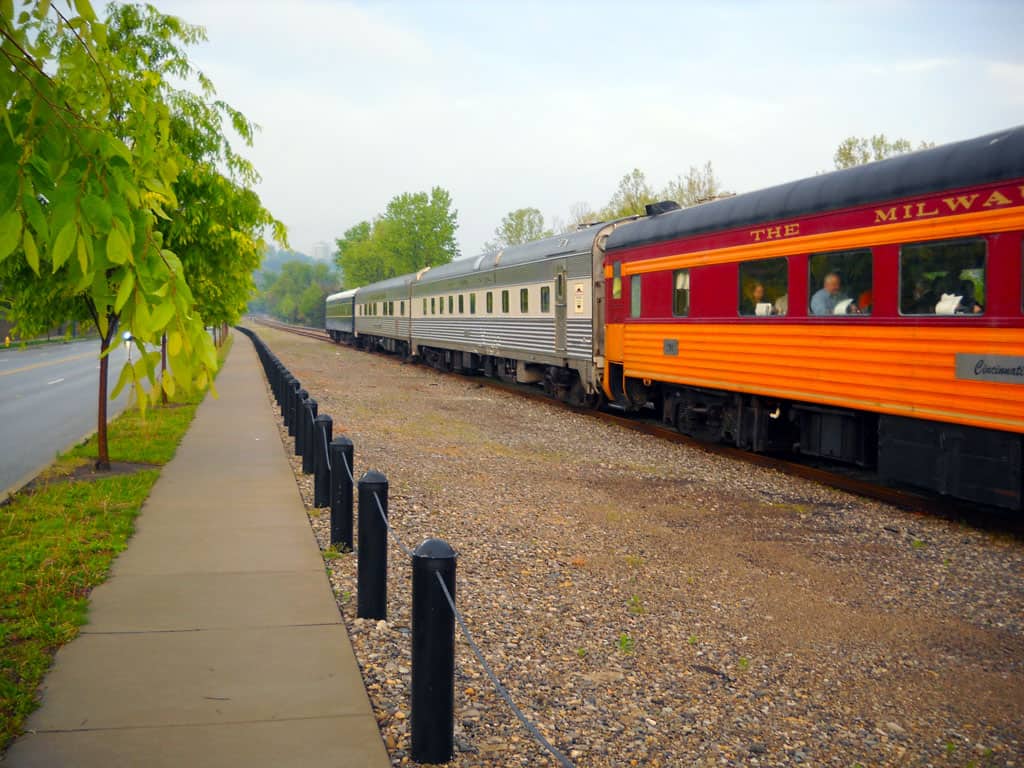 ---