Fall is one of my favorite times to get outside and see nature. Like everyone out there, we're looking for something new to do this year that is close by so I searched to see if there are any scenic train rides in Ohio.
To my surprise, there are quite a few fall train rides in Ohio. Some are all about the fall foliage while others have spooky themes for Halloween fun. And don't miss the train rides in Ohio with dinner!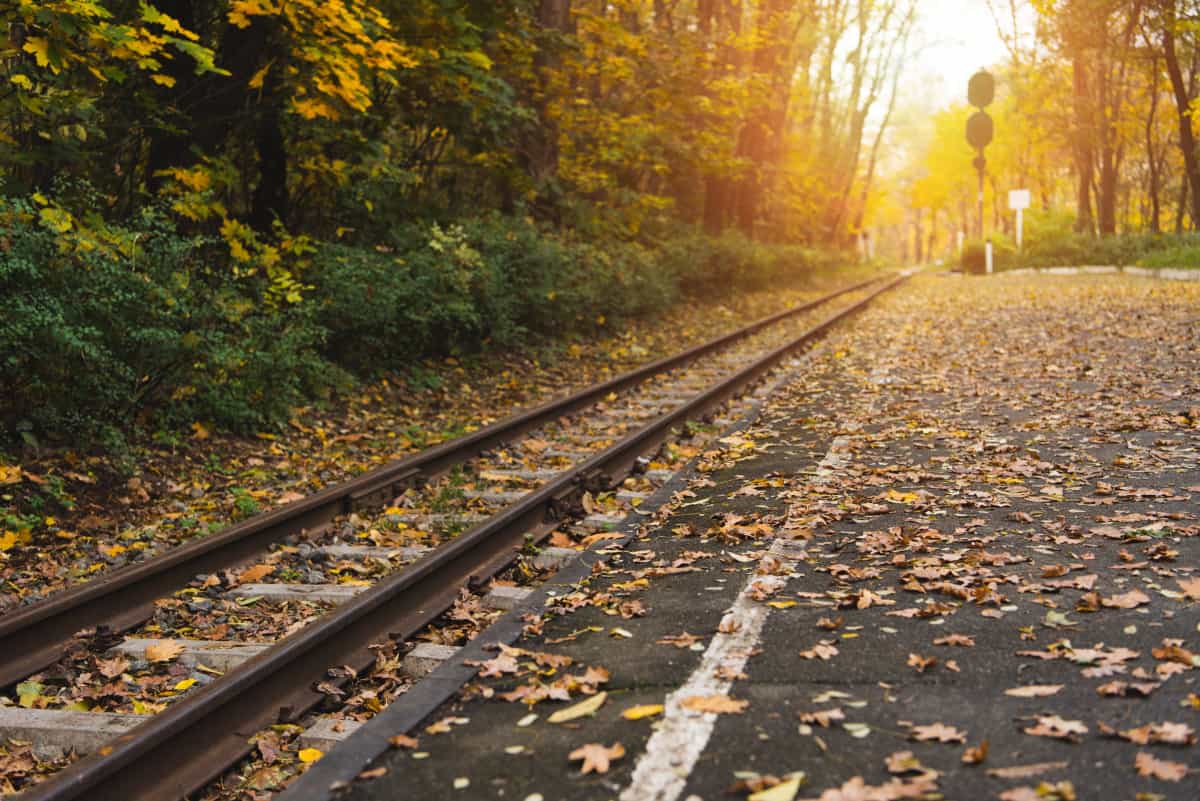 We can't wait to see fall in Ohio from these railway views. All aboard!
---
Hocking Valley Scenic Railway
Hocking Valley Scenic Railway train rides explore beautiful southeastern Ohio from the comfort of a railway car. The fall months are so popular that they've added two special Fall Foliage train rides each week during the month of October. You can catch these fall train rides in Ohio on Thursdays and Fridays at 1PM. Train rides last 2 hours.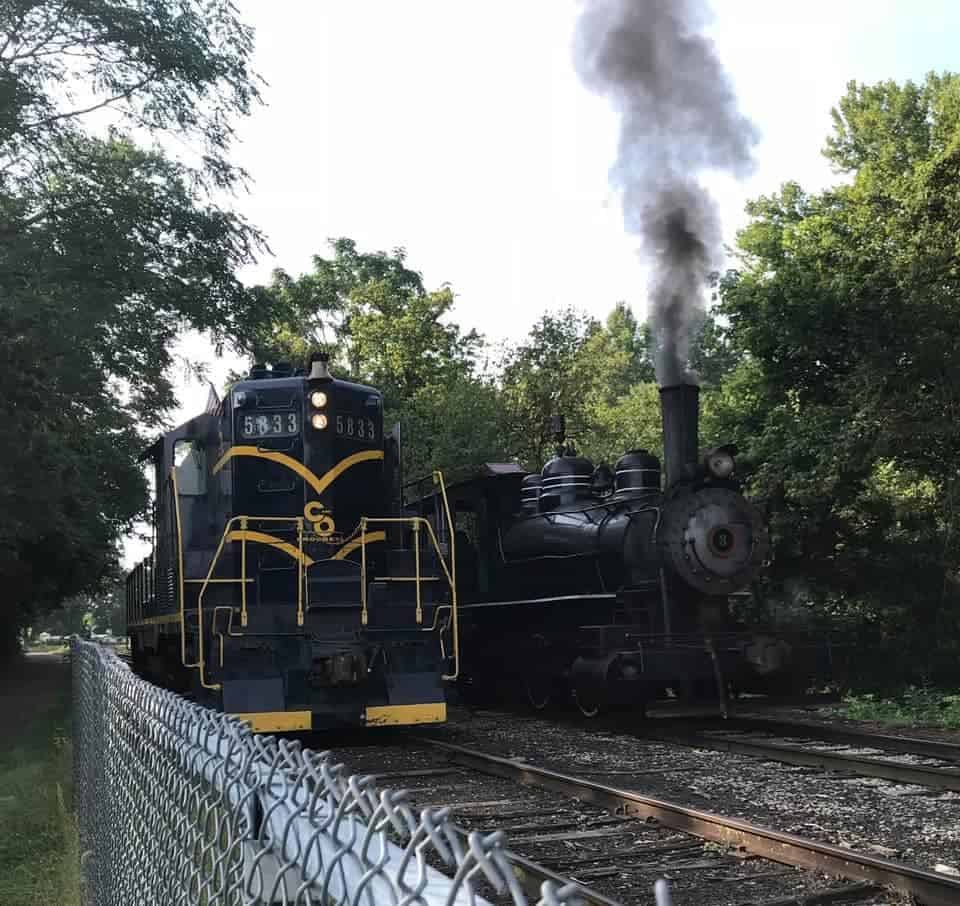 Hocking Valley Scenic Railway is located in Nelsonville, Ohio. It is run by an all-volunteer organization dedicated to the restoration, maintenance, and operation of historic railroad equipment. Beyond the Fall Foliage Train Rides, there are also other themed events throughout the year including the Elegant Dinner Train, Spring Time Express, Easter Bunny Train & Egg Hunt, the Memorial Day Train, and Ohio's Friendliest Robbery Train.
They also offer train rides with dinner. Their Elegant Dinner Train is a 3 hour round trip excursion through historic southeast Ohio back-country from Nelsonville to East Logan and return.
Be sure to watch their website and Facebook page for ticket releases.
Located at 33 West Canal Street, Nelsonville, Ohio 45764
Website
---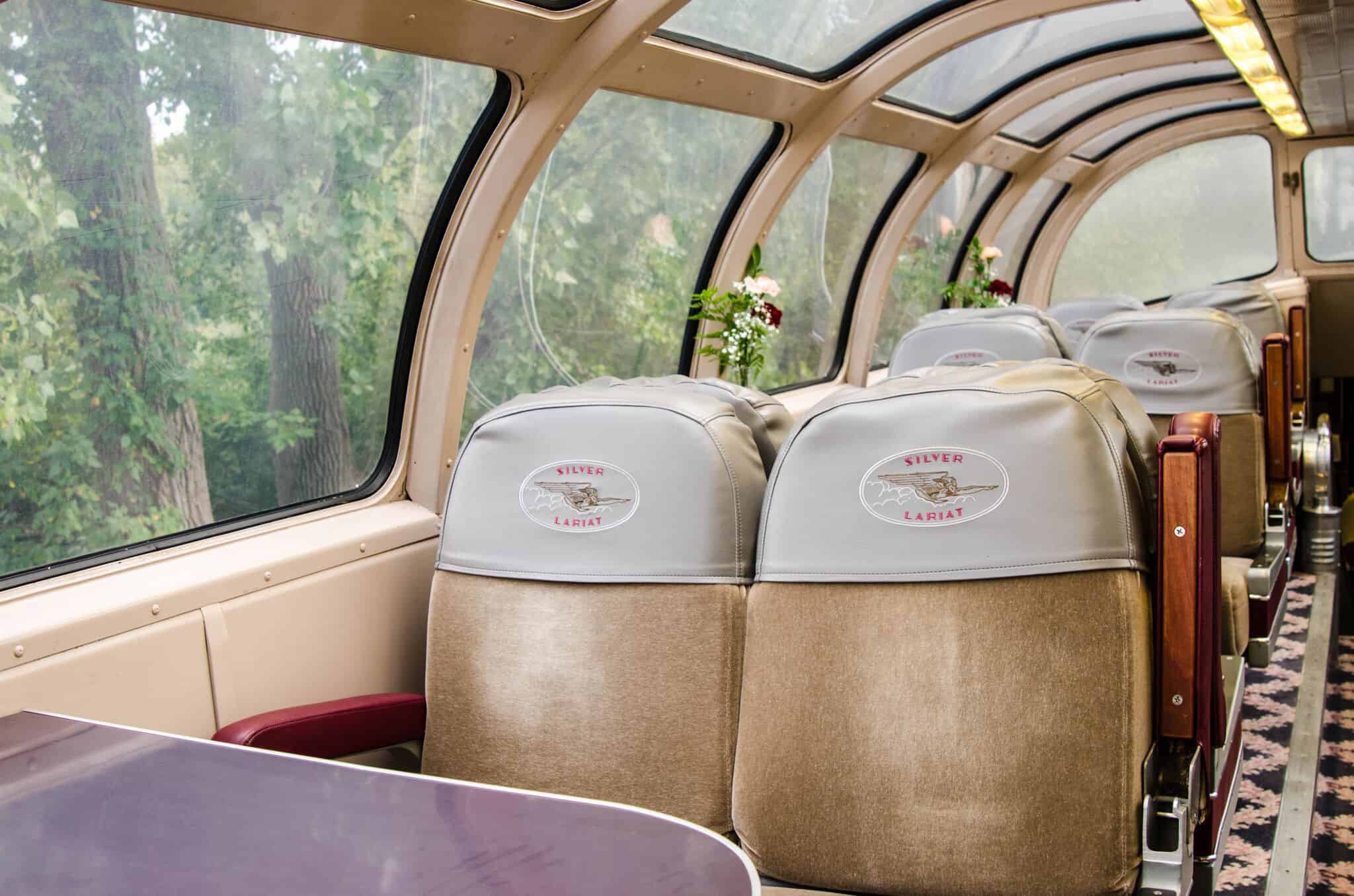 Cuyahoga Valley Scenic Railroad
Enjoy scenic train rides in Ohio with the Cuyahoga Valley Scenic Railroad. They offer a large variety of train rides including:
National Park Scenic Excursion: This sight-seeing tour is a 2 hour round-trip excursion through Cuyahoga Valley National Park to see local history, historical landmarks, and the Cuyahoga River.
Ales on Rails: Enjoy a two hour beer tasting excursion on a vintage rail car. Your experience includes beer samples accompanied by a charcuterie box of assorted cheeses, sliced meats, crackers, and dried fruits. You'll event get to take a commemorative glass home. 21 and up.
Grape Escape: This is a two hour wine tasting excursion with wine samples, light appetizers, and a glass to take home. 21 and up.
Dinner on the Train: Experience the luxury of the golden age of rail travel. Whether you are looking for a date night out or an evening with friends, this is the perfect way to dine in sophisticated comfort. Passengers must be ages 21 and over to ride.
Family Friendly Rides: These shorter, more interactive rides are for all ages. These excursions include Royalty on the Rails, Superhero Train, Rail Roving, crafts, games and more.
The Cuyahoga Valley Scenic Railroad is a nonprofit organization operating in partnership with Cuyahoga Valley National Park.

Website
---
Zanesville & Western Scenic Railroad
The Zanesville and Western Scenic Railroad, located in southeast Ohio, offers scenic passenger train excursions along the rail line known as the Glass Rock Spur.
They operate on Saturdays and Sundays starting in the first weekend of August and continuing through the end of October. They also have a Santa Train in December.
They offer a variety of fall train rides including:
Hobo Camp (offered once a month) train rides last about 45 minutes and go to camp where you'll be served wienies, beans, and water from the hobos. Enjoy photo ops for all and you'll even get to hear some hobo stories.
The Train Robbery Show (offered Sept 23-24, 2023) includes an old timey 1800's train robbery with horses.

The Pumpkin Train will be running in the month of October. Hop on the train and ride out to the pumpkin patch where children 13 and under can get a pumpkin. This train is schedule to run October 7-8, 14-15, 21-22, and 28-29 (all are 2023 dates).
And more! Including a Wine Tasting (Sept. 16, 2023), A Coal Miner's Story (Nov. 4, 2023), and a special Veterans Day Train Ride (Nov. 11, 2023).
Located at 5700 OH-204, Mt Perry, Ohio 43760
Website
---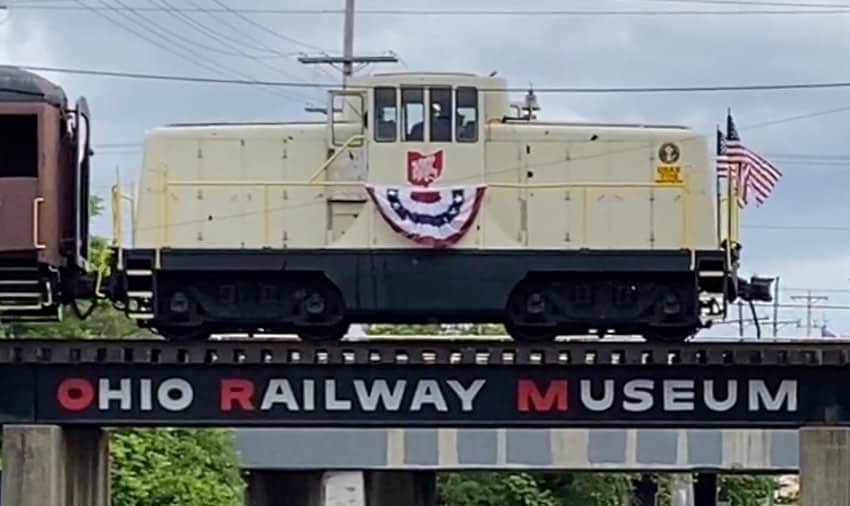 Ohio Railway Museum
The Ghost Trolley is a fall train ride for families and not overly frightening. This October train ride will be offered on the following dates for 2023: Oct. 6-8, Oct. 13-15, Oct. 20-22, and Oct. 27-28.
These fall train rides in Ohio are hosted by the Ohio Railway Museum. In the Winter, the Ohio Railway Museum also hosts a Letters to Santa event. While you're there, stop in the museum to see an assortment of equipment and artifacts from locomotives, streetcars, interurbans, and more.
Located at 990 Proprietors Road, Worthington, Ohio 43085
Website
You Might Also Like: The Best Fall Festivals in Ohio
Lebanon Mason Monroe Railroad
Located in Lebanon / Warren County, Ohio, LM&M offers the only family friendly train ride experiences in southwest Ohio.
In the autumn months, their route turns into one of the prettiest fall foliage train rides in SW Ohio. The Turtle Creek Valley Flyer stays close to Turtle Creek and crosses over many bridges. Imagine the splendor of the fall leaves from that view!
They also offer The Pumpkin Patch Express, a Cider Beer Train, and Murder Mystery Train Rides.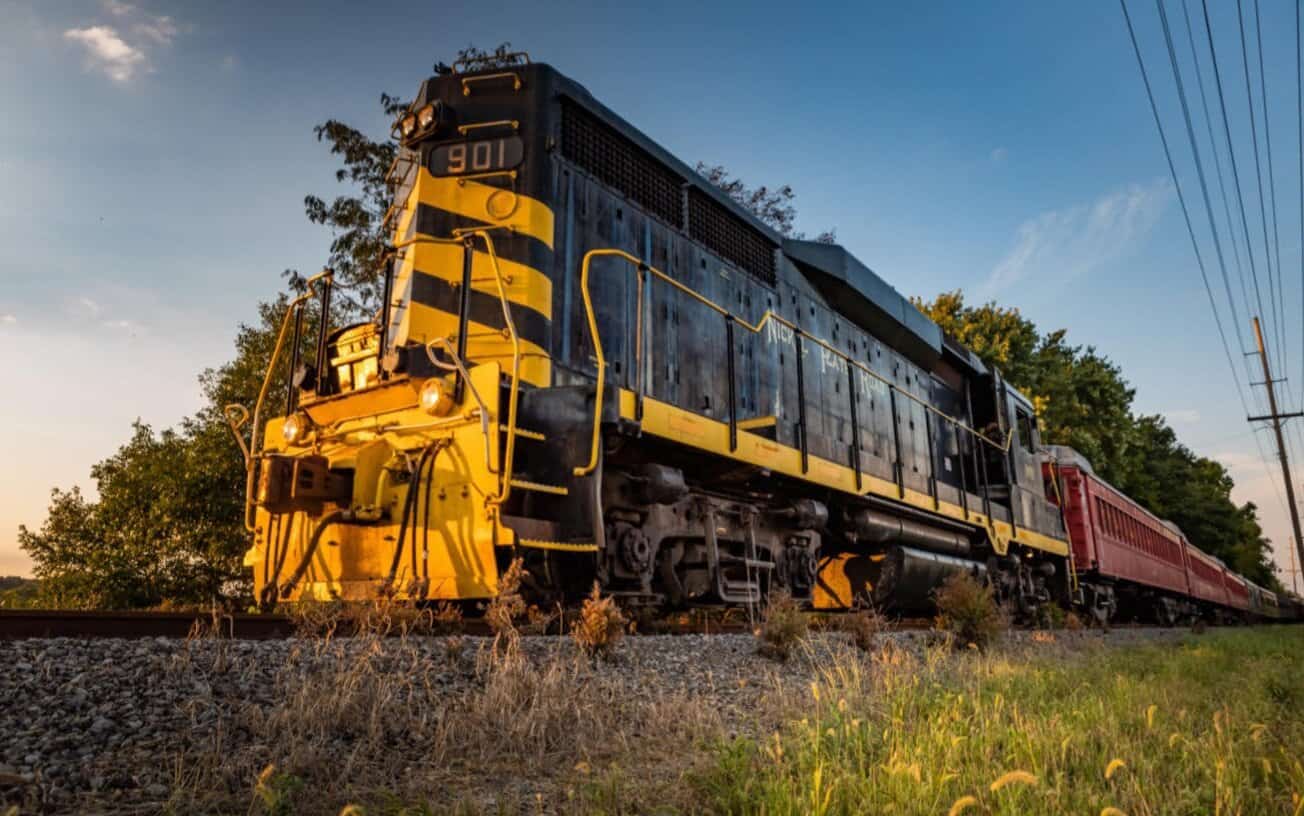 Throughout the year, the LM&M Railroad hosts a variety of train ride experiences including the Princess Express, Cherry Street Murder Mystery, Summer Steam Train, Pizza & Beer Train, the LM&M Rare Mileage Exursion, and more.
Located at 16 E. South Street, Lebanon, Ohio 45036
Website
---
Cincinnati Dinner Train
Dinner with a view! The Cincinnati Dinner Train is a 3.2 hour trip that takes passengers throughout Cincinnati and along the downtown riverfront. These train rides in Ohio may not meander through the countryside, but their fall views are just as stunning in the urban landscapes. Autumn foliage and a four course dinner are the perfect recipe for your next date night!
The Dinner Train operates every Saturday throughout the year, with the exception of January and February. Book your ride for October to see the city's fall splendor. They recommend booking 8 to 10 weeks in advance to make sure you snag a seat before tickets are gone.
Located at 2172 East Seymour Avenue, Cincinnati, Ohio 45237
Website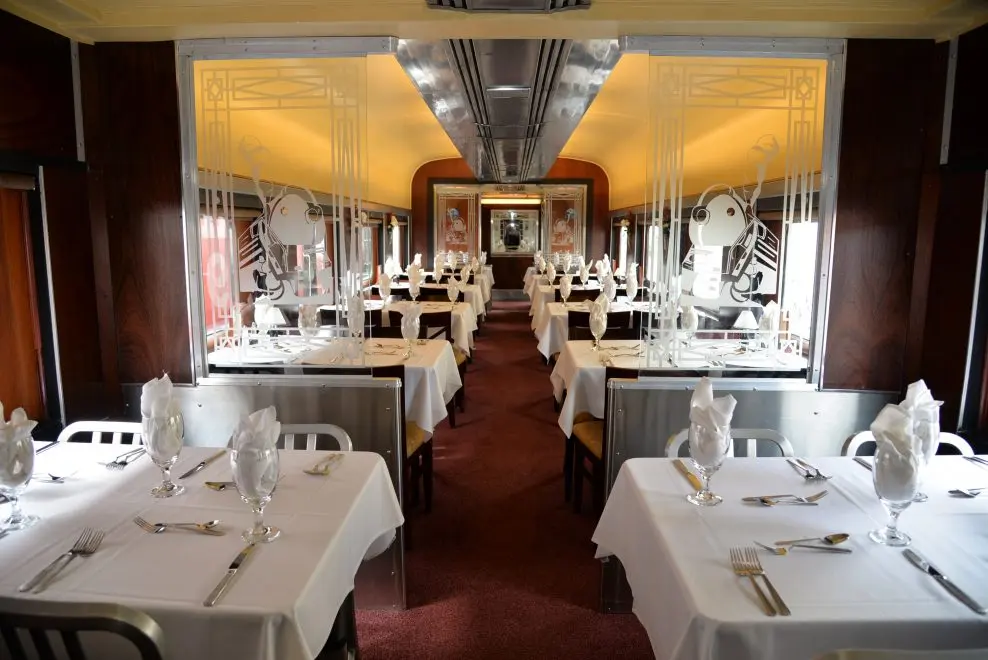 ---